Baker Leads Offense to Clinch Series for Hot Rods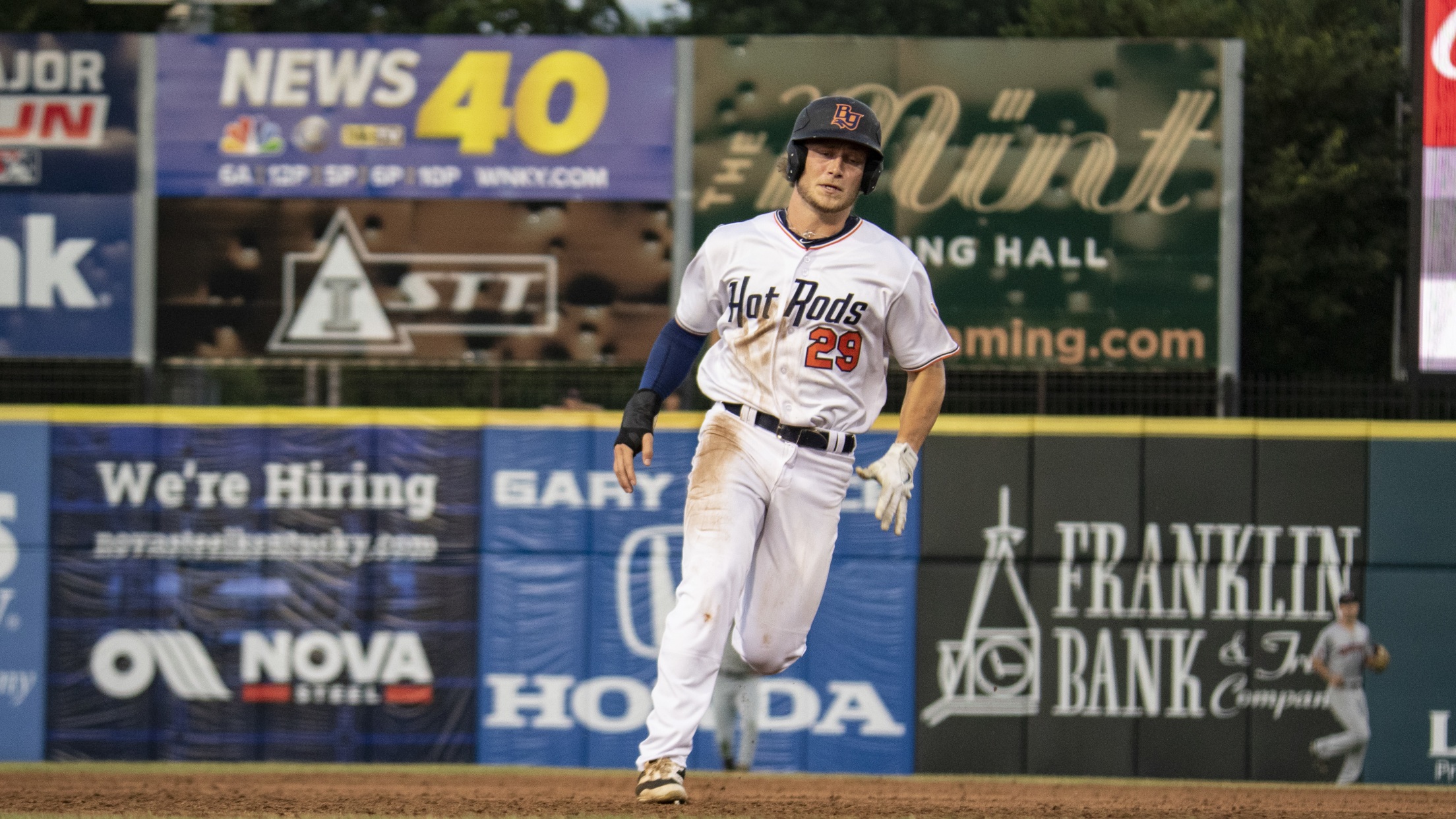 Bowling Green, Kentucky– The first three hitters in the order for the Bowling Green Hot Rods (38-24) went a combined 6-for-13 with five RBIs to help BG to a 7-5 series-clinching win over the Winston-Salem Dash (32-31) on Sunday at Bowling Green Ballpark. The Hot Rods have a day off
Bowling Green, Kentucky– The first three hitters in the order for the Bowling Green Hot Rods (38-24) went a combined 6-for-13 with five RBIs to help BG to a 7-5 series-clinching win over the Winston-Salem Dash (32-31) on Sunday at Bowling Green Ballpark. The Hot Rods have a day off on Monday before a six-game series on the road in Greenville begins on Tuesday.
Osleivis Basabe hit a solo home run in the first off Matt Thompson to give BG an early 1-0 lead. Basabe reached for his second straight at-bat with a one-out single in the third, and Kyle Manzardo promptly sent him home with a two-run blast into the Hot Rods bullpen to make it 3-0. The Dash got on the board with a sacrifice fly in the fourth to cut Bowling Green's lead to 3-1.
Bowling Green added some insurance in the fifth, starting with a two-out walk to Manzardo issued by Trey Jeans. Manzardo advanced to second on a wild pitch and scored on an RBI single up the middle from Tanner Murray that made the score 4-1, but the Dash tied it up with a three-run home run in the sixth that evened the score.
BG struck back in the bottom half, beginning with a one-out walk to Heriberto Hernandez. A fielding error by Dash third baseman Jason Matthews allowed Johan Lopez to reach with two outs, and Lopez and Hernandez advanced to second on a wild pitch by Everhett Hazelwood. Dru Baker cleared the bases with a double to plate both runners and give the Hot Rods the lead back at 6-4. BG extended their lead in the eighth on a solo homer from Lopez that made it 7-4. Winston-Salem plated a run in the ninth on an RBI double, but the Hot Rods persevered to take a 7-5 win.
Ben Brecht pitched 3.0 hitless and scoreless innings in his Hot Rods debut without earning a decision. Patrick Wicklander (1-4) allowed four runs on six hits in 3.0 innings, and allowed two walks and a strikeout in a win. Sean Mullen threw 2.0 scoreless innings with one hit allowed. Joe La Sorsa earned the save in 1.0 inning with two strikeouts, one run and two hits allowed.
Notes: Manzardo took sole possession of the Hot Rods home run lead with his ninth homer of the season in the third inning… La Sorsa tied Mullen for the team lead with his fifth save… Wicklander got his first win for the Hot Rods… Both of Lopez's BG won came on Sunday's at home… Baker recorded his second multi-RBI game of the series with a two-RBI double in the sixth… Basabe's home run was his second at home and first in the month of June… BG has now scored 13 runs in the third inning, more than any other inning… Both series' in the 12-game homestand, each four games to two… The Hot Rods have a day off on Monday before traveling to Greenville to start a six-game set on the road… First pitch for Tuesday's game is set for 6:05 PM CT… Fans can listen to the game on Talk 104.1 FM and 930 AM WKCT beginning with the Hot Rods Warmup Show at 6:20 PM CT… Fans can also watch live on MiLB.tv, listen via the MiLB First Pitch app on Android and IOS, or go to the Hot Rods website at www.bghotrods.com
###
Hot Rods Baseball