Ashby shines on hill in Mudcats debut
No. 9 Brewers prospect fans eight in seven scoreless frames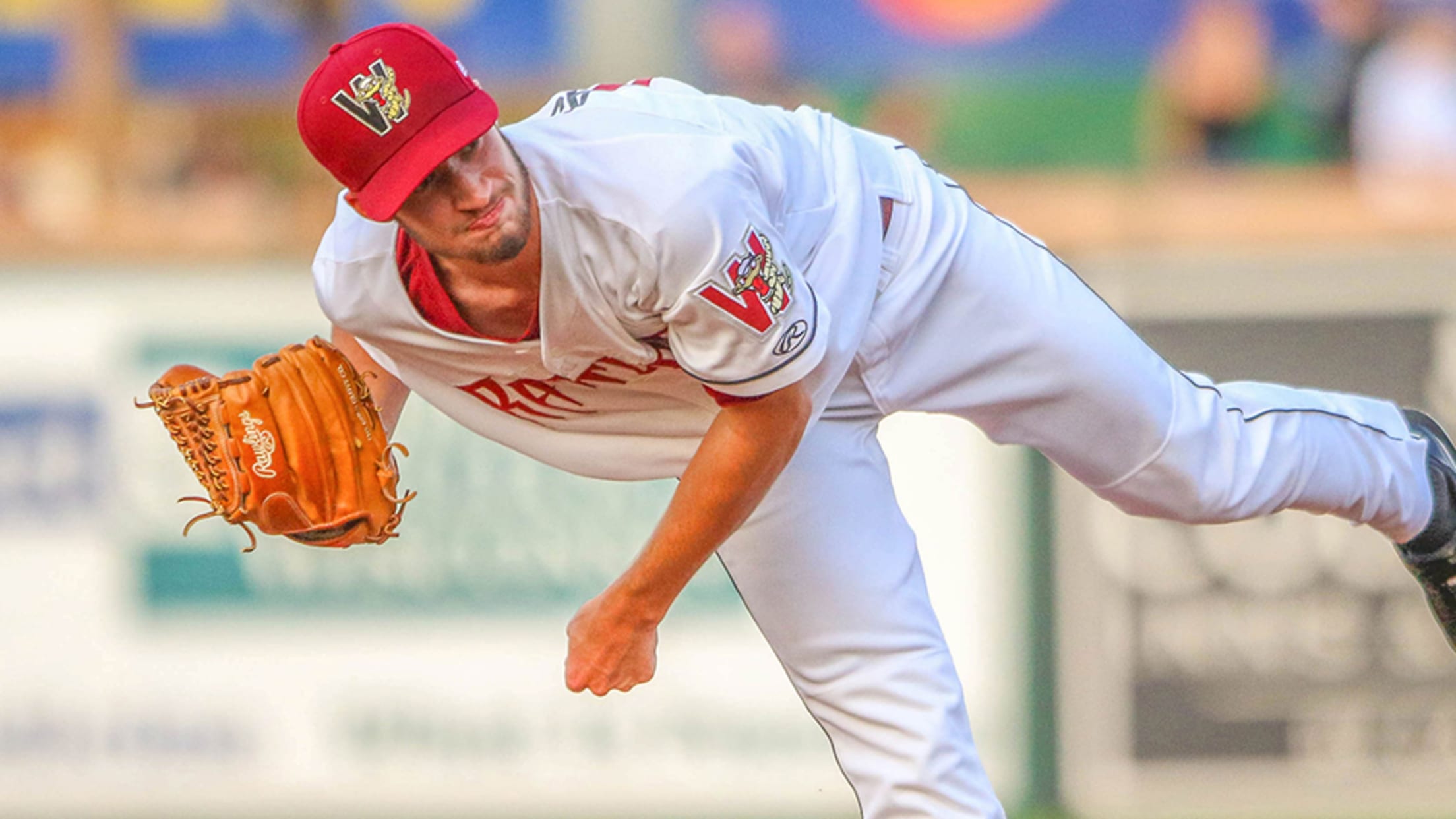 Aaron Ashby struck out 80 over 61 innings in 11 appearances with Class A Wisconsin this season. (Wisconsin Timber Rattlers)
The moment never got too big for Aaron Ashby on Thursday.Making his Class A Advanced debut and thrust into a pitchers' duel, the 21-year-old left-hander never wavered. The way he saw it, it was business as usual.The Brewers' ninth-ranked prospect allowed one hit and struck out eight without issuing a
The moment never got too big for Aaron Ashby on Thursday.
Making his Class A Advanced debut and thrust into a pitchers' duel, the 21-year-old left-hander never wavered. The way he saw it, it was business as usual.
The Brewers' ninth-ranked prospect allowed one hit and struck out eight without issuing a walk over seven frames in his first Carolina League appearance as Class A Advanced Carolina pulled out a 1-0, walk-off victory over Winston-Salem at Five County Stadium. Ashby faced one over the minimum and threw 61 of 92 pitches for strikes.
"There were definitely some butterflies at first, but everything just settled down after that first strike," he said. "And then it's basically just doing what you've been doing your whole life."
Ashby opened the year with Class A Wisconsin, where he posted a 3.54 ERA and held opponents to a .216 average over 11 appearances -- 10 starts. He whiffed 80 while walking 28 over 61 Midwest League innings. He recorded a career-best 13 punchouts over eight frames with the Timber Rattlers on April 17.
"I try to keep the same mind-set whether we're scoring five runs an inning or zero," Ashby said. "So, yeah, every time I came back out of the dugout I was just thinking that I have to keep doing my job and keep putting up zeros."
Last year's fourth-round selection opened Thursday's game by striking out the side -- including a punchout of White Sox No. 10 prospectSteele Walker in an eight-pitch battle -- in the first inning.
Gameday box score
"I try not to show any emotion when I'm out there, but in my head I was like, 'OK, you won that battle. Go clear your mind and get ready to do it again next inning,'" he said. "It definitely settled me down and gave me the confidence to go back out there and throw strikes and get ahead of guys and get guys out."
Ashby retired the first eight batters he faced, but Yeyson Yrizarri lined a 2-2 off-speed pitch down the left field line for a double in the third. The 6-foot-2, 181-pounder escaped the inning on the next pitch, however, as Tyler Frost hit a line drive into the glove of Mudcats left fielder Rob Henry.
"I wouldn't even say that pitch [to Yrizarri] was a mistake. It was just a high changeup and he was an aggressive hitter and he capitalized on it," Ashby said. "And then the next pitch was not my best pitch. [Frost] actually hit it really hard, but it was an out and I was like, 'OK, here we go.'
"[14th-ranked Brewers prospect Mario Feliciano] was calling a great game back there, and I just had all the confidence in him. And the defense behind me was making spectacular plays all game, and that obviously helps with the confidence on the mound when your defense is making those kinds of plays and Mario is calling a great game."
The Kansas City, Missouri, native sat down his final 10 Dash batters, striking out three in that run. Only three of those final 10 outs were recorded beyond the infield, and he threw 10 pitches in his final inning.
After a 15 minute rain delay in the eighth, play resumed and the game remained scoreless when Carolina was due up in the ninth. No. 10 Milwaukee prospect Payton Henry lined a single to left with one out and was replaced by pinch-runner Wes Rogers. Rob Henry followed with a slow roller to third base for an infield hit. With Rogers in scoring position, Eddie Silva punched a grounder through the right side of the infield for the victory. It was his third knock of the game.
"I went in to do my arm work during the rain delay and that gave me a chance to come back to the dugout and watch the ninth," Ashby said. "And that was just awesome. Eddie is a guy that I love playing with. I played my first pro games with him in Rookie ball last year, and then we played together again at the end of last season. And I just love having him behind me, and that was awesome for him to be able to do that and get us the win."
Ashby opened last season with Rookie Advanced Helena and made six appearances in the Pioneer League before being promoted to Wisconsin, where he finished his rookie campaign. He posted a 3.59 ERA and punched out 66 over 57 2/3 total innings across the two levels.
Cody Beckman took the ball from Ashby and worked around a hit and a walk to post a scoreless frame before Rodrigo Benoit (6-0) shrugged off a pair of walks and struck out one in the ninth.
Winston-Salem starter Kade McClure did not factor into the decision after yielding a pair of hits and four walks while fanning four over six scoreless innings. Zach Lewis and Vince Arobio each tossed an inning of shutout relief and combined to allow one hit while whiffing two.
Rob Terranova is a contributor to MiLB.com. Follow him on Twitter, @RobTnova24.