Bulls Best Knights 6-2
Edwards tallies 2 hits, Fleming fires 6 solid frames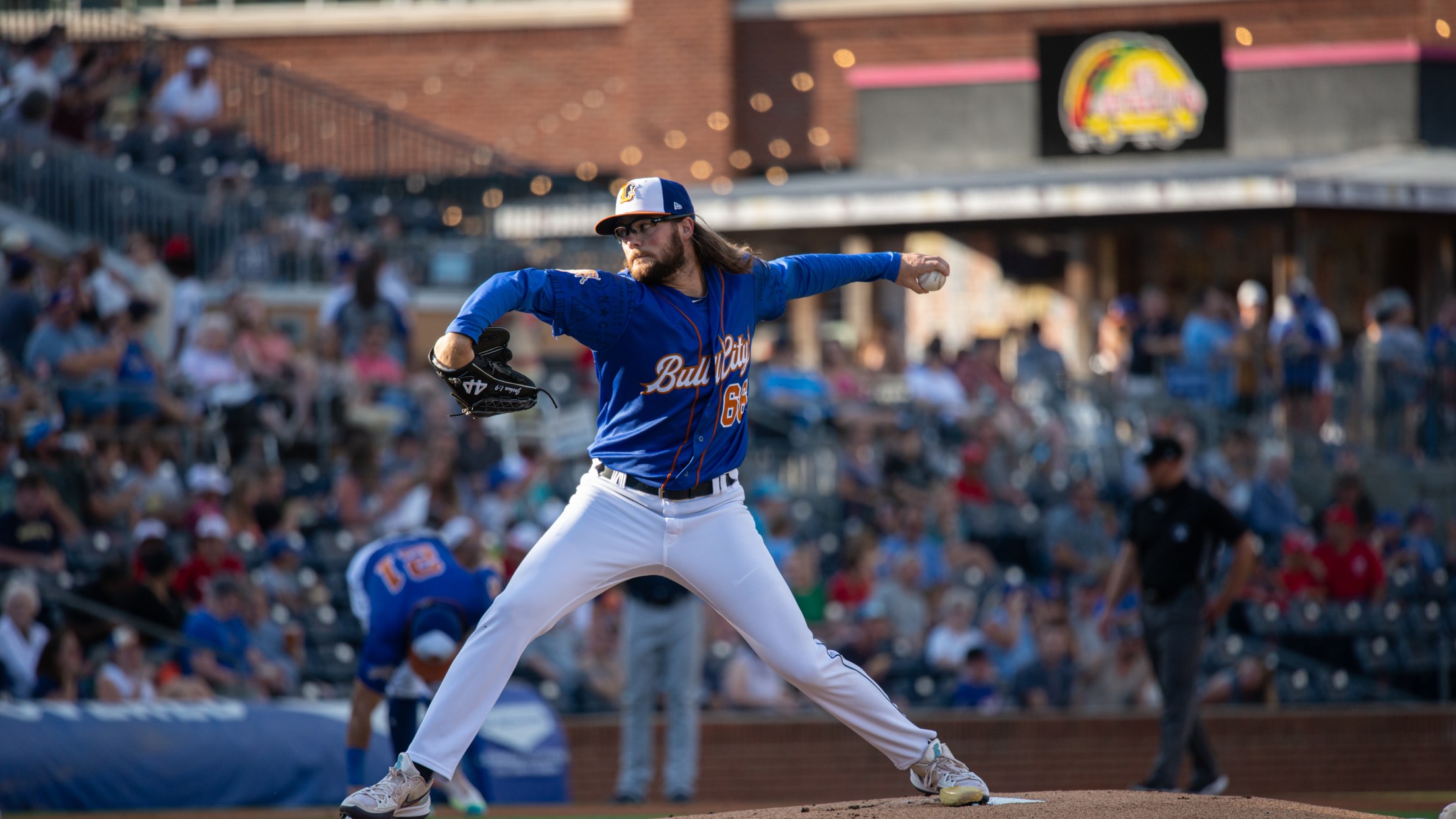 (Paxton Rembis)
Bulls starting pitcher Josh Fleming fired a quality outing, yielding two earned runs over six innings of work, while second baseman Xavier Edwards clubbed two hits in Durham's 6-2 victory over the Charlotte Knights on Tuesday afternoon at Truist Field. The Bulls wasted no time getting on the board, tallying
Bulls starting pitcher Josh Fleming fired a quality outing, yielding two earned runs over six innings of work, while second baseman Xavier Edwards clubbed two hits in Durham's 6-2 victory over the Charlotte Knights on Tuesday afternoon at Truist Field.
The Bulls wasted no time getting on the board, tallying three scores in the opening frame. RF Ryan Boldt bashed an RBI double to left prior to RBI singles from 1B Jim Haley and SS Tristan Gray to open the early three run advantage. Charlotte answered with the single tally in the bottom of the first, though LF Grant Witherspoon's run-scoring double in the third extended the lead back to three. One inning later, Edwards would drive in a run as part of a two-run frame to make it 6-1 before the Knights cut the deficit to four in the sixth.
Edwards was the lone Bulls batter to post a multi-hit effort, while Charlotte CF Mark Payton (2-3, R, BB) and C Carlos Perez (2-3, 2 RBI) each recorded two knocks apiece. Durham 3B Curtis Mead, who entered this year as the 87th overall prospect by MLB.com, recorded a single and scored a run in his 2022 Bulls debut.
Fleming (6.0 IP, 4 H, 2 R, 2 ER, 4 BB, 1 SO) earned the victory to improve to 7-1, and has earned wins in each of his seven starts with Durham in 2022 after firing six solid frames. Bulls relievers Ben Bowden (1.0 IP, 2 SO), Cristofer Ogando (1.0 IP, H) and Javy Guerra (1.0 IP, H, 2 SO) combined for the final three frames, while Charlotte southpaw John Parke (6.0 IP, 7 H, 6 R, 6 ER, 2 BB, 5 SO) suffered the defeat.
The two teams are scheduled to continue their six-game series on Wednesday evening, with first pitch scheduled for 7:05pm. RHP Easton McGee is anticipated to get the nod for the Bulls, while Charlotte's starting pitcher has not yet been announced.
Following their series in Charlotte, Durham returns home on Monday, July 4 to start a six-game series against the Memphis Redbirds, the Triple-A affiliate of the St. Louis Cardinals. First pitch of that contest is set for 6:35pm.
Tickets for that game and all remaining 2022 home dates can be purchased at DurhamBulls.com/tickets.
#DURHAMBULLS
About Capitol Broadcasting Company
Capitol Broadcasting Company, Inc. is a diversified communications company which owns and/or operates WRAL-TV, WRAZ-TV, WRAL-FM, WRAL-HD2, WNGT-CD, WCMC-FM, WCMC-HD1, WDNC-AM, WCMC-HD2, WCMC-HD3, WCLY-AM, WCMC-HD4, Microspace, WRAL Digital and Wolfpack Sports Properties (a joint venture with Learfield) in Raleigh, NC; WILM-TV, WILT-LD and Sunrise Broadcasting in Wilmington, NC; The Durham Bulls Baseball Club, Bull City Hospitality, the American Underground startup hub in Durham, NC; and real estate interests including the American Tobacco Historic District in Durham, NC, and Rocky Mount Mills