Campbell Caps Off Rally, Braves Win Fourth Straight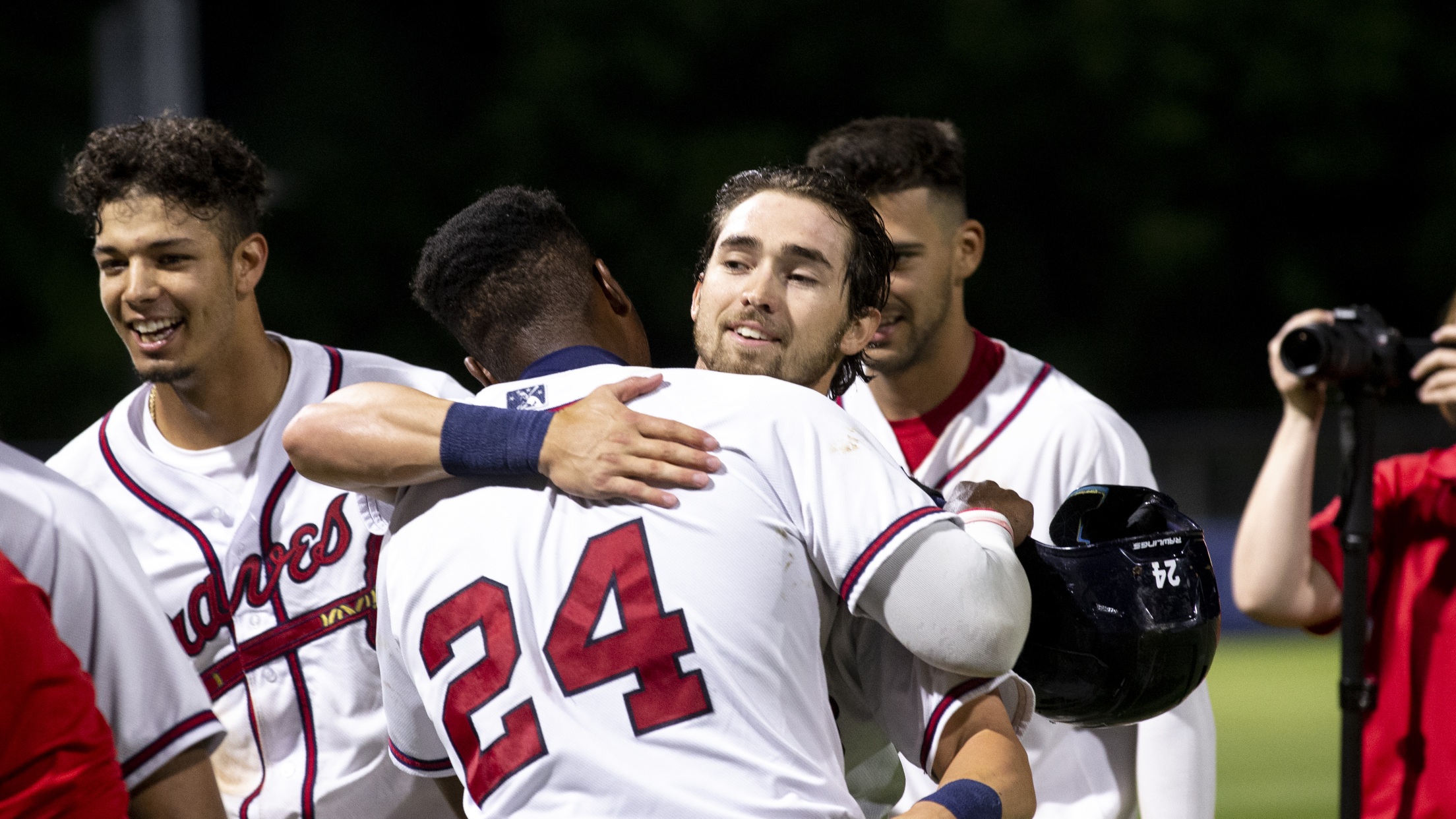 Justyn-Henry Malloy and Drew Campbell celebrate Campbell's walk-off hit in a win over Winston-Salem on May 13th (Mills Fitzner)
ROME, GA – The Rome Braves and Winston-Salem Dash would meet for game four of the series on Friday night. Roddery Muñoz would get the starting nod from manager Kanekoa Texeira in a game that could clinch the series for the Braves. Rome would also enter the night on their
ROME, GA – The Rome Braves and Winston-Salem Dash would meet for game four of the series on Friday night. Roddery Muñoz would get the starting nod from manager Kanekoa Texeira in a game that could clinch the series for the Braves. Rome would also enter the night on their longest win streak of the season with three straight wins under their belt.
Muñoz would work a scoreless top frame to open up the night's contest, and the Atlanta Braves' No.7 overall prospect Vaughn Grissom would get Rome on the board with a two-run home run that would split the flag poles just beyond the center field wall. Grissom's third long ball of the year would give the Braves a two-run lead that they would carry to the top of the fifth inning.
Winston-Salem would cut the deficit in half in the fifth inning with a single from Luis Mieses that drove in Moises Castillo. With two outs and the score in favor of the Braves two runs to one, Texeira would go to his bullpen and make the call for lefty Davis Schwab. Muñoz would call it a night after going four and two thirds of an inning while striking out four.
Winston-Salem would knot the score on a passed ball from the new pitcher Schwab. Schwab would make way for Malcolm Van Buren in the sixth inning, and two bases loaded walks would put the Dash in front by two.
After Vaughn Grissom's home run in the bottom half of the first, the Dash pitching staff would keep the hot-hitting Braves at bay with eight shutout innings and carry that lead down to the final out in the bottom of the ninth. With two outs in the final frame, Justyn-Henry Malloy would sky a single into center field and drive in Vaughn Grissom and Christian Robinson to draw the score even at four runs each. Landon Stephens would come up to the plate, and the entire ballpark had the same thing on their mind. Stephens would work the count full, and eventually draw the two out walk on the pay-off pitch. With Malloy at second and Stephens at first, Drew Campbell would step to the plate with the game on the line. Just like Stephens, Campbell would work the count full. With the three balls and two strikes in the count and the winning run on second base, Drew Campbell would drive into right field to drive in the fifth and final run for the Braves. The walk-off win tonight is their second in as many days, their fourth straight win, and gives the Braves the series win over Winston-Salem with two games still remaining.
First pitch on Saturday night is scheduled for 6:00 pm, and Dylan Dodd will get the ball as Rome looks to win their fifth straight.