'Caps Win, Still Three Games Behind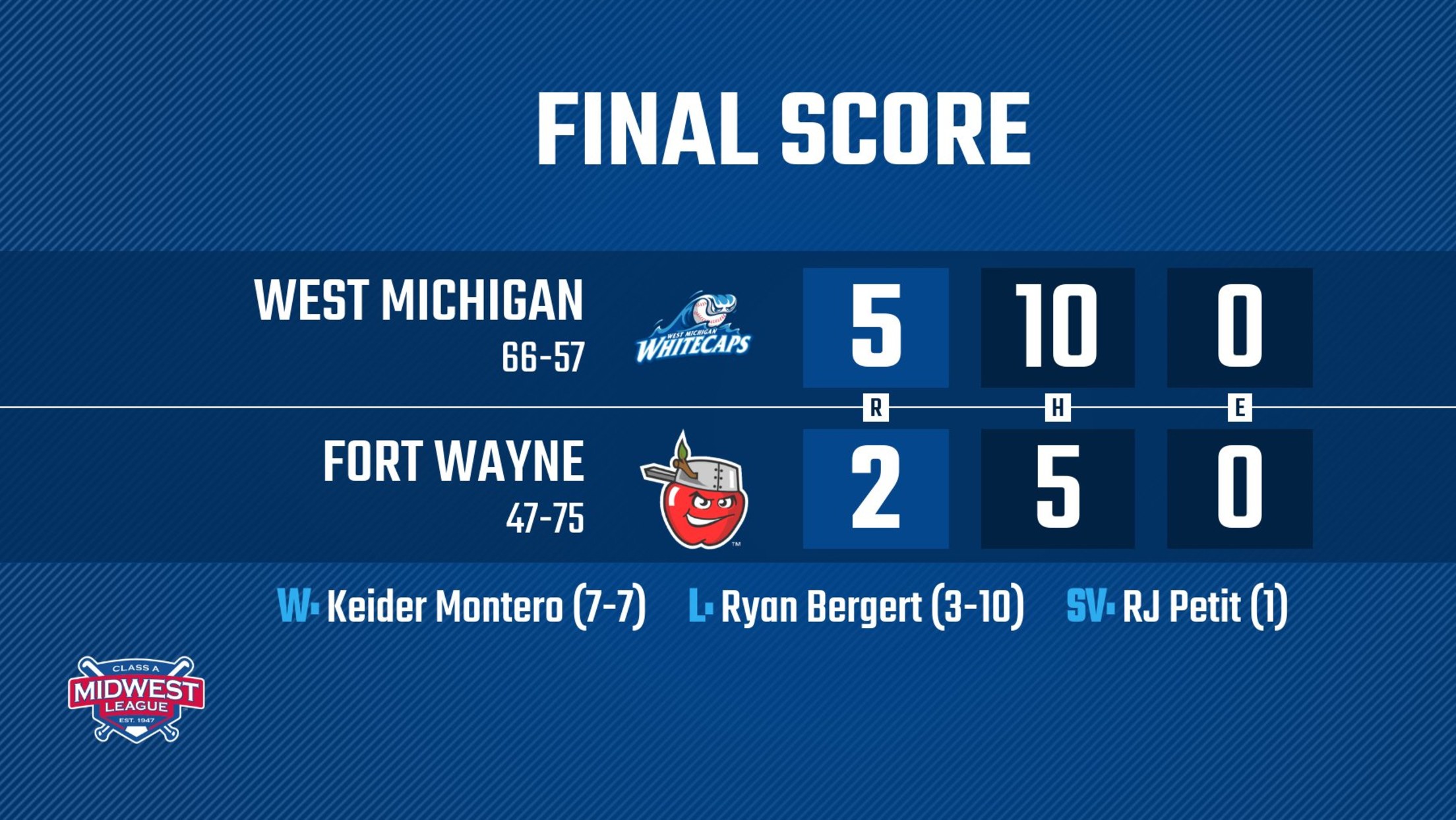 FORT WAYNE, IN - The West Michigan Whitecaps enjoyed great pitching as Keider Montero led the charge in a 5-2 victory over the Fort Wayne TinCaps on Thursday night at Parkview Field. The Whitecaps have now won each of the first three games of this series but have been unable
FORT WAYNE, IN - The West Michigan Whitecaps enjoyed great pitching as Keider Montero led the charge in a 5-2 victory over the Fort Wayne TinCaps on Thursday night at Parkview Field.
The Whitecaps have now won each of the first three games of this series but have been unable to gain ground on the Midwest League Eastern Division leading Lake County Captains in the second-half playoff standings after Lake County defeated Great Lakes by a score of 8-5 in ten innings on Thursday at Dow Diamond. West Michigan remains three games back of Lake County with nine games left to play.
The Whitecaps scored first for the third straight game in this series and second straight game with runs in the opening inning when Josh Crouch and Izaac Pacheco collected RBI-singles to put West Michigan ahead 2-0. In the fourth, Danny Serretti delivered his third hit of the contest with a run-scoring single to extend the edge to a three-run lead. In the sixth, Eduardo Valencia connected for his second home run of the season – his fifth time reaching base in the two games he's played in the series. An inning later, Jace Jung scored from second base on a wild pitch to increase the 'Caps lead to 5-0. In the eighth, Fort Wayne plated their only runs of the evening on a two-run single by Lucas Dunn before RJ Petit struck out Brandon Valenzuela to end the threat and retired all three batters he faced in the ninth to collect his first save in a Whitecaps uniform and preserve the win.
Montero (7-7) evened his season record with his seventh win of the year. Montero has tossed ten scoreless innings in two games at Parkview Field in Fort Wayne this season while striking out eight batters. Ryan Bergert (3-10) suffered his tenth loss of the season after giving up three runs in four innings. The 'Caps improve to 66-57 and 35-22 overall, while the TinCaps drop to 20-36 in the second half and 47-75 on the season. Serretti enjoyed a three-hit performance at the plate and has five hits in his first two games with West Michigan. On the mound, Detroit Tigers 2022 tenth-round draft pick Trevin Michael struck out five of the six batters he faced in two perfect innings of relief.
UP NEXT
This six-game series between the Whitecaps and TinCaps continues from Parkview Field on Friday at 7:05 pm. Pitcher and Top-30 Detroit Tigers prospect Dylan Smith takes on lefty Jackson Wolf on the mound. Broadcast coverage with Dan Hasty starts on the Whitecaps Baseball Network at 6:50 pm. Get your tickets for all 2022 home games now at www.whitecapsbaseball.com.