Lars Nootbaar, Zack Thompson and Gordon Graceffo headline Cardinals Caravan at Hammons Field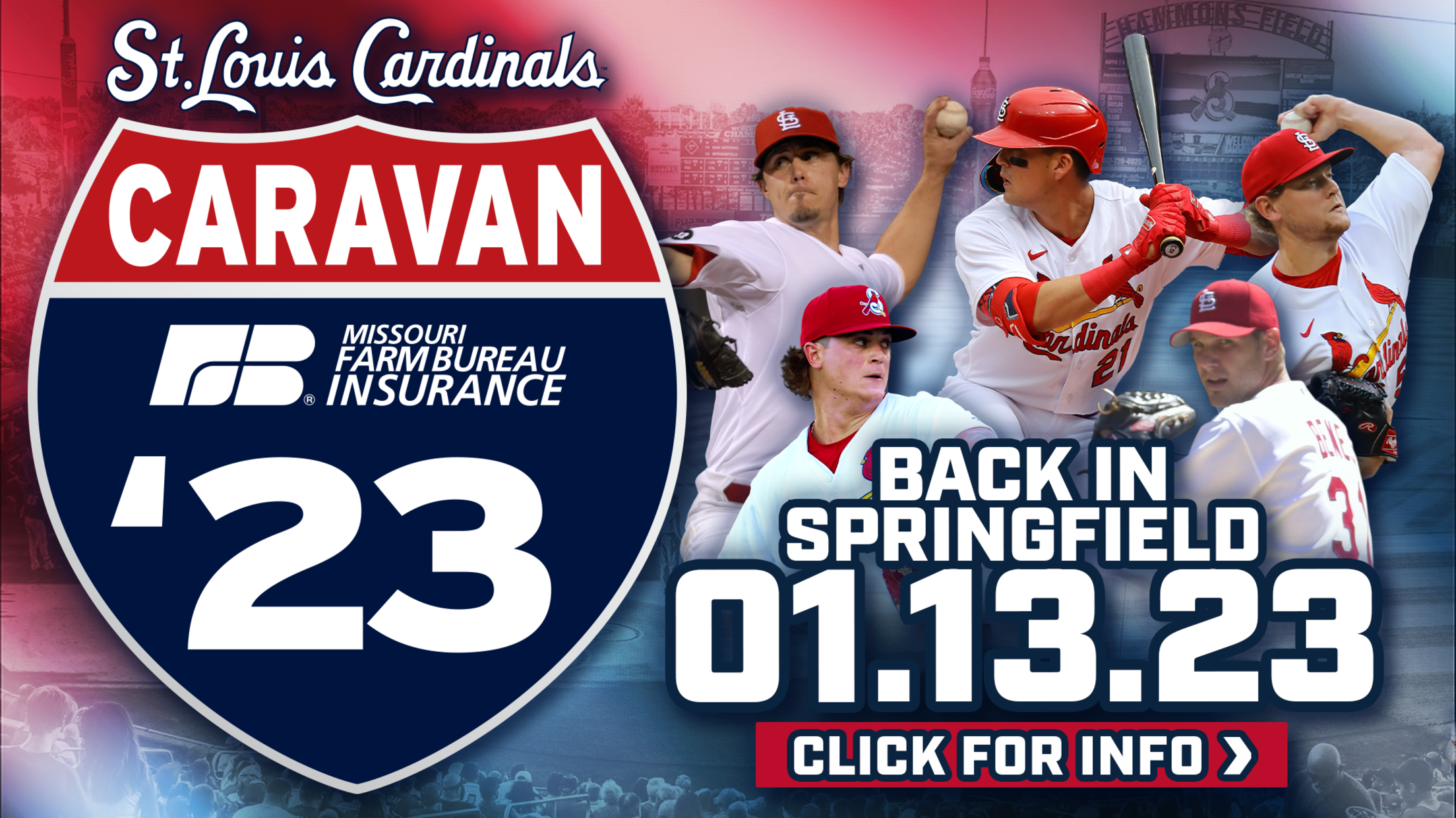 SPRINGFIELD, Mo. -- The St. Louis Cardinals Caravan is returning to Springfield on Friday, January 13, for the first time since 2020! The Caravan will be held in the Cardinals Indoor Training Facility and is scheduled to start at 12:30 p.m. with doors opening at 12:00 p.m. Lunch will be
SPRINGFIELD, Mo. -- The St. Louis Cardinals Caravan is returning to Springfield on Friday, January 13, for the first time since 2020!
The Caravan will be held in the Cardinals Indoor Training Facility and is scheduled to start at 12:30 p.m. with doors opening at 12:00 p.m. Lunch will be available for purchase at the event.
Admission for the Cardinals Caravan is $5 for adults and $3 for kids (ages 3-12) with all proceeds benefiting Mercy Health Foundation Springfield.
This year's attendees will feature current St. Louis Cardinals and former Springfield Cardinals OF Lars Nootbaar, current St. Louis Cardinals LHP Zack Thompson, and 2022 St. Louis Cardinals Minor League Pitcher of the Year RHP Gordon Graceffo, who spent most of 2022 in Springfield. A pair of former St. Louis Cardinals pitchers will also be a part of the Caravan with Assistant General Manager / Director of Scouting Randy Flores and Alan Benes. Tom Ackerman, Sports Director at KMOX and Cardinals Radio Network Host will serve as emcee for the event.
Coinciding with the afternoon program at Hammons Field, the Springfield Cardinals will have a Garage Sale featuring Cardinals collectibles. As in previous years, the St. Louis Cardinals will be implementing an Autograph Ticket system at each stop of the Caravan. The first 400 kids (15 and under) through the door on the day of the event will receive a free Autograph Ticket which guarantees one autograph from each current and former player. Due to high demand, autographs will only be available for fans 15 and under.
In addition to appearing at Hammons Field in the afternoon, the Caravan will also visit kids at Mercy and Cox South Hospitals.
Following the day's program, the Caravan will continue on to Great Southern Bank Arena for the Bass Pro Shops Tournament of Champions, presented by Chevy Dealers of the Ozarks, where the players and Cardinals staff will sign autographs. A ticket to the Tournament of Champions will be required to attend the evening autograph session at GSB Arena, with the autograph session scheduled from 7:15-8:15 p.m.