Cards at Home: Dylan Carlson
The Cardinals top prospect checks in from home and dishes on spending time with family, video games and keeping baseball-ready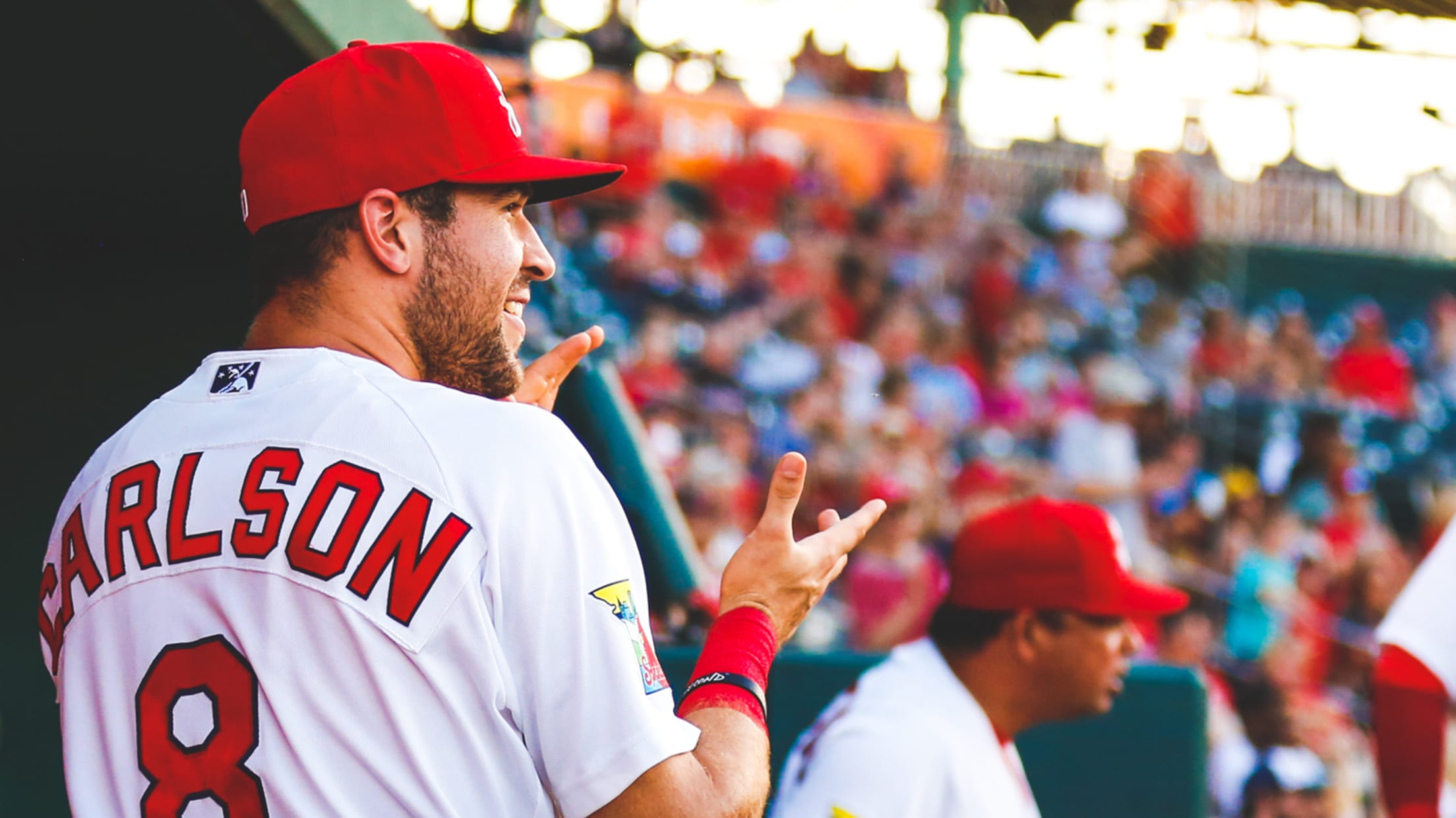 With the start of the MiLB season delayed due to the unprecedented developments surrounding COVID-19, 'Cards at Home' will catch up with different Cardinals prospects to see how they're spending their time. On April 5, 2019, Dylan Carlson became the third-youngest player in an Opening Day lineup in the 15-year
With the start of the MiLB season delayed due to the unprecedented developments surrounding COVID-19, 'Cards at Home' will catch up with different Cardinals prospects to see how they're spending their time.
On April 5, 2019, Dylan Carlson became the third-youngest player in an Opening Day lineup in the 15-year history of the Springfield Cardinals. On August 27, 2019, he was named the Texas League Player of the Year as a 20 year old after reaching career-highs in average (.281), slugging (.518), home runs (21), hits (117), doubles (24), triples (6), stolen bases (18), OPS (.882), extra-base hits (51) and total bases (216) in 108 games.
And that was just in Springfield. Carlson continued his tear after a promotion to Triple-A Memphis on August 15 and now sits as the Cardinals No. 1 prospect and the No. 17 prospect in Major League Baseball, both according to MLB.com.
After an impressive Spring Training, Carlson is--like the rest of us--now keeping up with work, life and family from home. Staying safe and healthy today so he can hit some fresh Dylan Dingers tomorrow.
How have you been passing the time at home?
"I've been passing the time by hanging out with my family, working out to stay prepared and playing video games."
Are there any movies or TV shows you've been hooked into binge watching?
"'All American' on Netflix."
Any books you've been reading?
"I was recommended _Ego is the Enemy_, by Ryan Holiday, and it's been quite an interesting read."
How about video games. Have you been playing any to stay entertained?
"I've been playing 'MLB: The Show' non-stop. It's an awesome experience being able to play with myself and some of my teammates. And I sprinkle in playing some 'Call of Duty' and 'Fortnite.'
What's life been like having more time to spend at home?
"It's been fun. Allowed me to spend more time with my family and my dog, Clutch. Really just talking a lot and enjoying each other's company. We completed a puzzle, watched 'All American' together, and I've been playing video games with my brother as well as work out."
Have there been any challenges with staying in shape? What have you been doing to stay conditioned?
"With all the gyms closed I've still been able to get in all my lifts, and also I've been able to get out to a park to jog or walk Clutch. To stay conditioned I've continued my same workout routine I was doing in Spring Training. That way, I can be as ready as possible when the season picks up."
Have you happened upon any new cooking skills? What have you focused on diet-wise?
"I haven't picked up on too many cooking skills, but my focus has been on eating good quality food and protein."
What steps have you taken to stay safe and healthy? Is there a message you'd like to pass on to fans?
"I've been staying at home and practicing social distancing. I feel like if we all take this seriously it will help speed up the process so we can get back to baseball."