Reds summon Stephenson to big leagues
Cincinnati's No. 3 prospect headed up for Major League debut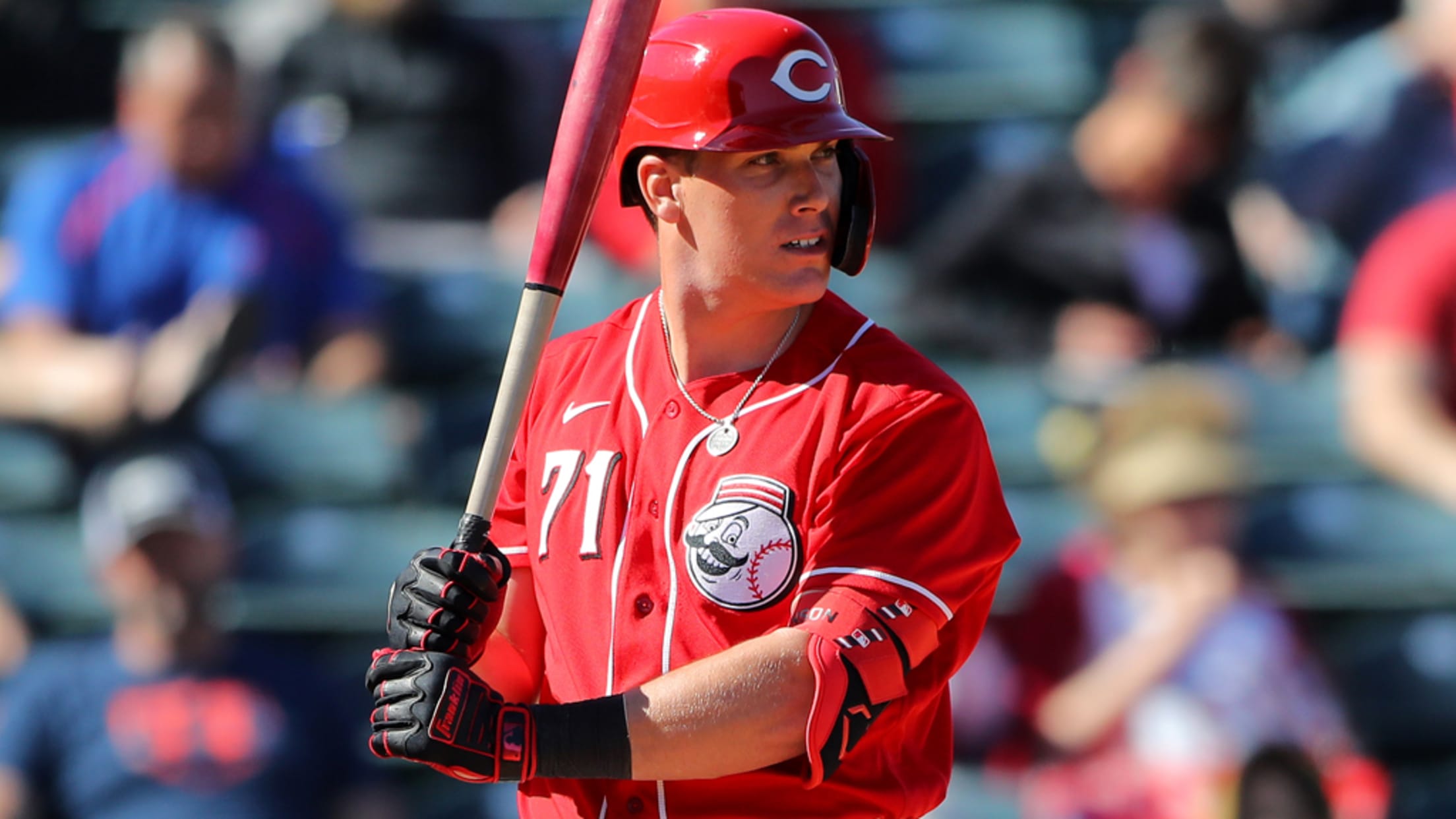 Tyler Stephenson played in 12 Cactus League games for the Reds this spring. (Alex Trautwig/MLB Photos via Getty Images)
Back in April, Cincinnati's Tyler Stephenson told "The Show Before the Show" podcast he was limited to hitting into a neighbor's soft toss net in his backyard during the early weeks of the pandemic lockdown, unable to focus on much other than swatting line drives back up the middle so
Back in April, Cincinnati's Tyler Stephenson told "The Show Before the Show" podcast he was limited to hitting into a neighbor's soft toss net in his backyard during the early weeks of the pandemic lockdown, unable to focus on much other than swatting line drives back up the middle so he didn't hit nearby yards or houses.
His next setting will provide much more real estate.
The Reds brought their No. 3 prospect up Sunday and the catcher joined the big league club for the finale of a season-opening series against the Tigers.
Stephenson spent last season with Double-A Chattanooga and played in 89 games, batting .285/.372/.410 in a showing MLB Pipeline dubbed "the best season of his pro career" since being taken 11th overall in 2015. Following the campaign, the backstop continued to impress by putting up a .347/.418/.490 slash line over 13 games in the star-studded Arizona Fall League. That performance earned Stephenson a place on Cincinnati's 40-man roster over the offseason.
This spring, MLB.com's No. 100 overall prospect saw action in 12 Cactus League games before Spring Training was suspended and batted .375/.500/.750 with a homer and seven RBIs for the Reds.
When the 23-year-old gets into the lineup, it will be for his Major League debut. At 6-foot-4 and 225 pounds, Stephenson is a big target behind the plate who has earned strong reviews for his defensive progression in recent seasons.
"I've talked with Corky Miller, who's our Minor League catching coordinator," he told the podcast. "Just going back and seeing film from high school, thinking as any high schooler, 'Oh yeah, catching's easy.' To really understand the fundamentals of catching and breaking everything down now is just like, holy smokes, I knew nothing back then. Just how everything correlates with one another in terms of flexibility, getting in the proper stance. If you're in the wrong stance, then you're not going to block as well or you're not going to frame as well or you're not going to be as consistent throwing. It's just breaking everything down to a T and perfecting it.
"I know I still have work to do, and I'm not perfect at it. I'm continuing to work on it during this time. Every day we're doing some type of drill and stuff. I mean from where I began to now, definitely some strides."
Stephenson got the call after the Reds placed second baseman Mike Moustakas on the injured list.
Tyler Maun is a reporter for MiLB.com and co-host of "The Show Before The Show" podcast. You can find him on Twitter @tylermaun.