Close Call: SWB topped by LHV 5-4
Velazquez collects three hits, first HR of season as comeback falls short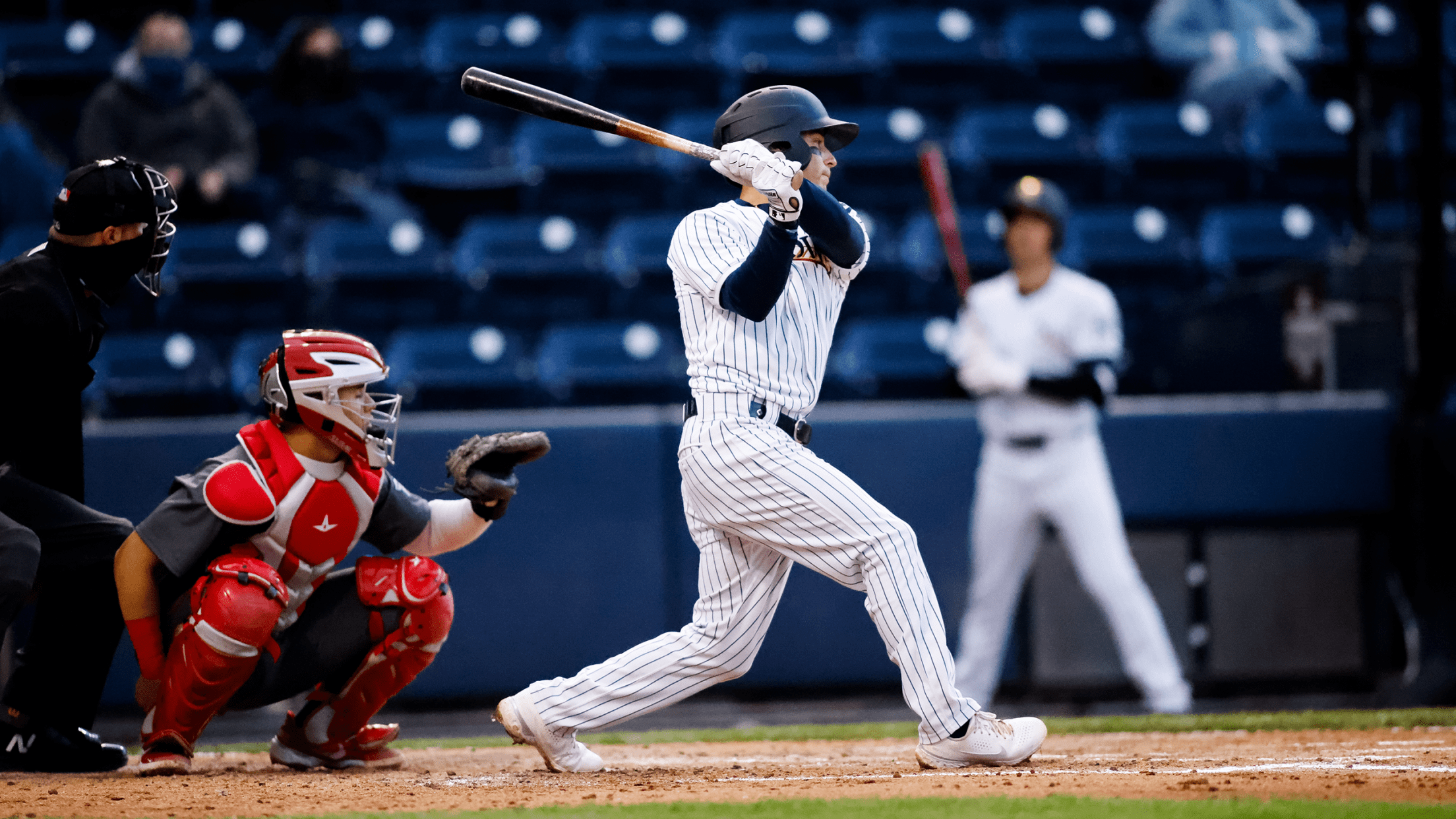 Andrew Velazquez had three hits, including his first home run of the season, but the RailRiders fell 5-4 at the hands of the IronPigs. (Todd Hiller)
MOOSIC, Pa. (June 4, 2021) – The Scranton/Wilkes-Barre RailRiders fought back and brought the tying run to the plate in the bottom of the ninth inning, but ultimately fell short in a 5-4 loss to the Lehigh Valley IronPigs on Friday night at PNC Field. In his first start with
MOOSIC, Pa. (June 4, 2021) – The Scranton/Wilkes-Barre RailRiders fought back and brought the tying run to the plate in the bottom of the ninth inning, but ultimately fell short in a 5-4 loss to the Lehigh Valley IronPigs on Friday night at PNC Field.
In his first start with the RailRiders since May 22, Deivi Garcia struck out the side in the first inning and turned in a strong performance. The right-hander allowed only two hits and struck out seven while walking three in a season-long 5.1 innings of work.
Good morning. 👋
Good afternoon. 👋
Good night. 👋

Deivi strikes out the side in the first! 😤 pic.twitter.com/2Q2GQQYABK

— SWB RailRiders (@swbrailriders) June 4, 2021
Thomas Milone gave the RailRiders a 1-0 lead in the bottom of the fourth with a solo home run to right field off Bailey Falter. That was the only run of the game allowed by Falter (2-0) in 5.0 innings of work. The blast was Milone's first long ball of the season with Scranton/Wilkes-Barre.
Garcia (1-1) left the game with one out and runners on first and second in the top of the sixth, with the RailRiders still leading 1-0. Nick Goody entered and allowed a three-run home run to Mickey Moniak, and the IronPigs grabbed a 3-1 advantage.
The RailRiders clawed closer in the bottom of the seventh, when back-to-back doubles for Andrew Velazquez and Armando Alvarez tallied a run to cut the deficit to 3-2. However, Moniak connected for a two-run home run in the top of the eighth off Addison Russ to pad the lead to 5-2.
In the bottom of the ninth Max McDowell lofted a two-out single against Neftali Feliz, and Andrew Velazquez followed with a two-run opposite field home run to bring the RailRiders to within a run. Feliz struck out pinch-hitter Socrates Brito to end the game and seal the win.
ANDREW VELAZQUEZ GOES YARD! pic.twitter.com/fwXJXdp81m

— SWB RailRiders (@swbrailriders) June 5, 2021
POSTGAME NOTES: With a 1-for-3 performance on Friday, Trey Amburgey extended his season-long hitting streak to 11 games, the longest for a RailRiders hitter this year... Velazquez finished the game 3-for-4 with a double, a home run and two RBIs, his first three-hit game of the season.
The RailRiders continue their series with the IronPigs Saturday evening at PNC Field. RHP Brody Koerner (1-1, 2.95) gets the start for SWB, while Lehigh Valley counters with LHP David Parkinson (0-1, 5.52). First pitch is scheduled for 4:05 p.m. For tickets and more information, call (570) 969-BALL or slide to www.swbrailriders.com/tickets.