Crawdads No-Hit Hot Rods 4-0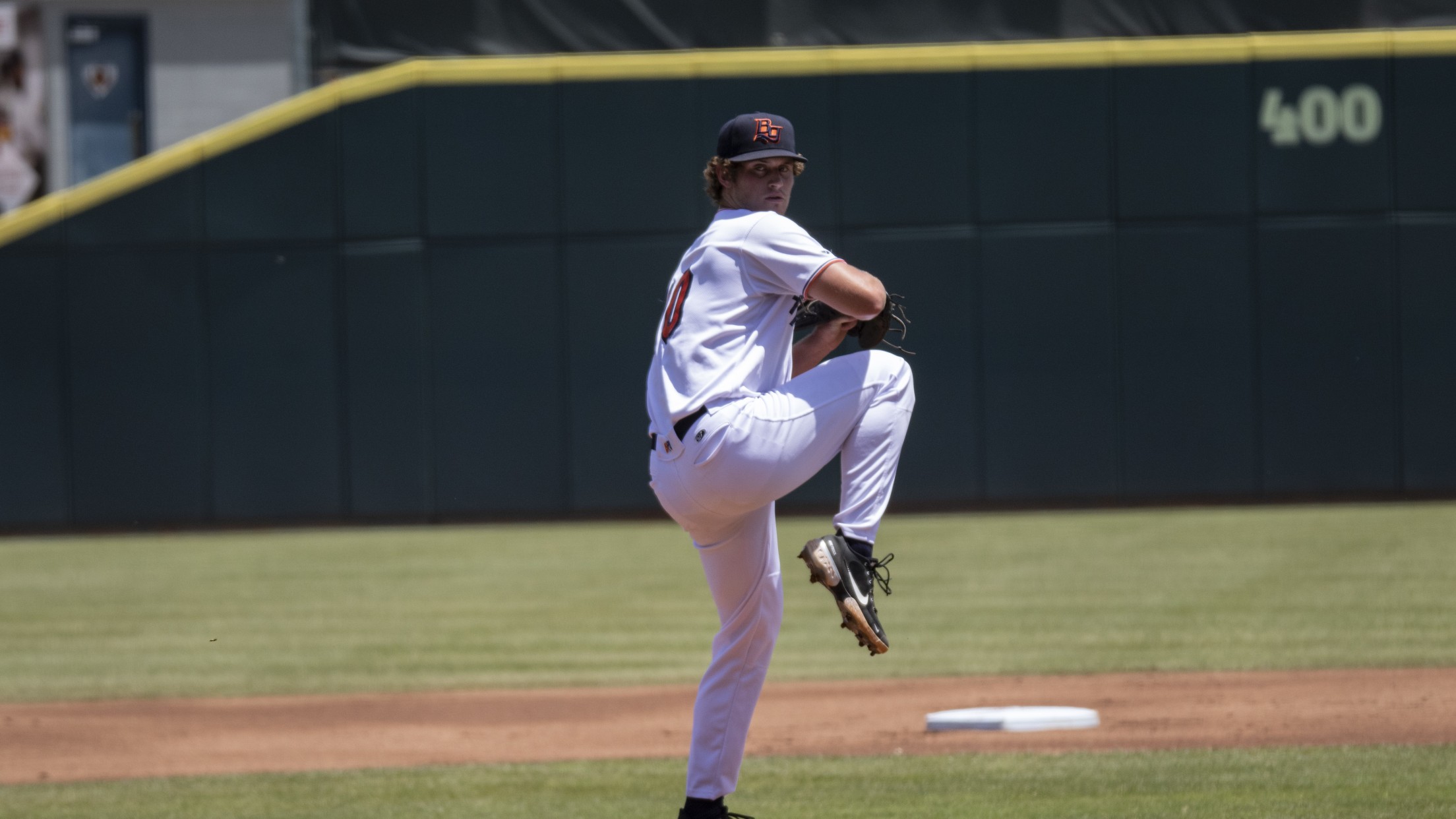 Bowling Green, Kentucky– Mason Montgomery allowed just one baserunner in the first five innings, but the Bowling Green Hot Rods (49-29) manage just two baserunners in a 4-0, no-hit loss to the Hickory Crawdads (44-35) on Saturday night. BG and Hickory will play the series finale on Sunday at 1:05
Bowling Green, Kentucky– Mason Montgomery allowed just one baserunner in the first five innings, but the Bowling Green Hot Rods (49-29) manage just two baserunners in a 4-0, no-hit loss to the Hickory Crawdads (44-35) on Saturday night. BG and Hickory will play the series finale on Sunday at 1:05 PM CT at Bowling Green Ballpark.
Montgomery tossed a 1-2-3 first inning for BG and allowed a leadoff walk in the top of the second. He retired the next 12 Crawdads hitters to keep the game hitless through the first five frames. Bowling Green's first baserunner came off the only walk issued by Crawdads starter Larson Kindreich, a two-out walk to Johan Lopez. Crawdads first baseman Cristian Inoa drove the first run of the game on a double to bring home Hickory's extra runner in the 10th, and three more RBI singles grew Hickory's lead to 4-0. Alika Williams started the bottom half at second and Diego Infante worked a two-out walk, but Theo McDowell finalized the no-hitter by inducing a groundout to end the game.
Montgomery did not allow a run or a hit in 5.0 innings of work, striking out four with a walk in a no-decision. Franklin Dacosta threw 2.0 innings and allowed one hit, one walk with a strike out. Graeme Stinson threw 2.0 innings with one hit allowed and two strikeouts. Cameron Leonard (2-1) suffered his first loss of the year, allowing four runs on four hits in 1.0 inning.
Notes: Infante's hit-streak ended at 12, but he extended his on-base streak to 15 games… It is the third-longest on-base streak of the season for Bowling Green… Manzardo's on-base streak ended at 27 games… It was the seventh-longest in team history… Andrew Toles had the longest, a 31-game on base-streak in 2013… Montgomery tossed his first hitless start for Bowling Green… It was also his eighth start in 16 total without allowing a run… The Crawdads threw their first no-hitter since 2013… The last time Bowling Green was no-hit was on May 20, 2017 against the Dayton Dragons… Bowling Green and Hickory will play the series finale of their six-game set on Sunday afternoon… First pitch is at 1:05 PM CT… Bowling Green RH Nathan Wiles (0-0, 4.05) will take the mound against Hickory RH Mason Englert (2-3, 4.34)… The game is available to watch on MiLB.tv…. Fans can listen to the game on Talk 104.1 FM and 930 AM WKCT and listen via the MiLB First Pitch app on Android and IOS, or go to the Hot Rods website at www.bghotrods.com... Fans can get their tickets by calling 270-901-2121, visiting the Bowling Green Ballpark box office, or visiting www.bghotrods.com.
###
Hot Rods Baseball