Curvestock Set for July 3 at Peoples Natural Gas Field
A day of great music and fun highlights July 4th weekend at PNG Field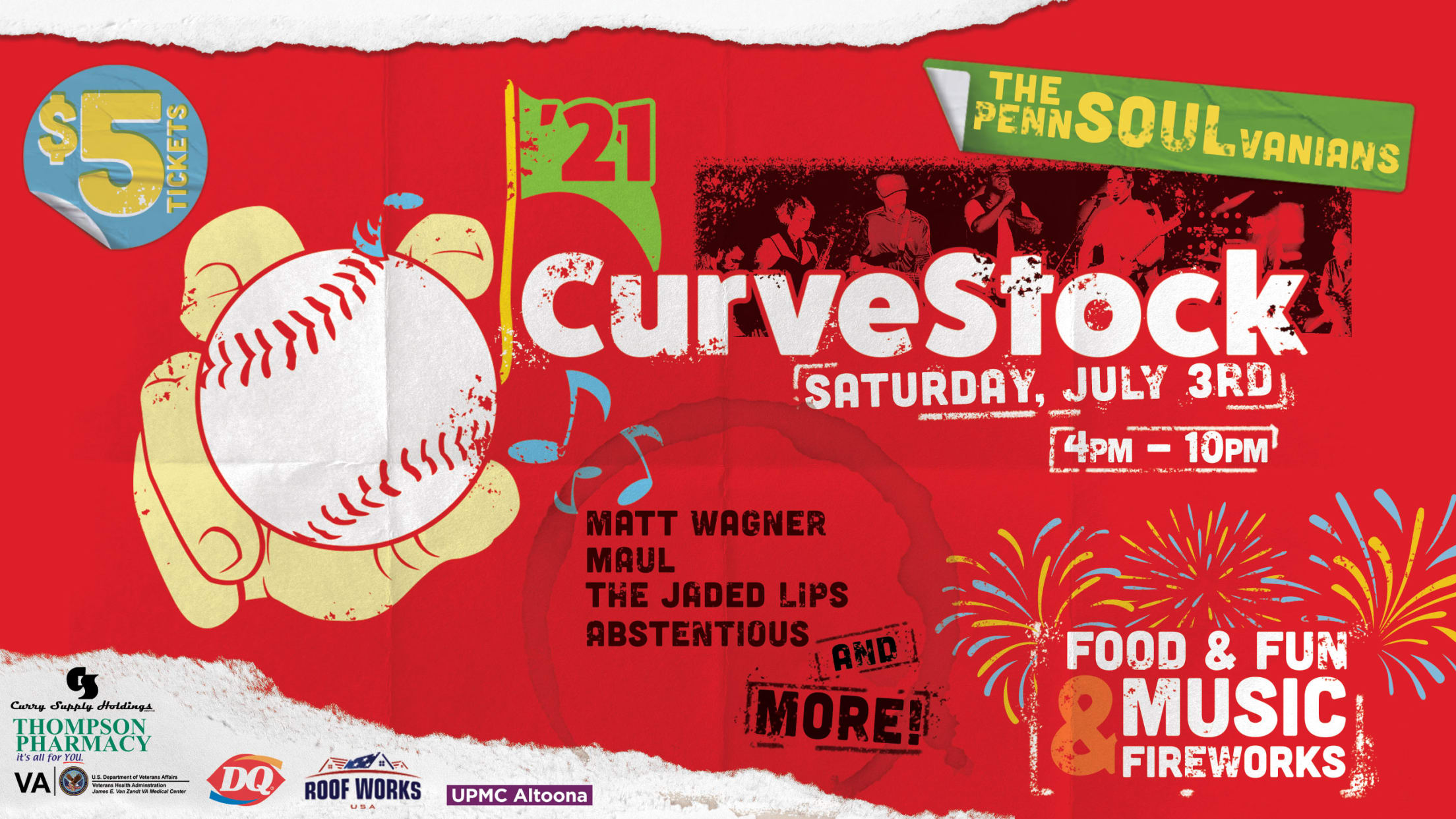 CURVE, PA – Peoples Natural Gas Field is pleased to celebrate American Independence with a day of fun, great music and fireworks on Saturday, July 3rd when the Altoona Curve host Curvestock. Curvestock is presented by the James E Van Zandt VA Medical Center, Roof Works USA, Thompson Pharmacy, Dairy
CURVE, PA – Peoples Natural Gas Field is pleased to celebrate American Independence with a day of fun, great music and fireworks on Saturday, July 3rd when the Altoona Curve host Curvestock. Curvestock is presented by the James E Van Zandt VA Medical Center, Roof Works USA, Thompson Pharmacy, Dairy Queen, UPMC Altoona, and Curry Supply Holdings.
Beginning at 4:30 p.m. and running until approximately 10:00 p.m., fans can enjoy a festival style atmosphere at PNG Field with live music from local and regional bands and a fantastic Independence Day-themed fireworks show to cap off the night.
Fans can purchase tickets to Curvestock beginning on Tuesday, June 1st at 10:00 a.m. for $5 and season ticket holders will be granted complimentary admission to the event. Tickets can be purchased here and seating will be reserved for the fireworks show at the end of the event.
Food and drinks will be available at concession stands throughout the event and parking will be available in the parking garage for $3 and the VIP Lot for $4. Season ticket holders that normally receive parking passes will receive them on a complimentary basis as well.
Below is a tentative schedule of events for the day as well as a listing of bands slated to play throughout the event. Acoustic bands will play on the first base dugout, while full bands will play on the Budweiser Party Deck in left field and at home plate.
4:00pm – Gates Open
4:30pm – Live music begins
8:00pm – PennSOULvanians begin their set on home plate
9:30pm – PennSOULvanians complete their set on home plate
9:35-:40pm – Fireworks Begin
The Curve are also pleased to welcome the following bands to play at Curvestock:
Maul – https://www.facebook.com/thisismaulmusic
Jae Smith – https://www.facebook.com/jaesmith81
Abstentious
The Jaded Lips
Matt Wagner – https://www.facebook.com/matthewwagnermusic
PennSOULvanians – https://www.facebook.com/soulofpa
For tickets or more information, visit AltoonaCurve.com, call 877.99.CURVE or stop by the PNG Field box office. Additionally, the Stockyard Team Store is open Monday-Friday from 9 a.m. to 5 p.m., during every home game and online 24/7/365.