Newcombe, Campanella unsung heroes
Minor League teammates battled racism with optimism in 1946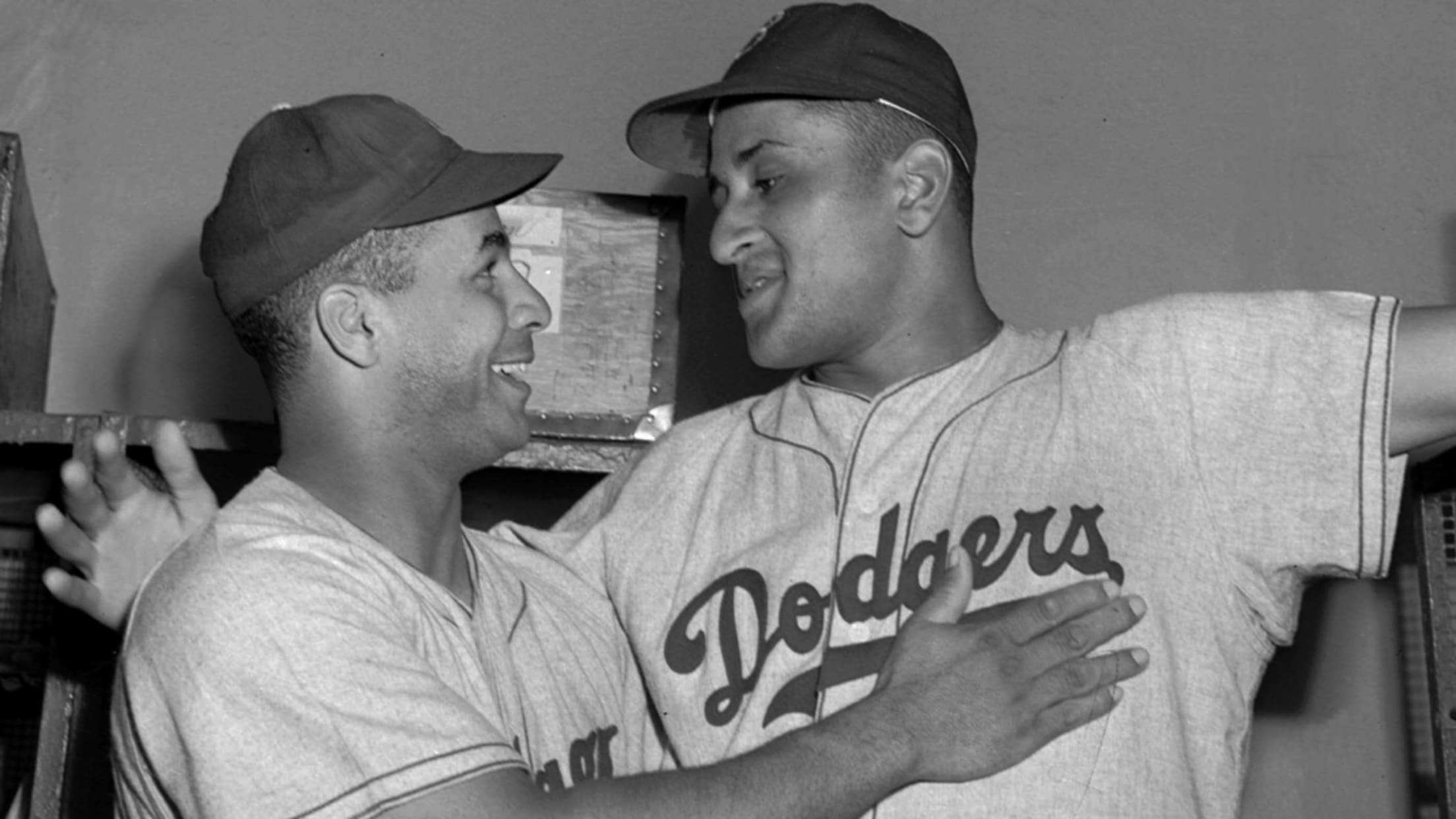 Roy Campanella (l) and Don Newcombe were batterymates in Nashua before they were legends in Brooklyn. (Matty Zimmern/AP)
RANCHO PALOS VERDE, Calif. -- The stories surrounding Jackie Robinson's journey as he broke baseball's color barrier have become legendary. The struggles he endured and how he handled them have been chronicled often, deservedly helping Robinson achieve icon status, not only as a baseball player but as a leader in
RANCHO PALOS VERDE, Calif. -- The stories surrounding Jackie Robinson's journey as he broke baseball's color barrier have become legendary. The struggles he endured and how he handled them have been chronicled often, deservedly helping Robinson achieve icon status, not only as a baseball player but as a leader in the fight to end racial inequality.
There are other tales, however, that are just as important when discussing the turbulent times of the late '40s and early '50s and how the players behind Robinson were treated as they made their way through baseball's lower ranks and into the Major Leagues. The story of Don Newcombe and the late Roy Campanella is one that doesn't receive nearly as much attention as Robinson's.
Yet, in 1946, while Robinson was busy making headlines in Montreal, Newcombe and Campanella were making history themselves playing for Nashua of the Class B New England League. The duo, who dominated that season in the small New Hampshire town, made the Nashua Dodgers the first integrated affiliated baseball team in the United States.
Both veterans of the Negro Leagues, Newcombe and Campanella dominated the circuit that season, leading Nashua to a championship. Stories of how poorly minorities were treated during the early days of baseball integration are most often the ones told. But the time that Newcombe and Campanella spent in the sleepy New England town was actually pleasant.
Newcombe, who turned 80 in June, recently played in a charity golf tournament sponsored by the Dodgers. He sat down with MiLB.com after his round at Trump National Golf Club and discussed what life was like pitching in the Minor Leagues in the 1940s and how the people of Nashua embraced him and Campanella.
Originally, the Dodgers wanted to send their two young stars to Danville, Ill., to play in the Three-I League, a Class A circuit. Branch Rickey, Brooklyn's general manager, let the folks in Danville know what he was planning but was told that Newcombe and Campanella wouldn't be welcome and that problems would ensue if he followed through with his plan to send them there.
So, Rickey's only alternative was to send the pair to Nashua, the last remaining Dodgers affiliate that wasn't in the South. It turned out to be a brilliant move. Future Dodgers executive Buzzie Bavasi was running the Nashua club and had no problem with anyone's skin color as long as they could play. And with young Walter Alston managing the club, Newcombe and Campanella couldn't have found a better start to their integrated careers.
"It turned out for the better that we went to Nashua," said Newcombe, whose victory at Pawtucket on the third day of the 1946 season made him the first African-American pitcher to win a game for an integrated professional baseball team. "I always thanked God for Nashua. We had Buzzie Bavasi and Walt Alston there and an unbelievable team. We didn't have to go through what Jackie went through there. We had to listen to some people, but it was a great learning process.
"We had a lot of fun. We were considered people, not black people," he said. "I met some wonderful people there."
Most of whom were white. The population of Nashua, according to the federal census that year, was roughly 33,000 people, less than 50 of which were black. Newcombe recalled that there were some minorities working at the saw mill in town, and that he didn't see them all that often during his two seasons in Nashua. In a very remarkable and progressive move for the time, Newcombe stayed with a white family during the 1947 season.
"It didn't seem to matter to them," Newcombe said. "The couple even had a daughter, and I sat at the dinner table with them. I slept in a bed in their house, and it didn't seem to be of any consequence. The club advertised in the newspaper that they were looking for places for the players to stay, and this couple called and said they wanted 'Don Newcombe to stay with us.'"
One car dealer even gave Newcombe his first car, a 1934 Hudson Terraplane. And when Newcombe and Campanella went to the barber in town, he freely admitted that he had never cut an African-American's hair but did his best. Newcombe recalled with a laugh how bad the haircut was, but clearly appreciated the man's effort and honesty. Ultimately, Newcombe said the haircut was so bad he and Campanella just had the barber shave their heads completely.
It wasn't ideal all the time, though. There was still bigotry involved on the field even if the townspeople were friendly. Several opposing players and managers rode Newcombe and Campanella hard but, like Robinson, they didn't fight back. Then again, they didn't have to.
"The people in Portland, Maine, weren't very nice and the manager of the Lynn Red Sox, [Thomas] Pip Kennedy called me and Roy all kinds of names," Newcombe recalled. "One night after a game, Buzzie and Walt Alston were waiting for him. I couldn't do anything about it but they could and told him they didn't like the way he was talking to their players, and it didn't happen again after that."
"In another game, [Giants catcher] Sal Yvars threw dirt in Campy's face and he told him that if he ever did that again, he'd break him in half," Newcombe said. "We couldn't fight but I had a fastball I could use, and I didn't always know where it was going. I could at least throw the ball under the chin of another team's best hitter."
Newcombe didn't have to employ that tactic all too often in '46. He went 14-4 that year, posting a 2.21 ERA in 155 innings. He struck out 104 and walked 79 while the opposition managed to hit only .201 against him. He also hit .311 with two homers and 14 RBIs in 74 at-bats.
Campanella hit .291 with 13 homers, was named to the All-Star team and was crowned the league's Most Valuable Player at season's end. Campanella was promoted to Triple-A Montreal the following season but Newcombe was sent back to Nashua, a move that upset him greatly at the time.
The stocky catcher also made history on June 15 when he actually managed a game for Nashua, nearly 30 years before Frank Robinson became the first African-American manager in the Major Leagues. Alston had told his players early in the season that he wouldn't put up with any racial shenanigans, going so far as to tell his team that if he ever got tossed from a game that Campanella would manage.
Well it happened that day in Lawrence when Alston got ejected in the seventh inning of a tie game. The Dodgers went on to win the game and Campanella was credited with the win.
Rickey, for all his genius, didn't think that rushing several minority players through the Dodgers' system all at once was wise, so he staggered their promotions.
"I had two years experience in the Negro Leagues, and I thought I was better than Class D," Newcombe said. "After I won all the games I won, I thought something might be wrong with me. If I was white and had won 14 games I would have at least gone to camp with Montreal the next year.
"All Branch Rickey told me was that they were doing it his way. If you can't do it that way, then go home," Newcombe said. "I didn't know about the staggered procedure at the time, they didn't tell me. But I knew I wanted to earn more money so I made some noise and I got $550 a month to play with Nashua."
Newcombe would earn every penny of it, too. He went 19-6 in 1947, posting a 2.91 ERA in 223 innings. He completed an astounding 24 of the 27 games he started, striking out 186 and walking 116 in the process. He also continued to excel at the plate, hitting .271 with six doubles and 18 RBIs.
He continued to earn his keep throughout a sparkling 10-year career with the Dodgers, Cincinnati and Cleveland. Newcombe was 149-90 with a 3.56 ERA for his career, putting up his best numbers while the Dodgers were still in Brooklyn. He won the National League Rookie of the Year Award in 1949 after going 17-8 and recording 19 complete games.
Newcombe's best season, however, came in 1956, when he was named the Cy Young Award winner and earned National League Most Valuable Player honors. He went 27-7 while leading the Dodgers to the World Series. Newcombe, who was a four-time All-Star, finished with a .271 batting average, 15 homers and 108 RBIs.
Nashua, for all its groundbreaking achievements, didn't last long in the New England League. The team folded in the early '50s but the role it, and the town, played in baseball's development shouldn't be forgotten.
Kevin Czerwinski is a reporter for MLB.com. The New Hampshire Historical Society and Steve Daley contributed to the story.