DRILLERSFEST 2023 SCHEDULED FOR MARCH 11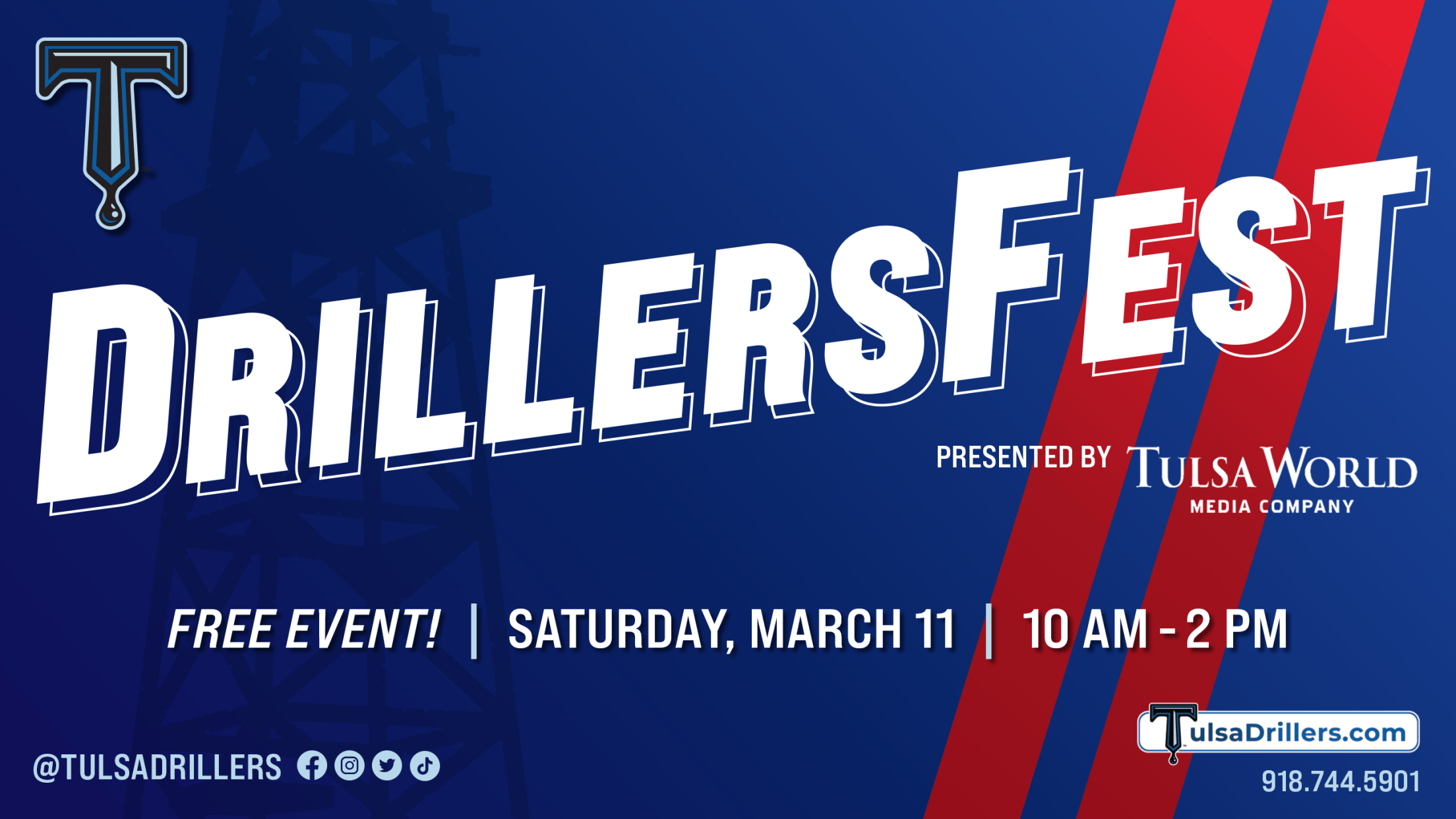 The Tulsa Drillers will host DrillersFest 2023, presented by the Tulsa World Media Company, at ONEOK Field on Saturday, March 11 from 10:00 a.m. until 2:00 p.m. DrillersFest is the team's inaugural event for the upcoming season and will offer all season ticket holders the opportunity to receive information and
The Tulsa Drillers will host DrillersFest 2023, presented by the Tulsa World Media Company, at ONEOK Field on Saturday, March 11 from 10:00 a.m. until 2:00 p.m. DrillersFest is the team's inaugural event for the upcoming season and will offer all season ticket holders the opportunity to receive information and items from their membership packages as well as give all fans the chance to buy individual tickets for any home game in the 2023 season, including Opening Night.
Any fans picking up their ticket packages or purchasing individual tickets will receive free hot dogs and soft drinks.
The event will also include live baseball action as a pair of local high school teams will play at ONEOK Field. Oologah will face Catoosa in the Drillers High School Baseball Series beginning at 1:00 p.m.
Prior to the start of the baseball game, fans will be able to play catch on the field from 10:00 a.m. until 12:00 p.m.
In addition, the Drillers newly remodeled Team Store will be open for in-person shopping for the first time. It will be the first chance for fans to check out the new merchandise for the 2023 season.
There will be other fun activities for fans of all ages. The stadium's TD Williamson Kids Zone and several inflatable play stations will be open, and it is all free of charge. In addition, Hornsby will be in attendance for photos, and there will be guided stadium tours beginning at 11:00 a.m. and at noon for fans wanting to see "behind the scenes" at ONEOK Field.
Other features will include a face painter and a balloon artist located near the Team Store entrance. Hiland Dairy will be offering free ice cream samples for all fans, while Dead Armadillo Brewery will be offering free beer samples for fans ages 21 and over.
Lastly, Basketcase Disc Golf will be on hand for fans to show off their disc golf skills.
During DrillersFest, individual tickets can be purchased in person at the ONEOK Field Ticket Office located on Elgin Avenue. Drillers Full Season and Mini Plan members will be able to obtain their packages in the Eide Bailly Conference Center located on the stadium's suite level.
For fans who have not purchased ticket plans but are interested in becoming members, the Drillers will have representatives available to answer questions and show potential seat locations.
The Drillers will open the regular season on Thursday, April 6 by hosting San Antonio at ONEOK Field.
A complete list of all DrillersFest 2023 activities is below.
Membership Pickup: All members will receive information on how to access their online accounts, get free doughnuts, coffee, hot dogs & soft drinks. Full season members will also receive a free gift.
New Memberships Available: Drillers staff members will be available to showcase and discuss ticket plans & available seats.
Single Game Tickets on Sale: Tickets for all 69 Drillers home games will go on sale. Any purchase made at the ticket office or proof of online purchases will receive a free hot dog & drink.
Catch on the Field: For two hours, beginning at 10:00 a.m., fans will be allowed on the field to play a game of catch.
Drillers High School Baseball Series: Oologah and Catoosa high school teams will play starting at 1:00 p.m.
Remodeled Team Store Open: New merchandise available for the first time!
TDW Kids Zone Open
Photos with Hornsby
ONEOK Field Tours
Balloon Artist/Face Painter
Dead Armadillo Free Beer Samples (Ages 21 and over)
Hiland Dairy Free Ice Cream Samples
Basketcase Disc Golf
DrillersFest 2023 is presented by the Tulsa World Media Company