Emeralds Walk Away With a Close Win for the Third Game of the Series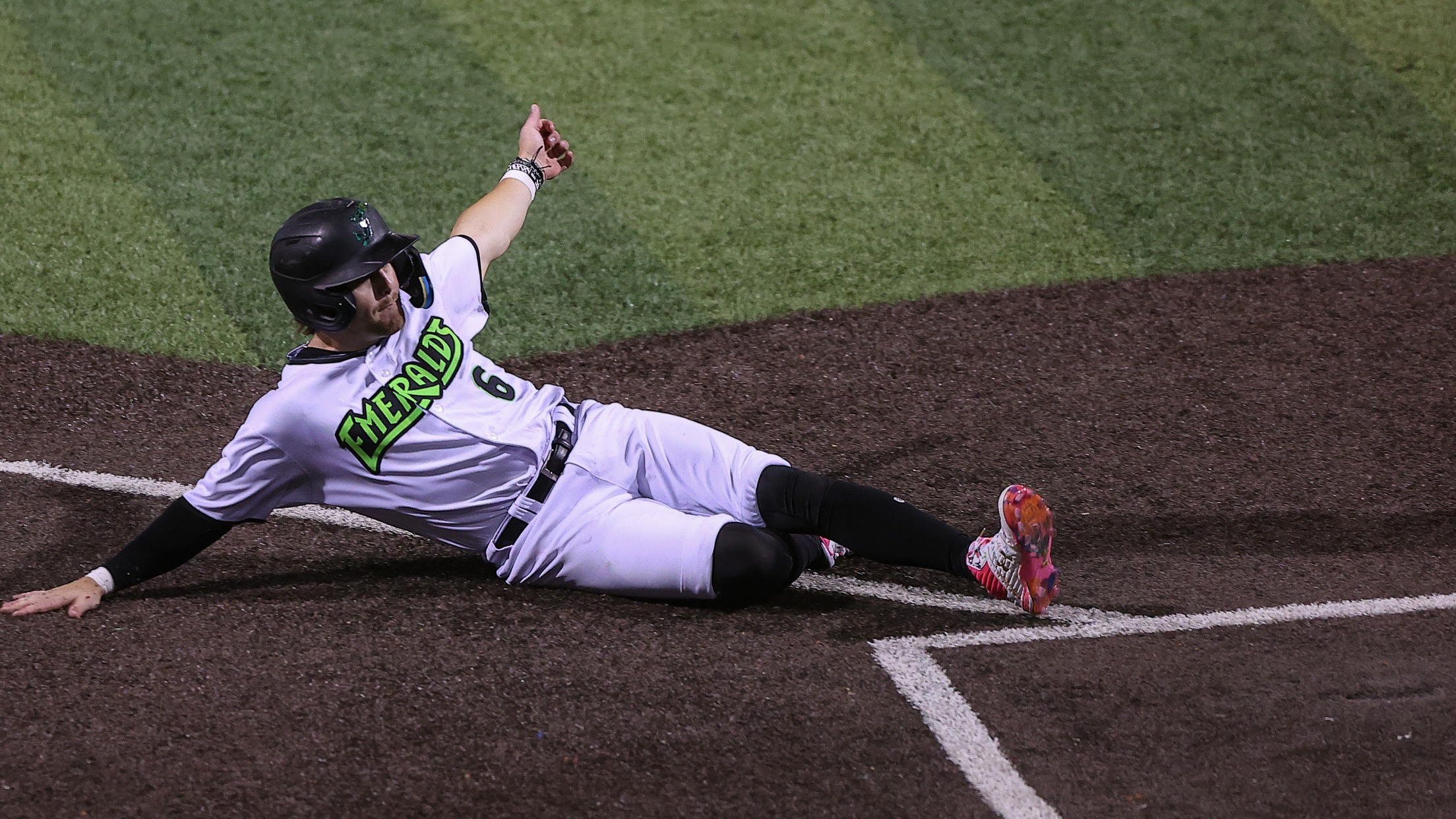 (Gary Breedlove)
Despite the strong fight from the Everett Aquasox, the Emeralds bounce back and win the game 6-5. Nick Zwack was given the ball to start the game. In five innings, he allowed three hits, two runs, walked three, and struck out six in his fifth appearance for the Emeralds since
Despite the strong fight from the Everett Aquasox, the Emeralds bounce back and win the game 6-5.
Nick Zwack was given the ball to start the game. In five innings, he allowed three hits, two runs, walked three, and struck out six in his fifth appearance for the Emeralds since being traded from the Brooklyn Cyclones, the High-A Affiliate of the New York Mets.
Eugene entered the game hot and ready to go as their first batter, Hayden Cantrelle, hit his first home run of the season over the right-center field wall. A few batters later, Andy Thomas singled on a fly ball to left field, and Luis Matos came home to make the score 2-0.
Everett got their first runs in the top of the fourth inning. First baseman Dariel Gomez tripled on a fly ball to right field, and shortstop James Parker scored their first run. Later on, designated hitter Mike Salvatore hit an RBI groundball, but Gomez crossed the plate just in time to tie the game.
The Emeralds responded an inning later after Luis Matos grounded into a force out at third base, and Carter Williams scored.
In the top of the sixth inning, center fielder Victor Labrada singled on a fly ball to left field, and Parker scored their third run to tie the game.
During the bottom of the eighth inning, Jared Dupere doubled on a fly ball to center field, and Grant McCray came home. Dupere was able to advance to third base after a fielding error by the Aquasoxs' second baseman, Justin Lavey.
The next batter, Jimmy Glowenke, hit an RBI single on a ground ball to center field to make the score 5-3. The inning ended after Carter Williams singled to center field to add their sixth and final run.
Everett came close to tying the game after pinch hitter Robert Perez Jr. singled on a fly ball to left field to bring in their fifth run, but they came up short, and the Emeralds got their second win of the series.
The Emeralds and the Aquasoxs will go at it again tomorrow, Sept. 3rd, for the fourth time in this series on Marvel Superhero night. The first pitch will be thrown at 5:05 p.m and the team's specialty jerseys inspired by the Hulk will be auctioned off during the game.