Fitzgerald Clubs Three-Run Shot, WooSox Beat Mud Hens 5-4 
Seabold Tosses Six Strong, Lowers ERA to 1.95 in Father's Day Win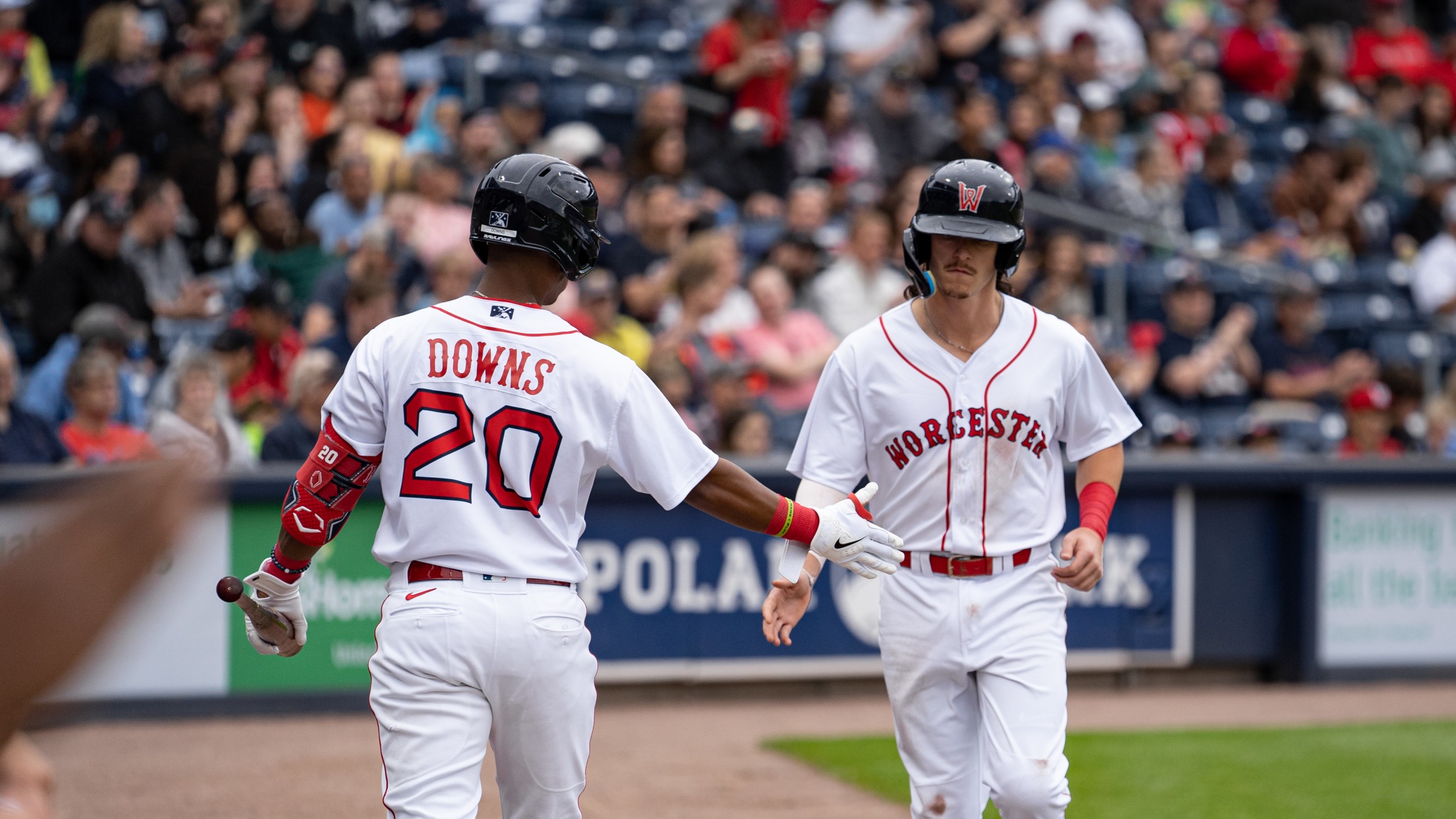 WORCESTER, M.A. — The Worcester Red Sox (32-34) held on to take the series finale over the Toledo Mud Hens (34-30) on Sunday afternoon, a 5-4 Father's Day victory in front of 7,770 at Polar Park. The game was 0-0 entering the bottom of the fifth inning, and with one
WORCESTER, M.A. — The Worcester Red Sox (32-34) held on to take the series finale over the Toledo Mud Hens (34-30) on Sunday afternoon, a 5-4 Father's Day victory in front of 7,770 at Polar Park.
The game was 0-0 entering the bottom of the fifth inning, and with one out, the WooSox put runners on first and second for Ryan Fitzgerald. Working against Toledo reliever Logan Shore, Fitzgerald went down 0-2 before lifting a pitch high to right—when it landed atop the Worcester Wall, it was a three-run home to give the home team a 3-0 lead.
With his family in attendance 🙌 pic.twitter.com/8AaPLH7gRS

— Worcester Red Sox (@WooSox) June 19, 2022
Fitzgerald, who homered on Mother's Day as well, clubbed his team-leading 12th of the season with both parents in attendance.
That was enough run support for WooSox starter Connor Seabold, who allowed just a single run over six innings of work, a sixth-inning sac-fly by Jeimer Candelario. Seabold struck out four, part of an outing that lowers his ERA to 1.95 in 50.2 innings at Triple-A.
Devlin Granberg made the defensive play of the day for Seabold in the fifth, a diving grab with two men on to preserve the Worcester lead.
GOLD GLOVE GRANBERG! pic.twitter.com/1BPodAaHSv

— Worcester Red Sox (@WooSox) June 19, 2022
The WooSox added a pair of insurance runs in the eighth—Jaylin Davis led the frame off with a walk ahead of Christin Stewart, who smacked a double in to the right centerfield gap, allowing Davis to score from first. Ronaldo Hernandez was next, who lined an RBI single down the right field line to extend the Worcester lead to 5-1.
Those would prove to be important runs, as Toledo pushed across three runs in the top of the ninth against Zack Kelly: a Josh Valente single, a run-scoring fielder's choice and an Akil Baddoo RBI knock. Worcester went to Kaleb Ort out of the bullpen, who entered with the tying run in at third base, but got a Jeimer Candelario groundout to close the ballgame for his ninth save.
The WooSox are off Monday and begin a six-game series at Polar Park on Tuesday at 6:45 p.m. against the Charlotte Knights, affiliate of the Chicago White Sox. On the mound, Brayan Bello (3-2, 3.78) gets the start for Worcester. Radio coverage is live at 6:25 p.m. on 100.1 FM The Pike, 98.9 Nash Icon and the WooSox Radio Network, while television coverage is on NESN+.