Emeralds Cruise In Chaotic Series Opener Against Spokane
Three big blasts help Eugene pull away late as the bullpen once again showcases stellar stuff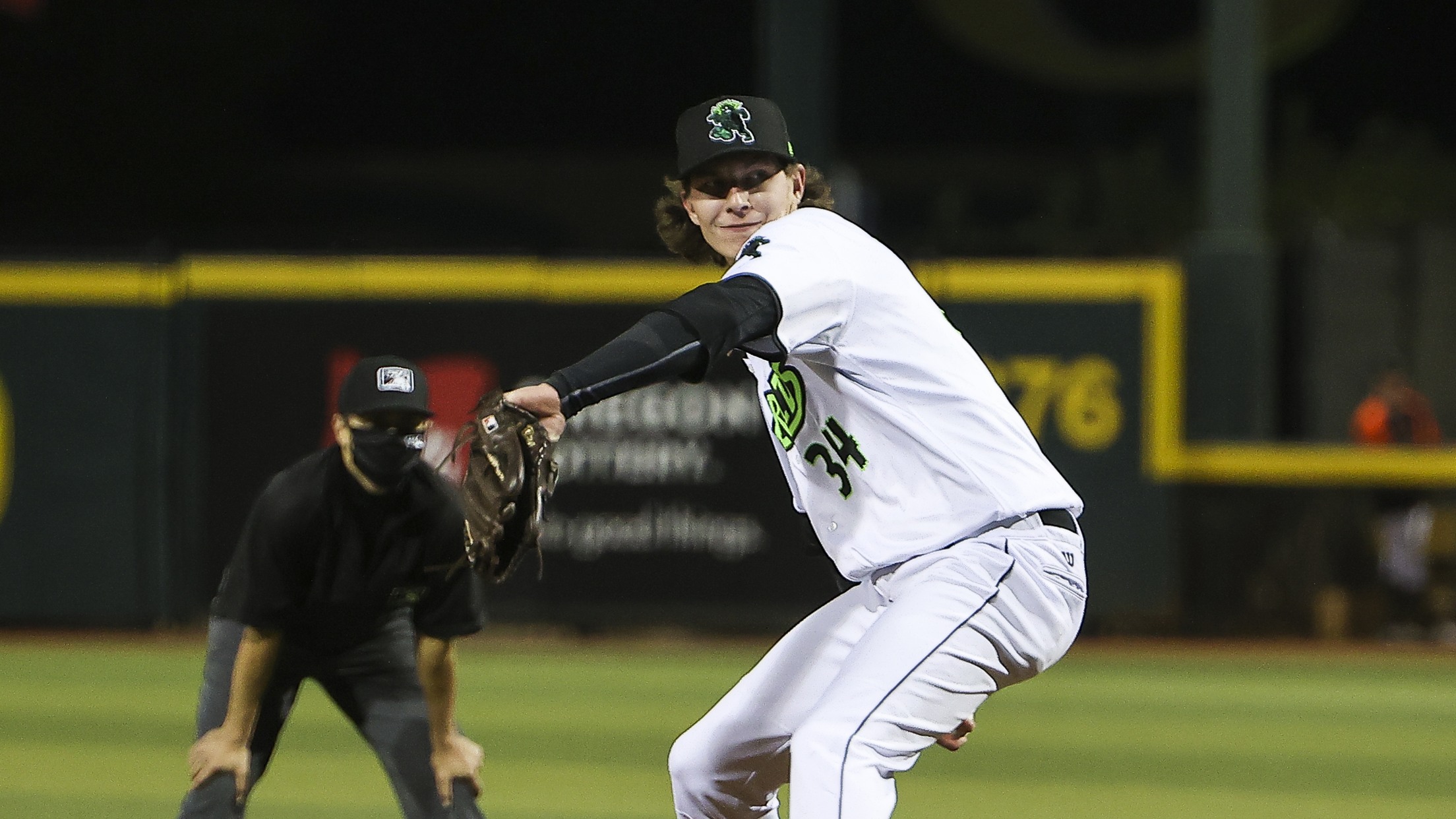 (Gary Breedlove)
The Eugene Emeralds (35-25) bounced back in emphatic fashion on what was a smoky Tuesday night in Eastern Washington, downing the Spokane Indians (28-33) in the first game of a six-game series in Spokane, Washington. THE DETAILS:
Winning Pitcher: Travis Perry (5-1, 2.88 ERA): 2.2 IP | 1 H
The Eugene Emeralds (35-25) bounced back in emphatic fashion on what was a smoky Tuesday night in Eastern Washington, downing the Spokane Indians (28-33) in the first game of a six-game series in Spokane, Washington.
THE DETAILS:
Winning Pitcher: Travis Perry (5-1, 2.88 ERA): 2.2 IP | 1 H | 1 R | 1 ER | 2 BB | 1 K

Losing Pitcher: Helcris Olivarez (2-8, 5.49 ERA): 5.0 IP | 4 H | 4 R | 3 ER | 5 BB | 6 K

Save: N/A

HR(s): Eugene: Quinn (1), Labour (7), Auerbach (2) | Everett: Decolati (8)
HOW IT HAPPENED: Fresh off a frustrating series against the Everett AquaSox that saw Eugene drop five-of-six and fall 5.5 games behind the first place Frogs in the standings, the Ems hit the road to Spokane – a place where they started the 2021 season – aiming to repeat history after taking five-of-six against the Indians in that season-opening series in Eastern Washington.
The Emeralds were on the front foot from the jump, starting with leadoff man Ismael Munguia singling the opposite way on the first pitch of the ballgame. Three batters later, after a two-out walk worked by Sean Roby to put runners on first and second, Tyler Fitzgerald singled on the first pitch he saw sending a comebacker up the middle to center field.
Fitzgerald's single scored Munguia from second, but with Roby looking to go from first base to third, Indians first baseman Michael Toglia – playing in his first game back with Spokane since participating in this past weekend's MLB All Star Futures Game in Denver, Colorado – cut off the throw from the center fielder Isaac Collins and fired to third base. Toglia's throw to third was low and got past third baseman Aaron Schunk's glove, though, allowing Roby to score easily from third and make it 2-0, Emeralds.
However, Spokane wasted no time answering as Niko Decolati belted a two-out, two-strike blast the opposite way for his eighth homer of the season, a solo shot that made it 2-1 after one.
Two innings later, the Emeralds added to their lead by plating another pair of runs. With two outs and the bases loaded after a walk drawn by Armani Smith, a Sean Roby single, and a Tyler Fitzgerald hit by pitch, Franklin Labour offered at the first pitch he saw and stroked a line drive single to left, scoring both Smith from first and Roby from second to make it 4-1, Emeralds, heading to the home half of the third.
Spokane would respond once again, though, cutting Eugene's lead to two thanks to a one-out single by AJ Lewis that was immediately followed by an Isaac Collins double to deep left-center that scored Lewis to make it 4-2.
It became a one-run game an inning later, but controversy soon followed thereafter. Spokane started a two-out rally with an Aaron Schunk single to left and a Hunter Stovall single to right that put runners at first and second with two outs. After Javier Guevara drew a walk to load the bases, the ninth hitter in the Indians lineup, AJ Lewis, stepped up and delivered, lining a 3-2 pitch into center field for an RBI single while moving all other runners up ninety feet, keeping the bases loaded for leadoff man Isaac Collins and cutting it to a one-run game, 4-3.
Chaos ensued with Collins at the plate. Emeralds reliever Travis Perry entered in place of starter Aaron Phillips to start the at-bat, and with a 1-1 count, Collins laced a liner to center field that initially looked as if it would be, at worst, the game-tying base knock. Instead, Ismael Munguia raced in to make what was ruled a diving catch, then throw to the infield to double off the Spokane base runner at third, Hunter Stovall, to end the inning with a wild double play.
However, base umpire Jae-Young Kim – who had initially made a clear and emphatic call on the Munguia diving attempt that the batter Isaac Collins was out – then said that the runner at third, Stovall – who had clearly left the third base bag on contact and did not wait for Munguia to make the play – was ruled safe. That led to chaos and confusion on both sides with both the Emeralds and Indians players and staff bewildered at what exactly the ruling was.
Home plate umpire Pete Talkington eventually intervened and ruled that, in fact, Stovall was doubled off at third and that the inning was over. That sent Spokane into a fury as they argued that Munguia had not made the catch in the first place and that, in fact, Munguia had merely trapped the ball. Despite the arguing, the call(s) stood and in the end, the Emeralds were somehow able to escape from the fourth still leading, 4-3.
That moment proved pivotal as the Emeralds offense would hit the gas over the game's final few innings. Following a scoreless fifth inning, Eugene ballooned their lead from one to three on just one swing of the bat, a three-run homer by Heath Quinn the opposite way into the right field stands, Quinn's first four-bagger as an Emerald.
Quinn's blast kicked off three straight innings that saw an Emeralds homer. That continued in the seventh when Franklin Labour teed off his own three-run homer the opposite way, mashing his eighth home run of the season on a towering shot to put the Emeralds firmly in front, 10-4.
Auerbach added one more tater for good measure in the eighth, but he opted not to follow the flight path of Quinn and Labour's blasts, sending a rocket to left field for a two-run homer that capped the scoring and put a cherry on top of an impressive 12-4 win for the Emeralds.
PEAK PERFORMERS:
The Bullpen: Time and time again, the bullpen continues to be a point of strength – or, perhaps THE point of strength – for the Emeralds. Four Emeralds arms – RHP Travis Perry, RHP Ryan Walker, RHP Taylor Rashi, and RHP Tyler Schimpf – combined to fire 5.2 innings with six strikeouts while allowing just three hits, one earned run, and three walks.

Franklin Labour – RF: Labour continues to look comfortable at Avista Stadium. Labour has now homered in three straight games at Avista Stadium and finished Tuesday night with a game-high three hits, going 3-for-5 with the aforementioned three-run homer, four RBIs total, and two runs scored.

Heath Quinn – DH: Quinn hasn't seen much consistent playing time since joining the Emeralds, but he made a strong case for receiving more on Tuesday night, finishing 2-for-3 with a HR, three RBIs, two runs, and a walk.
WHAT'S NEXT: The Eugene Emeralds and Spokane Indians continue their six-game series on Tuesday at Avista Stadium in Spokane. First pitch on Wednesday is slated for 6:30pm PST.
You can listen live to all the action with Alex Stimson on the call via 95.3FM The Score, via MiLB.com or on the MiLB app.
Tickets to Emeralds home games are available at www.EmeraldsBaseball.com or by calling (541) 342-5367.
Stay up to date with the Emeralds by following the team on Facebook, Twitter and Instagram.