Emeralds Offense Explodes For Fifteen Runs To Power Game One Win
Eugene tallies five homers and twenty hits – highlighted by an eight-run first inning – to start the High-A West Championship Series on a resounding note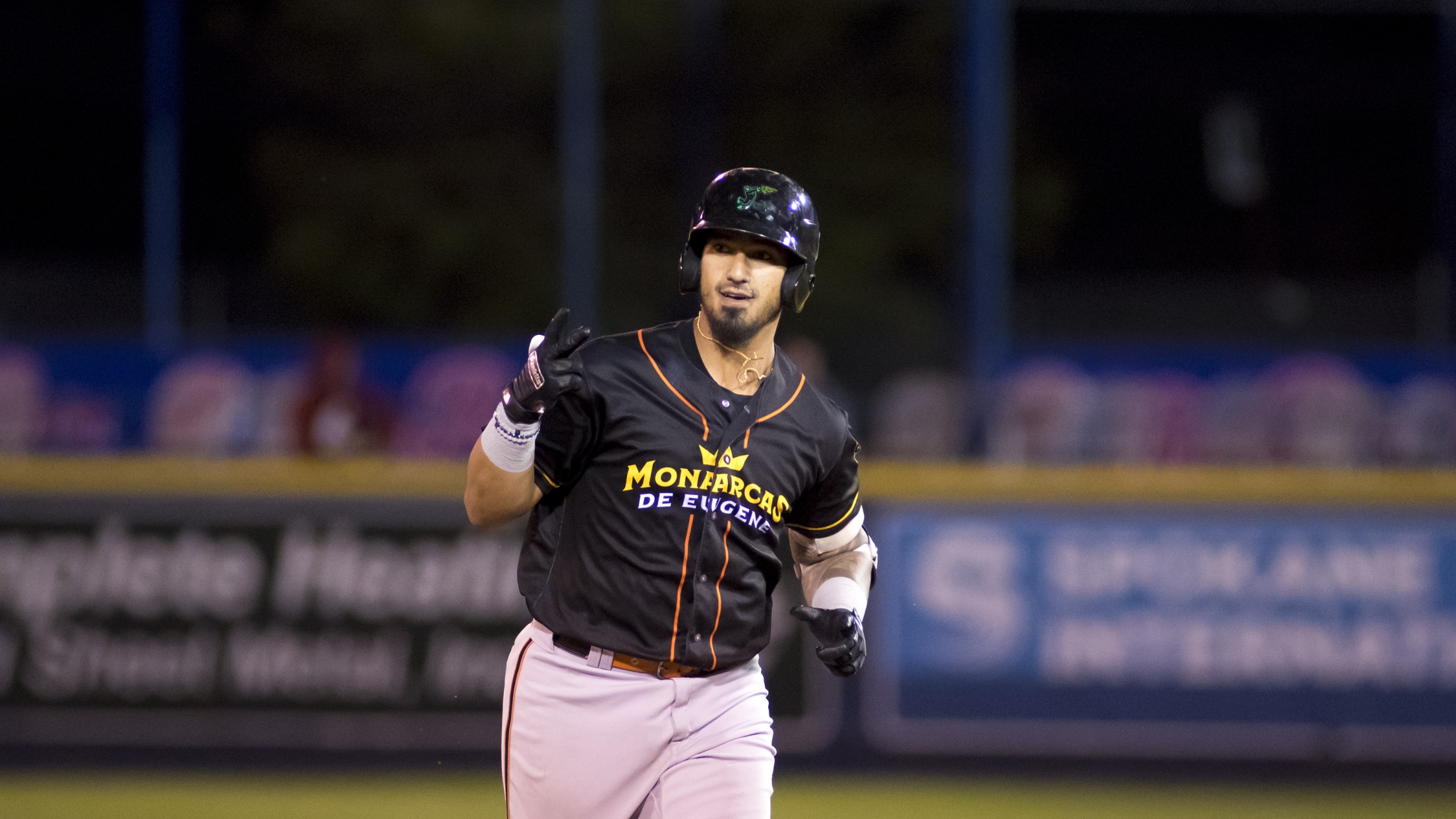 (Jared Ravich / MiLB)
There was no doubt from the get-go in Game One of the High-A West Championship Series as the Eugene Emeralds (1-0) earned a dominant 15-7 win over the Spokane Indians (0-1) on Tuesday night at Avista Stadium. THE DETAILS:
Winning Pitcher: John Russell (1-0, 0.00 ERA): 2.0 IP |
There was no doubt from the get-go in Game One of the High-A West Championship Series as the Eugene Emeralds (1-0) earned a dominant 15-7 win over the Spokane Indians (0-1) on Tuesday night at Avista Stadium.
THE DETAILS:
Winning Pitcher: John Russell (1-0, 0.00 ERA): 2.0 IP | 1 H | 0 R | 0 BB | 1 K

Losing Pitcher: Helcris Olivarez (0-1, 216.0 ERA): 0.1 IP | 6 H | 8 R | 8 ER | 2 BB | 0 K

Save: N/A

HR(s): Eugene: Roby (1), Genovés 2 (1, 2), Labour (1), Munguia (1) | Spokane: Blomgren (1)
HOW IT HAPPENED: Kicking off the best-of-five High-A West Championship series, the Emeralds offense wasted no time getting right to work in Game One.
Ismael Munguia led off the top of the first with a single to left on the second pitch of the game, and after Brett Auerbach then followed by working a walk after falling behind in the count, 1-2, Armani Smith smashed a first-pitch single to right that plated Munguia and put the Emeralds up right out of the chute, 1-0.
One pitch later, Eugene's 1-0 lead became a 3-0 lead when Sean Roby mashed the first offering from Spokane's Helcris Olivarez way out to right, a no-doubter the opposite way to put Eugene up by four before an out had even been recorded in the game.
Olivarez got that elusive first out one batter later when Jairo Pomares flew out to deep right field, but that would be the only out that the flame-throwing left-hander would record in the game.
Tyler Fitzgerald followed Pomares by drawing a walk on a full count, and after a meeting on the mound between Olivarez and Spokane pitching coach Ryan Kibler, Marco Luciano continued the first pitch hit spree by lacing Olivarez's first offering to the wall in right-center, scoring Fitzgerald from first while Luciano slid into third safely for a triple.
Ricardo Genovés followed in the ensuing at-bat, and while Genovés didn't collect a first-pitch base knock, he certainly collected a big knock, belting a 1-1 offering from Olivarez over the short porch in right to plate the sixth and seventh Emeralds runs of the inning.
Two pitches later, Eugene's eighth run came across when Franklin Labour lasered a no-doubter to left, a solo blast that rocketed off Labour's bat at 110 MPH to ultimately chase Olivarez from the ballgame and cap an inning to remember as the Emeralds took an 8-0 lead before Spokane's first trip to the plate.
Alright, wanna see some footage of all these runs from the broadcast booth with @AlexStimson.

Don't kid yourself, OF COURSE you do 🧵 https://t.co/8sNfC6SI2N

— Eugene Emeralds (@EugeneEmeralds) September 22, 2021
Two innings later, the Emeralds padded their sizable lead with two more long balls. Ricardo Genovés blasted another 1-1 offering for his second solo homer of the night, a big bomb to the deepest part of the park in right-center for what was Genovés second homer of the night and his third home run in as many at-bats dating back to Sunday's regular season finale at Tri-City.
Two batters later, Munguia continued his incredible run of late by hitting Eugene's fifth homer through just three innings, a solo blast over the right field fence that put Eugene up 10-0 going to the home half of the third.
Spokane showed signs of life in the bottom of that third inning when Jack Blomgren snuck a solo homer over the short wall and into the shallow pen in right, but it remained a 10-1 game going into the bottom of the sixth.
In that bottom of the sixth, Spokane sent eight batters to the plate and brought three of them home thanks to a Hunter Stoval RBI single, a Brenton Doyle RBI double, and a Grant Lavigne RBI single that together pulled the Indians within six, but Eugene pushed the lead back up to seven in the seventh when Ricardo Genovés brought home a run from third on a sac fly, a towering shot to right that would have been his third homer of the night if not for a spectacular play by Spokane right fielder Brenton Doyle who reached over the short fence to make the catch.
In the bottom of that seventh inning, Spokane put up another three-run outburst when Doyle delivered a bases loaded, bases clearing double to the left-center field gap that pulled the Indians within four, 11-7.
Spokane could get no closer than four, though. Eugene added another run in the top of the eighth when a Sean Roby single to center scored Ismael Munguia from second, and the Ems tacked on even more insurance in the ninth with three separate RBI singles – one from Labour, one from Munguia, and one from Smith – to cap a dominant performance and seal a 15-7 win in Game One.
PEAK PERFORMERS:
Ricardo Genovés – C: Genovés entered Sunday's regular season finale with six home runs as an Emerald. He has hit three homers over his last two games, and if not for Brenton Doyle it would be four. The Venezuelan went 4-for-4 on Tuesday with two homers, four RBIs and two runs scored.

Ismael Munguia – CF: After a 5-for-6 night at the plate with four runs, two RBIs and a homer, Munguia now has 54 hits over his last 107 at-bats (.505).

Sean Roby – 3B: Roby tied Genovés in the RBI department with four, going 3-for-6 with a homer and a run scored.

Seth Corry – LHP: The southpaw set the tone from the get-go for the Emeralds, firing 3.0 innings with five strikeouts, one hit, one run and no walks.
WHAT'S NEXT: Game Two of the High-A West Championship Series will be played on Wednesday at Avista Stadium. First pitch on Wednesday is slated for 6:30pm PST.
RHP Conner Nurse is slated to start for the Emeralds against RHP Chris McMahon for Spokane.
You can catch all the action from Spokane via 95.3FM The Score, MiLB.com or on the MiLB app.
Tickets to Emeralds home games are available at www.EmeraldsBaseball.com or by calling (541) 342-5367.
Stay up to date with the Emeralds by following the team on Facebook, Twitter and Instagram.