Ems On Brink Of Title After Power Pitching, Clutch Hitting Headline Game Two Win
The Emeralds move one game away from winning the High-A West title after pulling through in a pitcher's duel in Spokane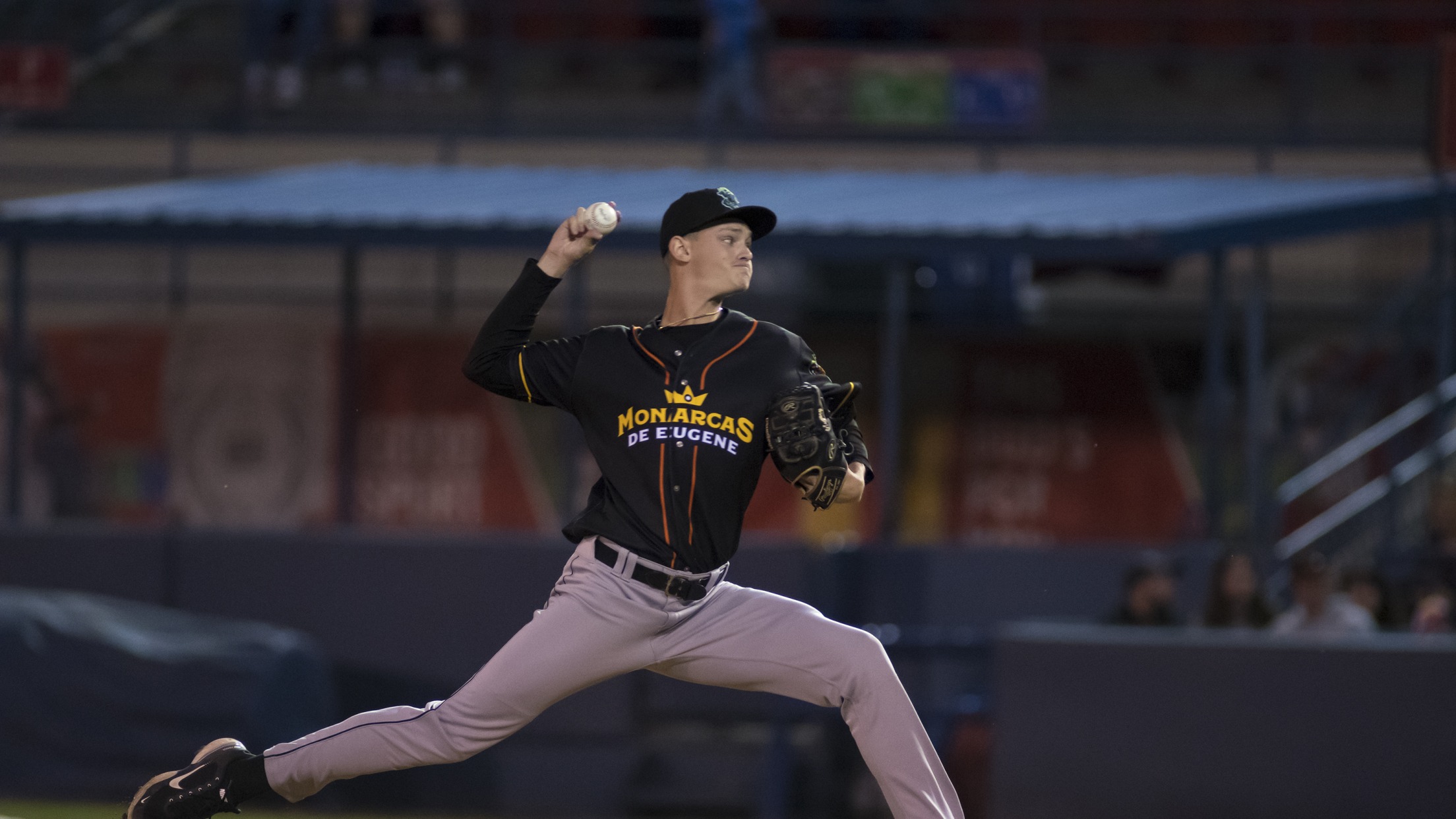 (Jared Ravich)
One. Win. Away. After an offensive explosion in Game One of the High-A West Championship Series, the Eugene Emeralds (2-0) leaned on power pitching in Game Two to take a 2-0 series advantage over the Spokane Indians (0-2) and move one win away from winning the High-A West title. THE
One. Win. Away. After an offensive explosion in Game One of the High-A West Championship Series, the Eugene Emeralds (2-0) leaned on power pitching in Game Two to take a 2-0 series advantage over the Spokane Indians (0-2) and move one win away from winning the High-A West title.
THE DETAILS:
Winning Pitcher: Taylor Rashi (1.0, 0.00 ERA): 1.0 IP | 0 H | 0 R | 0 BB | 3 K
Losing Pitcher: Dugan Darnell (0-1, 27.00 ERA): 1.0 IP | 3 H | 3 R | 3 ER | | 1 BB | 2 K
Save: Chris Wright (1)
HR(s): Eugene: N/A | Spokane: N/A
HOW IT HAPPENED: Twenty-four hours removed from a game that saw more than twenty runs scored – fifteen by the Emeralds – Eugene and Spokane traded blows via each side's starting pitcher.
Eugene's Conner Nurse was dealing from the moment he took the mound, holding the Spokane offense scoreless over seven frames of work while allowing just five hits and one walk with eight strikeouts.
Spokane's Chris McMahon was strong on the other side, though, lodging 6.1 scoreless innings with just four hits and two walks allowed with seven strikeouts.
The game came down to the ninth, and Eugene – one of the best late/close performing teams in all of High-A – once again got timely hitting when it needed it the most.
In late/close situations this season (see 'late/close' definition below), the Emerald offense ranked 2nd in High-A in batting average (.275), 2nd in on-base percentage (.393), 1st in slugging (.497), and 1st in OPS (.890). And so, it was no surprise when the Emeralds kicked into gear in the top of the ninth inning in Game Two, starting with a one out single by Tyler Fitzgerald.
*Late/close definition per MLB.com: Late-inning pressure situations are defined as any at-bat in the seventh inning or later where the batter's team trails by three runs or fewer, is tied or is ahead by only one run. If the bases are loaded and the batting team trails by four runs, this also counts as a late-inning pressure situation.
Marco Luciano followed by falling behind in the count, 0-2, but Luciano battled back to push the count full before fouling off a 3-2 pitch and then working a walk.
After a Ricardo Genovés groundout, Franklin Labour followed with a single to left that scored Fitzgerald from second for what was the first run of the night to put the Emeralds up by one.
Eugene's offense wasn't done, though, as Ismael Munguia followed with a line drive double on a 3-0 count to bring both Luciano and Labour around to score and give the Ems a 3-0 lead with three outs to go.
In the home half of the ninth, Eugene closer Chris Wright worked around a Grant Lavigne single and a Niko Decolati walk, both of which came with two outs, to seal his eighteenth save in nineteen opportunities this season and cap a 3-0 win that put the Emeralds one game away from the High-A West title.
PEAK PERFORMERS:
Conner Nurse – RHP: What more is there to say? Nurse was exceptional when the Emerald needed it the most, firing 7.0 scoreless innings with eight strikeouts. Since the start of September, Nurse has fired 22.0 innings with just two runs allowed, six walks and twenty-seven strikeouts.
WHAT'S NEXT: Game Three of the High-A West Championship Series will be played on Thursday at Avista Stadium. First pitch on Thursday is slated for 6:30pm PST.
RHP Kai-Wei Teng is slated to start for the Emeralds against RHP Mitchell Kilkenny for Spokane.
You can catch all the action from Spokane via 95.3FM The Score, MiLB.com or on the MiLB app.
Tickets to Emeralds home games are available at www.EmeraldsBaseball.com or by calling (541) 342-5367.
Stay up to date with the Emeralds by following the team on Facebook, Twitter and Instagram.