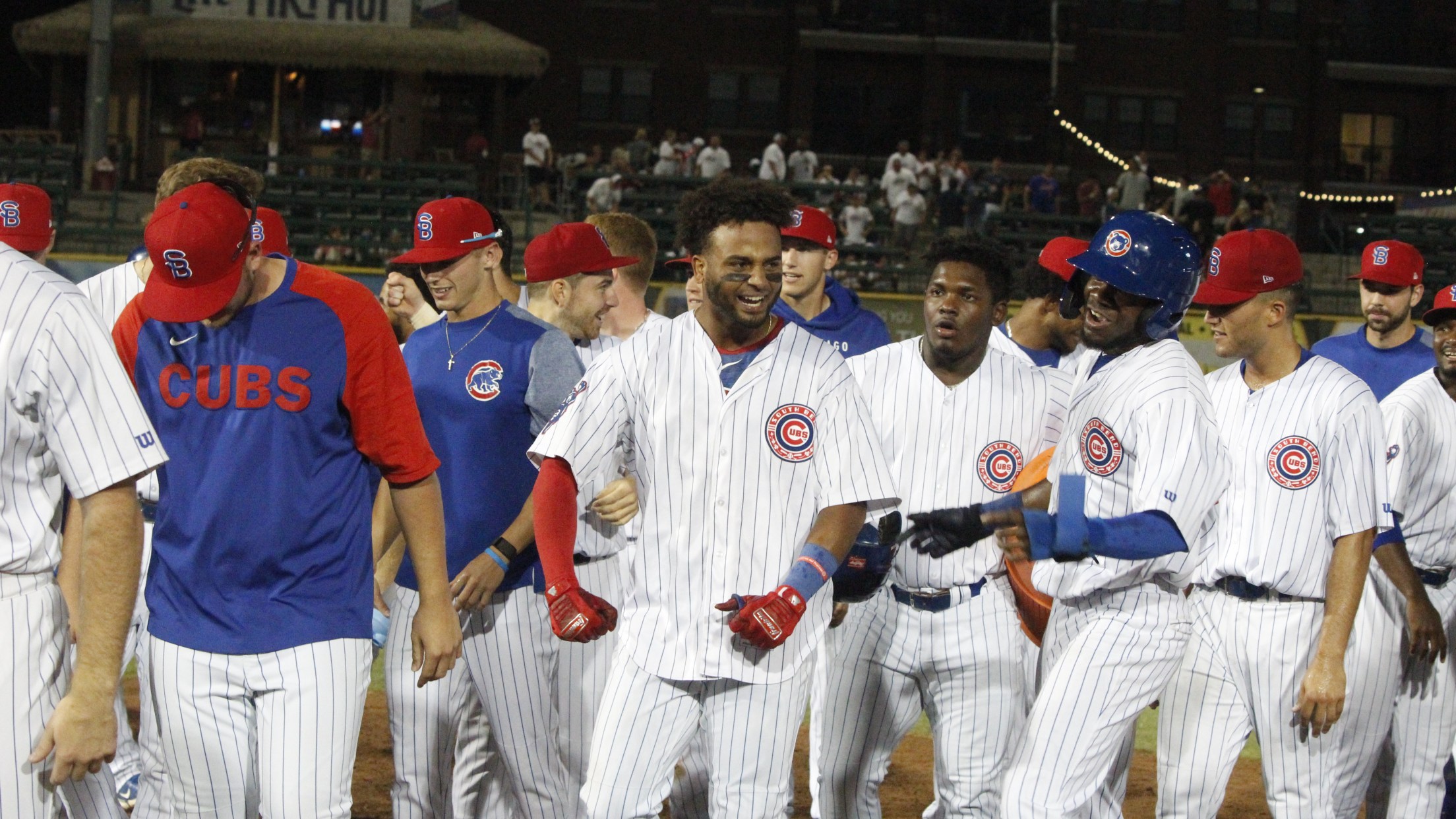 (Casey McDonald)
W: Bradford Deppermann (1-2, 4.45 ERA) L: Ryan Shreve (3-2, 2.16 ERA) BOX SCORE What a night. Oh, What a night. It's necessary to say it twice when you win in such a similar fashion back-to-back nights, with such high drama. On Wednesday night the South Bend Cubs (28-34) scored
W: Bradford Deppermann (1-2, 4.45 ERA)
L: Ryan Shreve (3-2, 2.16 ERA)
What a night. Oh, What a night.
It's necessary to say it twice when you win in such a similar fashion back-to-back nights, with such high drama.
On Wednesday night the South Bend Cubs (28-34) scored a run to tie things up in the ninth, and then walked it off with a run in the 10th. Tonight, it happened again as the Cubs clipped the Cedar Rapids Kernels (35-28), 2-1.
Ryan Jensen (6 IP, 2 H, ER, BB, 8 K) shined from the first pitch of the game yet again. His eight strikeouts were a career high. Entering tonight he had allowed just one hit in the month of July across two starts. He retired the first 11 batters of the game tonight and didn't allow a run in his first five innings. The Kernels scored the first run of the game on a one-out double in the sixth. Jensen then struck out Alex Isola and Wander Javier to end the inning, they were the final two batters he would face.
Louie Varland, making his Kernels debut, was also spinning a gem. He tossed six scoreless frames and struck out five.
The Cubs came up to bat in the ninth trailing 1-0. Breckin Williams entered the game and tried to pick up the save for Cedar Rapids. With one out he plunked D.J. Artis on a pitch that would've been ball four anyways, and then allowed Artis to steal second. The next batter was Tyler Durna who doubled to left-center to tie the game. After an intentional walk to Nelson Velazquez, the second in as many nights, Williams struck out the final two batters to send it into extras.
Bradford Deppermann came back out to pitch the 10th after pitching a scoreless ninth frame. In the 10th with two outs Deppermann stepped off the rubber and threw to Harrison Wenson at the plate to catch Daniel Ozoria trying to steal home to end the inning.
Grayson Byrd started the bottom of the inning at second and moved to third on a leadoff single from Edmond Americaan. Two batters later Josue Huma sent Four Winds Field into a frenzy with an RBI single to win the game, beating the shift by shooting a grounder through the left side of the infield.
Two wins. Two walk-offs. Two nights.
What a fun couple of days as this team is really starting to get confident late in games and build momentum.