Hillcats Outmuscle Shorebirds
Pitching Staff Dazzles for Lynchburg in Game Three Win at Delmarva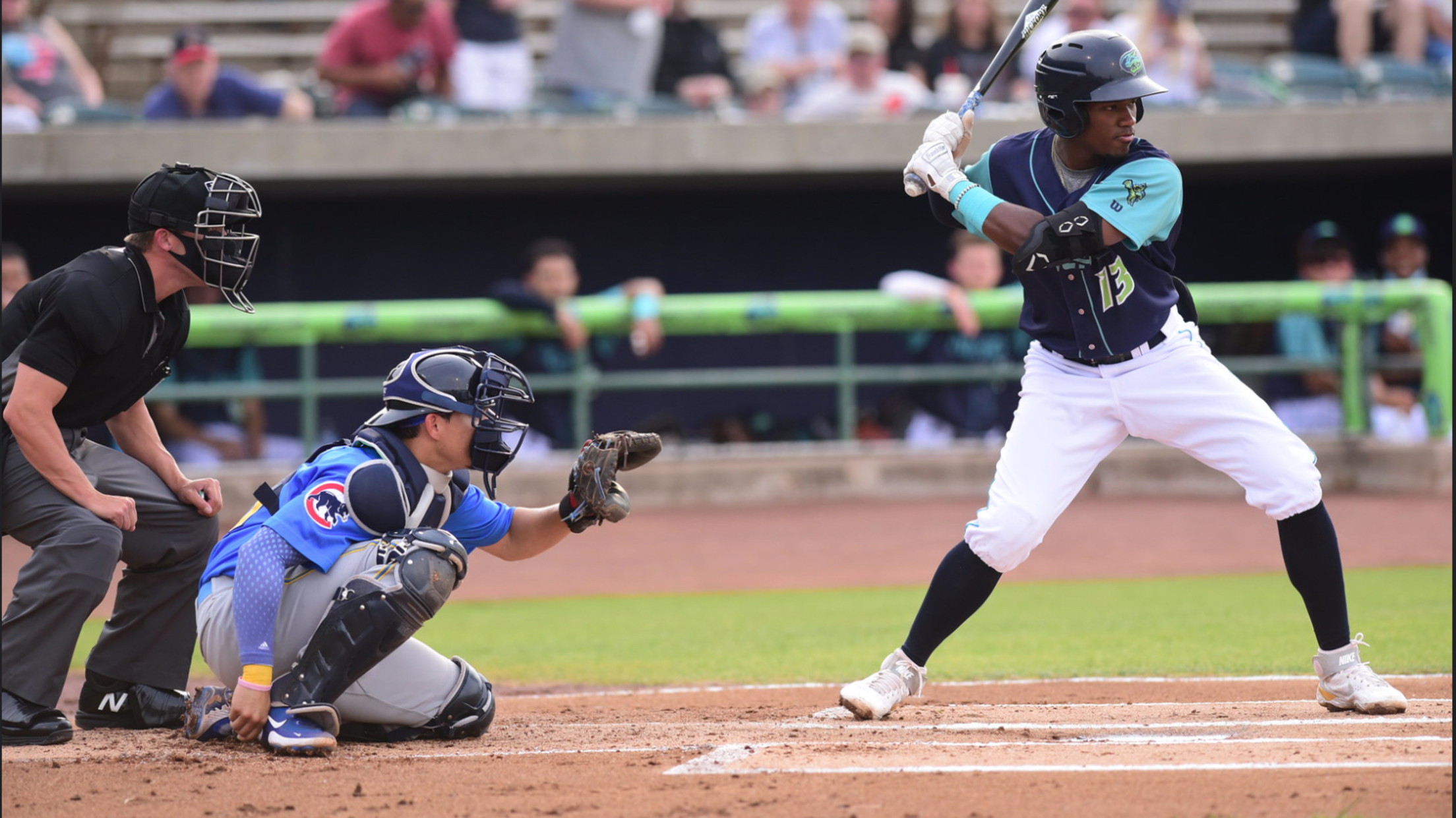 (Gary Streiffer)
Salisbury, Maryland – Angel Martinez launched his second leadoff home run in as many days and the Lynchburg Hillcats (14-7) held the league leading offense to just five hits to defeat the Delmarva Shorebirds (15-6) 7-2 at Arthur W. Perdue Stadium. HOW IT HAPPENED
Hillcats second-basemen Angel Martinez went
Salisbury, Maryland – Angel Martinez launched his second leadoff home run in as many days and the Lynchburg Hillcats (14-7) held the league leading offense to just five hits to defeat the Delmarva Shorebirds (15-6) 7-2 at Arthur W. Perdue Stadium.
HOW IT HAPPENED
Hillcats second-basemen Angel Martinez went yard over the right field wall to start the game in a deja vu moment that mirrored the exact start to Wednesday's game. The homer gave the Hillcats a quick 1-0 lead after just a half inning of play.
Delmarva answered right away, knocking two runs home off Hillcats starter Sergio Morillo. Hudson Haskin laced a single up the middle and Anthony Servideo walked, both coming home thanks to a double smoked by JD Mundy to make it 2-1 Shorebirds.
With two outs and two runners on in the bottom of the second Miguel Vinicio (3-0) replaced Morillo on the mound for the Hillcats. After clipping Servideo with a pitch, the bases were loaded and Delmarva was knocking on the door of a big inning. However, Vinicio retired Gunnar Henderson to get out of the frame unscathed.
Lynchburg tied the game in the top of the third when Cody Farhat smoked a triple to right center field, followed by an RBI single hit by Micah Pries making it 2-2.
Vinicio did all he could to help the Hillcats out, shutting out the Shorebirds through four more innings of work. Overall the 'Cats reliever allowed just two baserunners after the hit by the pitch, holding Delmarva to just three hits in his time on the mound.
Still tied at 2-2, Lynchburg finally created some separation in the top of the seventh. Christian Cairo reached on an error committed by Shorebirds' shortstop Jordan Westburg. Cairo swiped second and then Delmarva hurler Zach Peek threw a wild pitch into the backstop that gave Cairo enough time to not only race to third but to turn the corner and score. The heads up base running gave the Hillcats their first lead since the first inning.
The Hillcats added some cushion in the eighth, with Micah Pries and Yanier Diaz tallying RBIs to put Lynchburg up 5-2.
Jerson Ramirez followed Vinicio with another outstanding relief appearance, tossing three scoreless frames and earning his third save of the year to secure a 5-2 win for Lynchburg.
INSIDE THE BOX SCORE
Jerson Ramirez has yet to allow a run this year in twelve innings pitched with the Hillcats.
The Hillcats are now one game behind the Shorebirds for the North Division lead.
WHO'S NEXT
The Hillcats play Delmarva on the road in game four of a six game series Friday at 7:05pm.