Howard picks up first win for Phillies
Baseball's No. 35 prospect allows two runs over five solid innings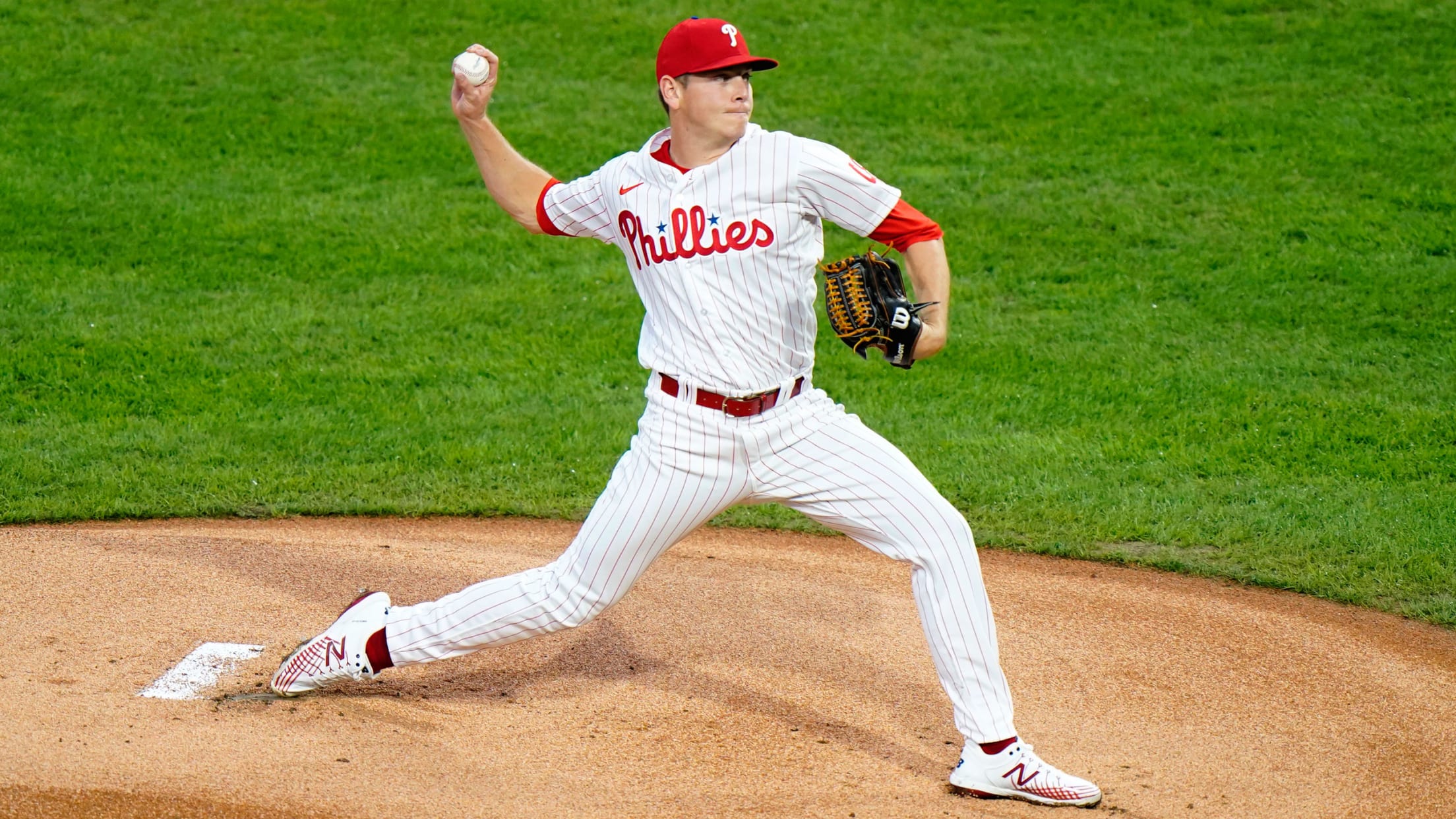 Spencer Howard started off by posting four zeros in the longest outing of his big league career. (Matt Slocum/AP)
In his first three Major League starts, Spencer Howard had shown some flashes of his tremendous promise. On Monday, he put it all together. Baseball's No. 35 overall prospect worked five solid innings, giving up two runs on five hits with four strikeouts and two walks as the Phillies took
In his first three Major League starts, Spencer Howard had shown some flashes of his tremendous promise. On Monday, he put it all together.
Baseball's No. 35 overall prospect worked five solid innings, giving up two runs on five hits with four strikeouts and two walks as the Phillies took down the Nationals, 8-6.
Spencer Howard doesn't show favoritism.

The No. 2 #Phillies prospect shows all his pitches some 💗pic.twitter.com/aGNWSWjjpB

— Minor League Baseball (@MiLB) September 1, 2020
"I wish it happened sooner, the consistency, but I can't try to be perfect every night," Howard said after the win. "I think tonight was the first time that I felt a little bit more synched up mechanically. Maybe it was just being a little bit more settled in. I had some time to work on some stuff in a few bullpens in between my last start [and Monday] and then just trying to implement that in the game."
Howard pitched with traffic on the bases in each of his innings, stranding five in the first four frames. The righty's only blemish came in the fifth when Trea Turner singled to right field with one out and Juan Soto followed with a two-run homer. Howard rebounded by inducing infield groundouts from Howie Kendrick and Asdrubal Cabrera to end the inning.
Philadelphia's No. 2 prospect finished his day with a season-high 91 pitches, 58 for strikes.
"I thought he used all his pitches," Phillies manager Joe Girardi said. "He wasn't just a two-pitch guy. He used his slider effectively. He used his curveball effectively. It made his fastball and changeup better is what it did. He got pushed a little bit tonight at 90 pitches or so. I think his high mark was 81, but he used all his pitches, and he was a different guy."
The skipper thought the win showcased a more complete version of Howard.
"I saw his whole repertoire," Girardi said. "He was not using it (before), and it's not unusual for a young player to not be comfortable right away and to kind of feel your way through some starts. I remember as a catcher, it's nerve-racking. It's hard when you're out there and you're feeling your way and trying to establish yourself. I hope today's just a big step for him, that he understands that he can really compete at this level, and he can use all his pitches and have success."
Philadelphia's top prospect Alec Bohm helped his starter out at the plate. Bohm drove in a run with a sacrifice fly to right in the fourth and doubled to right in the seventh, scoring on a two-RBI double to left by Rhys Hoskins. Baseball's No. 30 overall prospect sports a .275/.356/.412 line through his first 15 Major League games.
The win put the Phillies at 15-15 through 30 games, just three off the pace of division-leading Atlanta.
"It's exciting," Howard said. "I like pitching in games that feel like they matter more. Games late in the season and playoffs and all that stuff is pretty fun, so I'm excited to get there and to see what the atmosphere is like."
In other action:
White Sox 8, Twins 5
Luis Robert, baseball's No. 3 overall prospect, smashed a 449-foot homer and belted a go-ahead ground-rule double for Chicago. The long ball was the 10th of the season for the 23-year-old. Nick Madrigal went 2-for 5 with a run scored. The fourth-ranked White Sox prospect, who has collected eight hits in his last 14 at-bats, is hitting .400. No. 19 Danny Mendick was 0-for-5 and left eight men on base. No. 27 Codi Heuer allowed a run on a hit and a walk in one inning in relief of starter Lucas Giolito. No. 28 Matt Foster fanned two in a perfect eighth. Sixth-ranked Minnesota prospect Ryan Jeffers went 1-for-3 with a walk. Box score
If someone can please return what's left of the ball top #WhiteSox prospect Luis Robert just hit, we'd appreciate it.pic.twitter.com/kl99fIe1Q8

— Minor League Baseball (@MiLB) September 1, 2020
Marlins 5, Mets 3
Miami's No. 9 prospect Trevor Rogers also earned his first Major League win. In his second big league start, the left-hander allowed two runs on five hits over five innings, striking out five and walking a pair. Rogers threw 58 of his 89 total pitches for strikes and generated six outs on the ground with just one on the fly. Box score
Orioles 4, Blue Jays 3
In his first Major League start following two relief outings for Baltimore, Keegan Akin gave up two unearned runs on three hits and two walks with six strikeouts over 4 1/3 innings. The club's No. 15 prospect threw 81 pitches, 54 for strikes. On the heels of Sunday's two-homer performance, fifth-ranked Ryan Mountcastle went 1-for-5. Toronto's No. 24 prospect Thomas Hatch extended his scoreless streak to five games spanning 8 1/3 innings of relief. He hasn't given up an earned run in his last six outings, Toronto's No. 22 prospect Santiago Espinal didn't pick up a hit for the first time in four games after an 0-for-3 afternoon. Box score
Mariners 2, Angels 1
Jake Fraley tripled to right field and scored Seattle's first run of the game on a single by Joseph Odom. The 11th-ranked prospect also beat out an infield single to third base, but was caught stealing in the ninth. Mariners' No. 5 prospect Evan White went 0-for-4 with a couple of strikeouts. Eighth-ranked Los Angeles prospect Jahmai Jones made his Major League debut as a pinch-runner for Andrelton Simmons in the ninth. He advanced to second on Anthony Rendon's walk but was left stranded. No. 1 Jo Adell and No. 25 Jared Walsh combined to go 0-for-6, with Adell whiffing three times. Box score
Padres 6, Rockies 0
Sixth-ranked San Diego prospect Adrian Morejon matched the longest outing of his Major League career with three scoreless innings out of the bullpen. The 21-year-old lefty worked around four hits, striking out two and without issuing a walk, firing 29 of 40 pitches for strikes. Morejon hasn't allowed a run in two of three of his outings this season. Box score
Rays 5, Yankees 3
Tampa Bay's 19th-ranked prospect Randy Arozarena singled, walked and stole his first base out of the leadoff spot. New York's No. 15 prospect Miguel Yajure impressed in relief in his big league debut. The 22-year-old righty, who became the first player in Major League history to wear No. 89, threw three hitless innings with three walks and two strikeouts. Box score
Royals 2, Indians 1
Cleveland's No. 17 prospect James Karinchak (0-2) suffered his second blown save after giving up two runs on a hit and two walks while striking out one in one-third of an inning. Box score
Tyler Maun is a reporter for MiLB.com and co-host of "The Show Before The Show" podcast. You can find him on Twitter @tylermaun.