Indians Receive Sensory Certification, Install Sensory Wall at Victory Field
Sensory bags also available for pick-up during games, events at The Vic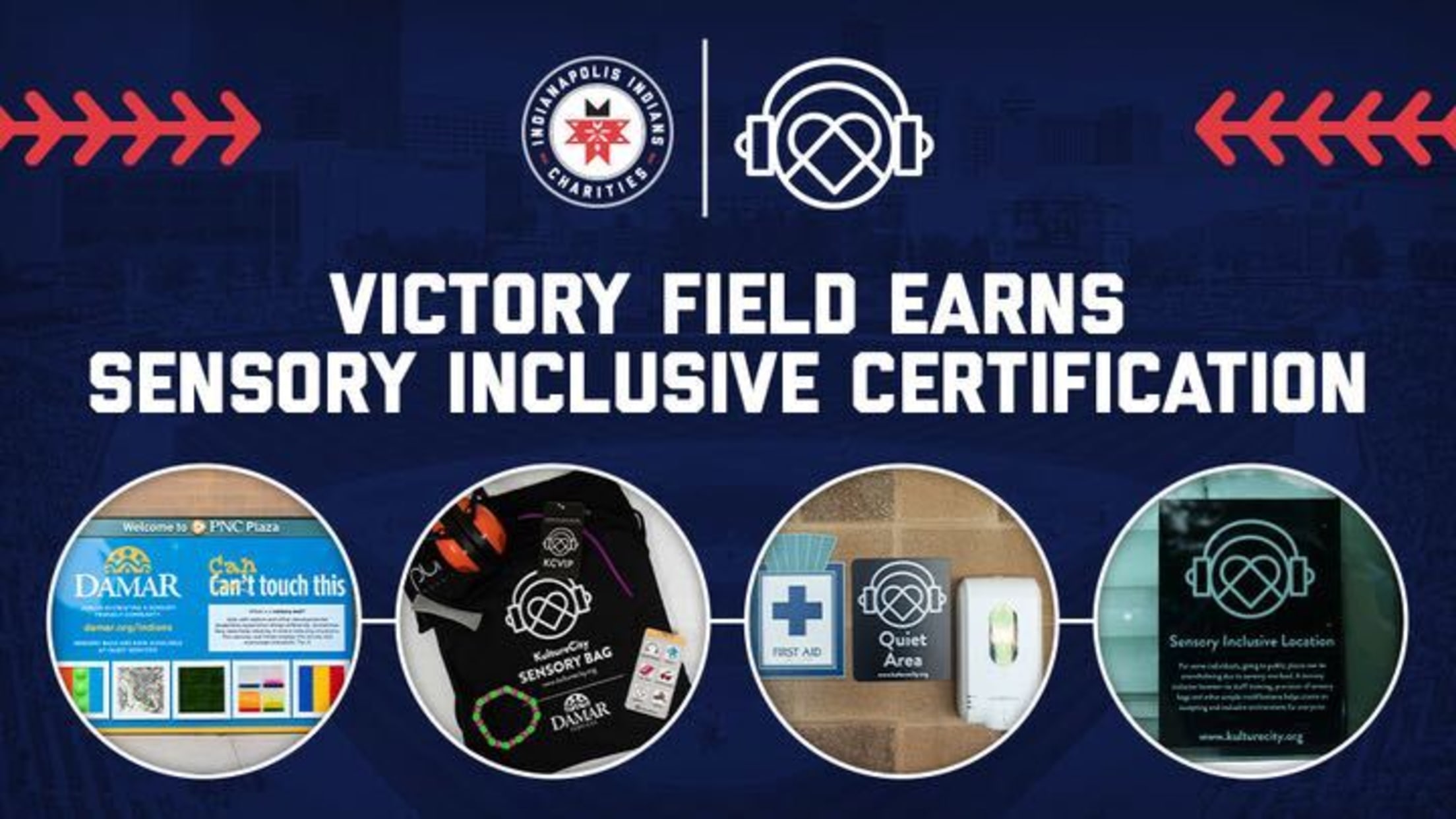 The Indianapolis Indians today announced that the organization received sensory certification through their partnership with KultureCity, making Victory Field sensory inclusive for all Indians games and events held at the ballpark. This new initiative promotes an accommodating and positive experience for all guests and fans with a sensory issue who
The Indianapolis Indians today announced that the organization received sensory certification through their partnership with KultureCity, making Victory Field sensory inclusive for all Indians games and events held at the ballpark. This new initiative promotes an accommodating and positive experience for all guests and fans with a sensory issue who visit Victory Field.
"We are proud to partner with KultureCity and Damar Services to make Victory Field a community gathering place for fans of all abilities," said Randy Lewandowski, Indianapolis Indians President and General Manager. "The Damar Sensory Wall and sensory bags available for pick-up at guest relations during Indians games and special events allow families with unique abilities and sensory needs the opportunity to have an enjoyable visit to the ballpark."
The certification process entailed Indians staff being trained by leading medical professionals on how to recognize those guests and fans with sensory needs and how to handle a sensory overload situation. Sensory bags, equipped with noise canceling headphones (provided by Puro Sound Labs), fidget tools, verbal cue cards (produced in conjunction with Boardmaker) and weighted lap pads will also be available to all guests at Victory Field who may feel overwhelmed by the environment. Further, these fans will also be able to use the Damar Sensory Wall for sensory relief. The wall can be accessed in PNC Plaza (center field) at Victory Field.
"By offering the sensory wall and sensory bags, the Indianapolis Indians are demonstrating that they truly are welcoming to fans of all abilities," said Jenny Peters-Reece, Damar Services, Inc. Chief Strategy Officer. "We're delighted to partner with an organization that is dedicated to making a night at the ballpark a possibility for families impacted by autism and other developmental disabilities."
Sensory sensitivities or challenges with sensory regulation are often experienced by individuals with autism, dementia, PTSD and other similar conditions. One of the major barriers for these individuals is sensitivity to over stimulation and noise, which is an enormous part of the environment in a venue like Victory Field. With their new certification, the Indians are now better prepared to assist guests with sensory sensitivities in having the most comfortable and accommodating experience possible when attending any event at Victory Field.
Prior to attending a game or event at Victory Field, families can download the free KultureCity App where one can view what sensory features are available and where they can access them. The KultureCity App also includes a Social Story which provides a preview of what to expect while enjoying an Indians game or event at Victory Field.
"To see families now attend a baseball game or event at Victory Field, a true community bonding experience, with their loved ones who have a sensory challenge and who were not able to previously attend, is truly a heartwarming moment. Our communities are what shapes our lives and to know that the Indianapolis Indians are willing to go the extra mile to ensure that everyone, no matter their ability, is included in their community is amazing," said Dr. Julian Maha, Co-Founder, KultureCity.
To purchase tickets, visit IndyIndians.com or contact the Victory Field Box Office at (317) 269-3545 or [email protected].