Meet Cubs Legend Kerry Wood at Four Winds Field August 31
Meet the former Chicago Cubs pitcher as part of an exclusive ticket package on August 31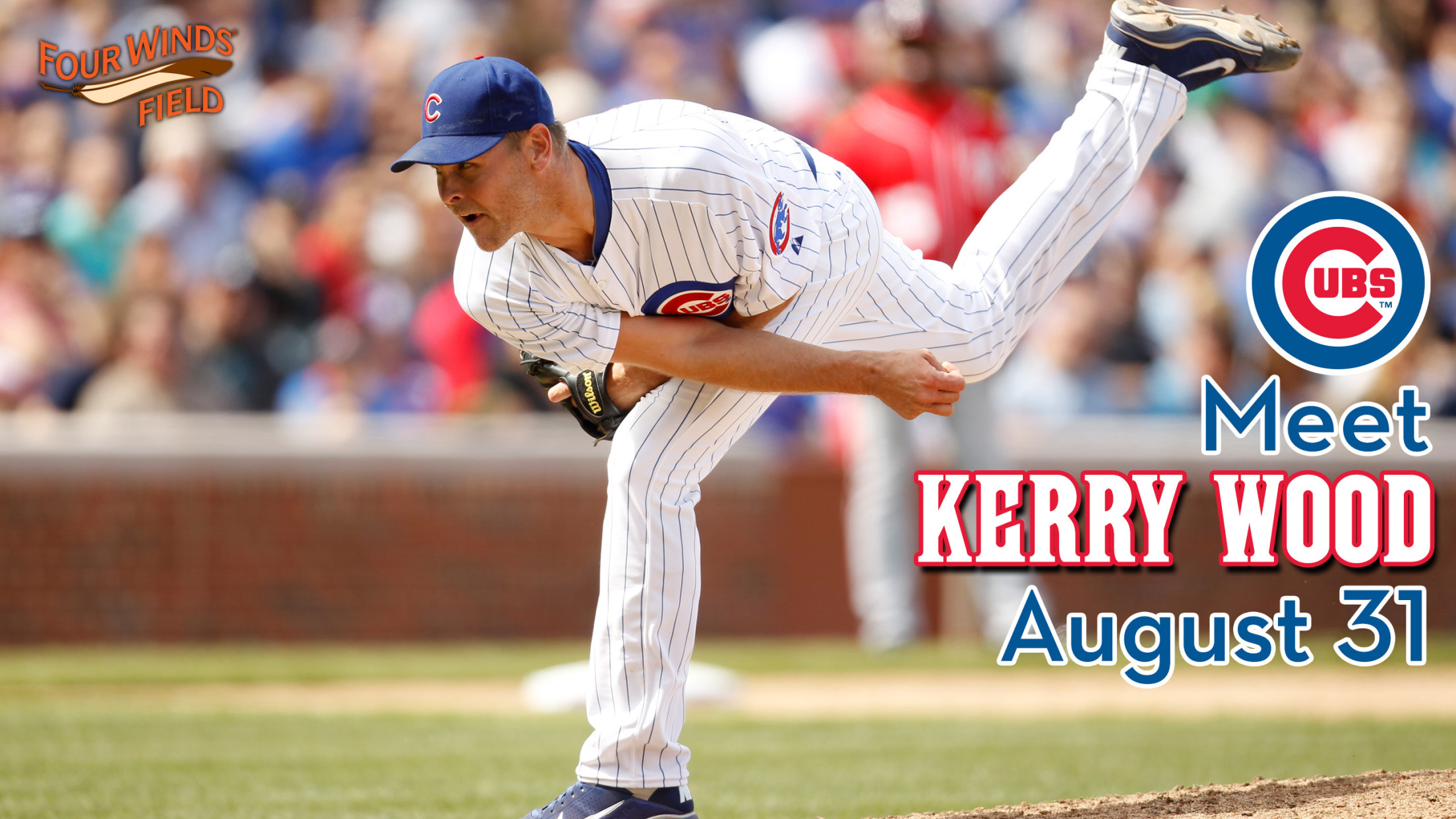 UPDATE: The VIP Package has sold out but you can still meet Kerry Wood when he signs autographs for the general public. Click here to purchase dugout or field box tickets to the game. South Bend, IN - South Bend Cubs fans will have yet another opportunity to meet a
UPDATE: The VIP Package has sold out but you can still meet Kerry Wood when he signs autographs for the general public. Click here to purchase dugout or field box tickets to the game.
South Bend, IN - South Bend Cubs fans will have yet another opportunity to meet a Chicago Cubs legend at Four Winds Field when former Cubs right-hander Kerry Wood makes a visit on Wednesday, August 31. Wood will sign autographs and take pictures with fans as part of a VIP meet-and-greet package available for purchase now.
The VIP ticket package, which includes the guaranteed opportunity to meet Wood at the 1st Source Bank Performance Center, also features a seating bowl game ticket, plus a two-hour all-you-can-eat ballpark buffet. The ticket package will be sold for $100 each, and only 110 total bundles will be sold.
As part of his appearance, Wood will throw out a ceremonial first pitch prior to the game. He will also sign autographs on the concourse for one hour for fans in attendance at Four Winds Field.
Wood's time with the Chicago Cubs featured plenty of sensational moments on the mound for the two-time All-Star selection. After being selected with the fourth overall pick in the 1995 MLB Draft, Wood made his Major League Debut on April 12, 1998 as a 21-year-old. In 12 total years with the Cubs, Wood struck out 1470 batters, and was the National League's strikeout leader in 2003. The righty from Irving, Texas, also had 35 career saves as a Cub from when he became Chicago's closer in the 2008 season.
From a national perspective, Wood of course is remembered for his 20-strikeout game at Wrigley Field against the Houston Astros on May 6, 1998. With that performance coming shortly after his MLB debut, Wood put his fingerprints on the city of Chicago seemingly overnight. He was the fastest ever Major Leaguer to 1000 career strikeouts, needing just 853 innings to reach that marker.
The Kerry Wood VIP meet-and-greet package can be purchased by visiting the South Bend Cubs Main Office at Four Winds Field or by calling (574) 235-9988. Fans can also buy tickets online by clicking here.
About the South Bend Cubs
The South Bend Cubs are the High-A affiliate of the 2016 World Series Champion Chicago Cubs. Over the past 34 years, the team has won four Midwest League titles, most recently in 2019, and has captured eight division titles. In 2022, Four Winds Field, home of the South Bend Cubs, was voted Best High-A ballpark in the country by Ballpark Digest, having also won the award as a Low-A ballpark in 2017. In 2019, the South Bend Cubs hosted the final Midwest League All-Star Game. In 2015 the team was named Ballpark Digest's Team of the Year and received the John H. Johnson President's Award, the highest award in minor league baseball. The team is owned and operated by Swing-Batter-Swing, LLC whose principal shareholder is Andrew T. Berlin of Chicago, Ill.