Late Barons Rally Thwarted By Shrimp
Adams' quality start not enough in 2-1 defeat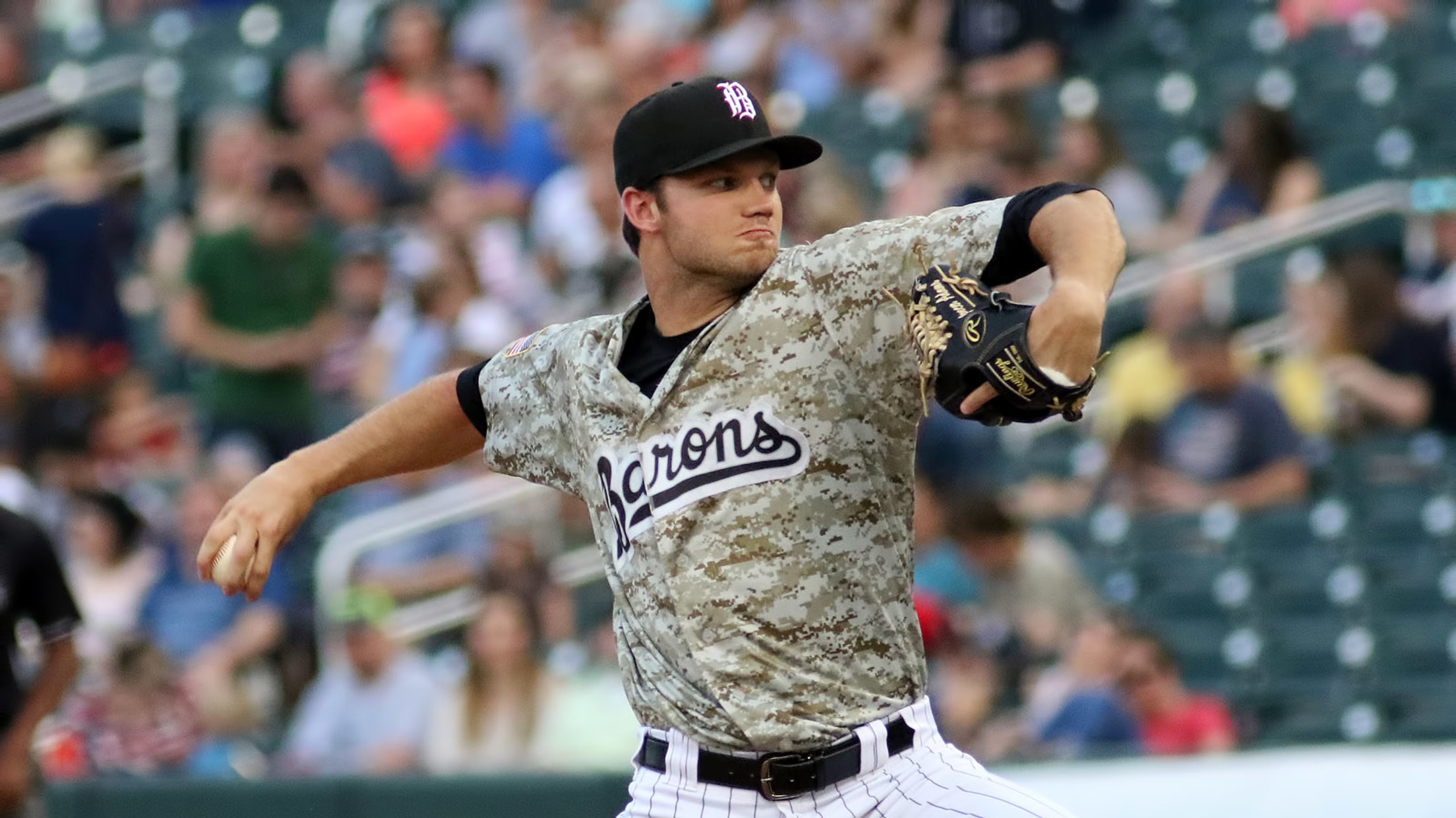 Spencer Adams tossed 7.0 quality innings in Tuesday's loss. (Michael Wade)
For the second straight night, the potent Birmingham Barons (26-31) offense was held in check by the Jacksonville Jumbo Shrimp (24-32), this time in a 2-1 loss on Tuesday night at Regions Field. The win gives the visitors a two games to one lead in the five-game series. Moments That
For the second straight night, the potent Birmingham Barons (26-31) offense was held in check by the Jacksonville Jumbo Shrimp (24-32), this time in a 2-1 loss on Tuesday night at Regions Field. The win gives the visitors a two games to one lead in the five-game series.

Moments That Mattered: Bryant Flete was in the center of the action on Tuesday. In the second, his ground out plated Trey Michalczewski to give Birmingham a 1-0 lead. In the sixth, he misplayed a ground ball from Eric Jagielo for an error that allowed Isan Díaz to come home with the tying run for Jacksonville.
Facts And Figures: The unearned run was the only blemish on starter Spencer Adams' record. Over 7.0 brilliant innings, he surrendered six hits for the run with two walks and six strikeouts for his second straight quality start. On the homestand, Adams pitched 15.0 innings over two starts, giving up just one unearned run with eight hits, two walks, and 12 strikeouts.
Turning Point: In the top of the eighth, Ryan Burr (L, 2-1) came in and got into immediate trouble. Diaz began the inning with a double and John Norwood followed with a single to center, scoring Diaz with the eventual winning run.
By The Numbers: Despite just three hits on the night, the Barons were nearly able to come back in the bottom of the ninth as Zack Collins led off with a single, Michalczewski was hit by a pitch, and Jameson Fisher walked to load the bases. However, closer Marcus Crescentini (S, 5) got Flete to fly out to right, stranding the tying and winning runs on base to finish the win.
Up Next: The two sides continue the series with a Wednesday matinee at 11:30 a.m. Southpaw Jordan Guerrero (2-5, 6.02) will get the start for the Barons. Curt Bloom will have the call on 960 WERC News Radio and the iHeart Radio app.