May picks up first Cal League win
Dodgers No. 11 prospect puts up six zeros for Quakes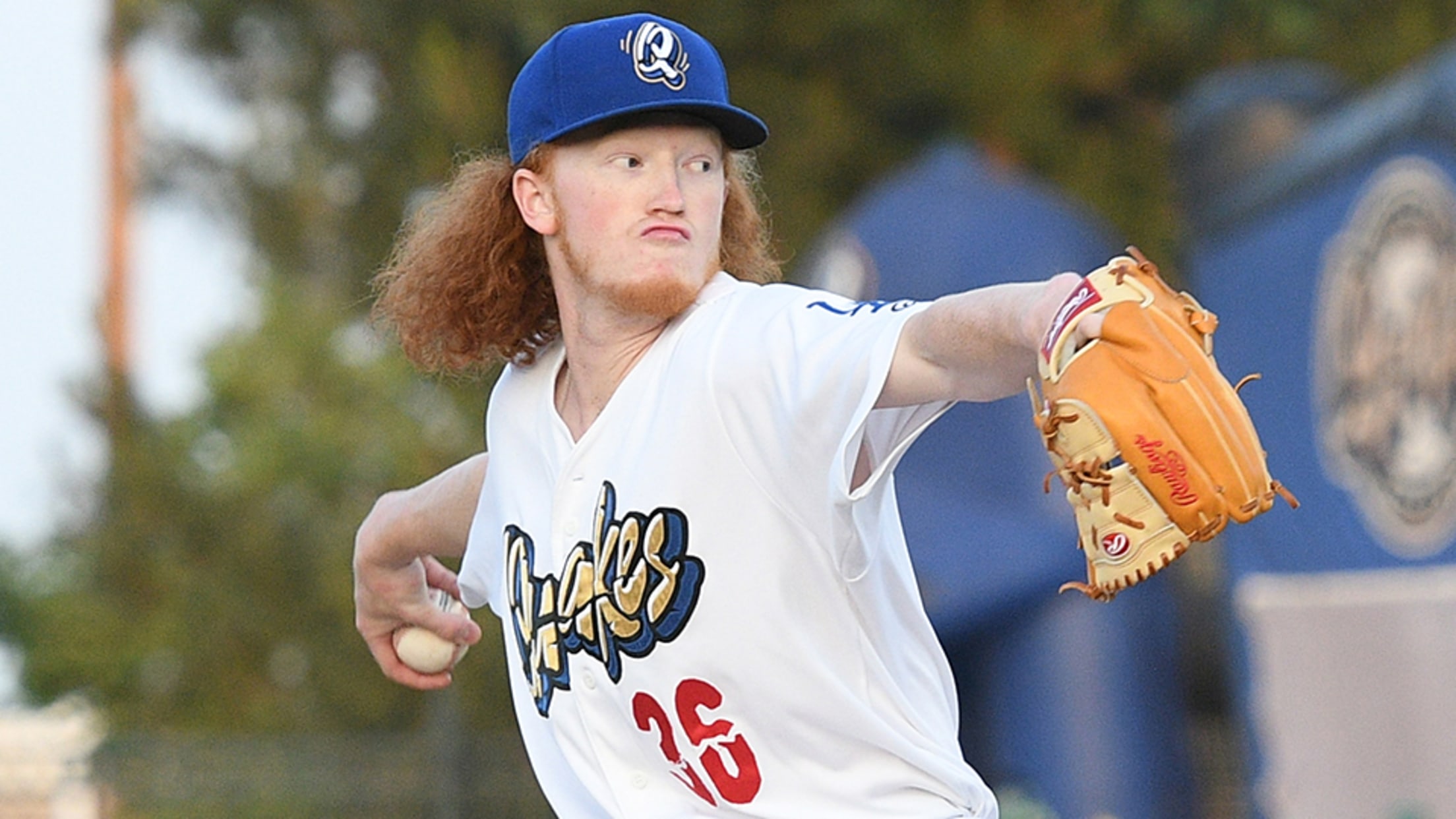 Dustin May is unscored upon in two of his first starts for Rancho Cucamonga this season. (Steve Saenz/Rancho Cucamonga Quakes)
Dustin May's first four outings of 2018 were suboptimal, but neither he nor Class A Advanced Rancho Cucamonga pitching coach Connor McGuiness were worried.Bad luck resulted in some poor results early on, but the Dodgers' No. 11 prospect  was too dominant on Friday to let chance affect the outcome. May scattered
Dustin May's first four outings of 2018 were suboptimal, but neither he nor Class A Advanced Rancho Cucamonga pitching coach Connor McGuiness were worried.
Bad luck resulted in some poor results early on, but the Dodgers' No. 11 prospect was too dominant on Friday to let chance affect the outcome. May scattered two hits and fanned five without walking a batter over six scoreless innings to pick up his first California League win as the Quakes rolled past the Inland Empire 66ers, 8-1, at San Manuel Stadium.
He threw 43 of 60 pitches for strikes.
Gameday box score
"I was executing very well, I probably could have mixed it up a little more, but they weren't beating me with hard contact," said May, who entered Friday ranked second in the Cal League in batting average on balls in play (BABIP) allowed, at .456. "It finally fell my way, which is great to see."
The victory comes on the heels of a start in which Lake Elsinore got to him for six runs -- all earned -- over four innings. He's 1-3 with a 4.70 ERA across five starts since making his season debut on May 3.
For McGuiness, who also oversaw May's efforts for the majority of last season with Class A Great Lakes, it's been easy to put the early results aside because of the 20-year-old right-hander's evolving repertoire, particularly an uptick in his velocity this year. May added about 4 mph to his two-seam fastball, according to McGuiness, pushing it to 97 mph.
"It just adds another element to an already fantastic arsenal," the pitching coach said. "It's honestly just come along as he's matured and gotten better.
"If he's able to keep that in the bottom part of the zone, he's a really effective pitcher. The breaking ball, all the spin on that is fantastic and whatnot, but I think kind of his trademark is his two-seam."
The 2016 third-rounder also refined his changeup this season, which gives him a fourth pitch to work with.
"He didn't really have it [last season]," McGuiness said. "This year he has it and it's been kind of a new weapon for him. The breaking ball has gotten a lot tighter. It's just fun to watch this kid throw."
Part of what makes him stand out on the mound is his hair. At 6-foot-6 with flowing, red locks cascading out of the back of his cap, he considers the look a part of his identity.
"My high school coach always made me keep it short," May said. "But then I came back my senior year and I said, 'This is my thing. I'm going to roll with it. If you're going to punish me, you're going to punish me, but I'm going to keep it.'
"He was just like, 'No, you can do you.' But after that I've kind of stuck with it and I feel like it's going to be my label."
May didn't give up a hit until Jack Kruger led off the fifth with a single to right field. The 66ers failed to get a runner into scoring position against the native of Justin, Texas.
"It was really cool for it all come into fruition," McGuiness said. "And hats off to the defense tonight -- they were amazing. And Connor Wong called a hell of a game for him, too."
The young hurler had a cup of coffee in the Cal League last season after going 9-6 with a 3.88 ERA with the Loons, allowing one earned run over 11 innings with the Quakes.
This year, an undisclosed injury kept him in extended spring camp through all of April.
"It was just a minor, nagging thing," McGuiness said. "We gave him a little bit of time to get right. But he's fine. He feels great."
Stetson Allie gave up an unearned run in the seventh, but Michael Boyle and Logan Salow each worked a scoreless inning for the 66ers.
No. 13 Dodgers prospect Gavin Lux smacked a two-out grand slam in the seventh to extend the Quakes' lead to 6-0. Cody Thomas opened the scoring with a leadoff homer in the sixth and added an RBI single in the seventh.
Josh Horton is a contributor to MiLB.com. Follow him on Twitter @joshhortonMiLB