M-Braves close season with 3-2 win over Lookouts on Monday
Greyson Jenista reached base four times and went 3-for-3 in Mississippi's second-straight win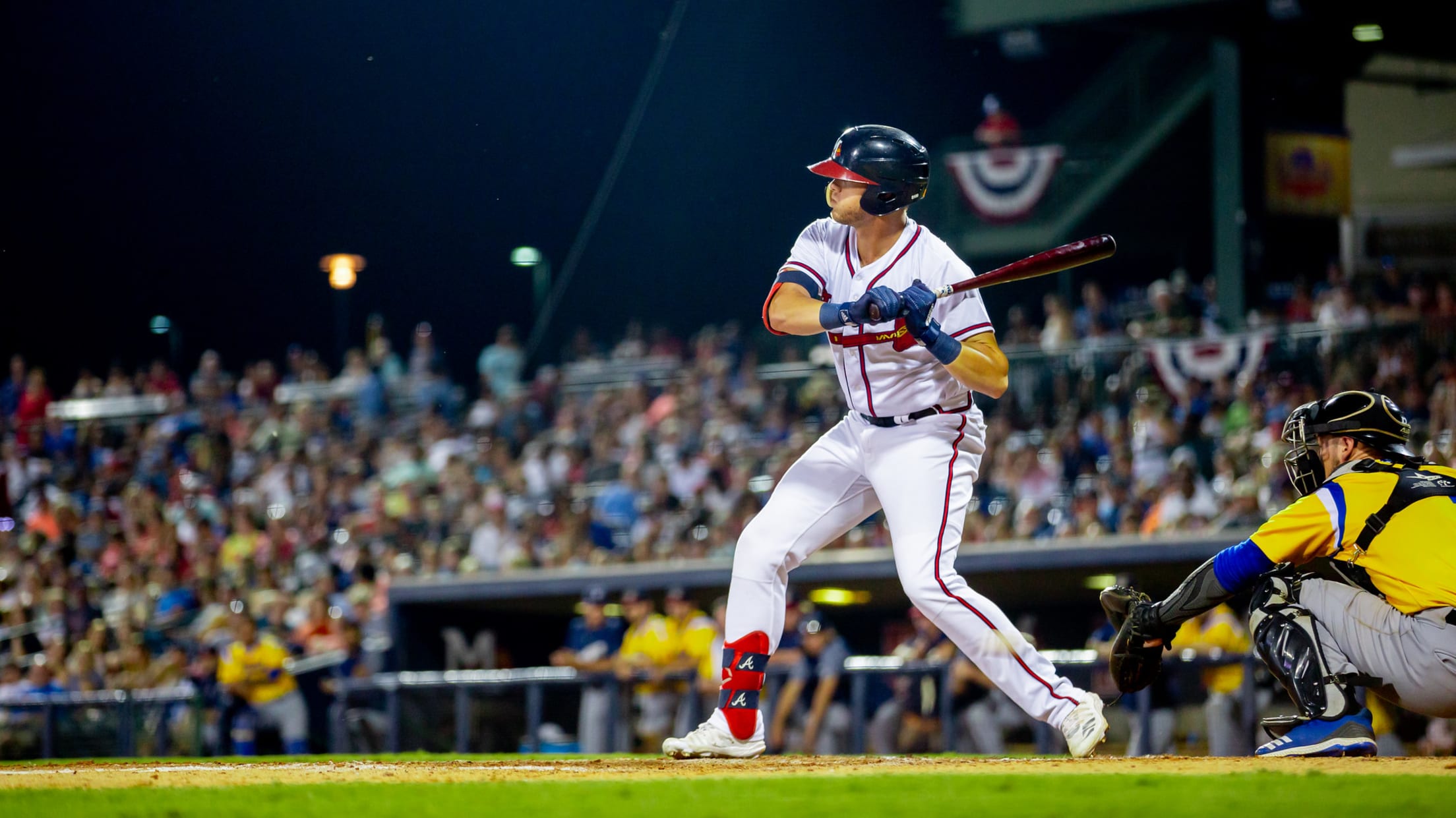 (Tate K. Nations)
PEARL, MS - The Mississippi Braves (31-39, 64-75) closed out the 2019 season with a 3-2 win over the Chattanooga Lookouts (25-42, 61-75) on Monday afternoon at Trustmark Park. The M-Braves held off a late Chattanooga comeback bid and ended the 15th season with back-to-back wins.  
PEARL, MS - The Mississippi Braves (31-39, 64-75) closed out the 2019 season with a 3-2 win over the Chattanooga Lookouts (25-42, 61-75) on Monday afternoon at Trustmark Park. The M-Braves held off a late Chattanooga comeback bid and ended the 15th season with back-to-back wins.
The M-Braves took the lead in the second inning on three-straight singles from Trey Harris , Greyson Jenista, and Lane Adams . The Adams single scored Harris to make it 1-0. Jenista would reach base safely four times in the season finale, going 3-for-3 with a walk. Harris notched his second-straight multi-hit game by finishing 2-for-4.

The advantage didn't last long because the Lookouts took advantage of a leadoff walk from starter Claudio Custodio in the top of the third inning and tied the game at 1-1 on a run-scoring single from Stuart Fairchild.

Claudio Custodio made his fifth-straight straight start and sixth on the season, working 5.0 innings of one-run baseball. Custodio gave up one run on three hits with two walks and five strikeouts in a no-decision. The 28-year-old former position player ended the season with a 2.61 ERA over 31 appearances.

M-Braves' relievers Jason Creasy and Thomas Burrows (W, 1-3) posted scoreless innings each in the sixth and seventh innings to keep the game tied.

Carlos Martínez began a rally for Mississippi in the bottom of the seventh inning with his second single of the afternoon. Martinez moved to third base on a pinch-hit one-out double by Ryan Casteel . Martinez sprinted home on a wild pitch by Chattanooga pitcher Jesse Stallings (L, 0-3) to make it 2-1. Riley Unroe followed with a triple to score Casteel and increase the lead to 3-1. Unroe was 1-for-4 on Monday and ends the season on a season-high seven-game hitting streak.

Bradley Roney (S, 3) entered the game for the Braves in the eighth inning and tossed a 1-2-3 frame with a strikeout. The 27-year-old right-hander retired the first two batters, including another strikeout to begin the top of the ninth, before running into trouble. Chattanooga was down to their final strike twice before Michael Beltre drew a walk and Calten Daal followed with a single. Yonathan Mendoza hit an RBI double to score Beltre, and it was 3-2. Roney recorded his third strikeout to get Chris Okey and end the game, stranding the tying run and go-ahead run in scoring position.

The M-Braves completed the year by welcoming 163,841 fans to Trustmark Park, an increase of 12,589 from 2018. The M-Braves will open the 2020 season on Thursday, April 9 at Trustmark Park against the Jacksonville Jumbo Shrimp. 2020 Season Tickets are on sale now at the Trustmark Park box office or by calling 888-BRAVES4.