MiLB memory box: Mementos from the road
Traveling writer digs deep into the archives in search of souvenirs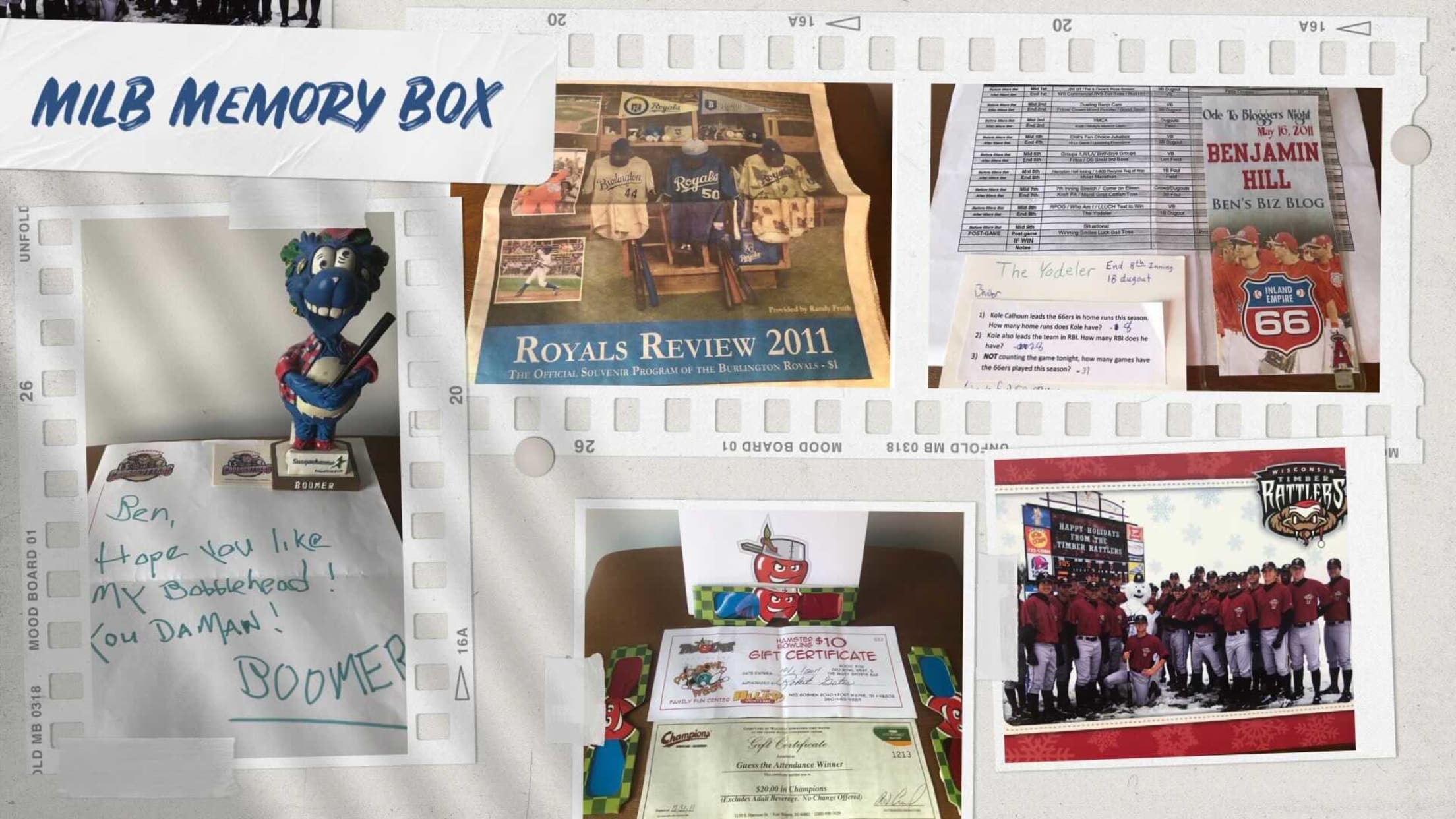 Minor League miscellany: Mascot notes, game programs, media passes, gift certificates, holiday cards and much, much more.
"Do you collect anything?" As someone who has visited 177 Minor League Baseball ballparks, many more than once, I get that question a lot. The individuals who pose this query, usually collectors themselves, are curious as to whether I have made it a point to procure the same sort of
"Do you collect anything?"
As someone who has visited 177 Minor League Baseball ballparks, many more than once, I get that question a lot. The individuals who pose this query, usually collectors themselves, are curious as to whether I have made it a point to procure the same sort of item from each ballpark I visit. A hat? Maybe a pennant or a mini-bat? Perhaps a ticket stub?
The answer is no. I'd never been organized enough to establish a goal of that nature and too forgetful to stick to it if I had. But what I have collected is a vast assemblage of Minor League miscellany, a decade's worth of ephemera and curios culled quite randomly and often with the sole criteria being that it had to fit inside carry-on luggage. From there, it went into drawers, then into bags, then into boxes and then onto a couple of hard-to-reach and thus largely forgotten closet shelves. Until now.
A recent spate of residential space reorganization, combined with quarantine boredom, has led to the recent unearthing of this haphazard collection of Minor League ballpark memorabilia. It's a lot of stuff -- too much! -- but each item tells its own story. What follows are notes on several recently excavated items, all of which sparked specific, wholly positive memories. It goes without saying that there's plenty more where this came from; please get in touch -- via email ([email protected]) or Twitter (@bensbiz) -- if you'd wish to share the stories behind your own random yet meaningful Minor League ballpark souvenirs.
Inland Empire 66ers game script, contest notes and media pass (May 16, 2011)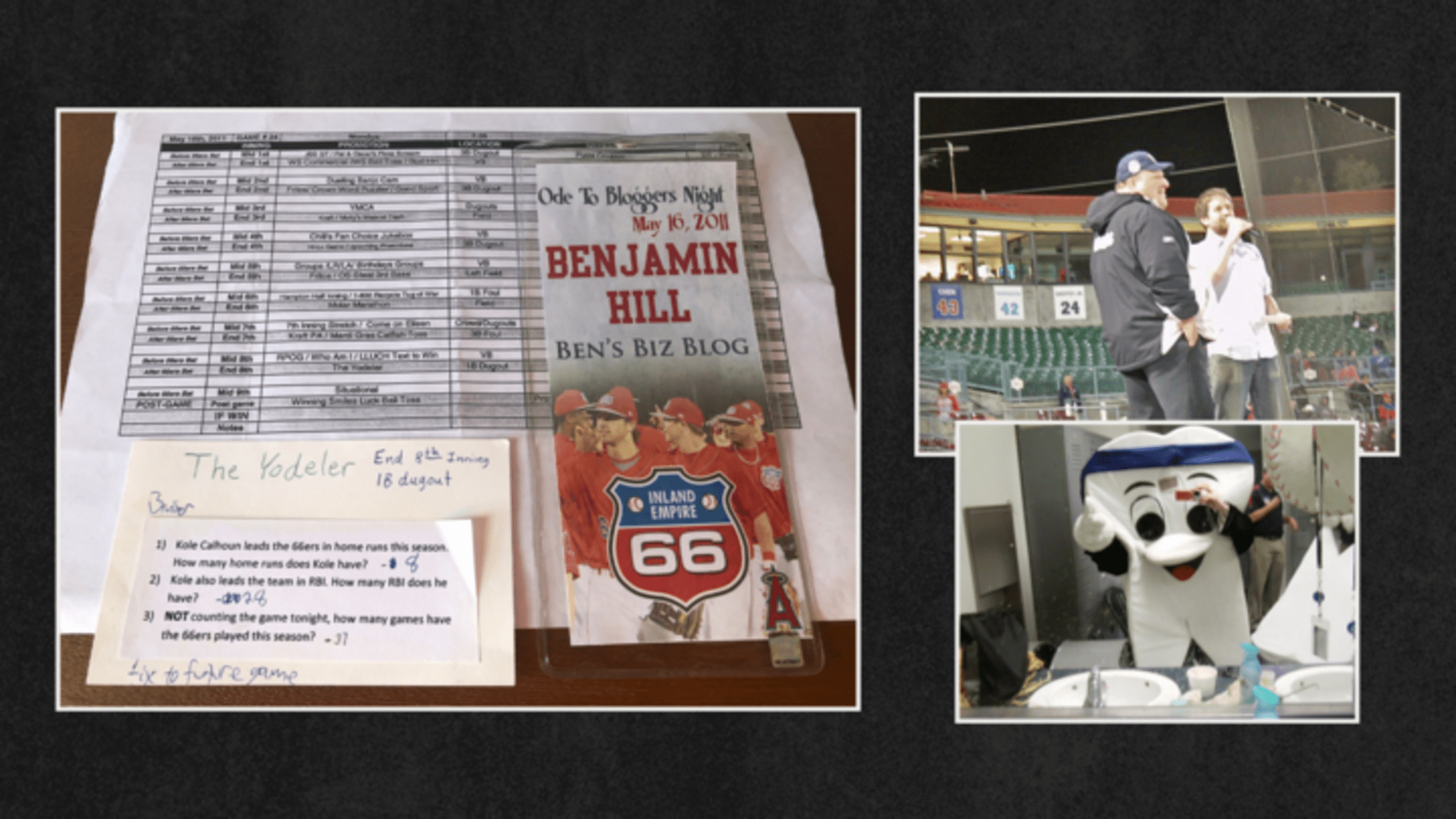 Early in the 2011 season, I embarked upon my first West Coast ballpark trip. The penultimate stop of this California-centric five-team itinerary was San Bernardino, home of the Inland Empire 66ers. It was May 16 -- a Monday, that most desultory of days -- so the 66ers livened things up by declaring it "Ode to Bloggers Night." I was one of several bloggers in attendance (RIP Ben's Biz Blog) and the only one not from the greater San Bernardino area. The 66ers included me in many of the night's festivities, providing me with a game script so I knew where to be when. At the end of the sixth inning, I suited up as a tooth and raced against two other teeth in the nightly "Molar Marathon" (sponsored by a local dentist, of course). After fulfilling several autograph requests while still in costume -- I simply signed the name "TOOTH" -- I changed back into blogging clothes and served as emcee for a between-inning contest called "The Yodeler."
This game, modeled after "The Price is Right" contest of the same name, required the contestant to answer a series of trivia questions. Wrong answers would cause the yodeler (depicted on the videoboard) to climb, and eventually fall off of, a cliff. The contestant, wearing a ballcap, puffy Raiders jacket and sweatpants, gave his name as "Bruiser." The questions, as seen on the index card in the above photo, were primarily focused on the then-current stats of 2011 66ers player Kole Calhoun. Was Bruiser successful in his attempts to stop the yodeler from falling off a cliff? I don't remember. But, c'mon, the guy was named Bruiser. He probably won. Nobody wants to get on the bad side of a guy named Bruiser.
Fort Wayne TinCaps 3D glasses (three pairs), greeting card and long-expired local business gift certificates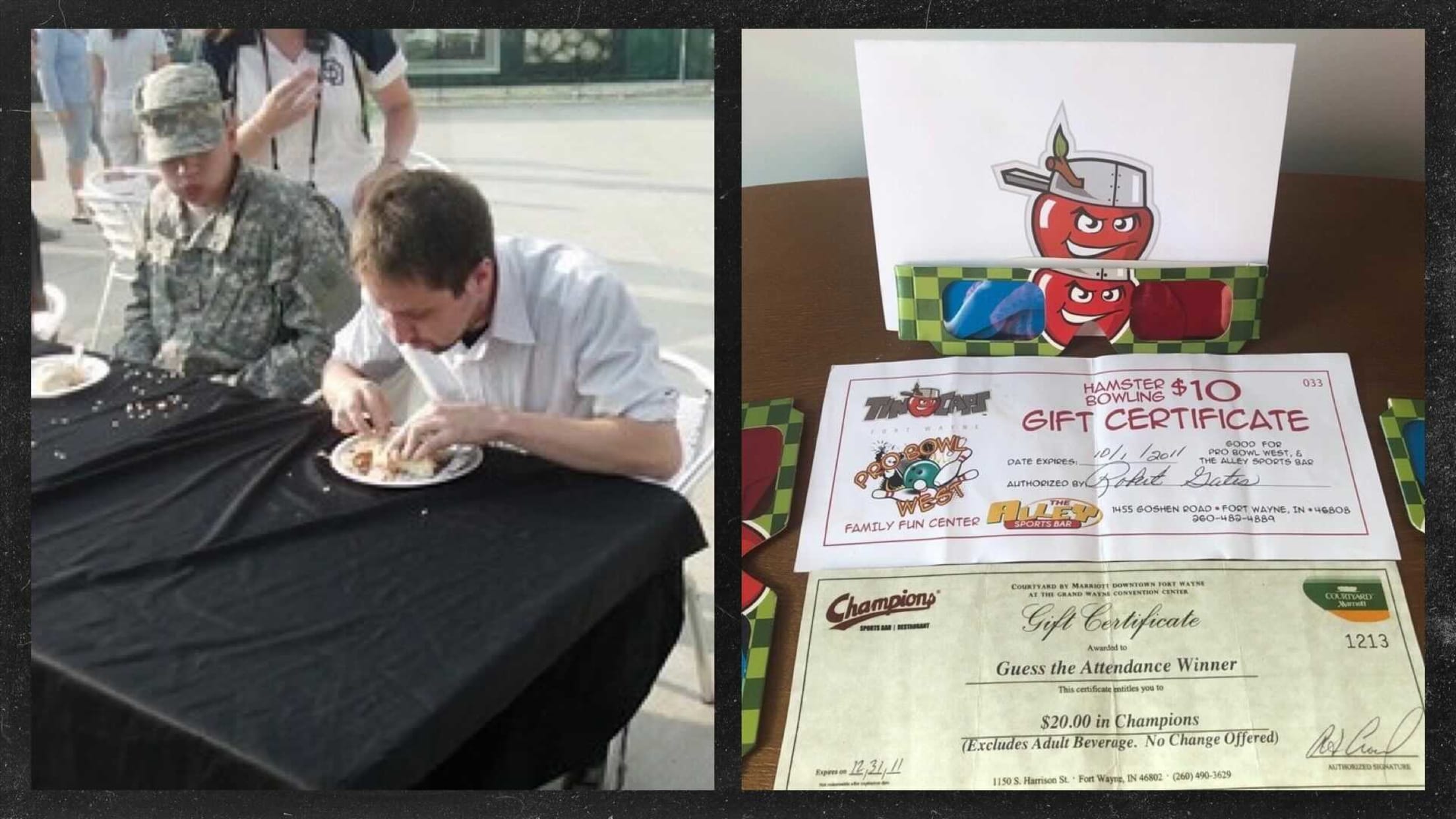 One of the most celebrated promotions of the 2011 Minor League season occurred on Opening Night (April 7), when the Fort Wayne TinCaps brought 3D viewing capabilities to their Parkview Field videoboard. Prior to the season, the team sent me a package containing a greeting card, 3D glasses and several still images of 3D videoboard graphics. While I was unable to attend this extra-dimensional promotion, I did visit the TinCaps for a two-game engagement on June 14-15. Like the 66ers before them, the team went out of their way to include me in various elements of the gameday entertainment. Mementos from these experiences exist in the form of two long-expired gift certificates to local Fort Wayne businesses.
As winner of the "Guess the Attendance" contest, I received a $20 gift certificate ("excludes alcoholic beverages") to Champions Sports Bar. This establishment is located within the Courtyard Marriot that looms beyond the ballpark. I also won a $10 "Hamster Bowling" gift certificate at Fort Wayne's Pro Bowl West. I don't know what Hamster Bowling is, nor do I know what I did to earn this gift certificate. I'll assume it was because I also won a burrito-eating contest, triumphing over Caleb (no last name recorded) and a young soldier who identified himself as Private Griffith.
Wisconsin Timber Rattlers 2010 holiday card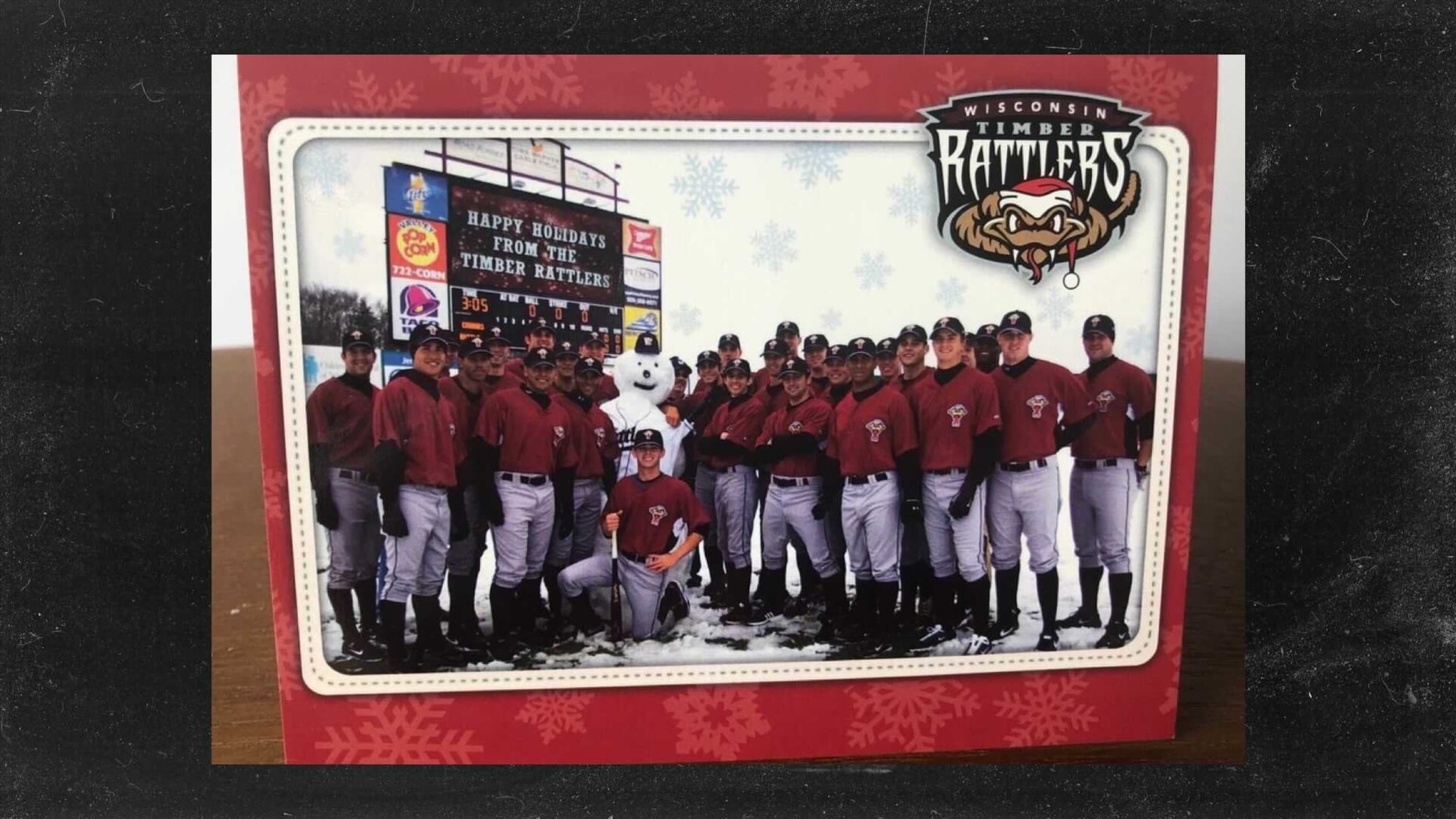 As 2010 came to a close, I received a holiday card in the mail from the Wisconsin Timber Rattlers. This card, sent by broadcaster and director of media relations Chris Mehring, featured a scene from the team's snowed-out 2010 Opening Day. Timber Rattlers players posed on the field, surrounding a snowman decked out in a home jersey. All of the players were standing, save for a kneeling, bat-wielding Scooter Gennett. Behind them, the videoboard read "Happy Holidays from the Timber Rattlers." (Clearly, the team was thinking ahead). On the inside of the card, Mehring noted the Timber Rattlers would be giving away an "AWESOME Opening Day bobblehead" in 2011.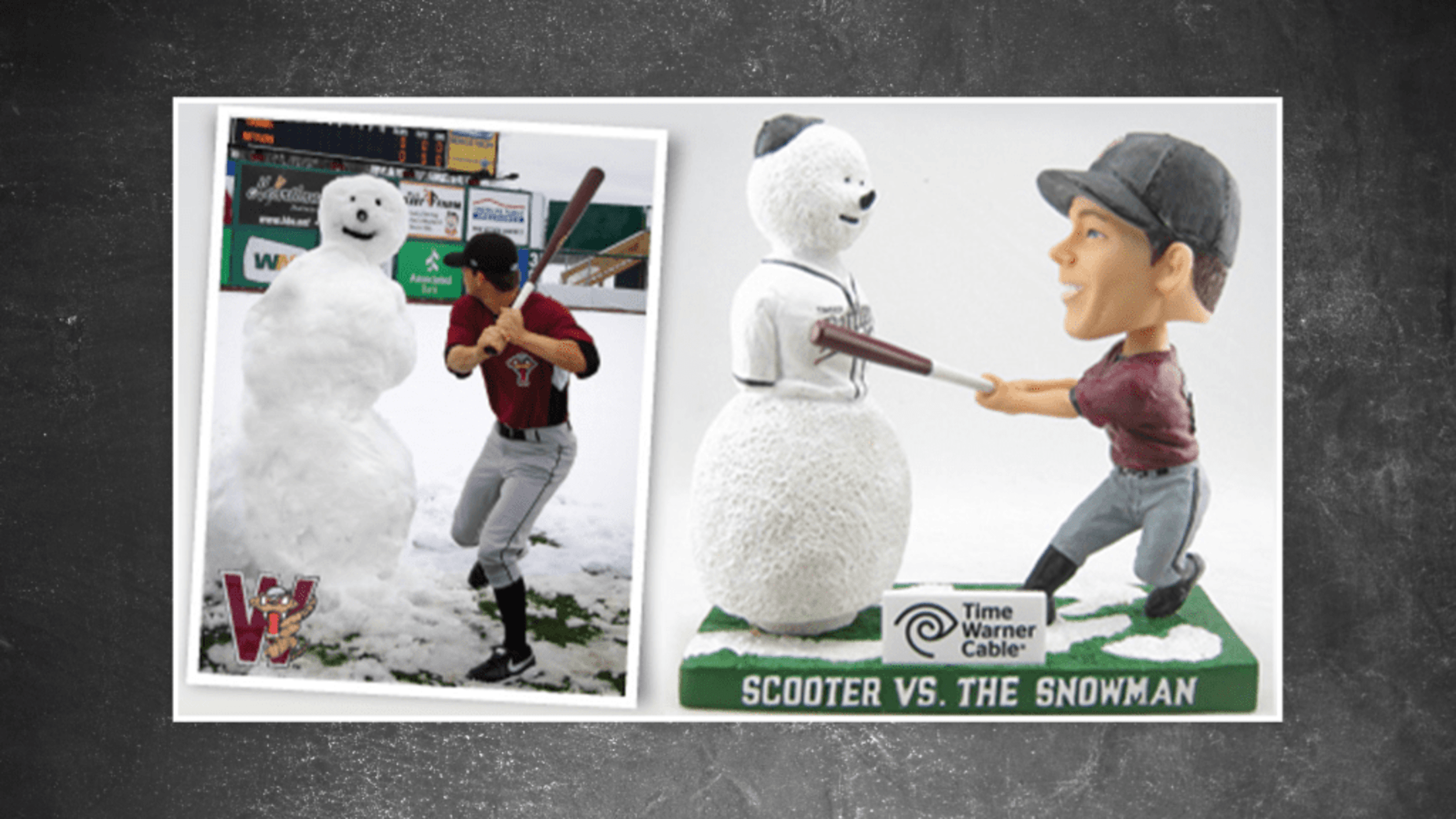 The "AWESOME" Opening Day bobblehead above was a sequel of sorts to the holiday card, as it depicted what happened after the team photo was taken. Specifically, this: Gennett decimated the hapless on-field snowman with his bat, destroying it before the sun could. The bobblehead was dubbed "Scooter vs. the Snowman," and I agree with Mehring that it is AWESOME.
Personalized note from Williamsport Crosscutters mascot Boomer (and Boomer bobblehead)
Following the 2007 season, Williamsport Crosscutters mascot Rusty Roughcut retired from the team in order to participate in lumberjack competitions full time. Before leaving, Rusty strongly suggested to the Crosscutters who his replacement should be: Boomer, a leaf-strewn googly-eyed entity of unknown origin who, per the team's press release, "hung out in the forest and helped with odd jobs." I immediately became a huge fan of Boomer's, because only in Minor League Baseball can a weirdo wander in from the woods and immediately become the face of an organization. As a result of my steadfast support, Boomer himself sent a bobblehead and a note (on Crosscutters letterhead) to the MiLB.com office. "Ben, Hope you like my bobblehead," the note read. "You da man!" No, Boomer, you are the man. All these years later, the bobblehead still claims a spot amid my limited New York City apartment shelf space. And the note itself is a work of art, suitable for framing. It is the only correspondence I ever received that was written in green Magic Marker and sent by a leaf-strewn erstwhile forest dweller.
Burlington Royals 2011 souvenir program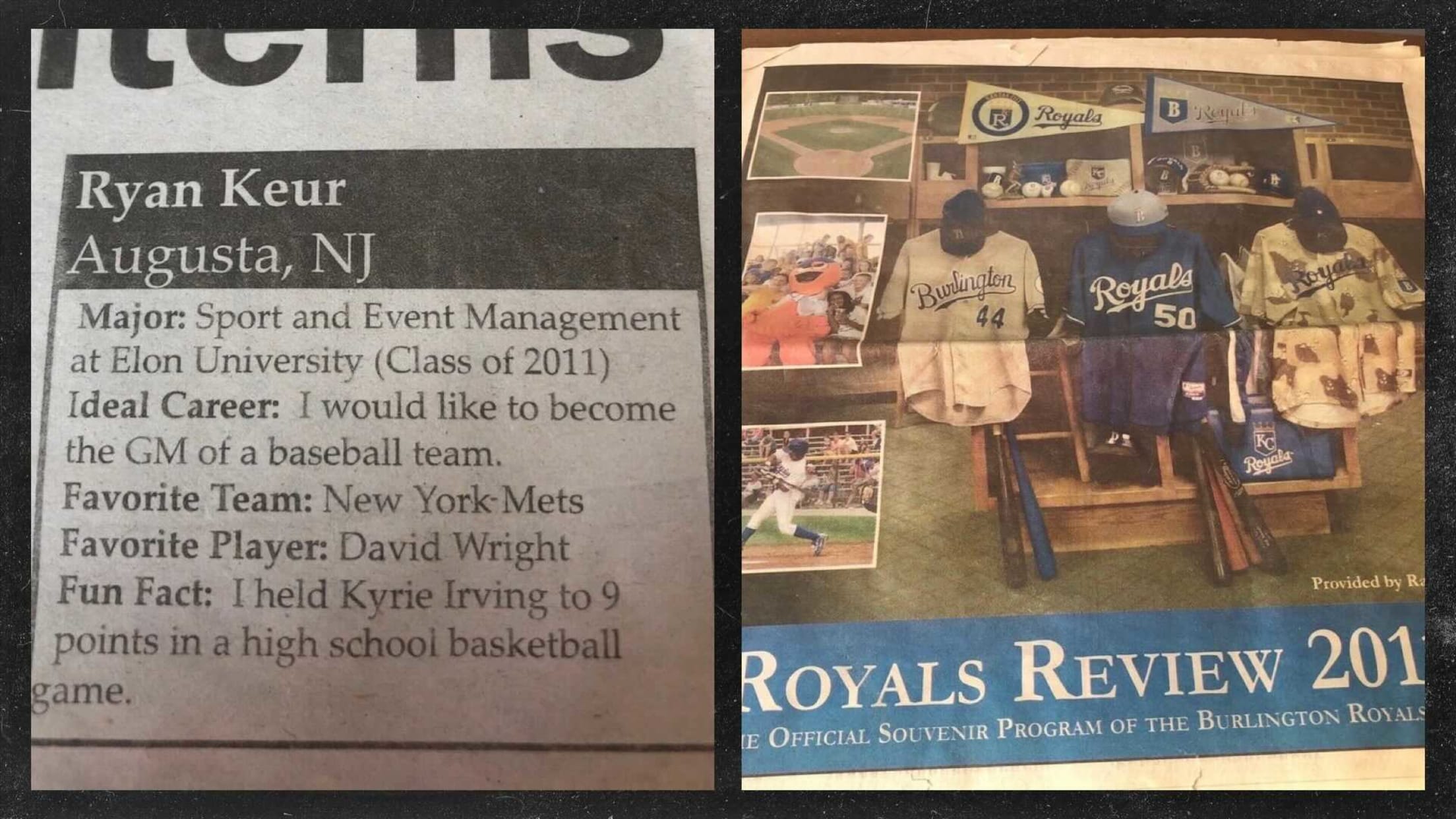 In July 2011, one month after visiting the TinCaps, I embarked on a North and South Carolina road trip that included my first visit to an Appalachian League team: the Burlington Royals. While at Burlington Athletic Stadium, I obtained a copy of the team's souvenir program. Clocking in at 28 pages, the program contained game notes, player profiles, a scorecard and advertisements for local businesses (Drink Cheerwine). Typical souvenir program content, in other words, but page 20's "2011 Summer Interns" feature caught my eye. Augusta, New Jersey, native Ryan Keur was one of eight interns profiled in the piece. In addition to boasting about having once "held Kyrie Irving to 9 points in a high school basketball game," Keur notes his career goal was "to become the GM of a baseball team."
Keur's "ideal career" came to pass and then some. In 2013, he was named Burlington Royals general manager, a post he held through the 2016 season. He then moved on to the Daytona Tortugas, for whom he served as team president, but now, Keur is back where he started. In March 2020, he bought Burlington Baseball Inc. and thus became the owner and operator of the franchise. To recap, an intern profiled in the 2011 program now owns the team. A lot can happen in a decade.