What's in the box? It's a Minor League mystery
Iowa-based fan explains joys of enigmatic mail order merchandise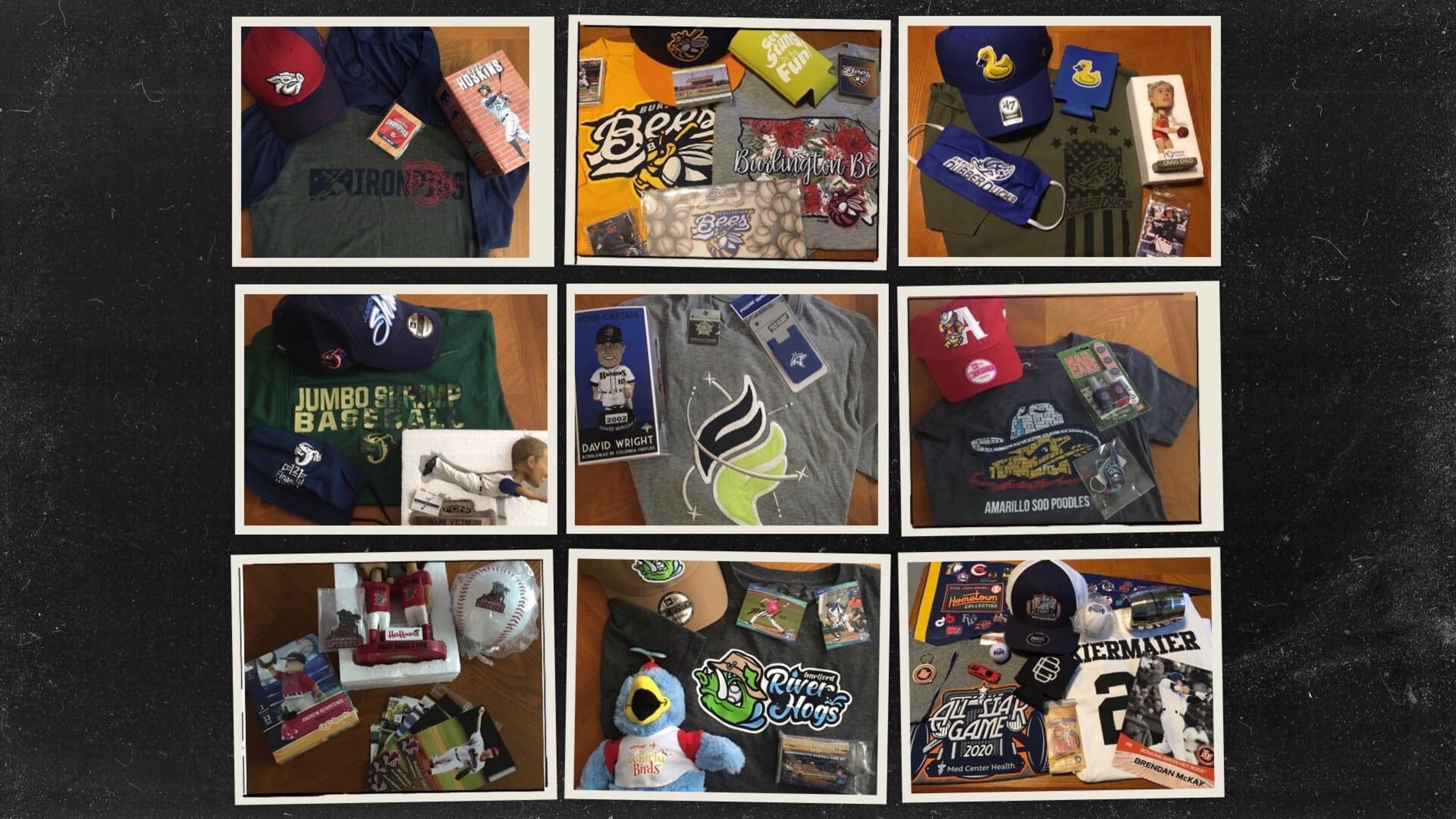 This month we're profiling Minor League Baseball fans across the country who go to impressive lengths to show their love of the game in creative ways and stay connected to their favorite teams even when the action on the field is on hold. Do you think you can stake your
This month we're profiling Minor League Baseball fans across the country who go to impressive lengths to show their love of the game in creative ways and stay connected to their favorite teams even when the action on the field is on hold. Do you think you can stake your claim as "MiLB's Biggest Fan?" Tell us why at the MiLB Fan Lounge, created in conjunction with MiLB partner Brand Activation Maximizer, for a chance to be a special guest and share your story on our official podcast, The Show Before the Show.
One of the primary joys of Minor League Baseball -- and, indeed, all live sports -- is not knowing what's going to happen. Every moment of every game is a collective moment of discovery, as infinite possibility is distilled to quantifiable outcome. The summer of 2020 is devoid of Minor League Baseball and its unique brand of infinite possibility, but there's still one way that fans can experience the ineffable thrills of the unknown: Buy a mystery box.
A mystery box is what its name implies: a box containing myriad items, shipped to a purchaser who does not know its contents. Dozens of Minor League teams across the country, desirous of revenue and eager to clean out their storage areas and team store clearance racks, have offered mystery boxes during this season that isn't. They are a great way to support your local -- or not so local -- Minor League Baseball team, often via the indispensable entity that is the U.S. Postal Service.
Mystery boxes, which vary wildly from team to team and package to package, can include everything from hats to shirts to bobbleheads, magnets to team card sets to, as we soon shall see, nail polish. Most teams ask purchasers to list a small amount of personal information to best customize the mystery experience. Some teams have offered mystery box "subscriptions," while others have gone deluxe. Generally speaking, however, a mystery box costs somewhere between $25-$50 and contains between four and 10 items.
As far as this writer can ascertain via studious but perhaps-not-unimpeachable Twitter-based methodology, our nation's leading purchaser of Minor League mystery boxes is an Iowa woman named Lynn Smith. She has ordered and received 21 Minor League Baseball team mystery boxes, documenting them on Twitter using the sensible hashtag "#MiLBMysteryBox."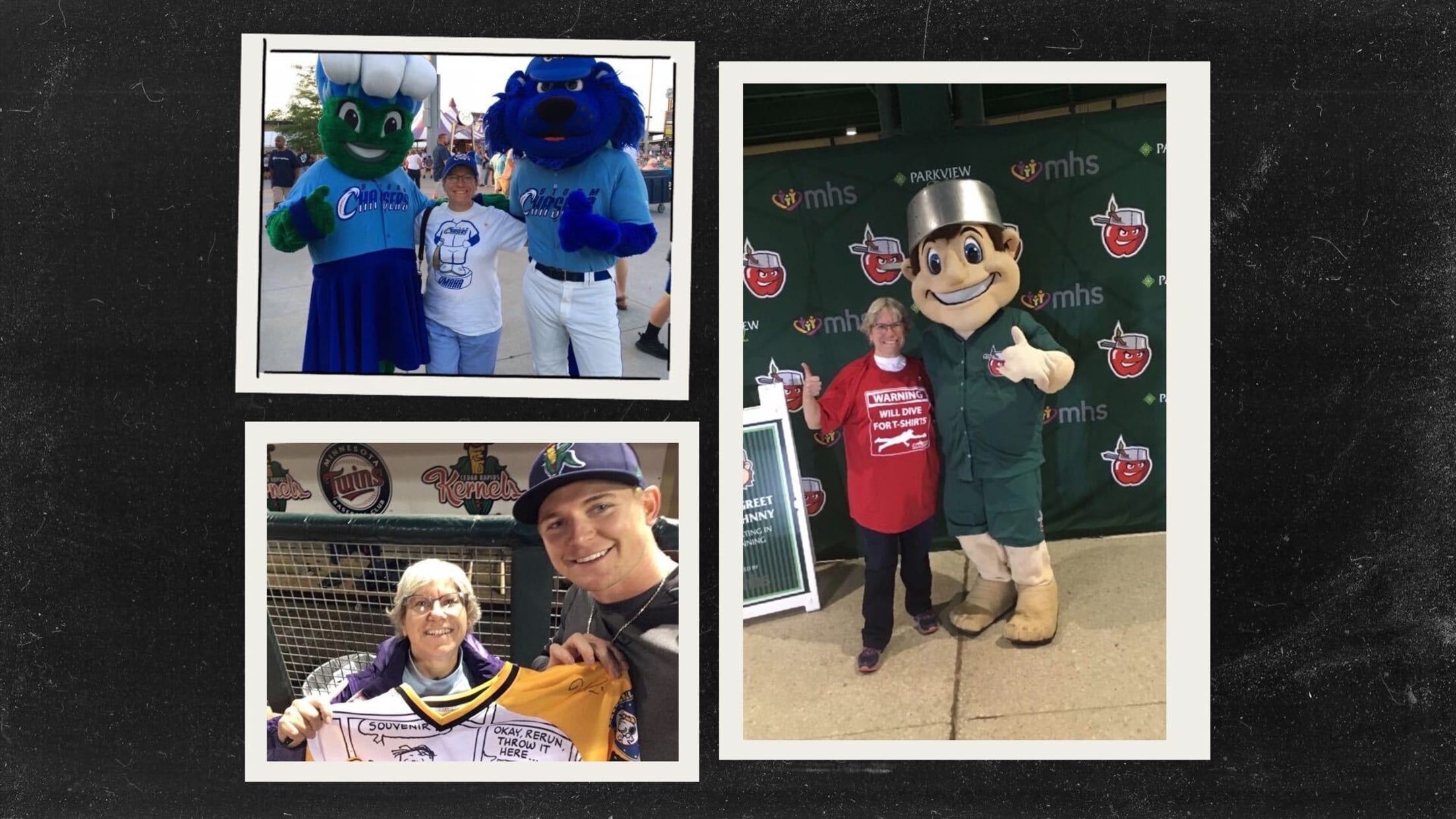 Smith, an audiovisual archivist at the Herbert Hoover Library and Museum outside Iowa City, estimates that she has visited some 35 Minor League ballparks in recent years. Her interest in the Minors began locally, with clubs such as the Cedar Rapids Kernels and Quad Cities River Bandits. From there, she began to incorporate Minor League Baseball into business trips and vacations. During one such far-flung excursion in 2018, she served as Designated Eater at a Florida Fire Frogs game.
"Minor League Baseball is just a fun, nice way to spend an afternoon or evening. These kids [the players] are doing it because they have a passion for it," Smith said. "And you can follow them throughout the careers. When the Kernels were affiliated with the Angels, I got to see Mike Trout and Hank Conger, so I became an Angels fan. Same with Kansas City. I wasn't a Royals fan, but when the Burlington Bees were with the Royals I became interested. And now the Kernels are with the Twins, so I'm getting more in tune with them. I'm already a fan of the White Sox. At this rate, I'll end up becoming a fan of the entire AL Central."
As with her interest in Minor League Baseball, Smith's interest in mystery boxes began in Iowa. In this case, it was the Burlington Bees, erstwhile Royals and current Angels affiliate. She was delighted in the assortment of merchandise the Bees sent, particularly since her favorite color is yellow.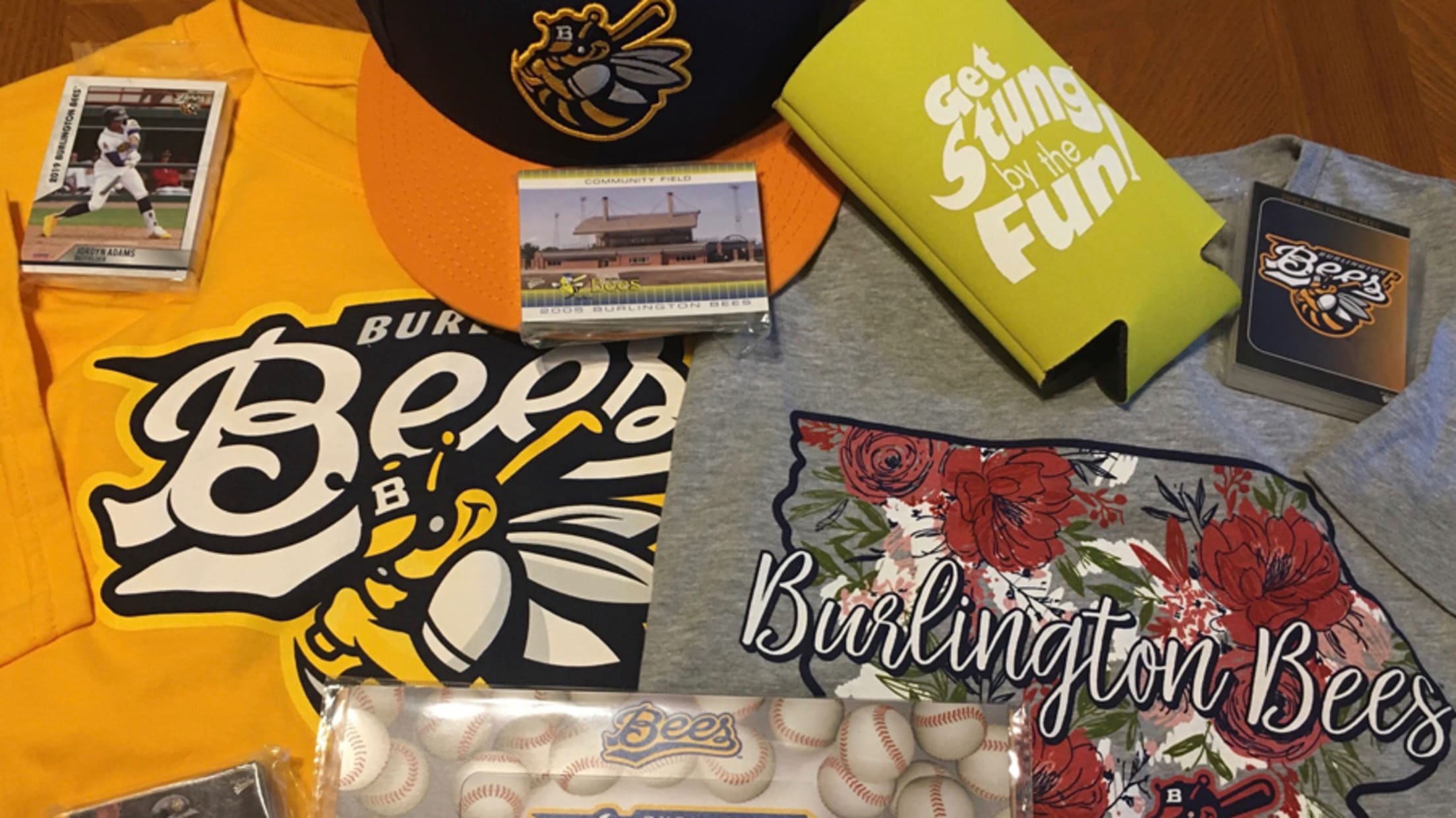 "[Burlington] was fun, so I started looking at the MiLB store website for more mystery boxes," she said. "I wanted to see what other teams were offering, including teams in places I've never been to. And as the summer went on and it became clear that the Minor League season was in jeopardy, it made me feel sympathetic to these teams and their situations. There won't be fans at games to buy this stuff, so I thought that it would be good to patronize them and get these items, whatever they might be. My 25 or 50 or however many dollars, it won't save them from hard times, but I'll do what I can."
Smith normally would be visiting Minor League teams this time of year; now, the teams are coming to her. She's received mystery boxes from Triple-A (Louisville Bats) to Class A Short-Season (Lowell Spinners); from California (Lancaster Jet Hawks) to Connecticut (Hartford Yard Goats); from long-established franchises (Buffalo Bisons) to those that have yet to play a game (Rocket City Trash Pandas). And so on and so forth, however you want to slice it.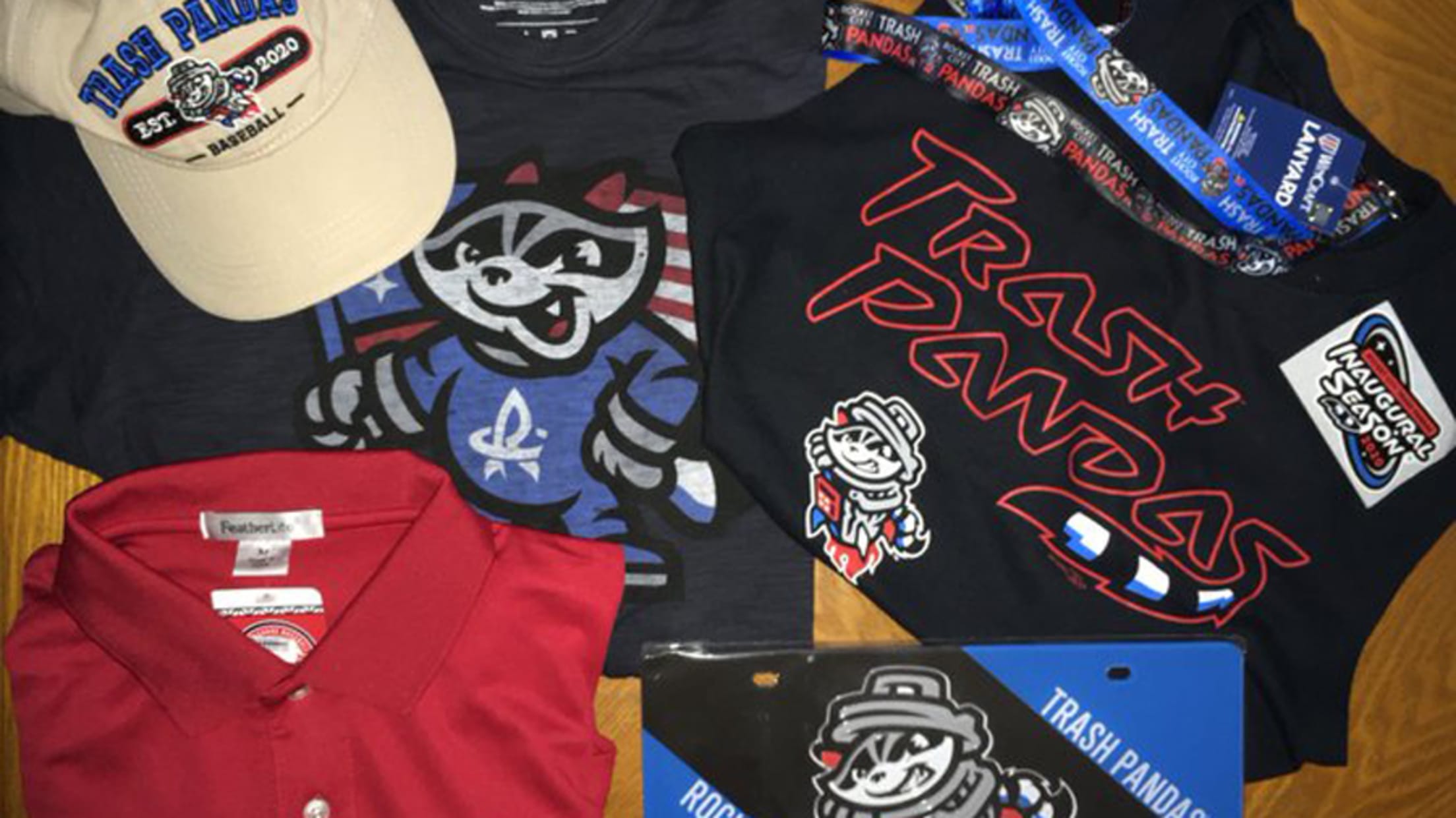 Smith's favorite mystery box items include an Andrew Benintendi Lego figurine from the Lowell Spinners, an Akron Aeros mask, a "fancy" Columbia Fireflies T-shirt, a New Hampshire Fisher Cats backpack and an autographed Kolten Wong baseball from the Peoria Chiefs. The most unexpected item came courtesy of the Amarillo Sod Poodles, whose box included a team logo nail care set featuring polish, decals and a file.
Smith also appreciates items that speak to the regional character of the team in question.
"From the [Hartford] Yard Goats, I got a River Hogs shirt and then I learned that was one of the finalists in their 'Name the Team' contest," she said. "And then I got to learn what a spiedie is, thanks to Binghamton. Like a shish kebab on a hot dog bun. It made me want to go back East and visit Binghamton, have a spiedie at the ballpark."
A new work week, a new #MilbMysteryBox. This one is from @RumblePoniesBB 🤔 Or should I say the Binghamton Spiedies, which sounds like a tasty thing. Baseball is signed by Joe Zanghi. pic.twitter.com/Pobn7kNk0a

— Lynn Smith (@iaskiheho) June 15, 2020
Smith said that her recent influx of Minor League swag will be put to use in various ways. Some will be displayed on shelves at home or in her office. Some items will be given to friends and family as gifts. And some will be incorporated into her wardrobe, ready to be deployed at the opportune time.
"Now when I finally get to visit these teams, I can show up and look like I know what I'm doing," she said.