Myers, Bulls Stifle Stripers 5-0
Tobias Myers sets down 18 of 20 batters, Durham improves to 3-0 in Triple-A Final Stretch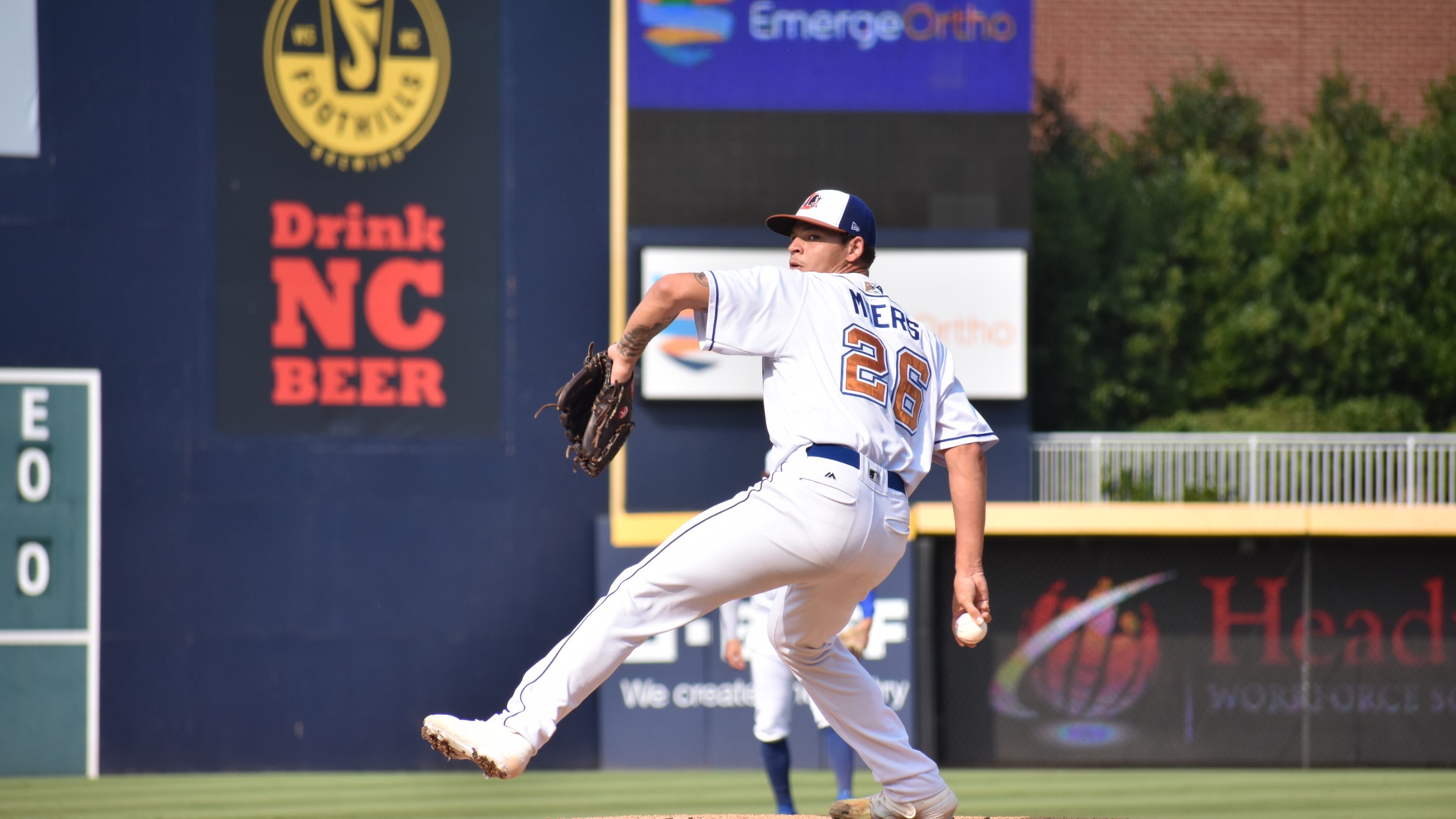 (Paxton Rembis / Durham Bulls)
Bulls right fielder Nathan Lukes recorded three hits, third baseman Mike Brosseau and designated hitter Brett Sullivan hit back-to-back home runs and starting pitcher Tobias Myers set down eighteen of the twenty batters he faced as part of Durham's 5-0 shutout victory over the Gwinnett Stripers on Friday night at
Bulls right fielder Nathan Lukes recorded three hits, third baseman Mike Brosseau and designated hitter Brett Sullivan hit back-to-back home runs and starting pitcher Tobias Myers set down eighteen of the twenty batters he faced as part of Durham's 5-0 shutout victory over the Gwinnett Stripers on Friday night at Durham Bulls Athletic Park.
The win improves the Bulls' record to 3-0 in the Triple-A Final Stretch postseason with seven games remaining. The Triple-A Final Stretch features all 30 Triple-A clubs playing a pair of five-game series. The club with the best winning percentage over that period will be declared the Triple-A Final Stretch Champion. Durham finished the regular season as Triple-A National Champions with a 77-43 record.
Myers (6.0 IP, 2 H, 0 R, 0 BB, 8 K) was excellent in his six innings of work to earn his third victory. He retired all but two of the 20 batters he faced, including each of the final nine. Durham relievers Calvin Faucher (1.0 IP, K), Phoenix Sanders (1.0 IP, K) and Louis Head (1.0 IP, K) combined for the final three hitless frames. Gwinnett southpaw Kyle Muller (4.0 IP, 6 H, 5 R, 5 ER, BB, 3 K) suffered the defeat.
Brosseau got the scoring started with a two-run opposite-field blast in the second before Sullivan immediately followed to make it 3-0. SS Vidal Brujan in the subsequent frame stole third for his 42nd stolen base of the season before coming home on an error prior to DH Ryan Boldt's RBI single to center capped the scoring output.
Lukes (3-4, R) led the way with his three knocks, while Sullivan (2-4, R, HR, RBI) added a multi-hit effort as well. Including their seven-inning shutout win in game two of Thursday night's doubleheader, Bulls pitchers have not allowed a run over their last ten frames.
Durham continues the Final Five at the DBAP presented by Fifth Third Bank versus Gwinnett on Saturday evening, with first pitch scheduled for 6:35pm. RHP Brent Honeywell Jr. is expected to get the nod for the Bulls and be opposed by Stripers RHP Kyle Wright. Tickets for that game, as well as all remaining Bulls home games are available and can be purchased at DurhamBulls.com.