Myrtle Beach's Bailey notches 2,000th win
Manager becomes 11th skipper in Minors history to hit milestone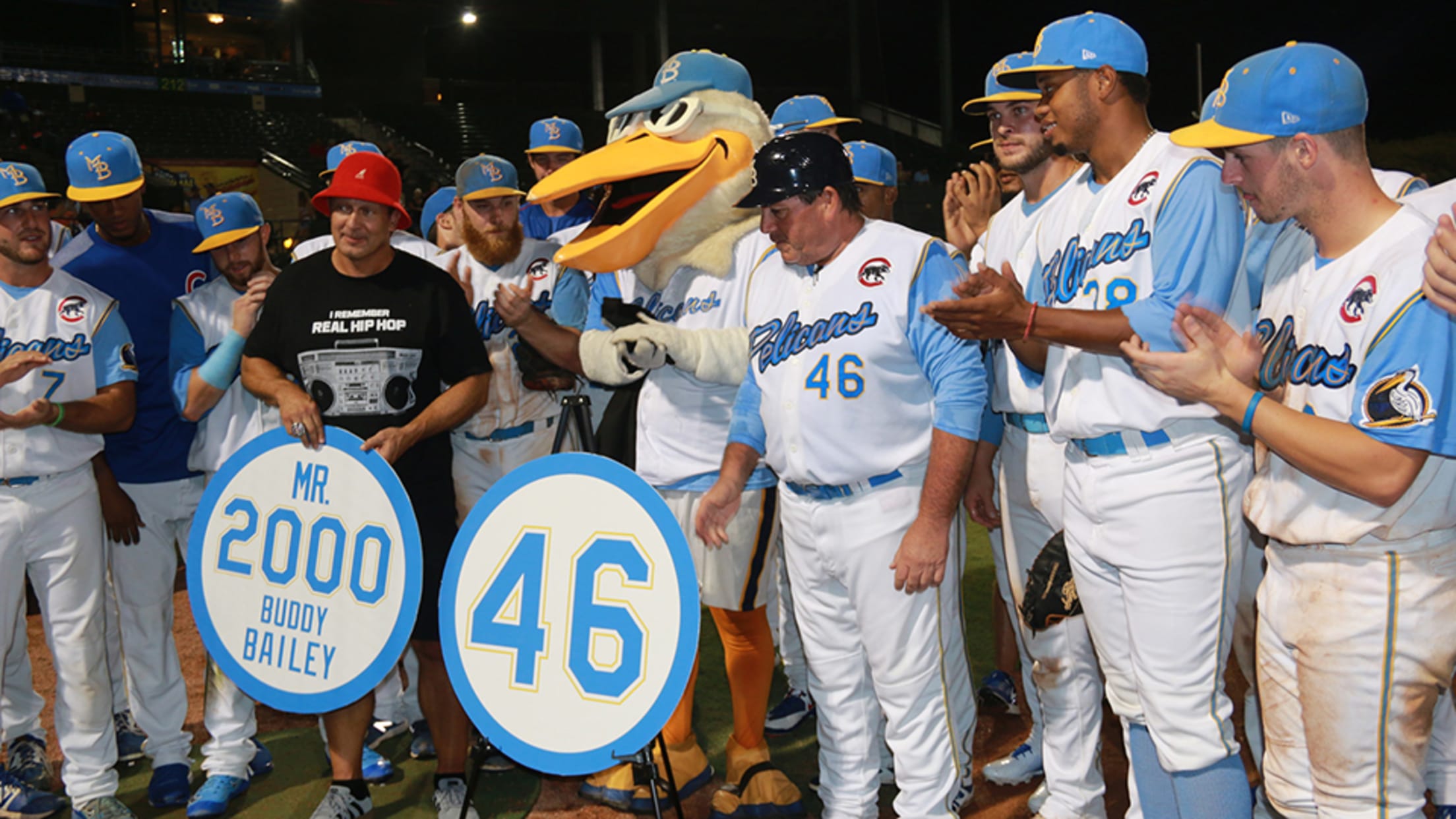 Buddy Bailey first took the helm in 1983 with the Pulaski Braves and has managed for 28 seasons. (Larry Kave/Myrtle Beach Pelicans)
Buddy Bailey isn't one to seek out attention for personal accomplishments, but after nearly four decades around the game of baseball, he's earned the spotlight -- at least for one night.The 60-year-old manager won the 2,000th game of his career Thursday as Class A Advanced Myrtle Beach rallied to beat
Buddy Bailey isn't one to seek out attention for personal accomplishments, but after nearly four decades around the game of baseball, he's earned the spotlight -- at least for one night.
The 60-year-old manager won the 2,000th game of his career Thursday as Class A Advanced Myrtle Beach rallied to beat Down East, 5-4, at TicketReturn.com Field. It was the team's second try at getting its skipper to the milestone after the Pelicans fell to the Wood Ducks, 2-0, on Wednesday.
"You go back to the first game I managed, June 19, 1983, and going back through the years and the players you had, it's a selfish thing really for a manager," Bailey told Pelicans radio broadcaster Scott Kornberg. "As a manager, you're always here for the team to have success and the players to get better, so in some ways it's ironic to be sitting out here talking about yourself. But for one night, I think I'm going to be a little selfish."
Bailey's bid for 2,000 got off to a good start in the first inning with Vimael Machin doubling in Zack Short with the game's first run. Top Cubs prospectOscar De La Cruz tossed two scoreless innings before allowing a home run by Chuck Moorman and an RBI double by Rangers No. 15 prospectJosh Morgan.
Down East scored twice more in the fourth on a double by Ti'Quan Forbes and Moorman's RBI single off left-hander Ryan Kellogg (5-7) to open up a 4-1 lead. The score stayed that way until the bottom of the sixth when Wood Ducks starter Adrian Sampson exited after allowing one run through five innings.
Gameday box score
Cubs No. 15 prospect Eddy Martinez scored on Trent Giambrone's infield groundout against right-hander Tyler Ferguson, but Myrtle Beach did its real damage in the seventh. Down East right-hander Jacob Shortslef was greeted with a single off the bat of Short before getting P.J. Higgins to pop out and walking Machin.
Jesse Hodges belted a two-run double to tie the game and Tyler Alamo followed with a two-bagger that plated Hodges with the go-ahead run.
Scott Effross entered in the eighth and tossed a perfect inning before Carlos Garay singled with one out in the ninth, putting the tying run on base. The Pelicans right-hander got Forbes to pop out before inducing a 5-4 forceout off the bat of LeDarious Clark to end the game and put Bailey in exclusive company as the 11th Minor League manager to reach the plateau.
• Get tickets to a Pelicans game »
"In the last couple days when it got close, you start thinking about it a bit," Bailey said. "I'm kind of glad it's over, because for a couple of days, I got selfish thinking about wins for Buddy Bailey when they hire you to do things for the players and the organization. I'm glad it's behind now and I'm back to what I'm used to doing, everything for the player and team and organization."
Bailey began his managing career with the Pulaski Braves in 1983 after signing with Atlanta as a catcher in 1979 and spending most of his four-year Minor League career at the Class A level. He managed in the organization until 1990 before taking over as head of the Class A Lynchburg Red Sox in 1991. Two years later, he moved up to Triple-A Pawtucket and spent the next 12 seasons in the Boston organization, seven managing the PawSox, four acting as an advance scout, field coordinator or roving catching instructor and one as the bench coach.
"I could probably write a book on all the things [I've done]," Bailey said. "My next goal, if I'm fortunate enough that the Cubs or an organization gives me a job, I can go to Winter Ball. Counting different jobs -- managing, advanced scouting, etc. -- in baseball, I'm five years short of matching seasons and jobs with my age.
"So if I'm able to continue to work here in the States for three or four more years and be able to go to Winter Ball and I want to retire at 64 or 65, I can honestly say I've done a responsibility with a different club and organization the same amount of years in my life as I did before I retired. My age matches the different job titles I have. That would be another accomplishment. In life you have to have a goal, and if that happened that would be a tremendous goal to be able to accomplish."
Bailey joined the Cubs organization in 2006, starting as their roving Minor League catching instructor before managing Class A Daytona for the second half of the season. He took the helm at Triple-A Iowa in 2007 and Double-A Tennessee in 2008 before returning to Daytona for the following three seasons. He was promoted back to Tennessee in 2012 and managed four more seasons there before moving to Myrtle Beach.
Now he'll focus on the remainder of the Myrtle Beach's season, which will continue in the postseason since the Pelicans clinched the Carolina League South first-half title with a 43-27 record.
"My goal now, since we qualified, is that hopefully our team's on the upswing going into the playoffs and we can represent Myrtle Beach, the Cubs and make a good showing here in September," Bailey said.