Pache Homers Twice as Stripers Split Doubleheader vs. Norfolk 
Gwinnett takes 4-3 win in game two after falling 2-1 in opener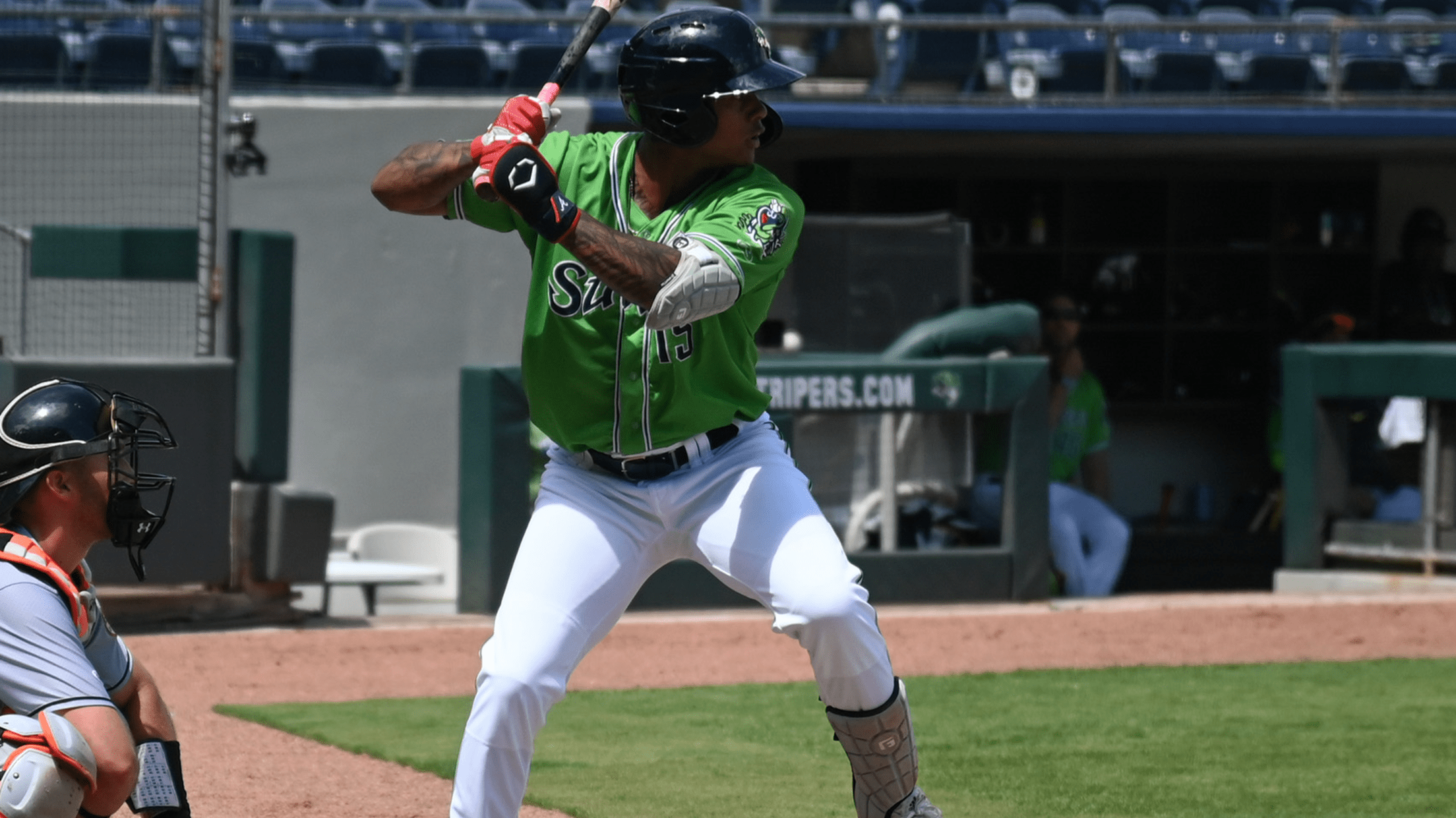 Cristian Pache homered in both games of a doubleheader as Gwinnett split the pair of games vs. Norfolk on Wednesday at Coolray Field. (Patricia Ortiz/Gwinnett Stripers)
LAWRENCEVILLE, Ga. – Cristian Pache smashed two home runs (4-5), one in each game, as the Gwinnett Stripers (33-35) split a doubleheader with the Norfolk Tides (25-39) on Wednesday afternoon at Coolray Field. Norfolk won game one 2-1, and the Stripers won game two 4-3. Decisive Play (Game 1):Zach Jarrett
LAWRENCEVILLE, Ga. – Cristian Pache smashed two home runs (4-5), one in each game, as the Gwinnett Stripers (33-35) split a doubleheader with the Norfolk Tides (25-39) on Wednesday afternoon at Coolray Field. Norfolk won game one 2-1, and the Stripers won game two 4-3.
Decisive Play (Game 1):Zach Jarrett doubled and scored from third on a wild pitch by Kyle Wright (L, 2-4) in the sixth inning. Yolmer Sánchez and Jonathan Morales both singled with two outs in the seventh, but Dusten Knight (S, 5) struck out Drew Waters to end the game.
Decisive Play (Game 2):Pache hit a solo shot off Claudio Custodio in the fifth inning that gave Gwinnett a 4-2 lead. Norfolk scored a run in the sixth, but A.J. Minter (S, 1) retired the Tides in the seventh to give Gwinnett the win.
Key Contributors:Pache was the only Stripers player with an RBI in both games, finishing 2-for-6 with two solo home runs. William Contreras hit a solo homer (4) in game two to give Gwinnett a 3-2 lead in the fourth inning of game two (1-for 3). Morales combined to go 2-for-5, adding a double and RBI in game two. Dylan Lee (W, 3-0) tossed 2.0 scoreless innings to earn the win in game two.
Noteworthy: Contreras has an eight-game hitting streak with the Stripers since July 10, batting .455 (15-for-33) with five doubles, four homers, 14 RBIs, and a 1.483 OPS in that span. Pache is batting .317 (13-for-41) with one double, three homers, nine runs, seven RBIs, and a .925 OPS in 11 games since July 8. The Stripers are 5-3 in doubleheaders this season.
Next Game (Thursday, July 22): *Gwinnett vs. Norfolk, 7:05 p.m. at Coolray Field (The first 1,000 fans will receive a Mike Soroka bobblehead. It is also Thirsty Thursday, featuring $2 domestic 12-ounce beers, presented by Michelob Ultra. The Stripers will transform into the Xolos de Gwinnett as part of MiLB's Copa de la Diversión). RHP *Jasseel De La Cruz (1-2, 6.10 ERA) for the Stripers vs. LHP Kevin Smith (1-2, 5.00 ERA) for the Tides. Radio Broadcast: 6:50 p.m. on MyCountry993.com.