Prospects in the Orioles' player pool
Rutschman, top talent bring fresh vibe to Summer Camp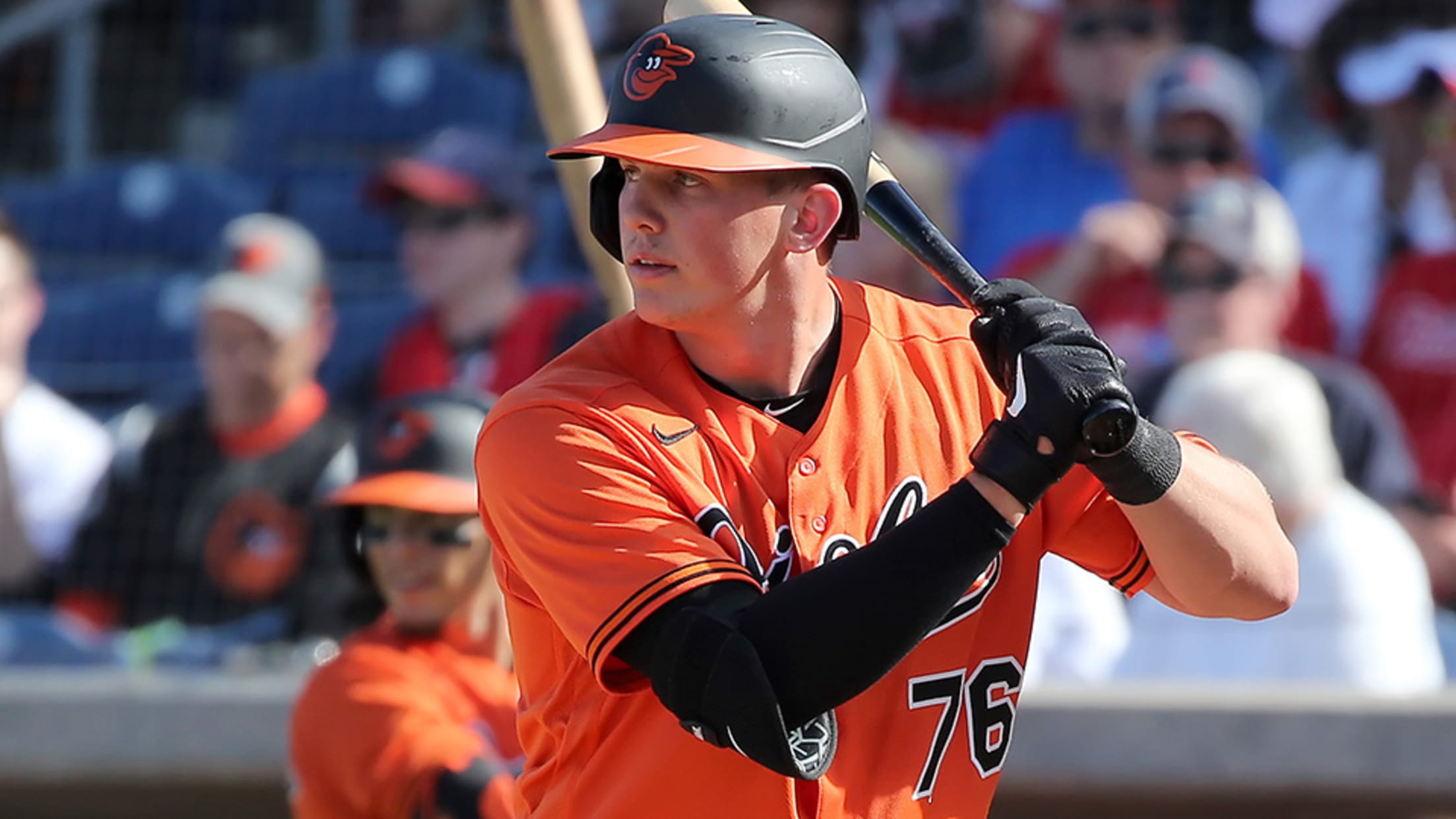 Adley Rutschman posted a .774 OPS in 37 games in 2019 to start his professional career. (Cliff Welch/MiLB.com)
As part of the new rules for the 2020 Major League season, each of the 30 organizations will maintain a 60-man player pool for the duration of the campaign. Some members of the player pool will feature on the active Major League roster while others will work out at an
As part of the new rules for the 2020 Major League season, each of the 30 organizations will maintain a 60-man player pool for the duration of the campaign. Some members of the player pool will feature on the active Major League roster while others will work out at an alternate training site in the hopes of staying fresh for a potential callup or getting in much-needed development time.
The MiLB.com staff is rounding up the notable prospects in each organization's 60-man player pool and analyzing what the new system will mean for their 2020 seasons.
In a shortened season, anything can happen. And while the Orioles are still not expected to be contenders this year, there's a fresh feel to Summer Camp.
Led by Adley Rutschman, four of the club's top five prospects are getting extra looks in the Orioles' player pool, with Austin Hays poised to remain with the big league club.
"Just get him here and get him playing," Baltimore manager Brandon Hyde told reporters of inviting Rutschman. "We want to see him here and see him take BP and catch some of our starters. The bottom line is just to get him playing again."
The Orioles still have four spots open.
Adley Rutschman, C: While Rutschman was not on the original list of player-pool invitees, it's better late than never. The 2019 first overall Draft pick provides plenty of excitement around a club that could certainly use some. With plus tools at and behind the plate, Rutschman is ranked as baseball's No. 4 overall prospect and one of only three switch-hitters in the Top 25. The Orioles want to give their top prospect as much playing time as possible during Summer Camp given the lack of a Minor League season. In what would have been his first full campaign, the 22-year-old was not expected to make his Major League debut just yet, but in a shortened season, catchers will be even more vital.
DL Hall, LHP: In his third pro season, Hall continued to fool hitters with ease. With a devastating fastball, MLB.com's No 69 overall prospect struck out 116 batters while walking 54 in 80 2/3 innings. Hall went 4-5 with a 3.46 ERA in 19 games (17 starts) for Class A Advanced Frederick before a Grade 1 strain in his left lat ended his season on Aug. 18. While he was not invited to big league camp in the spring, Hall is considered the Orioles' top left-handed pitching prospect. Although he is unlikely to see Major League action this year, the 60-man roster is a great place for Hall to log innings (however loosely) this summer.
Ryan Mountcastle, 1B: Mountcastle was also tapped after the initial roster went out. The No. 94 overall prospect is coming off his best season yet, posting a career-best slash line of .312/.344/.527 with 25 homers and 83 RBIs -- two more personal highs -- en route to being named the International League's MVP. Mountcastle continued to showcase his plus bat with an extended look at big league camp this spring. The 23-year-old laced four of his eight hits for extra bases while plating four runs in 34 at-bats. While Mountcastle is one of the most MLB-ready bats in the system, he is expected to start the campaign at the secondary camp in Bowie.
Austin Hays, OF: After a breakout 2019 at Camden, Hays is likely to secure the Orioles' center-field job come Opening Day The club's No. 5 prospect first made it to The Show in 2017, his first full season, but injuries and slumps kept him in the Minors until last September. In 21 games, Hays won over fans with a .309/.373/.574 slash line, four long balls and 13 RBIs for the Orioles. With his defense and speed his best tools, the 25-year-old is the ideal candidate to patrol center.
Yusniel Díaz, OF: Diaz has had trouble finding a rhythm in recent years, first being dealt from the Dodgers in the Manny Machado trade during the 2018 campaign, then hitting the injured list multiple times in 2019. But when healthy, Diaz is a high-ceiling right fielder with average tools across the board. The club's No. 7 prospect went 6-for-24 (.300) with two triples, two RBIs and four walks at big league camp this spring.
Michael Baumann, RHP: Baumann has been one of the most reliable pitchers in the Minors over his three pro seasons. With a four-pitch arsenal, the Orioles' No. 8 prospect is 24-13 with a 2.82 ERA, 291 strikeouts and 117 walks in 297 career innings across 59 games (56 starts). Having advanced to Double-A Bowie last summer, Baumann was one of just two Minor League pitchers in 2019 to throw multiple nine-inning shutouts, and one of those was a no-hitter. While the 24-year-old was not invited to big league camp this spring, now could be the time he shows the Baltimore brass what he can do.
Dean Kremer, RHP: Coming over from the Dodgers with Diaz in the Manny Machado deal, Kremer continues to prove himself for the Orioles. After a tough ending to the regular season at Triple-A, the organization's No. 9 prospect went to the Arizona Fall League where he fooled hitters with ease, totaling 23 strikeouts against four walks in 19 innings. Kremer will head to Bowie for camp, but could definitely see Major League action this summer.
Keegan Akin, LHP: After a dominant 2018 in the Eastern League, Akin ran into some trouble at Triple-A in 2019. The Orioles' No. 11 prospect went 6-7 with a 4.73 ERA in 25 games (24 starts), which could have been caused by adjustment to the new ball or just the level in general. With that being said, Akin focused on his offspeed stuff and carved up hitters, leading the International League with 131 strikeouts while issuing 61 walks in 112 1/3 innings. Baltimore's rotation is pretty set, but Akin could be one of the first arms called upon should the Orioles need to go to the well.
Hunter Harvey, RHP: It was a long journey for Harvey before he ended 2019 in Baltimore's bullpen. The 2013 first-rounder was limited to 176 2/3 innings over his first five seasons in pro ball due to a slew of injuries, plus Tommy John surgery. Harvey transitioned to the bullpen last summer with Triple-A Norfolk, then impressed many when he made his anticipated Major League debut in August. With Baltimore, the 6-foot-3 hurler allowed a run on three hits and four walks with 11 strikeouts in 6 1/3 innings for a 1.42 ERA in seven appearances. Harvey's potential to reach triple-digits, coupled with his tight curveball make him an exciting option out of the 'pen this summer.
Dillon Tate, RHP: After being dealt from the Yankees in the Zach Britton trade in 2018, Tate settled into a relief role. The Orioles' No. 27 prospect notched a 3.25 ERA with 40 punchouts and 10 walks in 44 1/3 innings in 22 appearances across three levels in 2019, all while making a couple trips to Charm City. Working primarily as a sinkerball pitcher now, Tate was inconsistent through 16 appearances with Baltimore. The 26-year-old showed flashes of dominance more often than not, but still allowed the occasional three-run inning. Tate will be looking to course correct this year, as he is expected to start the year on the Major League roster.
Other notables: Isaac Anesty was a strikeout machine in the Angels system in 2019, fanning 100 while walking 27 in 73 1/3 innings across three levels. The right-handed reliever was traded to the Orioles in December as part of the Dylan Bundy deal. … After nine seasons in the Cubs system, Taylor Davis signed with the Orioles in January. The versatile catcher also can play first and third, but he became a fan favorite for his ability to always find the camera.
Kelsie Heneghan is a writer for MiLB.com. Follow her on Twitter @Kelsie_Heneghan.