Rays' McKay shut down with shoulder issue
No. 16 overall prospect expected to miss seven to 10 days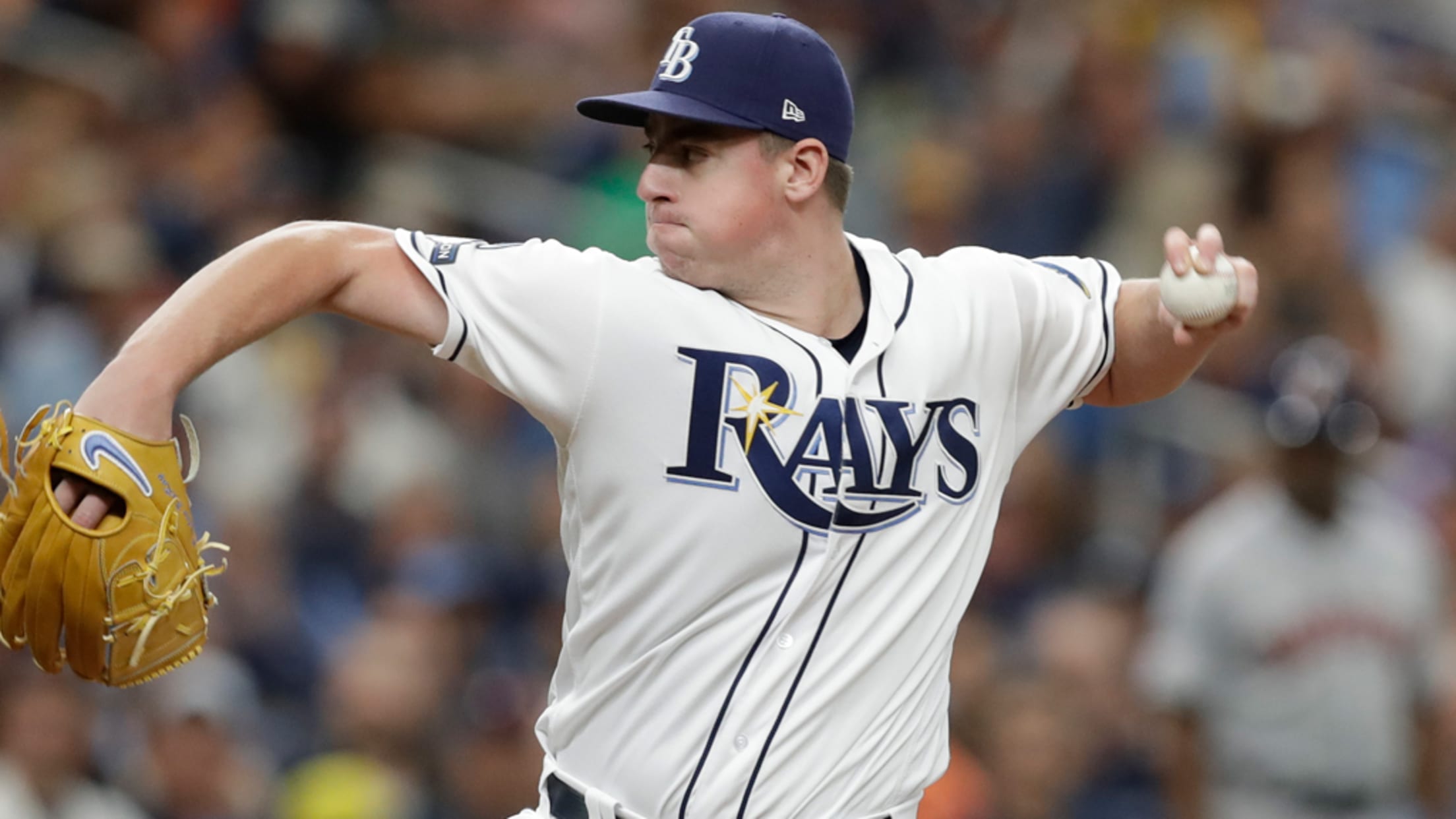 Brendan McKay rocketed through Double-A Montgomery and Triple-A Durham to reach the Majors last year. (Chris O'Meara/AP)
Brendan McKay showed off his tantalizing two-way talent last year in his first months in the big leagues. To see him at the Major League level again, Rays fans will have to wait a little longer. MLB Pipeline's No. 16 overall prospect will be shut down for seven to 10
Brendan McKay showed off his tantalizing two-way talent last year in his first months in the big leagues. To see him at the Major League level again, Rays fans will have to wait a little longer.
MLB Pipeline's No. 16 overall prospect will be shut down for seven to 10 days due to shoulder inflammation, Tampa Bay manager Kevin Cash said on Tuesday.
Injuries, unfortunately, are nothing new to McKay, although he was healthy last year while breaking out at the top levels of the Minor Leagues. The Rays' second-ranked prospect dealt with lat issues in 2018, leading Tampa Bay to focus on his pitching last year. McKay thrived, going 6-0 with a 1.15 ERA in 15 appearances, including 13 starts, between Double-A Montgomery and Triple-A Durham. Over 73 2/3 innings, the left-hander amassed 102 strikeouts while issuing only 18 walks. Opponents batted .165 against him, and he posted a 0.81 WHIP.
In 40 outings across three Minor League seasons, the 24-year-old is 12-2 with a 1.78 ERA and 226 strikeouts against 37 walks over 172 frames.
The Rays selected McKay with the fourth overall pick in the 2017 Draft out of the University of Louisville and initially utilized his two-way skill set, giving the slugger 49 starts at first base in his first two professional seasons. Limited to sporadic at-bats as a DH last year, McKay batted .200/.298/.331 with five homers and 19 RBIs in 145 at-bats for the Biscuits and Bulls. He went 2-for-10 with a solo homer and a walk in the Majors.
McKay was with the Rays to open Spring Training but was optioned to Triple-A Durham on March 26 -- two weeks after the COVID-19 pandemic forced camps to shut down.
As baseball restarted last month, McKay was away from the Rays due to a positive COVID-19 test. He was cleared to return to action on July 31 following two negative tests and threw a 20-pitch live batting practice session the same day.
"The reports were good and he came out healthy, so we're encouraged by that," Cash said at the time. "Now we'll start his build-up process, kind of like what we've done with all the other pitchers that have fallen in that category."
Cash also noted that Tampa Bay's emphasis with McKay would remain on the mound.
"For him to help us the most, it's going to come from a pitching standpoint," Cash said. "We'll focus on that and have discussions with him on how we can revisit that down the road. But right now, we need to get his arm built up and his pitches built up."
Tyler Maun is a reporter for MiLB.com and co-host of "The Show Before The Show" podcast. You can find him on Twitter @tylermaun.