Reno explodes for 17 hits in 14-5 victory over Las Vegas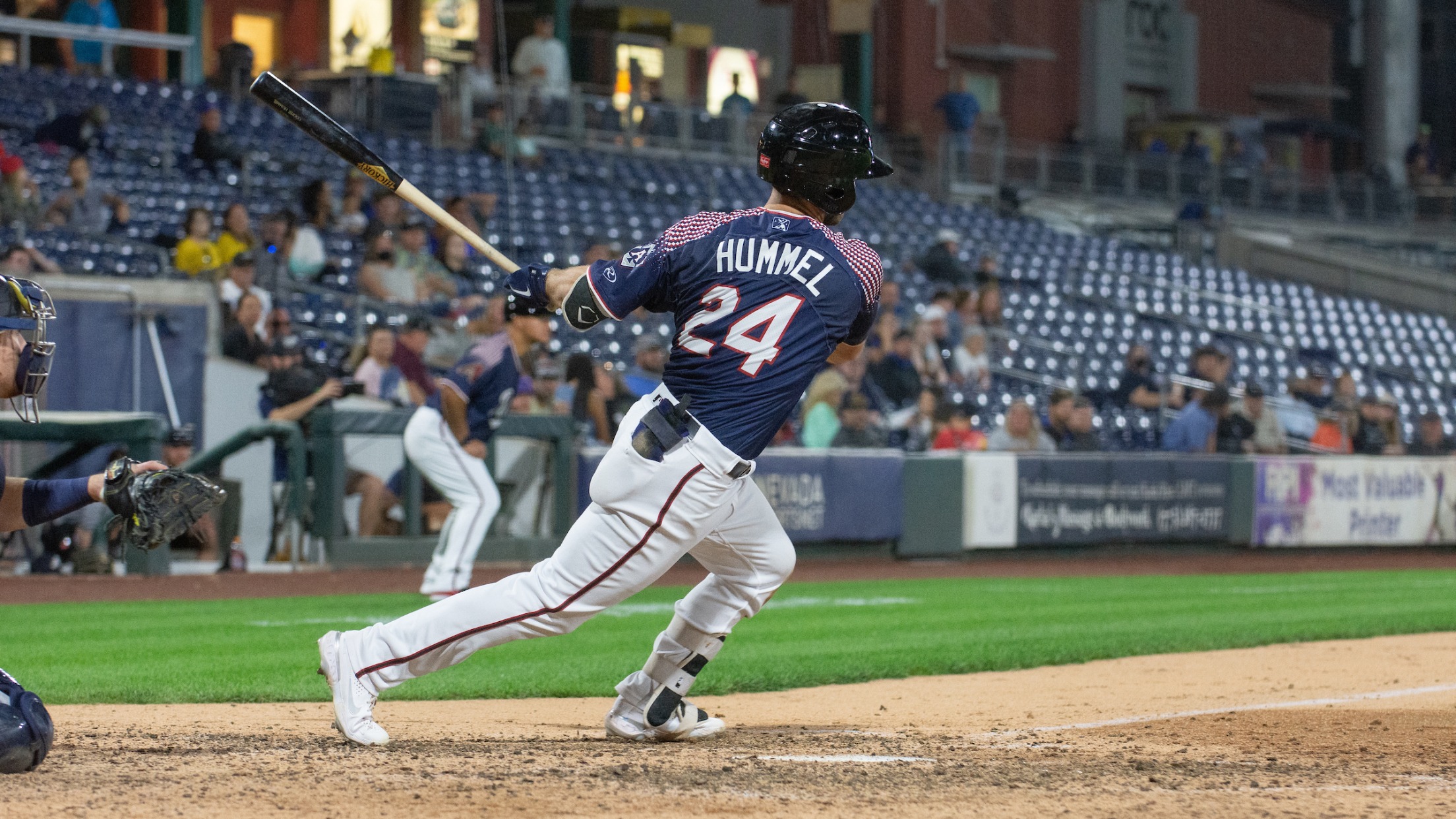 SUMMERLIN, Nev. – All nine Aces recorded at least one hit and one run scored in Reno's 14-5 victory of the Las Vegas Aviators on Sunday evening. Cooper Hummel continued his hot streak in September with a 3-for-4 performance at the dish with a trio of RBIs and two runs
SUMMERLIN, Nev. – All nine Aces recorded at least one hit and one run scored in Reno's 14-5 victory of the Las Vegas Aviators on Sunday evening.
Cooper Hummel continued his hot streak in September with a 3-for-4 performance at the dish with a trio of RBIs and two runs scored. In 10 appearances this month, the Aces' utilityman is slashing .496/.500/.857 with a trio of homers, 14 RBIs and 11 runs scored.
Drew Ellis has been effective since returning from Arizona, posting another two-hit showing, finishing 2-for-4 at the plate with a pair of tallies and three RBIs.
Juniel Querecuto and Jake Hager extended their hitting streaks to six games with a single in the third inning while Ildemaro Vargas reached the same mark in the fifth on an RBI double. The trio put forth a combined 5-for-11 outing with five RBIs and five runs scored.
Blake Lalli's relievers did not allow a run in their six innings of action against the Aviators, increasing their scoreless-inning streak to 11.1 frames.
The Aces moved to 14-7 in contests they erase a deficit of three or more runs.
Reno registered at least 17 hits in a contest for the seventh time this season, moving to 6-1 in such contests. Of the 17 base knocks, the Biggest Little City's team smacked six doubles against the squad from Summerlin, matching the season-high mark.
Las Vegas opened the scoring on Sunday night with an RBI single by Vimael Machin in the bottom of the first to take a 1-0 advantage.
The Aviators put two more runs on the board in the second frame following a Mickey McDonald two-run base knock that lifted the home squad to a 3-0 edge.
Reno quickly responded to the deficit with a five-tick frame in the top of the third. Querecuto smacked a leadoff single before Jose Herrera walked to put runners on first and second. After Hager singled to load the bases, Aviators' Homer Bailey recorded two quick outs and looked like he was destined to get out of trouble. Ellis had other thoughts when he lined a bases-clearing double down the left-field line to knot the game at three. Two pitches later, Cooper Hummel drilled a two-run shot to right-center, giving the Aces its first lead of the contest, 5-3.
In the home half of the third, Las Vegas' Luis Barrera hit an RBI triple to cut his team's deficit in half before scoring on an Aramis Garcia sacrifice fly to deadlock the game at five.
After a scoreless fourth inning, the Aces reclaimed the lead in the fifth and never looked back. Vargas drilled an RBI double to right after Alek Thomas singled, swiped second and advanced to third on an error and gave Lalli's club a 6-5 advantage. The Aces' all-time hits leader eventually scored on Hummel's sacrifice fly to right two batters later, boosting Reno's edge back to two, 7-5.
Herrera bumped the Biggest Little City's lead up to three, 8-5, in the sixth inning on an RBI double to center that knocked in Querecuto from first. Two batters later, Thomas swapped spots with the Aces' catcher on a double of his own to put Reno up by four runs, 9-5.
Reno continued to pour it on in the seventh when four straight singles by Ellis, Hummel, Ritchie and Stuart Fairchild gave the visiting club a 10-5 advantage. With the bases still loaded, Querecuto knocked a sacrifice fly to left and brought Hummel in from third for an 11-5 edge. After runners moved to second and third on a groundout to the right side, Hager laced a two-run double the same way to propel the Aces to a 13-5 lead.
Vargas smacked his fourth home run in September with a solo dinger in the eighth, giving Reno a nine-run edge, 14-5.
Jesus Liranzo, Ty Tice and Jordan Weems combined to retire the final nine batters and knocked off the Aviators.
The Aces will return to Las Vegas Ballpark for Monday's contest against the Aviators with first pitch slated for 7:05 p.m. PT. Monday's game can be heard on renoaces.com or locally on KPLY 630 AM with Zack Bayrouty on the call.