Reyes de Plata's Magic Ends in 8-7 Loss to New Orleans
Las Vegas squanders three separate leads, loses for first time this season as Reyes de Plata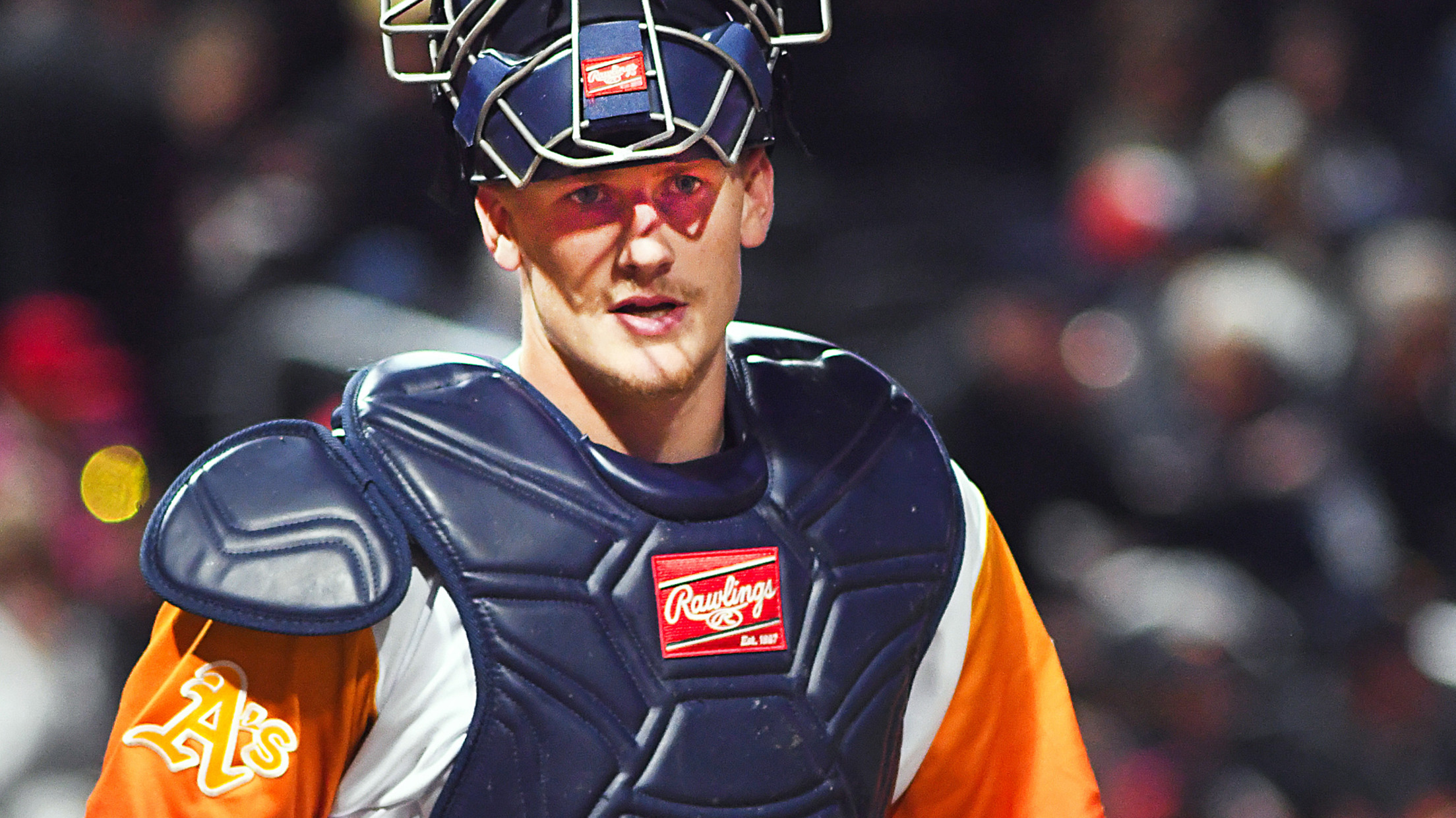 The Aviators returned to Las Vegas Ballpark on Tuesday night riding a 10-foot wave of momentum following a three-game weekend sweep in El Paso that pulled them to within one game of first place in the Pacific Coast League's Pacific Southern Division. It was a remarkable series during which Las
The Aviators returned to Las Vegas Ballpark on Tuesday night riding a 10-foot wave of momentum following a three-game weekend sweep in El Paso that pulled them to within one game of first place in the Pacific Coast League's Pacific Southern Division.
It was a remarkable series during which Las Vegas belted 20 home runs - including a PCL-record 11 in Friday's stunning come-from-behind 20-11 victory - and outscored the Chihuahuas 37-3 over the final 24 innings. If that wasn't enough of a confidence boost, as part of Minor League Baseball's ongoing Copa de la Diversión ("Fun Cup) series that celebrates Hispanic/Latino culture in local communities, the players got to kick off Tuesday's three-game series against New Orleans wearing their Reyes de Plata jerseys, in which they were 8-0 this season.
So everything seemed to line up perfectly for the home team to run its winning streak to four in a row and perhaps even catch El Paso atop the division standings.
Unfortunately, sometimes when you ride a 10-foot wave, you end up losing your balance and crashing unexpectedly. Which is precisely what the Reyes de Plata did Tuesday against the visiting Baby Cakes, blowing three separate two-run leads and coming up on the short end of an 8-7 decision before a crowd of 7,863 at the ballpark.
Las Vegas (62-46) built advantages of 3-1, 5-3 and 7-5, but couldn't overcome a slew of mental and physical miscues that included three fielding errors, a passed ball, two runners thrown out at the plate in consecutive innings and nine runners left on base over the final five innings. As a result of those mistakes, New Orleans (56-50) won a game in which it had two fewer hits (six) than runs scored.
Adding injury to insult, catcher Sean Murphy, who has been tearing the cover off the ball since returning to action after missing nearly three months following left knee surgery, reinjured the same knee in his final at-bat in the seventh inning. After smashing a two-run double off the right-field wall to give his team its 7-5 lead, Murphy - who hit a two-run homer in his first at-bat to erase New Orleans' 1-0 advantage - was removed for a pinch runner and gingerly walked off the field.
After the game, Aviators manager Fran Riordan said Murphy came up lame while running the bases on the double, adding that "we'll find out more" about the extent of the injury Wednesday after Murphy undergoes tests. One of the Oakland A's top prospects, Murphy underwent surgery in early May after tearning his meniscus on April 29 and subsequently missed 79 games.
Besides Murphy (2-for-3, team-high four RBI), the Reyes de Plata got multi-hit games from Sheldon Neuse (2-for-4, three runs), Stephen Piscotty (2-for-4, RBI), Corban Joseph (2-for-5, RBI) and Mark Payton (2-for-4, run, RBI). They also got a tremendous pitching performance from southpaw Sean Manaea, who tossed six innings in his second start since being sent to Las Vegas on a rehab assignment. Manaea, who is recovering from offseason shoulder surgery, allowed three runs (two earned) on four hits and a walk. He struck out eight and threw just 70 pitches (48 strikes).
Las Vegas actually put Manaea in position to pick up the victory when it scored twice in the bottom of the six to take a 5-3 lead. But in the seventh, the Baby Cakes erased their second two-run deficit of the game, this time scoring twice against Reyes de Plata reliever Jharel Cotton. Then after Las Vegas answered with two runs in the bottom of the seventh on Murphy's double, the Baby Cakes wiped out another lead, sending eight men to the plate and scoring three times in the eighth against southpaw reliever A.J. Puk (2-1) to grab an 8-7 lead.
After the first four New Orleans hitters reached base on a double, walk, error and hit batter, Eddy Alvarez - who homered, singled and walked in his first three plate appearances - laced a two-run single to left field for his third hit of the night.
It would prove to be the game-winner, as the Reyes de Plata stranded runners on second and third in the eighth and failed to take advantage of Nick Martini's one-out walk in the ninth against Baby Cakes closer R.J. Alvarez. With Martini on first, the hard-throwing right-hander retired Cameron Rupp (who took over for Murphy) on a line drive to center field and got Joseph to hit a comebacker to the mound to earn his 14th save.
With that, Las Vegas not only lost for the first time as the Reyes de Plata, but it fell two games behind El Paso, which defeated Nashville 6-4 in 10 innings.
GAME NOTES: Since being activated off the injured list Thursday, Murphy is 8-for-15 with six homers, 13 RBI, seven runs and three walks. … Joseph extended his hitting streak to six games, the veteran infielder's fifth hitting streak of six games or more of the season. Joseph, who is 14-for-27 during his current run, continues to lead the PCL with a .385 batting average. … Brown and Neuse also extended their hitting streaks to seven, during which Brown - the reigning PCL Player of the Week - is 13-for-30 with eight homers and 13 RBI, while Neuse is 14-for-33 with two doubles, a homer, seven RBI and seven runs. … Payton recorded his fourth consecutive multi-hit game and is now 13-for-30 in his last seven contests. … Despite the loss, Las Vegas continues to sport a spectacular record in weekday games, going a combined 39-16 on games played Monday-Thursday, as opposed to 23-30 on Friday-Sunday. … Starting with Tuesday's contest against New Orleans, the Aviators are in the midst of a stretch in which they will play 14 consecutive games against the Pacific Coast League's American Conference.
TRANSACTION ACTION: Cotton, who joined the Aviators on a rehab assignment on July 11, was officially optioned by the Oakland A's to Las Vegas on Monday. To make room for the right-hander on the 25-man roster, Oakland released Aviators starting pitcher Jake Buchanan, who was 3-6 with a 6.16 ERA in 20 starts.
In other roster news, Oakland on Saturday sent Piscotty (knee injury) to Las Vegas on a rehab assignment. It's unknown how long the veteran outfielder will be with the Aviators, but he's scheduled to play nine innings in all three games of the New Orleans series, including serving as the designated hitter in Wednesday's contest.
Also, Riordan said prior to Tuesday's game that catcher Jonah Heim (hamstring) and outfielder Skye Bolt (thumb) continue to recover from their injuries. Heim tested his leg in pregame running drills Tuesday, and Riordan said Bolt will take batting practice Wednesday, when he's eligible to be activated. For now, Riordan said both players remain day-to-day.
ON DECK: The Aviators and Baby Cakes continue their three-game series at 7:05 p.m. Wednesday at Las Vegas Ballpark. A pair of right-handers will oppose one another, as Tanner Anderson (6-5, 6.00) takes the ball for Las Vegas, while New Orleans is scheduled to counter with Robert Dugger (2-2, 8.63).
Catch every Aviators game throughout the season on NBC Sports Radio 920-AM, and follow us on Twitter @AviatorsLV.