RockHounds Announces Ballpark Links - June 23 & 24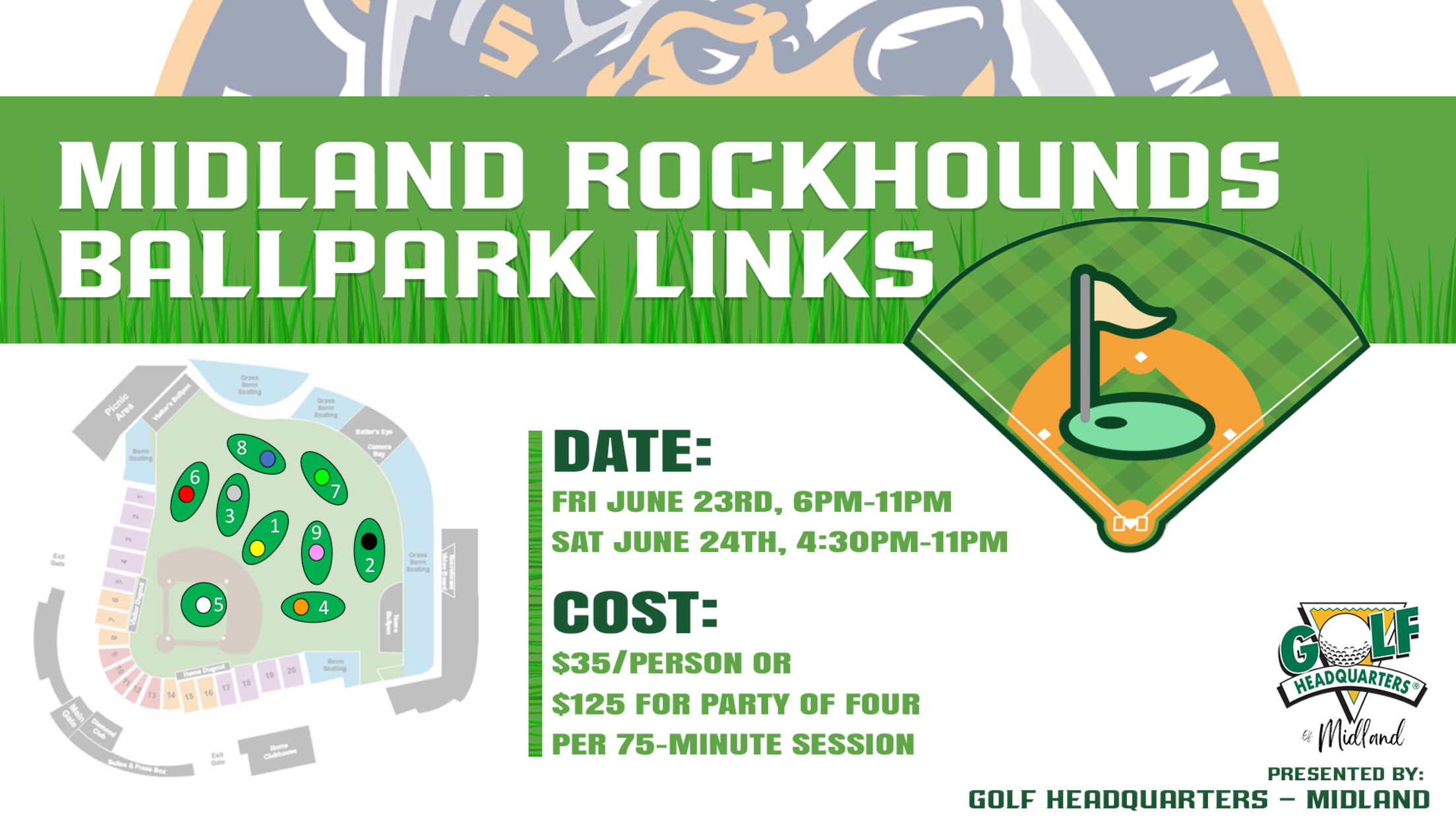 The RockHounds are excited to announce their next summer event: Ballpark Links at Momentum Bank Ballpark Join us at the ballpark on the evenings of June 23 & 24 for a golf experience unlike anywhere else in Midland. Tee off in one of your private hitting bays underneath the scoreboard
The RockHounds are excited to announce their next summer event: Ballpark Links at Momentum Bank Ballpark
Join us at the ballpark on the evenings of June 23 & 24 for a golf experience unlike anywhere else in Midland. Tee off in one of your private hitting bays underneath the scoreboard towards hole locations painted onto the baseball field. Challenge your friends to a match and earn bragging rights, or just use it to practice your game.
Each of the reserved hitting bays will be available for 75-minute sessions with a maximum of 4-players per bay, per time slot. Non-payers are welcome to come along as each hitting bay will include seating for additional guests. Following each 75-minute session will be a 15-minute intermission where balls are picked up from the field and redistributed.
Available tee times on Friday, June 23 include 6, 7:30 & 9 PM, and on Saturday, June 24 include 4:30, 6, 7:30 & 9 PM. Groups are welcome to purchase back-to-back sessions at any time based on availability. Rates for each session will be $35 for individuals, or $125 for a full foursome. Gates will open 45 minutes prior to the first session.
Players must bring their own clubs – but keep in mind that the longest hole is approx. 140 yards downhill – so we recommend nothing longer than a 7-iron. The 9 holes range from 60-140 yards. Each target is color coded and numbered for easy identification and each group will be provided with a field map and scorecard.
Food, drinks, and ice cold beer will be available for purchase with wait staff for each hitting area.
Golf Headquarters of Midland will once again be hosting this event. Make sure to stop by their table at the event for your chance to sign up to win raffle prizes and challenge their staff to fun contests. Visit their store before the event at 4610 N Garfield St, Suite A2 for all your club, apparel, fitting and repair needs.
Book your tee time today by clicking the link, or calling the RockHounds office at 432-520-2255. The RockHounds and Golf HQ look forward to seeing everyone out at the ballpark!