Scouting report: Orioles outfielder Cowser
No. 76 overall prospect can stand out in star-studded system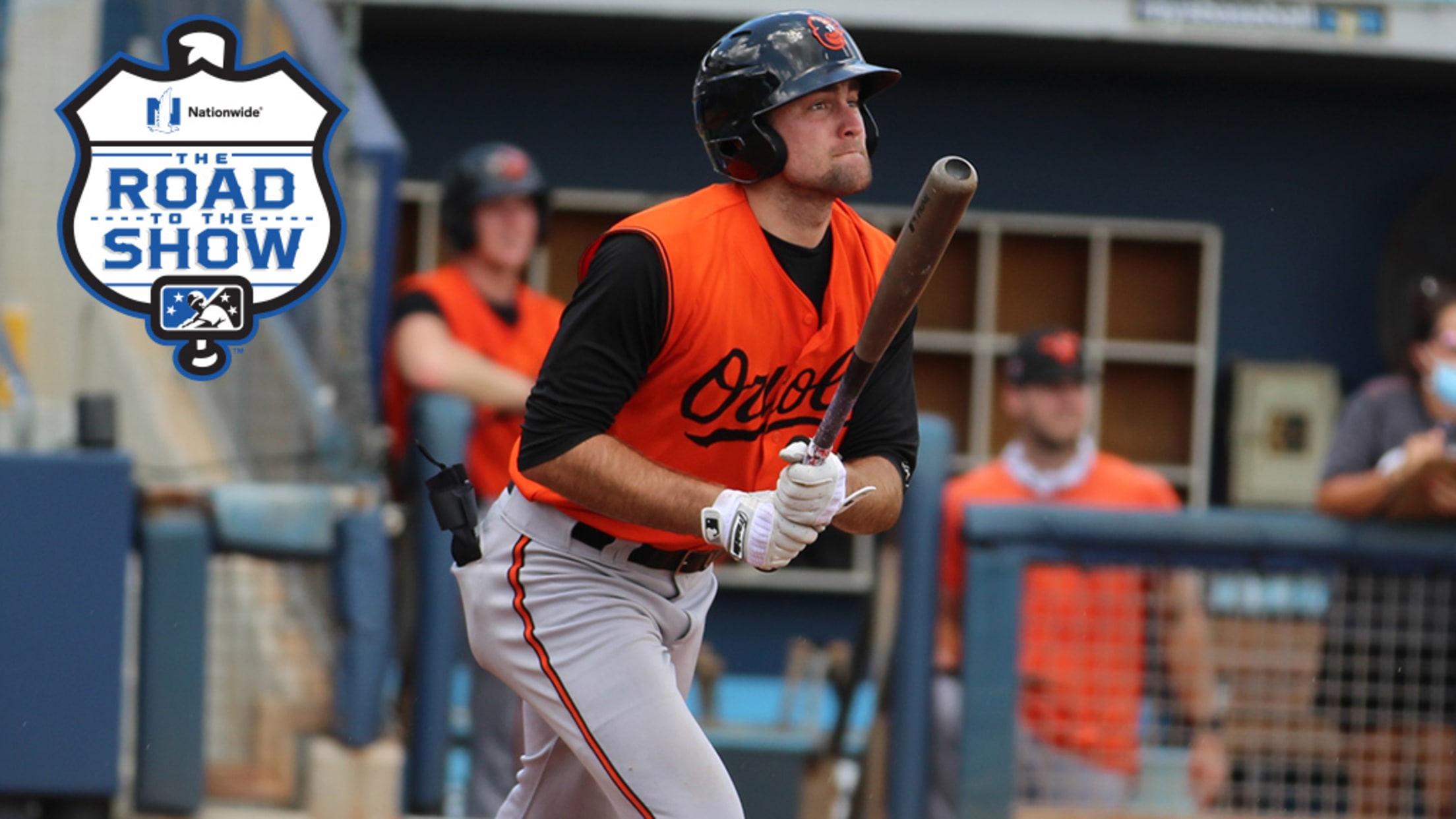 Orioles prospect Colton Cowser homered in his second professional at-bat after being selected No. 5 overall in last year's Draft. (Bryan Green/MiLB.com)
MiLB.com's Scouting Report series spotlights players who are just starting their professional careers, focusing on what the experts are projecting for these young phenoms. Here's a look at fifth-ranked Orioles prospect Colton Cowser. It didn't take long for Colton Cowser to show why he's considered among the most talented prospects
MiLB.com's Scouting Report series spotlights players who are just starting their professional careers, focusing on what the experts are projecting for these young phenoms. Here's a look at fifth-ranked Orioles prospect Colton Cowser.
It didn't take long for Colton Cowser to show why he's considered among the most talented prospects in an Orioles farm system that's already one of the best in the game.
Baltimore selected Cowser out of Sam Houston State with the fifth overall pick in last year's Draft. The Houston native developed a reputation as a complete hitter with a short stroke and an ability to hit for both average and power while possessing elite strike zone discipline.
"He's a five-tool player and he's somebody we suspect to impact our team and our lineup on both sides of the ball, both offensively and defensively," Orioles general manager Mike Elias told MLB.com after Cowser signed with the club in July. "I think it is rare to get all five of those tools in a college performer like we did, that's why we took him. We got our guy, I'm very pleased about that."
After the Draft, Cowser mostly continued to fit the profile in his first 32 professional games between the Rookie-level Florida Complex League and Low-A Delmarva. He batted .375/.490/.492 but had just two homers with eight doubles and 34 RBIs over 120 at-bats.
The No. 76 overall prospect went deep in his second professional at-bat in the FCL on Aug. 2 but did not homer again until a month later with Delmarva. The 6-foot-3, 190-pound lefty led the Southland conference with 16 homers before being drafted, and scouts feel that his power numbers should improve going forward.
"You can always improve in everything, and that's something I'm looking to do, to improve each tool that I have," Cowser told MLB.com after his first visit to Camden Yards in July. "Power is something I'm looking to improve as well."
Although the power did immediately appear but was not sustained, the 21-year-old also had more walks (25) than strikeouts (23), an impressive feat that he also accomplished in his final season with the Bearkats.
This type of incredible strike zone discipline makes Cowser's power potential much more intriguing as there aren't many players with both of those skills. He can be an impact bat in the middle of the lineup but also be called upon to leadoff if necessary.
Cowser has plus speed and stole 31 bases in college, including 17 in his final season. He swiped seven bags and was caught four times in his first professional action.
Defensively, Cowser saw the bulk of his action in center field, a position he played exclusively in his final 69 games in college over his last two seasons. He also played six games in right field, which is where some scouts feel he'll wind up in the future.
"The jump from college to the pros was an awesome experience," Cowser told MLB.com in December. "I know it was just a shortened season, but I really got to learn a lot and find a lot of things about myself. I think it went really well. I'm really looking forward to the future."
In addition to Adley Rutschman, the top overall prospect, and Grayson Rodriguez, MLB Pipeline's top pitching prospect, Baltimore has five Top 100 prospects and the first pick in this summer's Draft.
This incredible homegrown talent, built over five consecutive seasons at the bottom of the standings, should be what allows the Orioles to return to some sort of competitive level. Currently ranked fifth among that group, Cowser's addition provides more than just depth in the higher ranks of the system. He's likely the furthest from the Majors among the Orioles' Top 100 prospects and could potentially rank at the top of the system as soon as the end of this season.
He shared in his immediate success in his stint with Delmarva, during which the team went 20-10 and scored more than seven runs per game after he was promoted on Aug. 17.
"Fans should believe in this organization because we're trending in the right direction," Cowser said after instructional league camp. "We have a lot of hard workers in this organization. Everyone's buying in to what the philosophy is. If you look throughout the minor league system this year, not only with our 2021 draft class that was really successful in Delmarva, but those guys making the jump from High-A to Double-A, Double-A to Triple-A, you can see that there's a lot of improvement going on. It's something to really look forward to in the future."
Here's what the experts at MLB Pipeline have to say about Cowser:
Scouting Grades (20-80 scale)
HIT: 60
POWER: 50
RUN: 60
ARM: 50
FIELD: 55
OVERALL: 55
"A late bloomer at a Cypress Ranch HS (Cypress, Texas) program that also produced 2021 draftee Ty Madden (Tigers) and 2019 draftees J.J. Goss and Matt Thompson, Cowser went on to star at Sam Houston and for the U.S. collegiate national team, where he earned MVP honors in a 2019 series against Cuba. When the Orioles went under slot for the second straight year for a college bat and signed Cowser as the No. 5 overall pick for $4.9 million, he became the highest pick in school history, surpassing Glenn Wilson (No. 18 overall, 1980).
One of the best bats in the college class of 2021, Cowser has a pure left-handed stroke and repeatedly finds the barrel. His quick hands allow him to pepper line drives all over the field as he executes a very controlled approach. Though he presently doesn't have a lot of loft in his swing, leading to some questions about his power potential, he has the hitting ability and strength to provide 20 or more homers annually and answered some questions about his power by going deep in five straight games in April. He also topped the Southland Conference with 16 homers this spring.
Scouts were somewhat split on Cowser's ability to play center field, though they believed in him after he posted consistent plus running times this past spring. He has good defensive instincts in center, possesses an average arm and spent most of his prep career in right field -- Goss and Thompson played center when they weren't pitching -- and part of his freshman season at third base. The Southland Conference player of the year's game has earned him comparisons to Brandon Nimmo and Bradley Zimmer."