Stowers Walks Off For Tides Against Sounds
Norfolk Wins Second Straight Game After Comeback Victory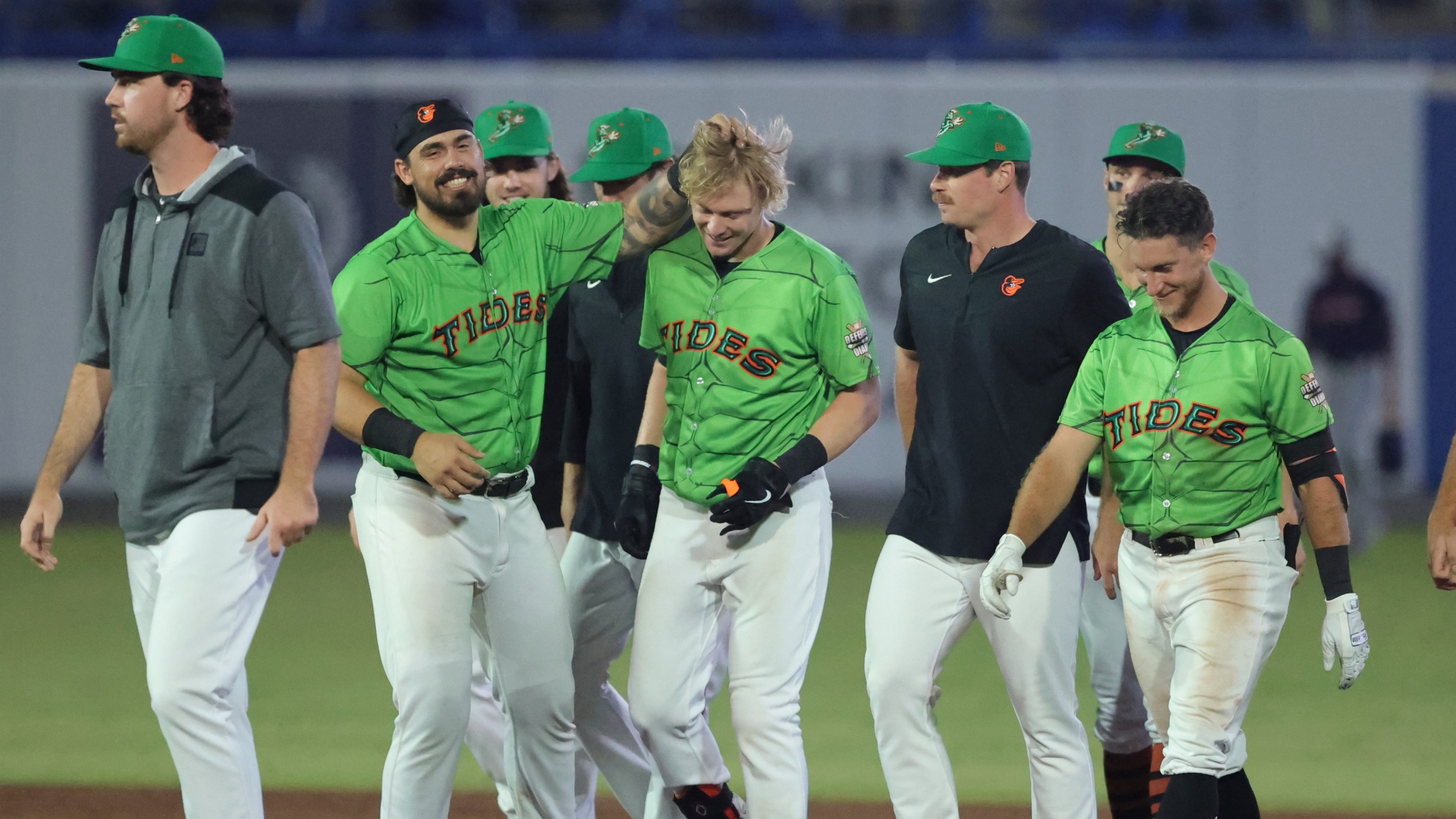 Kyle Stowers hits a walk-off two-run double for the Tides (Scott Sears)
NORFOLK, Va. --- The Norfolk Tides (48-55) defeated the Nashville Sounds (62-41), 3-2, on Saturday night at Harbor Park. Kyle Stowers played the hero by hitting a walk-off two-run double in the ninth. In the top of the second, Nashville struck first. After Garrett Mitchell drew a walk with one
NORFOLK, Va. --- The Norfolk Tides (48-55) defeated the Nashville Sounds (62-41), 3-2, on Saturday night at Harbor Park. Kyle Stowers played the hero by hitting a walk-off two-run double in the ninth.
In the top of the second, Nashville struck first. After Garrett Mitchell drew a walk with one out, Joey Wiemer doubled down the right field line to score Mitchell from first. Norfolk was able to tie the game in the bottom of the third inning, however. Anthony Bemboom singled and reached second after Gunnar Henderson was hit by a pitch. Stowers would knock in Bemboom on an automatic double to left-center, putting the game at 1-1.
Tides starter Mike Baumann would allow only one run, going 5.0 innings and gave up two hits and three walks while striking out seven. He was then relieved and Nashville was able to retake the lead in the the sixth on an unearned run, giving them the 2-1 lead.
In the bottom of the ninth, the Tides made their comeback. Jacob Nottingham walked to start the inning and was pinch-ran for by Cadyn Grenier. He reached second on a groundout to bring up Henderson. Gunnar ripped a single to right field and manager Buck Britton sent Grenier home to score the tying run, but Sounds right fielder Joey Wiemer hosed Grenier at the plate on a perfect throw.
With two outs, Jordan Westburg walked to put runners on first and second. That's when Stowers walked it off for the Tides, ripping his second double of the game over the centerfielder's head to win it.
The series finale is set for tomorrow at 4:05 p.m. LHP DL Hall (2-6, 4.87) will start for the Tides and will face off against Sounds starter LHP Ethan Small (6-4, 3.24).
POSTGAME NOTES
TOP GUNNAR: Going 2-for-3 with a runs scored, a walk and a hit-by-pitch tonight was Gunnar Henderson...Gunnar has hit safely in 16 of 17 games (since July 10), batting .349 (24-for-66) with 14 runs, four doubles, two triples, four home runs, 10 RBI, nine walks and a hit-by-pitch (.455 OBP)...it was his 11th multi-hit effort of the season for the Tides, including four of his last five games.
STOWERS POWERS: Stay hot tonight was Kyle Stowers, who went 3-for-5 with two doubles and three RBI...he's hit 26 doubles this season, giving him the league lead in extra-base hits (47) while ranking scond in doubles...it was his eighth game with at least three hits, the last being on July 28 at Memphis...his first hit was the 250th of his Minor League career...since July 10, Stowers has hit safely in 15 of 17 games, batting .328 (22-for-67) with seven runs, five doubles, three triples, three home runs, 21 RBI and seven walks (.380 OBP).
WALK IT OFF: The walk-off hit by Stowers was the fourth walk-off hit for the Tides this season...the last time the Tides walked it off when Terrin Vavra hit a walk-off in game one on July 14 vs. Worcester...the Tides are now 4-4 in games that end in a walk-off.