Suns Unable to Take Advantage of 'Birds Miscues
Hagerstown Falls 4-2 Despite Four Errors From Delmarva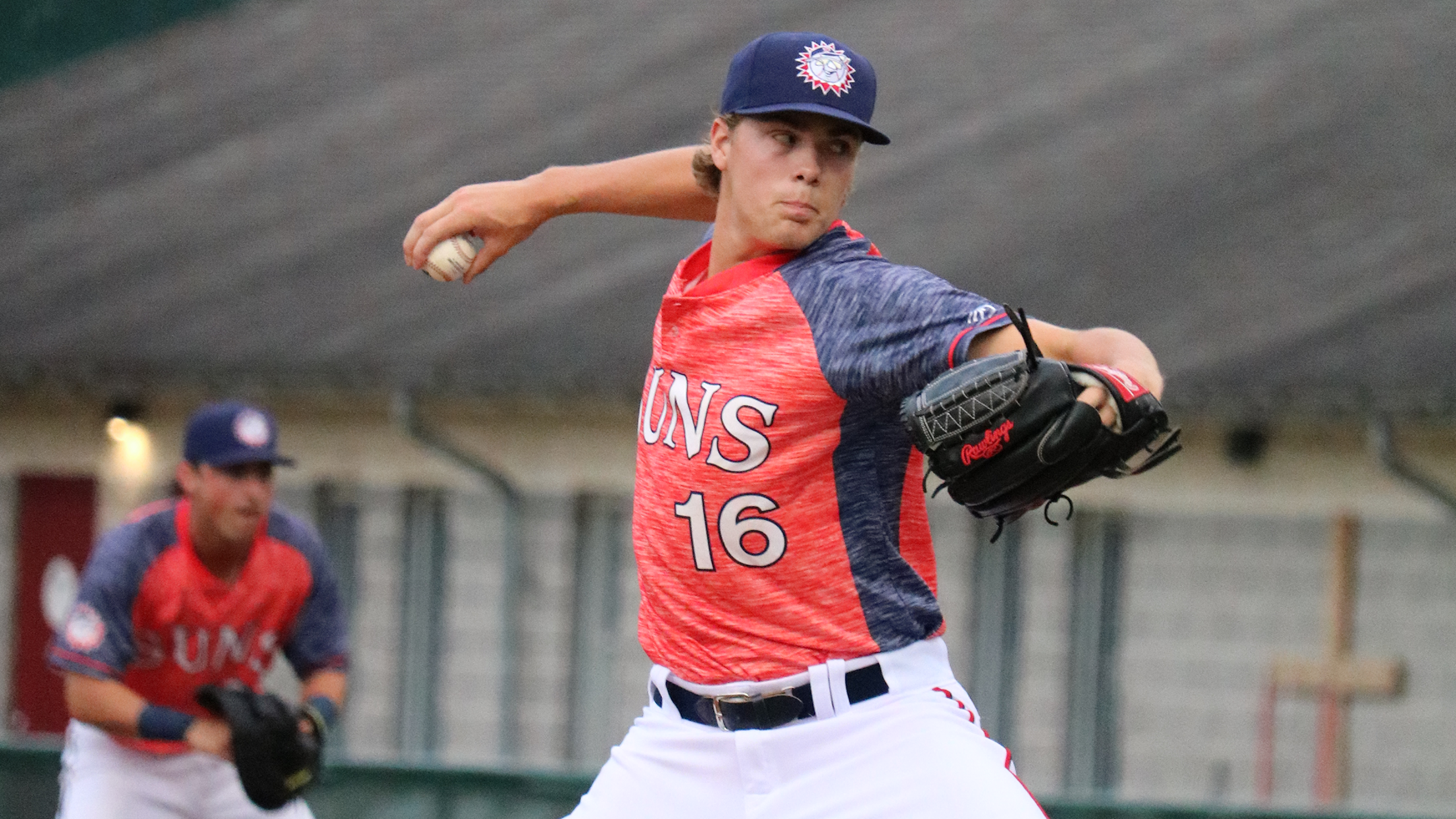 Irvin earned his fifth quality start of the season in Hagerstown's 4-2 loss to Delmarva Friday night. (Abby Choi/Hagerstown Suns Staff)
SALISBURY, MD (July 5, 2019) - Hagerstown loaded the bases with just one out in the ninth, but were unable to add more than one run in a 4-2 loss to Delmarva at Perdue Stadium Friday night.After the loss, the Suns (35-51, 5-11) have lost seven consecutive on the road and after
SALISBURY, MD (July 5, 2019) - Hagerstown loaded the bases with just one out in the ninth, but were unable to add more than one run in a 4-2 loss to Delmarva at Perdue Stadium Friday night.
After the loss, the Suns (35-51, 5-11) have lost seven consecutive on the road and after finishing 1-for-7 with runners in scoring position, the Suns are 5-for-37 (.135) in their last three games with runners threatening.
The Shorebirds (60-26, 11-4) started the scoring in the fifth. After four scoreless frames, Jake Irvin (L, 4-5) allowed three runs, all in the fifth.
Seamus Curran led off the frame with a double, before Nick Horvath moved him over to third, poking a single up the middle. With one out and runners on second and third, Ryne Ogren laced a triple into the right field corner to plate the two runners. Adam Hall capped off the inning with a sacrifice fly to right to put Delmarva up 3-0.
Hagerstown added one in the top of the second after Kyle Marinconz walked to start the inning off and moved to third after a steal and a throwing error from catcher Ben Breazeale. He scored as Nic Perkins rolled over a ball headed to second.
Trey Turner came in for Irvin in the home half of the inning and allowed a run in his fourth consecutive outing. Horvath led the frame off with a single and came around when the righty on the rubber sent a ball to the backstop. The run was the first the Suns bullpen had allowed in 18.1 innings pitched.
Delmarva had Reed Hayes close out the game, but it was anything but easy. After walking Justin Connell, Marinconz came to the plate and reached on an error from Cadyn Grenier, the Shorebirds third mulligan of the game. Hayes issued another walk to Cole Daily to load the bases with one out. Next, Rafael Bautista dribbled a single to third that advanced everyone one bag after clanging off the pillow. After that, Jackson Cluff popped out to shallow center to end the ball game.
The Suns continue their series with Delmarva tomorrow at 7:05 p.m. at Arthur W. Perdue Stadium. Hagerstown sends Joan Adon (6-2, 3.68 ERA) to the bump, while Delmarva puts RHP Gray Fenter (6-1, 1.87 ERA) on the hill.
Hagerstown returns home for three games against the Lakewood BlueClaws July 9-11. The three games are riddled with promotions, including Antietam Date Night, Bark in the Park Night and Thirsty Thursday. For tickets or more information, visit hagerstownsuns.com or call 301-791-6266.