Moran eyes big league opportunity with Pirates
Acquired in Cole deal, slugger hopes to prove himself in Pittsburgh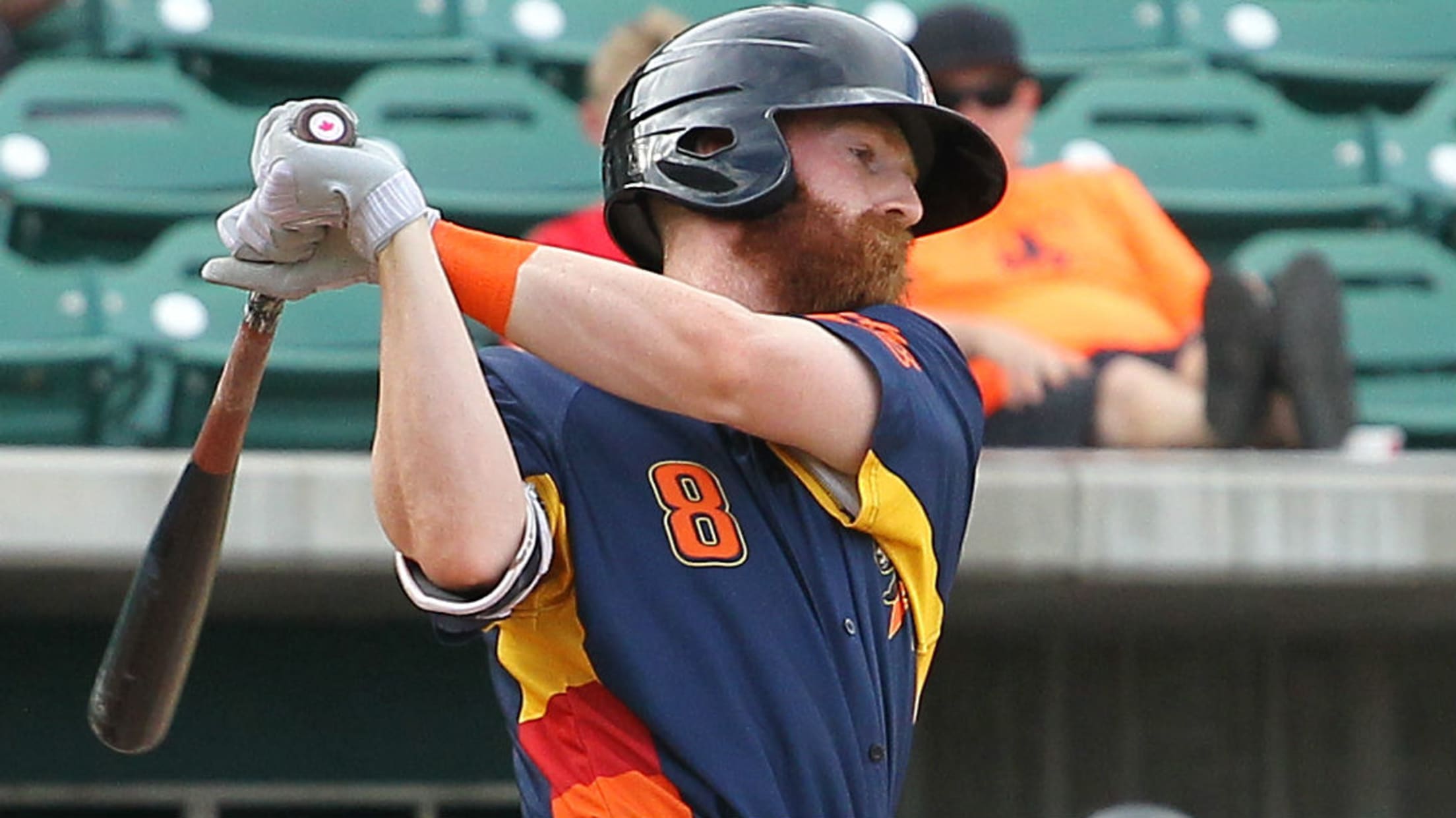 For Colin Moran, this trade was nothing like the first one.When Astros general manager Jeff Luhnow dialed Moran's number on Jan. 18 to tell him he'd been dealt to Pittsburgh, the player who answered bore little resemblance to the one Houston had pried away from the Marlins at the 2014
Pirates acquire Moran, Martin in Cole trade
Two top Astros prospects on the move with two big leaguers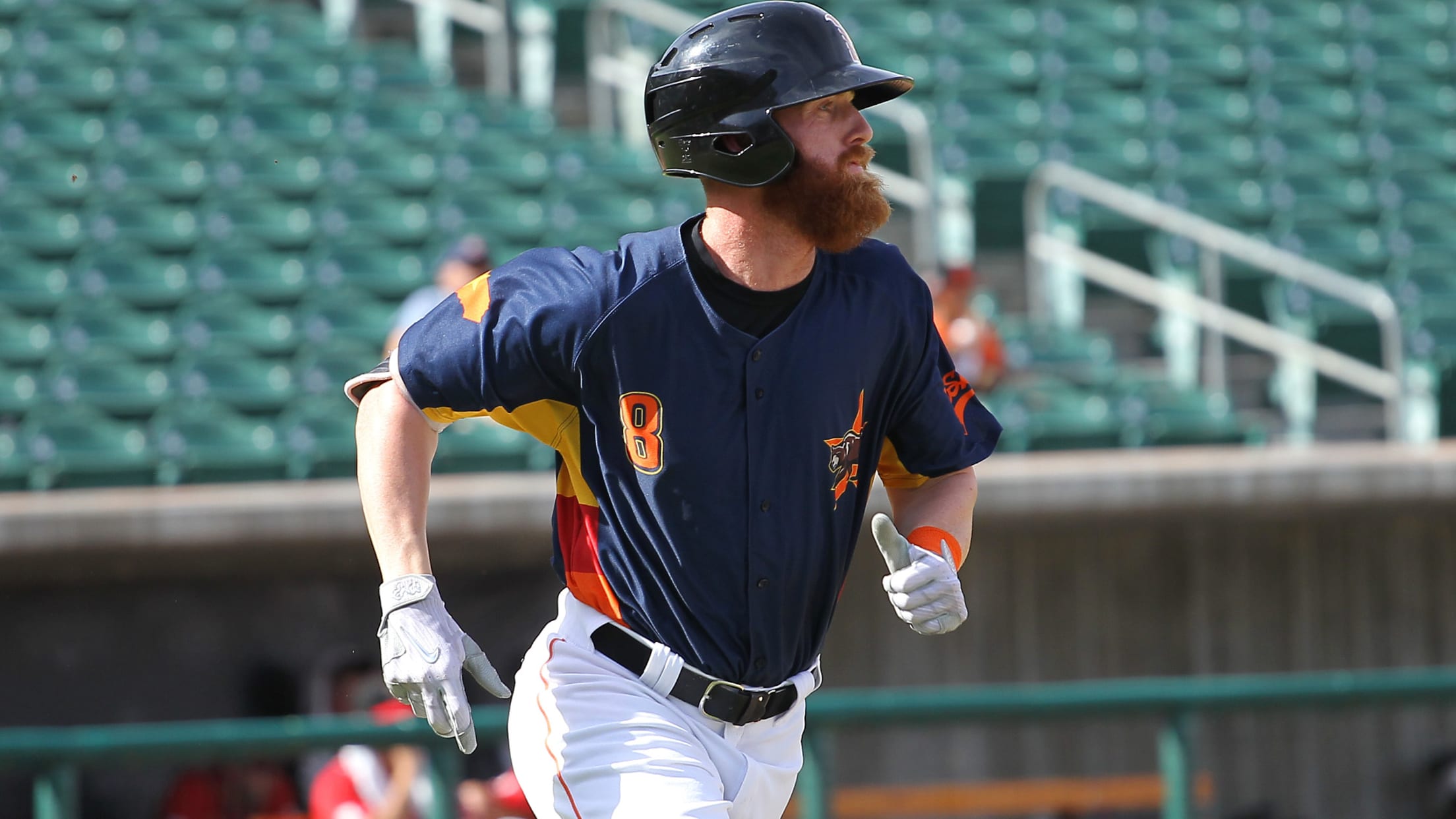 After half an offseason of speculation, the Pirates have found their partner in a Gerrit Cole trade. The blockbuster, contrary to expectations, does not include a single Top 100 prospect.Pittsburgh on Saturday agreed on to send the 2015 All-Star to Houston for corner infielder Colin Moran (the Astros' No. 5
Nunez slugs PCL to Triple-A All-Star win
Minors' home run leader helps snap four-game losing streak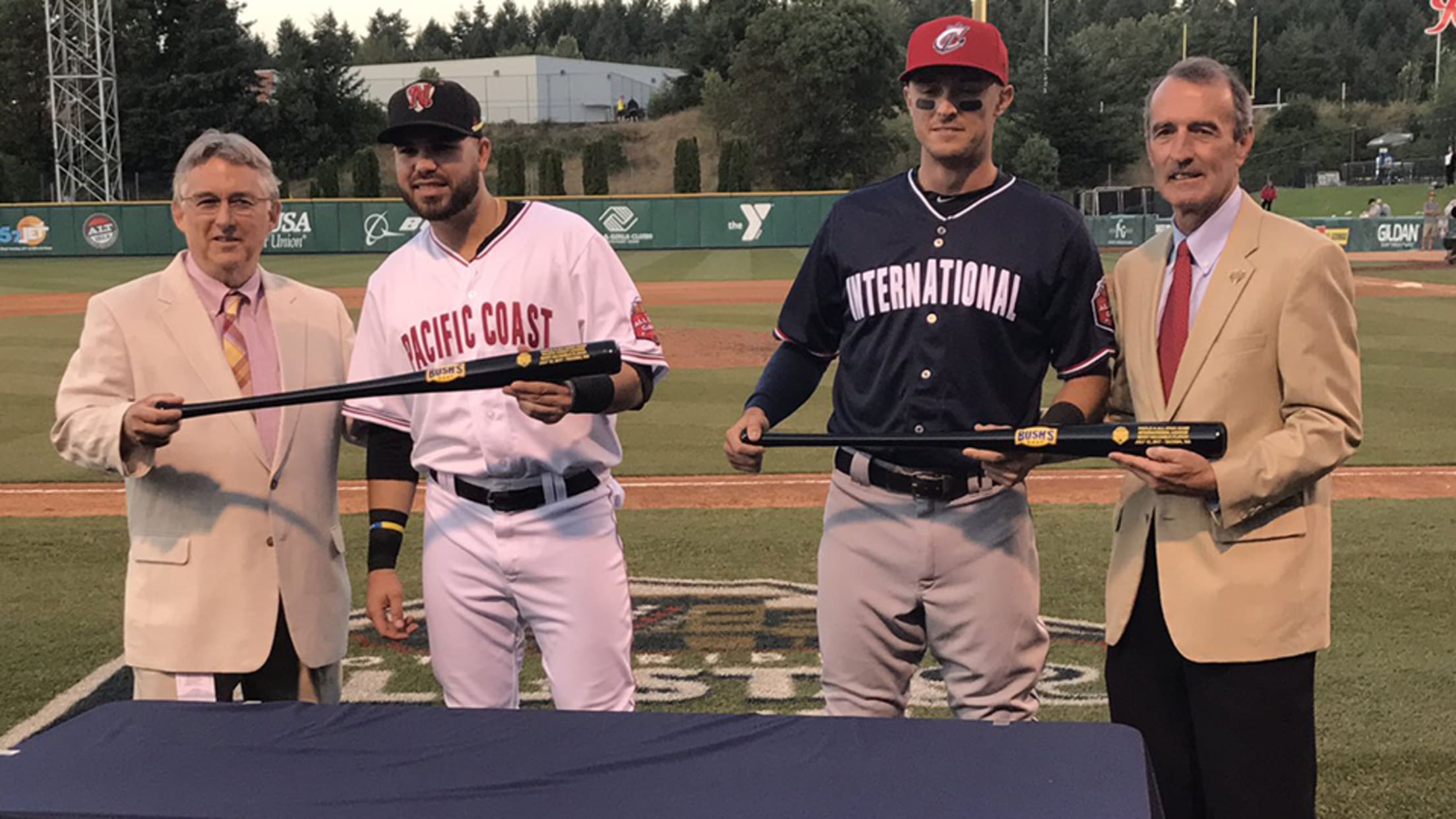 TACOMA, Wash. -- The Minor Leagues' home run leader might not have won the Derby on Monday, but Renato Núñez smacked a three-run rocket to lift the Pacific Coast League to a 6-4 win over the International League at the Triple-A All-Star Game on Wednesday before a crowd of 7,024
Fresno sweeps Saturday doubleheader, takes two of three from Reno
Reed and Moran go 3-for-4, Kemp extends hit streak to 17 in 9-2 win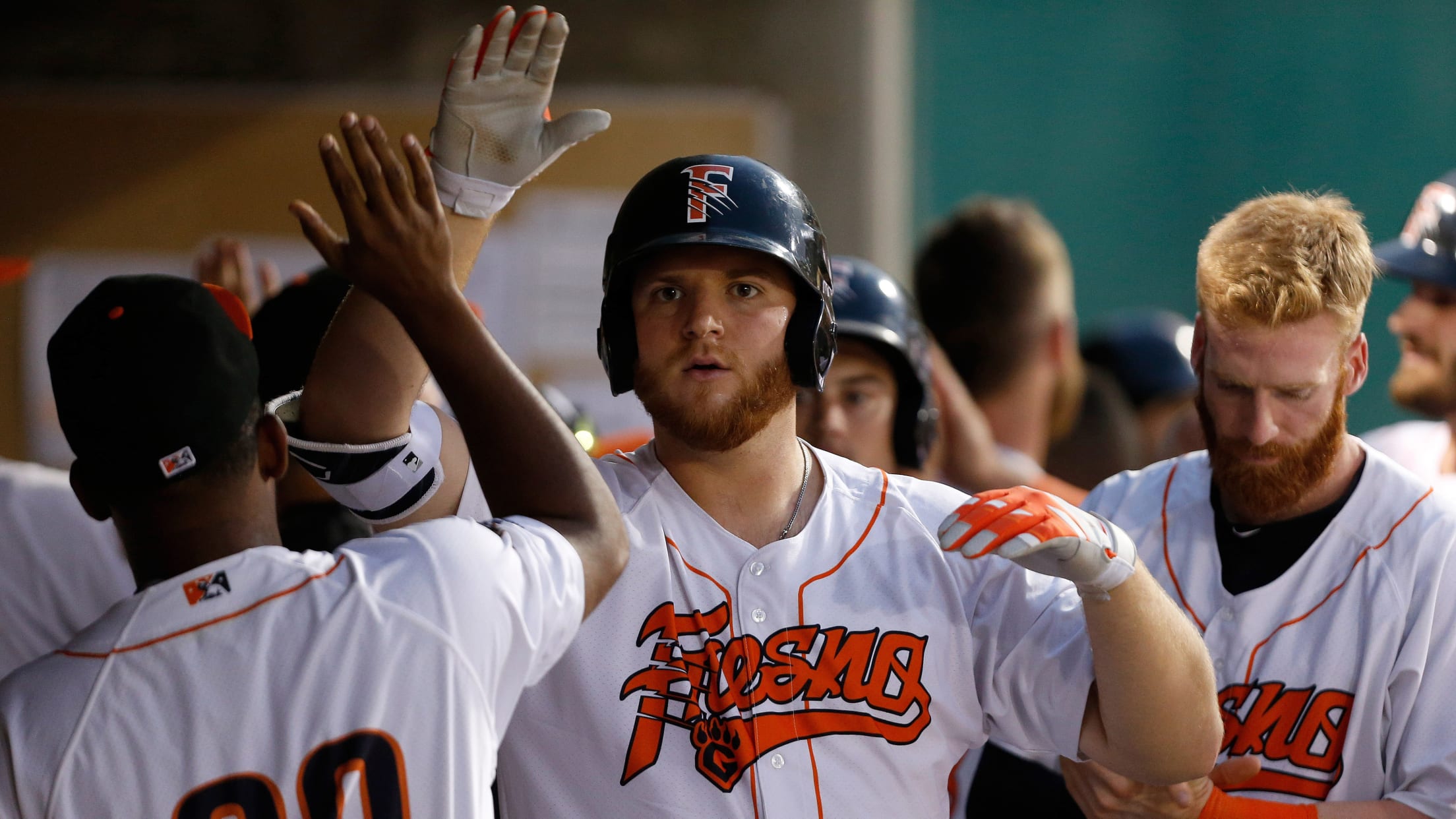 The Fresno Grizzlies (49-41) swept the doubleheader to take two of three from the Reno Aces (54-36) with a 9-2 win in the second seven-inning game on Saturday. Tony Kemp extended his hit streak to 17 games with a RBI single in the third to tie Derek Fisher for the
July 4 sellout crowd (14,202) sees Fresno extend win streak to franchise-record 12
Tacos top Bees 5-4 in front of the 3rd-largest baseball crowd in Chukchansi Park history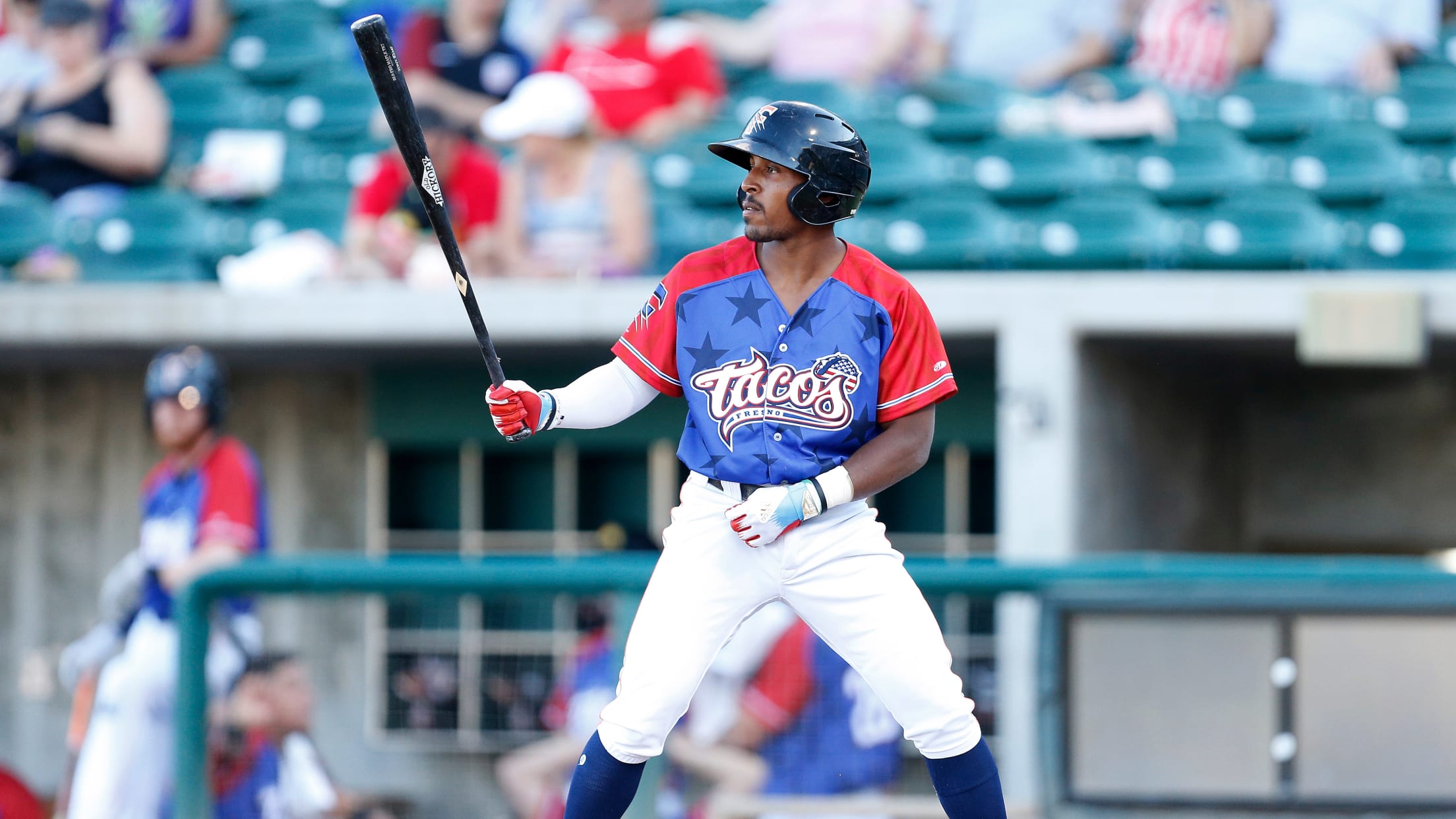 Fresno (47-38) has won a franchise-record 12 straight games with a 5-4 win in the series opener of a three-game set against the Salt Lake Bees (47-38) on the Fourth of July. The Tacos played in front of a sellout crowd of 14,202 fans, the third-largest baseball crowd in the
OF Derek Fisher and INF Colin Moran to represent Fresno at Triple-A All-Star Game on July 12 at Tacoma
Duo are among Pacific Coast League leaders in several offensive categories; both are Houston Astros Top 30 prospects according to 'Baseball America' and MLB.com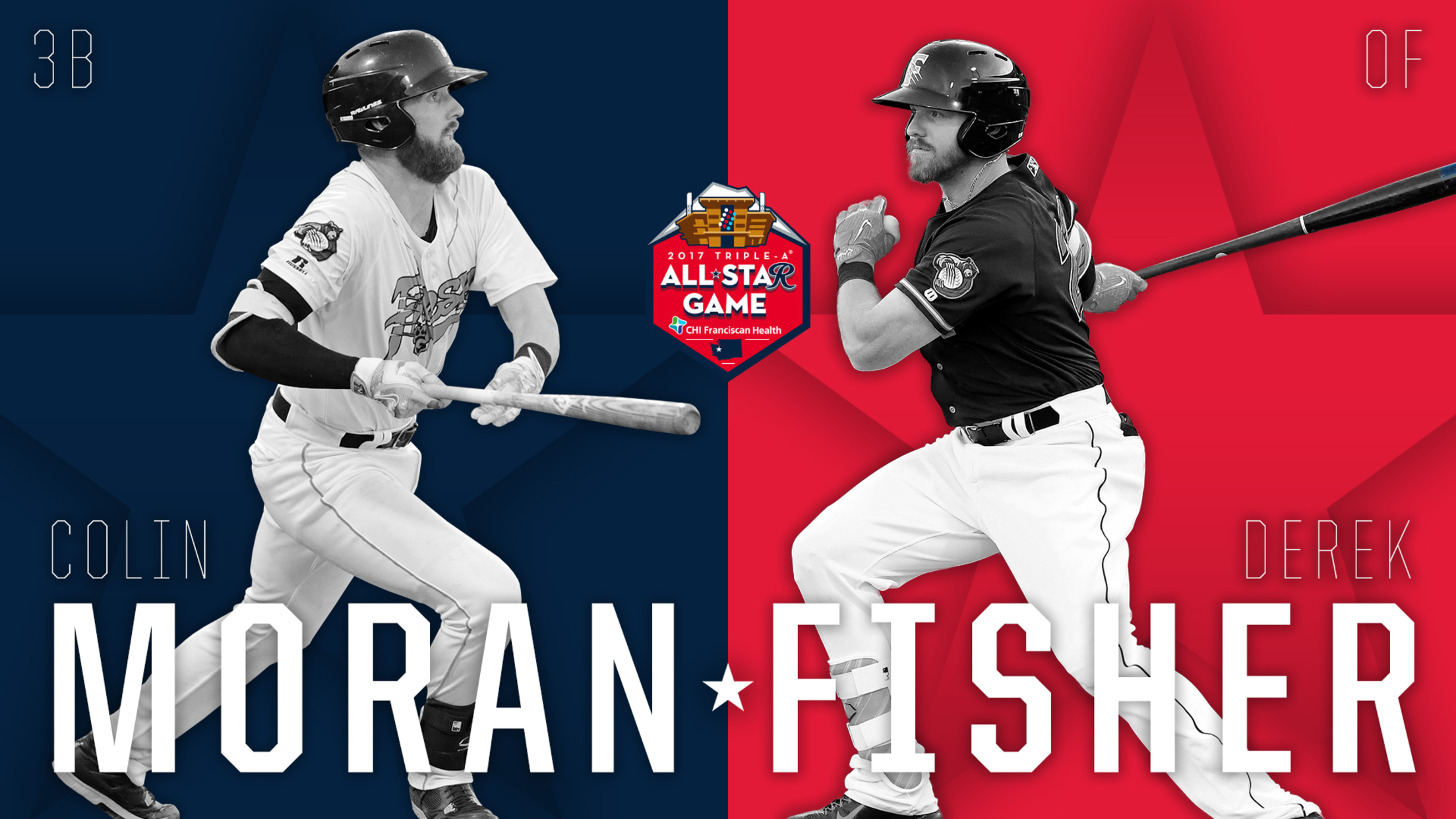 FRESNO, Calif. - The Pacific Coast League released Wednesday its 30-man roster for the 30th annual Triple-A All-Star Game, which will be played at the Tacoma Rainiers' Cheney Stadium on Wednesday, July 12. The contest will be broadcast live on MLB Network beginning at 6:00 p.m. PDT. The PCL's winningest
PCL reveals roster for 2017 Triple-A All-Star Game
Reno, Oklahoma City represented with league-best four players each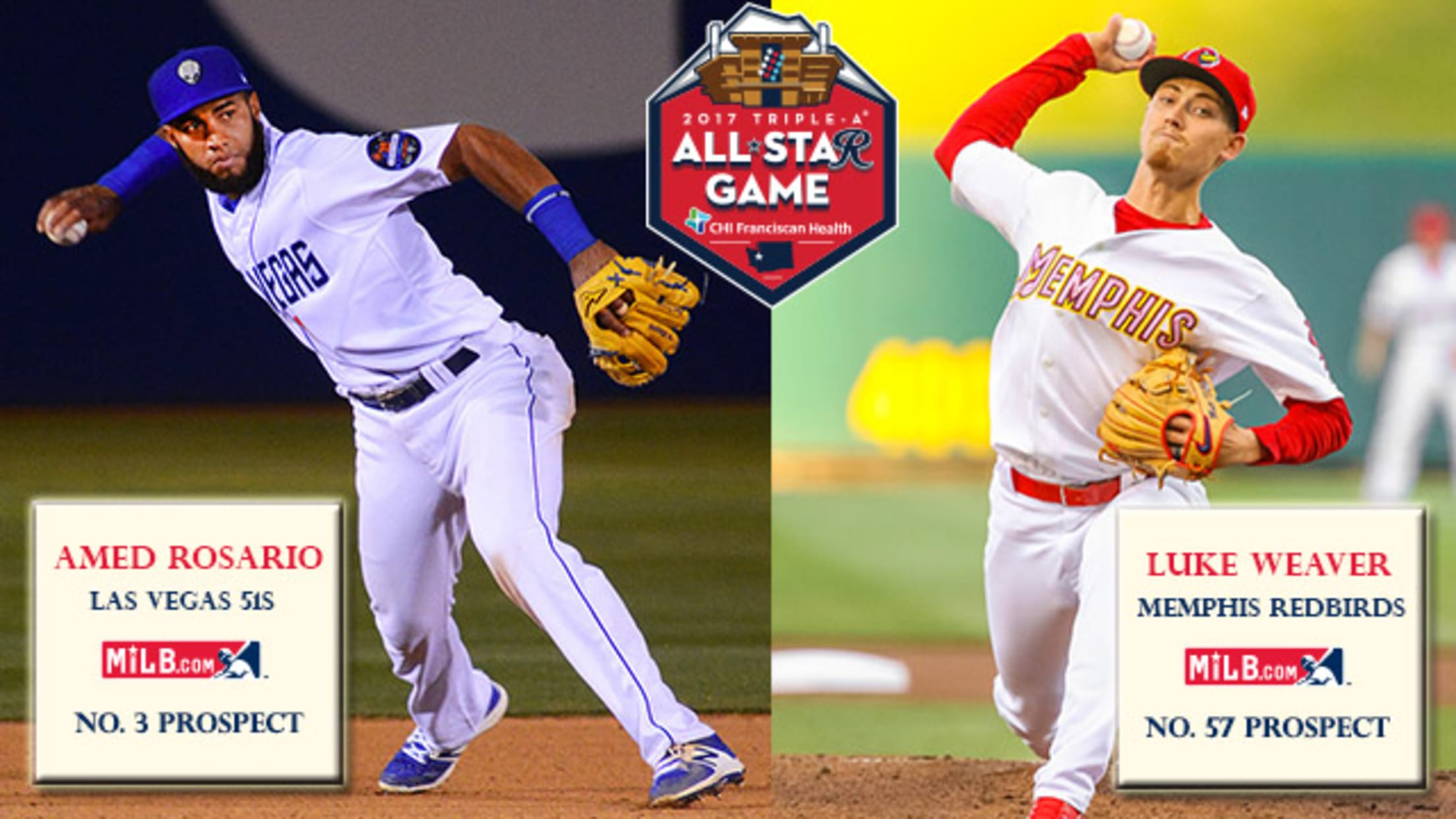 ROUND ROCK, Texas - The Pacific Coast League released Wednesday its 30-man roster for the 30th annual Triple-A All-Star Game, which will be played at the Tacoma Rainiers' Cheney Stadium on Wednesday, July 12. The contest will be broadcast live on MLB Network beginning at 6:00 p.m. PDT. The PCL's
Brignac's homer helps lift Grizzlies over Isotopes 8-5
Fresno ties season-long 6-game win streak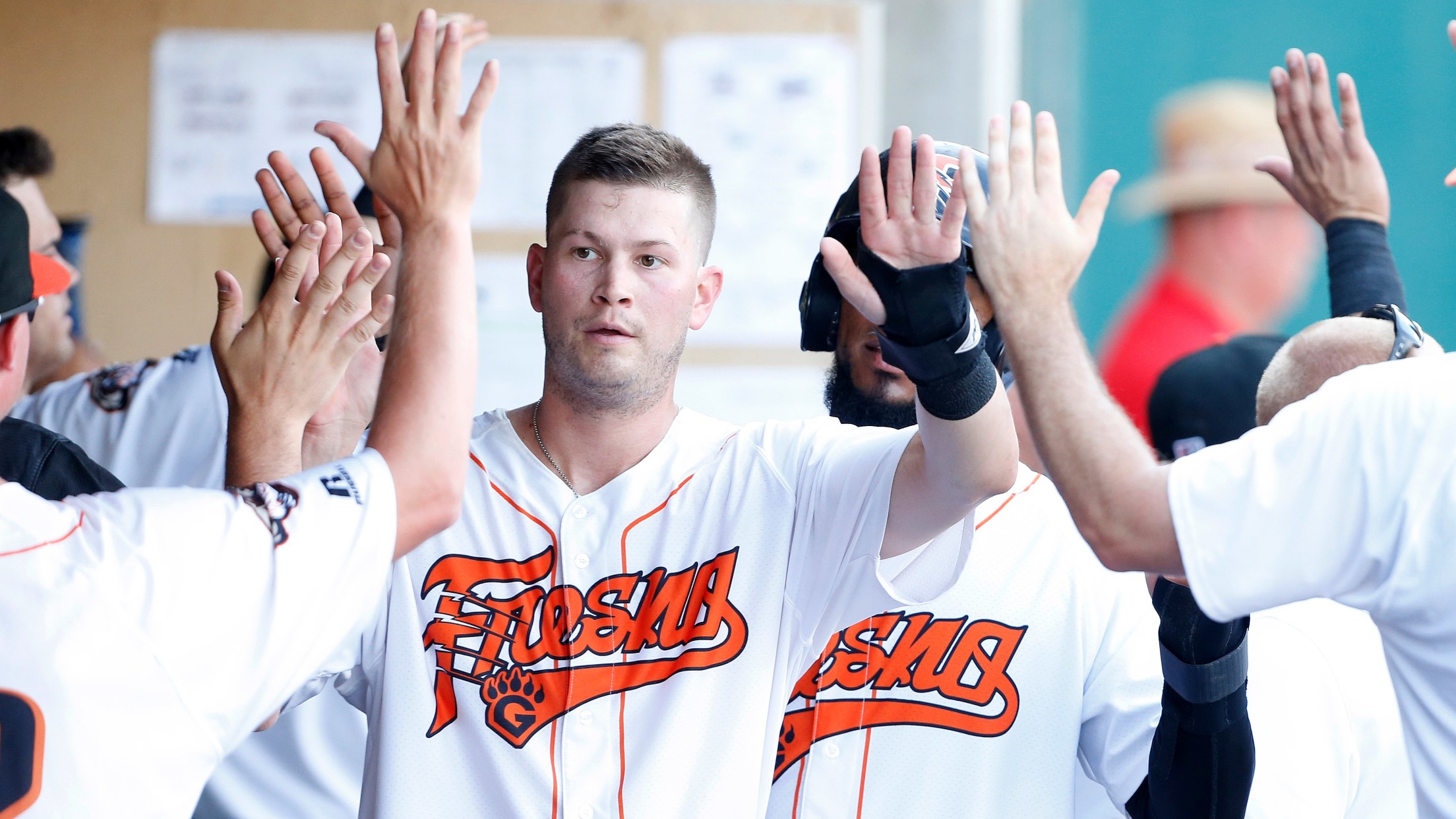 The Fresno Grizzlies (41-38) have won six straight games following an 8-5 victory over the Albuquerque Isotopes (38-40) Wednesday night. It matches Fresno's longest win streak of the season, also at home from May 28 to June 3. The Grizzlies also won three against Albuquerque in that span.The Isotopes took
Fresno defeats Albuquerque 7-6 in a 10 inning series opener
Stassi, Moran, White and Garcia each have a 3-hit night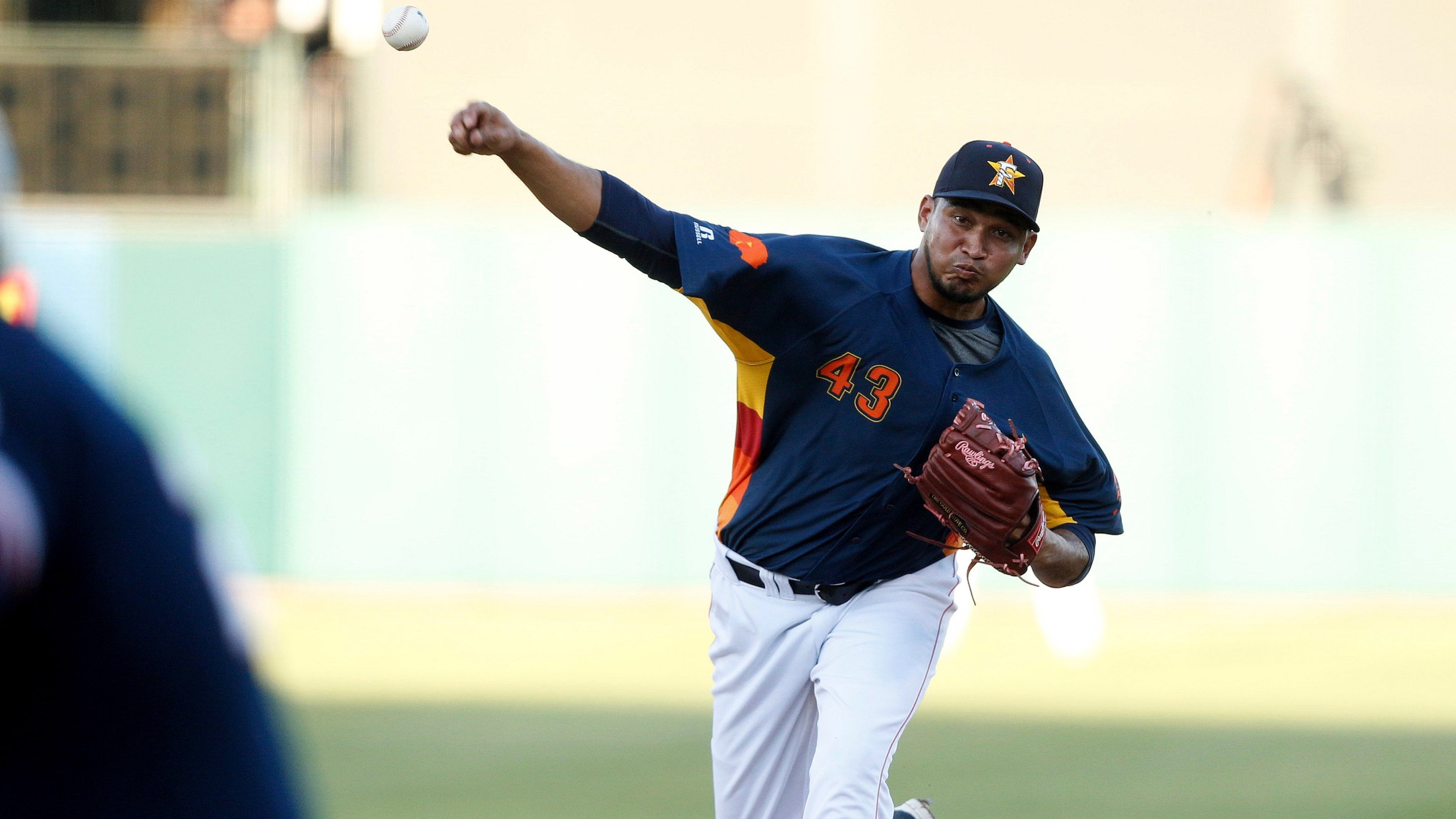 The Fresno Grizzlies (39-38) opened a four-game series against the Albuquerque Isotopes (38-38) Monday night at Chukchansi Park, the tail end of a 12-game homestand. The Grizzlies took the opener 7-6 in the 10th inning. It's the fifth game of extras played by Fresno this season, all resolved in the
Fresno settles for series split with El Paso on Taco Tuesday
Stassi and Moran homer in back-to-back nights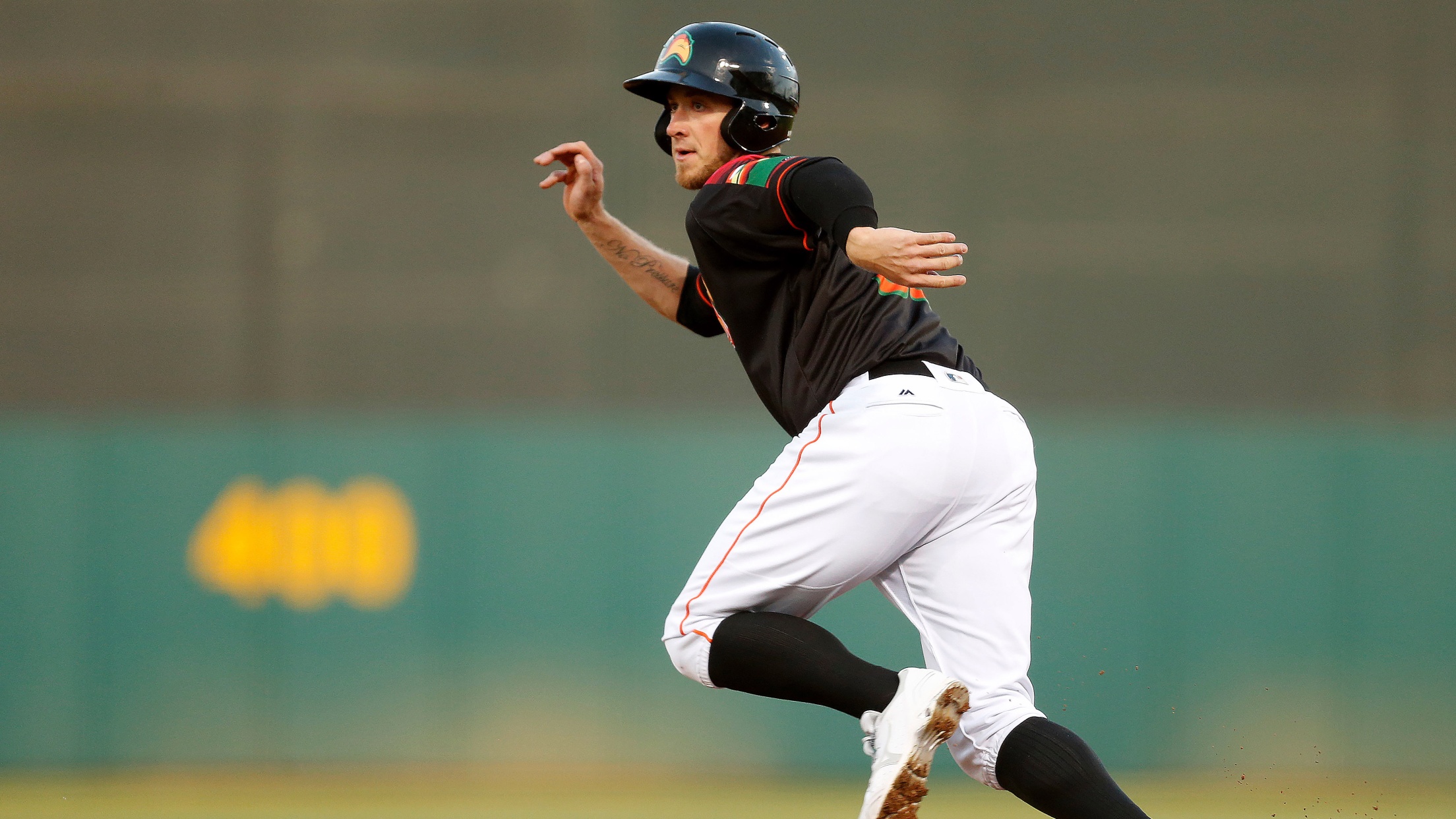 The Fresno Tacos (35-37) fell 11-7 to the El Paso Chihuahuas (36-36) in a 10-inning series finale at Chukchansi Park to settle for a split of the four-game set. Each club traded three home runs in the second consecutive contest. It was Fresno's first extra inning game of the season
Moran, Kemp lead way at plate for Fresno
Houston's No. 24 prospect plates five; leadoff man adds four hits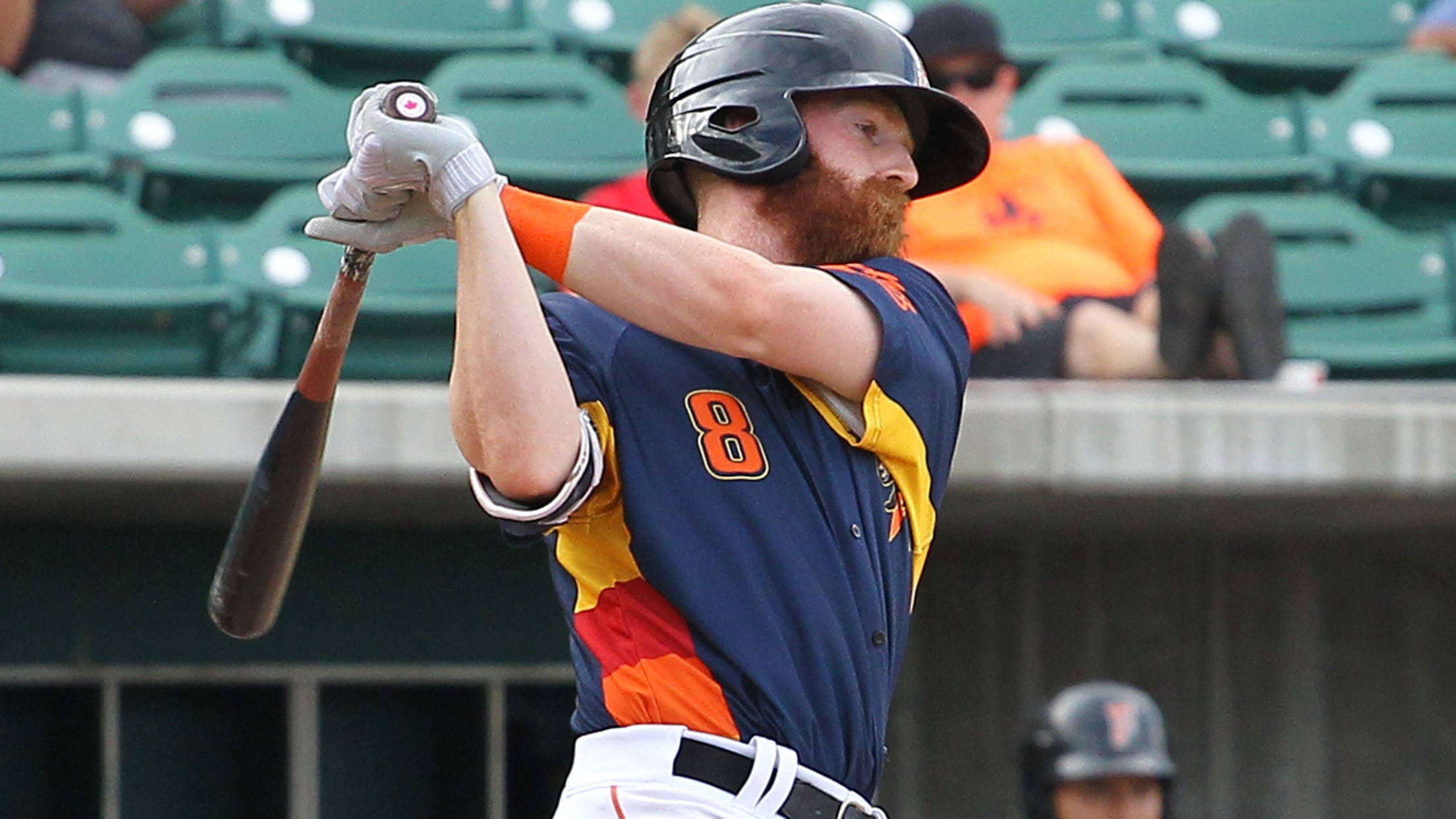 A new position in the field and a relatively new spot in the lineup didn't faze Colin Moran on Monday night. Lately, it seems very little does.Houston's No. 24 prospect continued a solid June by matching a career high with five RBIs and leadoff man Tony Kemp added four singles
Martinez and Moran (3-run HR, 5 RBI) cage the Chihuahuas
RHP David Martinez stays hot at home, three Fresno homers beat El Paso 10-4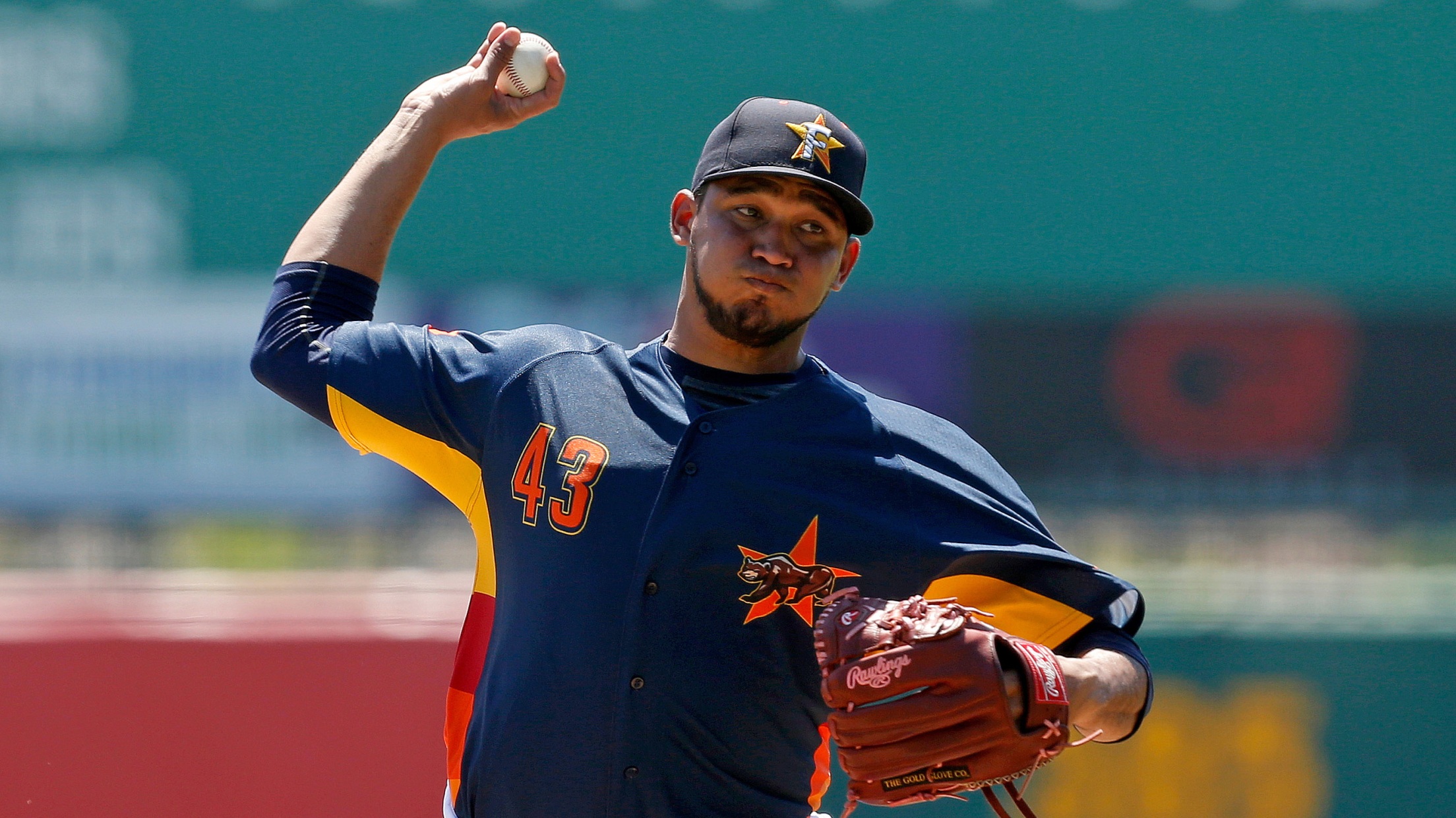 The Fresno Grizzlies (35-36) powered their way to a 10-4 victory over the El Paso Chihuahuas (35-36) at home Monday night, as five Grizz batters recorded multiple hits, with Colin Moran enjoying his club-best third game of four or more RBI this season. The Grizzlies have scored 10 or more
Fresno splits series at Albuquerque with a 15-14 victory
Tyler White has 10th straight multi-hit game with a 5-hit, 6-RBI night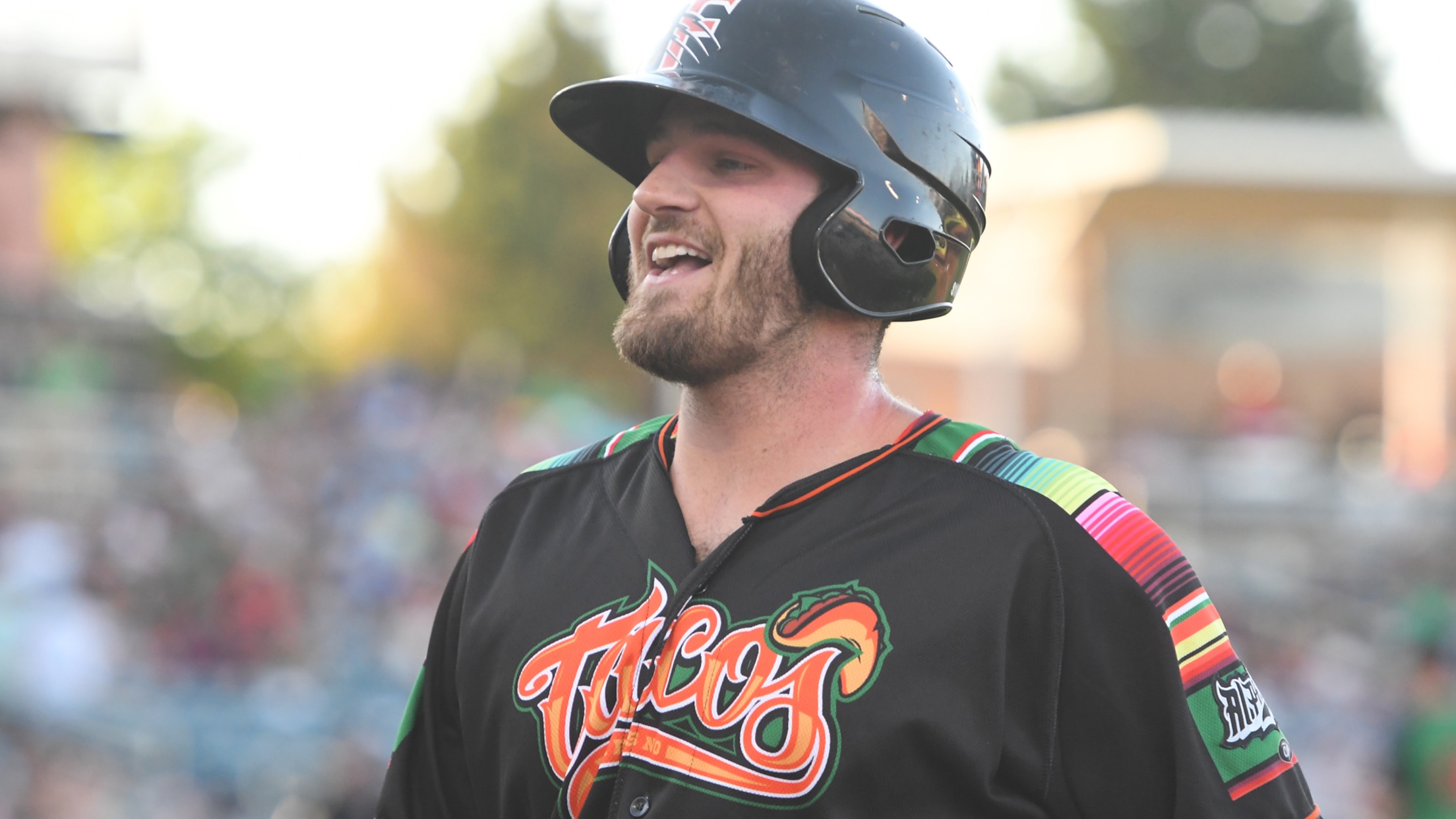 The Fresno Tacos (33-35) defeated the Albuquerque Green Chile Cheeseburgers (33-34) Friday night by a score of 15-14 in the series finale at Isotopes Park, the first ever Tacos road game. Fresno's 15 runs and 20 hits are a new 2017 club-high. The two clubs combined for nine home runs,
Moran continues hot stretch for Grizzlies
Astros No. 23 prospect homers, runs hit streak to eight games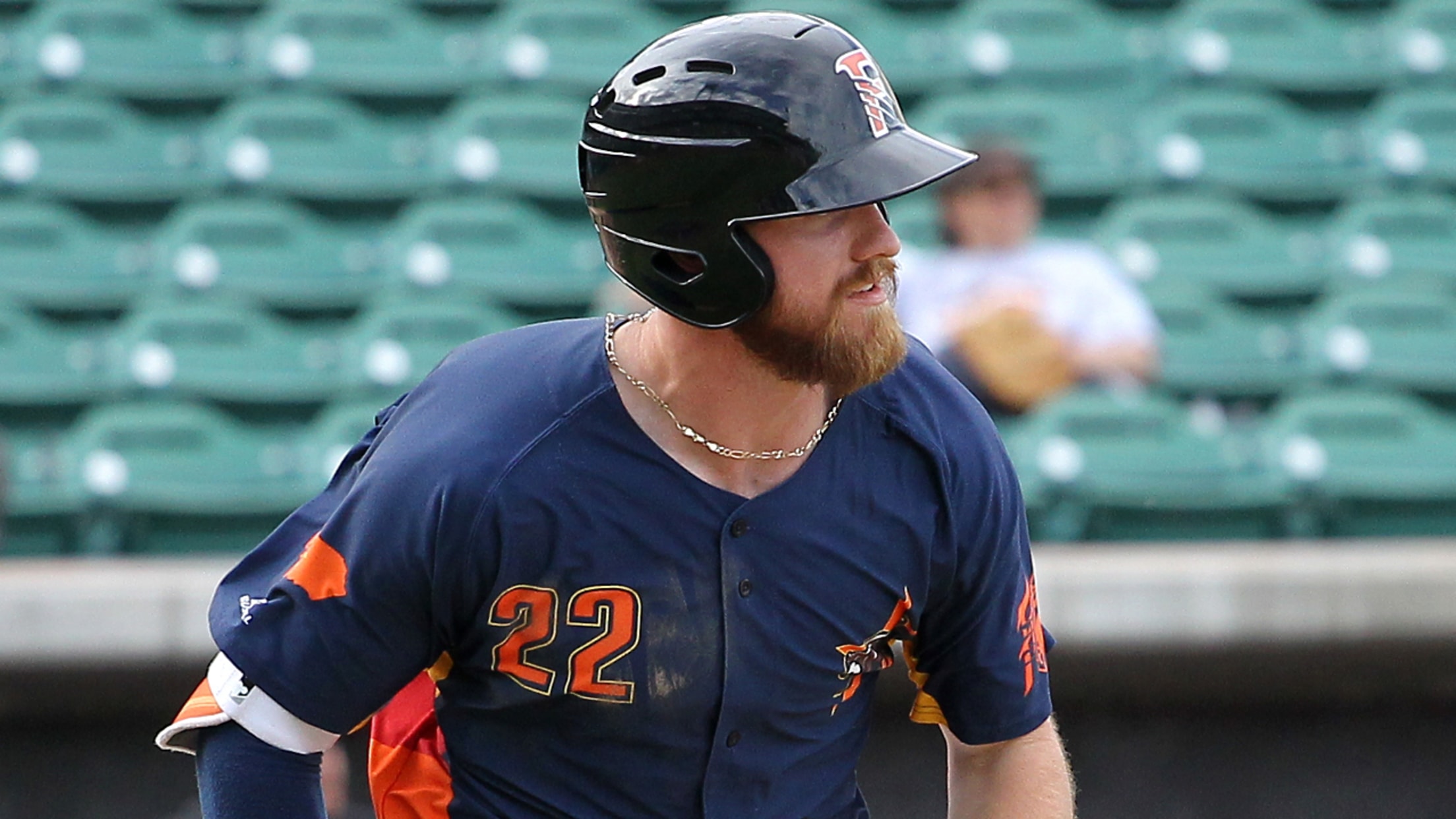 Colin Moran keeps hitting and the Fresno Grizzlies keep winning.The Astros' No. 23 prospect homered for the third straight game and collected three more hits Tuesday as Triple-A Fresno outslugged Albuquerque, 10-9, for its 14th win in 18 contests.
Grizzlies win wild back and forth series opener in Albuquerque
Four Fresno fielders (Fisher, Kemp, Moran & White) drive in multiple runs in 10-9 victory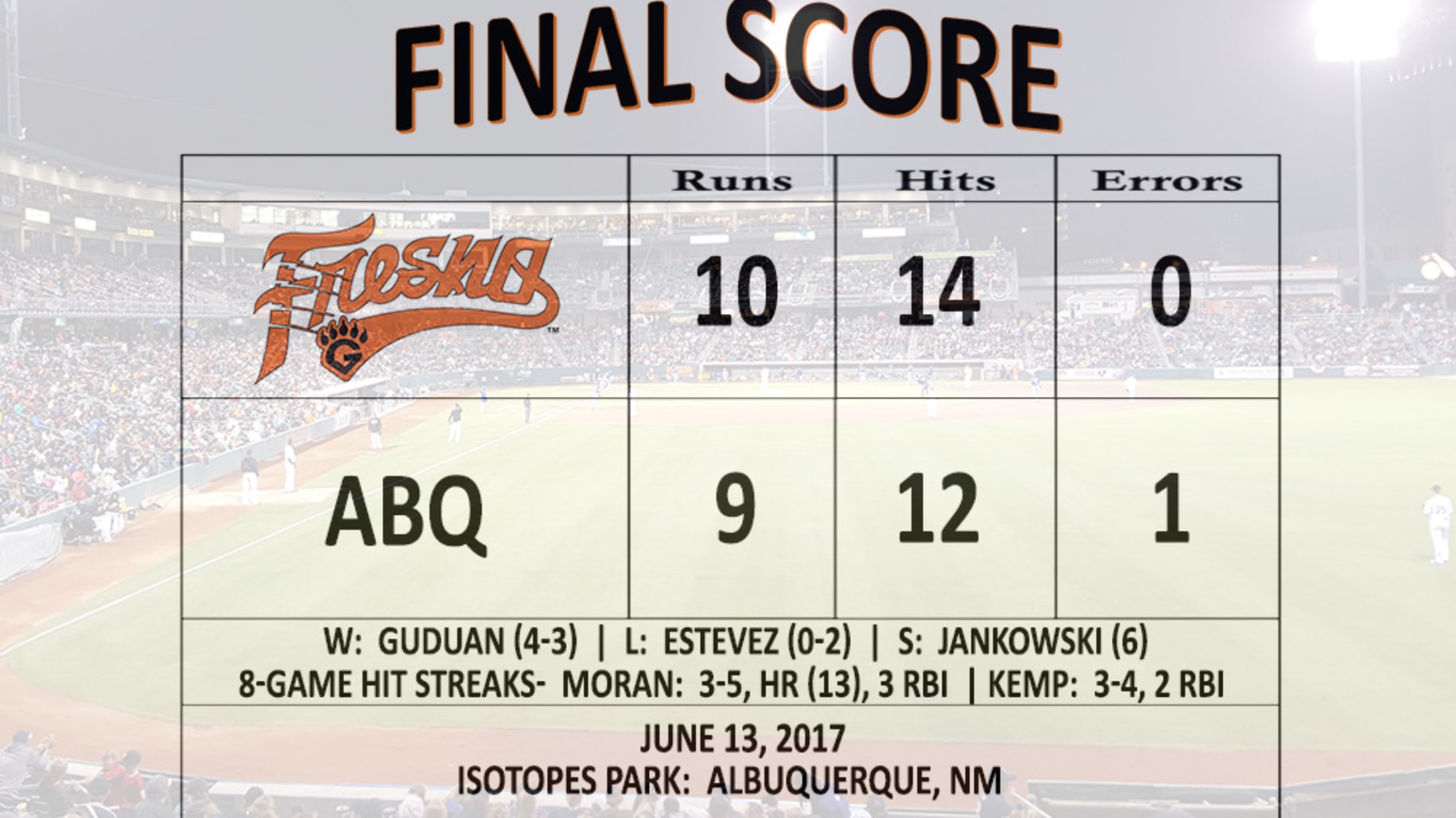 The Fresno Grizzlies (32-33) stayed hot in the desert southwest Tuesday night, improving to 6-2 on their season-long 11-game road trip with a 10-9 series-opening win over the Albuquerque Isotopes (31-33). Fresno is 9-3 in June and has won 14 of their last 18 games. The Grizzlies led three separate
Grizzlies take rubber match from Chihuahuas, 11-5
A.J. Reed, Colin Moran and Tony Kemp all homer to power Fresno on Sunday in El Paso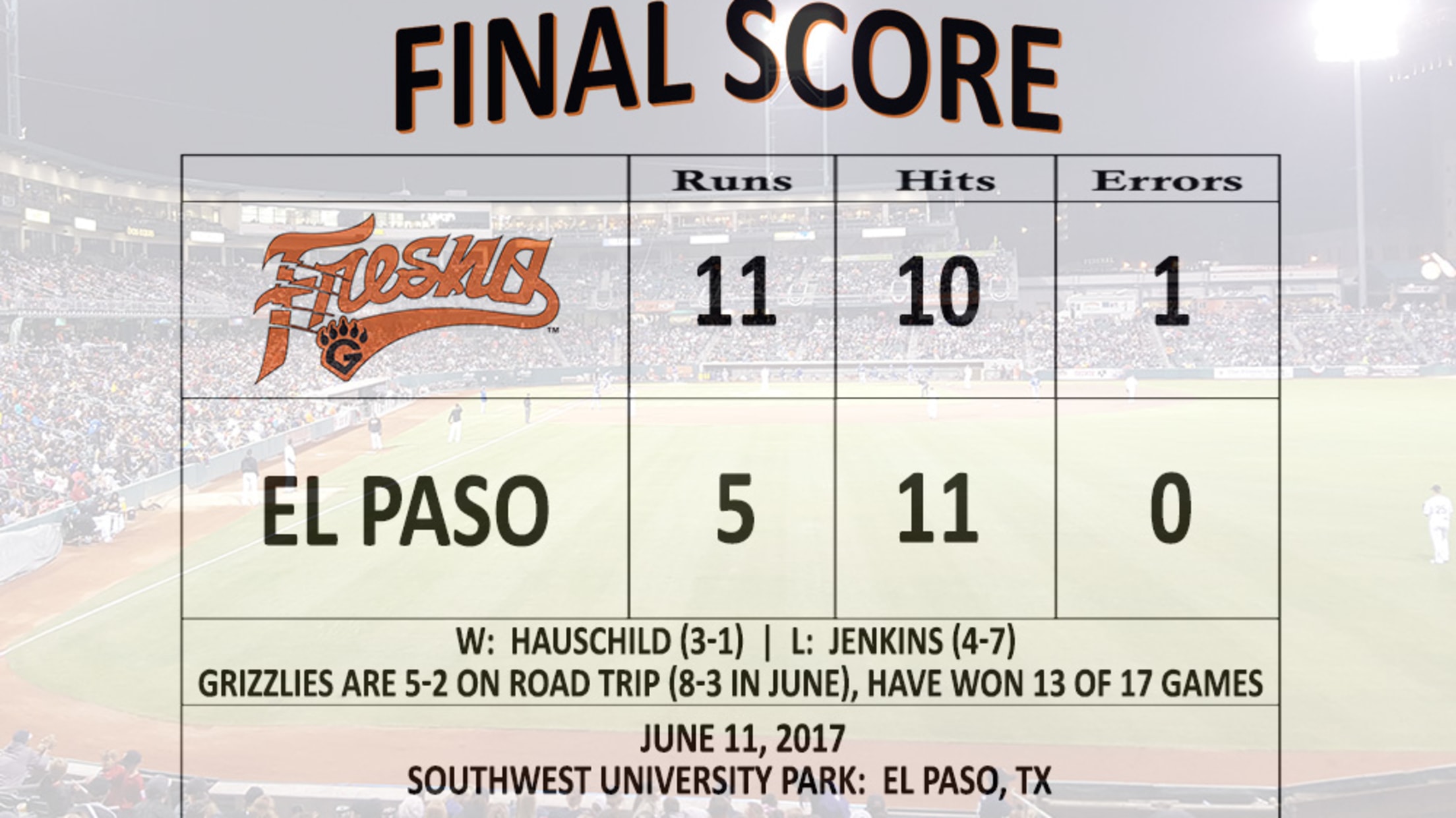 The Fresno Grizzlies (31-33) continued their rapid turnaround, winning for the 13th time in 17 games Sunday evening against the El Paso Chihuahuas (30-34) at Southwest University Park. Fresno is enjoying a 5-2 road trip and an 8-3 month of June during their resurgence. The Grizzlies jumped all over El Paso
Grizzlies smash 6 home runs in 9-5 win at El Paso
Trent Thornton (UNC, 6 shutout innings), Colin Moran (UNC, 2 HR/3 RBI) and Tyler White (Western Carolina, 2 HR/3 RBI) power Fresno Saturday on banner night for Tar Heel State alums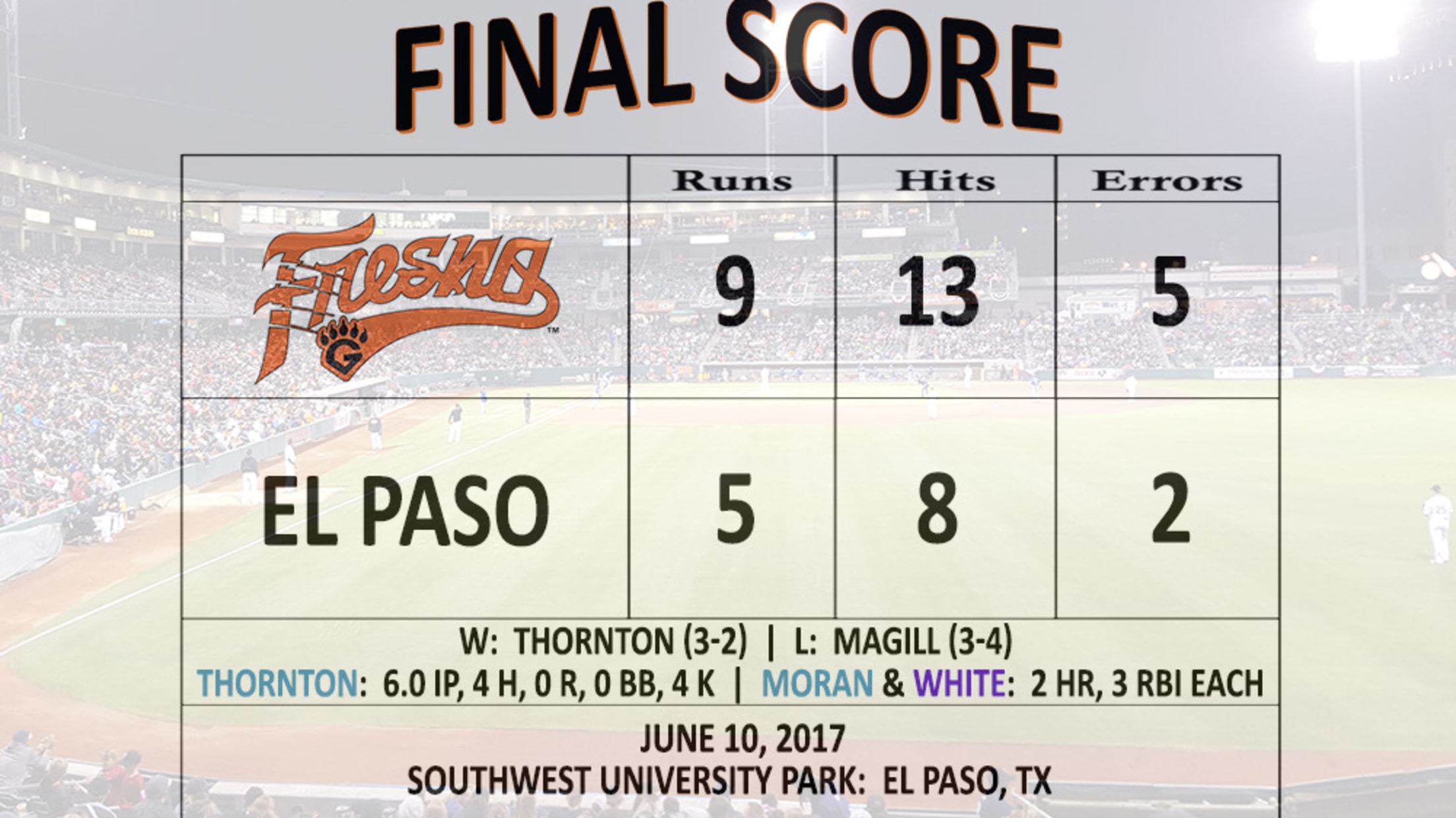 At the University of North Carolina, Fresno Grizzlies third baseman Colin Moran (2013) and starting pitcher Trent Thornton (2015) were teammates for a season and drafted just two years apart. It was quite the reunion for the Tar Heel baseball program at Southwest University Park in El Paso Saturday night,
Tucker, Moran and Reed homer to top River Cats Tuesday night
6.0 scoreless IP from Hauschild in 5-2 victory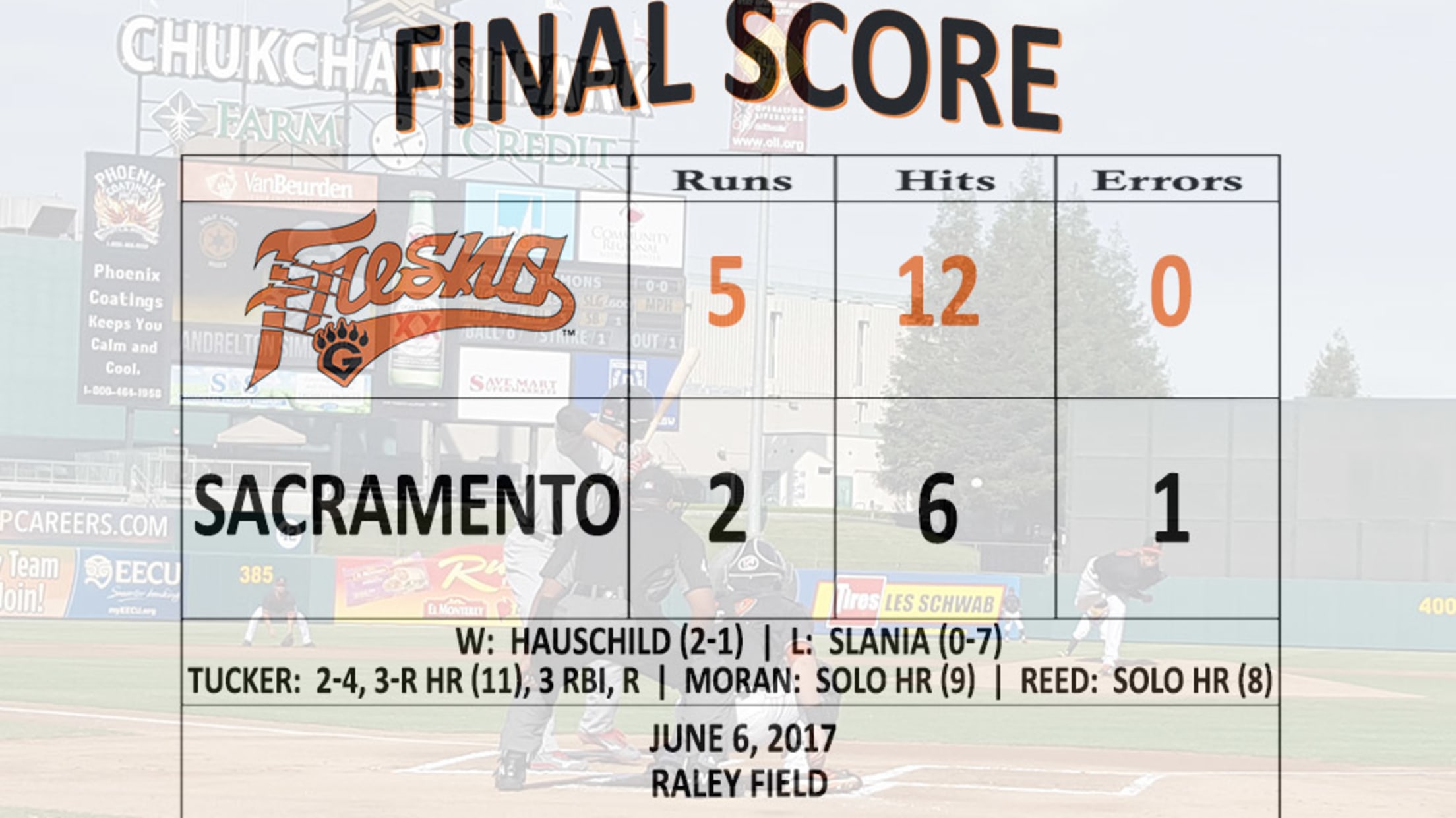 The Fresno Grizzlies (27-32) defeated the Sacramento River Cats (23-34) in the second of a four-game series on Tuesday night at Raley Field. Three Fresno homers and a quality start from Mike Hauschild propelled the Grizz to a 5-2 victory. It's the fifth time this season the Grizzlies have hit
3-hit games for Fisher, Hernandez and Moran lift Fresno over Albuquerque 10-3
Grizzlies have won 4 of last 5 games, Centeno extends hit streak to 18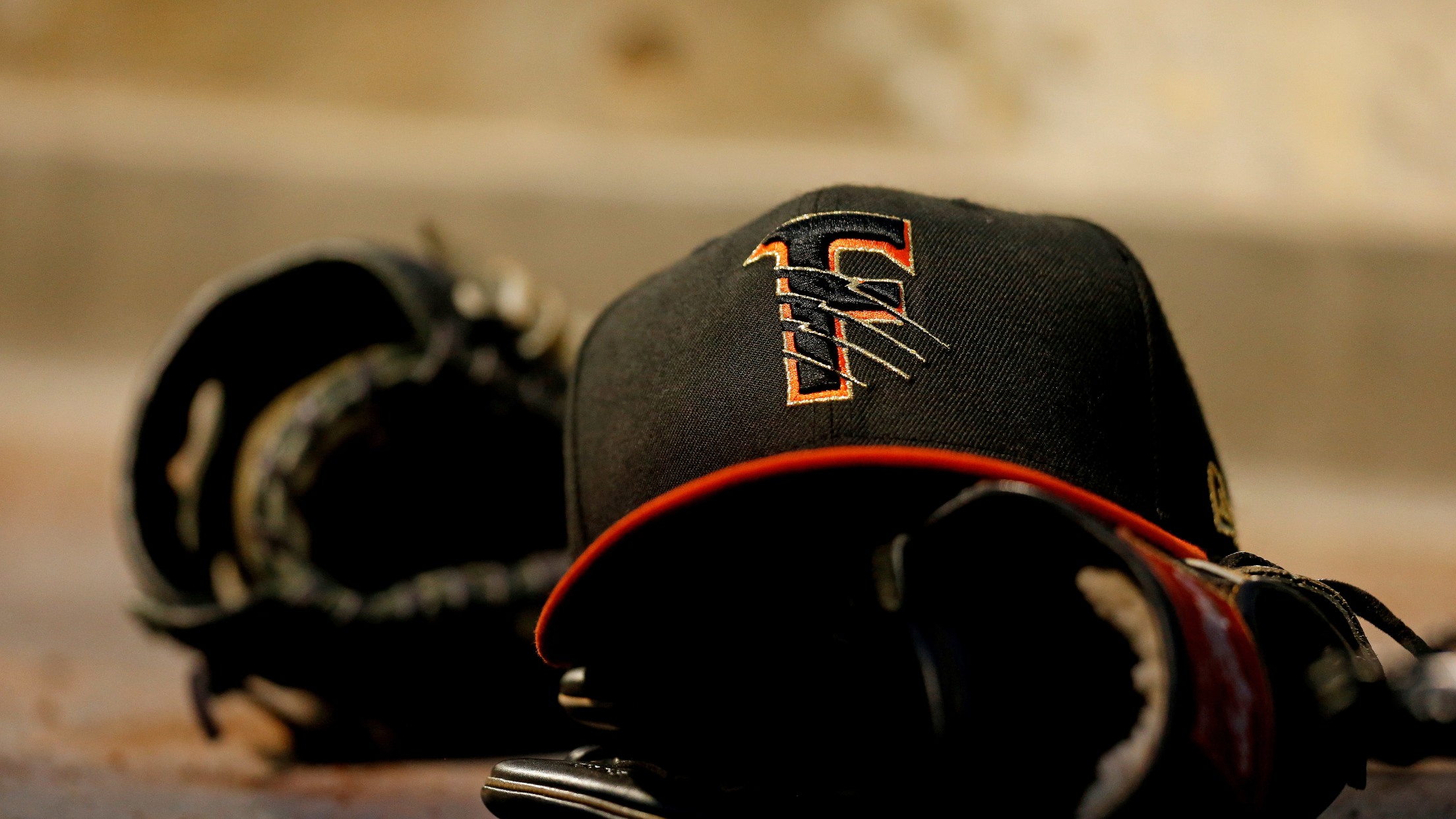 The Fresno Grizzlies (22-30) won 10-3 against the Albuquerque Isotopes (27-24) Monday afternoon, their fourth victory in five games. Derek Fisher (3-for-5), Teoscar Hernández (3-for-5) and Colin Moran (3-for-5) each notched three-hit games for the Grizzlies. For Hernandez and Moran, it was their first three-hit affair of the season.Albuquerque took
Grizzlies triumph in 10th to split series at Tacoma
Kemmer, Kemp & Moran homer in 8-7 victory; Martes strikes out personal and Grizz season-high 9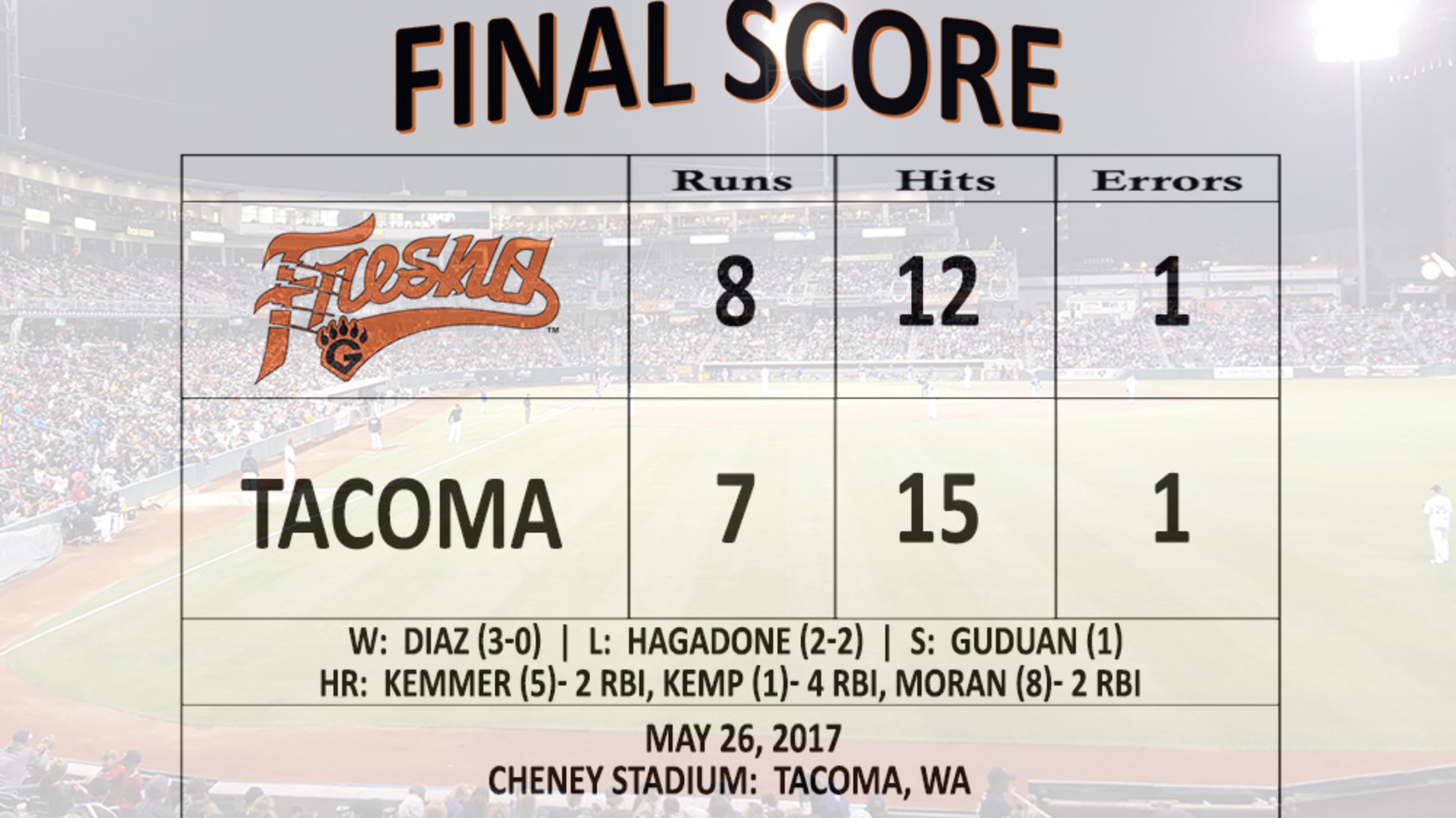 Five Fresno Grizzlies collected multiple hits Friday night in the series finale against the Tacoma Rainiers (29-18), in an 8-7 win in 10 innings to split the four-game set. It was just the second extra-inning game in 49 played this season for the Grizzlies (20-29), who have played just two
Tucker's homer, Moran's big hit in 8th lift Grizz to 5-2 win at Tacoma
Hauschild fires 106 pitches, Reed goes 2-for-4, Comer slams door for team victory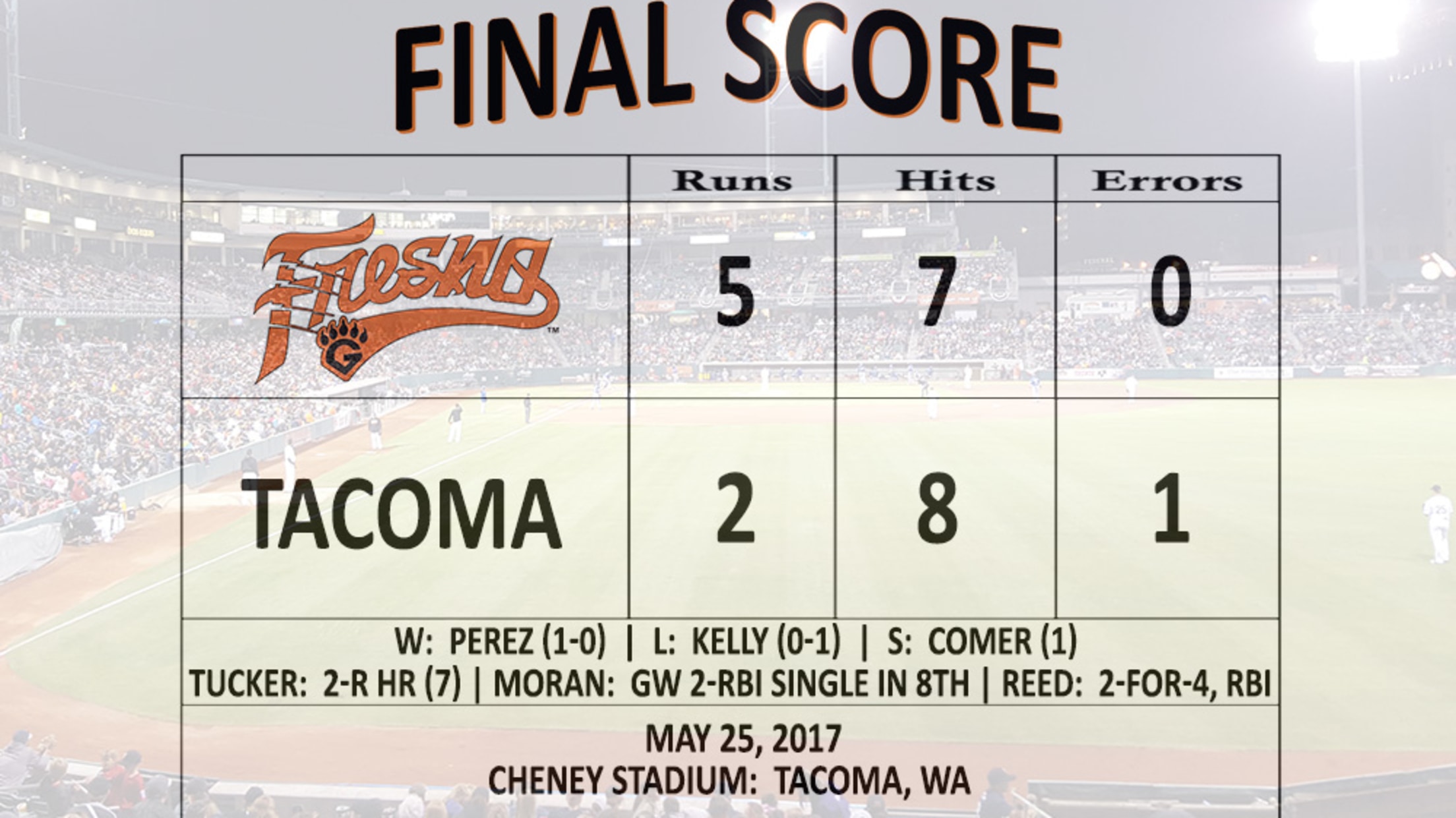 An eight-batter, three-run eighth inning delivered the knockout blow to the homesteading Tacoma Rainiers (29-17) Thursday night, as the Fresno Grizzlies (19-29) snapped a losing streak of three overall, and in road games with 5-2 victory. In his fifth start of the season, Mike Hauschild did not allow a run
Fresno tops Memphis 9-3 Sunday afternoon
Brignac's 4-hit game drives Grizzlies to victory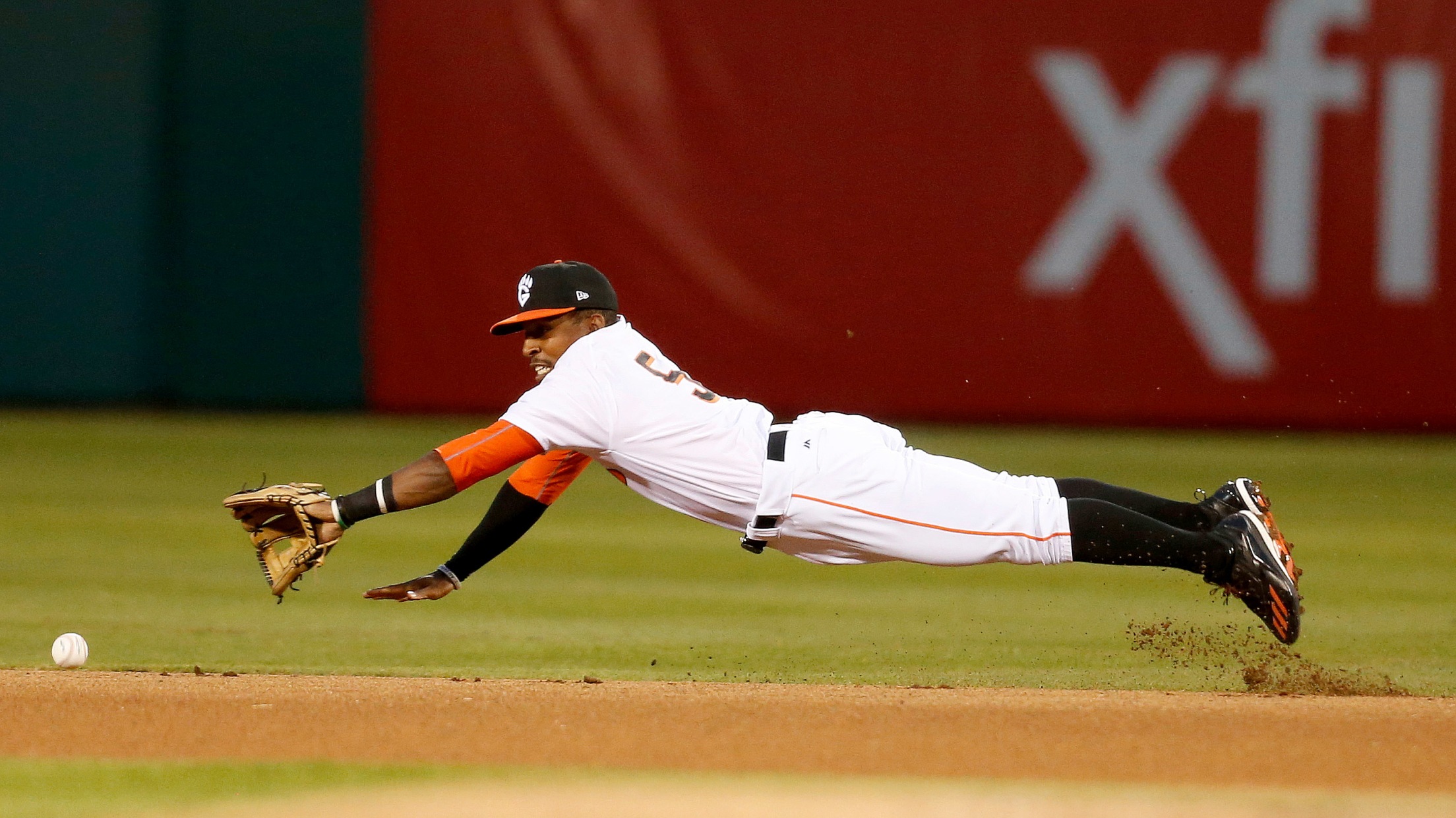 The Fresno Grizzlies (18-26) defeated the Memphis Redbirds (27-17) 9-3 Sunday afternoon at Chukchansi Park. Every Grizz batter reached base at least once in the victory. The six Fresno doubles were one shy of the season-high of seven which occurred on May 13 at Oklahoma City.Memphis took a 1-0 lead
Grizzlies fall to Redbirds in front of largest home crowd of 2017
Moran homers (6) in 4-2 loss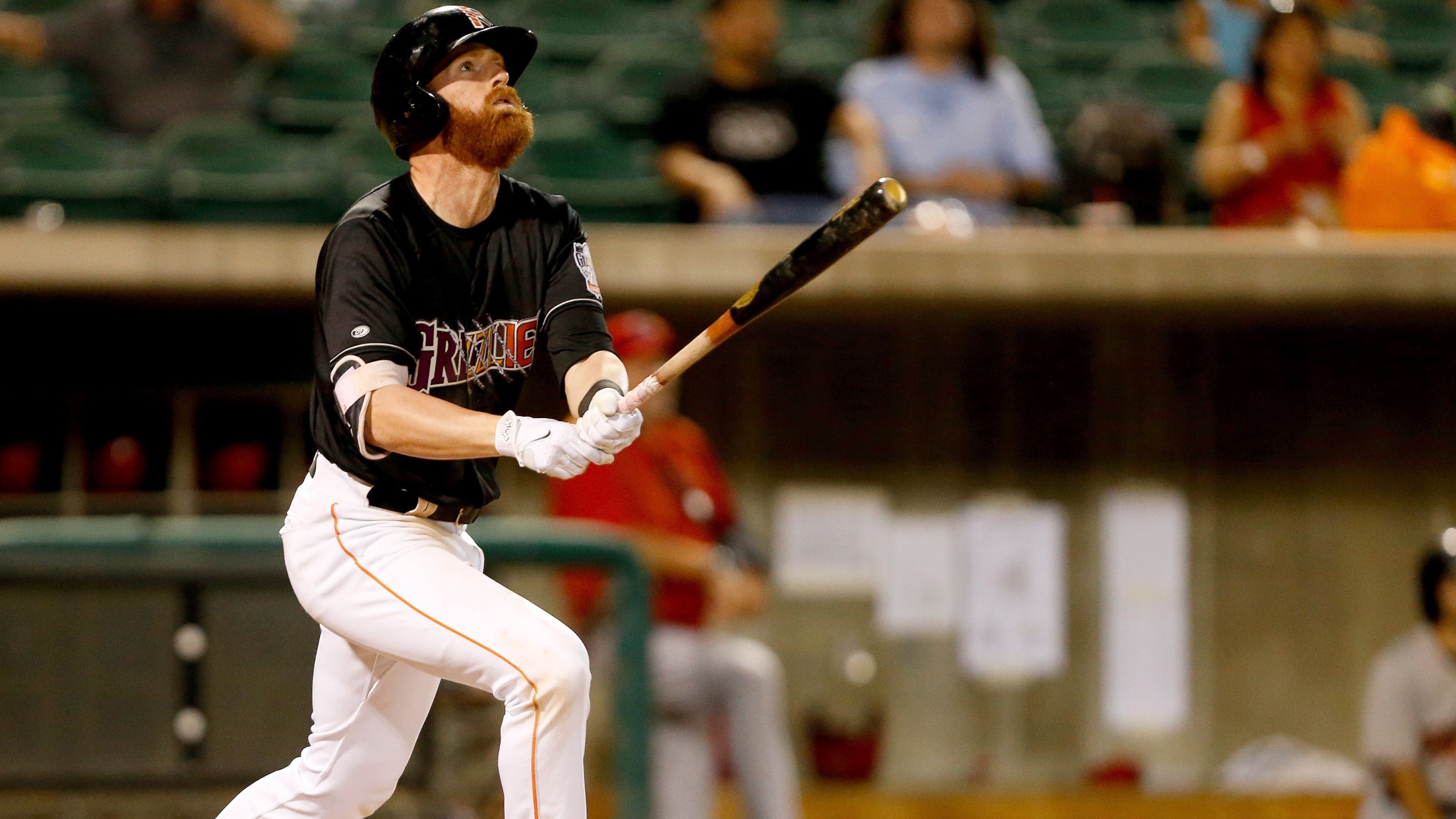 The Fresno Grizzlies (17-26) fell 4-2 to the Memphis Redbirds (27-16) Saturday night in front of a crowd of 10,974 at Chukchansi Park. The largest crowd of the season surpassed Opening Day by 596.The Redbirds took an early 2-0 lead in the second on a Patrick Wisdom two-run homer off
Nashville is victorious on Taco Tuesday in Fresno
White and Moran homer for Tacos in 11-6 loss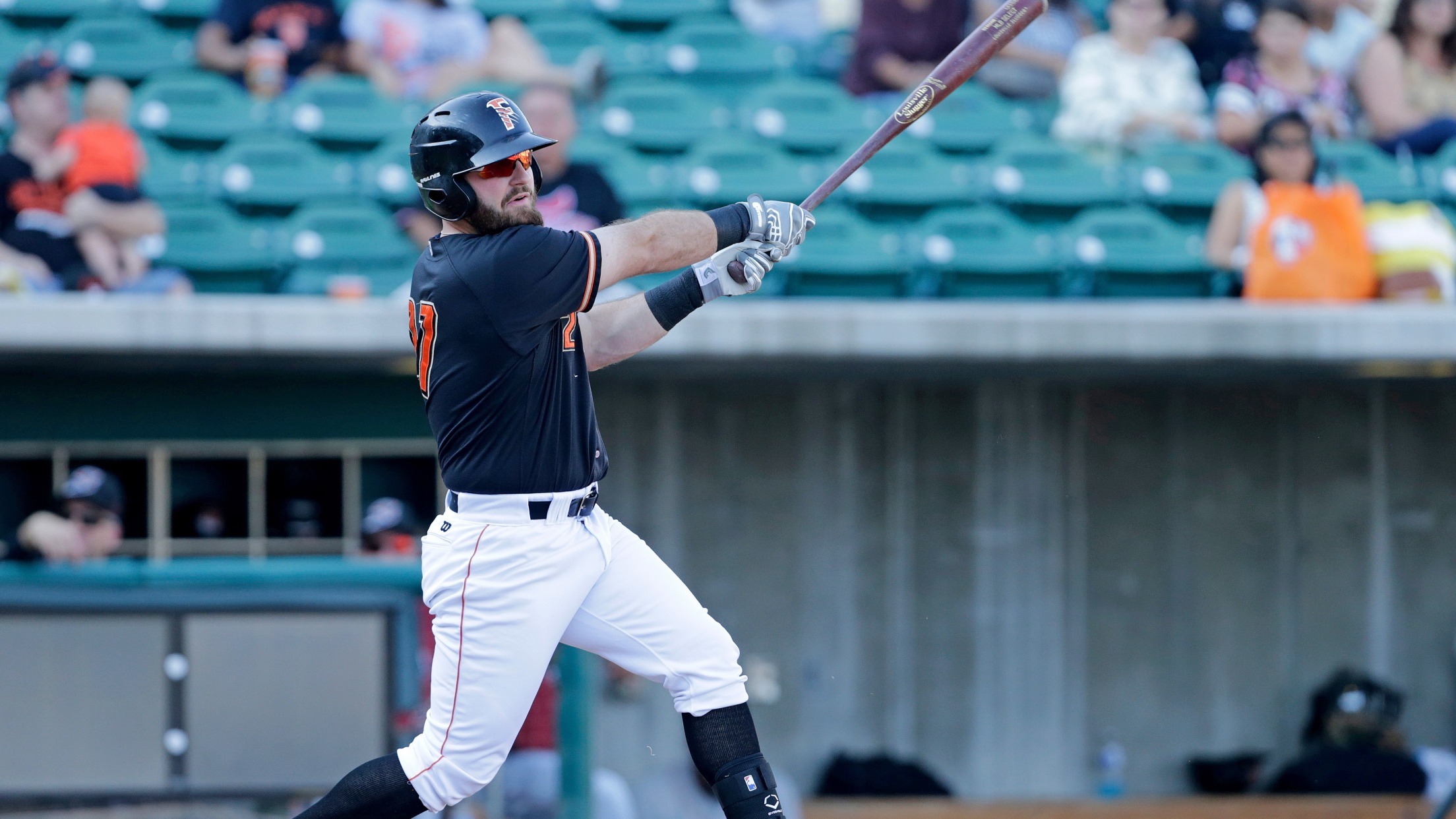 The Fresno Tacos (15-24) and the Nashville Sounds (17-18) combined for five home runs in an 11-6 loss for Fresno on Taco Tuesday. The five homers are the most combined by two clubs in a game for Fresno this season.The Sounds got the scoring started in the second when Matt
Late inning runs aren't enough, Grizzlies fall to Bees 12-9
Colin Moran homers in back-to-back games