Aaron Ashby Dominates, Sounds Shut Out Toledo
Southpaw Matches Season-High with 11 Strikeouts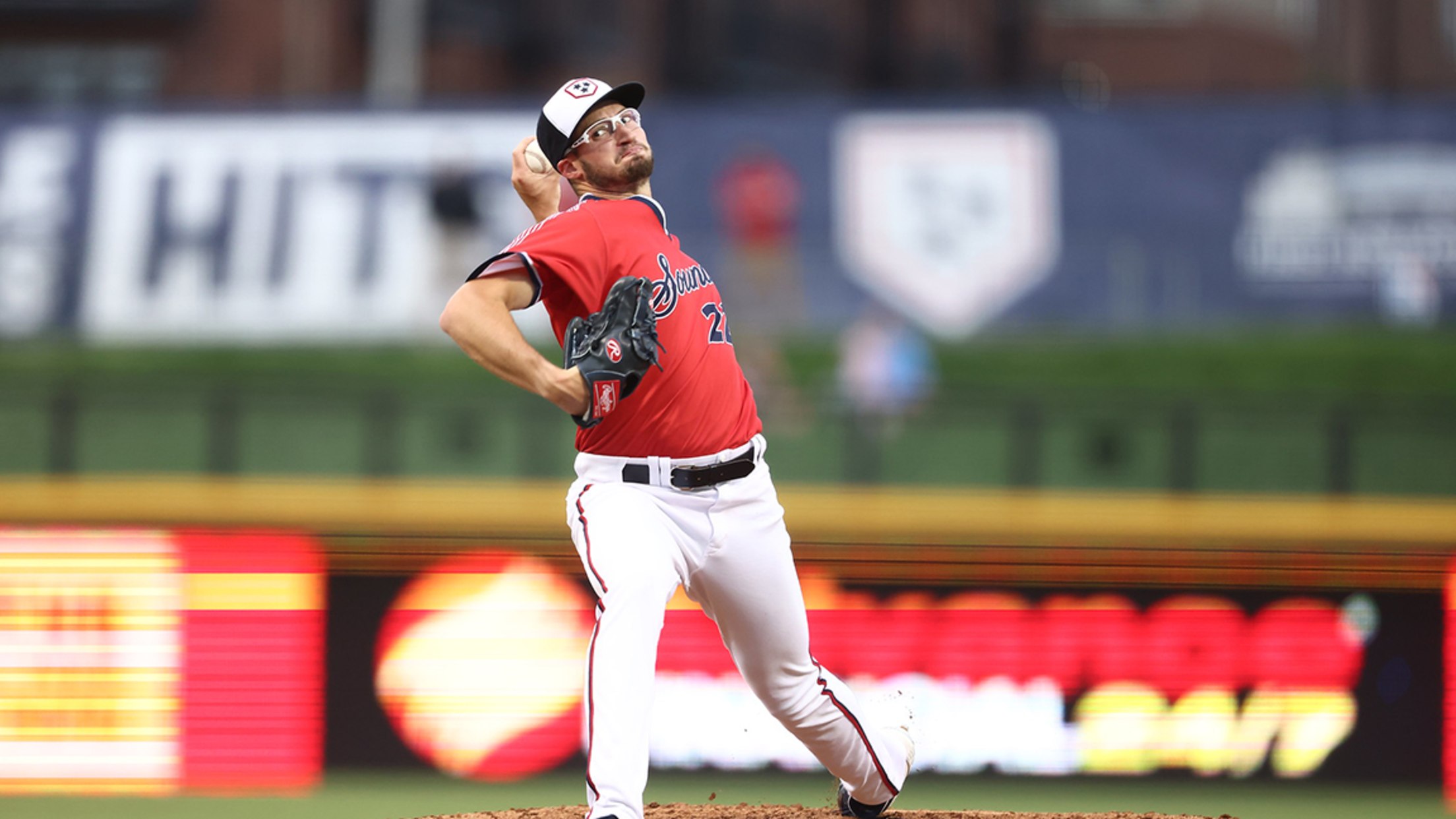 Aaron Ashby dominated the Toledo Mud Hens and the Nashville Sounds scored 10 runs in the eighth inning on their way to a 12-0 win in front of 6,326 fans at First Horizon Park Thursday night.
Weston Wilson's Huge Night Sends Sounds to Win 
Nashville First Baseman Cracks Two Homers, Drives in Five Runs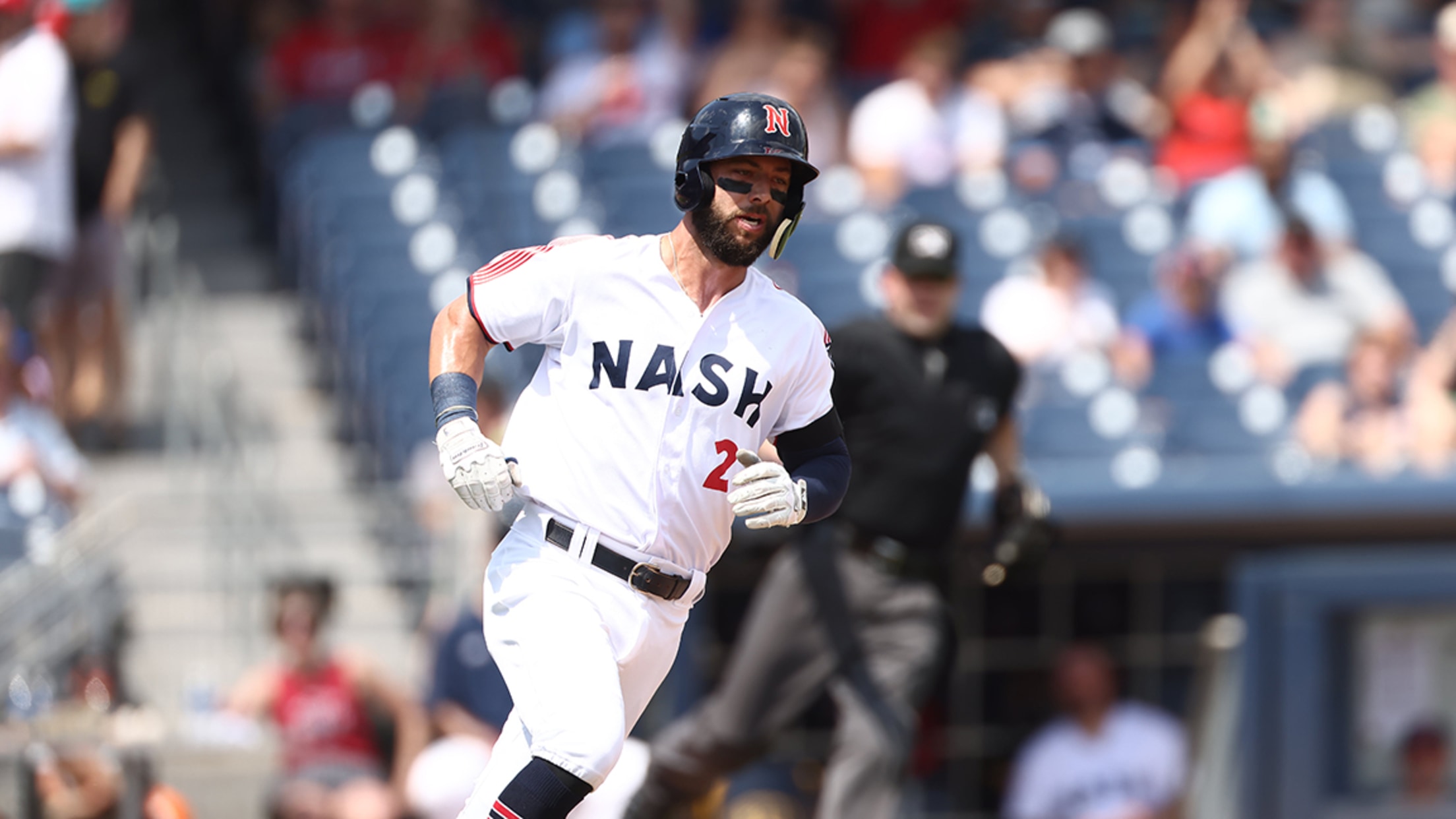 Weston Wilson hit a pair of home runs and knocked in a season-high five runs to lead the Nashville Sounds to a 9-5 win over the Gwinnett Stripers on Wednesday night at Coolray Field.
Sounds Complete Comeback, Walk-Off Louisville 
Nashville Notches Sixth Walk-Off Win of the Year
With the score knotted at 3-3 in the bottom of the 10th inning, Zach Green drew a bases loaded walk to send the Nashville Sounds to a come-from-behind, walk-off 4-3 win over the Louisville Bats in front of 9,771 fans at First Horizon Park Friday night.
Bart, Ramos emerging as Giant prospects
Up-and-coming system has fans excited in the city by the Bay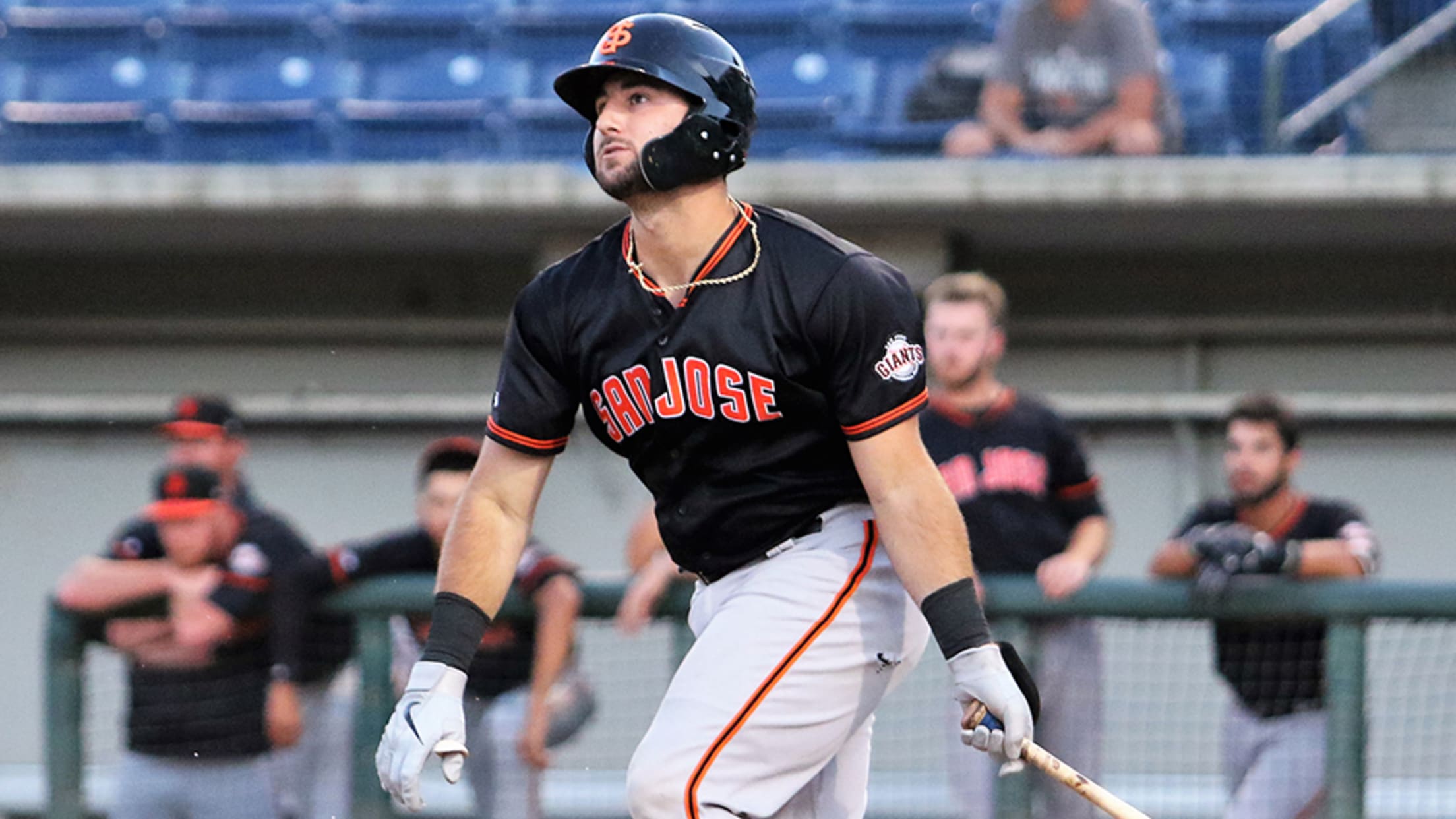 Each offseason, MiLB.com goes position by position across each system and honors the players -- regardless of age or prospect status -- who had the best seasons in their organization. Click here to locate your favorite club.Fresh off a seven-year run that featured three World Series championships and four playoff
Webb's River Cats debut spoiled by late Sounds comeback
Rocklin native tosses seven one-run innings with seven strikeouts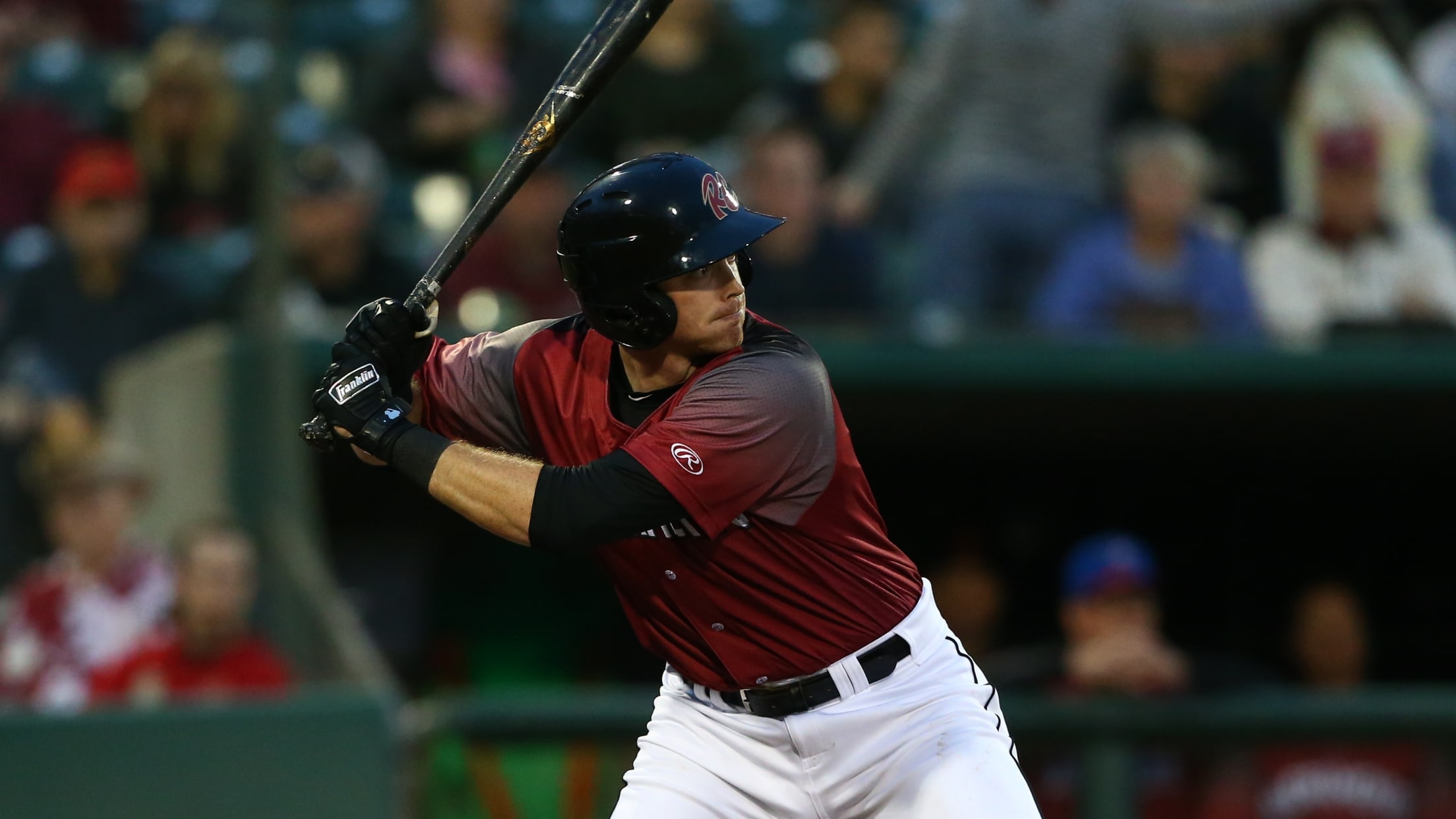 WEST SACRAMENTO, Calif. - The Sacramento River Cats (64-56) welcomed another local product on Monday night, as Rocklin-native Logan Webb impressed with seven innings of one-run ball in his Triple-A debut against the Nashville Sounds (52-66).Despite the sensational performance, the club fell 3-2 to the visiting Sounds. The 22-year-old graduate
Dubon launches first Raley Field home run
River Cats fall 13-3 in front of franchise's 100th sellout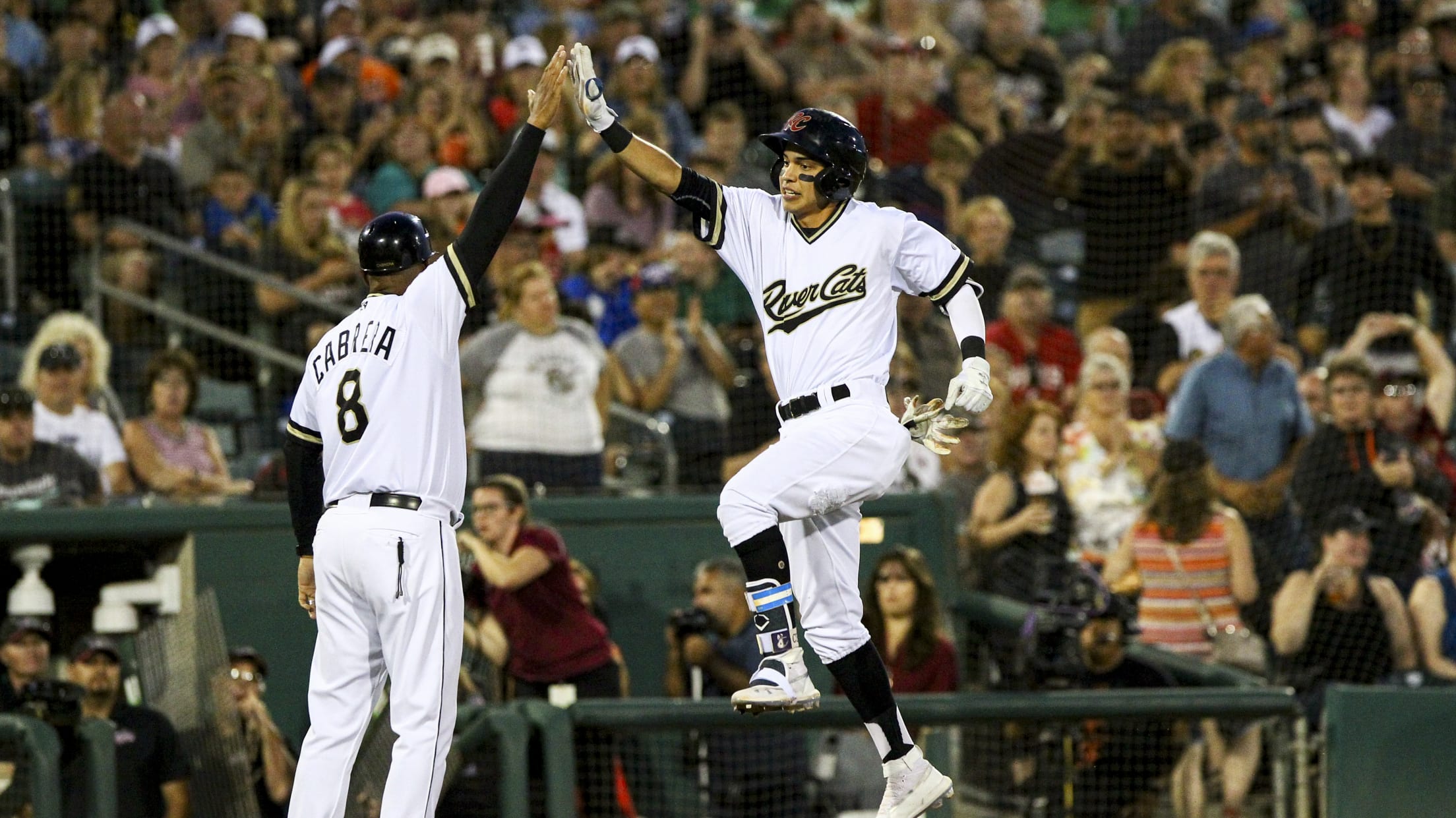 WEST SACRAMENTO, Calif. -- The Sacramento River Cats (63-55) lost their second consecutive game by double-digits, falling 13-3 to the Nashville Sounds (51-65) with Saturday night's capacity crowd on hand.The offense fell flat for the second night in a row, mustering just five hits. But, all three runs came by
River Cats take series from Bees despite dropping finale
Rickard caps off fantastic five-game series with three more hits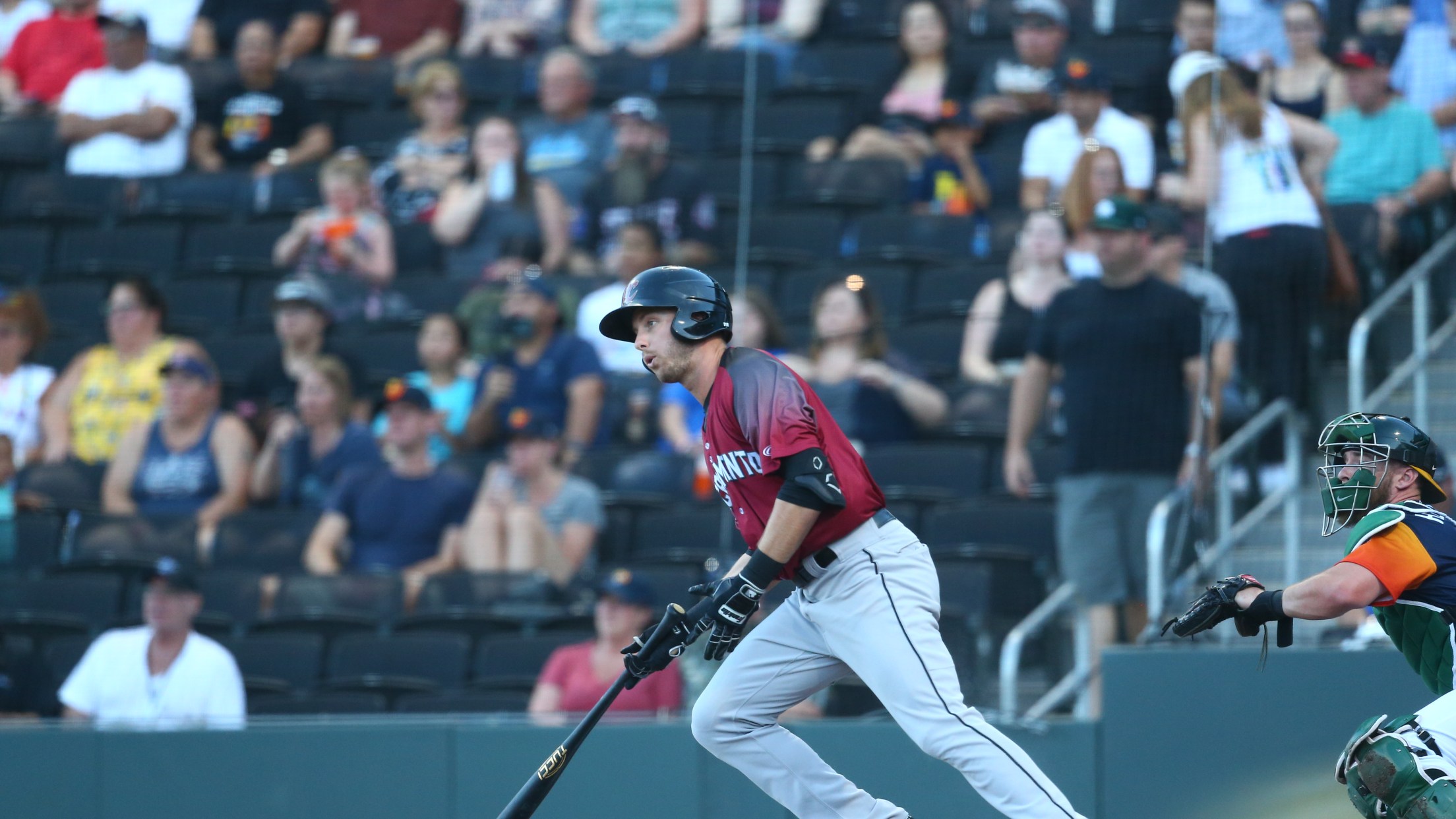 SALT LAKE CITY, Utah - The Sacramento River Cats (51-47) jumped out to an early 3-0 lead on Thursday but could not contain the Salt Lake Bees (42-56) offense, losing the series finale 9-6. The club will head to Tacoma tomorrow after taking three of five against the Bees.Sacramento outfielder
Menez strong again as River Cats squeak by Grizzlies
Left-hander walks none and strikes out seven in 3-2 win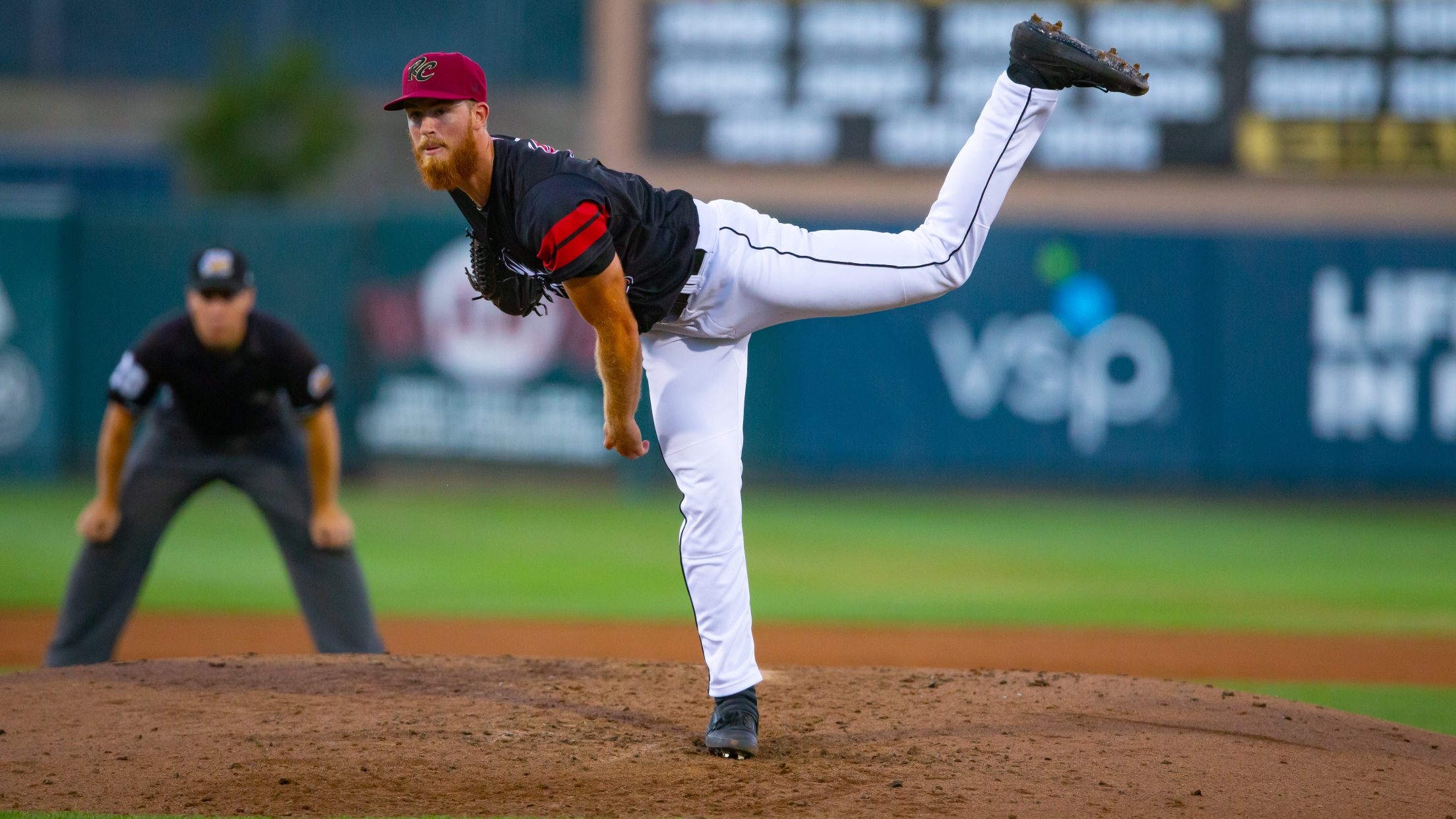 WEST SACRAMENTO, Calif. -- The Sacramento River Cats (48-44) surrendered a run in the ninth but held on for a 3-2 victory over the Fresno Grizzlies (47-46).Left-handed starter Conner Menez was chased in the sixth, but not until striking out seven in 5.2 strong innings. The Hollister, Calif. native walked
Zach Green named PCL Player of the Week for July 1-7
Jesuit High School product hit .385 with four home runs and 13 RBI for the week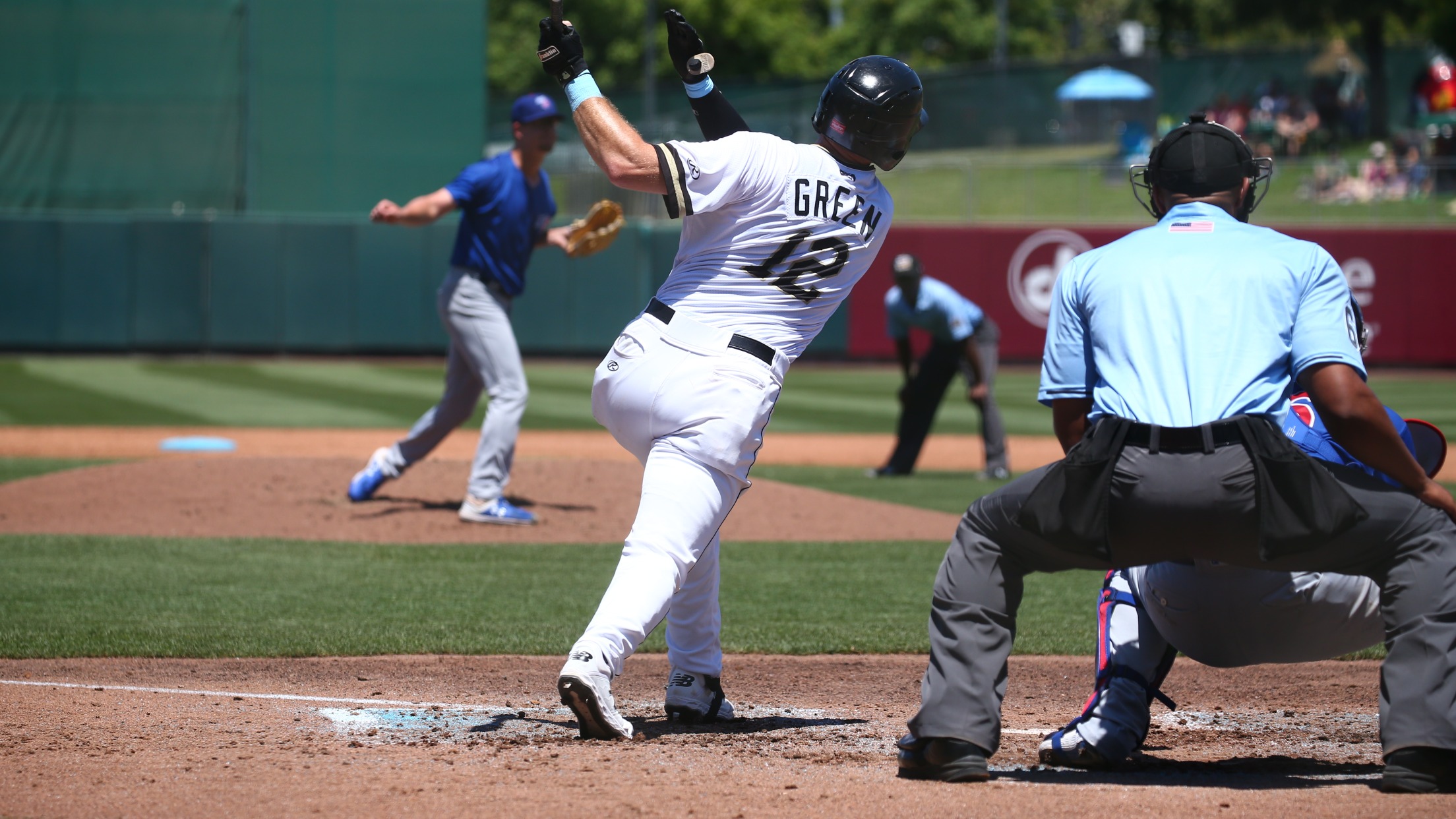 West Sacramento, Calif. - The Pacific Coast League office announced Monday their Player and Pitcher of the Week for the period of July 1-7. Sacramento River Cats infielder Zach Green was named Player of the Week, while left-handed starter Sean Nolin of the Tacoma Rainiers took home Pitcher of the
River Cats crush Aces to finish out first half
Green reaches base six times as club shatters franchise record with 27 hits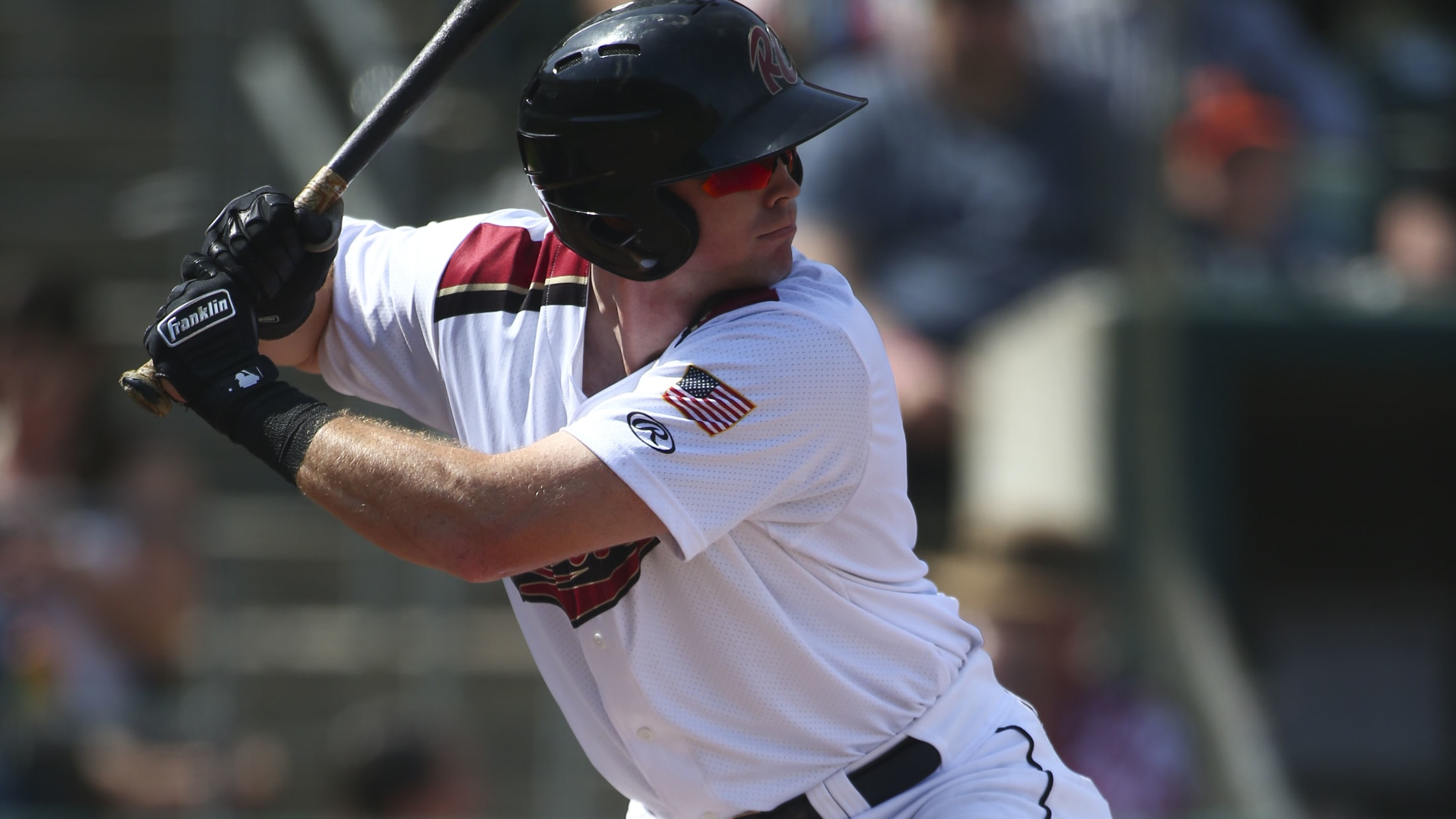 RENO, Nev. -- The Sacramento River Cats (46-43) moved into first place heading into the All-Star break with a record-breaking 21-7 blowout victory over the Reno Aces (39-50) on Sunday afternoon.After trailing 6-2 through two innings, the Sacramento offense would explode for 19 unanswered runs over the course of the
Duggar buries Aces with grand slam
Menez works six shutout innings in 5-1 River Cats victory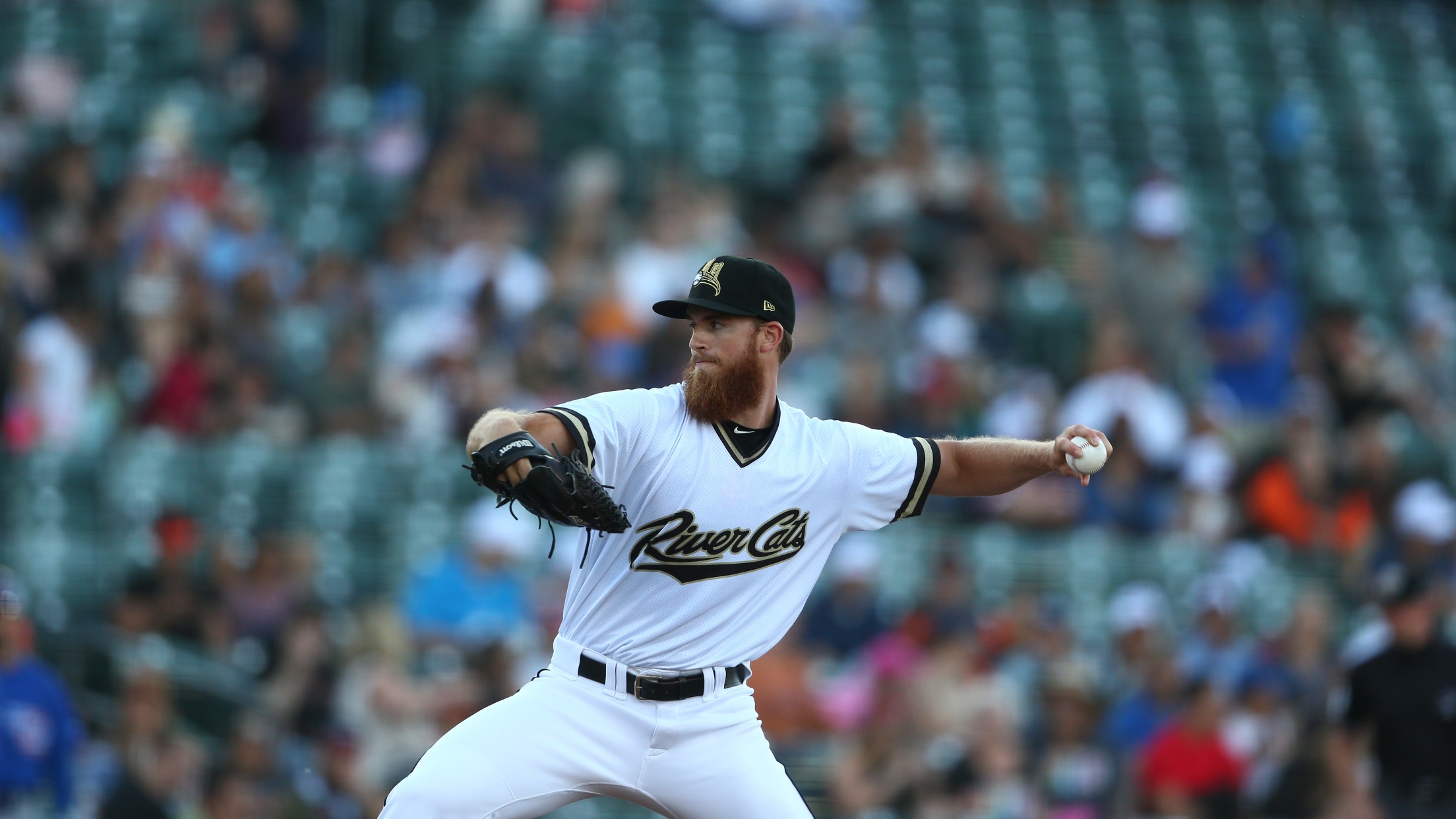 Reno, Nevada - The Sacramento River Cats (45-43) used a dominant pitching performance from Conner Menez and a grand slam from Steven Duggar to defeat the Reno Aces (39-49) 5-1 on Saturday night in the Biggest Little City.Conner Menez flashed ace-like stuff Saturday night, twirling six shutout innings en route
Walk-off homer dooms River Cats in slugfest
Green tacks on two more homers, Rickard doubles three times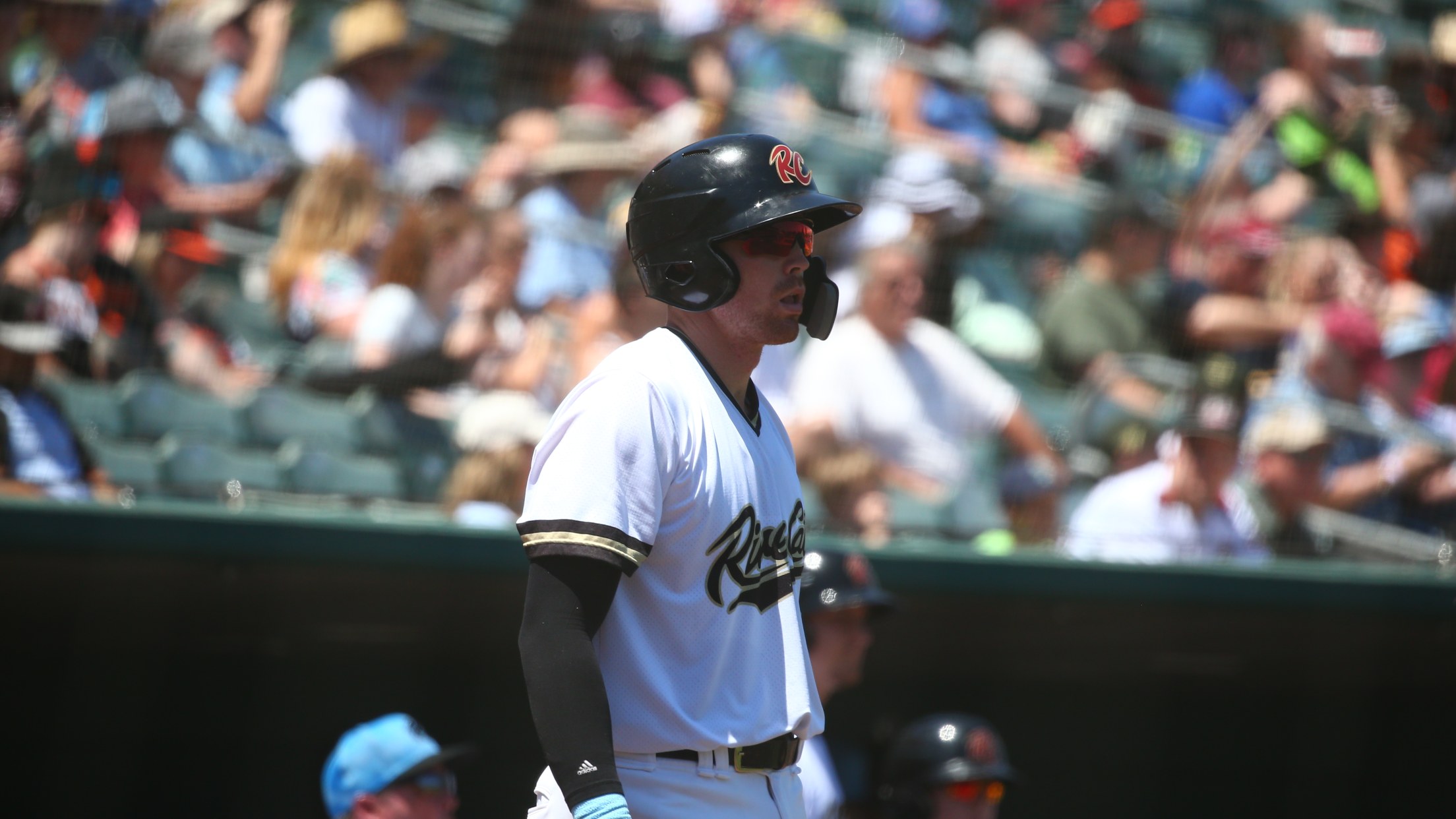 West Sacramento, Calif. - The Sacramento River Cats (44-43) found themselves locked in a back and forth battle with the Reno Aces (39-48), losing in heartbreaking fashion on a walk-off home run from Pacific Coast League journeyman Cody Decker.Third basemen Zach Green continues to smash the baseball, blasting two more
Green blasts grand slam but River Cats drop game
Isotopes launch grand slam of their own, win 9-5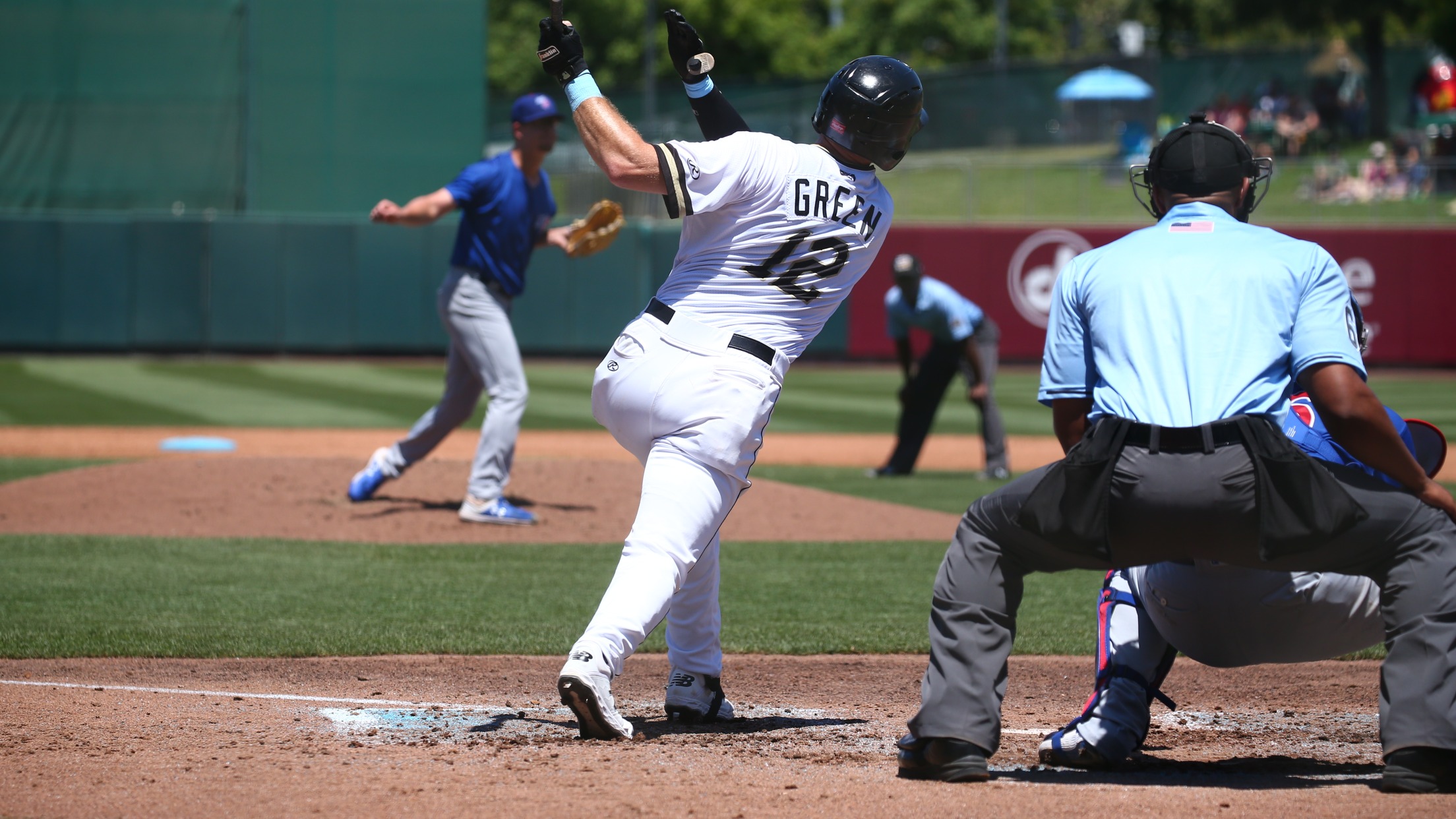 West Sacramento, Calif. -- The Sacramento River Cats (42-41) had defeated the Albuquerque Isotopes (35-49) in seven consecutive games until Monday night when the visiting club ended the streak with a 9-5 victory.Sacramento trailed 4-0 after the Isotopes got to pitcher Conner Menez in the fourth inning. But the River
Quiala shines as River Cats return home with victory
Right-hander strikes out career-high nine in seven scoreless innings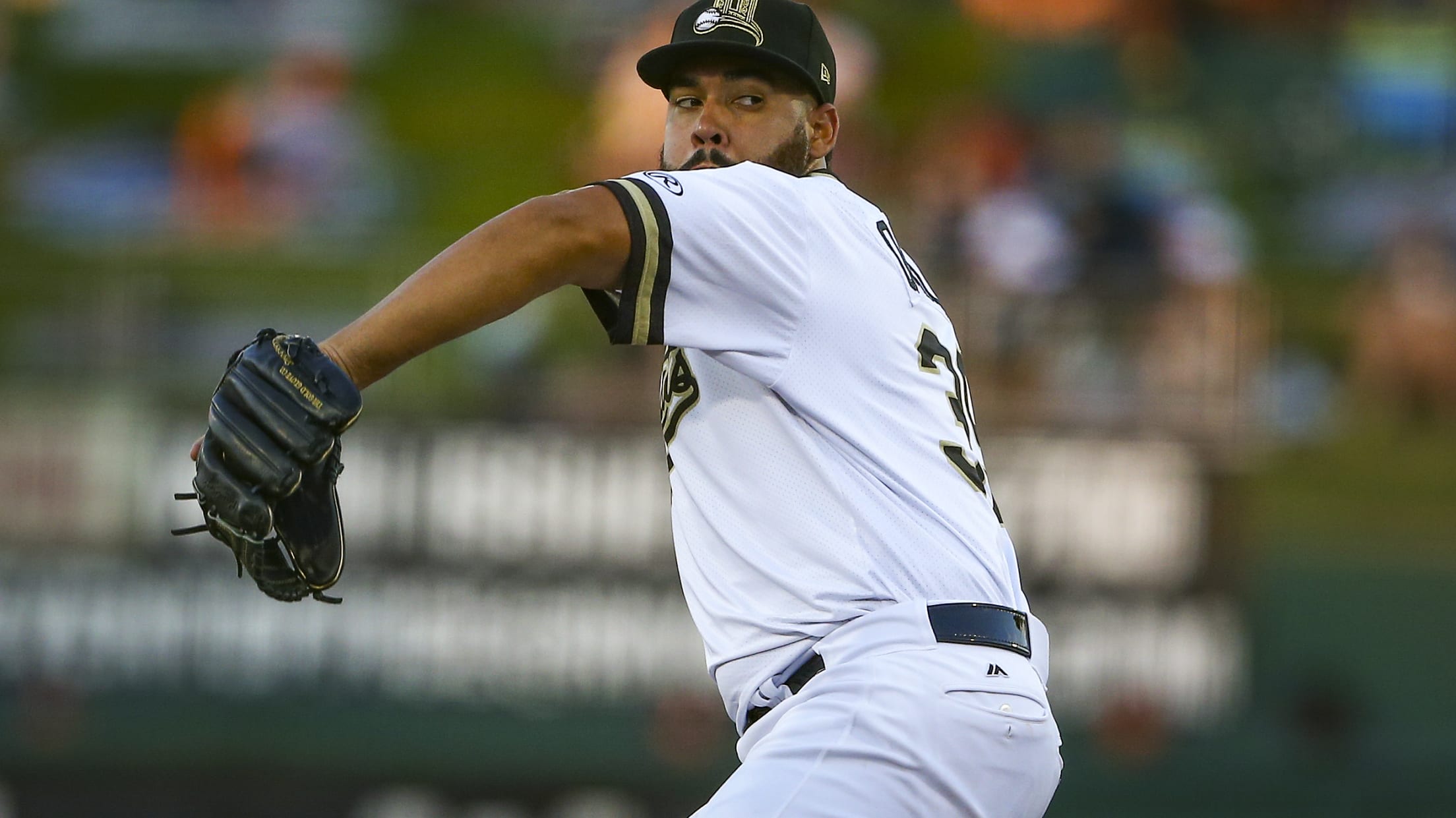 West Sacramento, Calif. -- The Sacramento River Cats (41-40) began their five-game home series with the Albuquerque Isotopes (34-48) on a winning note, taking the opener 6-1 on the back of starting pitcher Yoanys Quiala.The Cuban right-hander tossed seven scoreless innings and struck out a career-high nine batters. For Quiala,
Green homers again as River Cats close out road trip
Sacramento goes 4-5 on nine-game swing with loss in series finale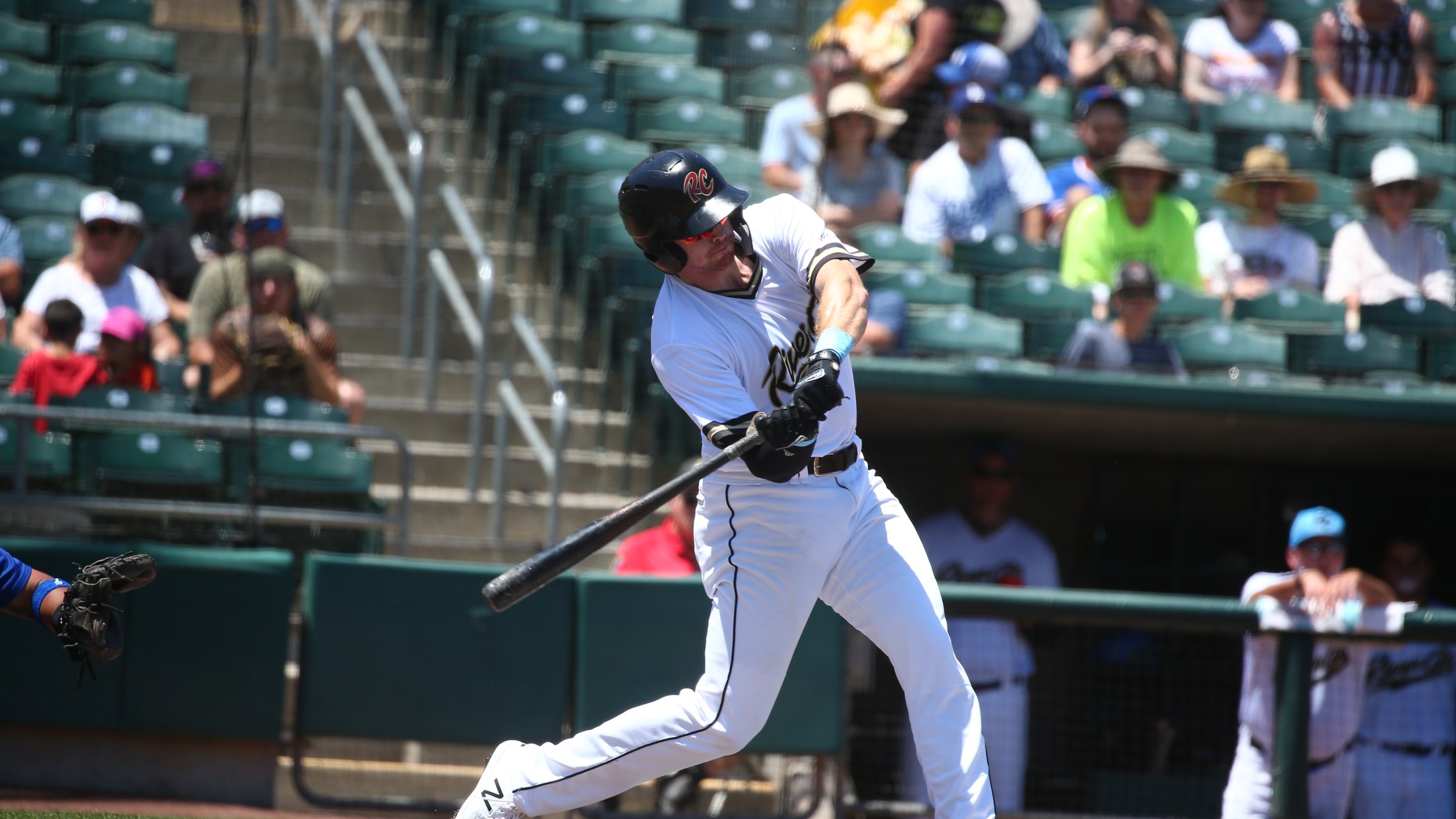 El Paso, Texas -- The Sacramento River Cats (40-40) will head back home after dropping the final game of their four-game set with the El Paso Chihuahuas (49-30), 9-5.A Zach Green solo shot, his 17th of the season, and an Austin Slater two-run single with the bases loaded pushed the
Shaw, Green each finish a triple shy of cycle in loss
Catcher Ronnie Freeman pitches in the eighth to get final out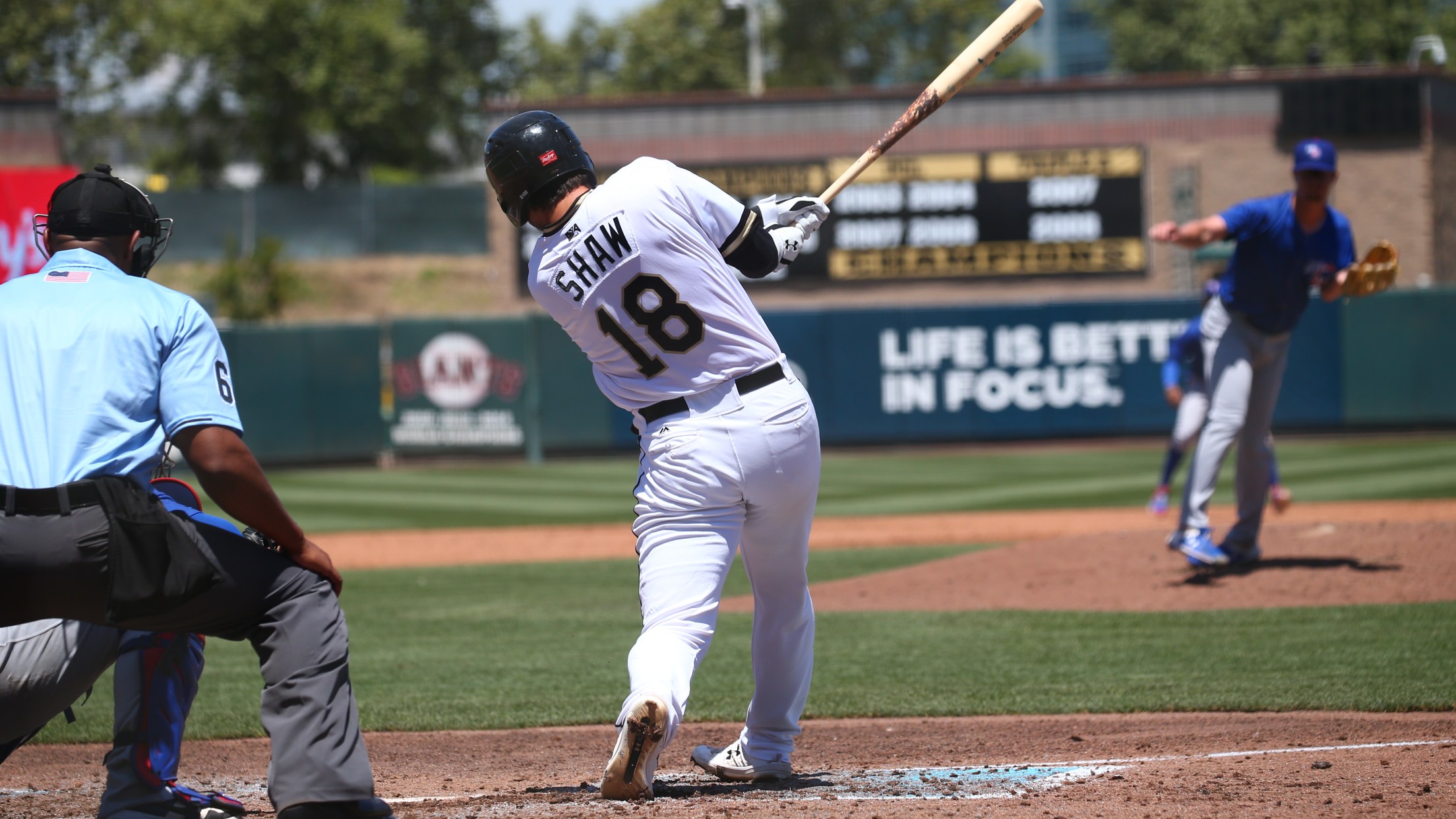 El Paso, Texas - The Sacramento River Cats' (40-39) pitching staff had their hands full with the El Paso Chihuahuas (49-30) on Thursday night, dropping game three of their four-game series by a score of 17-6.Sacramento got off to a promising start with Chris Shaw and Zach Green smacking back-to-back
Late-inning Peña double lifts River Cats over Chihuahuas
Menez settles down after allowing four runs in first inning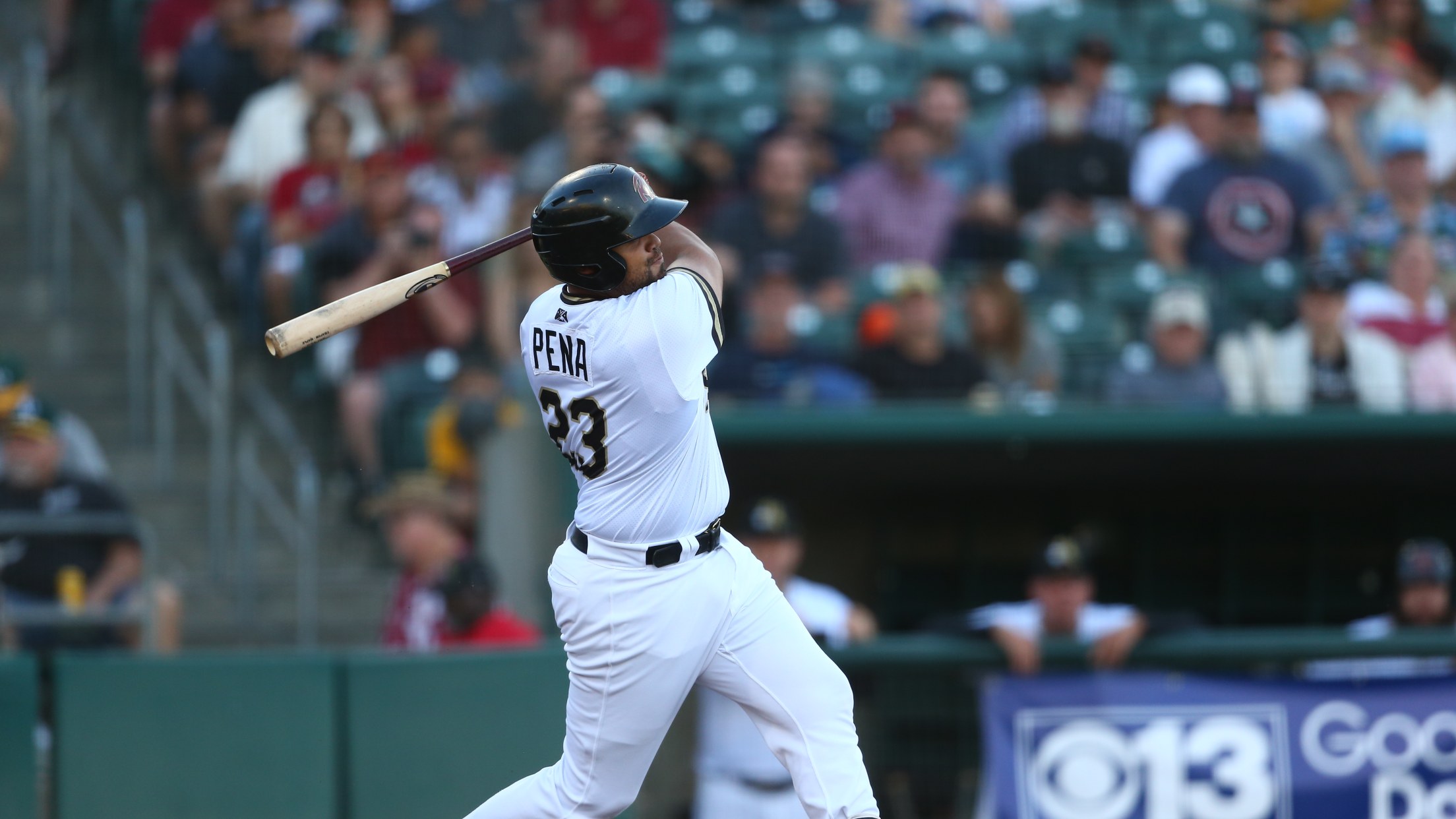 El Paso, Texas -- The Sacramento River Cats (40-38) got back in the win column with a narrow 5-4 victory over the El Paso Chihuahuas (48-30) on Wednesday night.Sacramento trailed 4-1 after one inning but fought back with three runs in the fourth and then the game-clinching run on a
River Cats leave Las Vegas with series victory despite ugly finale
Peña, Green, Rickard, and Shaw all homer in lopsided 15-6 loss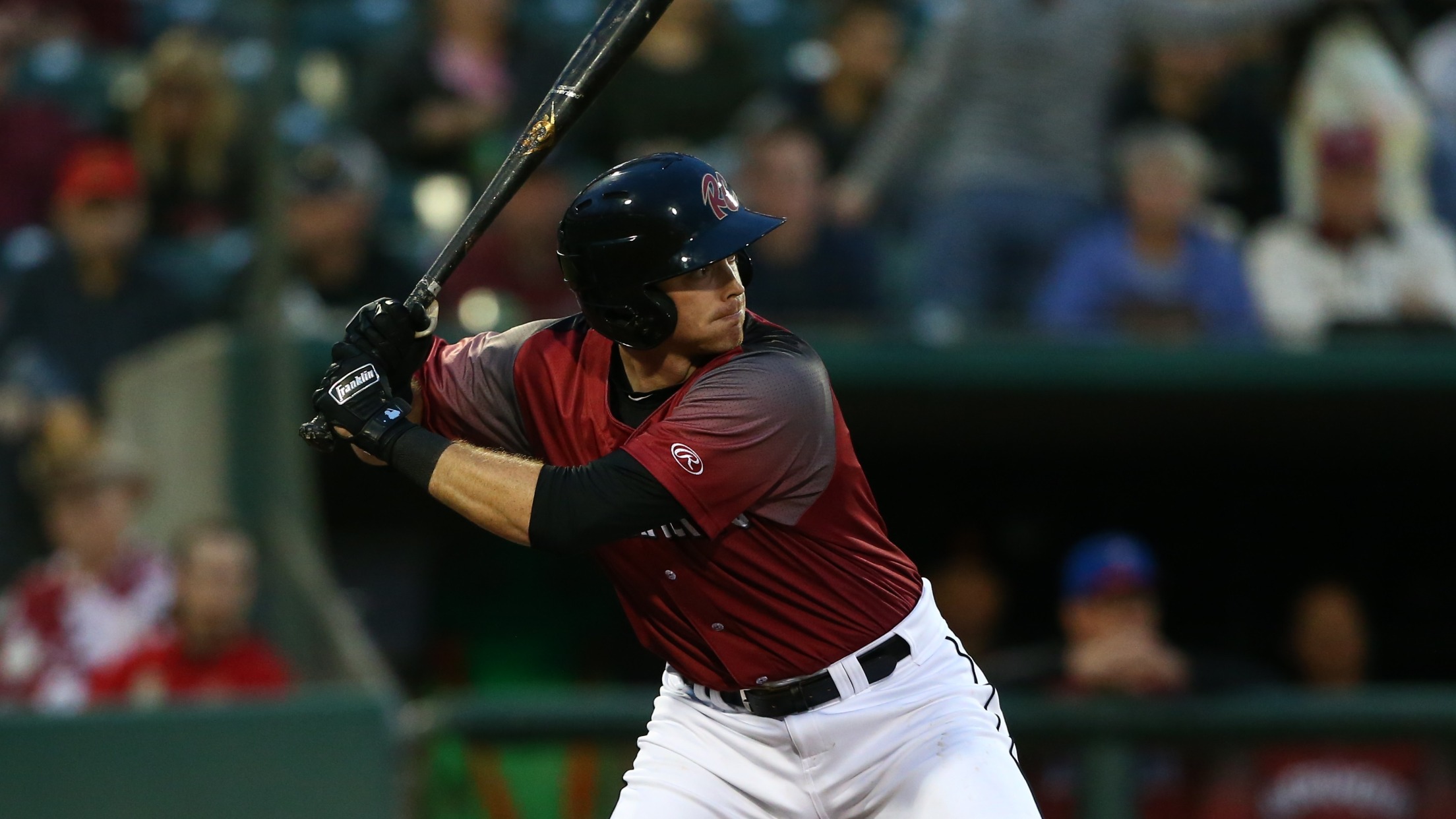 Las Vegas, Nevada - The Sacramento River Cats (39-37) dropped the series finale against the Las Vegas Aviators (42-34) by a score of 15-6, but leave town with their 12th series victory of the season.River Cats starter Yoanys Quiala had a forgettable night, getting through just three innings and allowing
Shaw's clutch single propels River Cats to 4-3 win
Green homers twice backing Franco's strong start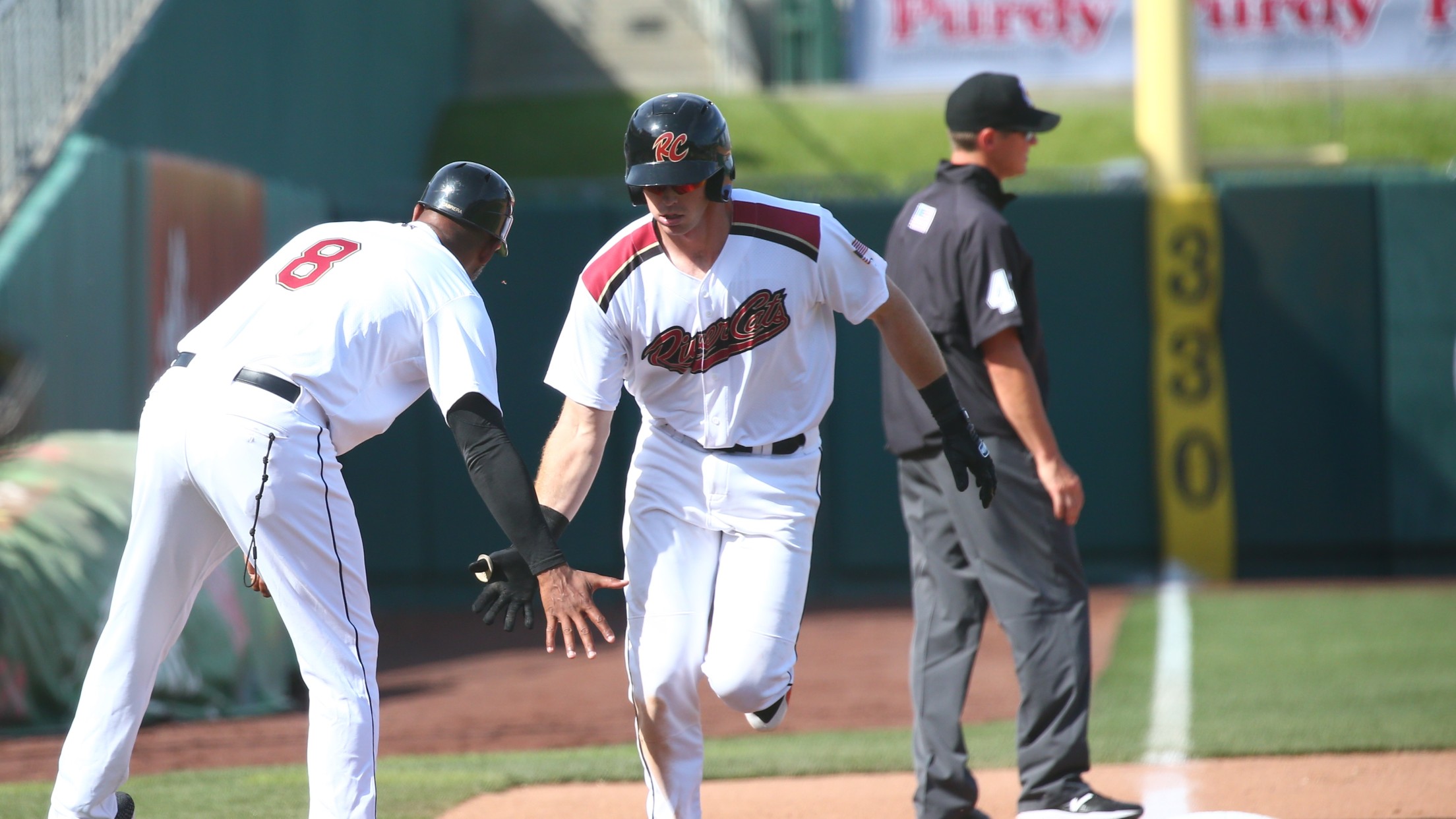 Las Vegas, Nevada - The Sacramento River Cats (39-36) took down the Las Vegas Aviators (41-35) 4-3 for their third straight win against the Oakland Athletics' top affiliate. Once again the River Cats rallied late to push past the Aviators.Starter Enderson Franco turned in a stellar performance for the River
River Cats take series despite dropping finale
River Cats remain in first place despite 7-1 loss to Storm Chasers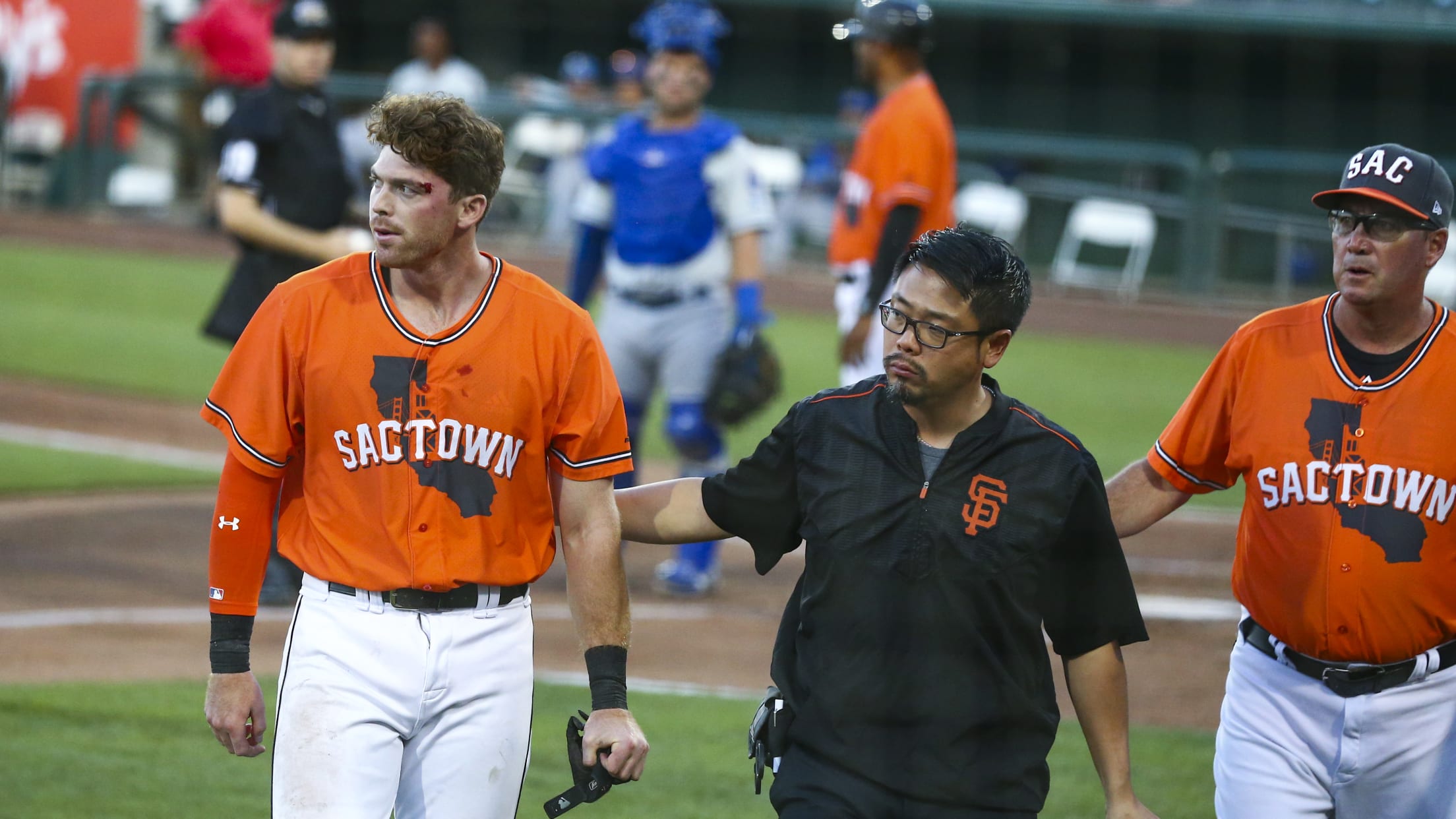 West Sacramento, Calif. - The Sacramento River Cats (35-31) had their four-game win streak snapped Friday night, falling 7-1 to the Omaha Storm Chasers (32-35). Even with the loss, the River Cats remain two games clear of the Fresno Grizzlies for the division lead.On a night were offense was hard
Green's two homers lift River Cats to victory
Four-run eighth inning highlights comeback win in series opener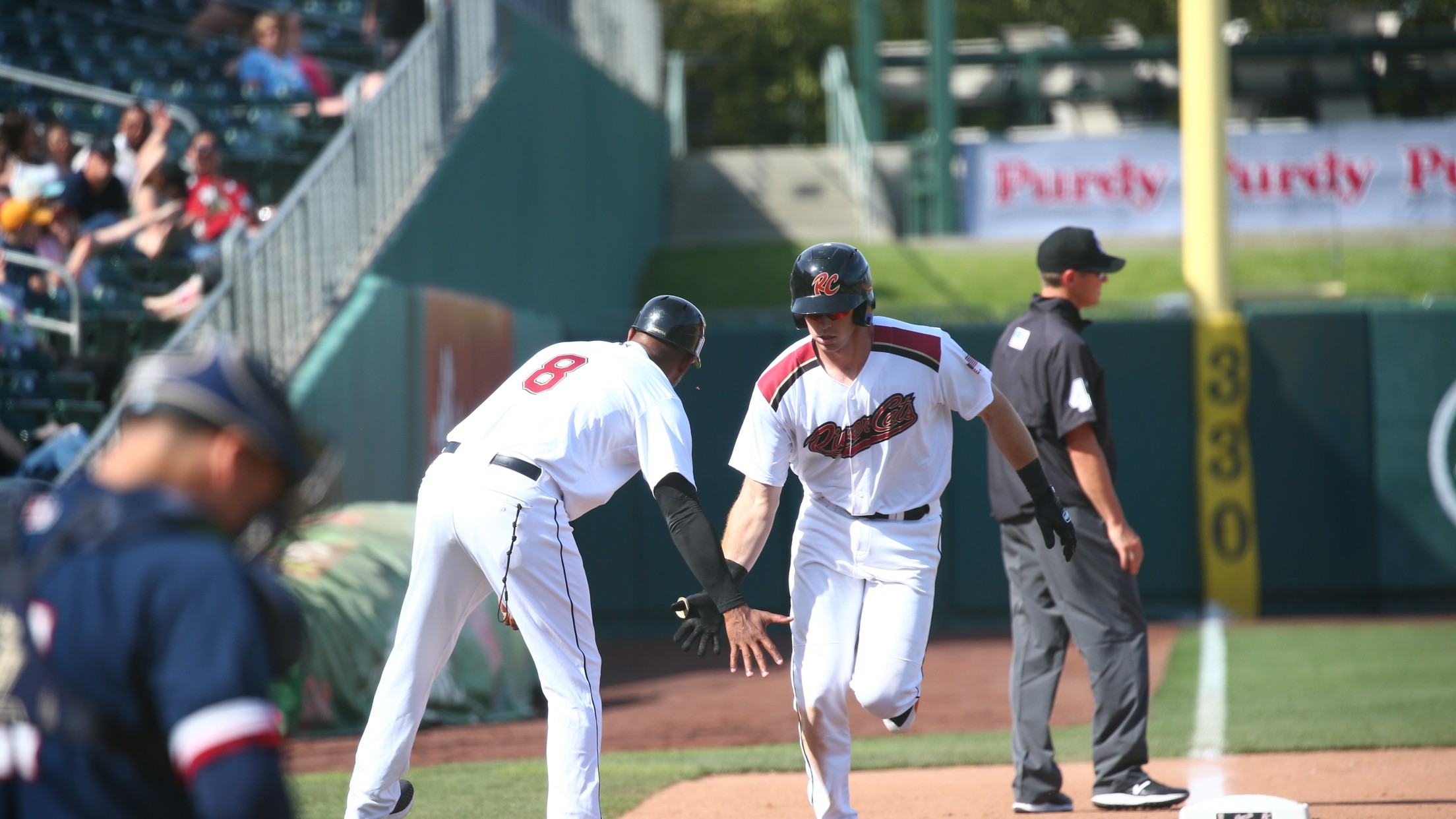 West Sacramento, Calif. -- Trailing by three runs in the eighth inning, the Sacramento River Cats (34-31) rallied to secure a 5-4 victory over the Omaha Storm Chasers (32-34) on Wednesday night.Third baseman Zach Green reached base four times, drawing two walks before launching home runs in consecutive innings. His
Avelino stays hot as River Cats defeat Dodgers
Sacramento gets back to .500 with series win in Oklahoma City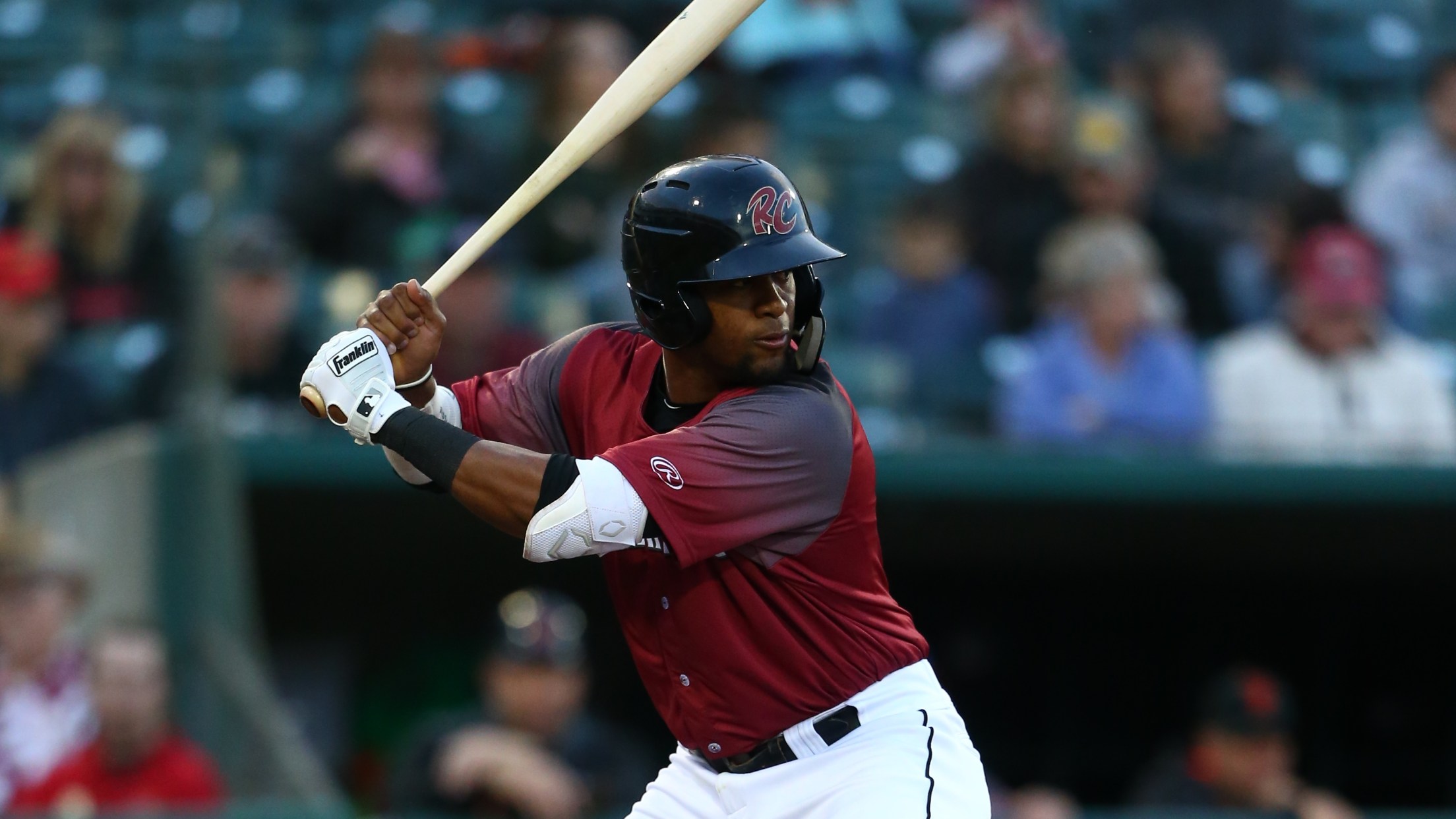 Oklahoma City, Okla. -- The Sacramento River Cats (30-30) took their fifth road series of the season with a 7-5 win over the Oklahoma City Dodgers (23-36) on Thursday night.Shortstop Abiatal Avelino recorded two hits for the seventh consecutive game to lead the offense. After raking a double in the
River Cats drop opener in Oklahoma City
Green rakes two doubles as club loses 6-4 to Dodgers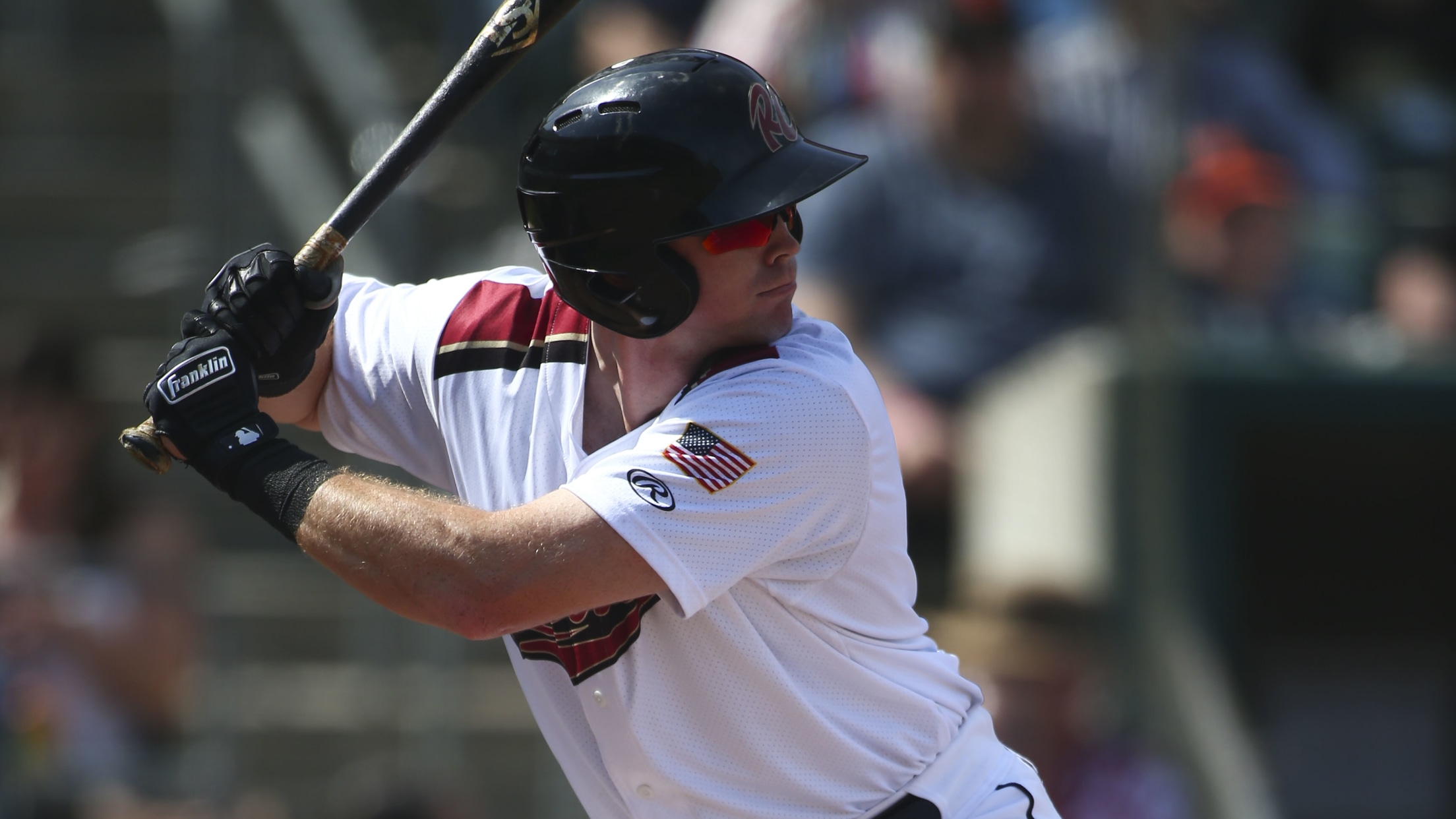 Oklahoma City, Okla. -- The Sacramento River Cats (28-30) kicked off their seven-game road trip with a 6-4 loss to the Oklahoma City Dodgers (23-34) on Tuesday night.Sacramento jumped out to an early 2-0 lead with a pair of runs in the second inning, but the Dodgers would strike for
Zach Green homers twice for River Cats in losing effort
Catcher Francisco Pena drives in two in River Cats debut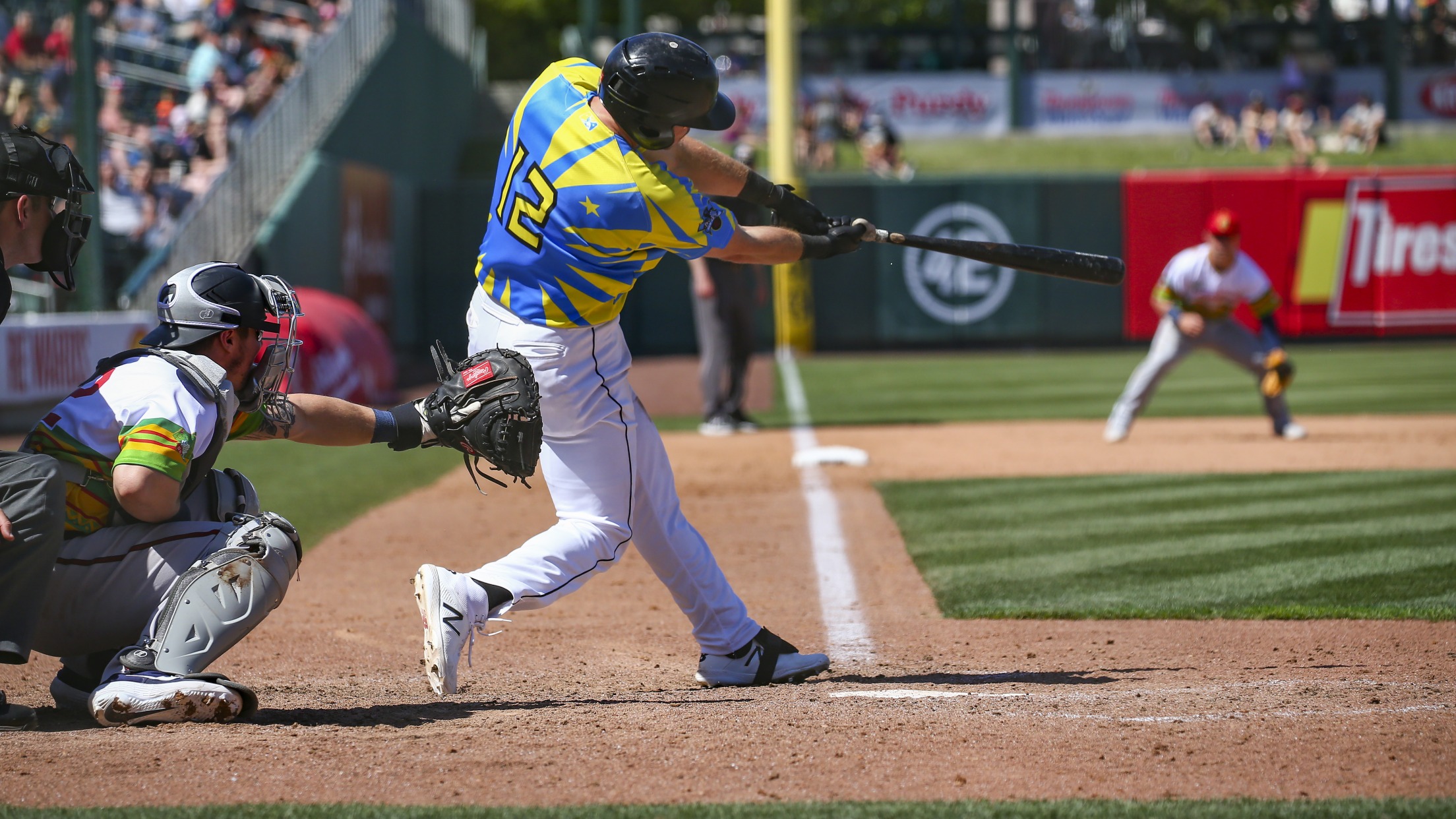 West Sacramento, CA. - The Sacramento River Cats (15-15) sported their Dorado De Sacramento persona for the first time this season to celebrate Cinco de Mayo and smashed four home runs on the afternoon, but dropped game three of the series with the Reno Aces (13-17) by a score of
Yastrzemski homers twice in blowout win over Isotopes
River Cats hit 12 home runs in four-game series with Albuquerque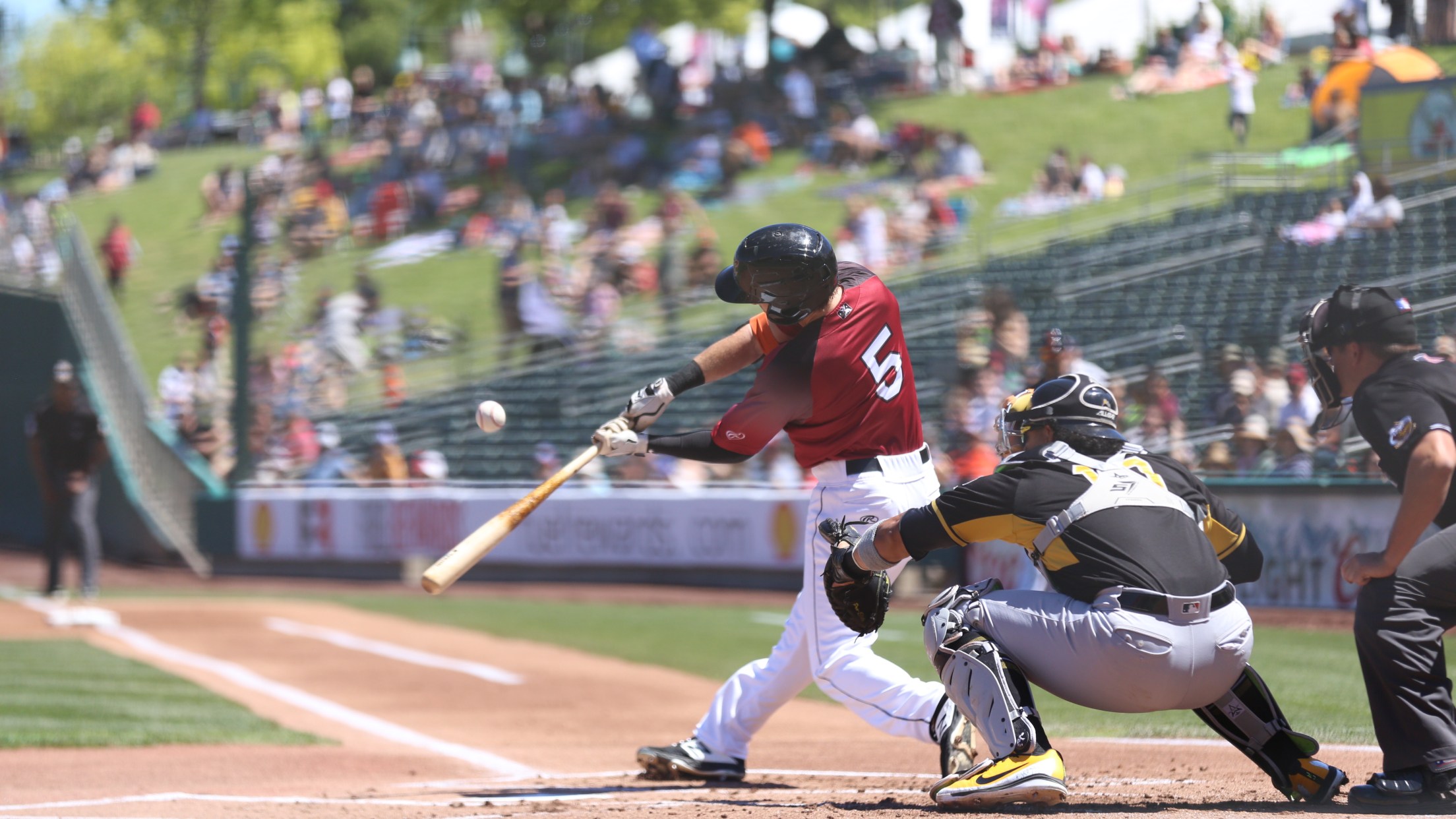 Albuquerque, NM. -- The bats remained hot in Albuquerque as the Sacramento River Cats (14-13) struck for 13 runs on 17 hits in a lopsided 13-5 win over the Isotopes (16-12).Entering the fifth inning with a one-run lead, the River Cats offense exploded for 10 runs over the next three