Skeeters Stomp Dodgers for 10-8 Win  
Astros prospect Dawson totals four hits, plates three runs for Sugar Land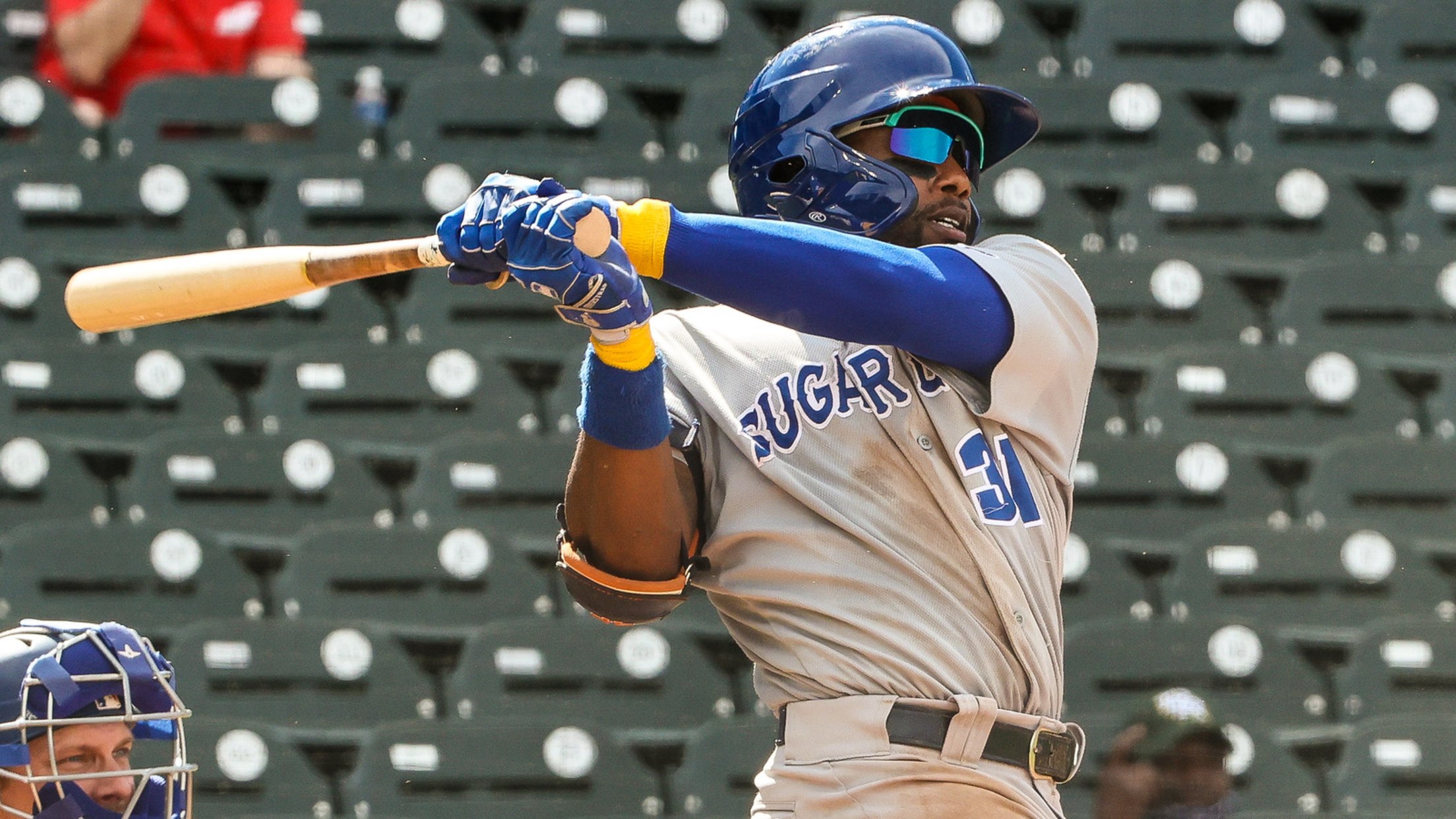 (OKLAHOMA CITY, Oklahoma) – The Sugar Land Skeeters scored seven runs in the second inning and prevailed for a 10-8 win Sunday night against the Oklahoma City Dodgers. The Skeeters scored seven runs in the second inning to propel themselves to the win. The seven runs marked the most in
Prospects in the Astros' 2020 player pool
Houston bringing plenty of experienced prospects to 60-man roster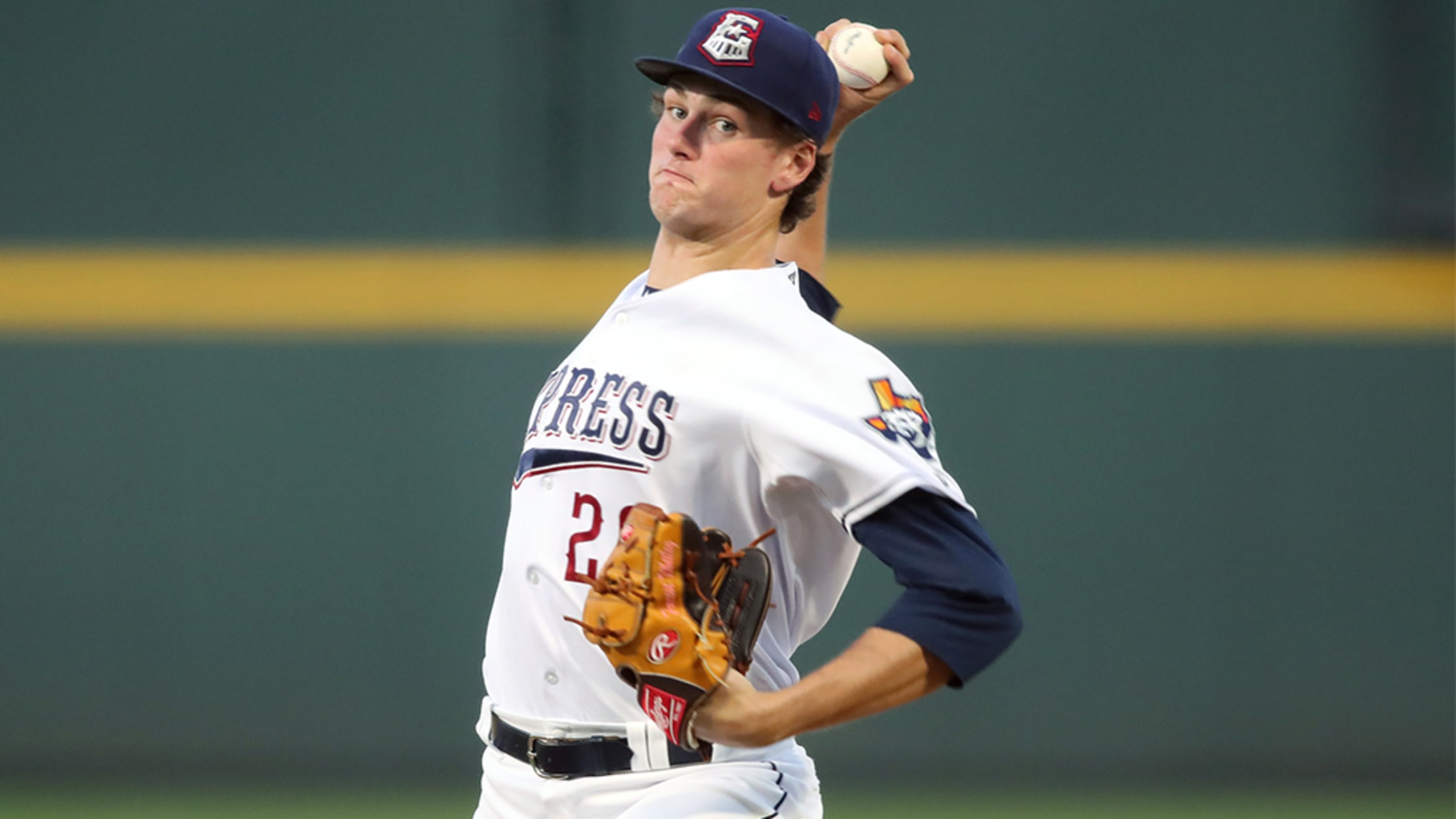 As part of the new rules for the 2020 Major League season, each of the 30 organizations will maintain a 60-man player pool for the duration of the campaign. Some members of the player pool will feature on the active Major League roster while others will work out at an
Astros system blossoming at the top
Tucker, Toro reach Majors while Javier rises to Triple-A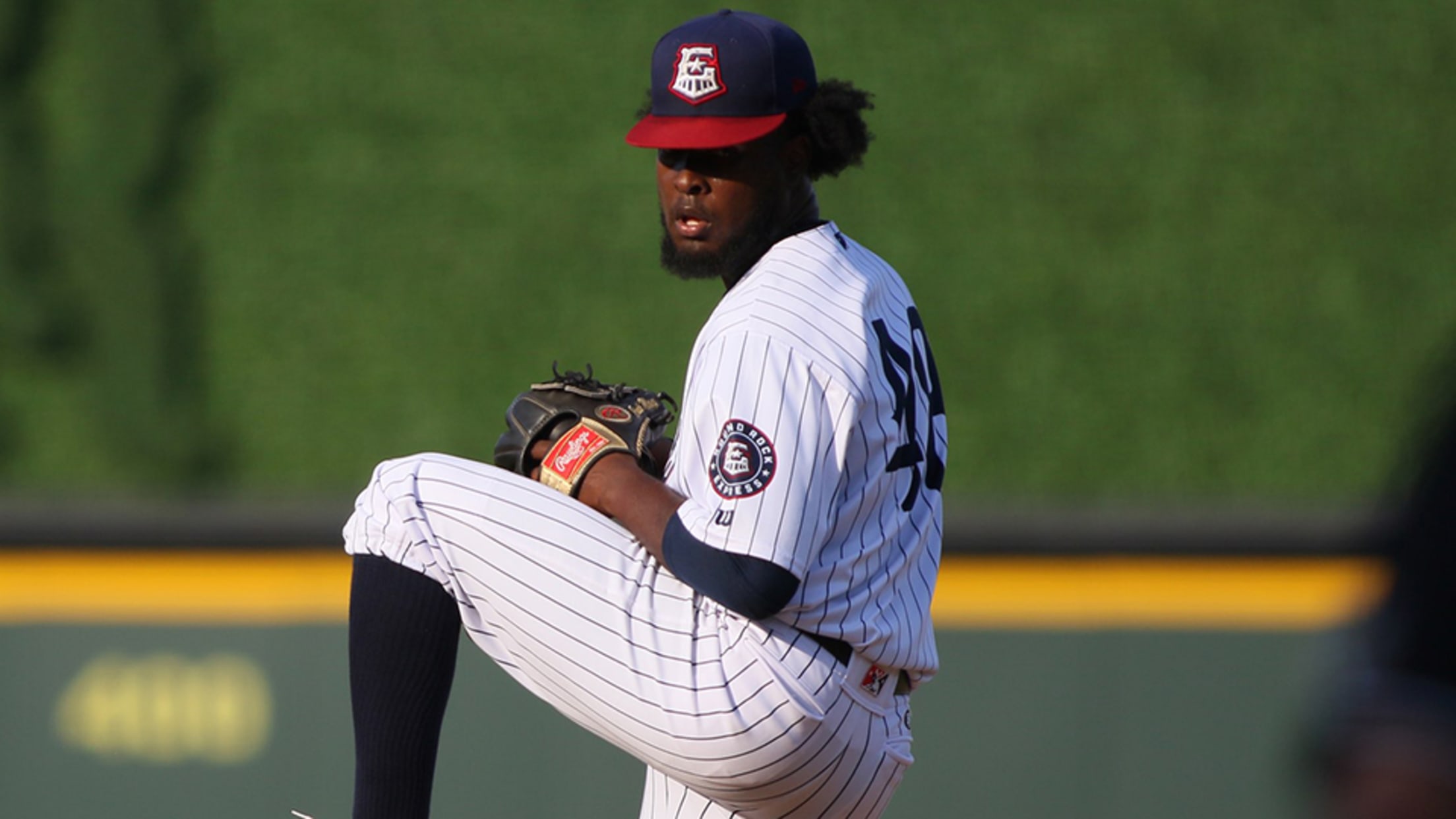 Each offseason, MiLB.com goes position by position across each system and honors the players -- regardless of age or prospect status -- who had the best seasons in their organization. Click here to locate your favorite club.The Astros went all-in on their quest for another World Series title at the
Jones enables Express to walk off again
No. 28 Astros prospect drives in winning run in 10th inning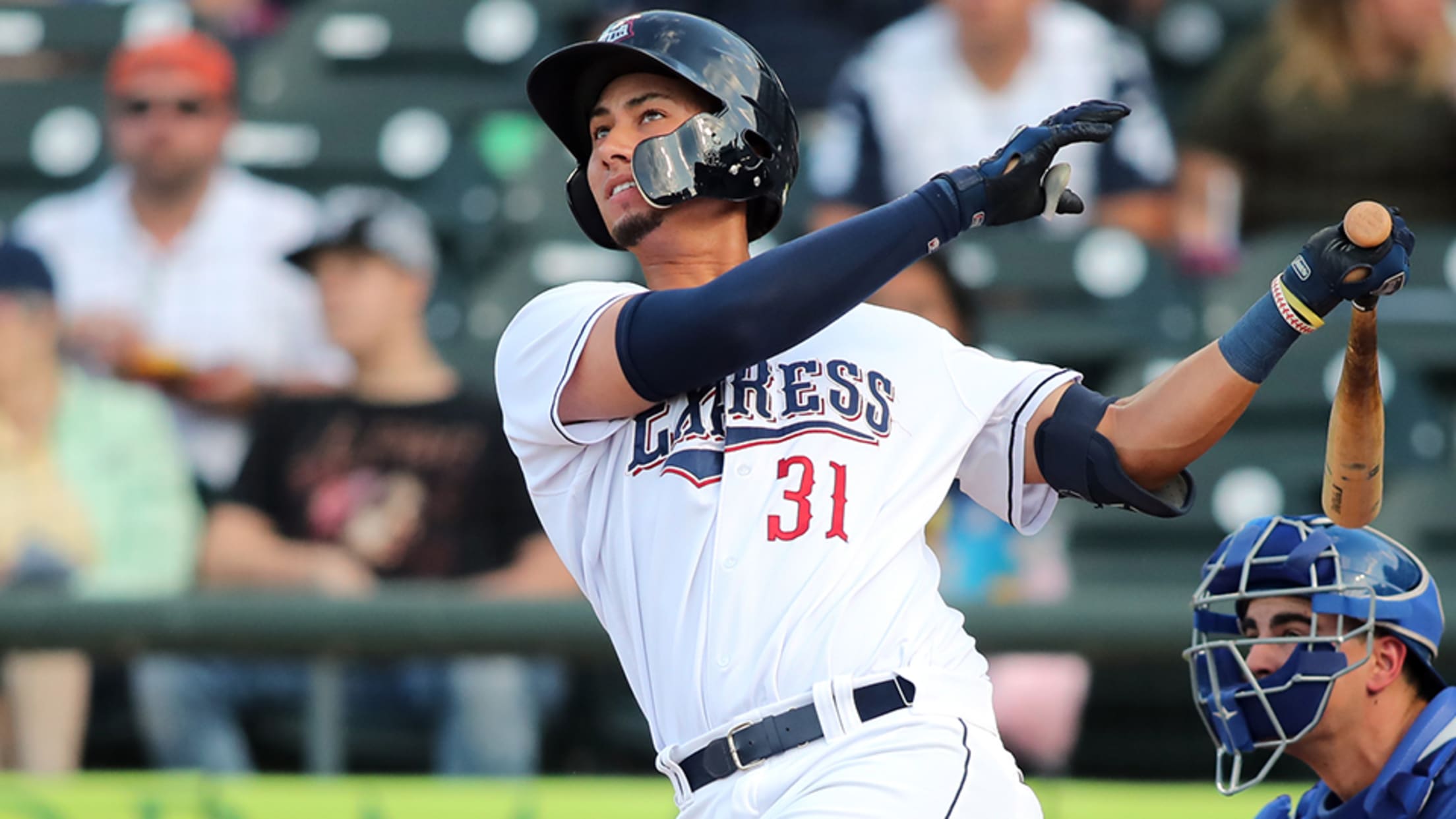 The outfielders were playing in. The Dell Diamond outfield, Taylor Jones believes, plays big. So when he laced his second hit of the night into the gap in right-center field, Jones had to take in the scene. He wasn't sure."But a few steps out of the box, I realized that
PCL notes: Jones primed for playoff push
Round Rock slugger rising in ranks, increasing his versatility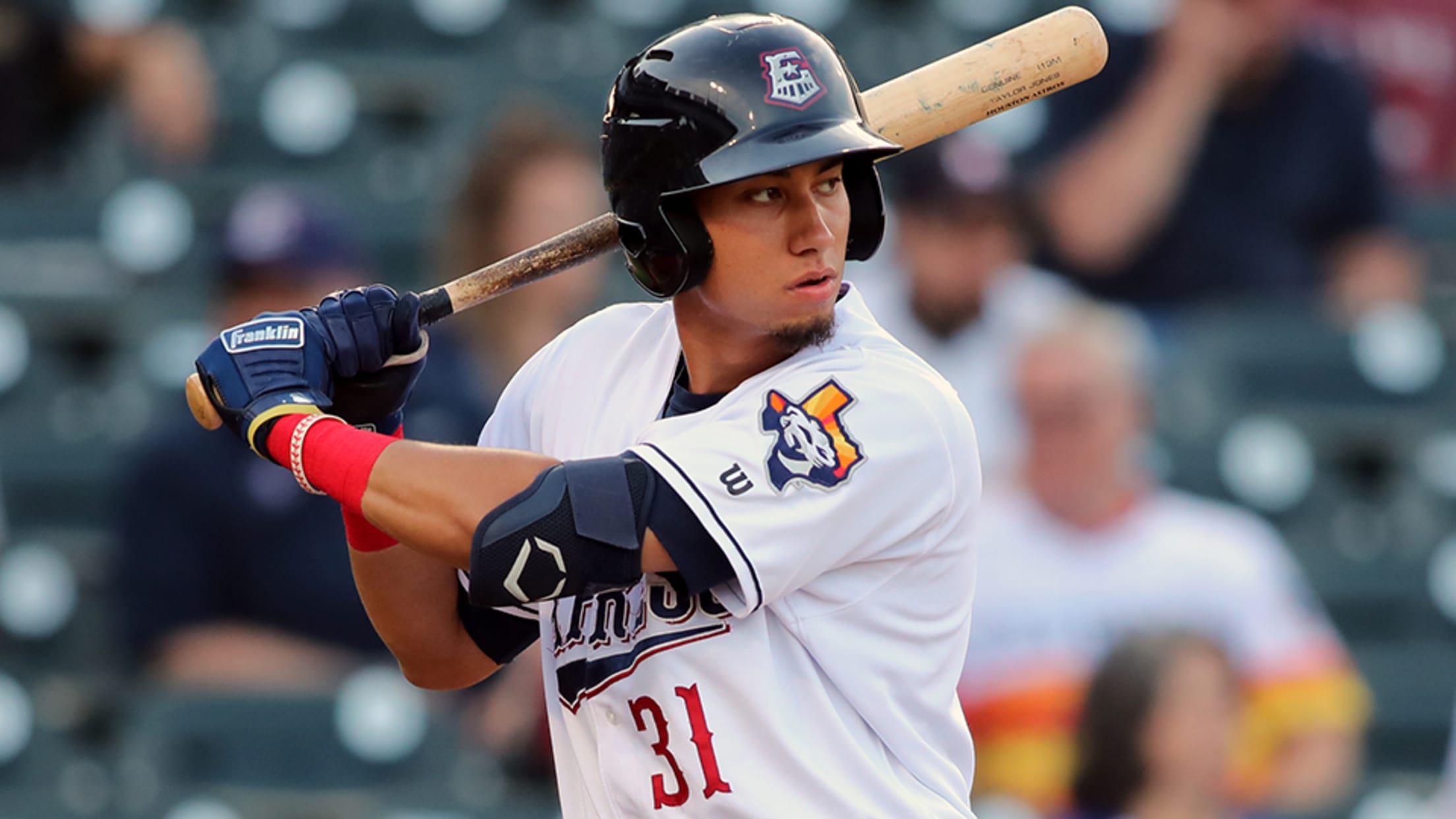 The final grinding weeks of the Minor League season tend to be a bit better for teams who find themselves competing for a playoff spot. At least that seems to be the case for the Round Rock Express, who were an upbeat bunch when they recently came to Albuquerque and
Hartman Harnesses Missions in Game 1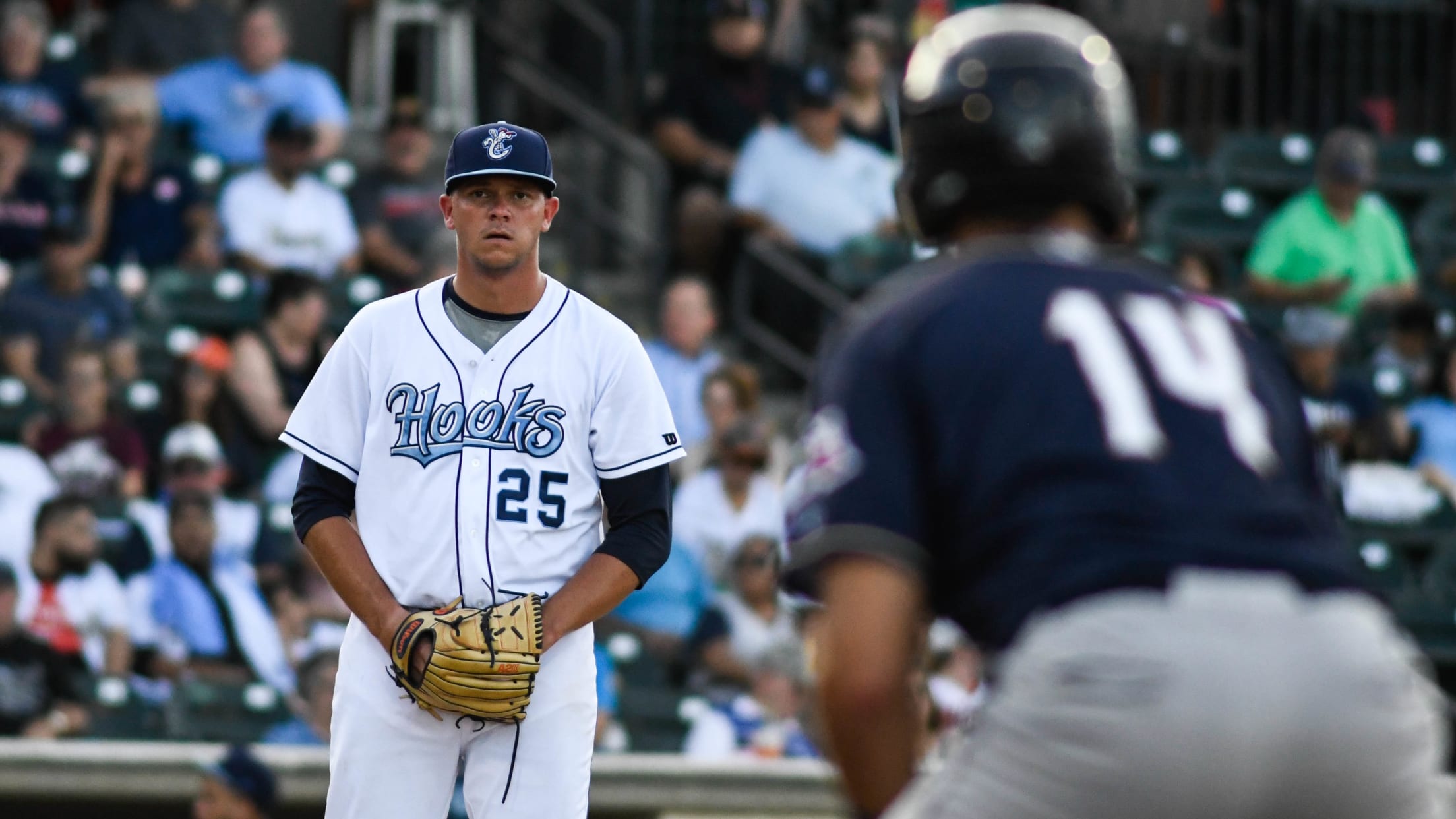 CORPUS CHRISTI - Ryan Hartman held the Missions to three hits over 7 2/3 innings Wednesday night as the Hooks pushed past San Antonio, 7-0, before 5,106 fans in Game 1 of the Texas League South Division Series at Whataburger Field.Missions right-hander Michel Baez struck out five of the first
Hooks Win Half, Bukauskas Dominant in Debut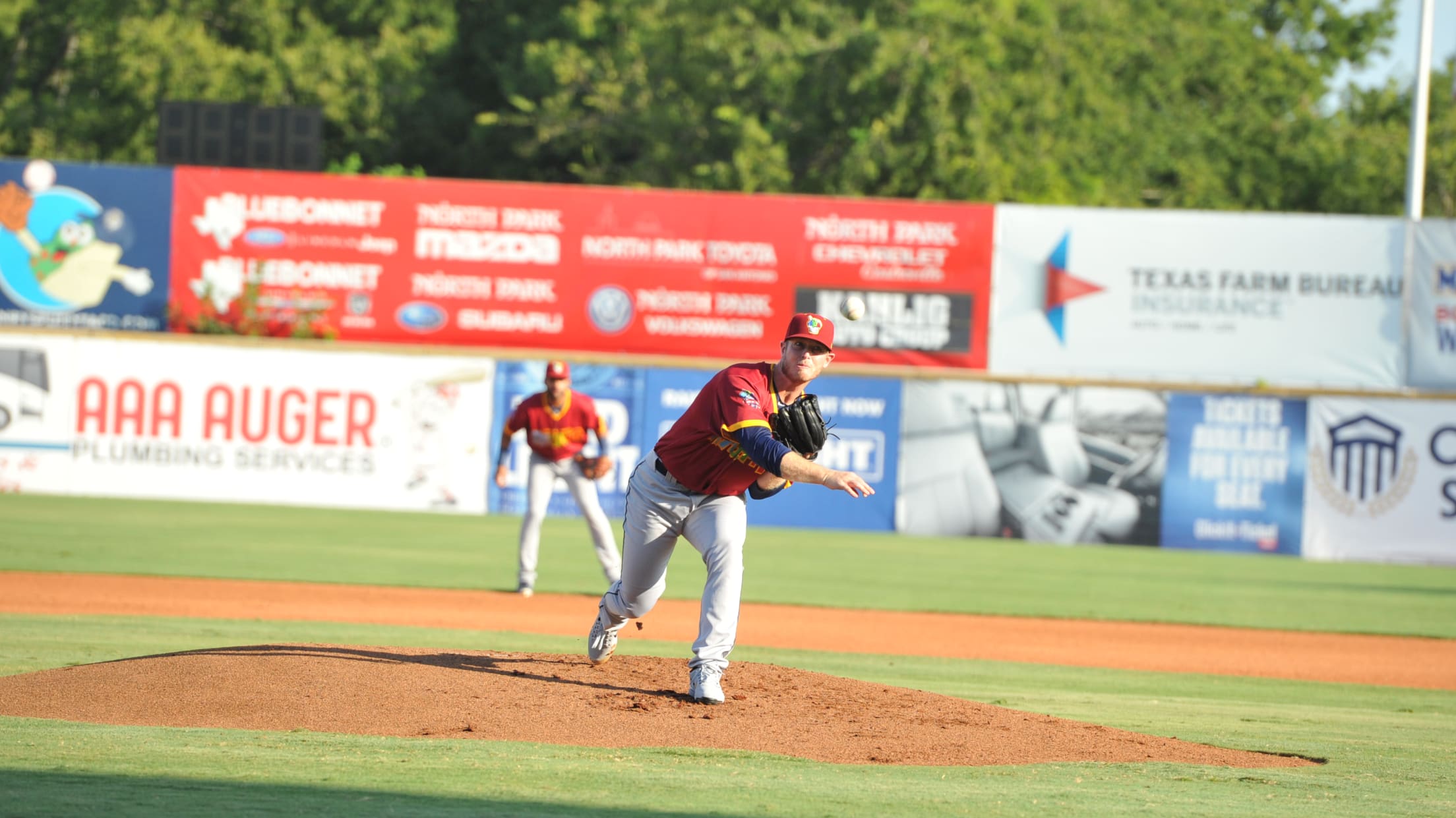 SAN ANTONIO - J.B. Bukauskas fired six-innings of one-hit ball and the Hooks netted a pair of late runs as Corpus Christi blanked the Missions, 2-0, before 7,762 fans at Wolff Stadium.Earlier in the afternoon, the Hooks (38-30, 81-53) secured a second-half title with Midland's 2-0 win over Frisco. Corpus
Riders Win Series, Stay in Hunt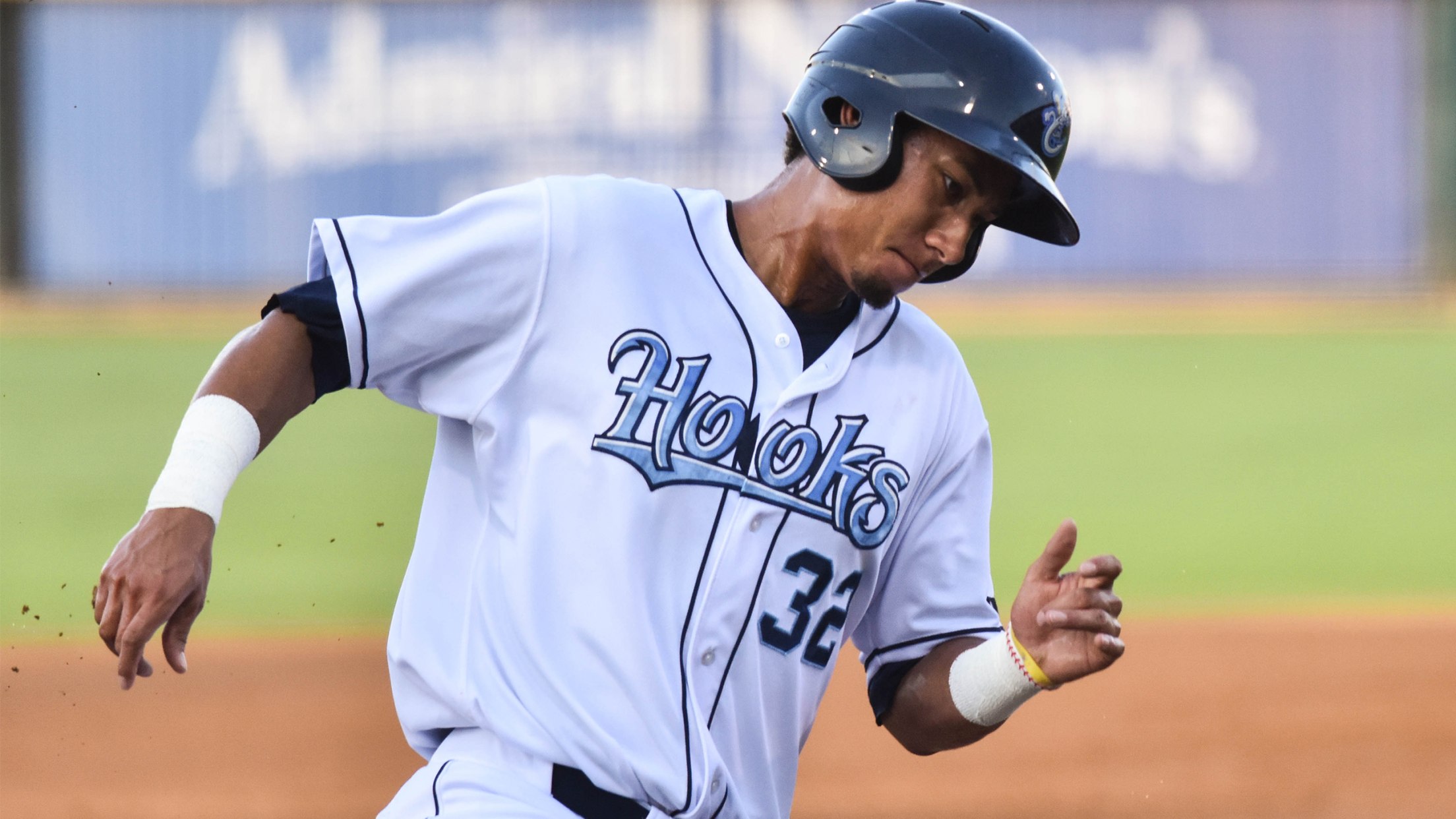 FRISCO - The RoughRiders staved off elimination Friday night by edging Corpus Christi, 5-4, before 11,837 fans at Dr Pepper Ballpark.The Hooks (37-29, 80-55) are 1.5 games ahead of Frisco (36-31, 60-77) with three to play in the Texas League South second-half race.
Hooks Notch Win No. 80
Corpus Christi's magic number is down to 2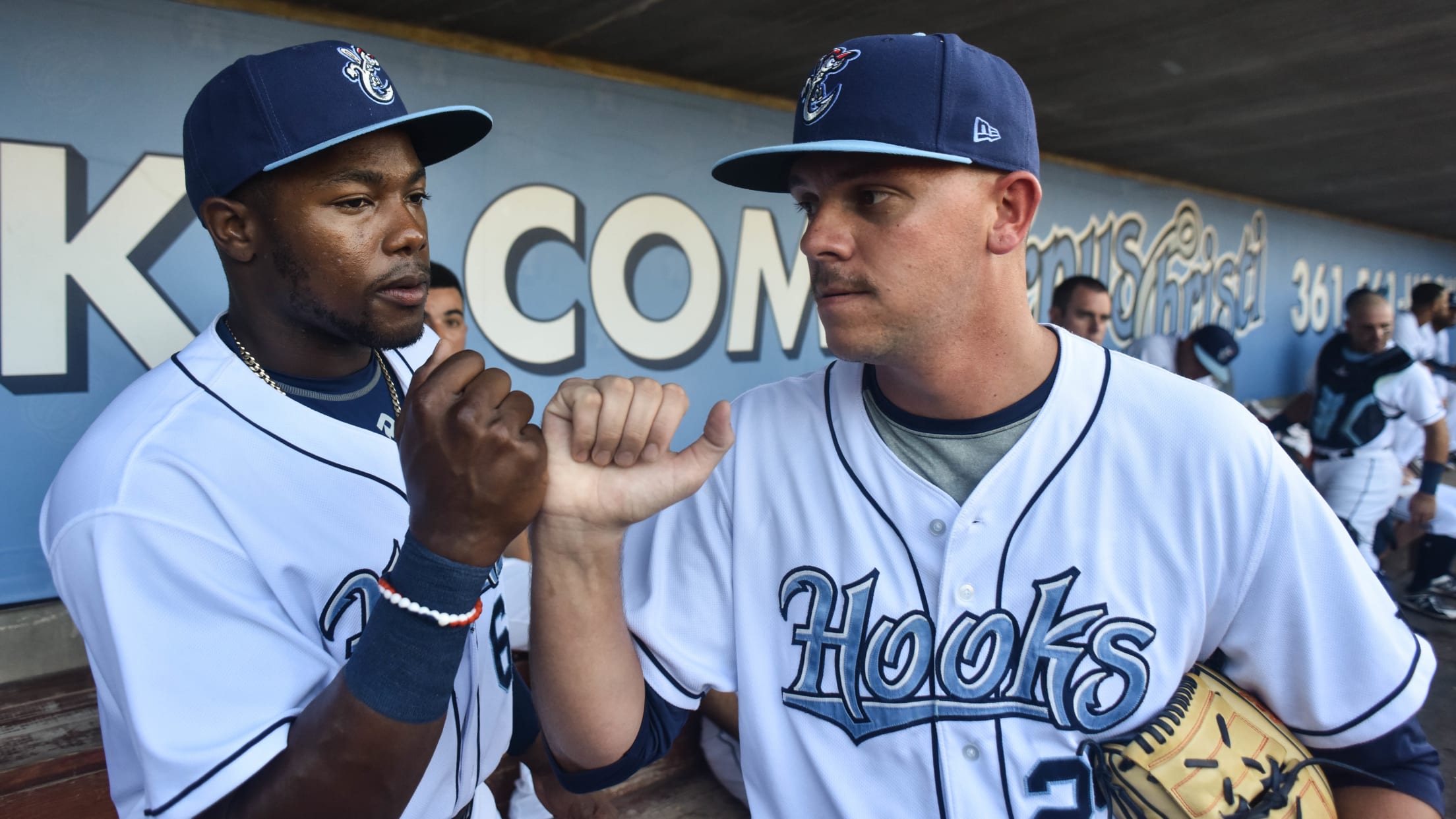 FRISCO - Texas League Postseason All-Star Ryan Hartman scattered three hits over six innings of work Thursday night, pushing the Hooks to a 3-1 victory over the RoughRiders before 7,427 fans at Dr Pepper Ballpark.Corpus Christi (37-28, 80-54) can clinch the Texas League South second-half title with a win over
J.D. Davis continues tear with another multi-HR night as Grizzlies smash Rainiers 8-1
Davis has gone deep six times in his last four games, enjoys another four-RBI night as Fresno's magic number drops to nine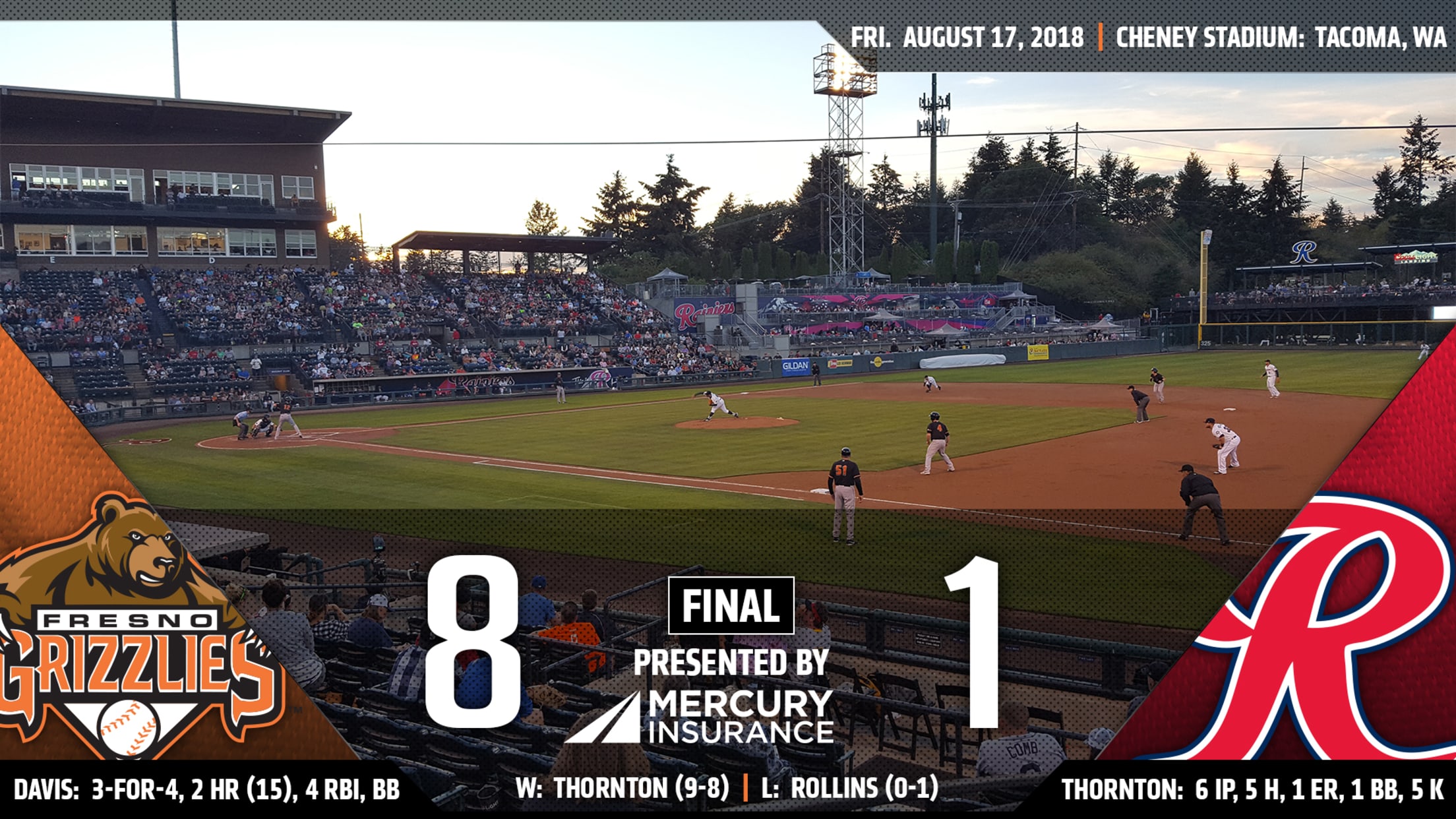 Behind another outstanding game from J.D. Davis (3-for-4), the Fresno Grizzlies (71-53) powered past the Tacoma Rainiers (60-63) 8-1 Friday night from Cheney Stadium. The right fielder went deep twice in the contest, the second consecutive evening that he completed that feat. Overall, Davis has three multi-homer games on the
De Goti Dinger Powers Hooks to Walk-Off Win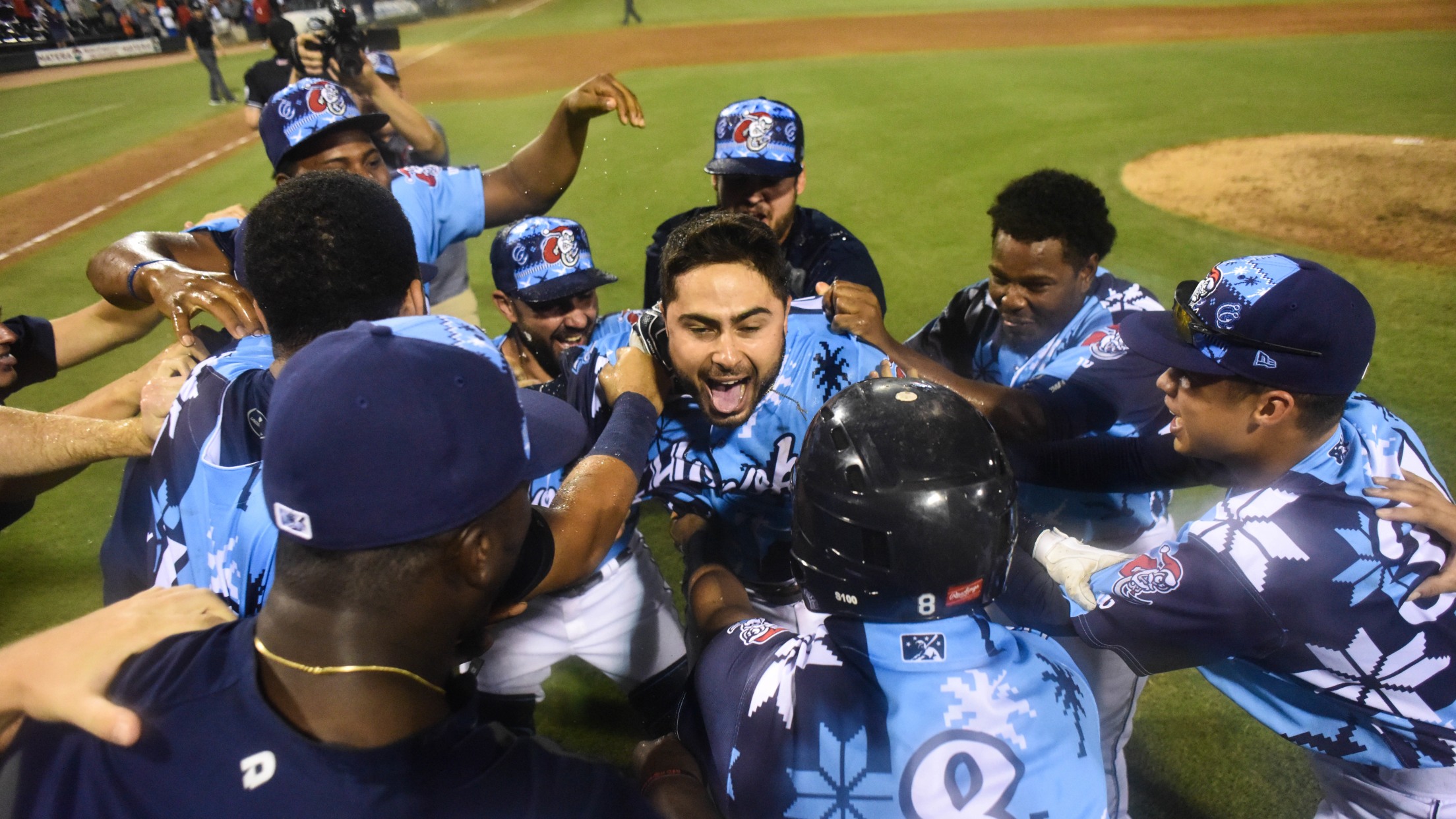 CORPUS CHRISTI - The Hooks scored five times over the final two innings Saturday night, culminating with a two-out, two-run walk-off home run by Alex De Goti, which vaulted Corpus Christi to a 7-5 win over Midland before 6,012 fans at Whataburger Field.The Hooks' (21-15, 64-41) fifth walk-off win of
Fresno crushes three homers in 7-4 loss at ABQ
Yordan Alvarez (3), Taylor Jones (4) and Jamie Ritchie (2) each go deep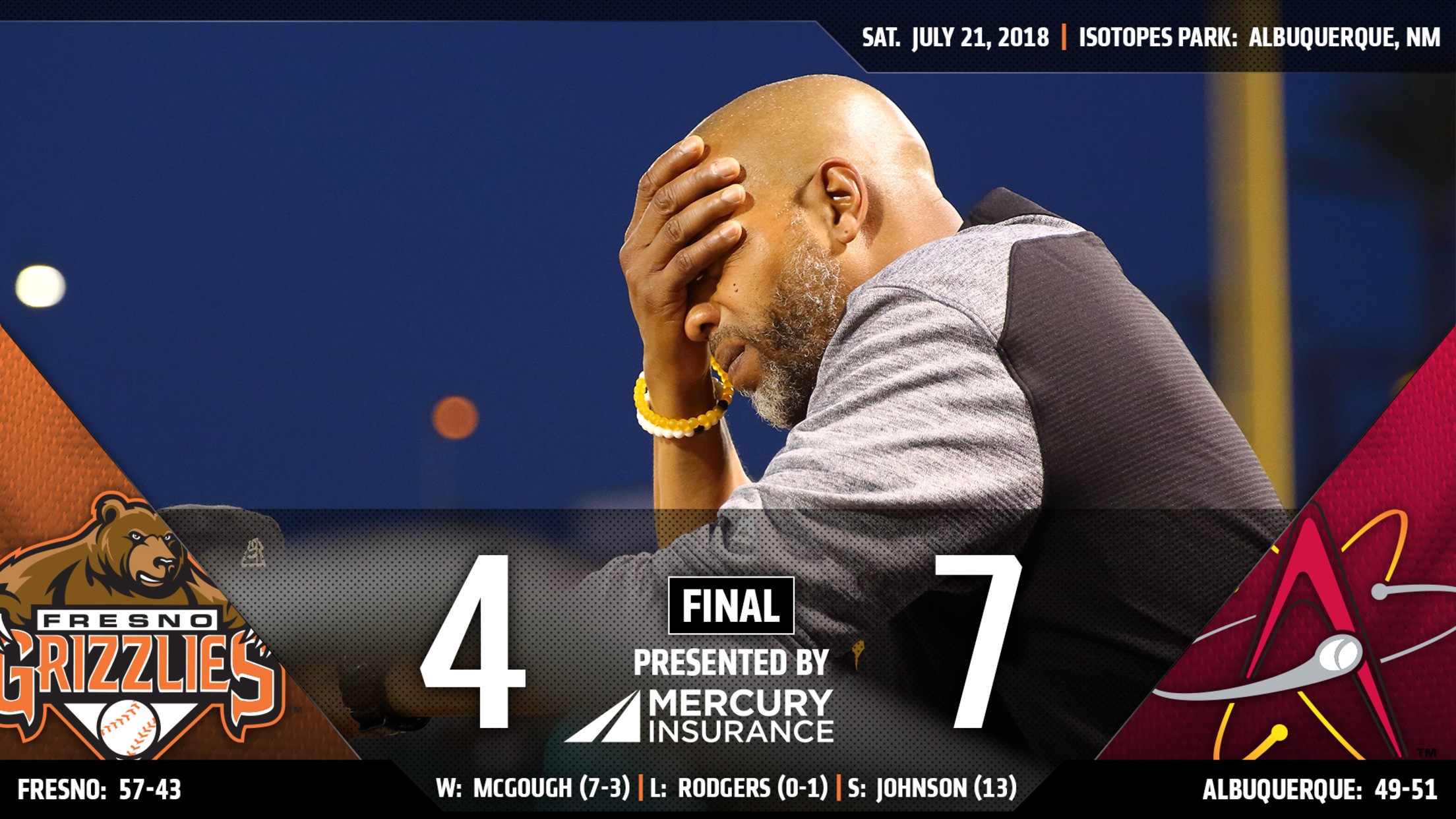 The Albuquerque Isotopes (49-51) defeated the Fresno Grizzlies (57-43) 7-4 in seven innings Saturday evening from Isotopes Park. In the 100th game of the year, Fresno dropped their first Saturday road game (7-1). Grizzlies starter Brady Rodgers (0-1) suffered the loss in his second Triple-A start since returning from Tommy
Grizzlies bite back on Saturday at Tacoma
Fresno bumps first place lead to 3.5 games, Reed (20) and Jones (3) homer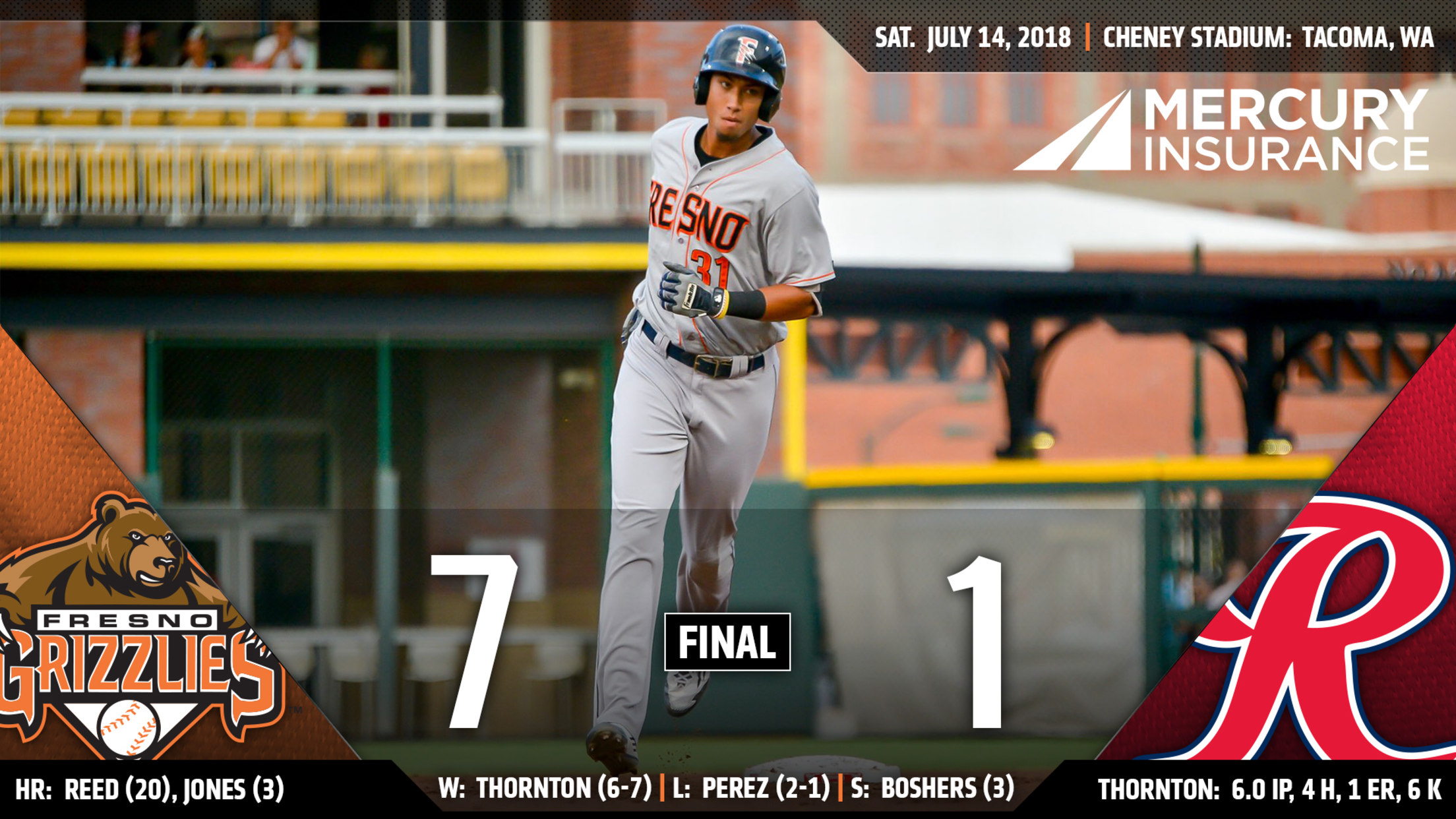 In a sudden pennant race with the Tacoma Rainiers (50-43), the Fresno Grizzlies (53-39) picked up their first win of the road series and first post-break victory Saturday night. The 7-1 win restored the Grizzlies' first place lead in the Pacific Northern Division to three and a half games, as
July 4 crowd of 13,166 sees Mike Hauschild become the 3rd-winningest pitcher in Grizzlies history
Second-highest Chukchansi Park attendance in 2018 witnesses 5-0 victory; Hauschild strikes out seven in a season-high eight innings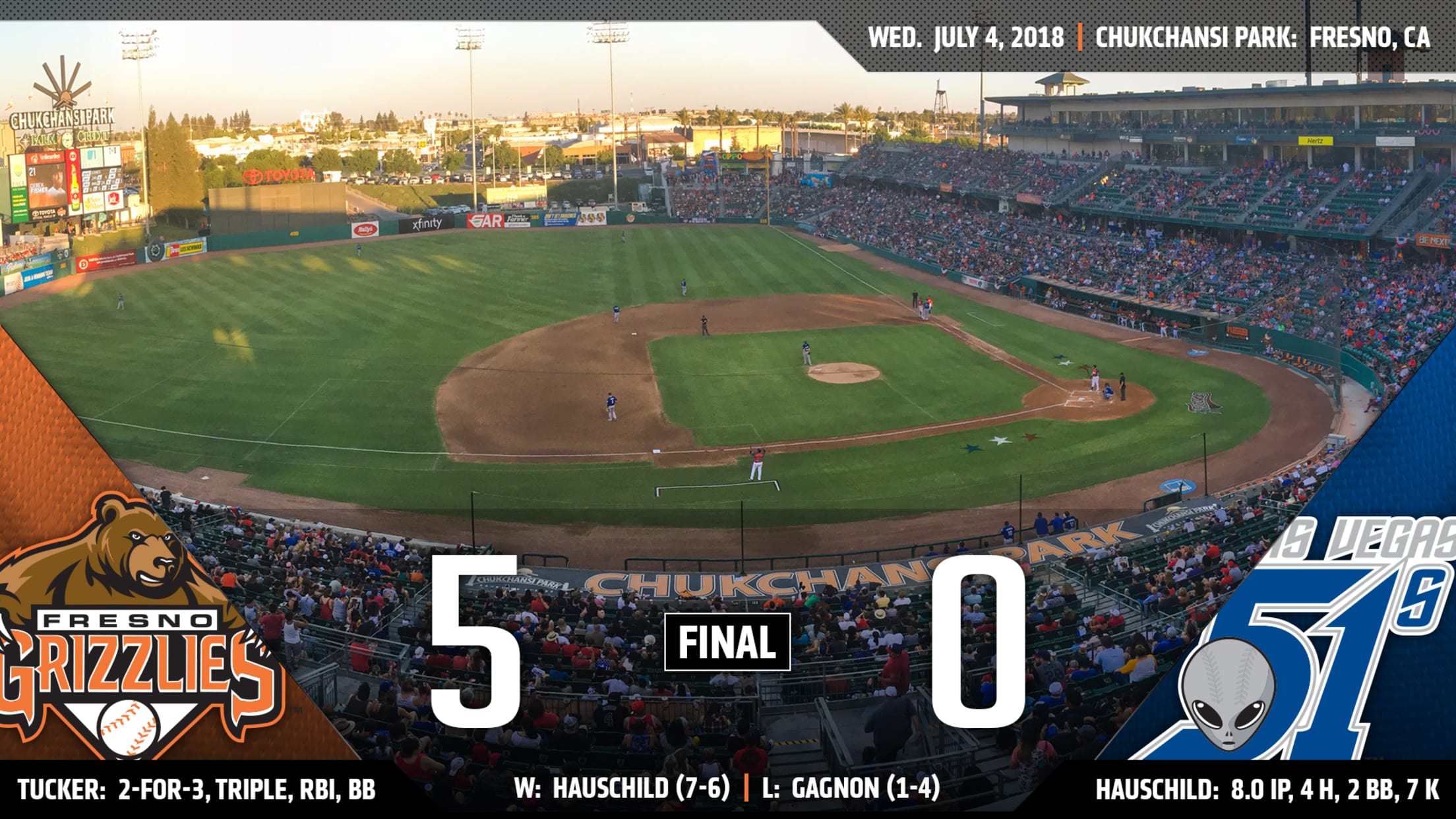 In front of a raucous July 4th crowd of 13,166, the Fresno Grizzlies (50-35) beat the Las Vegas 51s (40-46) 5-0 Wednesday night from Chukchansi Park. The attendance was the second highest at home in 2018, behind the May 4th crowd versus Sacramento (13,916). For the first time this season,
Grizzlies crush four bombs, avoid the brooms in El Paso
Kyle Tucker (13), Taylor Jones (1), Derek Fisher (4) and Jon Kemmer (11) go deep in a 12-4 victory; Mike Hauschild is tied for third in franchise wins (28)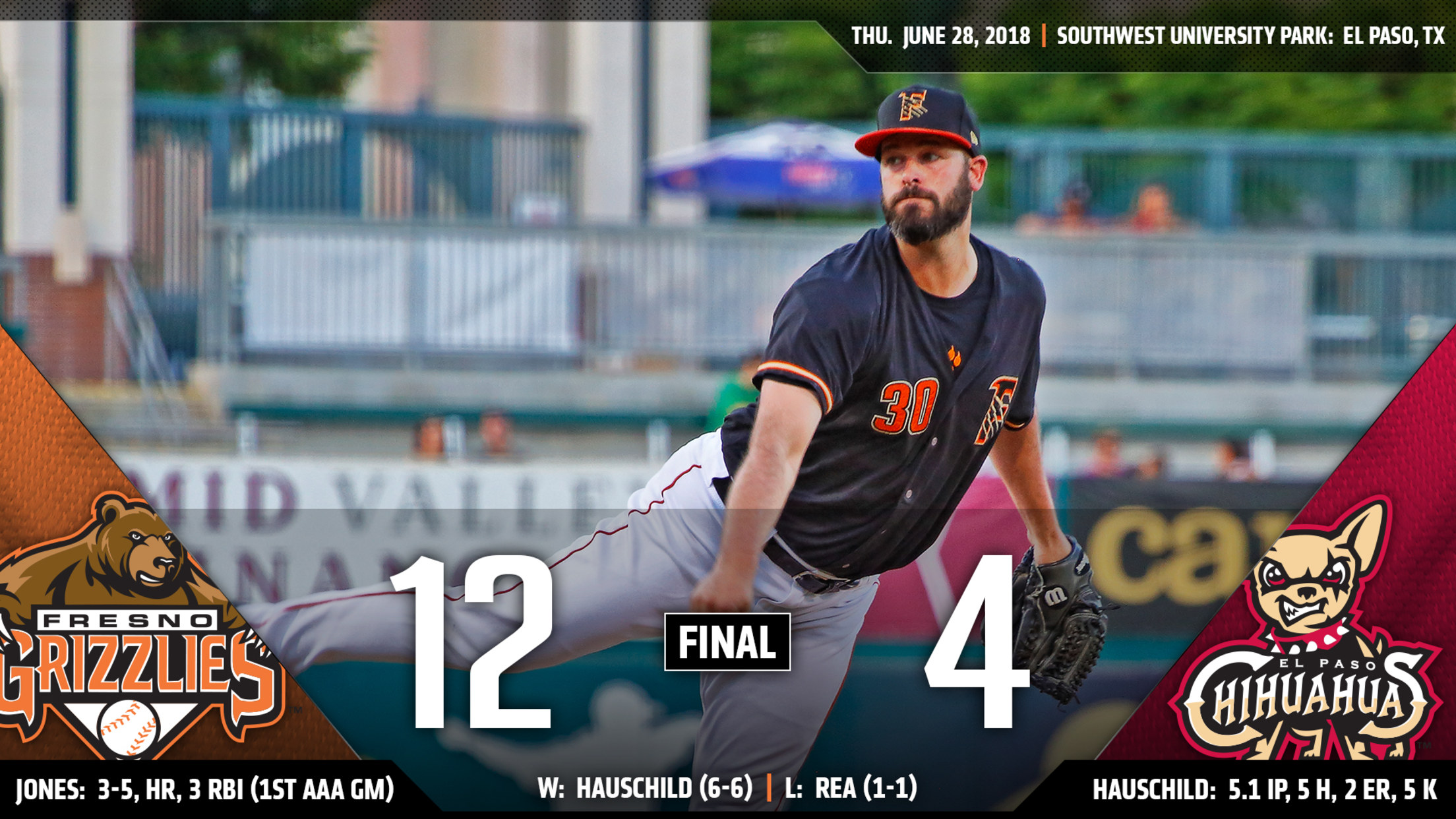 The Fresno Grizzlies (47-32) ended the El Paso Chihuahuas (42-38) eight-game winning streak with a convincing 12-4 victory Thursday night from Southwest University Park. Fresno avoided being swept for the first time this season (20 series). The last time the Grizzlies saw the brooms were at El Paso last year
South's Jones wins All-Star swing-off
Astros prospect decides unique Texas League All-Star Game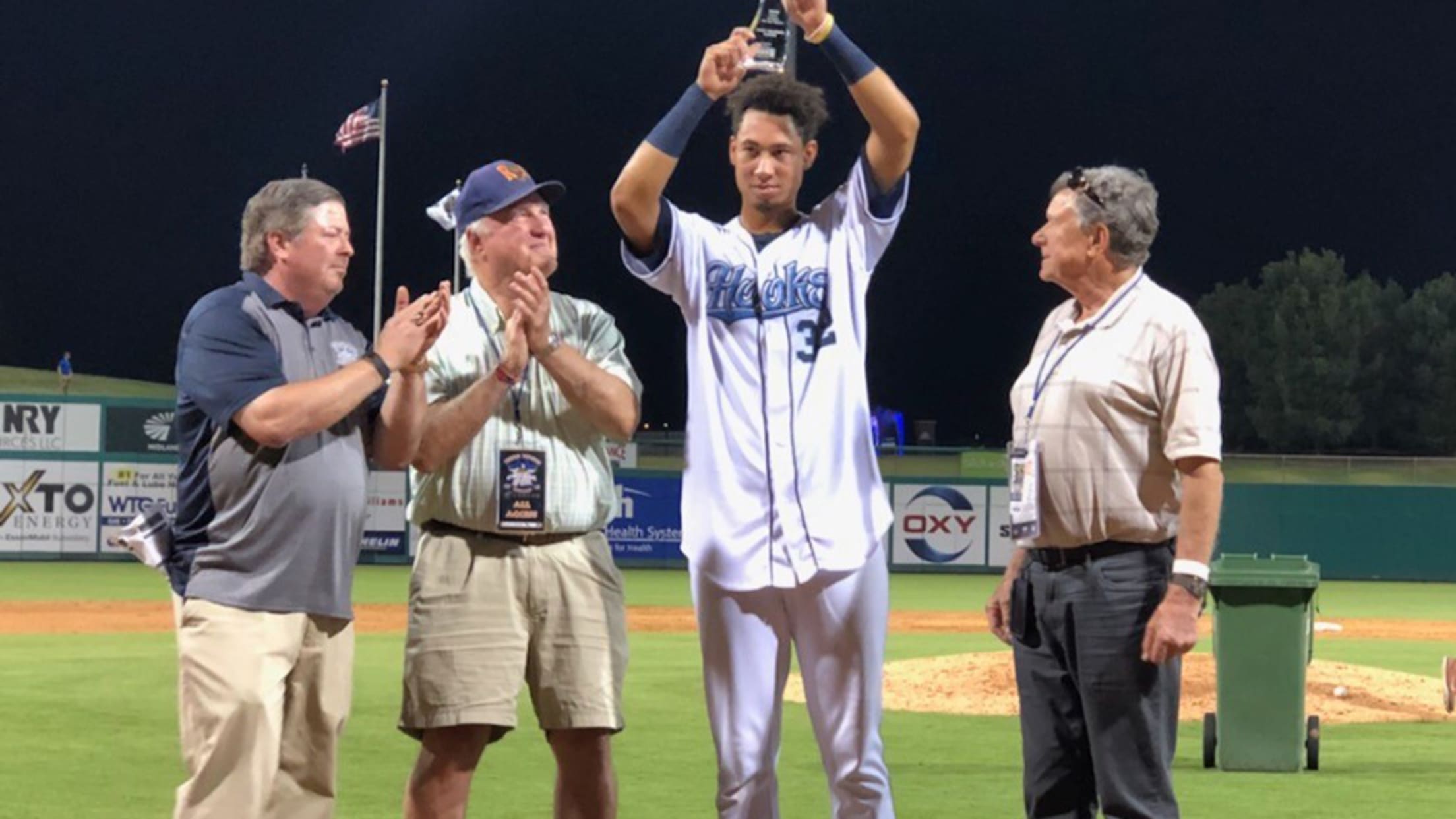 MIDLAND, Texas -- The Texas League didn't want to send 5,890 fans home feeling empty after the South Division and North Division played to a 2-2 tie through nine innings at the All-Star Game on Tuesday at Security Bank Ballpark.In a historic event, the midseason classic was decided by a
First things first for Hooks' All-Star Jones
Astros prospect's breakout leads him to Texas midseason classic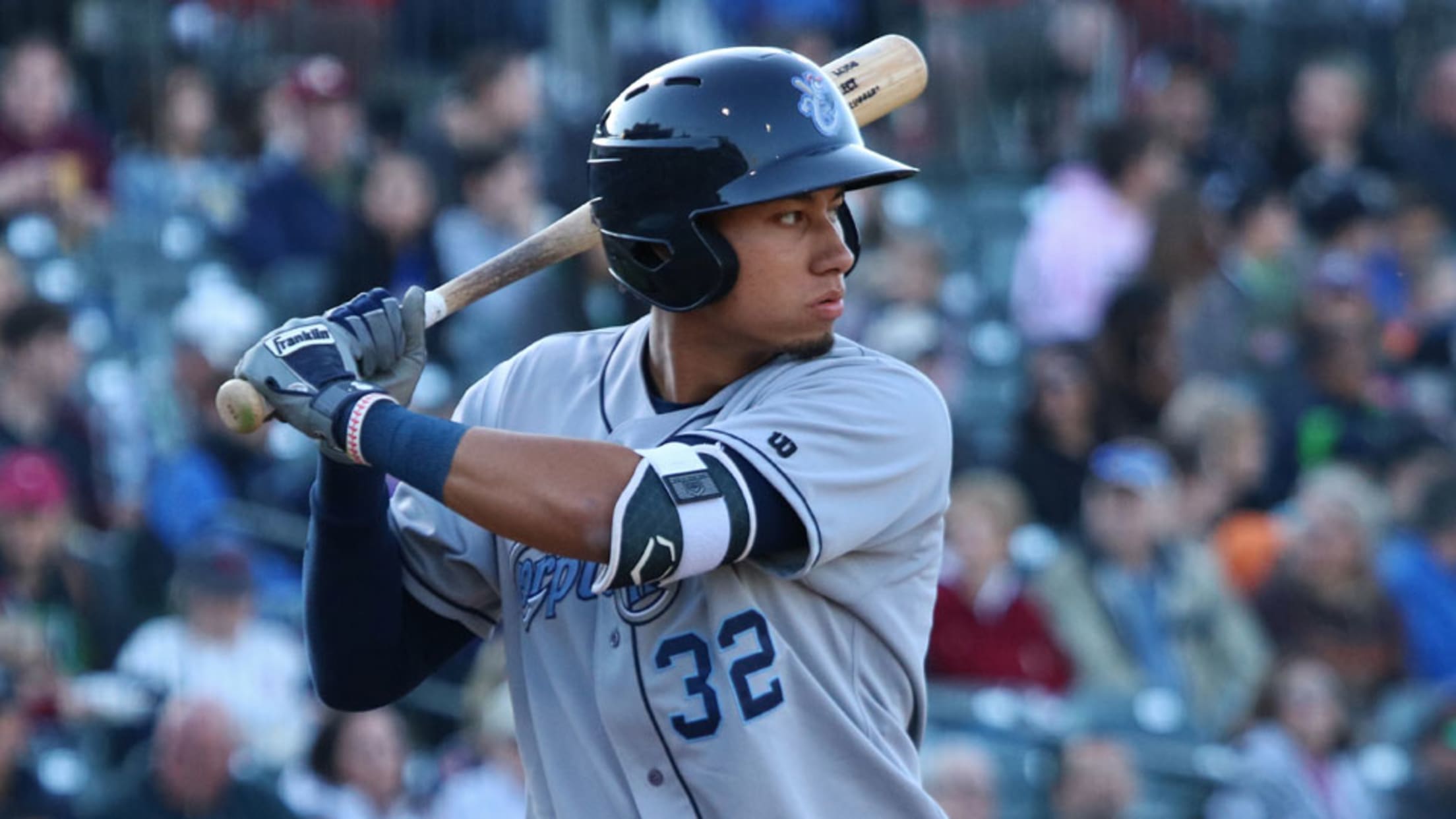 MIDLAND, Texas -- Corpus Christi Hooks first baseman Taylor Jones made a life-changing decision before his junior season at Gonzaga in 2015. The two-way player decided to drop pitching to solely focus on being a full-time position player."They were always super supportive at Gonzaga," Jones said. "They just wanted whatever
Hooks Edge Hounds in Opener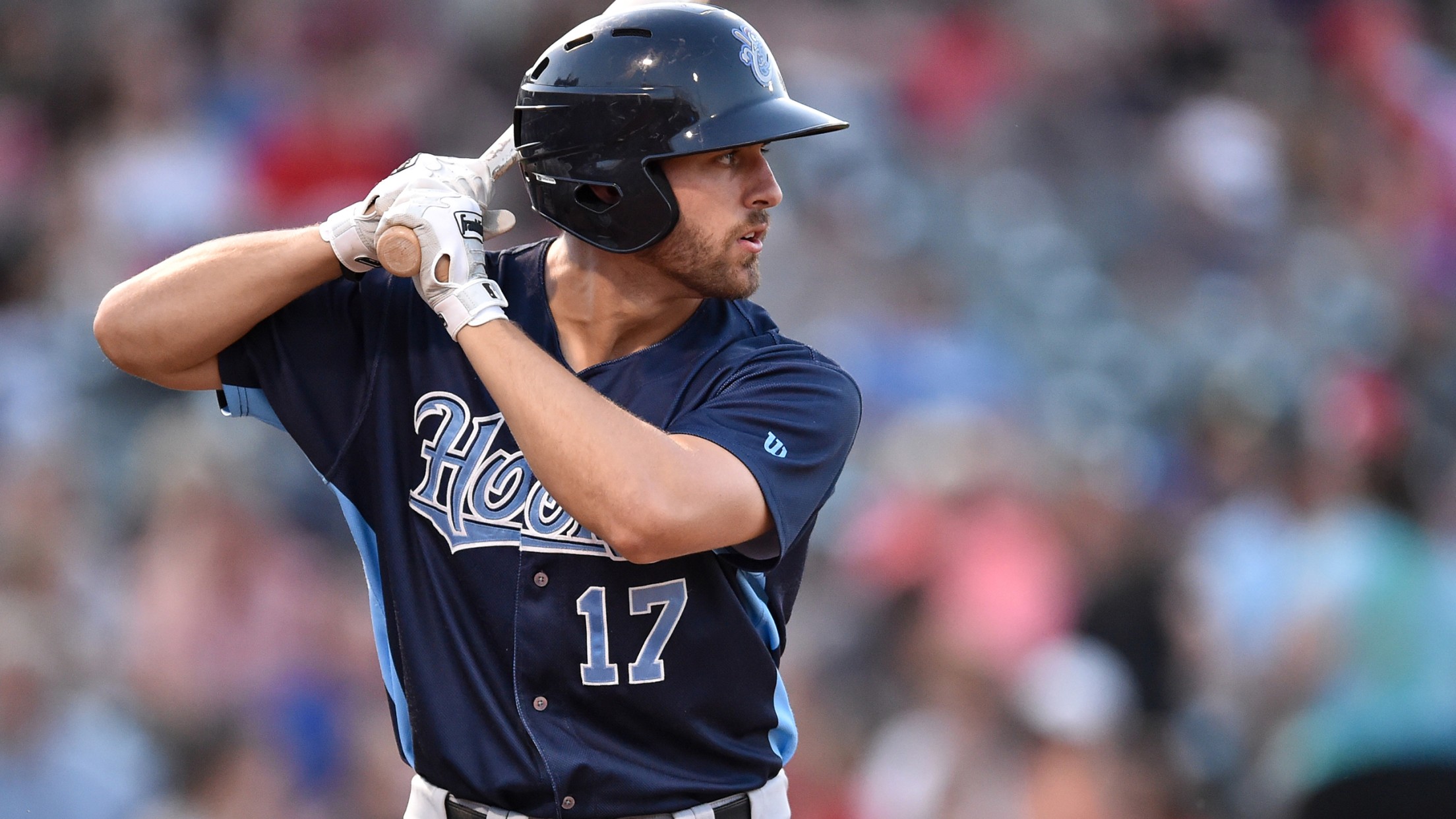 MIDLAND - A two-out RBI single by Jamie Ritchie in the eighth inning Wednesday night was the difference in Corpus Christi's 4-3 win over the RockHounds before 3,181 fans at Security Bank Ballpark.With San Antonio's extra-inning triumph over Frisco, the Hooks (39-26) remain two games back of the Missions with
De Goti & Ferrell Fuel CC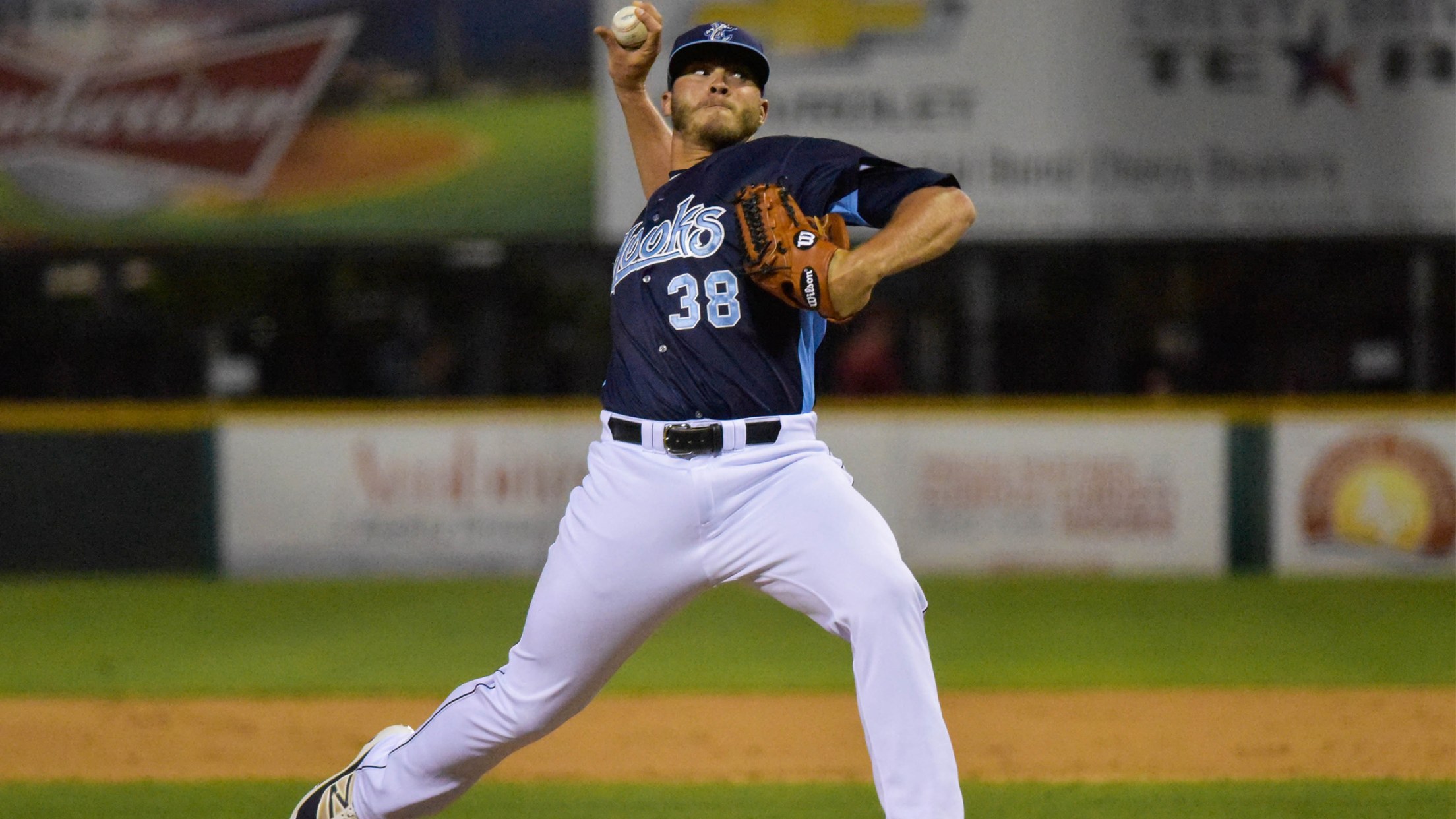 CORPUS CHRISTI - Alex De Goti belted two home runs and Riley Ferrell spun 2 1/3 shutout frames to earn his fifth save of the year as Corpus Christi wrapped up a 6-4 triumph over San Antonio before 6,365 fans Monday night at Whataburger Field.The Hooks (38-25), who shoot for
Offense Ignites in the Ozarks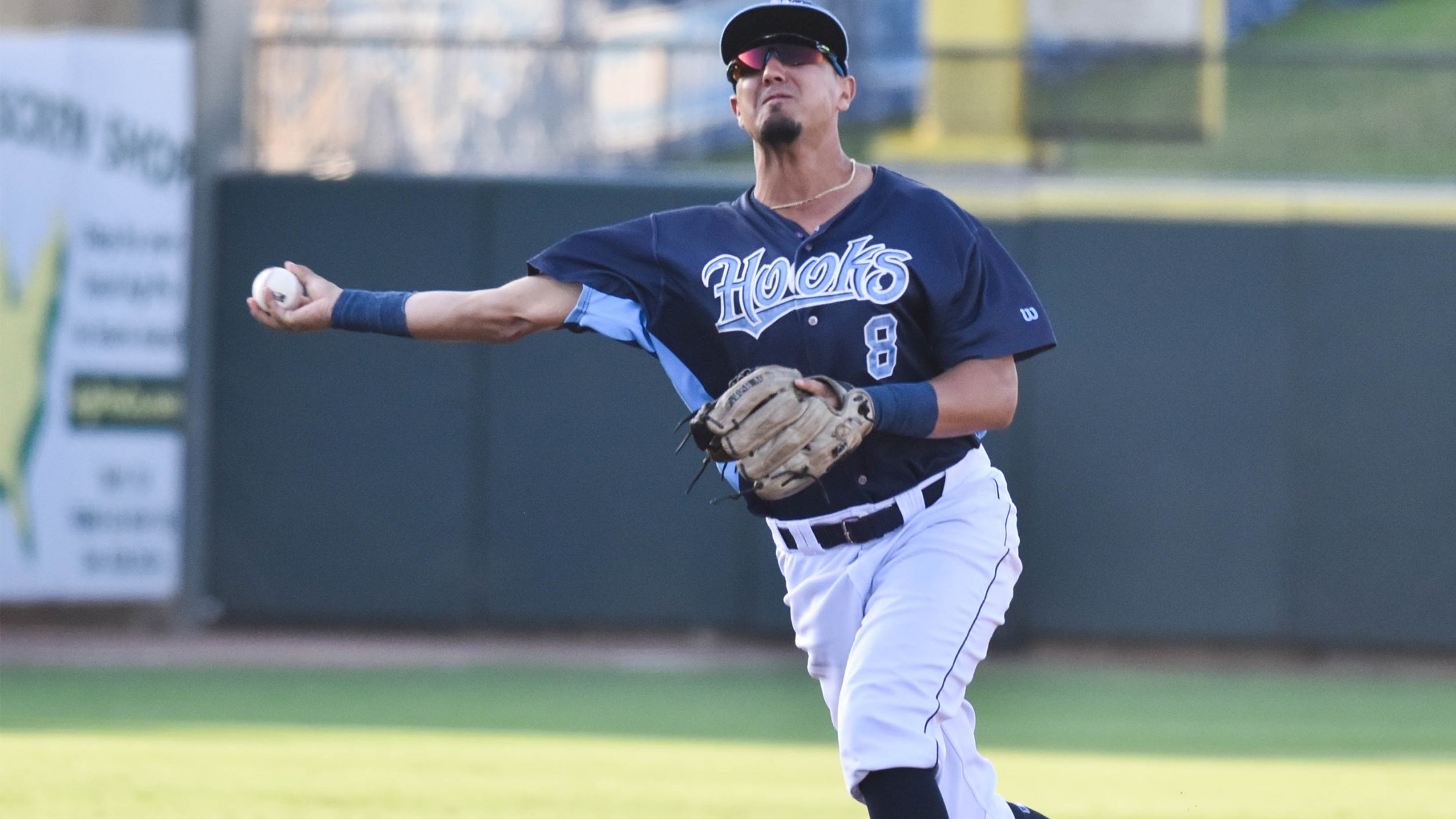 SPRINGFIELD, MO - Josh Rojas' bases-loaded triple spearheaded a six-run sixth inning Tuesday night, as the Hooks rolled to an 11-4 triumph over the Cardinals in the series opener at Hammons Field.Corpus Christi (30-21) has won five of its last seven games.
Quiala & Jones Best Missions Monday Night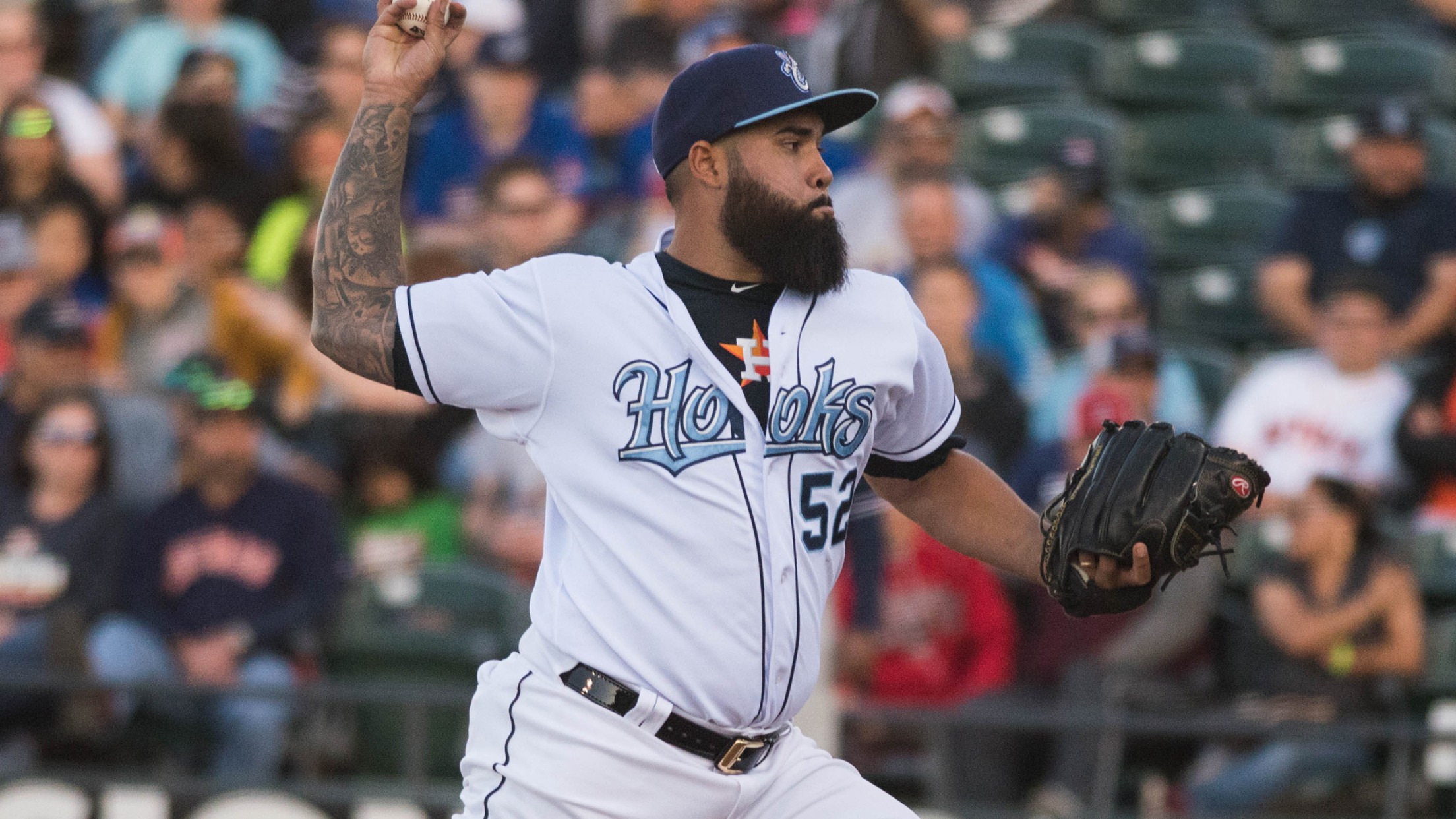 CORPUS CHRISTI - Yoanys Quiala twirled seven shutout innings and Taylor Jones homered for the second time in as many games as the Hooks knocked off San Antonio, 2-1, in Monday night's series opener at Whataburger Field.Corpus Christi (21-16) has won three in a row, while the Missions absorbed back-to-back
Eight-Run First Foils Hooks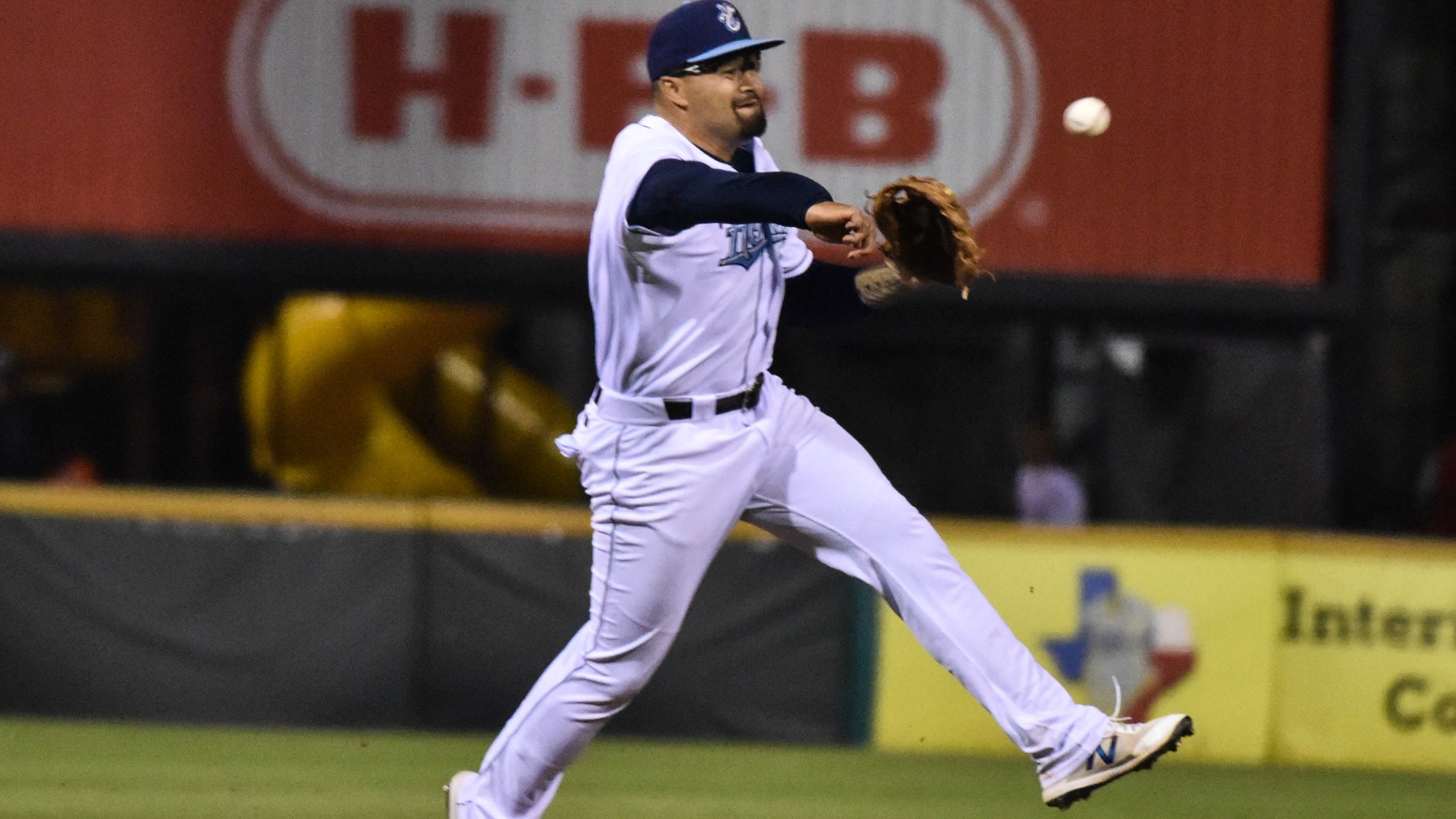 MIDLAND - RockHounds third baseman Eli White went 5-for-5 Thursday night, leading an 18-hit attack as Midland doubled up Corpus Christi, 12-6, at Security Bank Ballpark.The Hounds (15-12) sent 12 men to bat in the first, scoring eight runs on eight hits. Texas A&M product Corbin Martin, making his Double-A
Hooks Back on the Offensive
CC totals 17 hits in Wednesday's win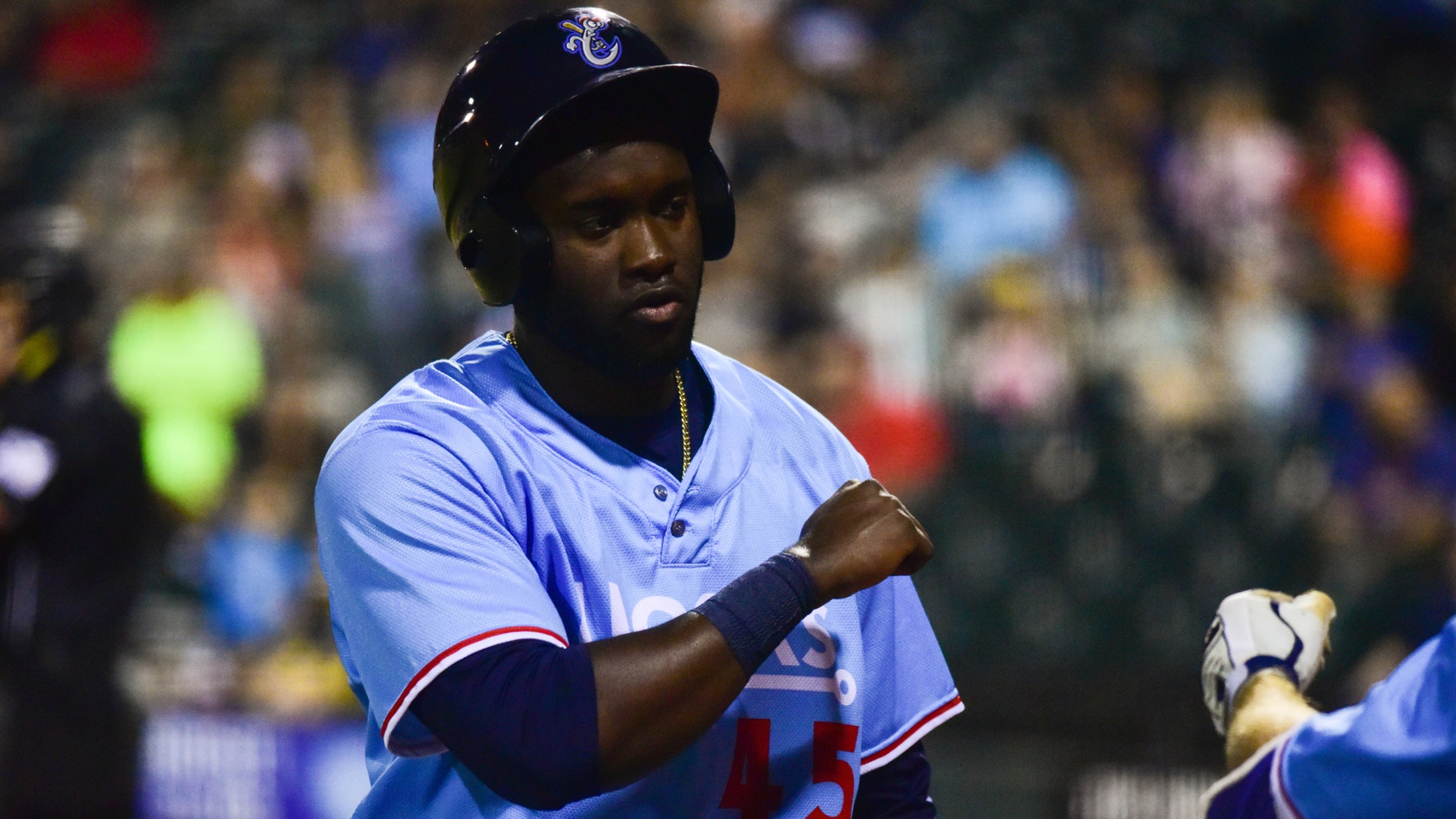 MIDLAND - Yordan Alvarez hit two home runs and the Hooks racked up five more extra-base hits in an 8-3 victory over the RockHounds Wednesday afternoon at Security Bank Ballpark.Corpus Christi is tied with San Antonio for the best record in the Texas League at 16-10.
Hooks Handcuff Hounds in Opener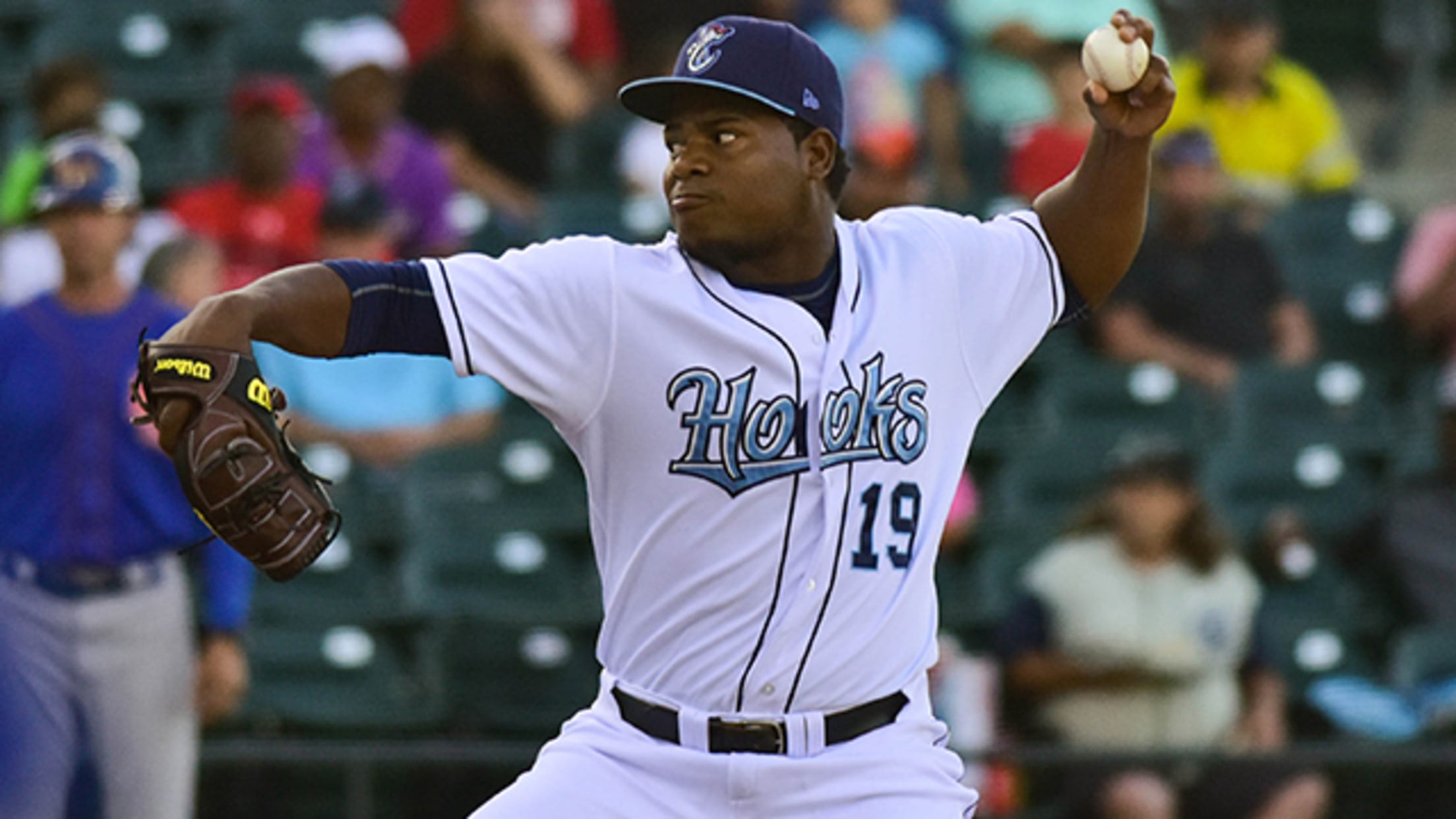 CORPUS CHRISTI - The Hooks received a strong start by Framber Valdez and shutout work from the bullpen, besting Midland 6-1 in Monday's series opener at Whataburger Field.Corpus Christi has won five in a row, and nine of the last 11. Valdez struck out seven, and permitted just two hits
Alvarez's Eighth Inning Blast Powers Hooks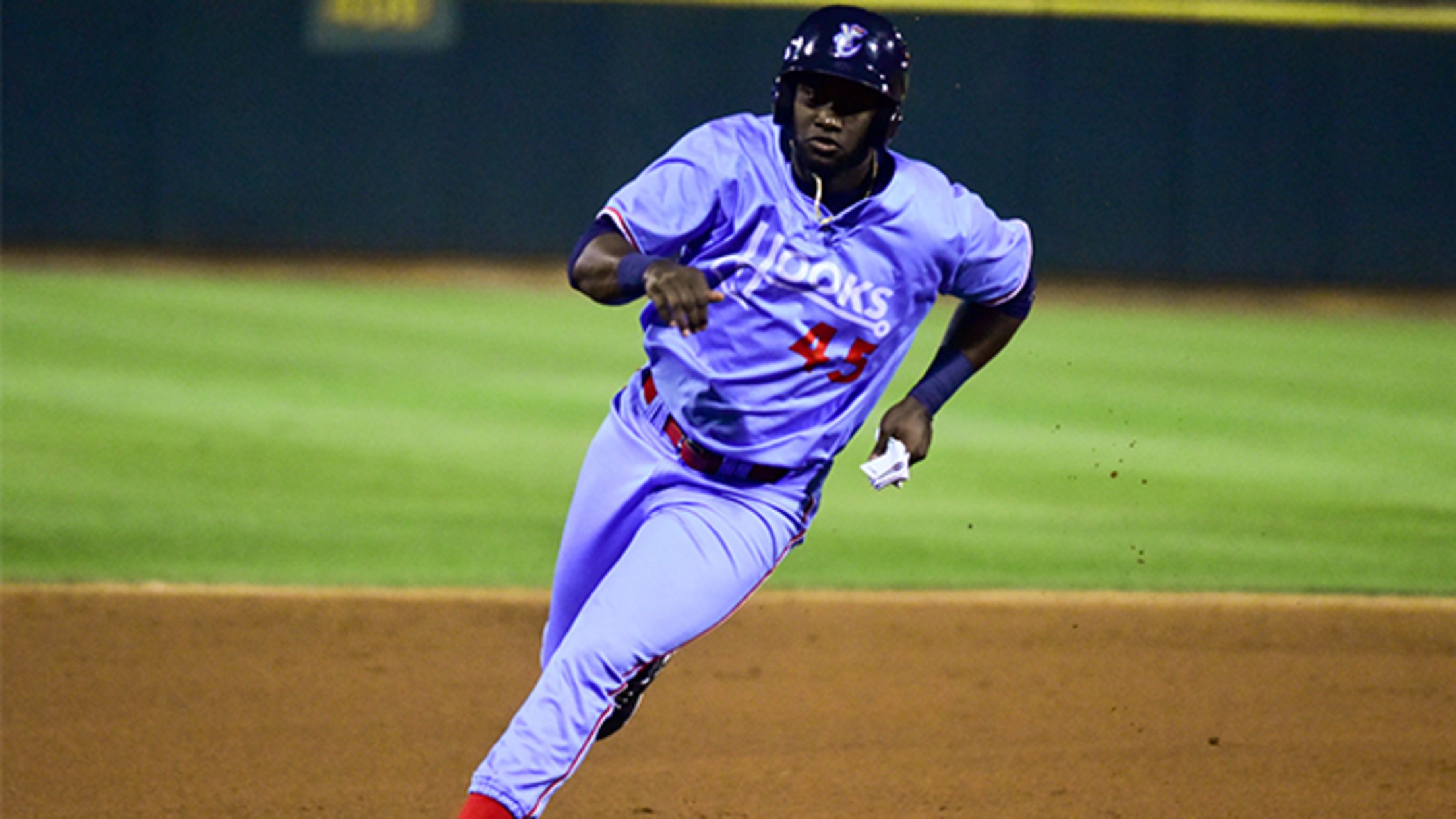 FRISCO - Yordan Alvarez belted a three-run home run into the lazy river beyond the right-field wall Sunday afternoon, sending the Hooks to an 8-6 victory and a series sweep of Frisco at Dr Pepper Ballpark.The come-from-behind effort was Corpus Christi's eighth win in the last 10 games. The RoughRiders