Smokies Open in Montgomery With Dominant 6-3 Win
Smokies Pitchers Retired 16 Straight & Each Batter Reached Base Safely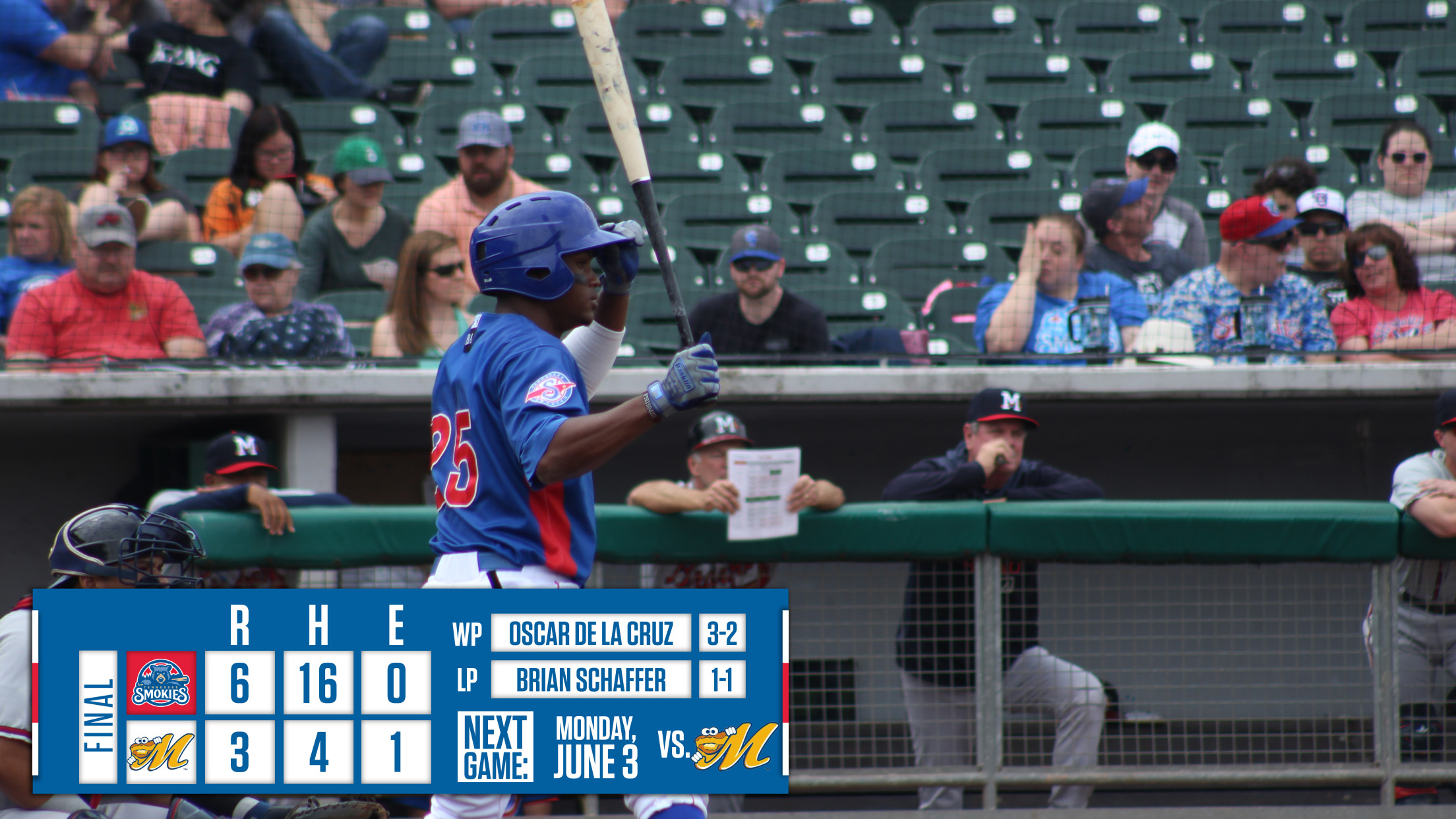 MONTGOMERY, AL - A combination of dominating pitching and a five-hit night from Roberto Caro led the Tennessee Smokies (27-26) to a 6-3 win over the Montgomery Biscuits (32-23) at Riverwalk Stadium in Montgomery on Sunday night. For the sixth straight game, the opposing team scored first. It was Montgomery's Jermaine Palacios
Smokies Open Up Home Stand With 9-3 Win Over Blue Wahoos
Machin, Young Drive in Three Runs Each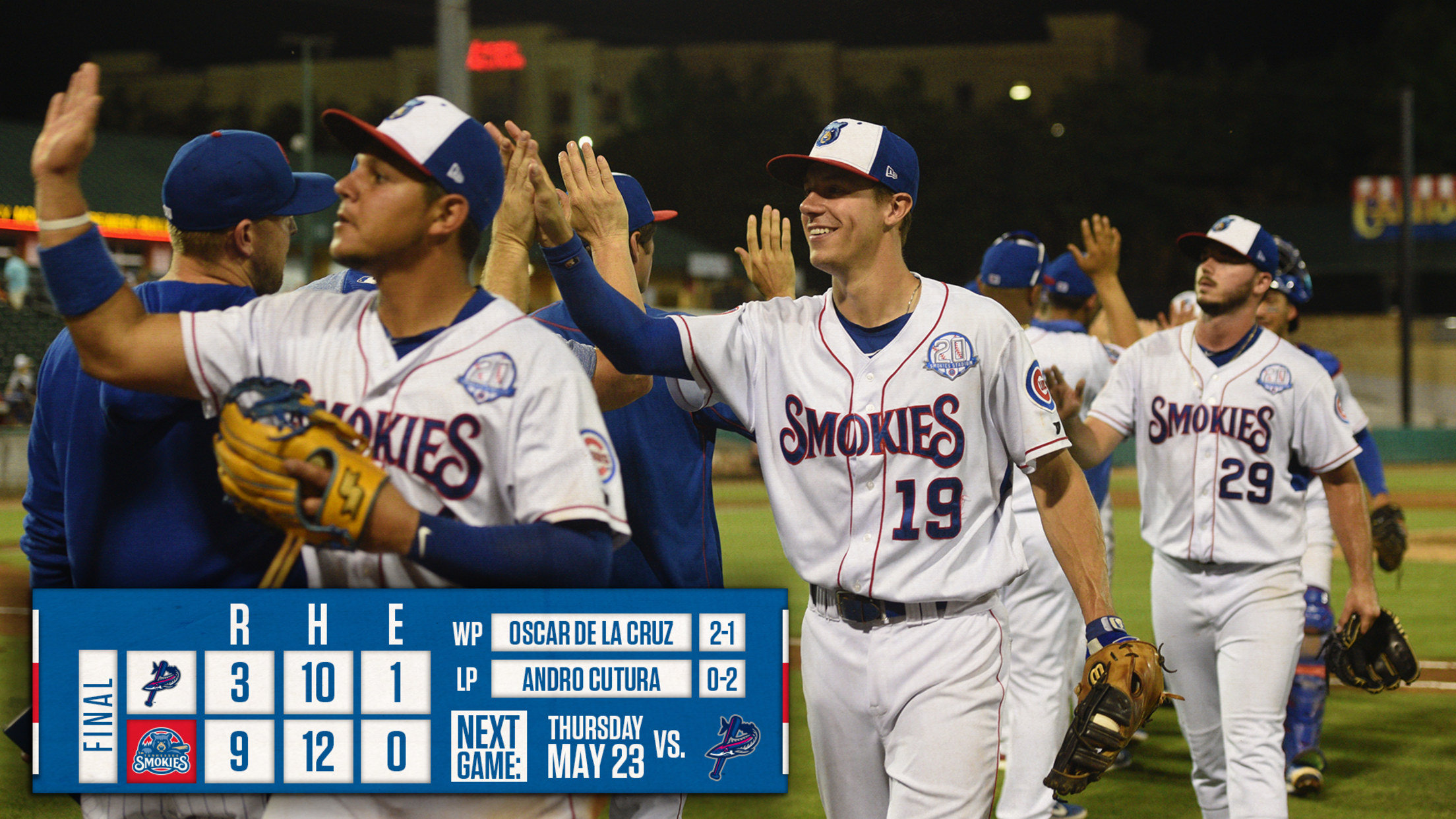 KODAK, TN - The Tennessee Smokies (23-22) defeated the Pensacola Blue Wahoos (28-18) 9-3 Wednesday night at Smokies Stadium. The Smokies blew the game open in the fourth after sending 11 to the plate and scoring five runs.The Smokies began the game with three straight singles to right field off
Seven Run Seventh Sets Up Rubber Match
Smokies Smack Ten Hits, Eight Walks in Win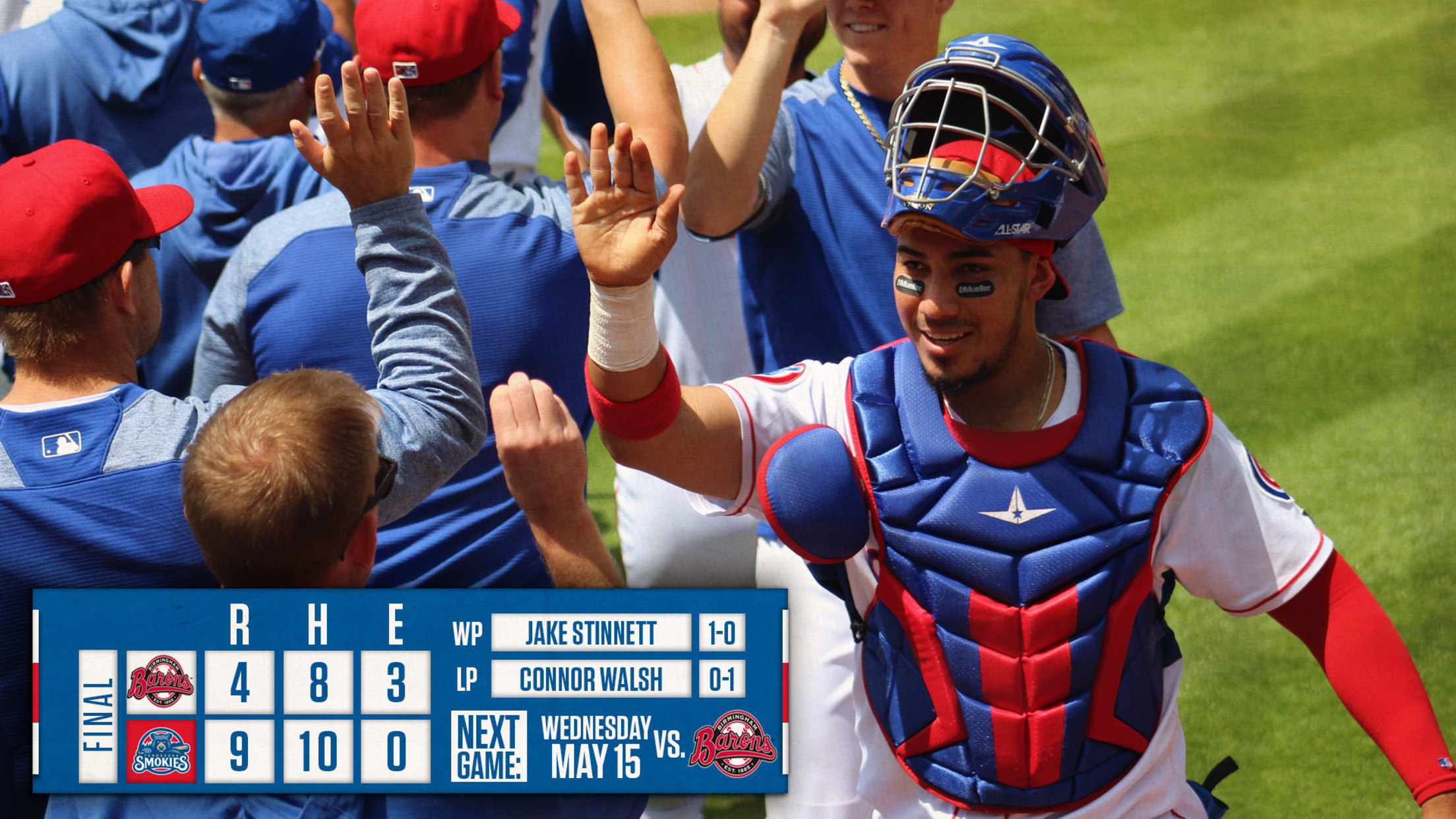 KODAK, TN - The Tennessee Smokies (18-20) defeated the Birmingham Barons (15-23) 9-4 Tuesday afternoon at Smokies Stadium. The Smokies sent a season high 11 men to the plate and scored a season best seven runs in the bottom of the seventh inning to blow the game open. Roberto Caro
Near Perfect Pitching Tops Smokies 5-1 In Chattanooga
Smokies One-Hit in Loss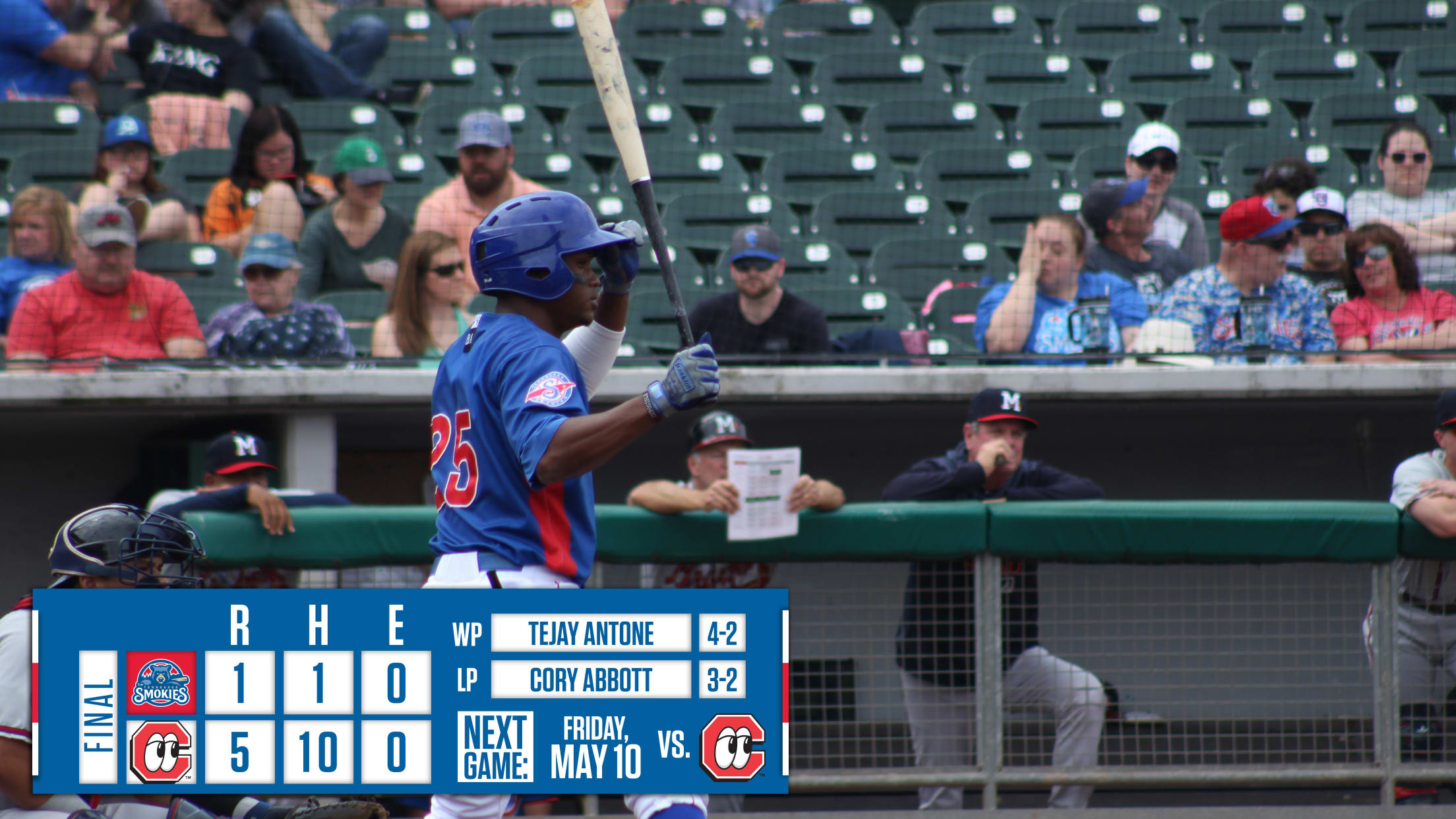 CHATTANOOGA, TN - The Tennessee Smokies (16-17) found themselves on the wrong side of a perfect game for the first six innings in Chattanooga before losing 5-1 to the Lookouts (18-13) on Thursday evening in Chattanooga. Chattanooga jumped out to an early 2-0 lead in the first inning. Jose Siri dashed to
Miller Dominates Early, Smokies Walk Off Late
Caro Provides Heroics in the Tenth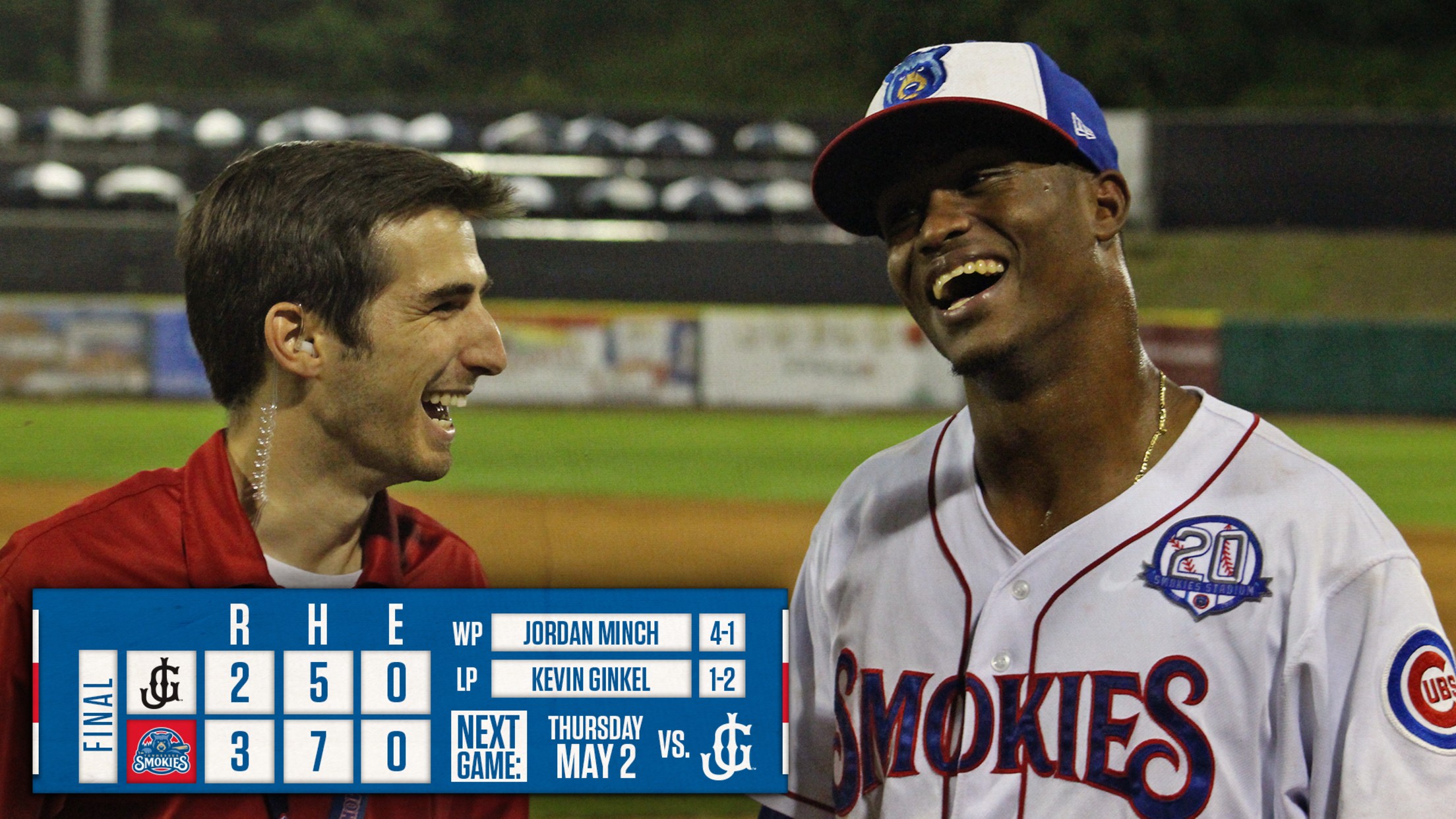 KODAK, TN - Roberto Caro's two-out, two-run walk-off single helped the Tennessee Smokies (12-12) defeated the Jackson Generals (13-11) 3-2 in ten innings Wednesday night at Smokies Stadium. RHP Tyson Miller retired the first 18 Generals to come to the plate and took a perfect game into the seventh inning.
Smokies Score Early and Often, Blow Out Lookouts
Five Smokies Finish with Multiple Hits in Win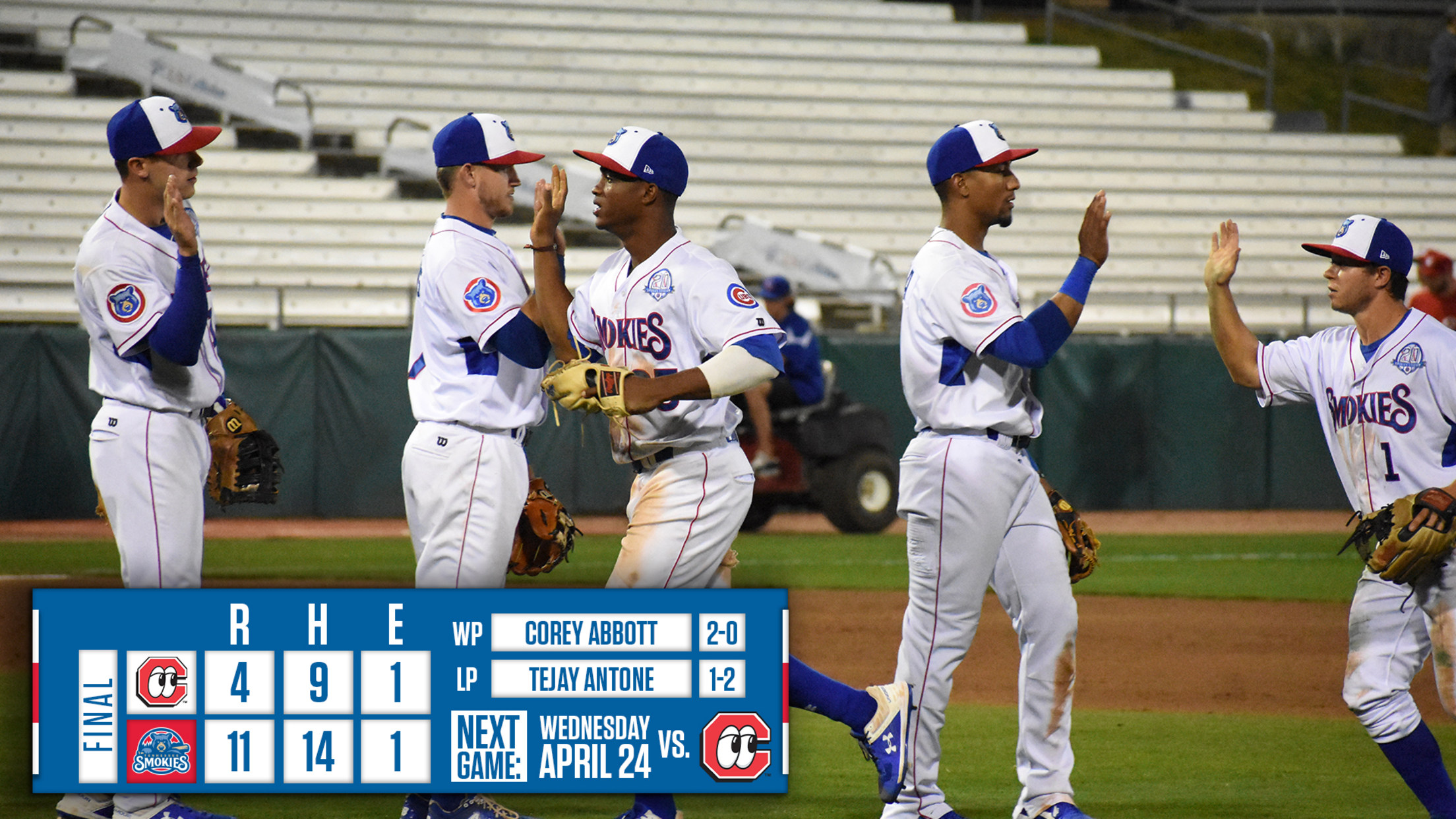 KODAK, TN - The Tennessee Smokies (10-7) defeated the Chattanooga Lookouts (6-11) 11-4 Tuesday night at Smokies Stadium. The Smokies scored a run in each of the first five innings en route to a season-high 11 runs. Jared Young led the way with three doubles, three RBI's, and three runs
Smokies Win 6-2 to Start Home Stand
Bases-Clearing Double from Roberto Caro Seals Win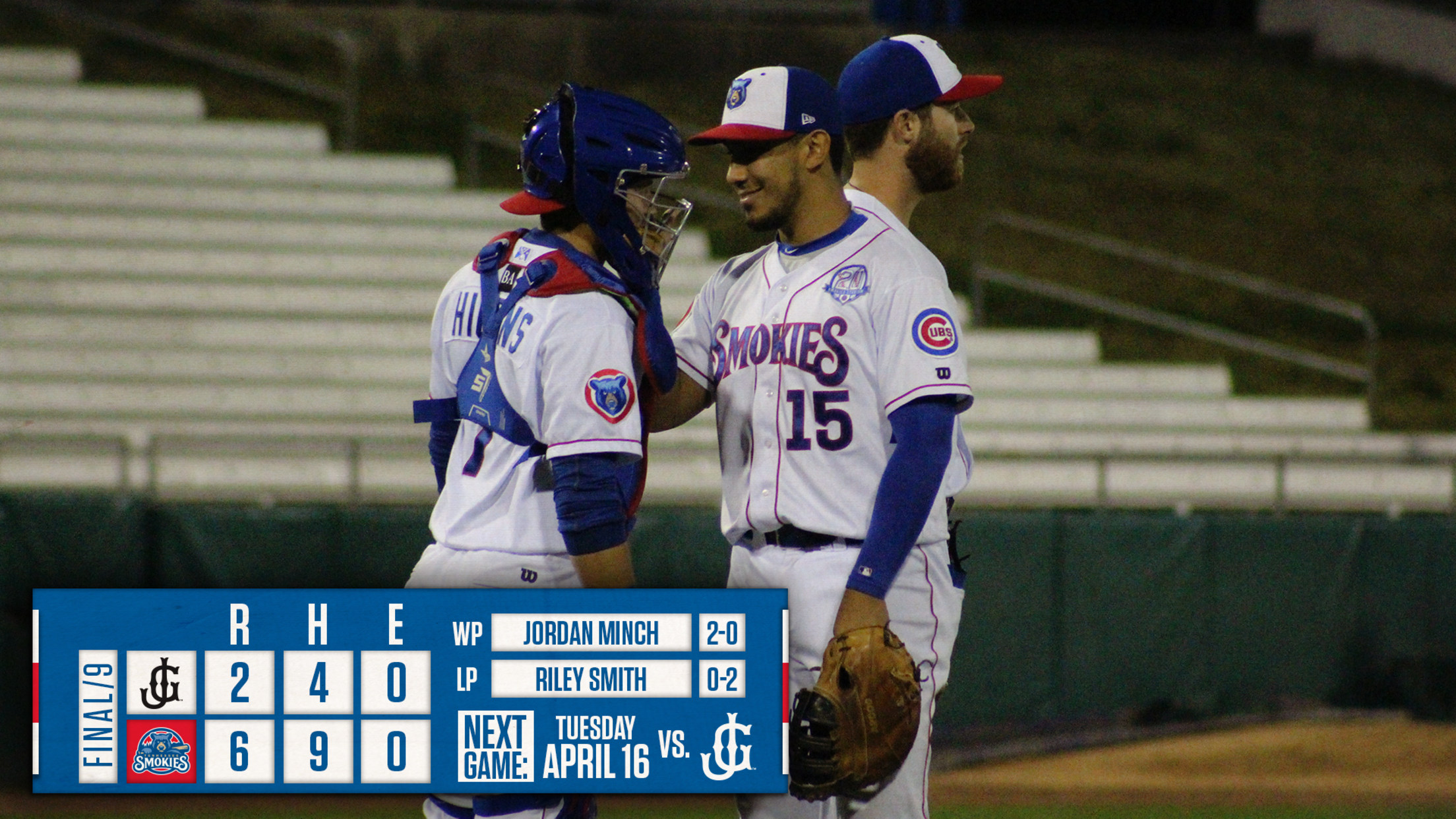 KODAK, TN - The Tennessee Smokies (7-3) kicked off a ten game home stand with a comfortable 6-2 win over the defending Southern League champion Jackson Generals (4-6) on Monday night. Smokies' fans were greeted early in the game with a towering two-run home run off the bat of Robel Garcia in
Down 6-0, Smokies Rally Back to Take Rubber Match, 7-6
Pereda and Myers Go Back-to-Back During Six-Run Fifth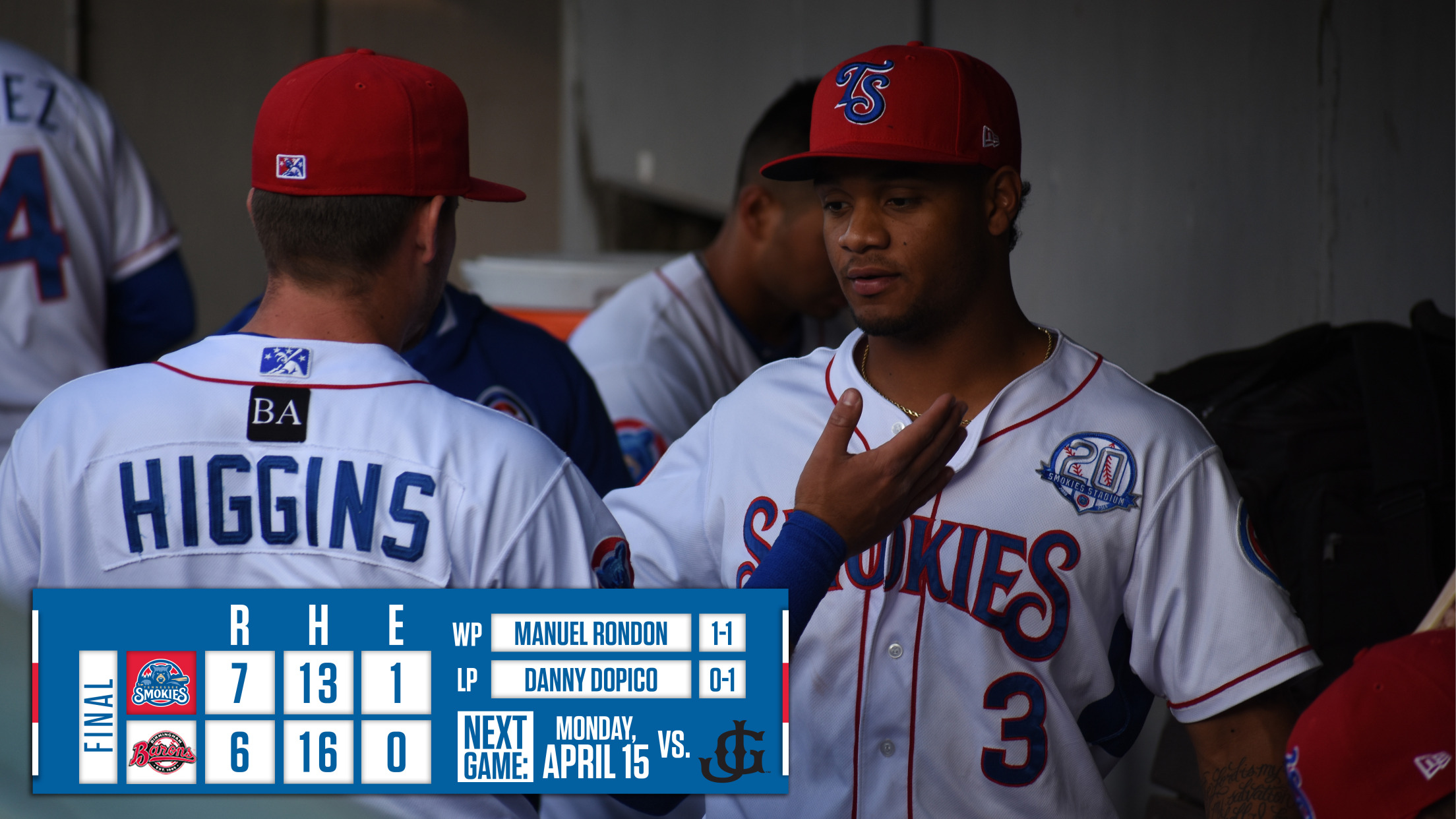 BIRMINGHAM, AL - The Tennessee Smokies (6-3) stormed back from an early 6-0 deficit to take down the Birmingham Barons (4-6) 7-6 and win the rubber match in Birmingham on Sunday night.Birmingham jumped out to a commanding 4-0 lead in the first inning. Luis González got the Barons on the
Hoerner Comes Through in the Eighth to Seal Smokies' 4-3 Win
Thompson Fans Eight Without Allowing a Hit in Season Debut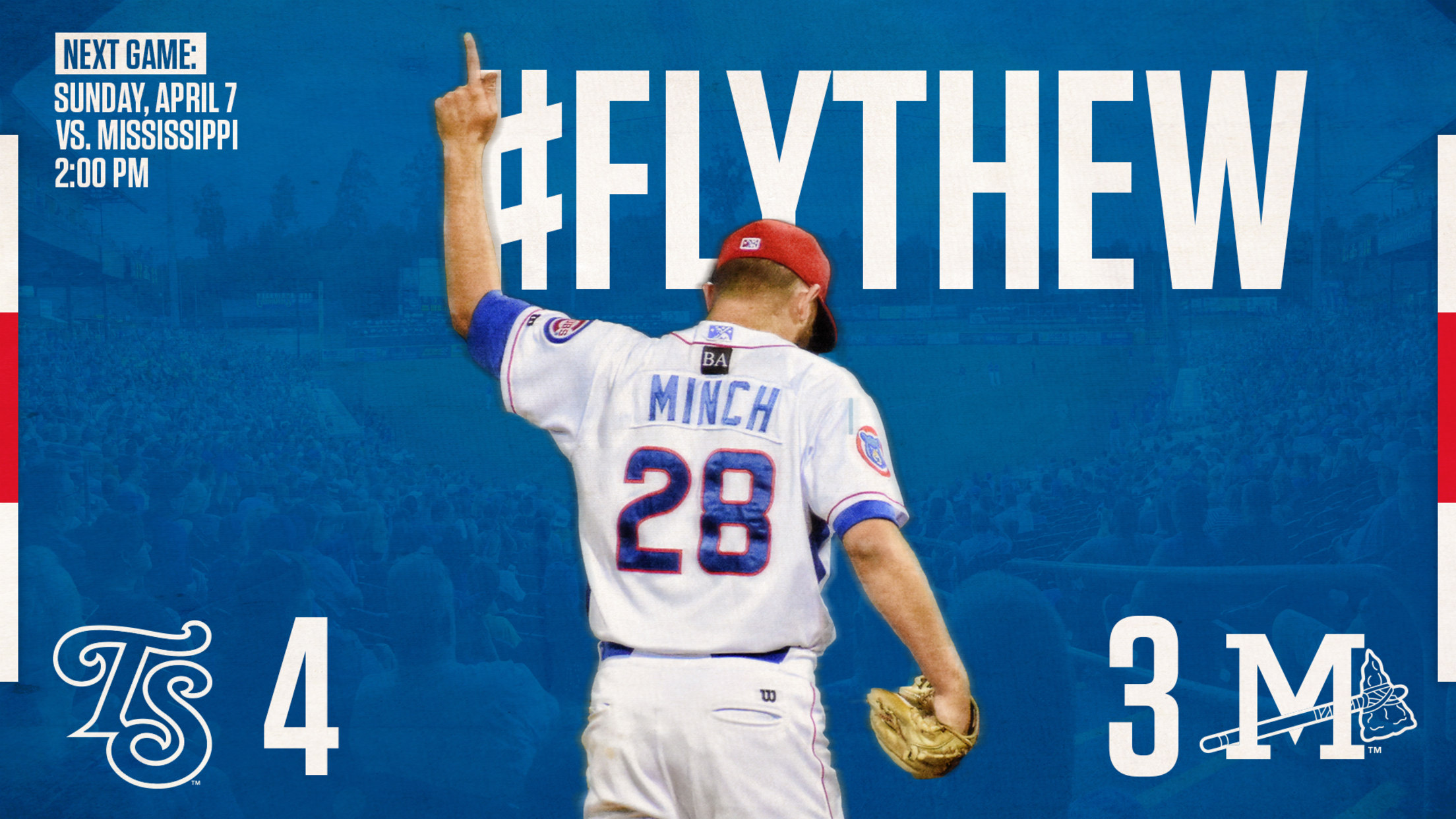 SEVIERVILLE - Nico Hoerner's RBI-single in the bottom of the eighth inning was the difference in a 4-3 victory for the Tennessee Smokies (2-1) against the Mississippi Braves (1-2) on Saturday night. RHP Keegan Thompson tossed five hitless innings while striking out eight in his 2019 debut.The Smokies jumped to
Amaya, Young headline Cubs' next wave
Catcher, first baseman took strides at plate, in field in 2018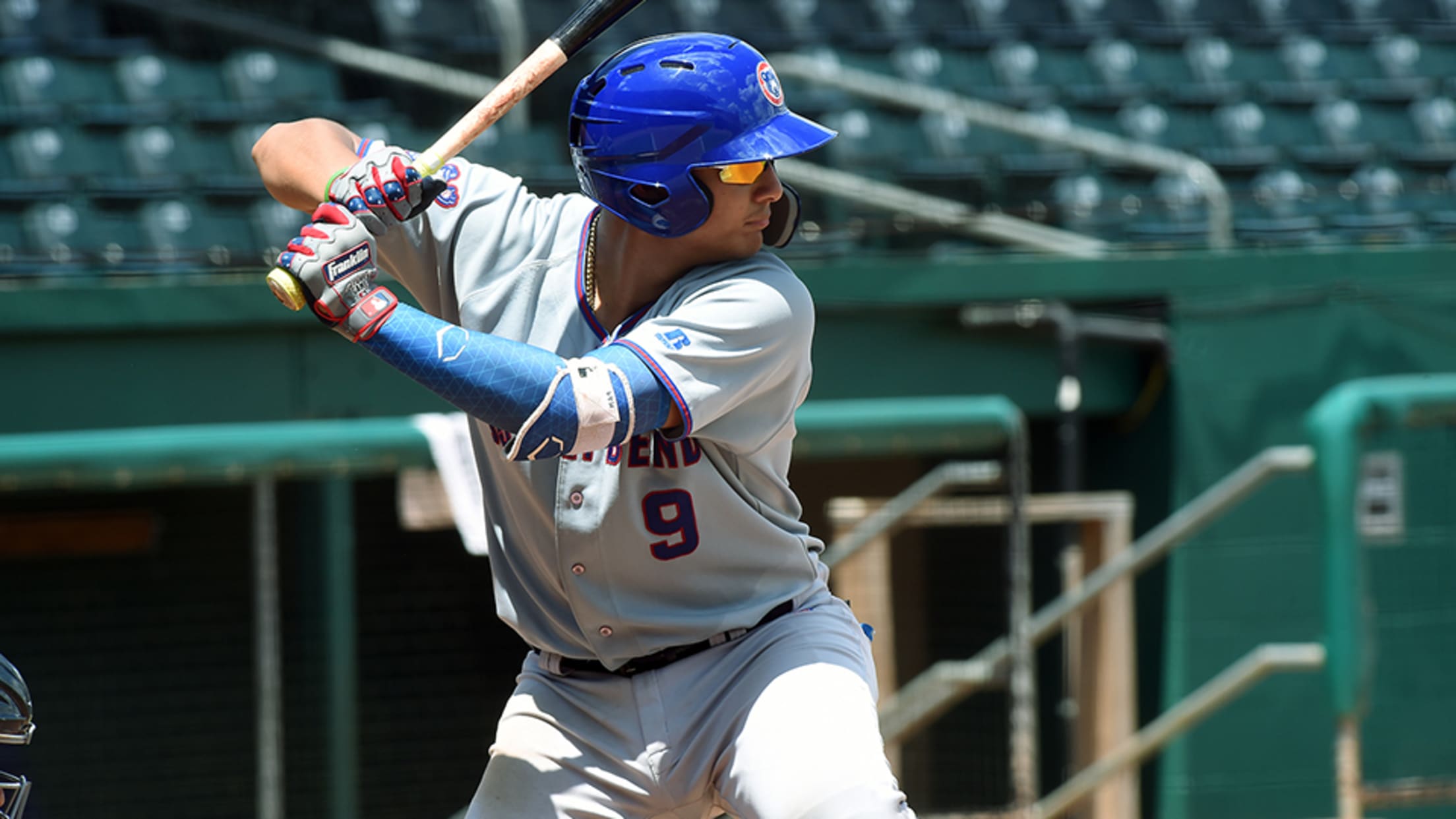 Each offseason, MiLB.com goes position by position across each system and honors the players -- regardless of age or prospect status -- who had the best seasons in their organization. Click here to locate your favorite club.Since their rise back on the scene in 2015, the Cubs have been one of
Big innings help Wood Ducks ease by Myrtle Beach
Down East scores eight in the eighth to cap a 16-0 win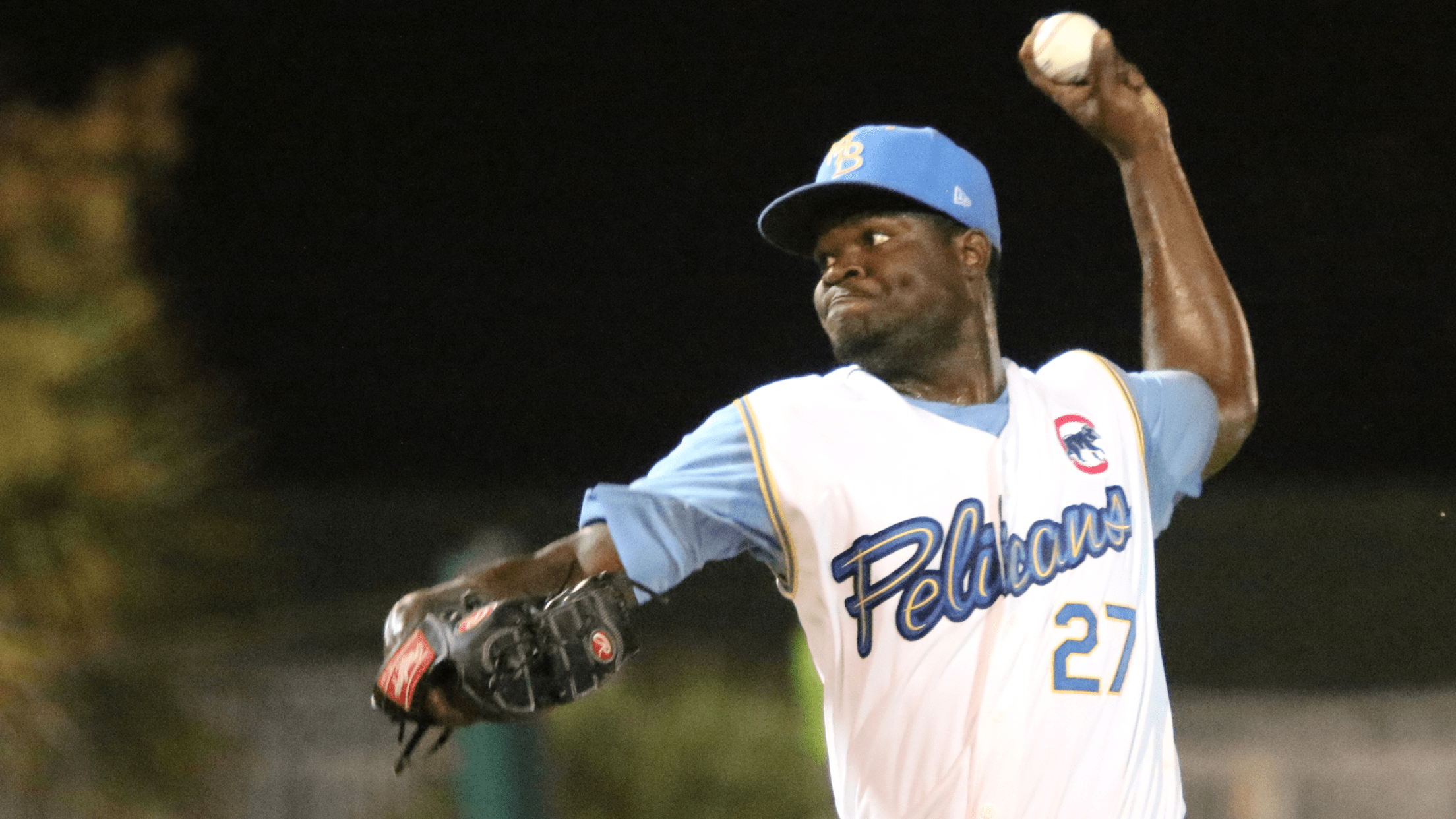 KINSTON, N.C. (August 25, 2018) - The Down East Wood Ducks pummeled the Myrtle Beach Pelicans 16-0 on Saturday from Grainger Stadium. The Wood Ducks (58-73, 23-38) found the scoreboard in the first against Pelicans (58-73, 24-37) starter Bryan Hudson (6-11). With the bases loaded and one out, Yanio Perez drew a
Pelicans take series opener in Winston-Salem 6-4
Tuesday's doubleheader cut to one game due to rain, clubs to play twin bill Wednesday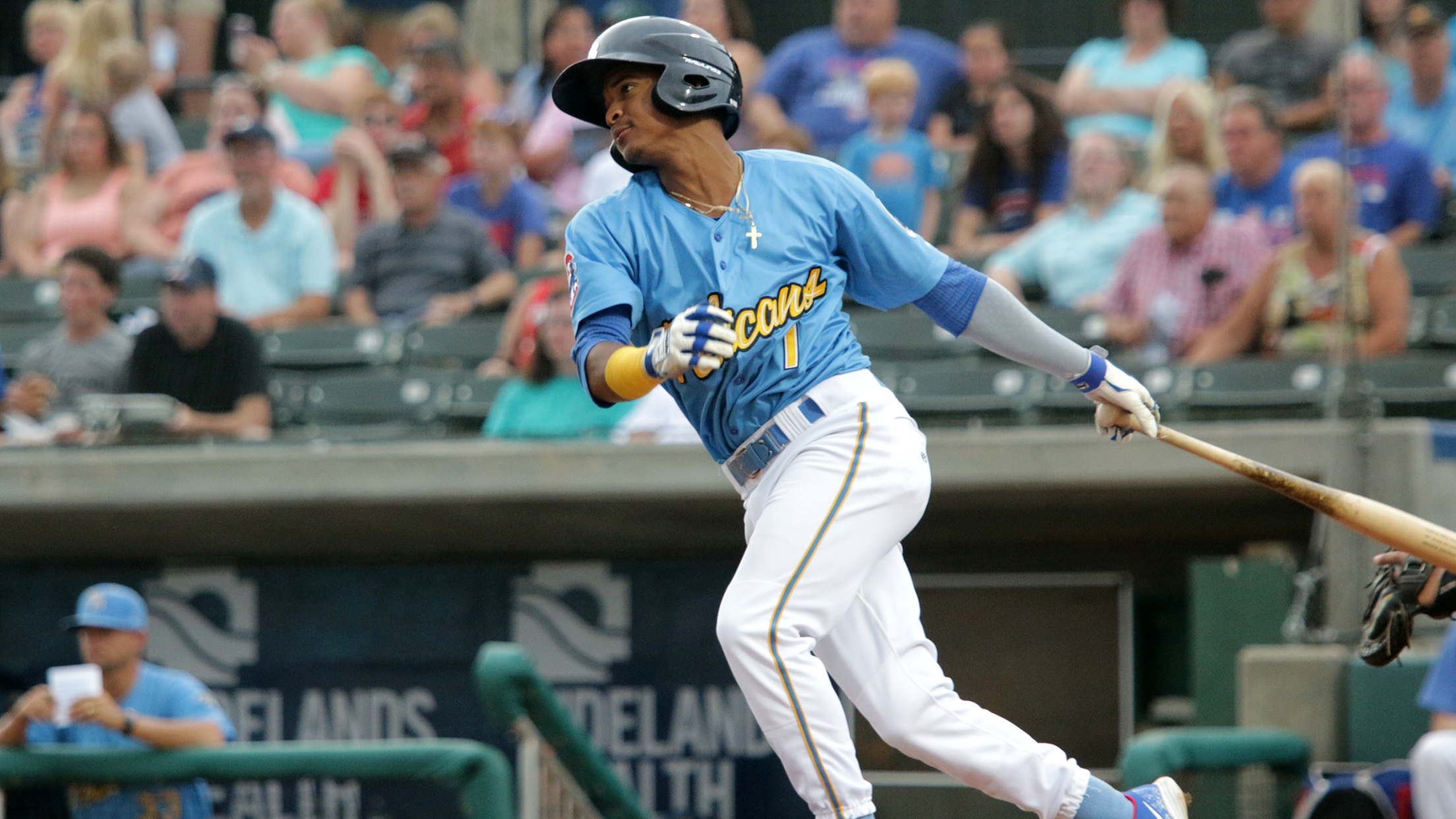 MYRTLE BEACH, S.C. (August 21, 2018) - After a 6-4 extra-inning win for the Myrtle Beach Pelicans on Tuesday night over the Winston-Salem Dash from BB&T Ballpark, the second game of the doubleheader was postponed until Wednesday due to inclement weather.With the game tied at 4-4 in the eighth inning, the
Myrtle Beach loses seventh straight in 3-2 defeat
Jared Young's two hits not enough in narrow loss to Dash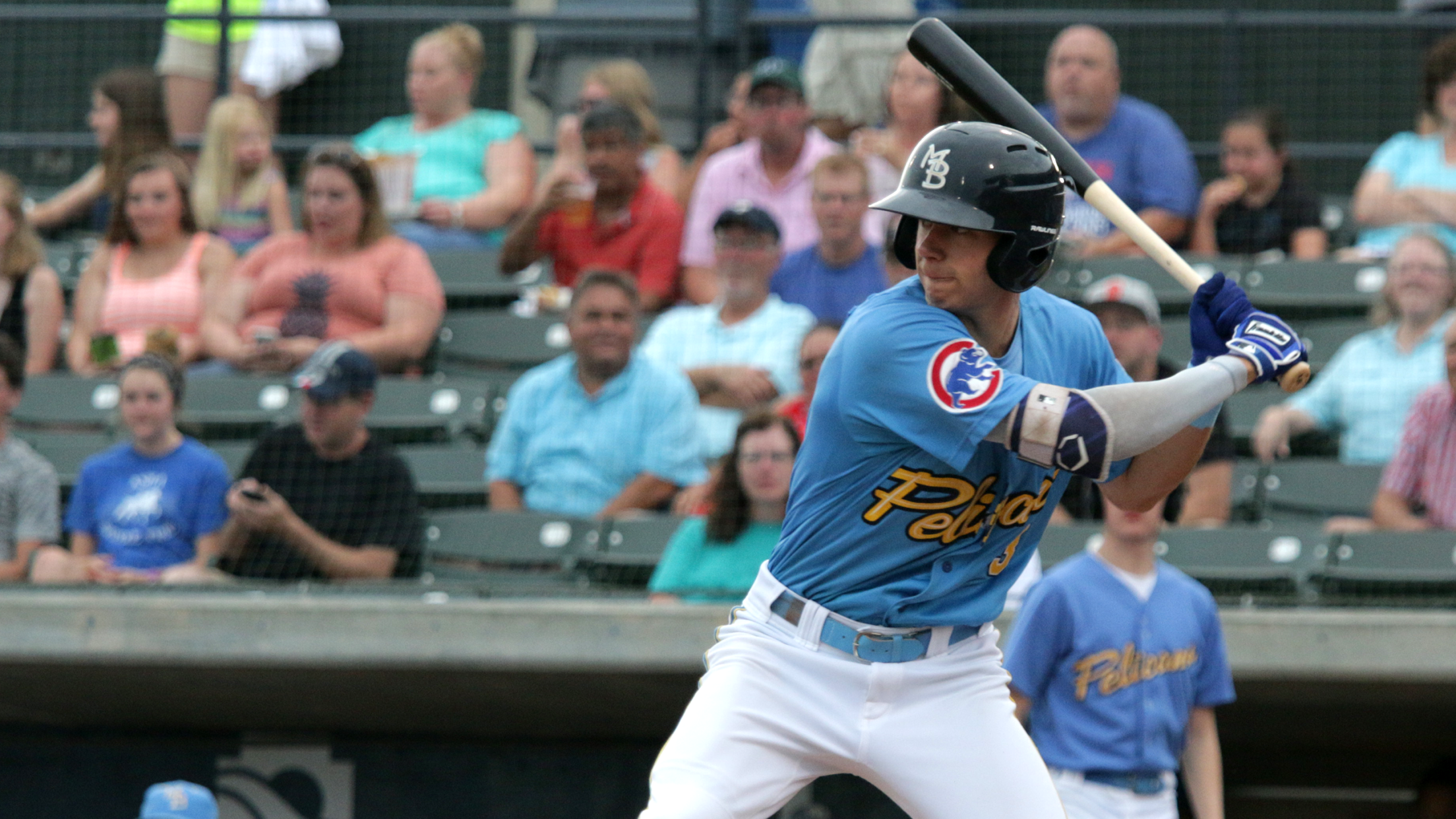 WINSTON-SALEM, N.C. (August 7, 2018) - The Myrtle Beach Pelicans were handed their season-worst seventh consecutive loss on Tuesday night by the Winston-Salem Dash in a 3-2 defeat from BB&T Ballpark.The Dash's (68-45, 27-16) Luis González struck first against Pelicans (50-65, 16-29) starter Tyson Miller (8-8) in the third inning with
Leal pitches Birds to doubleheader split
Pelicans drop opener 5-4 before shutting out Muddies 2-0 in finale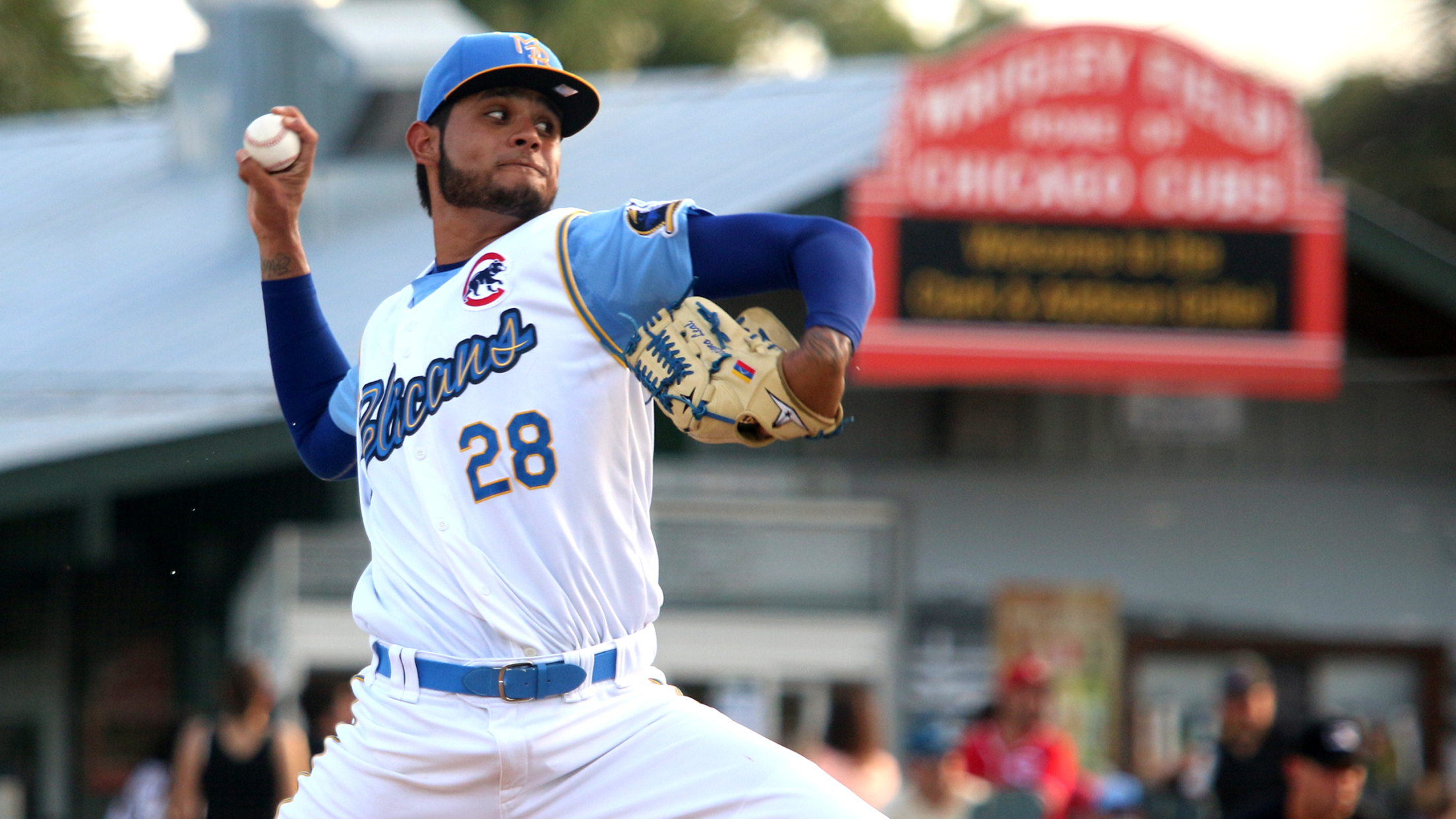 ZEBULON, N.C. (July 24, 2018) - Erick Leal struck out eight over five innings of one-hit ball Tuesday to help the Myrtle Beach Pelicans to a doubleheader split with the Carolina Mudcats from Five County Stadium. The Birds dropped the opener 5-4 before taking the finale 2-0.In the finale, Leal (1-1)
Birds drop fourth straight in a 7-2 loss to Winston-Salem
Myrtle Beach will look to salvage series Monday at 7:05 p.m.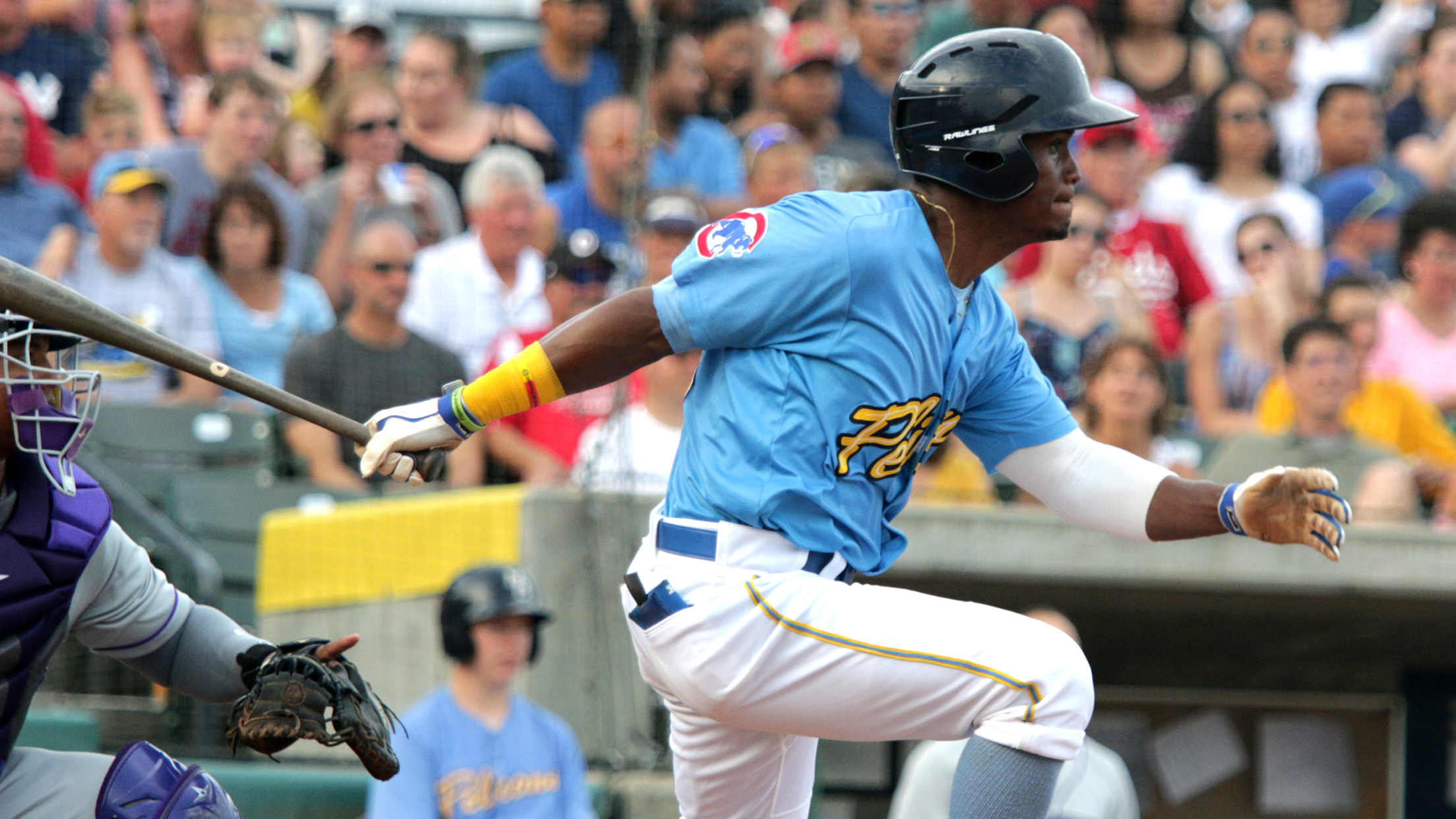 MYRTLE BEACH, S.C. (July 22, 2018) - The Myrtle Beach Pelicans fell 7-2 on Sunday to the Winston-Salem Dash in front of 5,201 fans from TicketReturn.Com Field at Pelicans Ballpark. Tyler Alamo broke a scoreless tie in the fourth inning with an RBI single for the Pelicans (46-53, 12-17), scoring Jhonny Pereda
Winston-Salem sends Myrtle Beach to third straight defeat
Pelicans shutout for a league-high 15th time in 6-0 defeat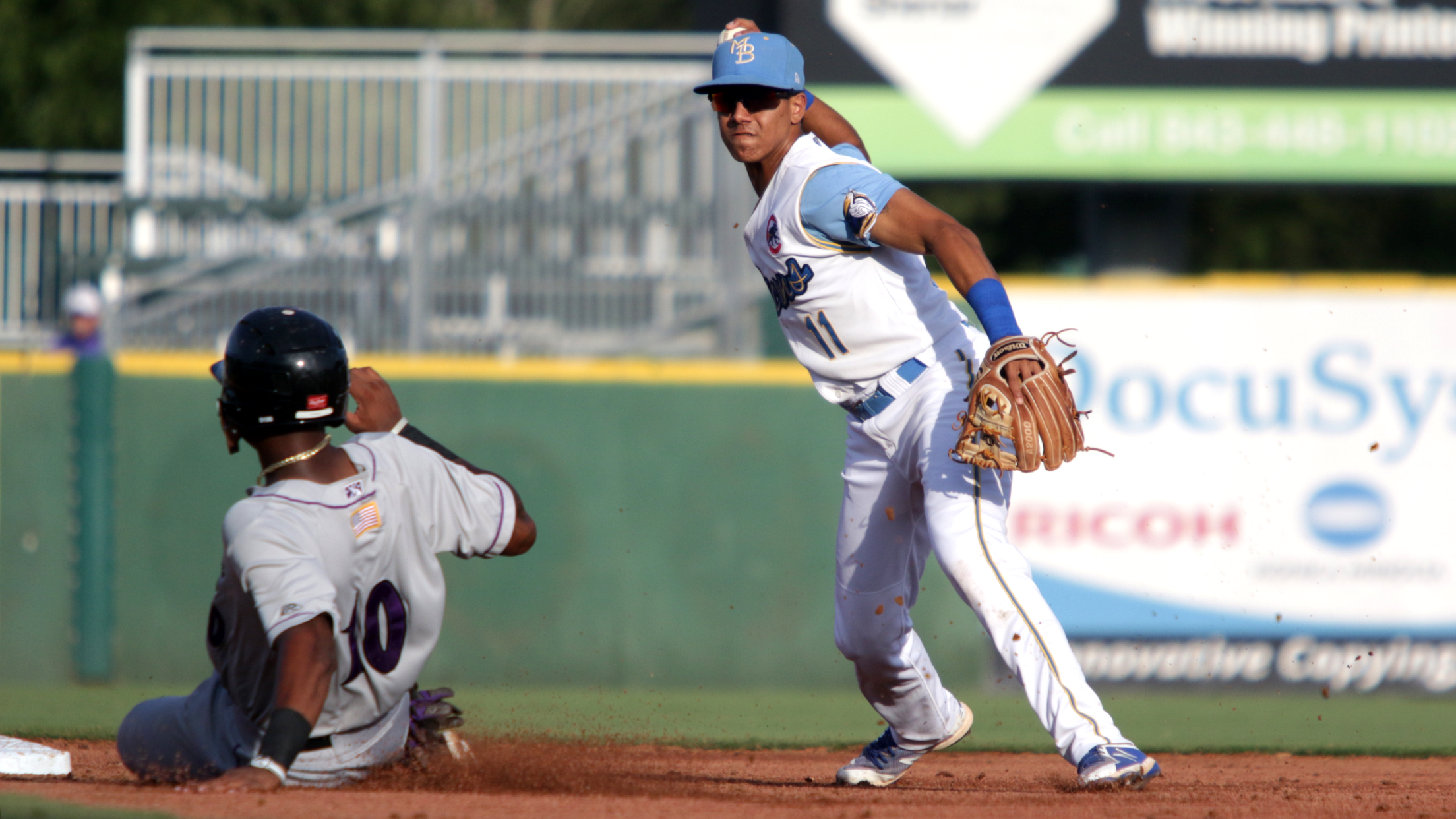 MYRTLE BEACH, S.C. (July 21, 2018) - The Myrtle Beach Pelicans were blanked 6-0 by the Winston-Salem Dash in the series opener of their three-game set Saturday in front of 5,164 fans from TicketReturn.Com Field at Pelicans Ballpark. Pelicans (46-52, 12-16) starter Cory Abbott (2-5) worked four scoreless innings before the Dash
Birds hang on in ninth inning, take series opener in Kinston
Pelicans win third straight with 3-2 victory over Down East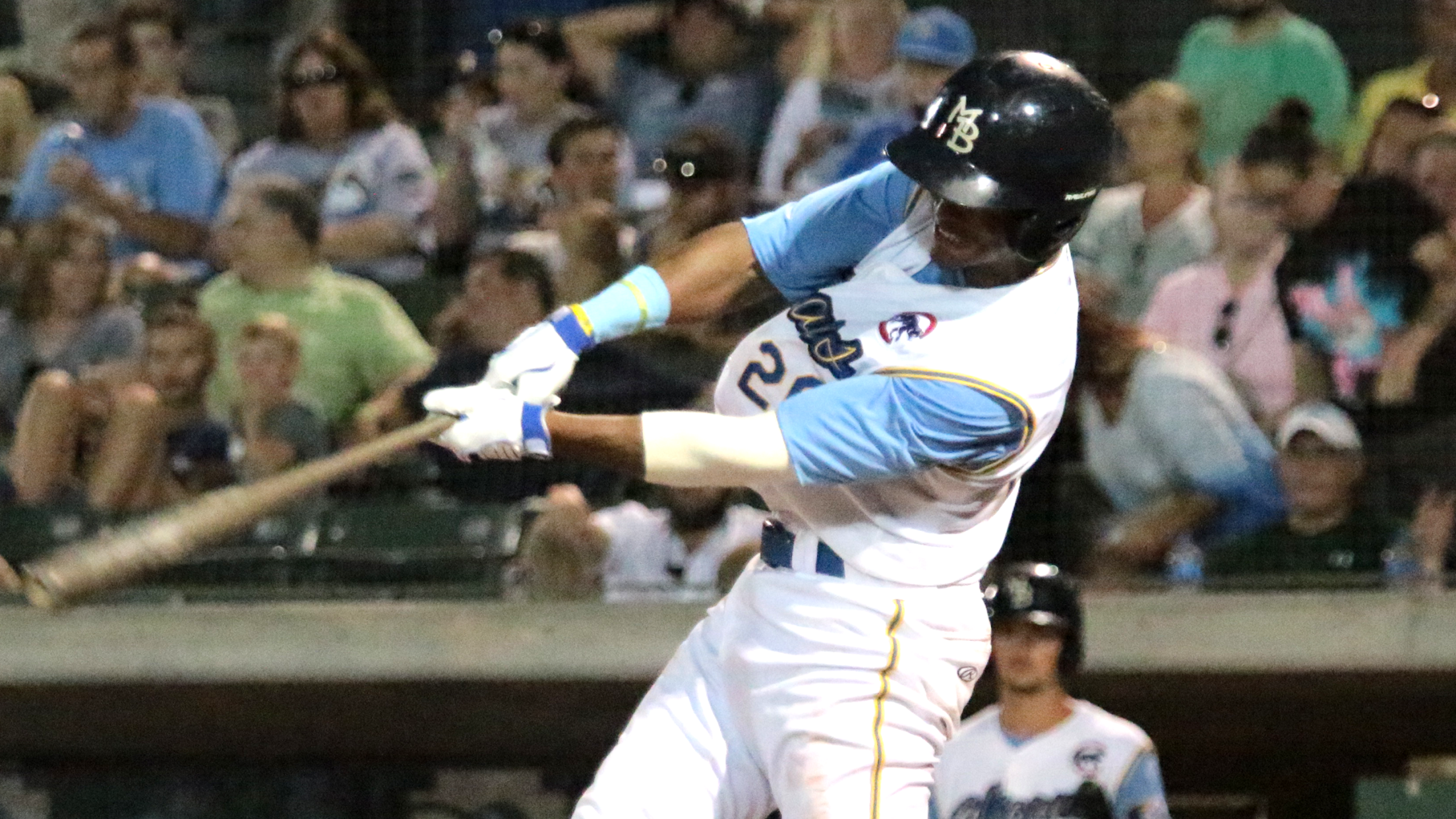 KINSTON, N.C. (July 13, 2018) - With the bases loaded and one out in the bottom of the ninth inning, Jhon Romero locked down his eighth save for the Myrtle Beach Pelicans on Friday night in their 3-2 victory over the Down East Wood Ducks from Grainger Stadium.With the Pelicans (43-49,
Lacy's strong debut, big seventh drives Myrtle Beach to victory
Right-hander goes 5.1, Birds score three in seventh inning, win 6-3 over Muddies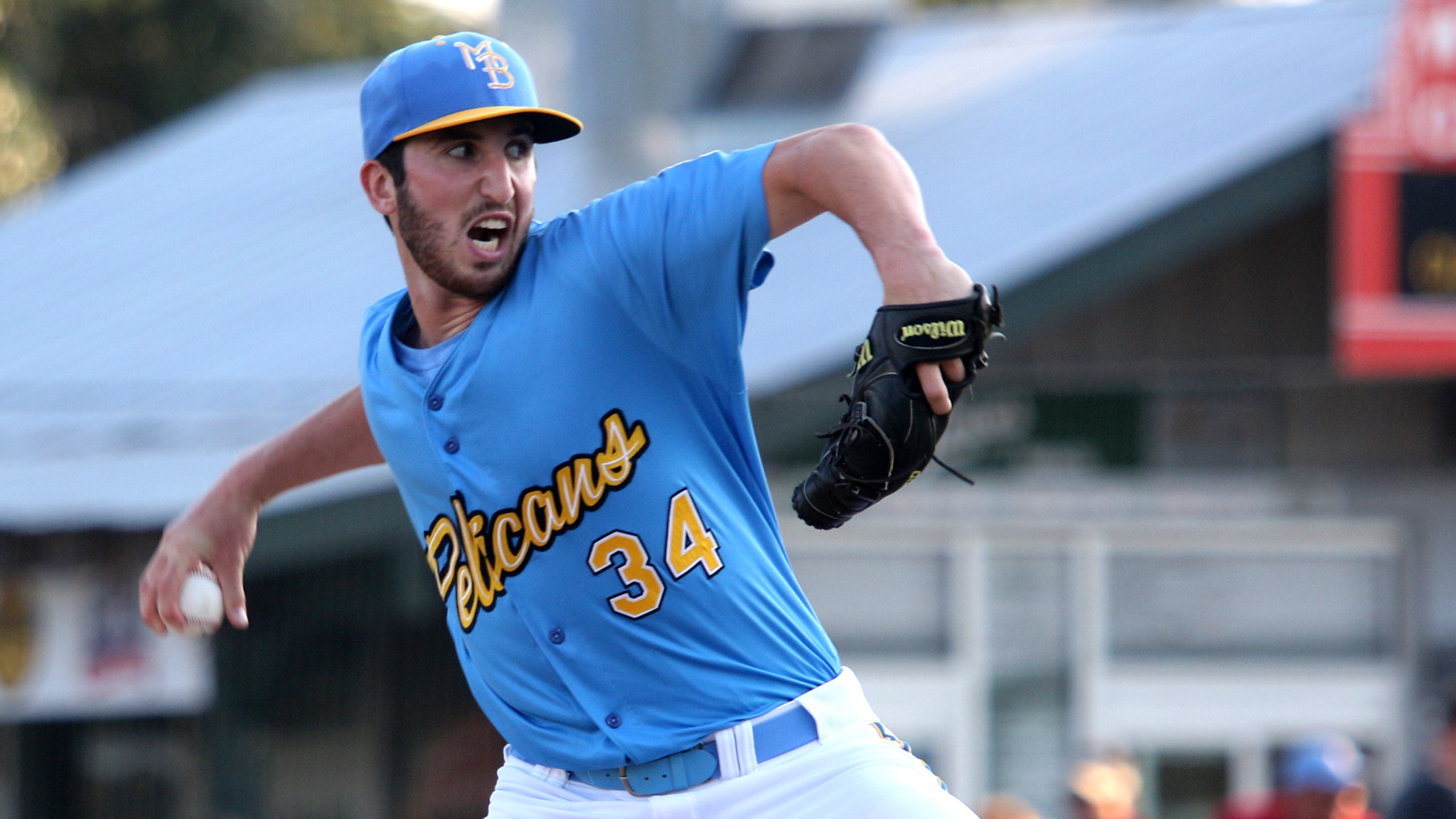 MYRTLE BEACH, S.C. (July 11, 2018) - Rollie Lacy was brilliant on the hill in his Myrtle Beach Pelicans debut against the Carolina Mudcats on Wednesday night as the Birds bested the Muddies 6-3 from TicketReturn.Com Field at Pelicans Ballpark. Lacy (1-0) began his High-A career by recording his first six outs
Big innings spur Birds in blowout of Muddies
Myrtle Beach scores four in the second, six in the sixth in 11-3 win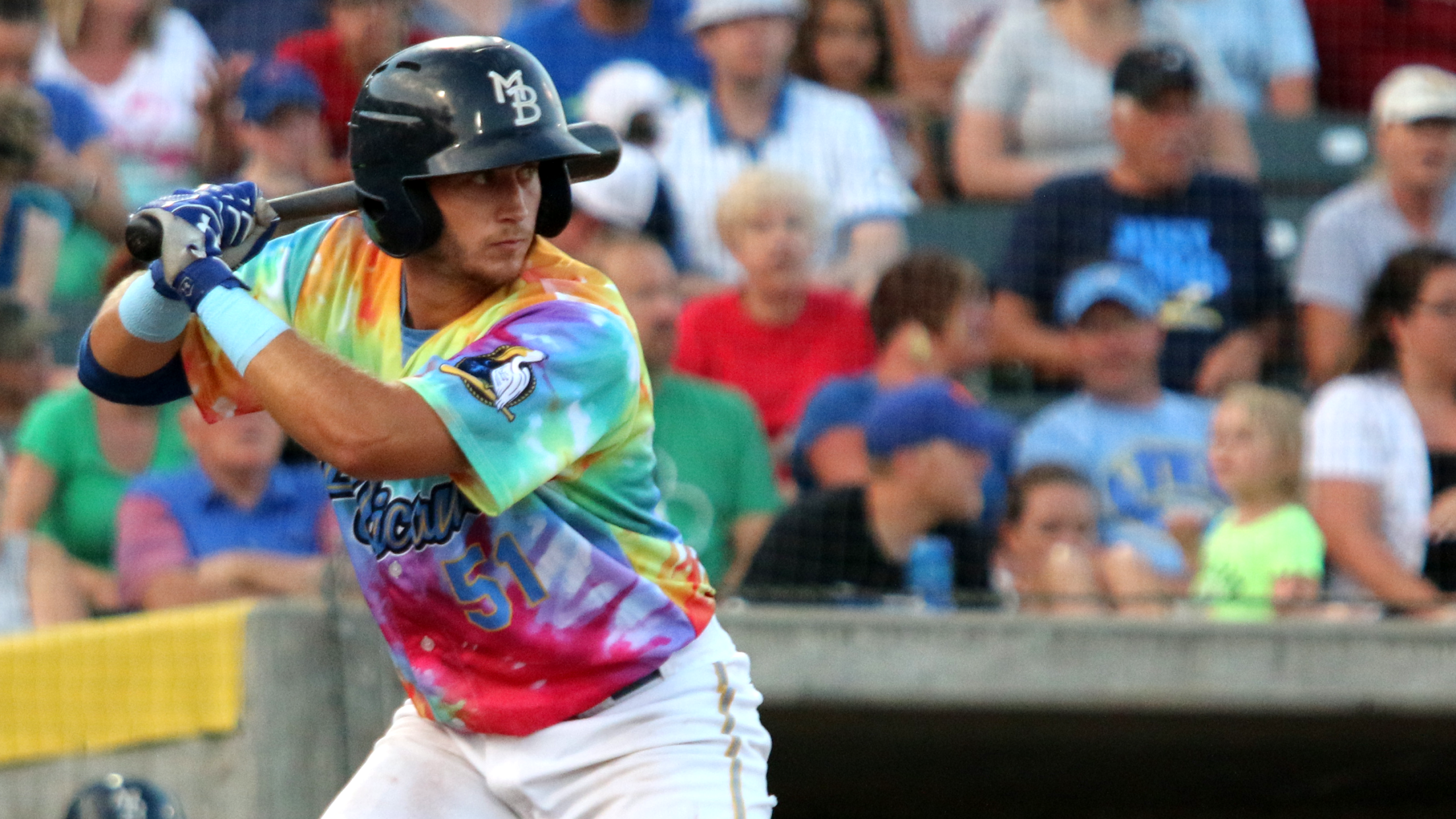 MYRTLE BEACH, S.C. (July 10, 2018) - P.J. Higgins notched four hits, including a three-run home run, to propel the Myrtle Beach Pelicans' offense Tuesday in a blasting of the Carolina Mudcats 11-3 from TicketReturn.Com Field at Pelicans Ballpark. With the Pelicans (41-49, 7-13) leading 4-3 going into the sixth, Kevonte Mitchell started
Carolina spoils series opener with 3-1 win over Birds
Pelicans fall in fifth game over last six contests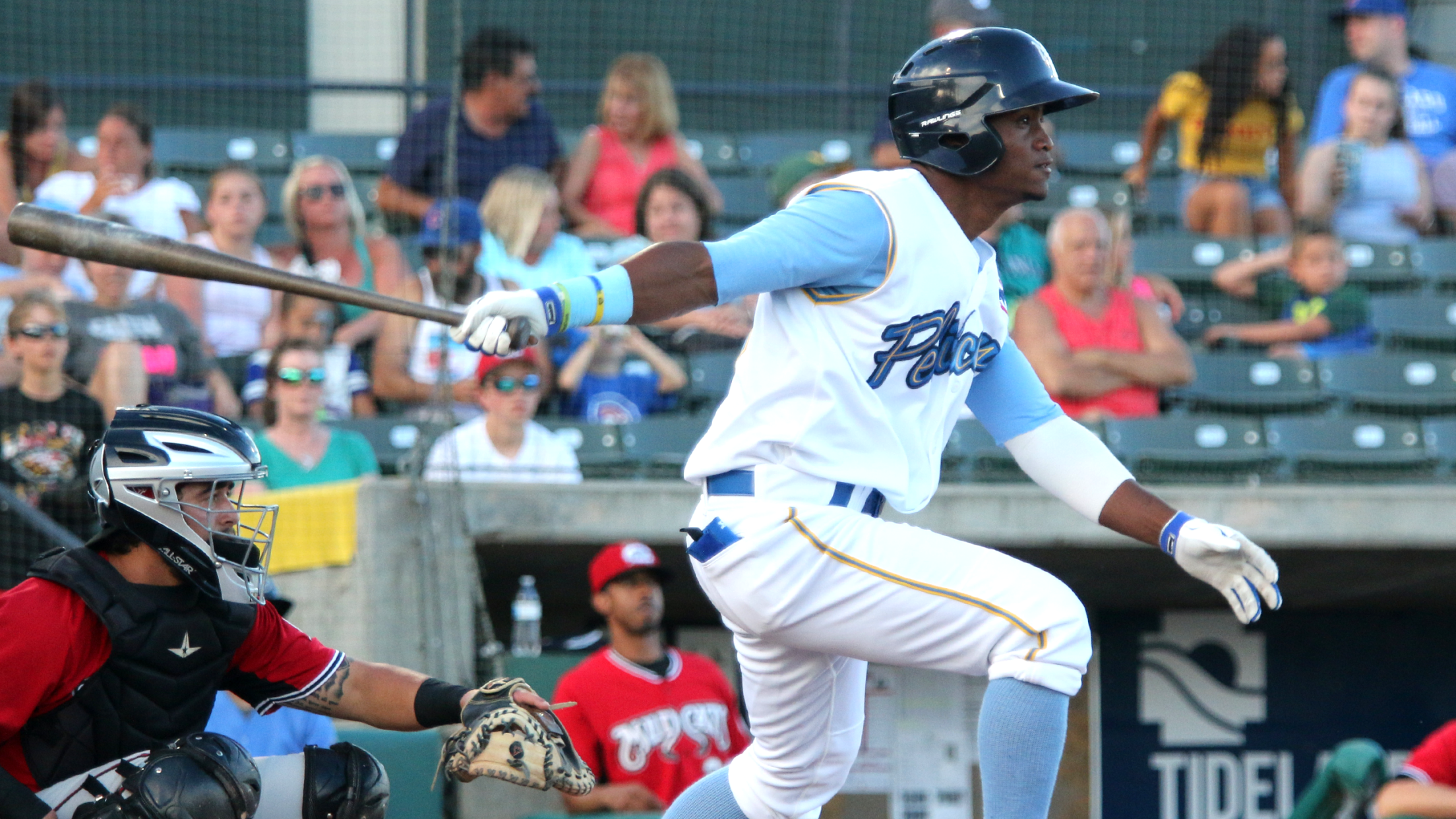 MYRTLE BEACH, S.C. (July 9, 2018) - The Myrtle Beach Pelicans fell 3-1 on Monday night in the series opener against the Carolina Mudcats from TicketReturn.Com Field at Pelicans Ballpark.The Pelicans (40-49, 6-13) struck first in the bottom of the second inning when Yeiler Peguero looped an RBI single into shallow
Myrtle Beach's reign ends in 2-1 loss
Down East clinches first championship with win over Pelicans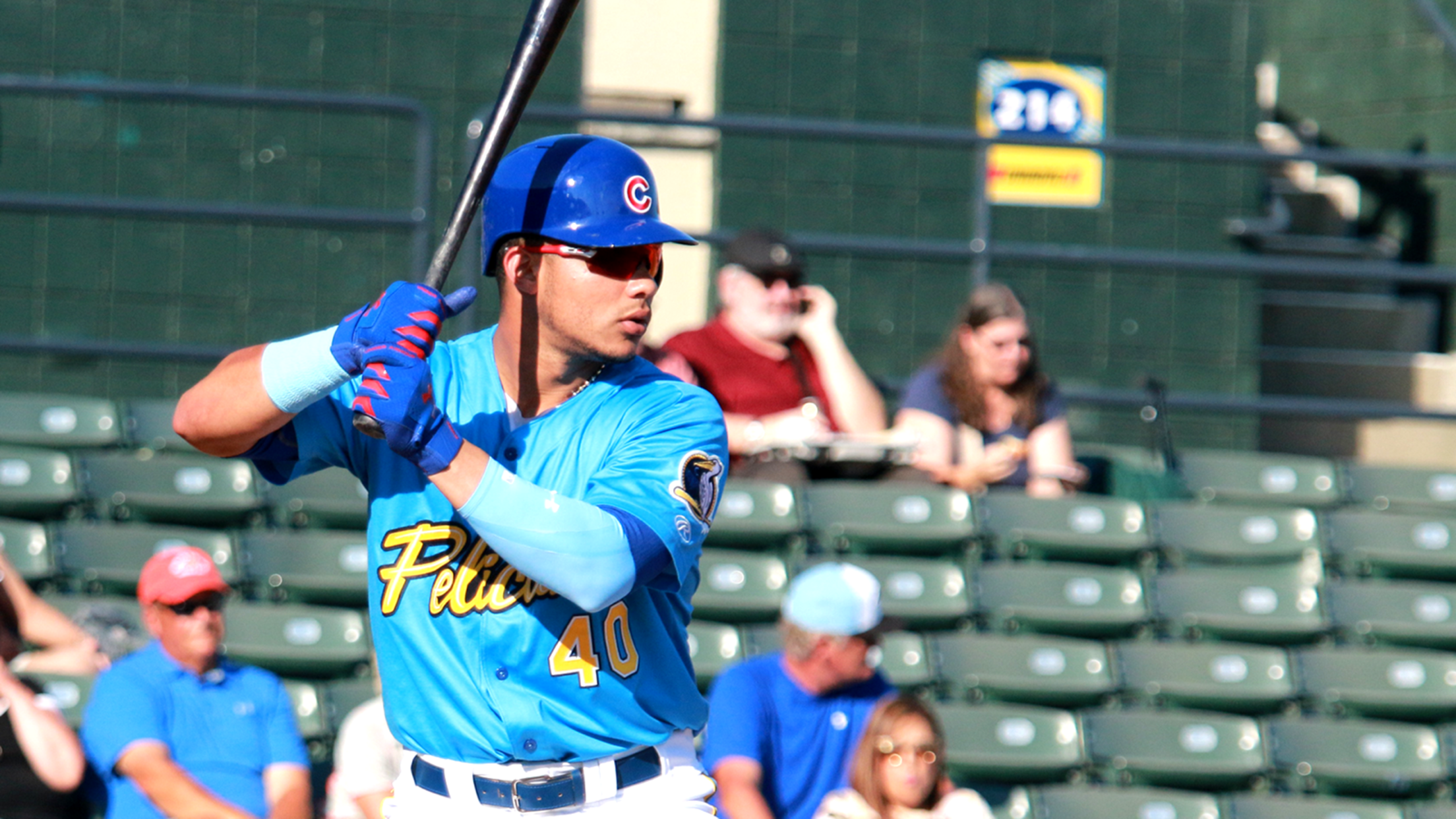 MYRTLE BEACH, S.C. (September 8, 2017) - Willson Contreras reached base three times Friday in the Myrtle Beach Pelicans' 2-1 loss to the Down East Wood Ducks, clinching the Woodies' first Mills Cup Championship at TicketReturn.Com Field at Pelicans Ballpark. With the game tied at tied at one in the top of
Myrtle Beach blanked in 1-0 loss to Carolina
Pelicans suffer second shutout in three games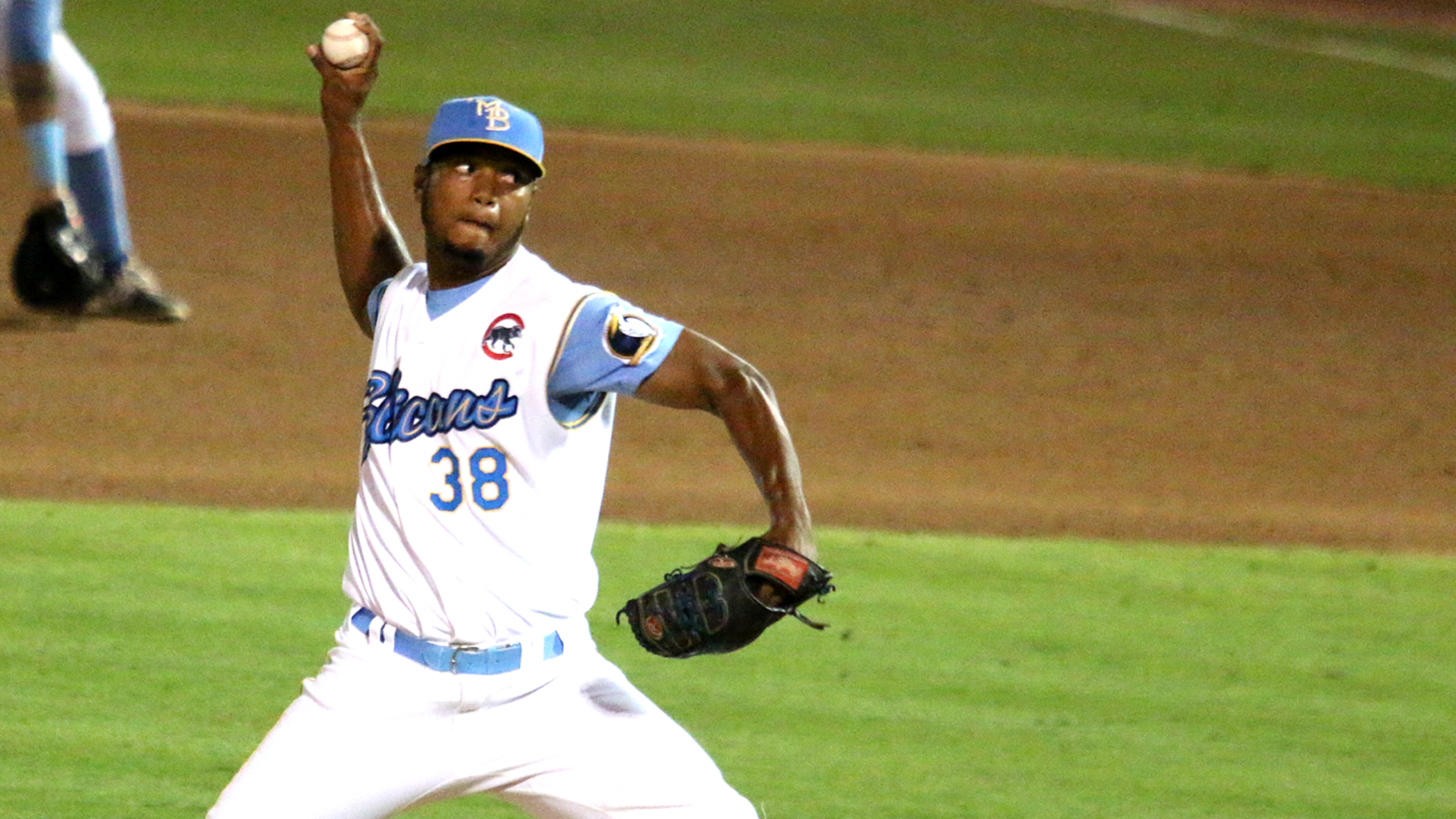 ZEBULON, N.C. (September 3, 2017) - Despite five shutout frames from Alec Mills on Sunday, the Myrtle Beach Pelicans dropped their third consecutive game to the Carolina Mudcats in a 1-0 defeat from Five County Stadium. With the contest scoreless in the bottom of the sixth inning, Carolina (72-65, 36-33) scored the
Birds eek out run in extras to win 1-0
Myrtle Beach records league-leading 16th shutout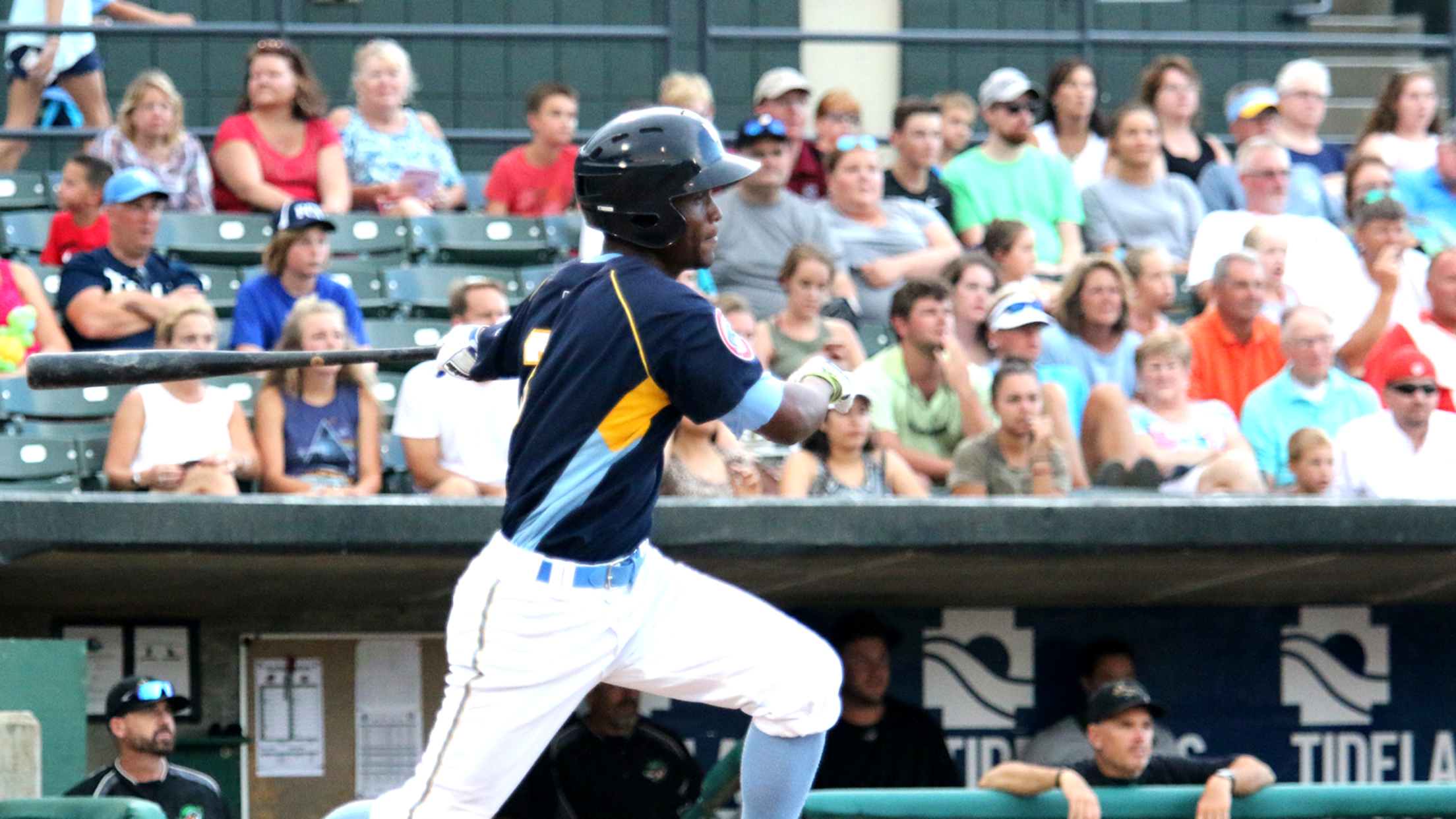 LILLINGTON, N.C. (August 30, 2017) - Roberto Caro's extra-inning RBI single Wednesday lifted the Myrtle Beach Pelicans to a 1-0 win over the Buies Creek Astros at Jim Perry Stadium.With the contest scoreless in the top of the 10th inning, Myrtle Beach (72-63, 29-36) constructed a two-out rally against Buies Creek
Offense erupts in 13-6 rout of Winston-Salem
Six different Pelicans collect RBIs in Myrtle Beach's win over the Dash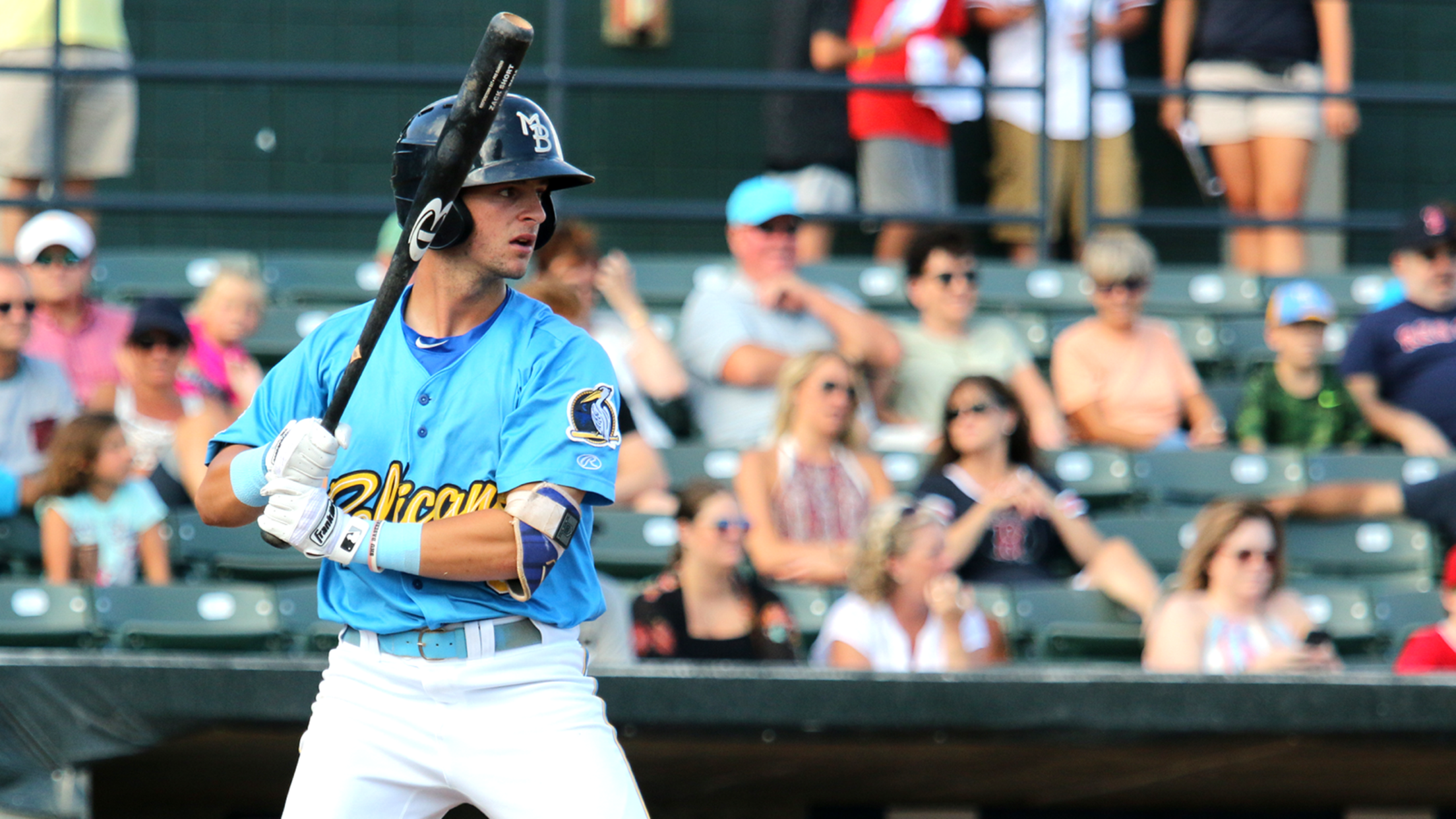 WINSTON-SALEM, N.C. (August 17, 2017) - Zack Short reached base five times and the Myrtle Beach Pelicans' offense exploded Thursday for a season-high 13 runs to back a stellar start from Duncan Robinson in the Birds' 13-6 win over the Winston-Salem Dash at BB&T Ballpark. With the game scoreless in the fourth, Myrtle
Birds can't halt skid in 4-1 loss
Myrtle Beach drops their fifth straight game in the series opener against Carolina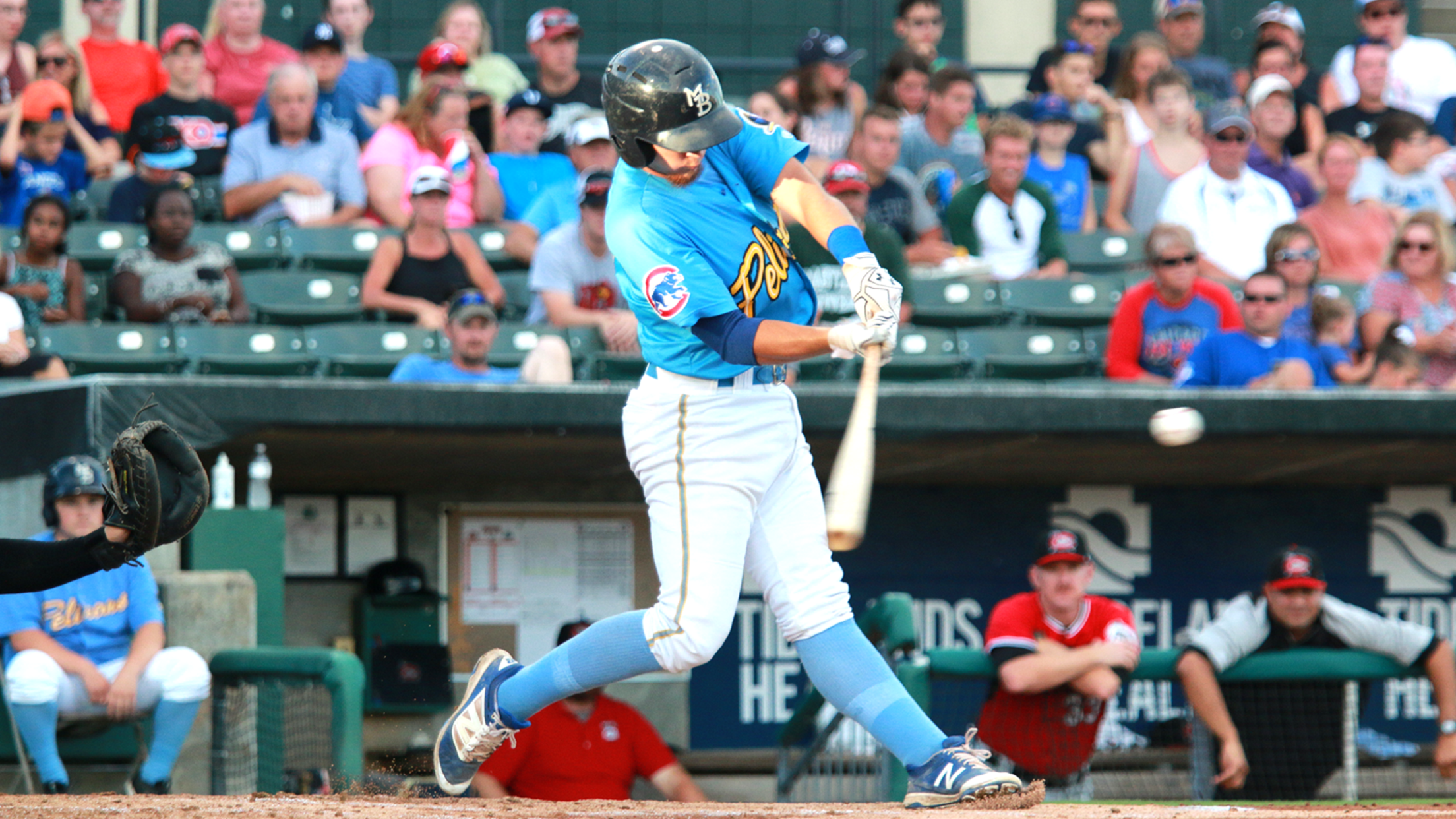 MYRTLE BEACH, S.C. (August 11, 2017) - P.J. Higgins' first inning solo home run proved not to be enough Friday as the Myrtle Beach Pelicans' losing streak tied a season-high five-games following their 4-1 defeat to the Carolina Mudcats in front of 5,177 fans from TicketReturn.Com Field at Pelicans Ballpark. With the Pelicans