Rays Send Seven Players to Minor Leagues
Five players optioned,two re-assigned to minor league camp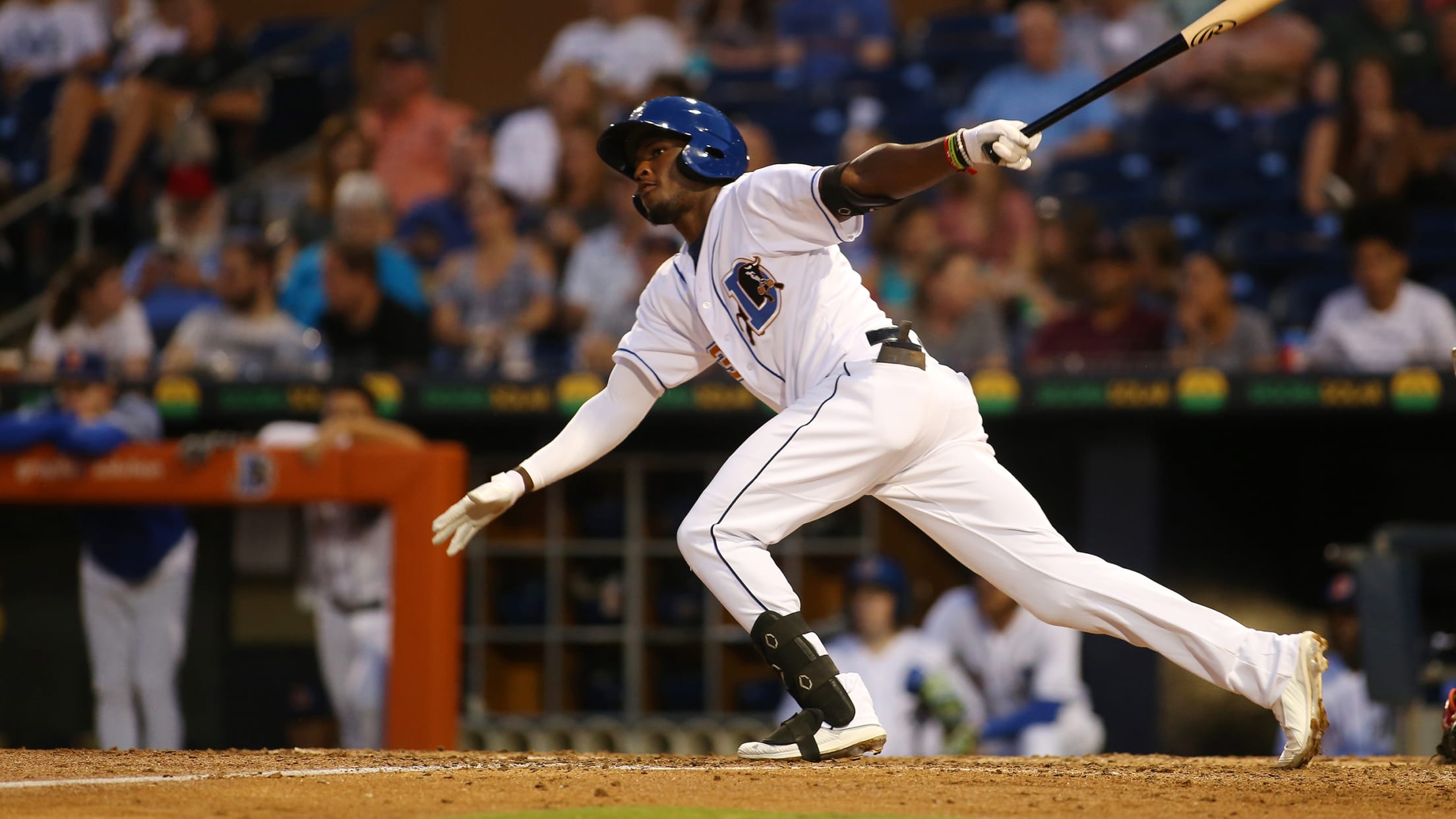 The Rays announced Sunday that five players were optioned to the minor leagues, while two more were re-assigned to minor league camp. Tampa Bay's roster now sits at 60, which will be reduced to 26 by the season opener on March 26.
Feliciano powers way to Player of the Week
No. 14 Brewers prospect tallied five homers, 11 RBIs for Mudcats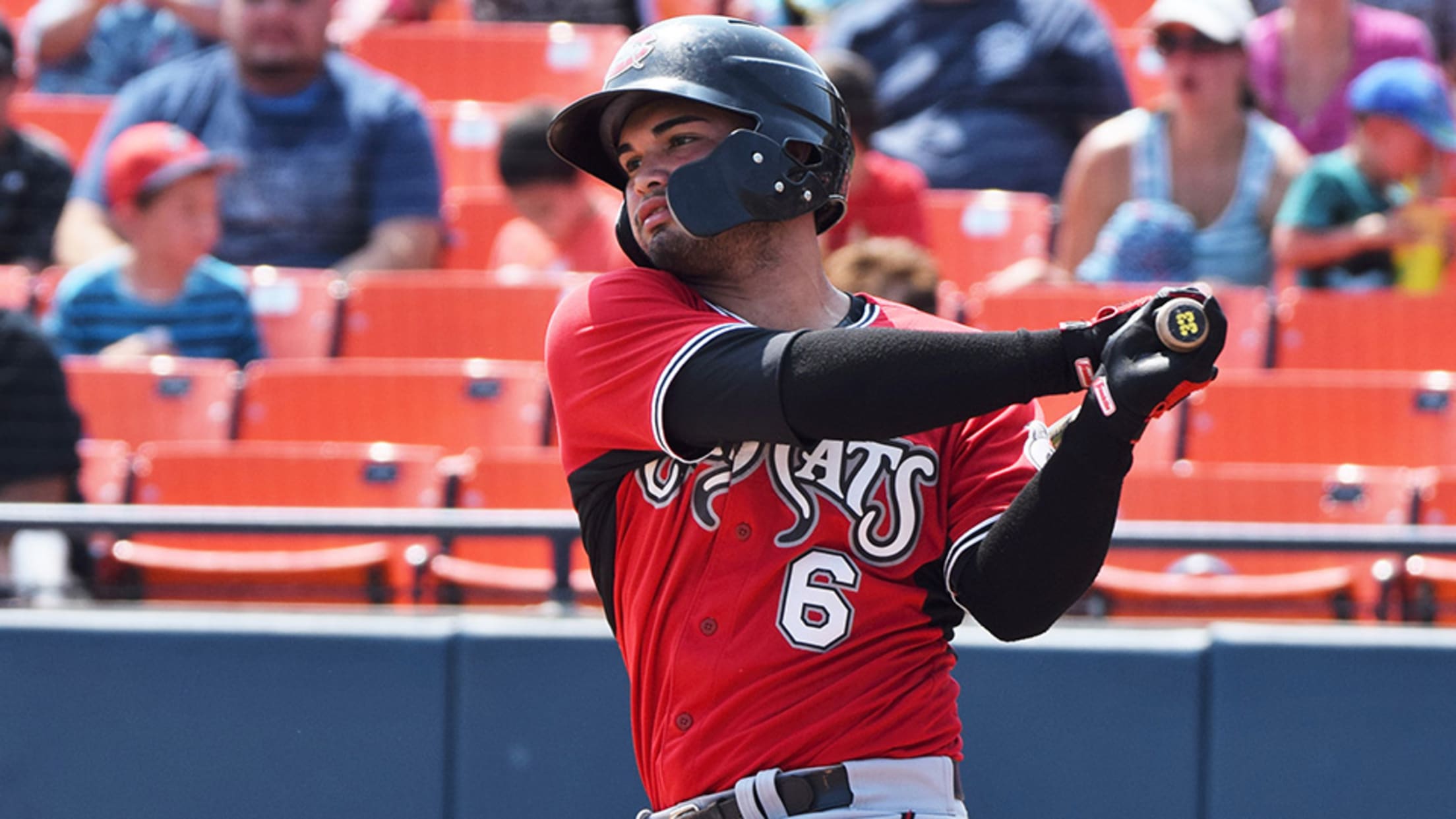 Injuries derailed Mario Feliciano's first crack at the Carolina League, but last week the catcher showed just how dangerous he can be when healthy. Milwaukee's No. 14 prospect hit .429/.500/1.286 for Class A Advanced Carolina from June 3-9, going 9-for-21 with five home runs, a triple and a double to
SL Weekly Awards: June 3-9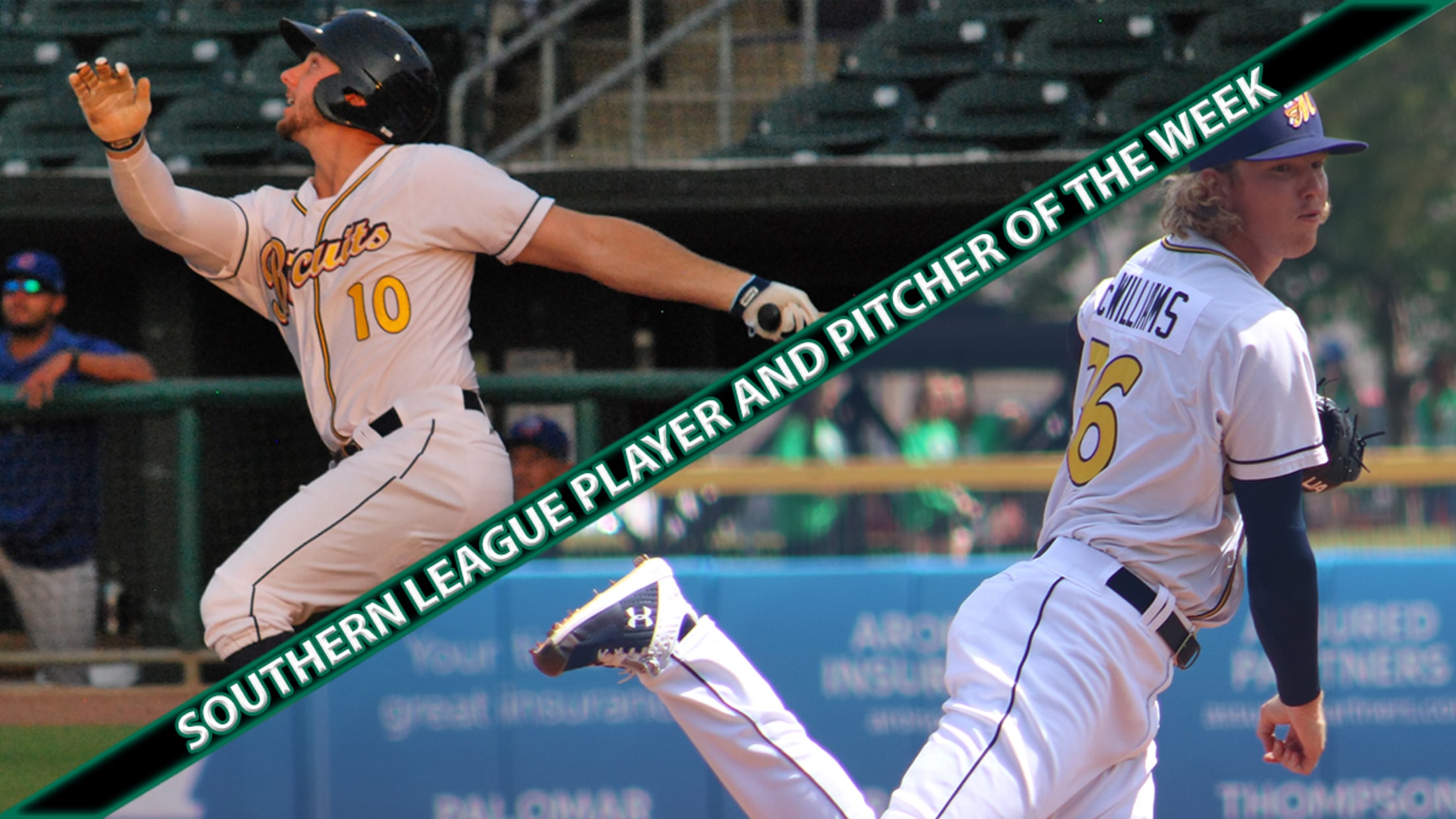 MARIETTA, GA - The Southern League of Professional Baseball Clubs are proud to announce that Montgomery infielder Kevin Padlo has been named Player of the Week, while Biscuits RHP Sam McWilliams has been named the league's Pitcher of the Week. This marks the second week in a row that a
Biscuits whip up club's first triple play
Rays' Padlo, Gray, Kelly go around the horn in fifth inning of win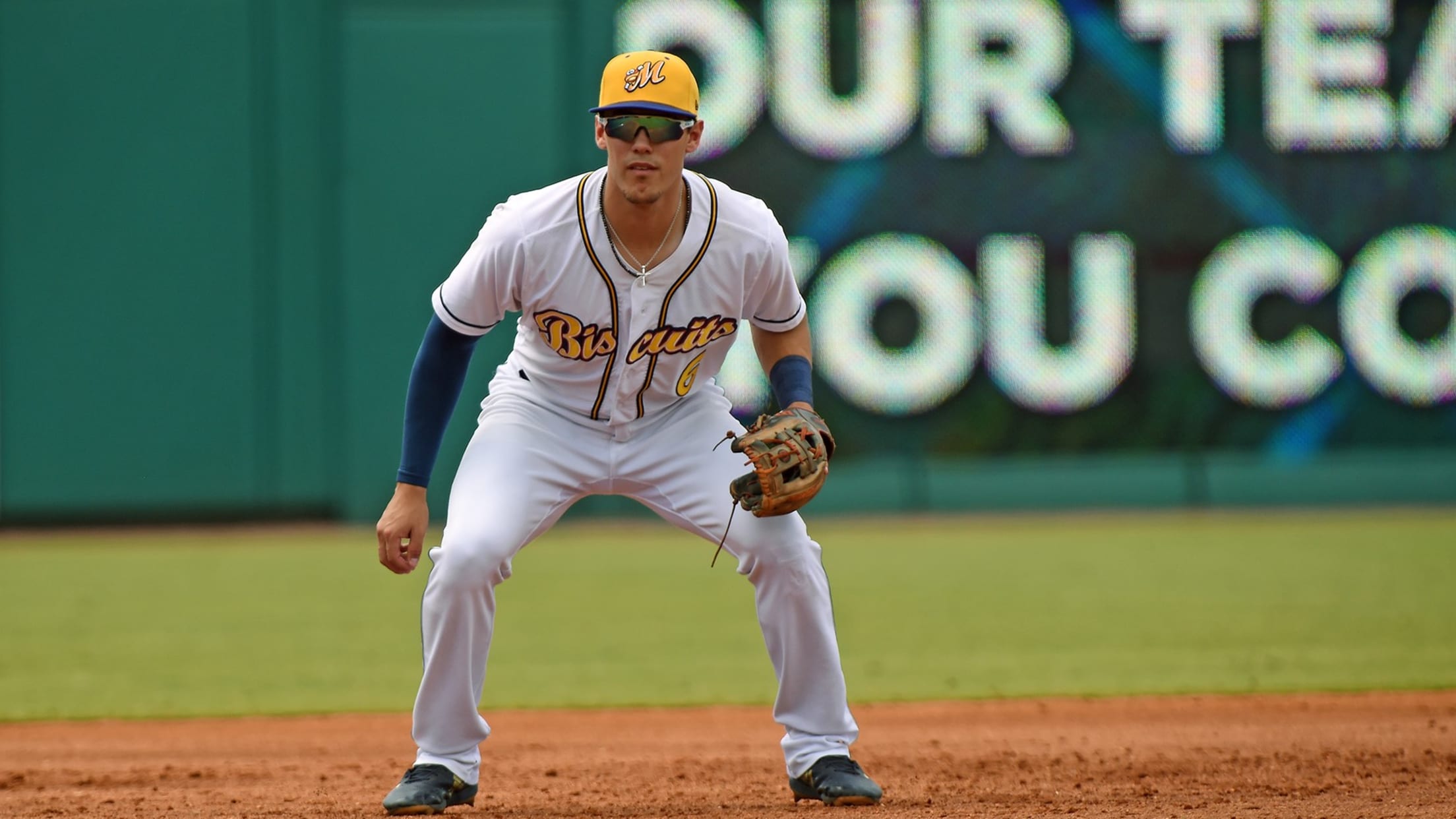 The Double-A Biscuits have served up the first triple play in their 15-year history.Kevin Padlo, Tampa Bay's No. 28 prospectTristan Gray and Dalton Kelly went around the horn in the fifth inning of Wednesday's 3-1 win over Mobile at Montgomery Riverwalk Stadium.
Stone Crabs blow out Fire Frogs twice
Charlotte pulls even with Fort Myers in division race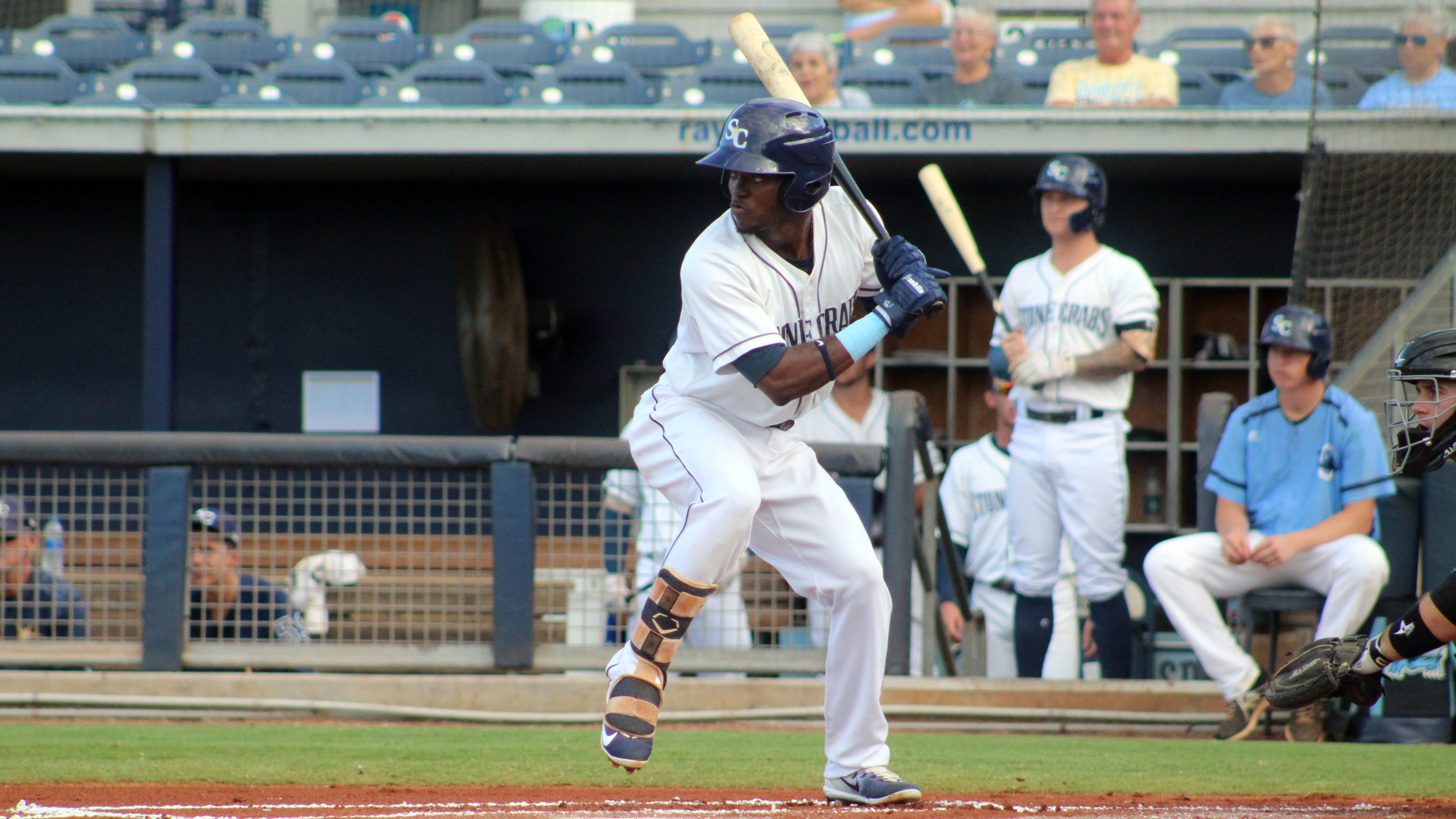 PORT CHARLOTTE, Fla. (August 31, 2018) - The Charlotte Stone Crabs blew out the Florida Fire Frogs by scores of 6-0 and 13-0 Friday at Charlotte Sports Park, putting them back in the thick of the division race.The two Charlotte (73-61, 39-28) wins combined with the Fort Myers loss means
Six-run first propels Stone Crabs to sixth straight
Padlo knocks in three en route to series win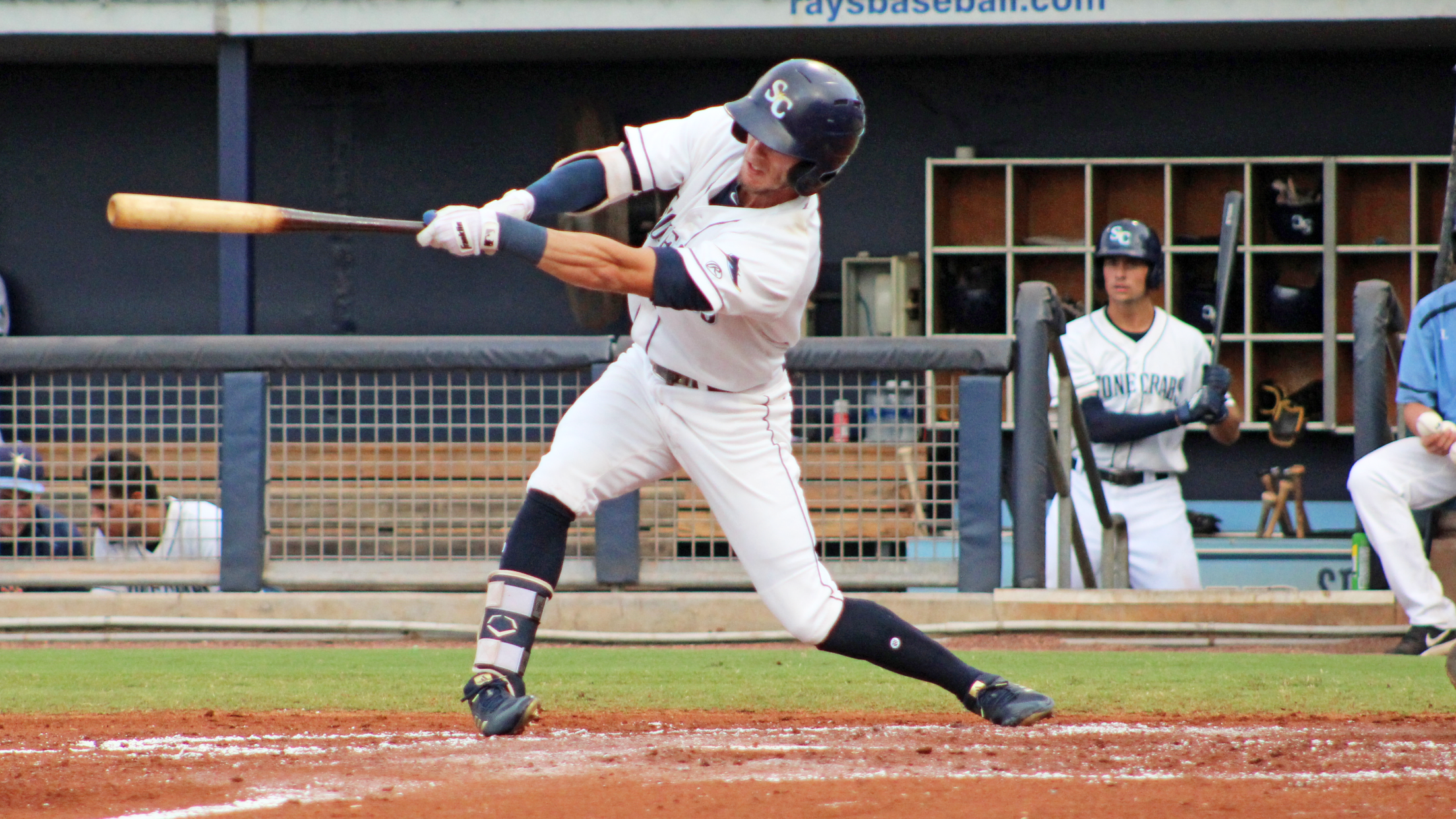 PORT CHAROTTE, Fla. (August 11, 2018) - The Charlotte Stone Crabs used a six-run rally in the first inning to win their sixth straight game with a 10-8 victory over the Dunedin Blue Jays Saturday at Charlotte Sports Park.The Stone Crabs (64-50, 30-17) would open the scoring right out of the
Stone Crabs walk off on Jays for second straight night
Padlo's two-out hit seals 7-6 win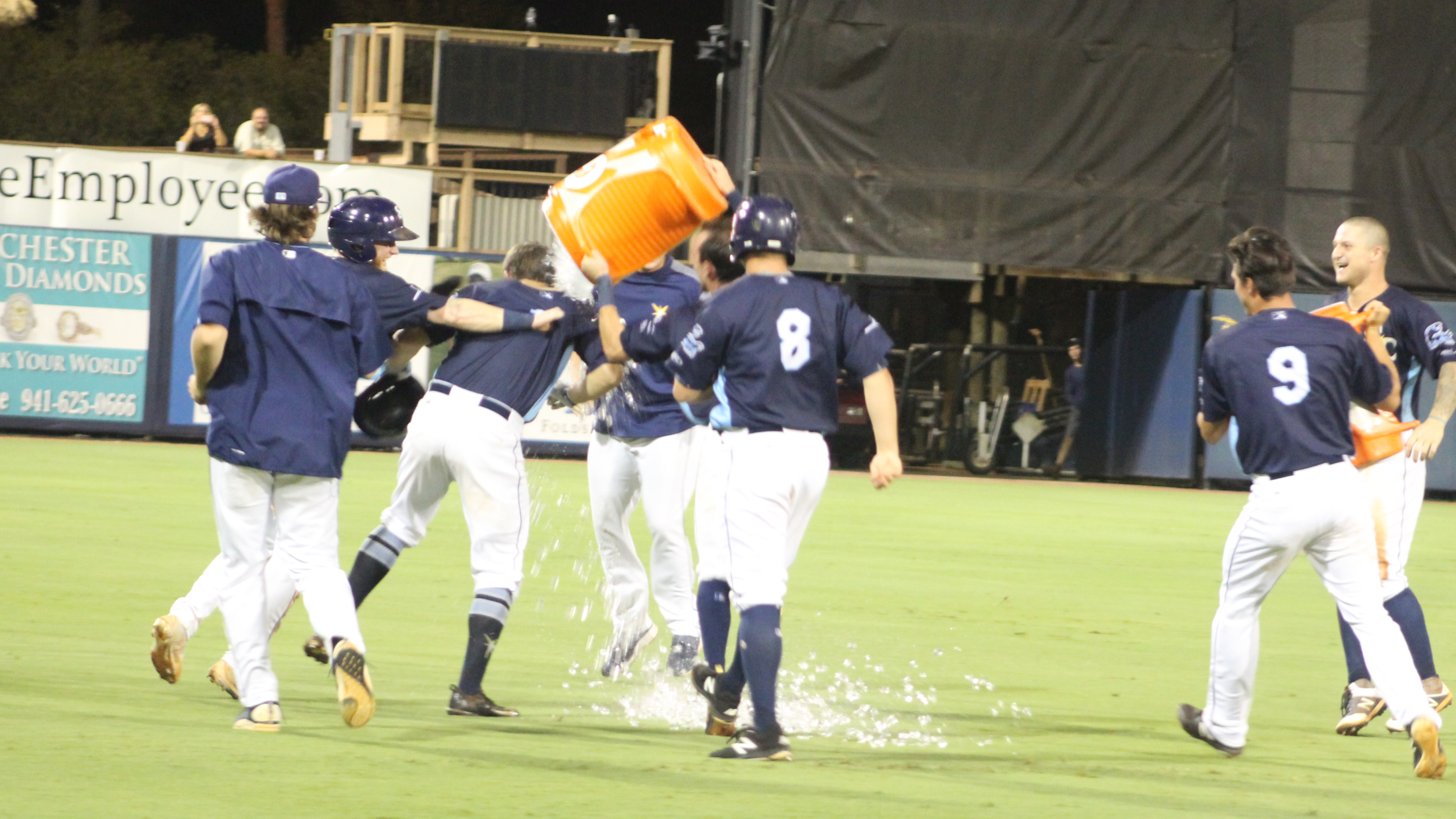 PORT CHARLOTTE, Fla. (August 10, 2018) - Kevin Padlo drove a two-out hit over the head of right fielder Rodrigo Orozco, completing the Stone Crabs comeback in a 7-6 walk-off win over the Dunedin Blue Jays Friday at Charlotte Sports Park. Friday marked the second straight night the Stone Crabs
Padlo's walk-off dinger stuns Frogs 6-3 in 12
Stone Crabs erase three deficits in extras to spoil no-hit bid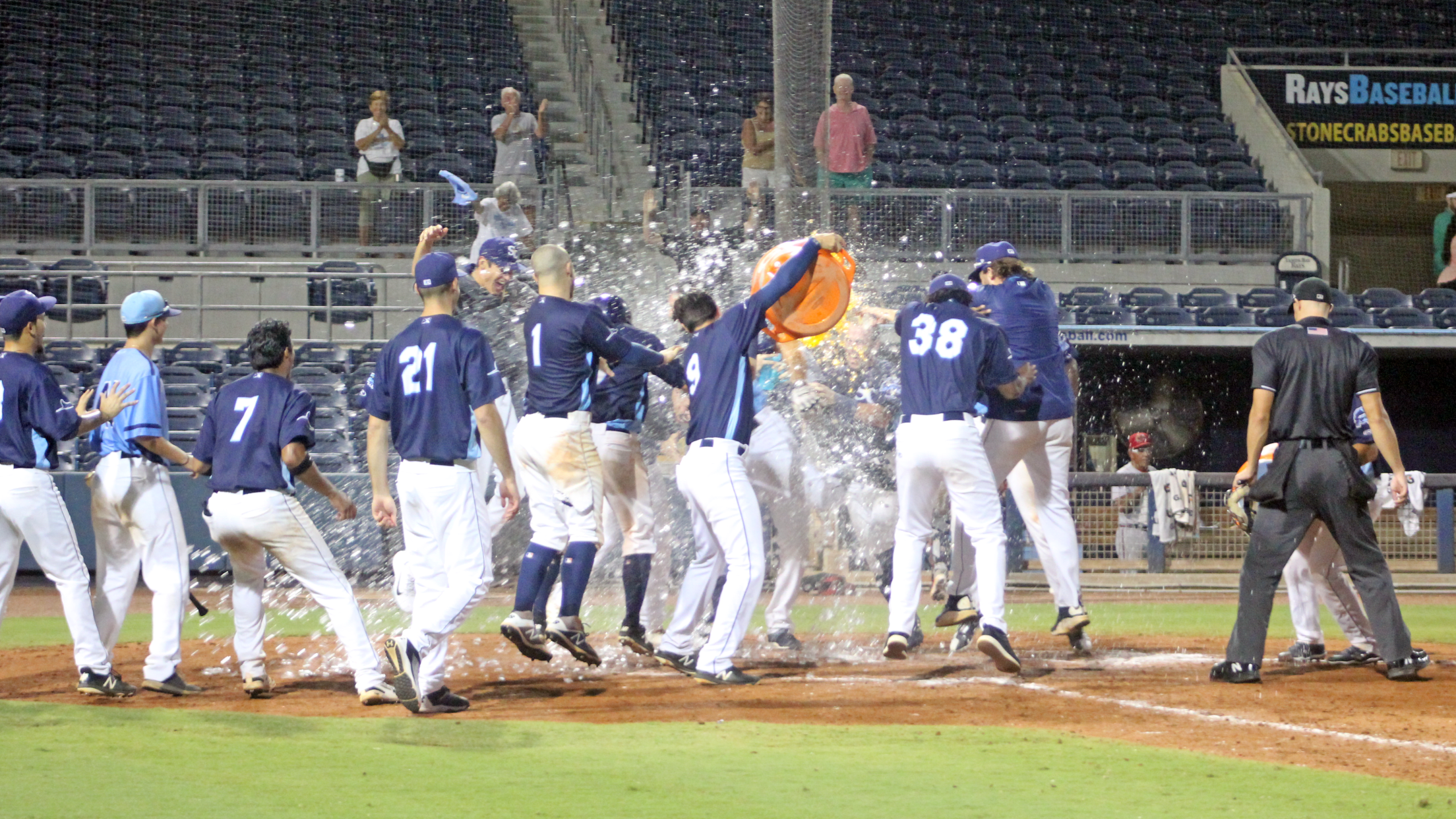 PORT CHARLOTTE, Fla. (August 1, 2018) - Kevin Padlo played the hero twice Wednesday, breaking up the Fire Frogs' no-hit bid in the 11th before delivering the walk-off three-run home run in the 12th as the Charlotte Stone Crabs beat Florida 6-3 at Charlotte Sports Park.The Stone Crabs (57-47, 23-14)
Stone Crabs mash way to series win
Charlotte outscores St. Lucie 25-10 over final three games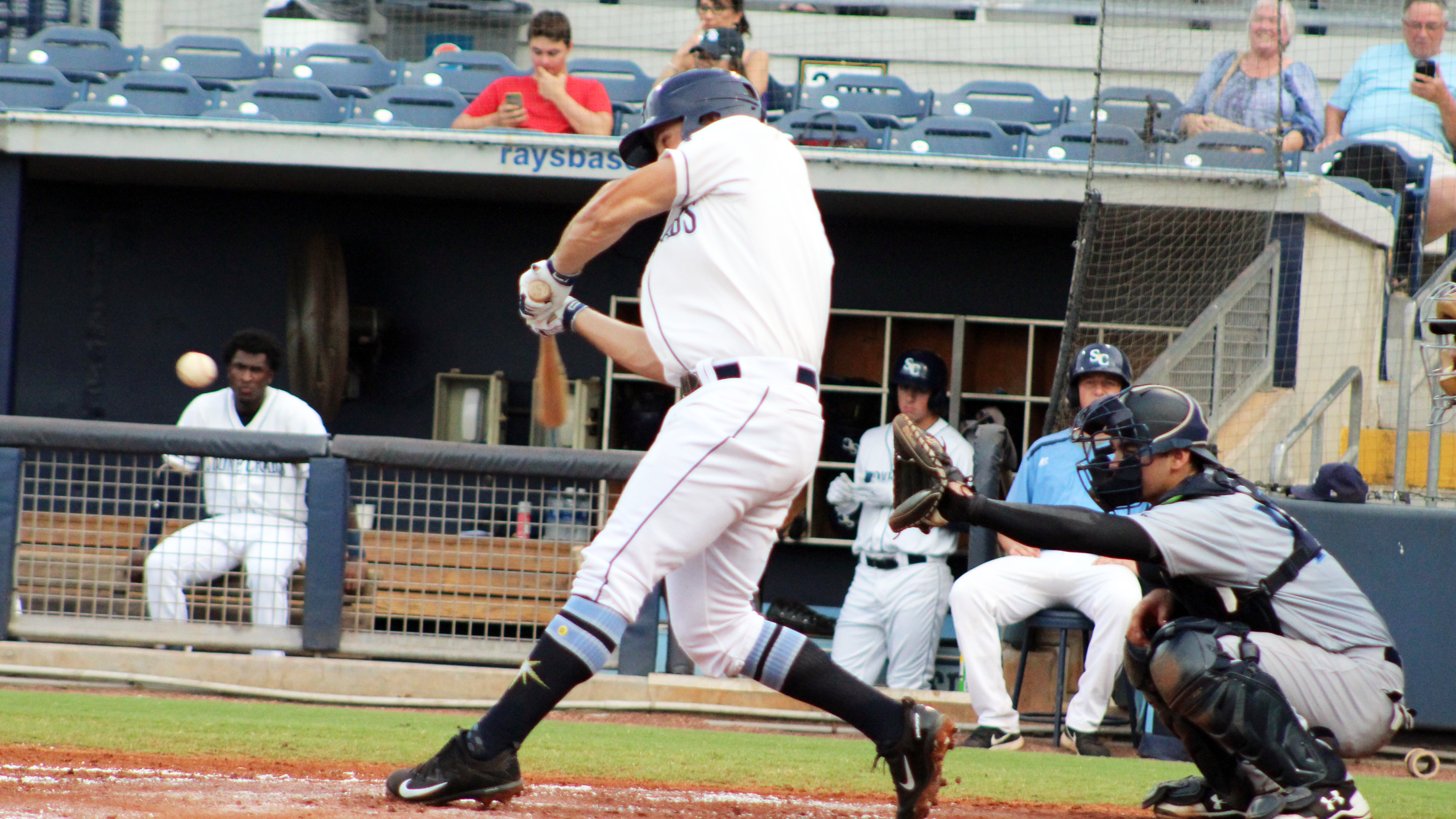 PORT ST. LUCIE, Fla. (July 29, 2018) - The Charlotte Stone Crabs used ten hits and nine walks to mash their way to a 10-2 win Sunday over the St. Lucie Mets at First Data Field.Kevin Padlo led the effort for the Stone Crabs (54-47, 20-14), going 3-for-5 with a
Padlo's slam not enough in 8-5 loss
Sanchez drives in run in loss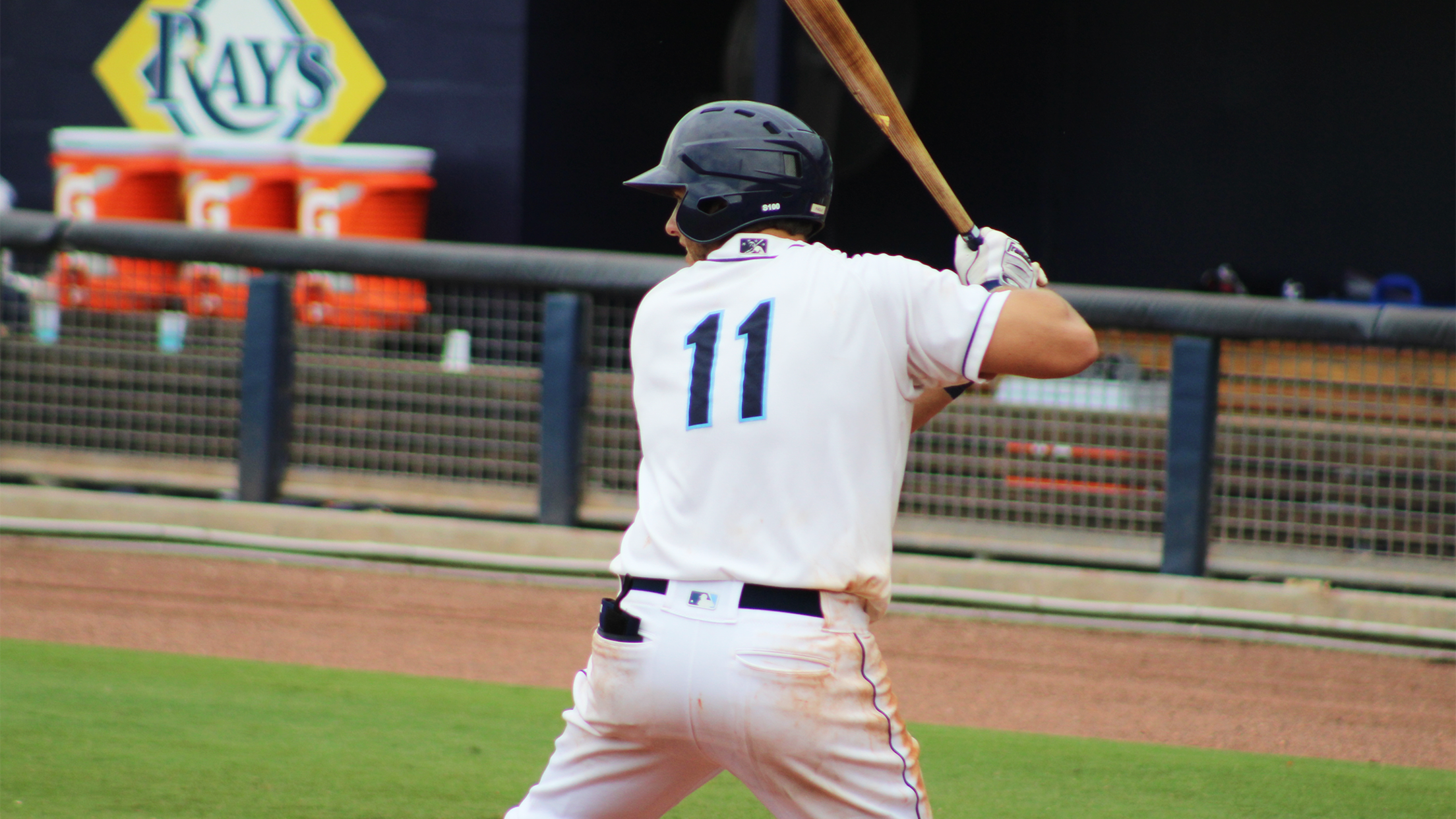 PORT CHARLOTTE, Fla. (June 8, 2018) - Kevin Padlo delivered the Stone Crabs' first grand slam of the season, but the Clearwater Threshers took the series opener 8-5 at Charlotte Sports Park. Padlo's blast came in the ninth with the Stone Crabs (26-31) trailing 8-1. It was the team's first
Three homers not enough in 8-4 loss
Stone Crabs rattle seven extra-base hits in defeat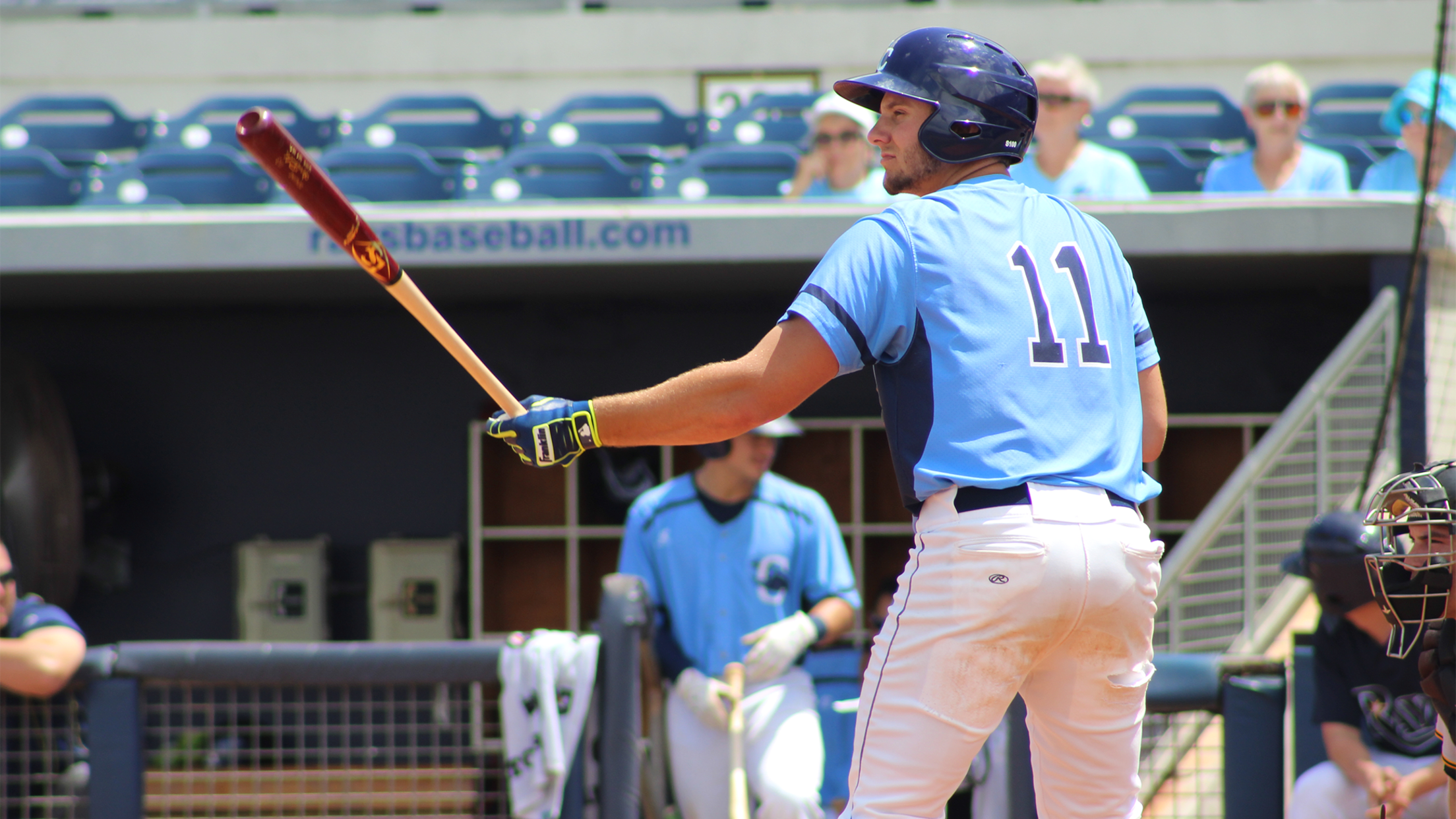 BRADENTON, Fla. (June 1, 2018) - The Charlotte Stone Crabs clubbed three home runs Friday, but dropped the series opener to the Bradenton Marauders 8-4 at LECOM Park. Peter Maris, Josh Lowe and Kevin Padlo each launched solo shots against Bradenton (27-22) pitching. All seven Stone Crabs (24-26) hits went
AFL Update: Lowe, Padlo excelling against top prospects
Lowe to play in Fall Stars Game on MLB Network Saturday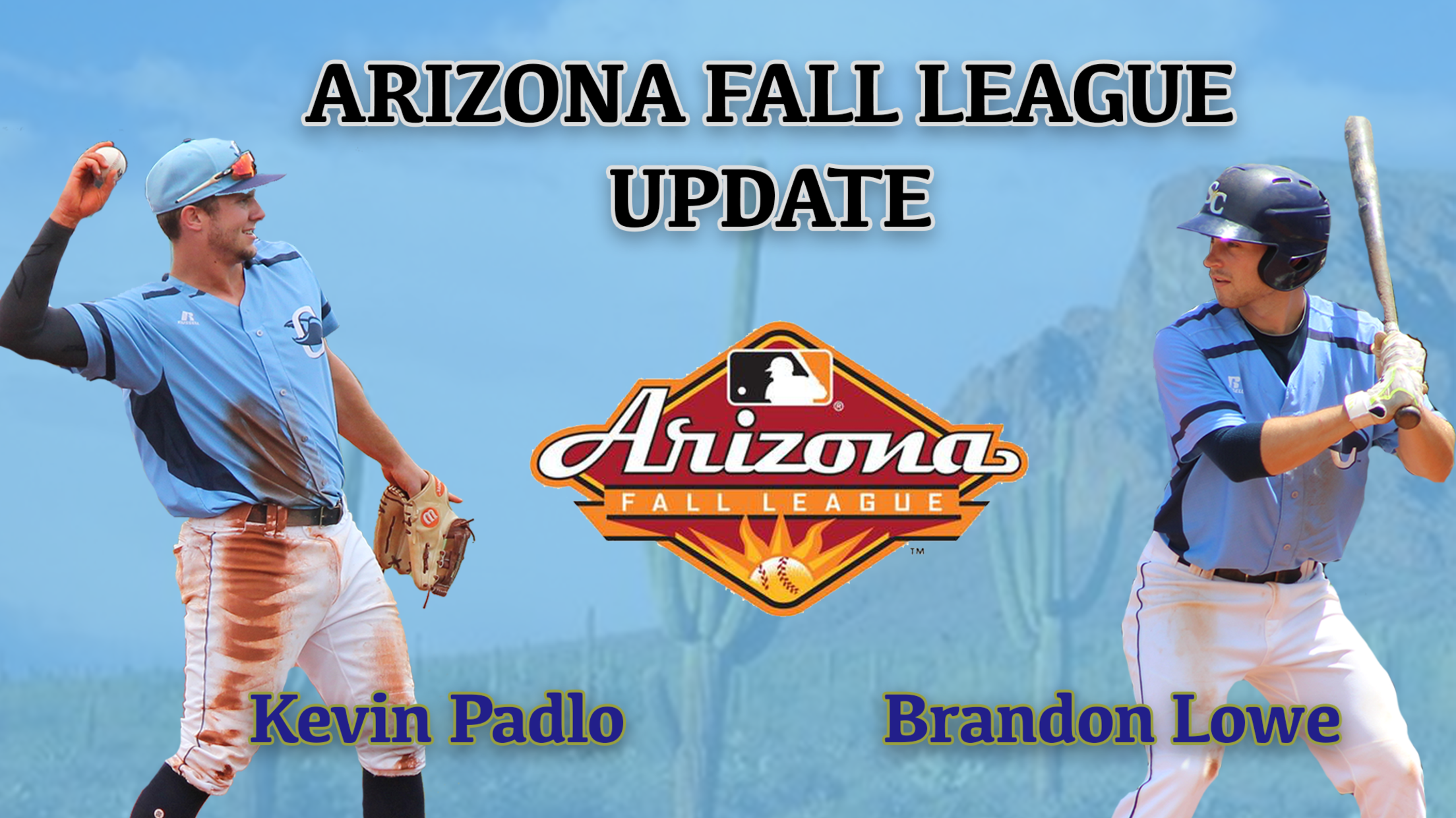 PORT CHARLOTTE, Fla. (October 31, 2017) - 2017 Stone Crabs infielders Kevin Padlo and Brandon Lowe have excelled through the first half of the season in the Arizona Fall League.Padlo has hit .292 through his first 13 games, leading the Surprise Saguares with 11 RBI. The Murrieta, Calif. native slugged
Padlo, Jones, Moats earn spot in Arizona Fall League
Watson, five former Stone Crabs also earn selection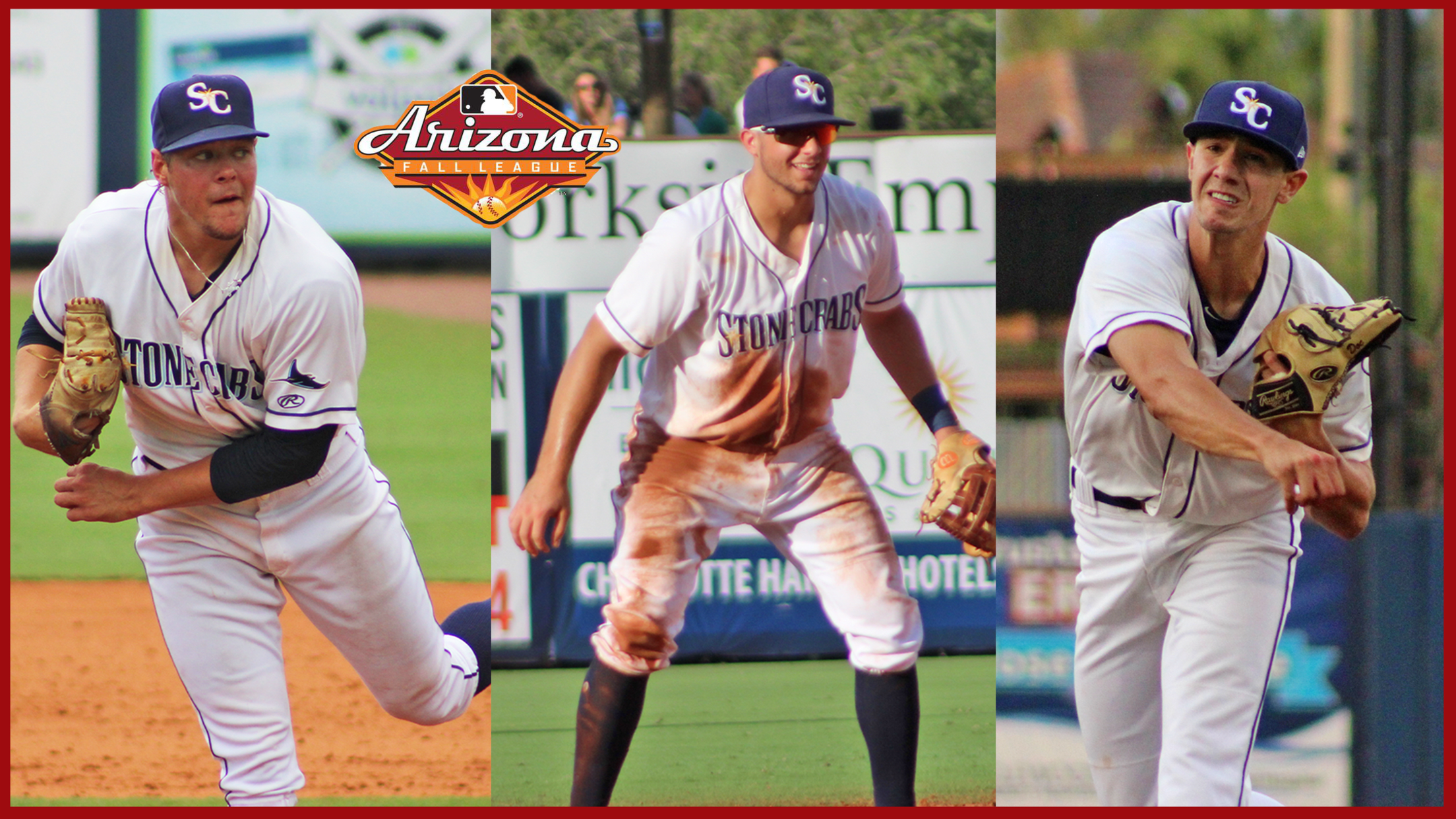 PORT CHARLOTTE, Fla. (September 7, 2017) - Stone Crabs third baseman Kevin Padlo , and relievers Spencer Jones and Dalton Moats have been selected to represent the Tampa Bay Rays in the Arizona Fall League this October. Padlo, Jones and Moats will join Stone Crabs pitching coach Steve "Doc" Watson
Padlo reaches base three times in 7-2 loss to Jupiter
Stone Crabs surrender early lead in loss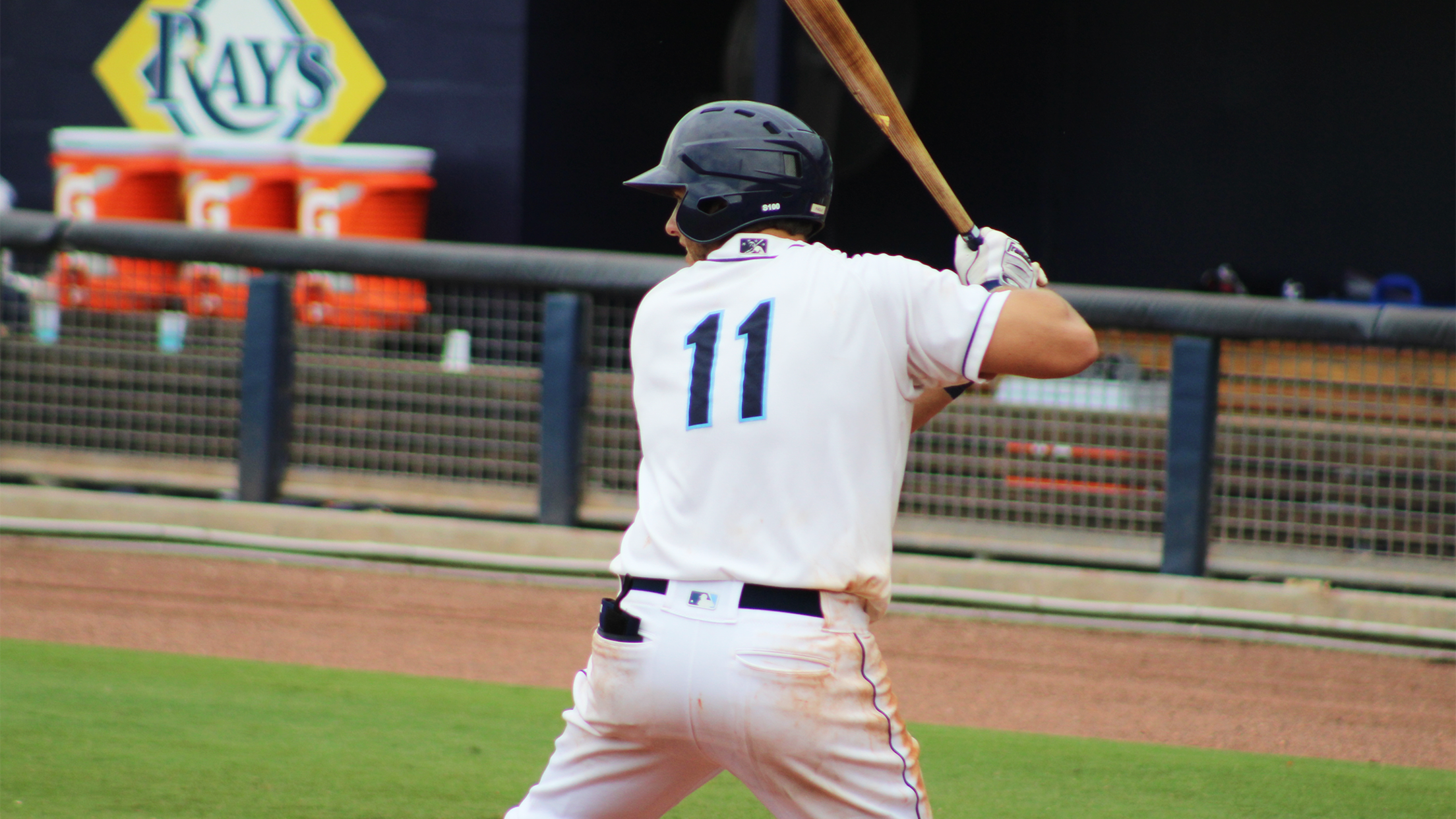 PORT CHARLOTTE, Fla. (August 8, 2017) - Kevin Padlo reached base three times Tuesday but the Jupiter Hammerheads came back to beat the Charlotte Stone Crabs 7-2 at Charlotte Sports Park. The Stone Crabs (54-58, 23-21) provided most of the offense early before fading late. With two outs in the
Padlo's RBIs spring Stone Crabs past Blue Jays 2-0
Lawson, Velasquez, Karalus combine on shutout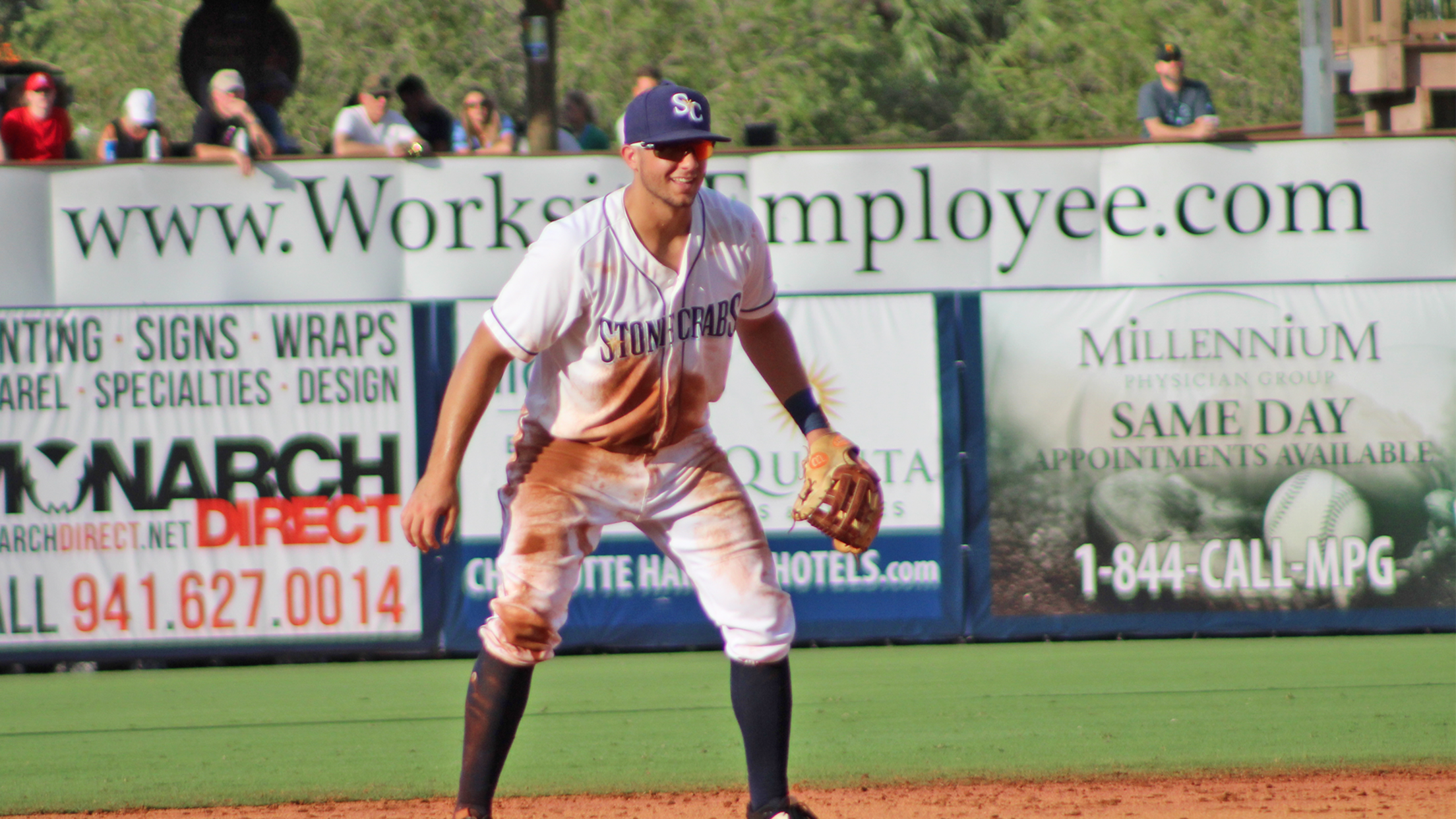 DUNEDIN, Fla. (August 3, 2017) - Kevin Padlo delivered both RBIs and three Charlotte Stone Crabs combined on a shutout in a 2-0 win over the Dunedin Blue Jays Thursday night at Florida Auto Exchange Stadium.Stone Crabs (53-54, 22-17) starter Brandon Lawson (4-4) battled through five shutout innings, allowing five
Stone Crabs fend off Blue Jays 5-2
Padlo, Rodriguez with big hits in win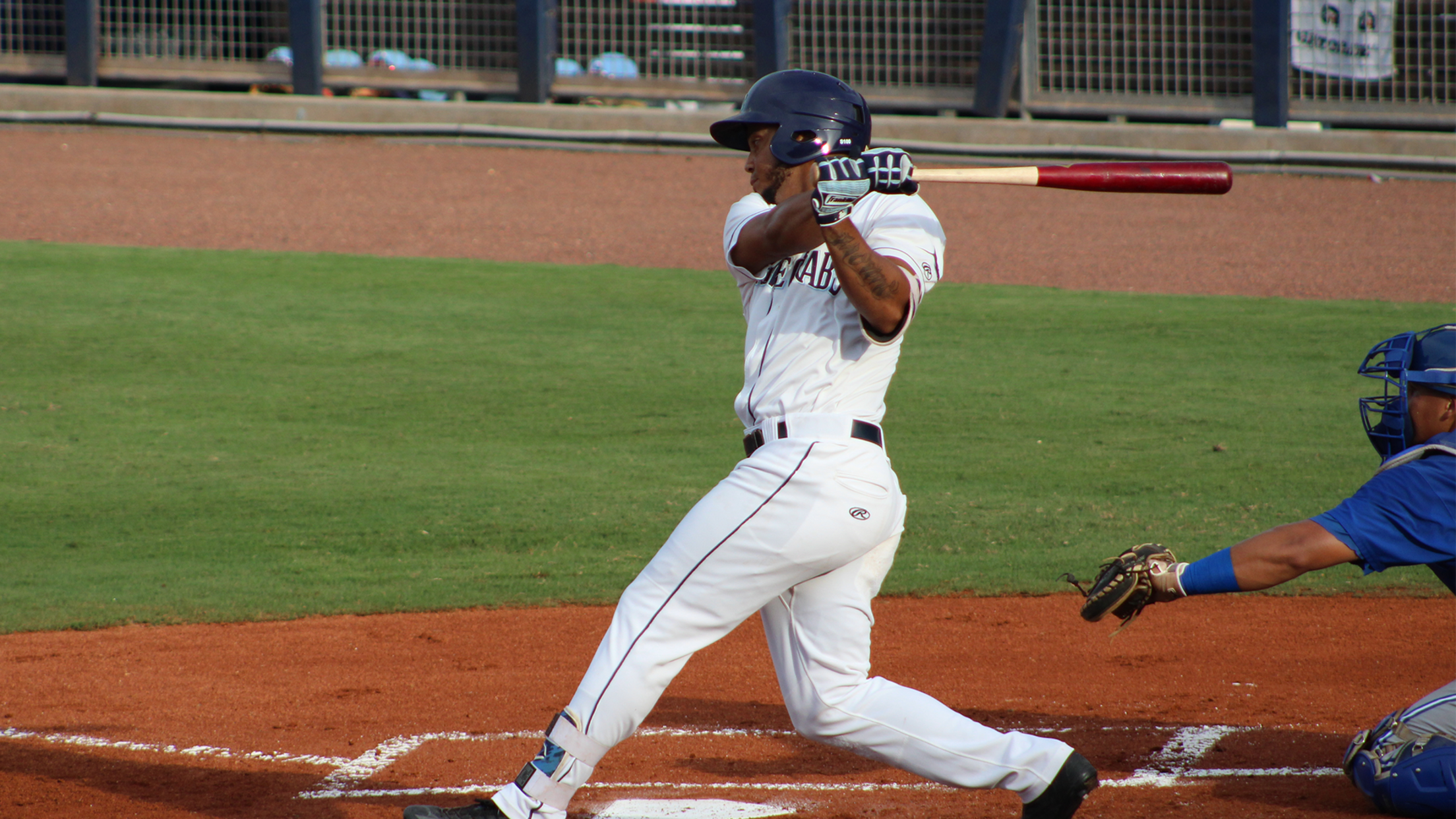 PORT CHARLOTTE, Fla. (July 25, 2017) - Kevin Padlo and David Rodríguez came up with important hits Tuesday as the Charlotte Stone Crabs held off the Dunedin Blue Jays in a 5-2 win at Charlotte Sports Park.With the game scoreless in the bottom of the third, Peter Maris singled before
Padlo's homer sinks Hammerheads
Stone Crabs' three-run eighth inning propels team to 3-1 win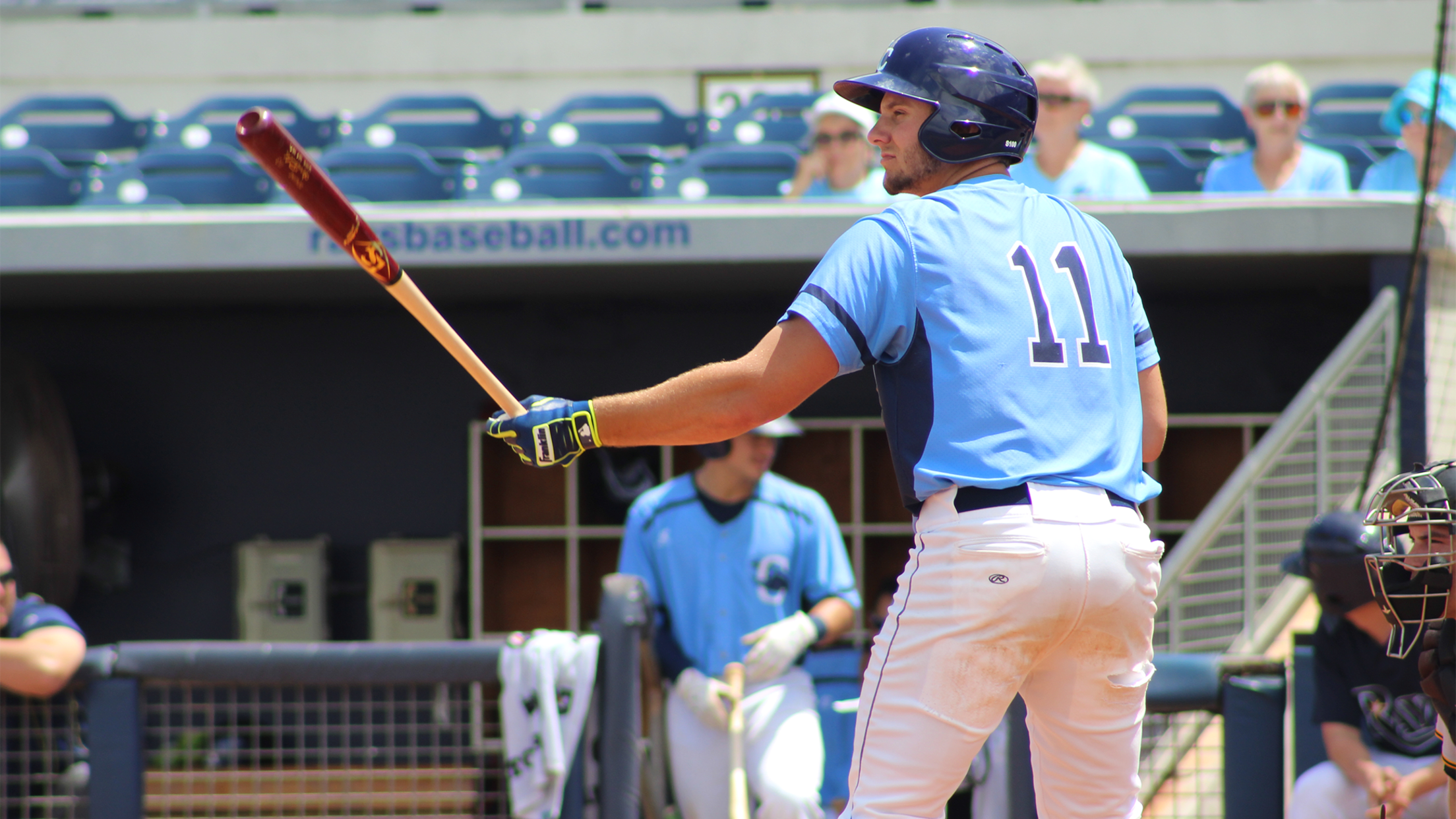 JUPITER, Fla. (July 16, 2017) - Kevin Padlo's two-run home run in the top of the eighth inning gave the Charlotte Stone Crabs their first and only lead of the game in a 3-1 win over the Jupiter Hammerheads Sunday at Roger Dean Stadium.The clutch home run was Padlo's first
Bats of Padlo, Cronenworth propel Charlotte
Third baseman homers twice, shortstop runs hitting streak to 25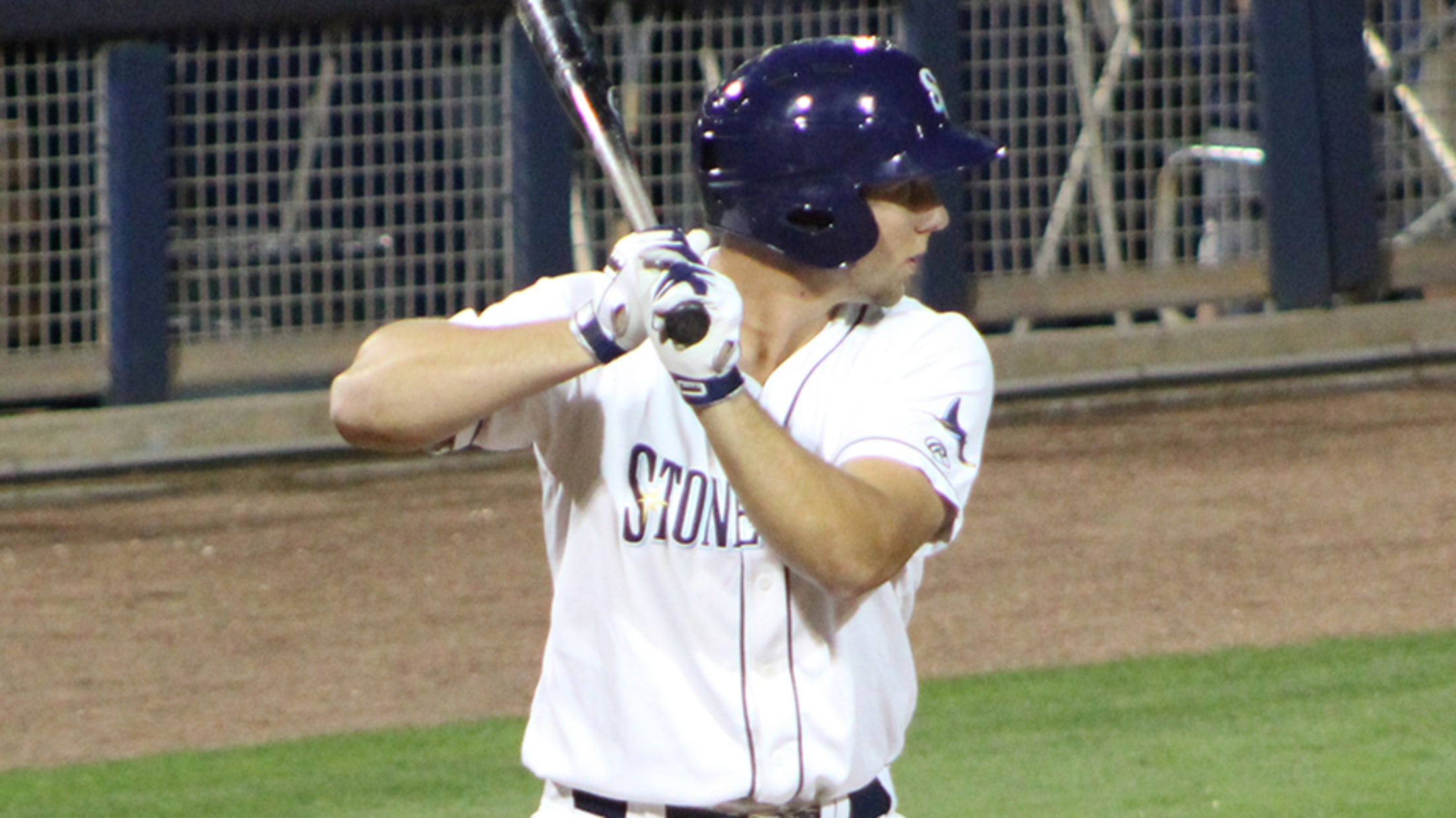 Kevin Padlo brought the power and Jake Cronenworth handled the consistency Monday for Class A Advanced Charlotte.Padlo, the No. 18 Rays prospect, homered twice and drove in five runs while Cronenworth doubled twice to extend his hitting streak to 25 games in the Stone Crabs' 7-5 triumph over the Lakeland
Rays' Padlo and Cronenworth
Padlo homers twice, Cronenworth extends hitting streak to 25 games
When Kevin Padlo and Jake Cronenworth fulfill their respective roles in the lineup like they did on Monday for Class A Advanced Charlotte, it spells a deadly combination against its opponents.Padlo, the Rays No. 18 prospect, homered twice and drove in five runs while Cronenworth doubled twice in five at-bats
Padlo goes deep twice in 7-5 win over Lakeland
Cronenworth extends hitting streak to 25 in victory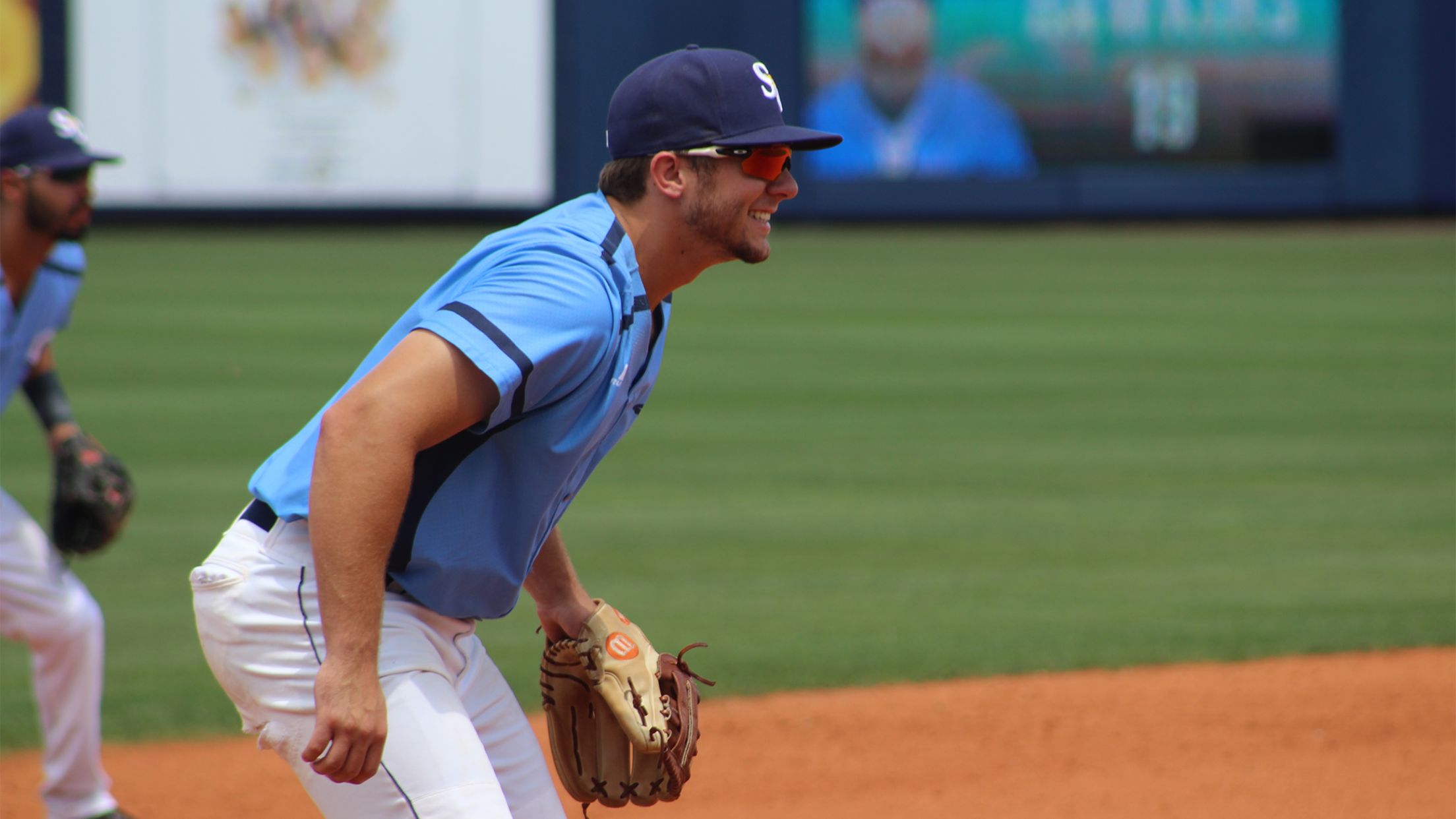 LAKELAND, Fla. (May 1, 2017) - Stone Crabs third baseman Kevin Padlo drove in five runs on a pair of home runs in Monday's 7-5 Charlotte win over the Lakeland Flying Tigers at Publix Field at Joker Marchant Stadium.Monday marked Padlo's first multi-home run performance of his career.With one out
Stone Crabs take first game in Daytona 6-4
Padlo drives in four runs in win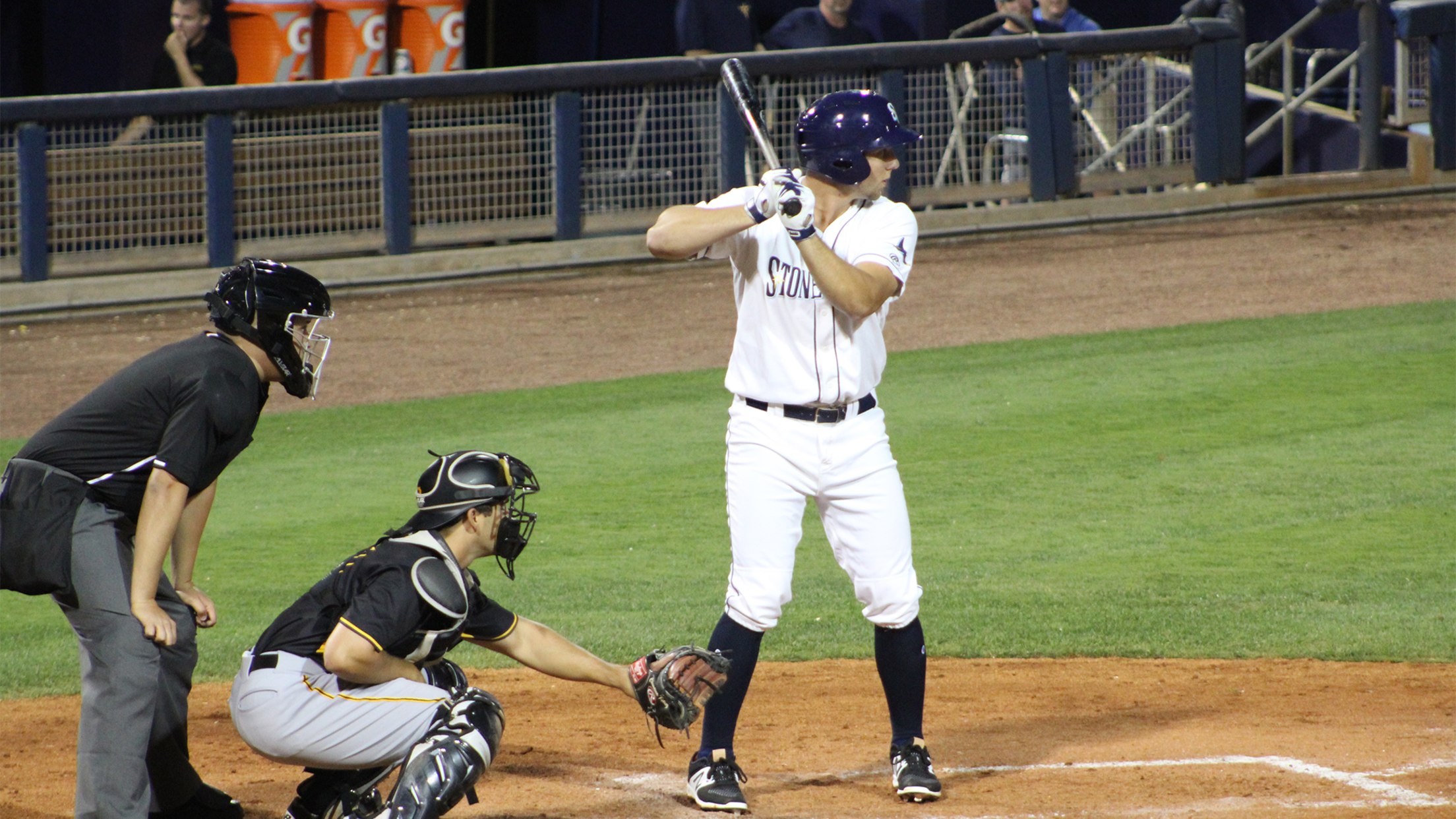 Padlo and Rodriguez reach base three times in 4-2 Sunday loss
Stone Crabs bullpen gives up three runs in defeat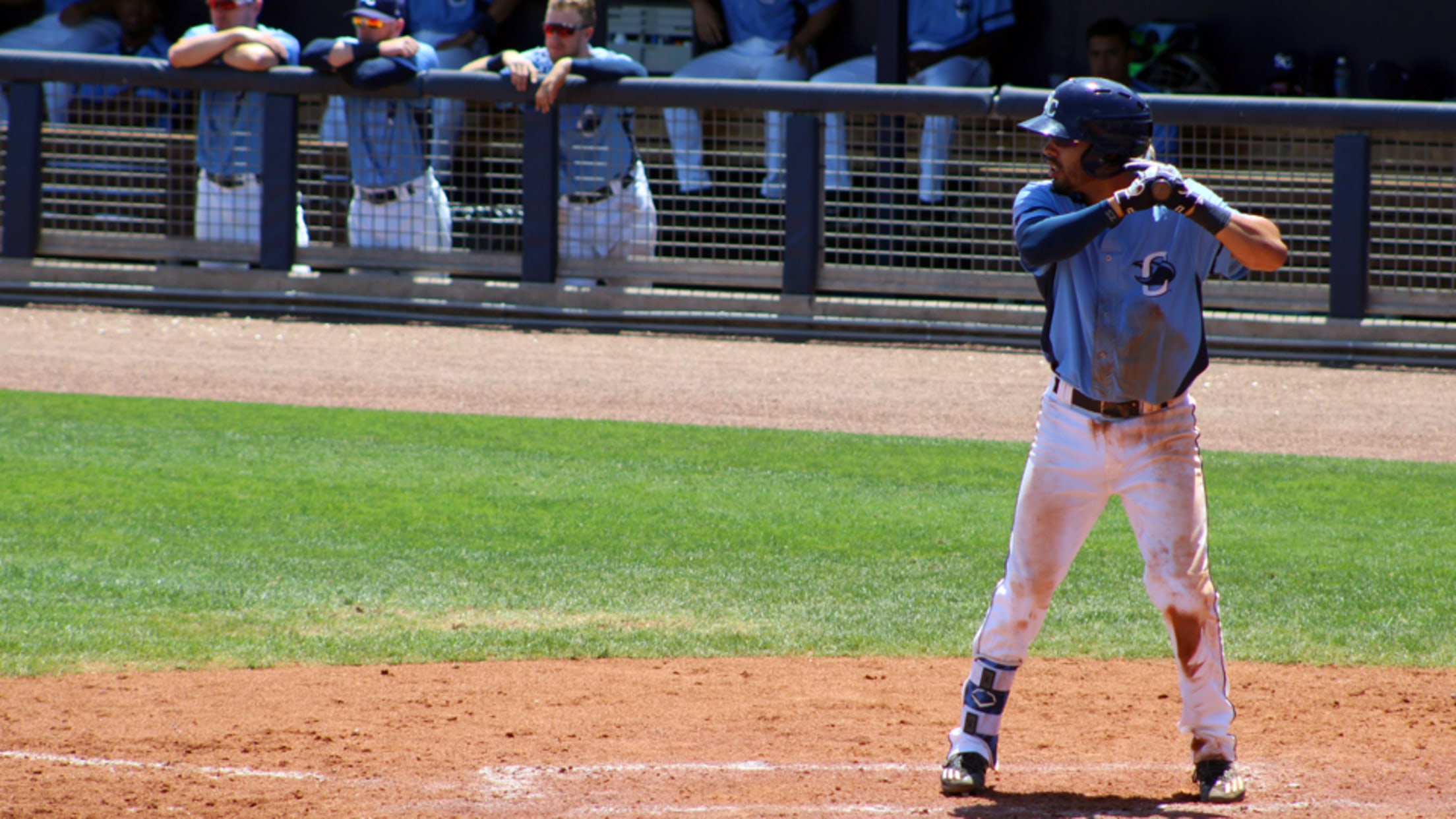 Lukes' four-hit night not enough in 12-6 loss to Cardinals
Padlo finishes home run short of the cycle in defeat