Toolshed's best of the decade: Offensive players
Reviewing, ranking 2010s MiLBY winners for work with the bat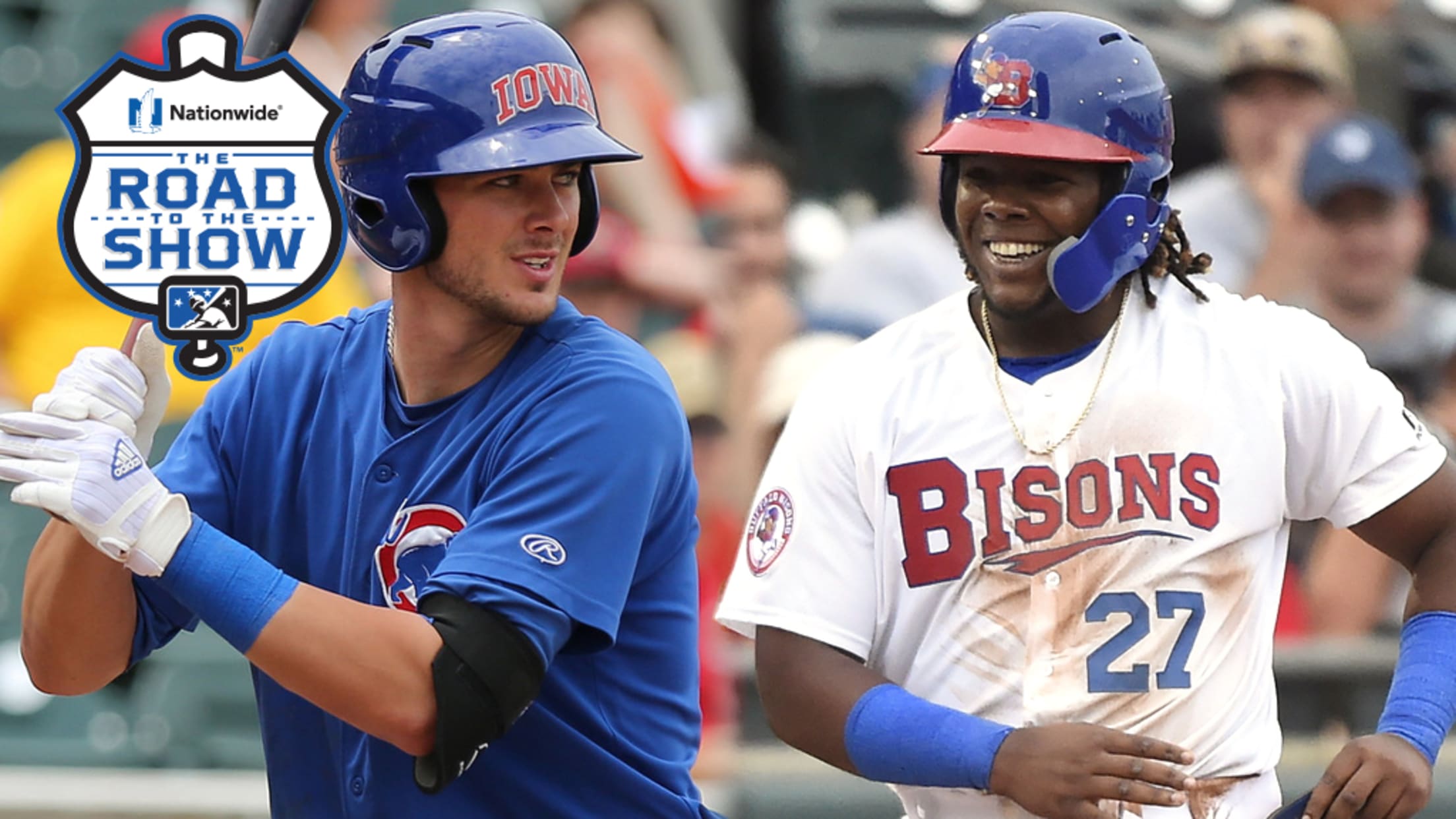 There was no Minor League season in 2020, and unfortunately, that means there will be no MiLBY Awards this year either. In their stead, Toolshed is taking the next couple weeks to look back at MiLBY winners from the major categories in the 2010s. The series will rank all the
Fans' guide to the best 2019 MiLB.TV games
From Mize to May, 10 standout performances to relive right now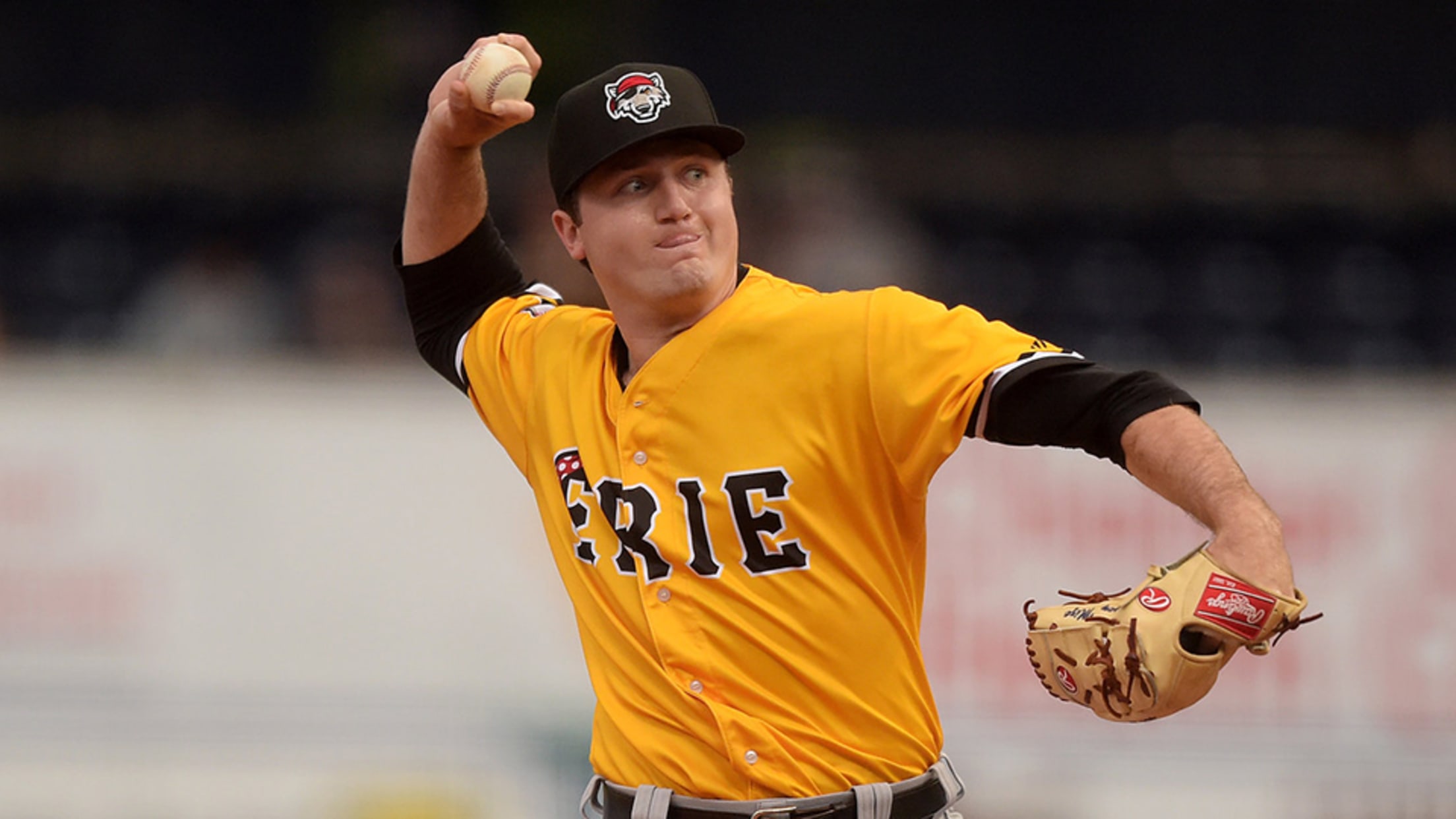 No-hitters. One game, one man, four home runs -- and a cycle. Epic entertainment.The 2019 Minor League Baseball season was full of amazing performances by individuals and teams alike. Now you can rewatch all these feats with a free MiLB.TV preview! (Non-subscribers will only need to create a MiLB.com account
Former Lugnut Vladimir Guerrero, Jr., to make Major League debut for Blue Jays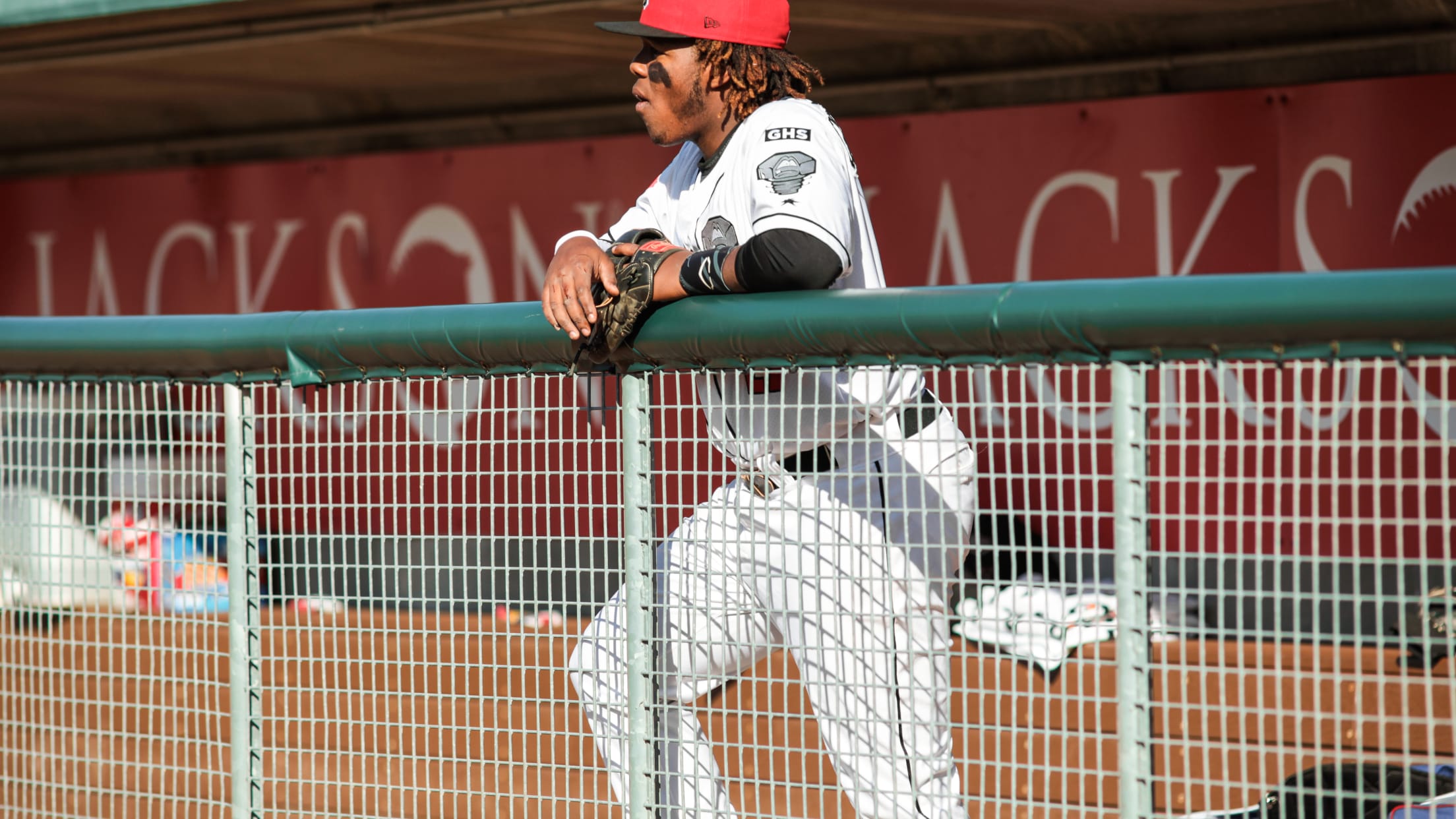 TORONTO, Ont. - The wait is finally over for Toronto Blue Jays fans.Following Wednesday's 4-0 loss to the San Francisco Giants, Blue Jays manager Charlie Montoyo announced that the team would be calling up top prospect Vladimir Guerrero, Jr., to the big leagues to make his major-league debut against the
Vlad Jr. officially coming to Major Leagues
Blue Jays calling up top overall prospect for likely Friday debut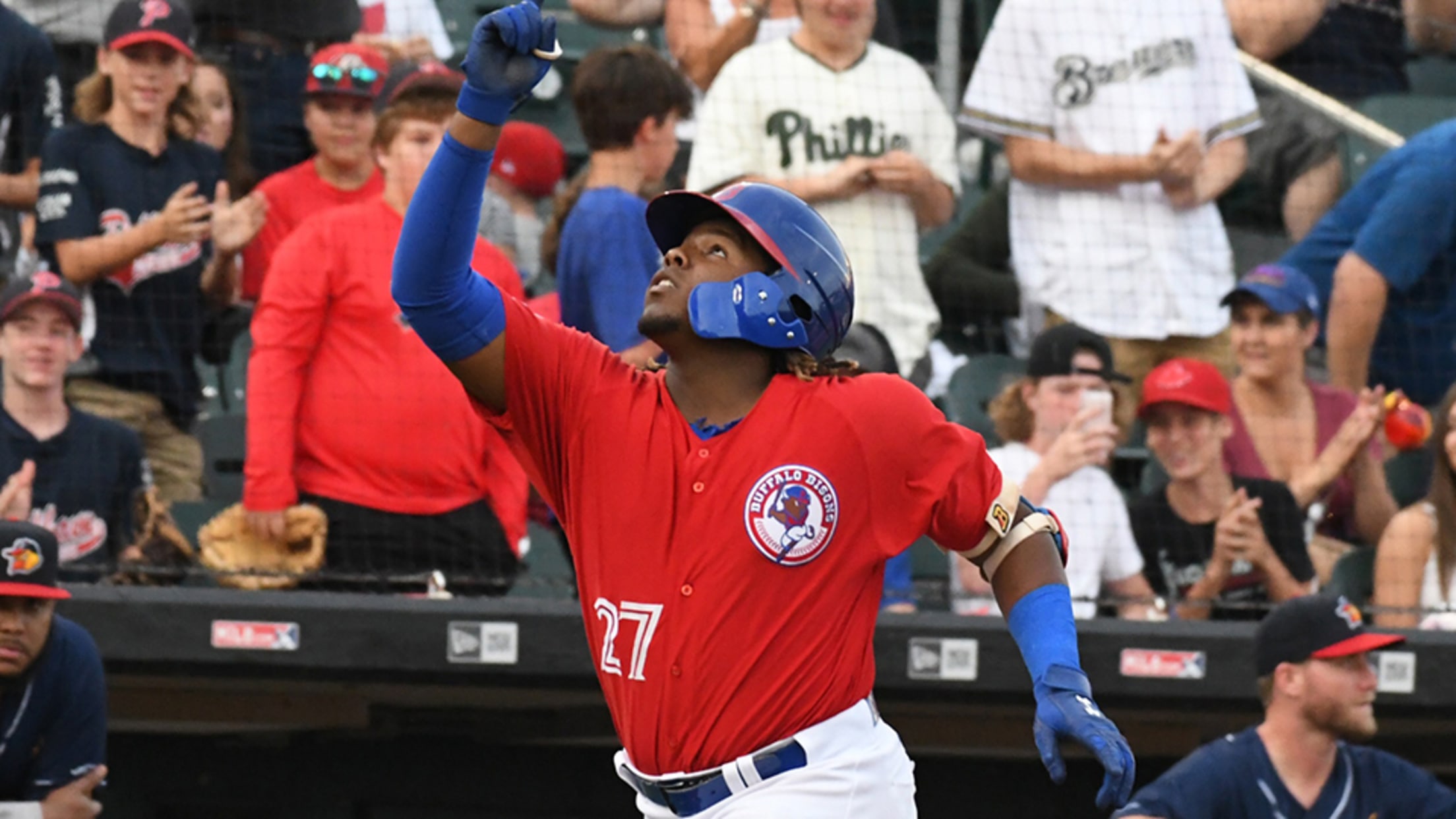 At last.Vladimir Guerrero Jr. is headed to the Major Leagues for the first time, Blue Jays manager Charlie Montoyo revealed Wednesday. He's set to make his debut against the A's on Friday in Toronto.
Vlad Jr., Biggio power up for Bisons
Top prospect goes deep again; infielder homers on three-hit day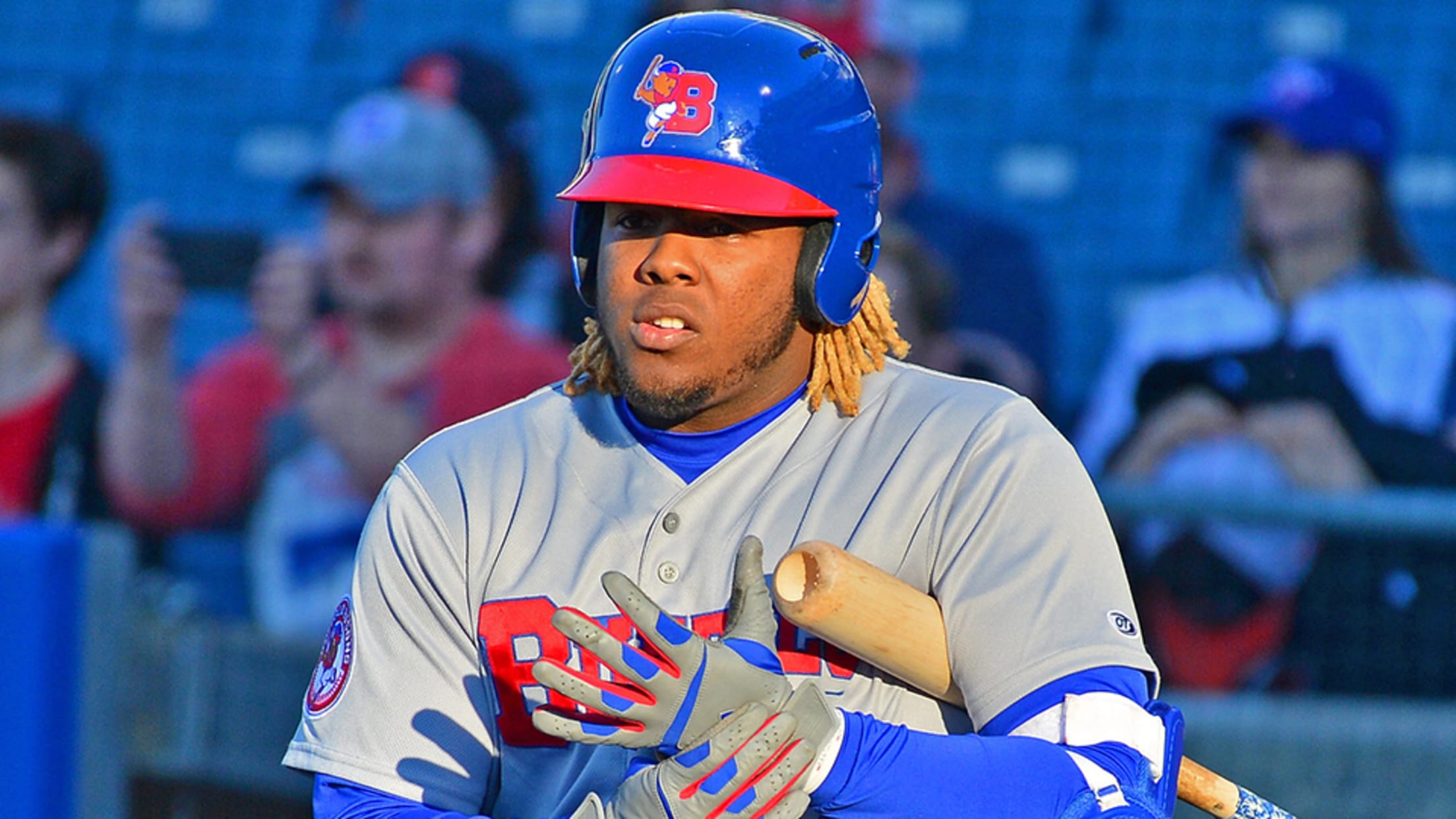 Vladimir Guerrero Jr. certainly left the Minors with a bang Wednesday. And Cavan Biggio provided a reminder that the Bisons will have plenty of offensive firepower following the departure of MLB.com's top overall prospectGuerrero clubbed his third home run in eight games since returning to Triple-A Buffalo on April 11,
Toolshed: Top 10 Vlad Jr. moments
Counting down top prospect's memorable homers, highlights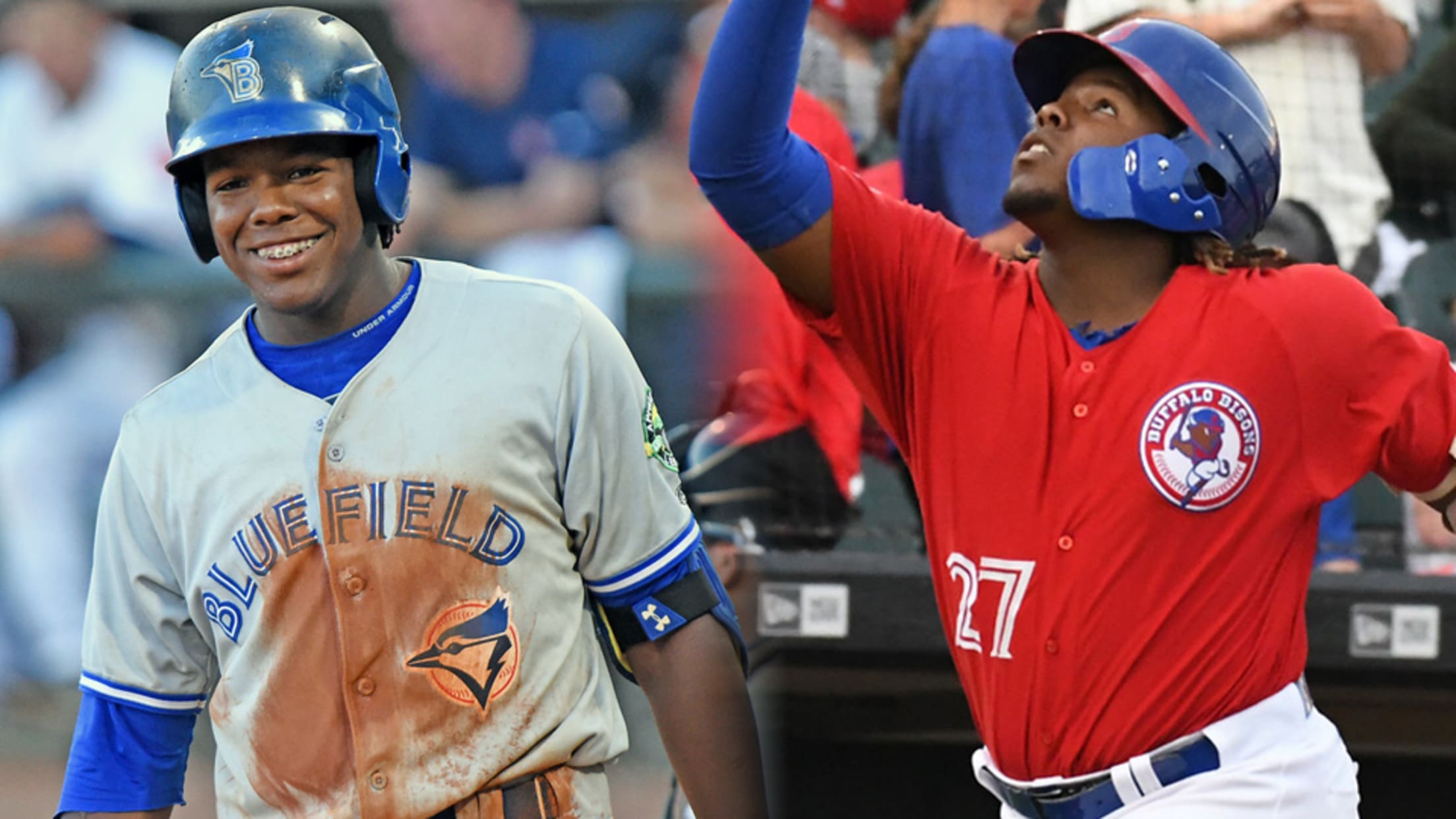 There were 27 home runs hit in the Major Leagues on Wednesday. None of them generated as many headlines as one that came a level lower. For not the first time -- and likely not the last time, either -- Vladimir Guerrero Jr. hit the shot seen 'round the internet. MLB.com's top
Vlad Jr. crushes mammoth homer for Buffalo
Top Jays prospects Guerrero, Bichette deliver four hits, four RBIs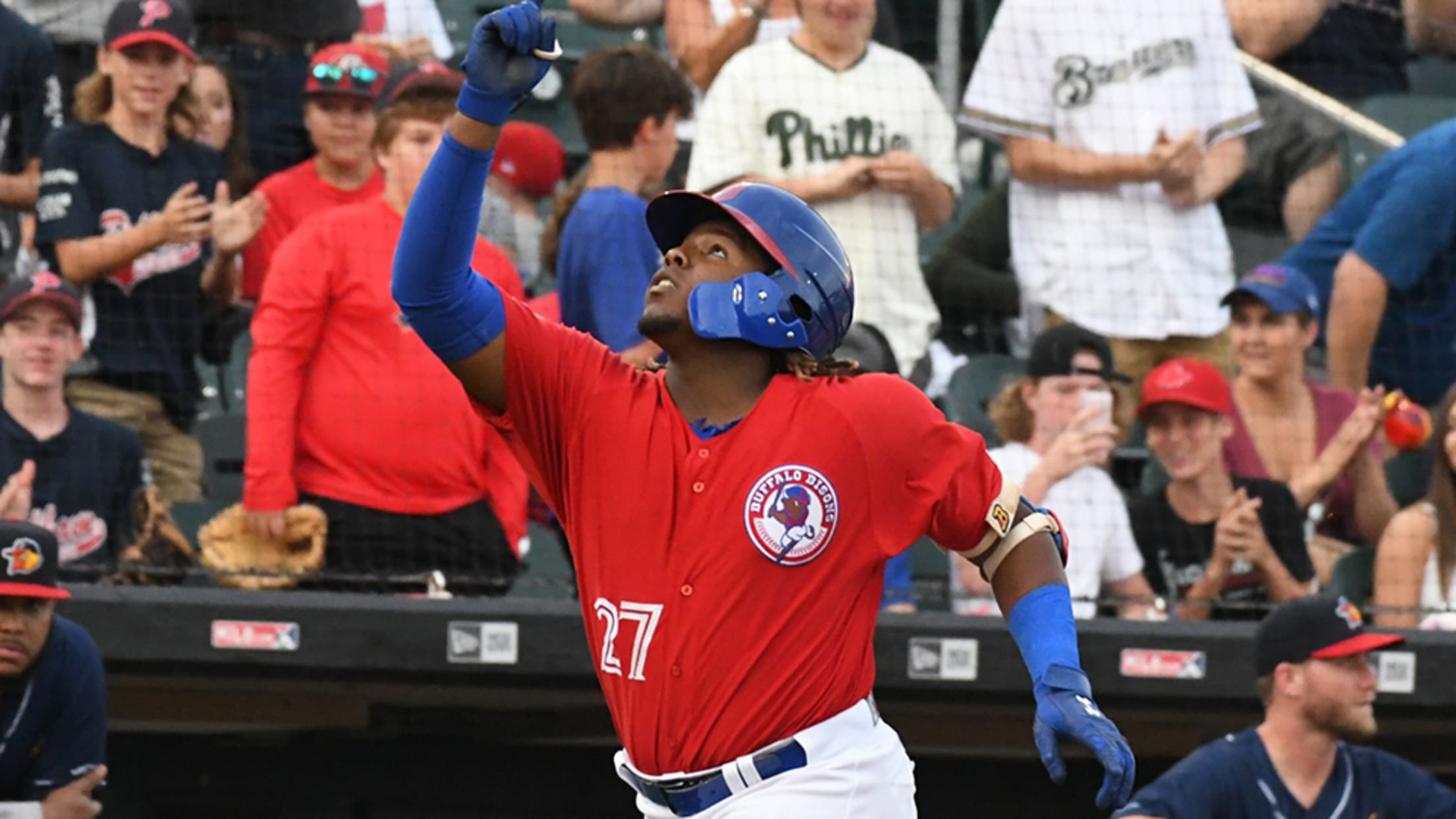 There's not much to say that hasn't already said about Vladimir Guerrero Jr., but the slugger just keeps on putting on a hitting clinic. Baseball's top overall prospect collected two hits -- including a towering home run -- and scored twice, but Triple-A Buffalo fell to Pawtucket, 11-8, on Wednesday night
Vlad Jr. logs three hits, impresses Gio
Top Blue Jays prospect batting .500 since return to Triple-A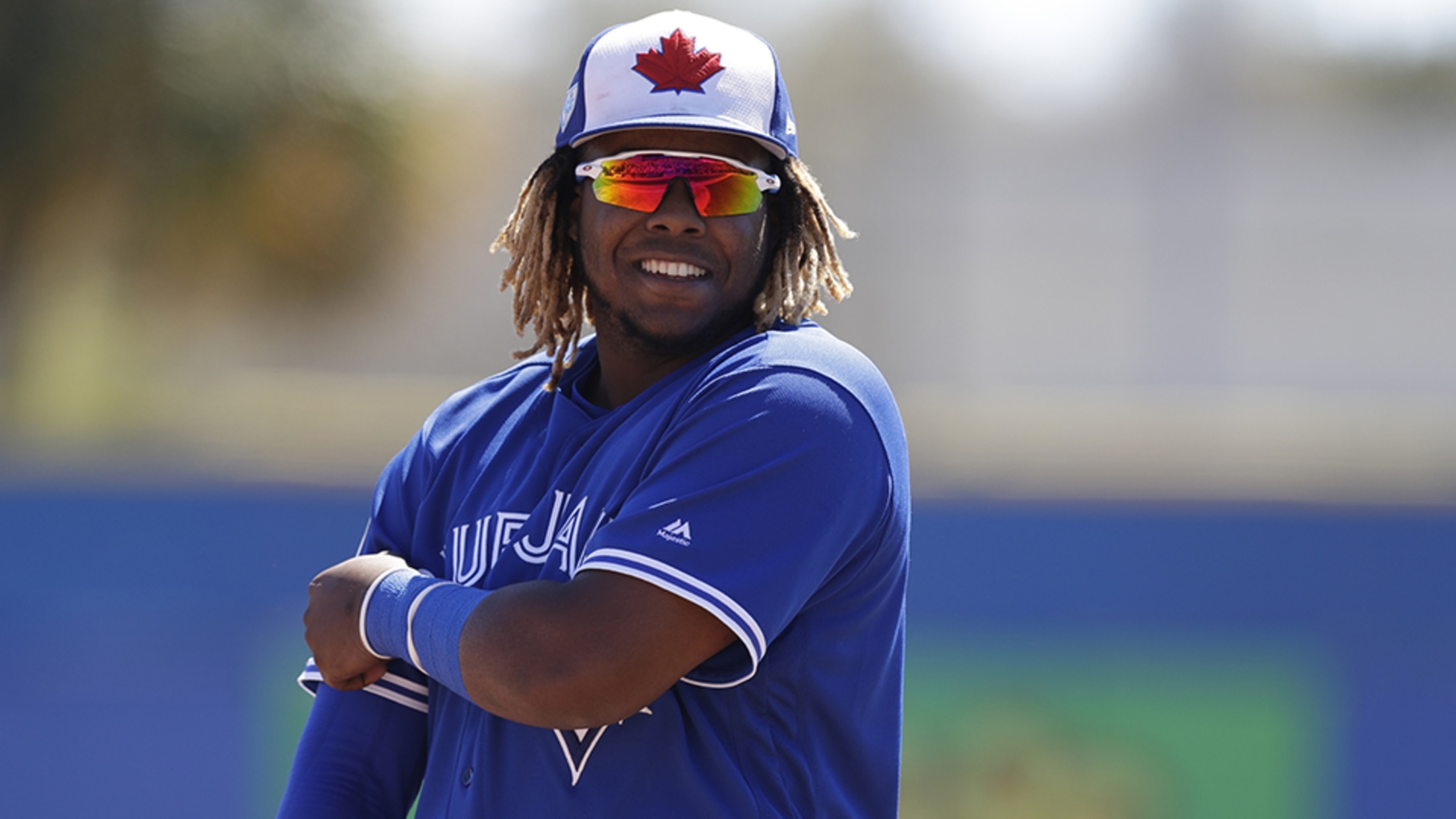 Savor each hit from Vladimir Guerrero Jr. because they could be among his last in the Minor Leagues.MLB.com's top overall prospect smacked three singles in five at-bats on Sunday, driving in one run and scoring another, in Triple-A Buffalo's 9-5 loss to Scranton Wilkes-Barre at PNC Field.Guerrero's first three-hit game of
Vlad Jr. mashes in return to Bisons
Baseball's top prospect launches long ball, drives in four runs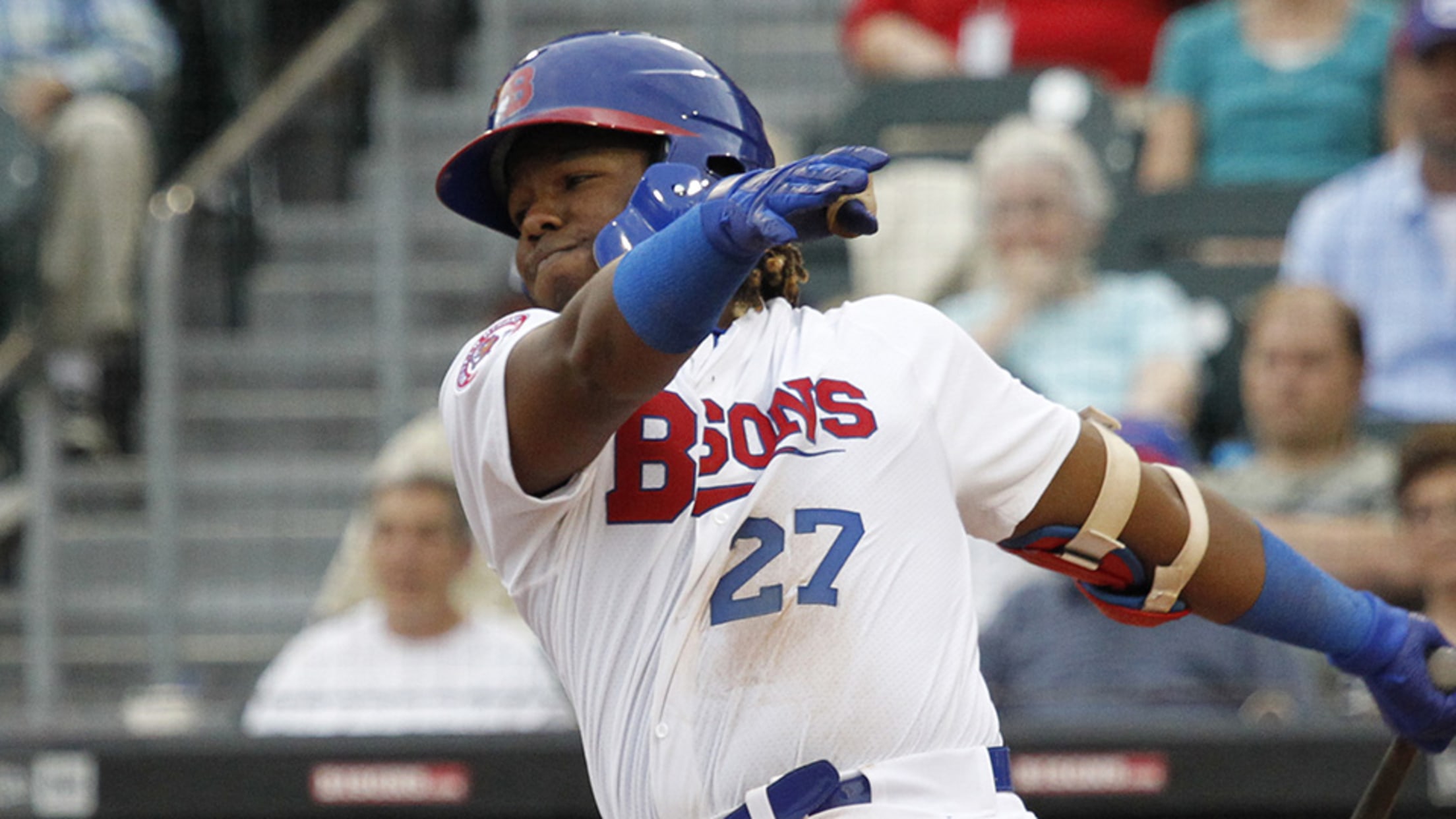 Fresh off a rehab assignment in Florida, Vladimir Guerrero Jr. showed no signs of rust. MLB.com's top overall prospect mashed a homer and a double to plate four runs in his 2019 Triple-A debut, though Buffalo dropped a 9-8 decision to Scranton/Wilkes-Barre in 10 innings Thursday at PNC Field. It marked
Healthy Vlad Jr. rejoins Triple-A Buffalo
Top overall prospect step from Majors following FSL rehab stint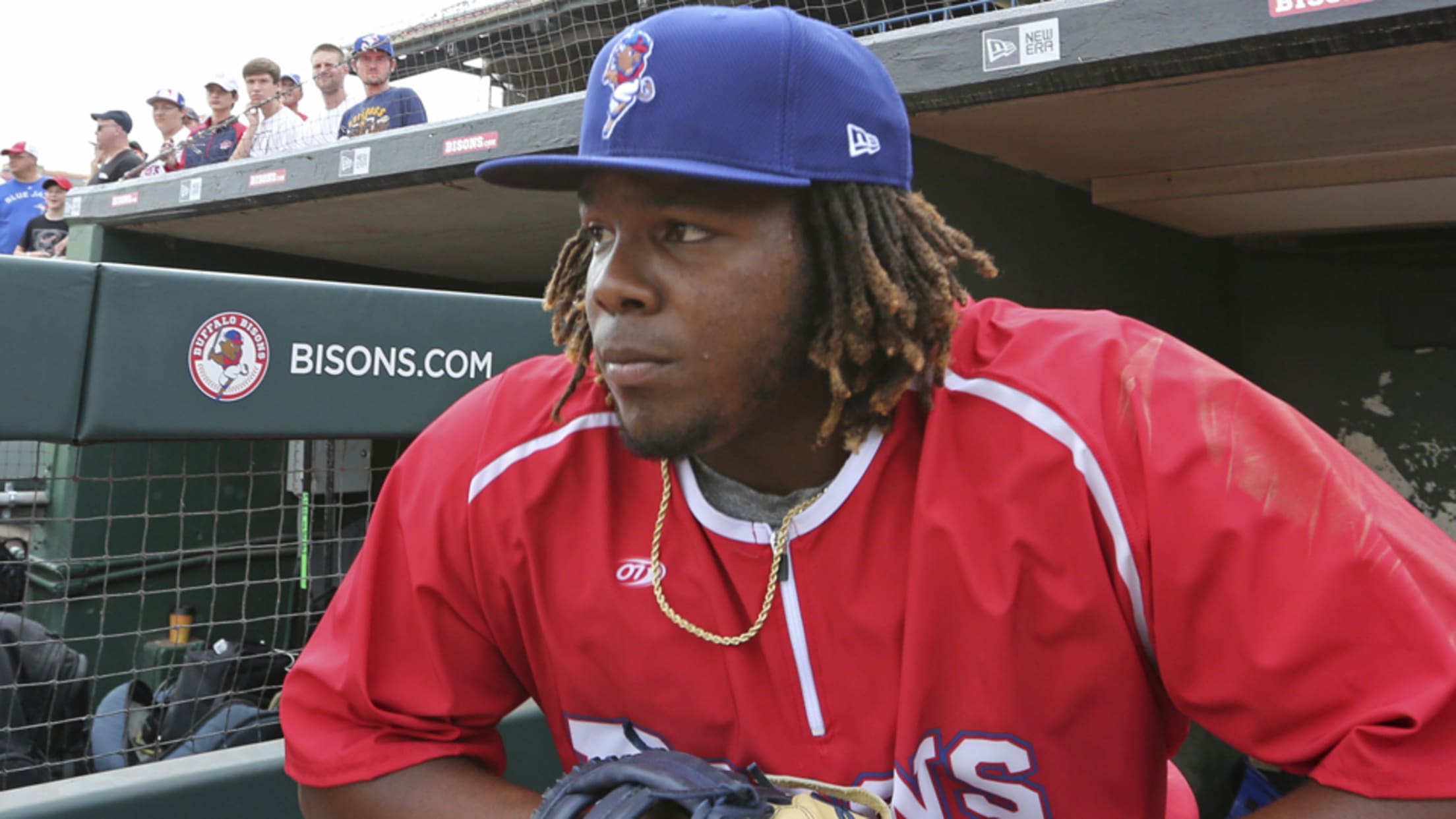 After much anticipation, Vladimir Guerrero Jr. is headed north.Although he's not going to Toronto just yet, baseball's top overall prospect will be one step away in Triple-A Buffalo, the team announced on Thursday.
Prospect Roundup: Games of April 8
Allard dealing in debut, Vlad notches first RBI in rehab game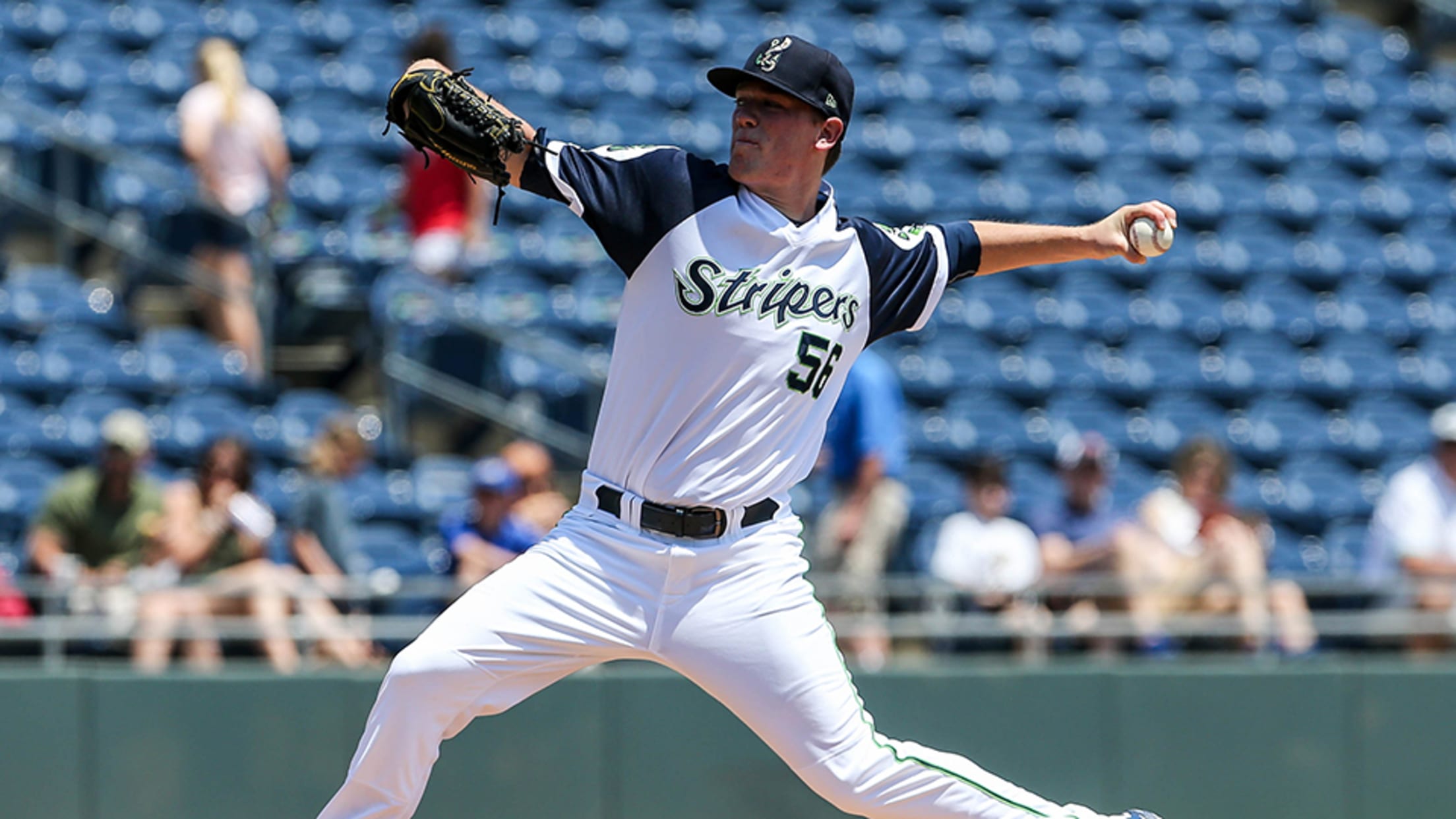 Braves LHP Kolby Allard, Triple-A Gwinnett: 5 2/3 IP, 1 R, 0 ER, 4 H, 4 K, 0 BB -- The 21-year-old helped guide the Stripers to their fourth win through five games. Atlanta's No. 11 prospect put to rest any worries the club might have had after he endured a
Vlad Jr. beginning rehab stint with Dunedin
Top overall prospect bouncing back from strained left oblique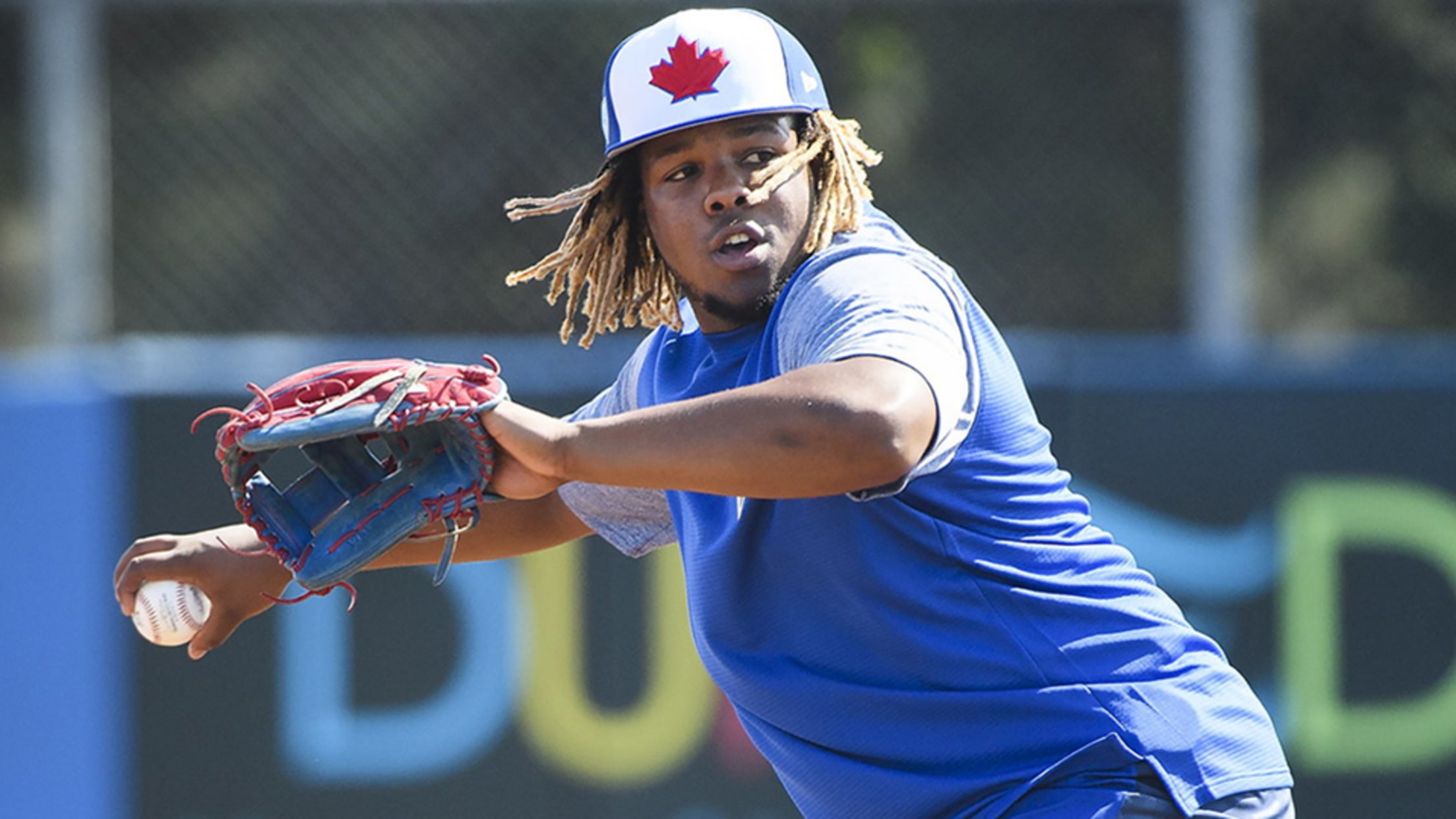 It's almost like he was never really gone.After suffering a strained left oblique earlier this month that ended his Spring Training early, top overall prospectVladimir Guerrero Jr. has been assigned to the Class A Advanced Dunedin Opening Night roster and will begin his 2019 season with the Florida State League
Blue Jays Prospect Primer: Vlad Jr. coming
Top overall prospect ready for bigs; Bichette not too far behind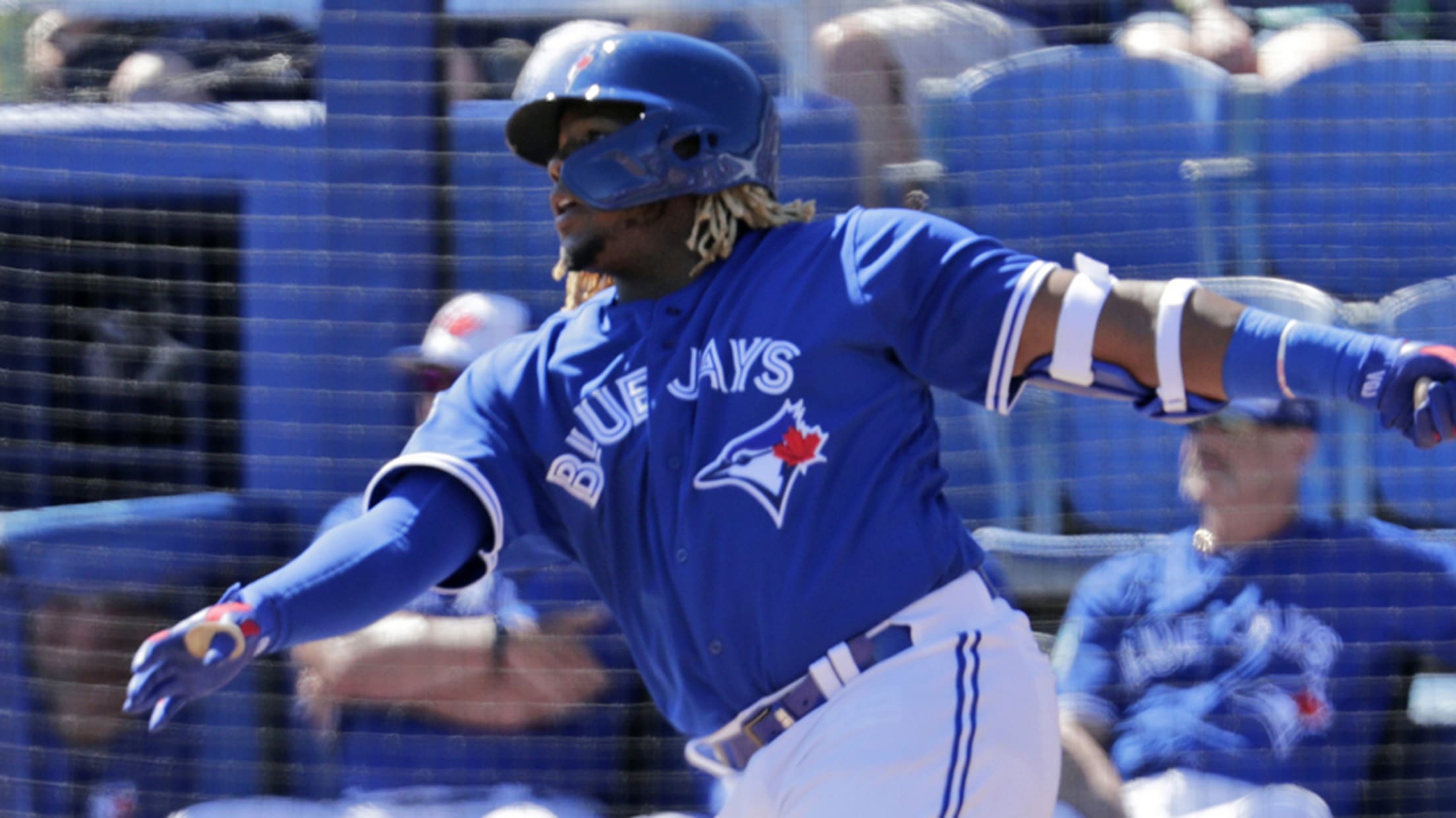 Some players are on the verge of stardom, others are entering a crucial phase of their development and still others are getting their first tastes of full-season ball. With the 2019 season approaching, MiLB.com takes a look at the most intriguing prospects from each MLB organization.Major League-ready: Vladimir Guerrero Jr.,
Toolshed: Rookie of the Year candidates
Jays' Vlad Jr., Nats' Robles lead 2019 contenders for hardware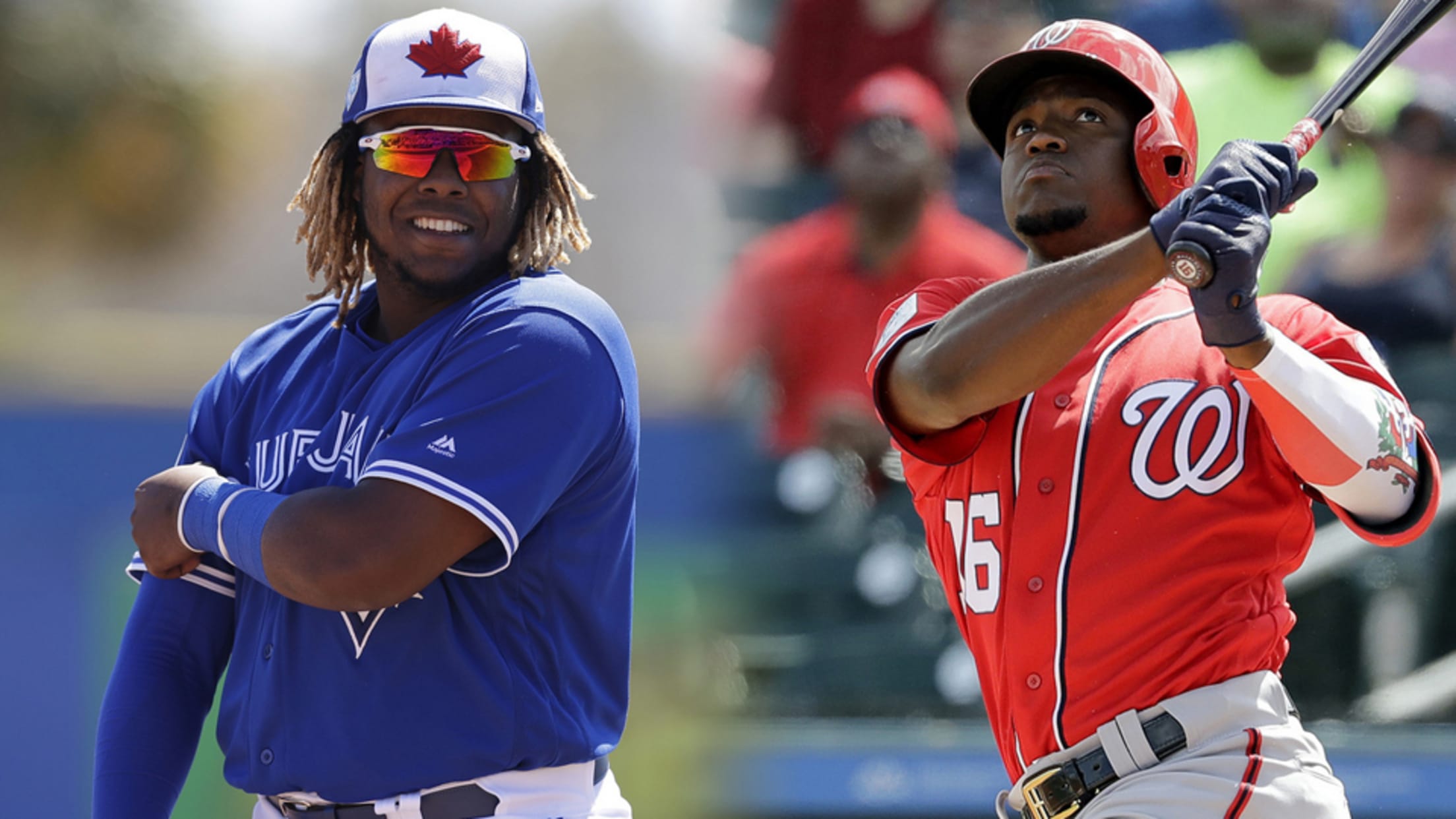 All right, we'll let the Major Leagues take the limelight for once.For most clubs, Major League Baseball's Opening Day is Thursday -- the A's and Mariners played in Japan last week -- and before first pitches are thrown across the continent, many more people will toss out their predictions for
Vlad Jr.: 'I'll be working hard to get back'
Top overall prospect talks oblique injury, missing rest of spring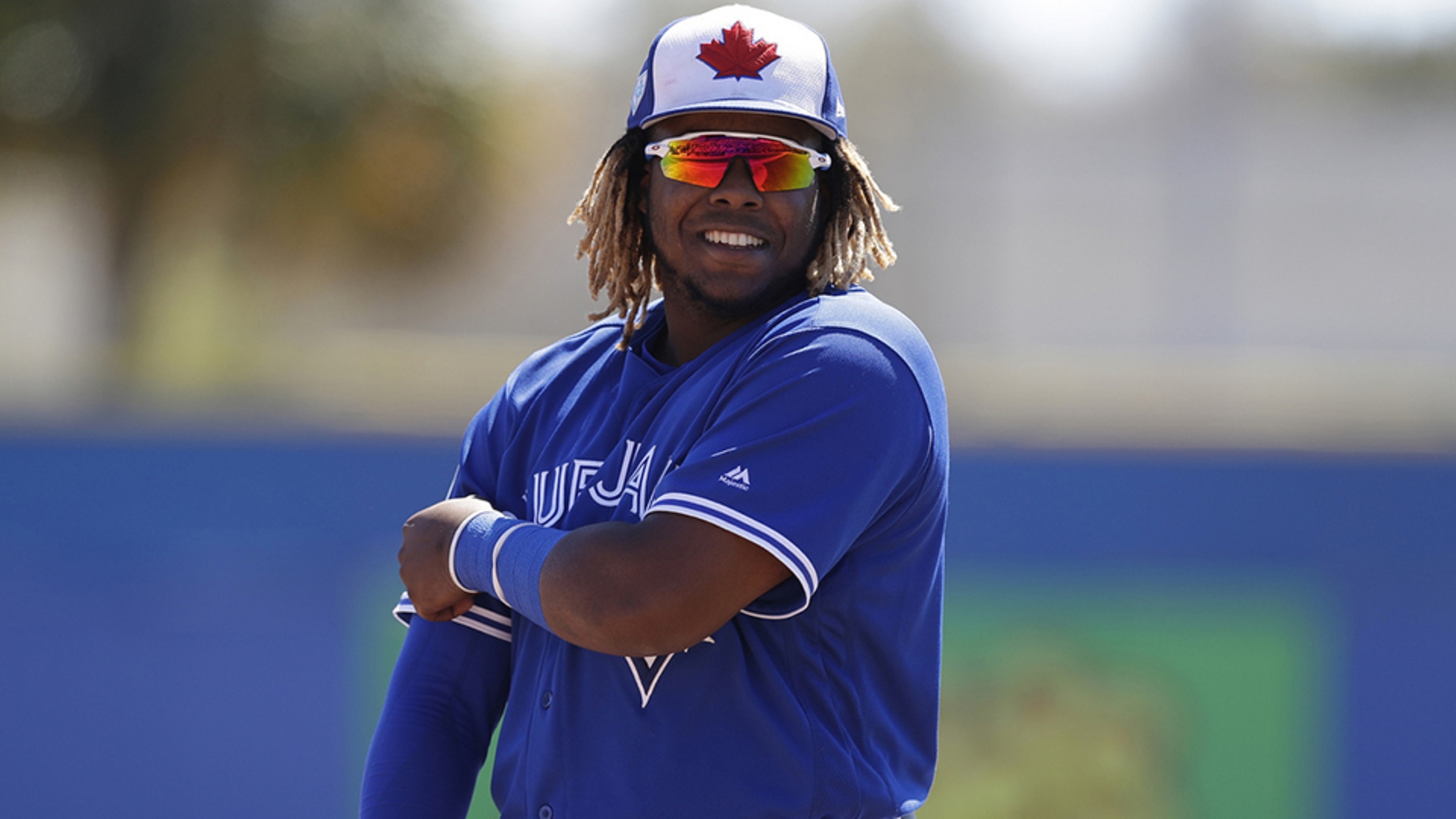 DUNEDIN, Florida -- In another world, Blue Jays third baseman Vladimir Guerrero Jr. would have been standing in front of reporters at Dunedin Stadium on Tuesday talking about how he's still building his Major League case. Instead, he had to discuss why that isn't happening -- at least not for
Vlad Jr. out with strained left oblique
Top Blue Jays prospect expected to miss three weeks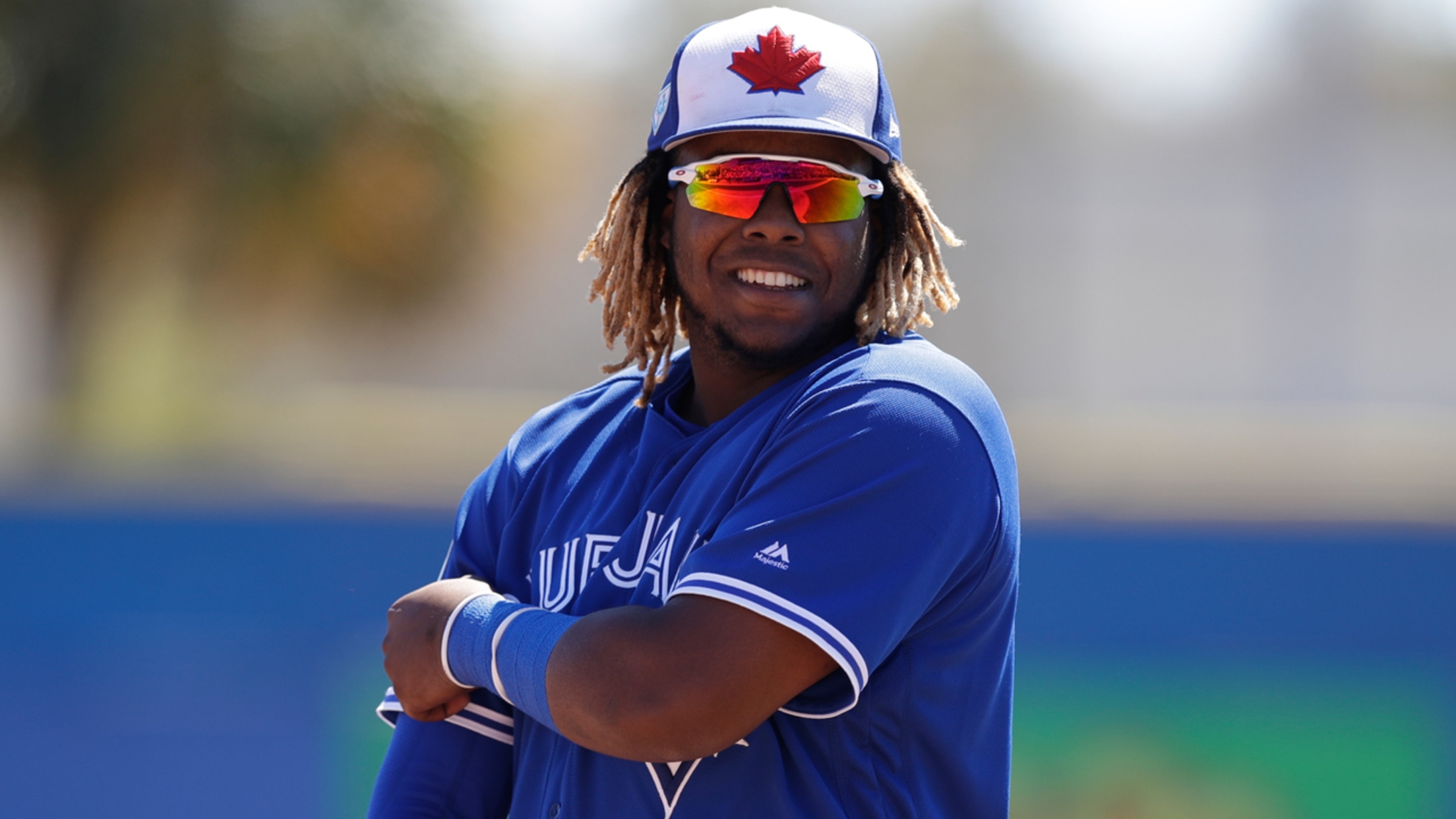 Much of the discussion surrounding Vladimir Guerrero Jr. this spring has revolved around when he will make his inevitable Blue Jays big league debut. That date will be delayed.MLB.com's top overall prospect suffered a Grade 1 strain of his left oblique on Friday and is expected to miss about three weeks, the
Toolshed: Prospect promotion predictions
Month-by-month forecast of when top talent may see The Show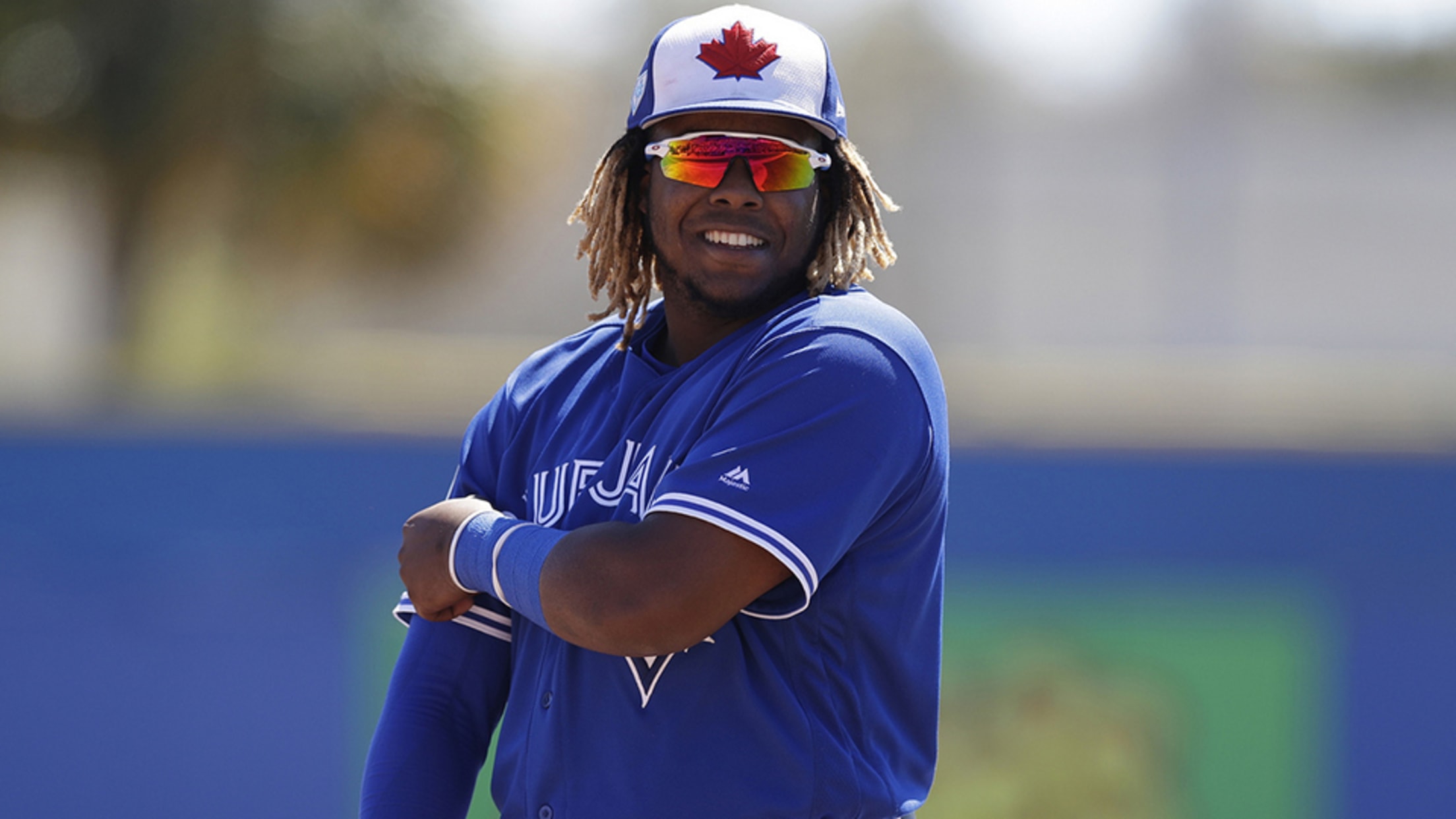 It's the most frequently fielded question at MiLB.com and other prospect sites and publications.When is he getting called up?
Jays' Vlad heats up with punishing double
Baseball's top prospect connects on one-handed laser to wall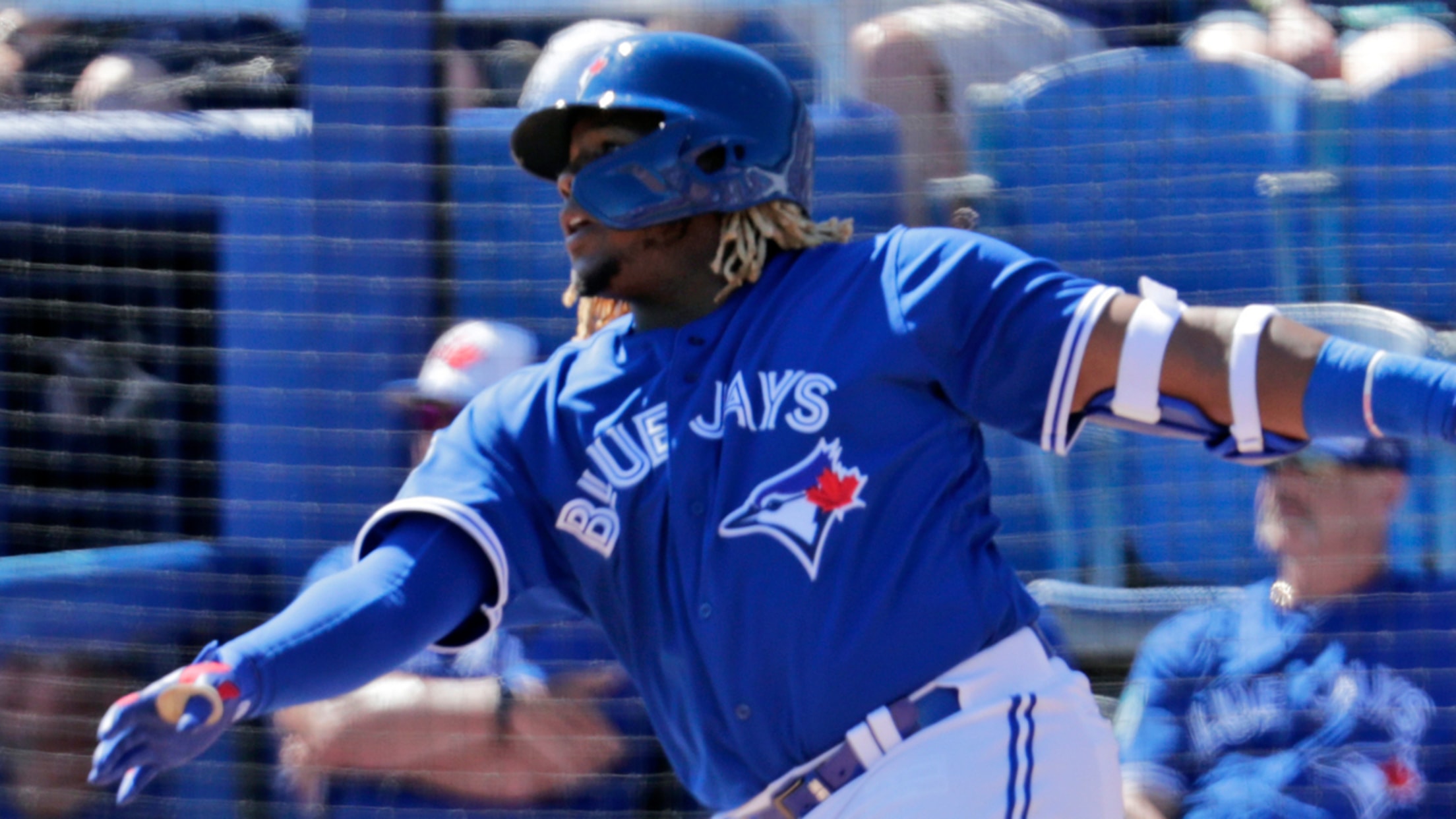 Vladimir Guerrero Jr. didn't need two hands to make his first impression Sunday.Baseball's top overall prospect clobbered a one-handed double to left field in his first at-bat of the afternoon as the Blue Jays beat the Yankees, 5-2.
Farm system rankings: Position players 10-1
Rays still loaded; Jays have talent to back top prospect Vlad Jr.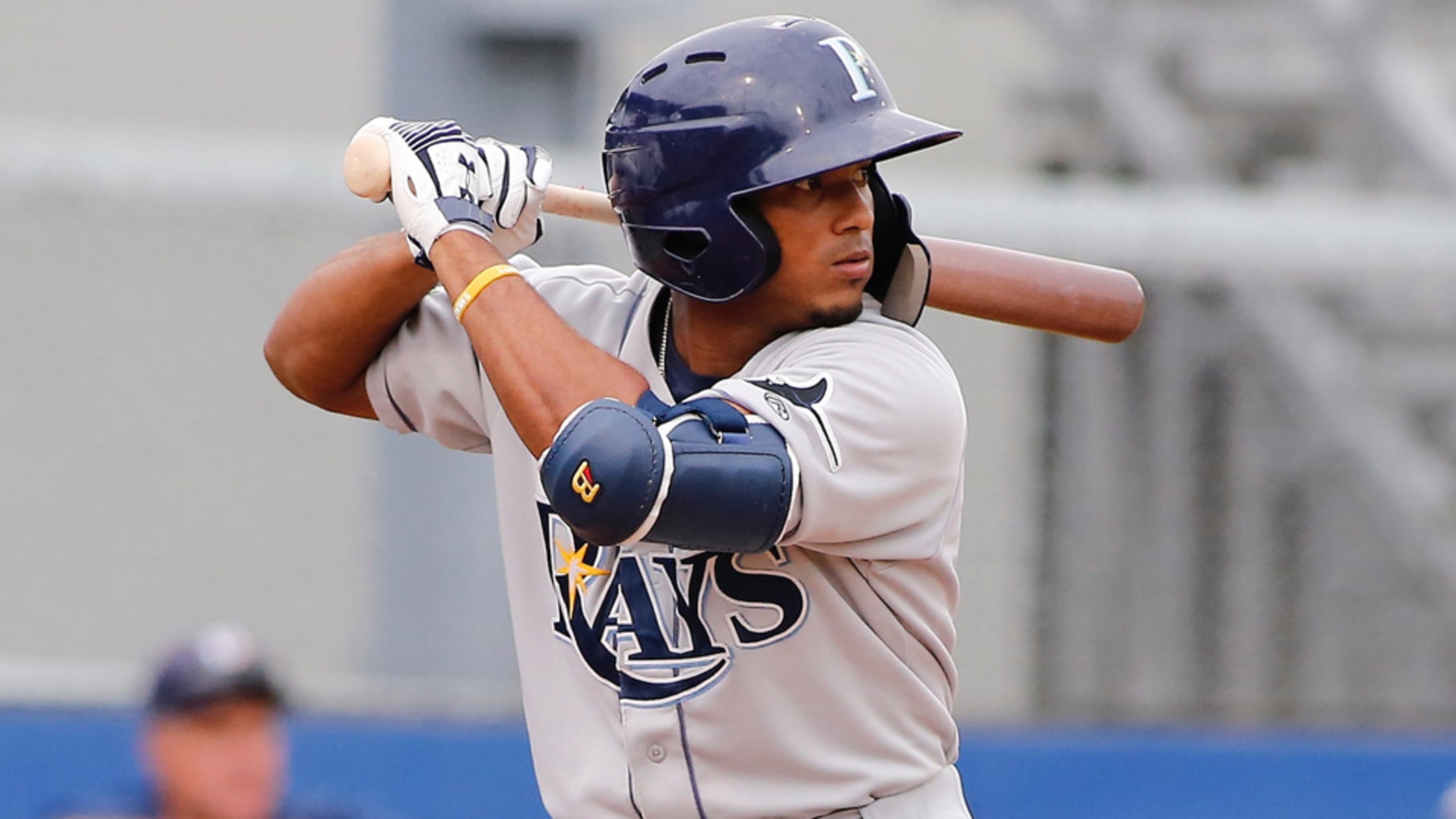 With the 2019 season rapidly approaching, MiLB.com is looking at the state of all 30 farm systems over the next month and ranking them in several different ways. The first installment, broken into three parts, focuses on position players and considers the quality and quantity of top talent in each
Toolshed: 2019 Spring Training preview
Top-100 prospects head to Arizona, Florida with plenty to prove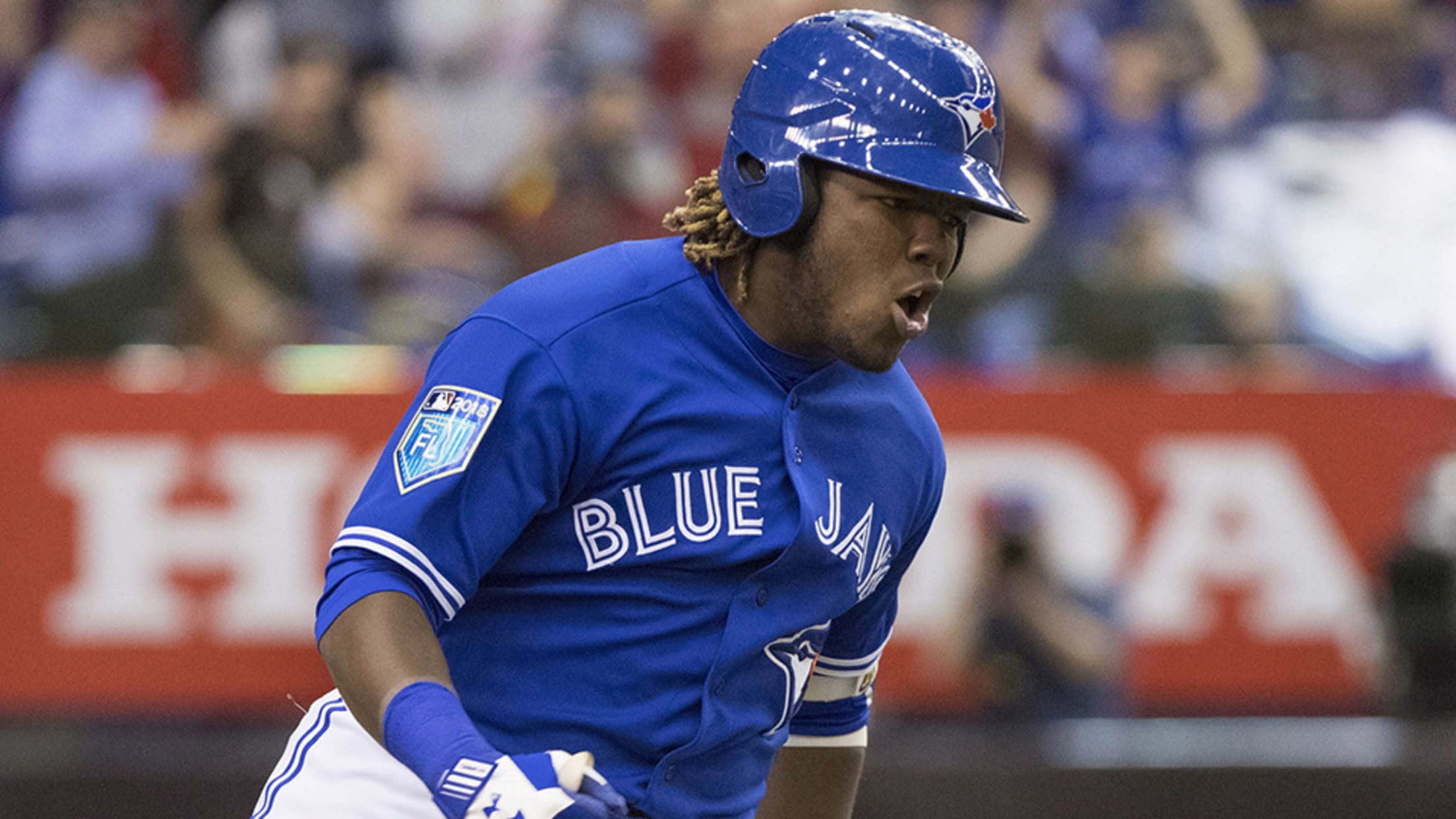 Pitchers and catchers are coming, pitchers and catchers are coming.One of the most optimistic times of the year arrived Sunday when pitchers and catchers reported to Oakland Athletics camp in Mesa, Arizona, officially beginning Spring Training in 2019. Most other tandems will report Tuesday and Wednesday with position players coming
Vlad Jr. tops new prospect rankings
Padres boast 10 players, including Tatis Jr., seven pitchers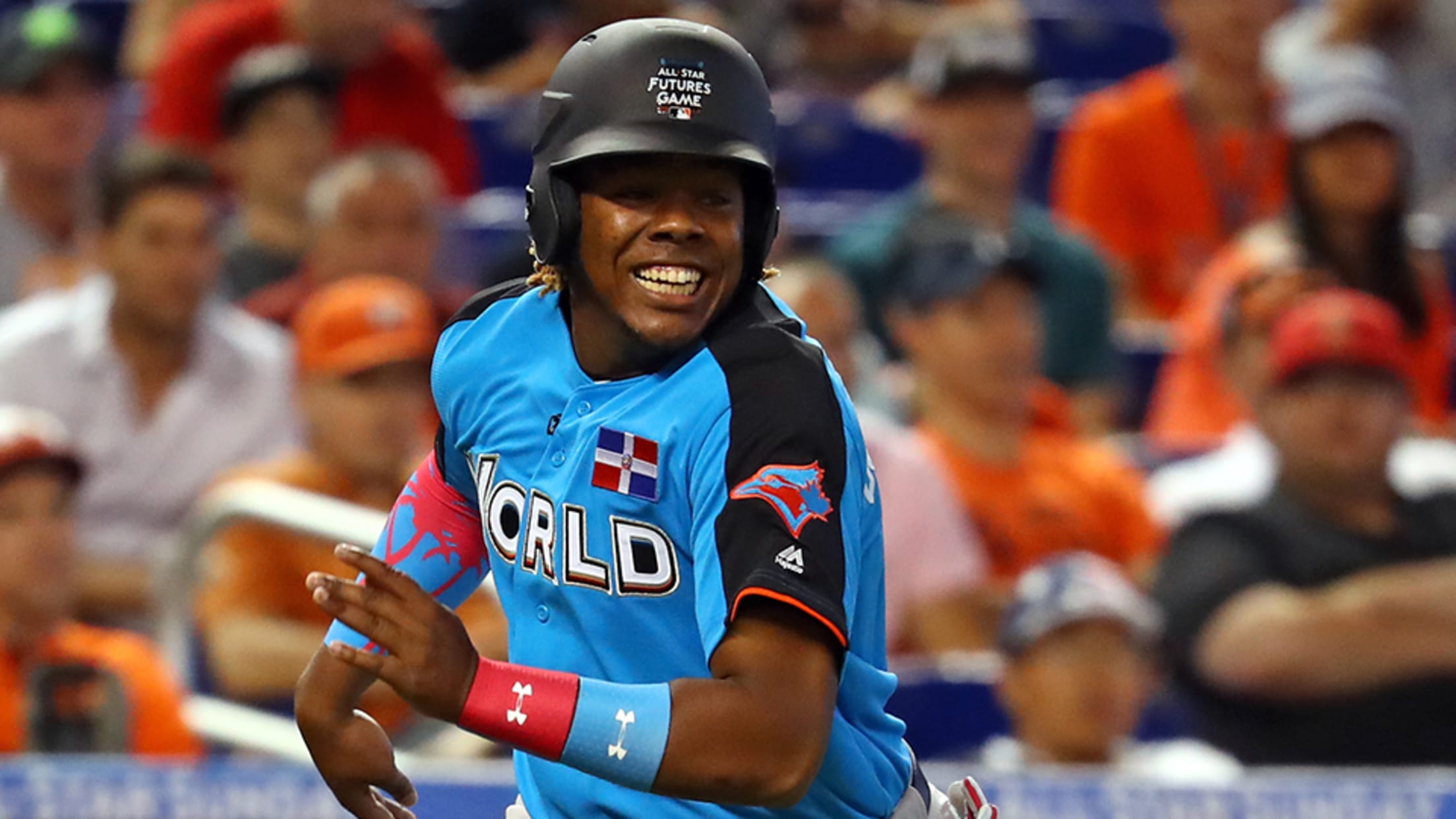 Blue Jays third baseman Vladimir Guerrero Jr. retains top billing on MLB Pipeline's new Top 100 prospects list, slotting in just ahead of another player with a Major League upbringing, Padres shortstop Fernando Tatis Jr., who leads a group of 10 Friars to make the cut.After breaking camp with Double-A
Jays invite Guerrero, Bichette to camp
Toronto's top pair of prospects will head to Spring Training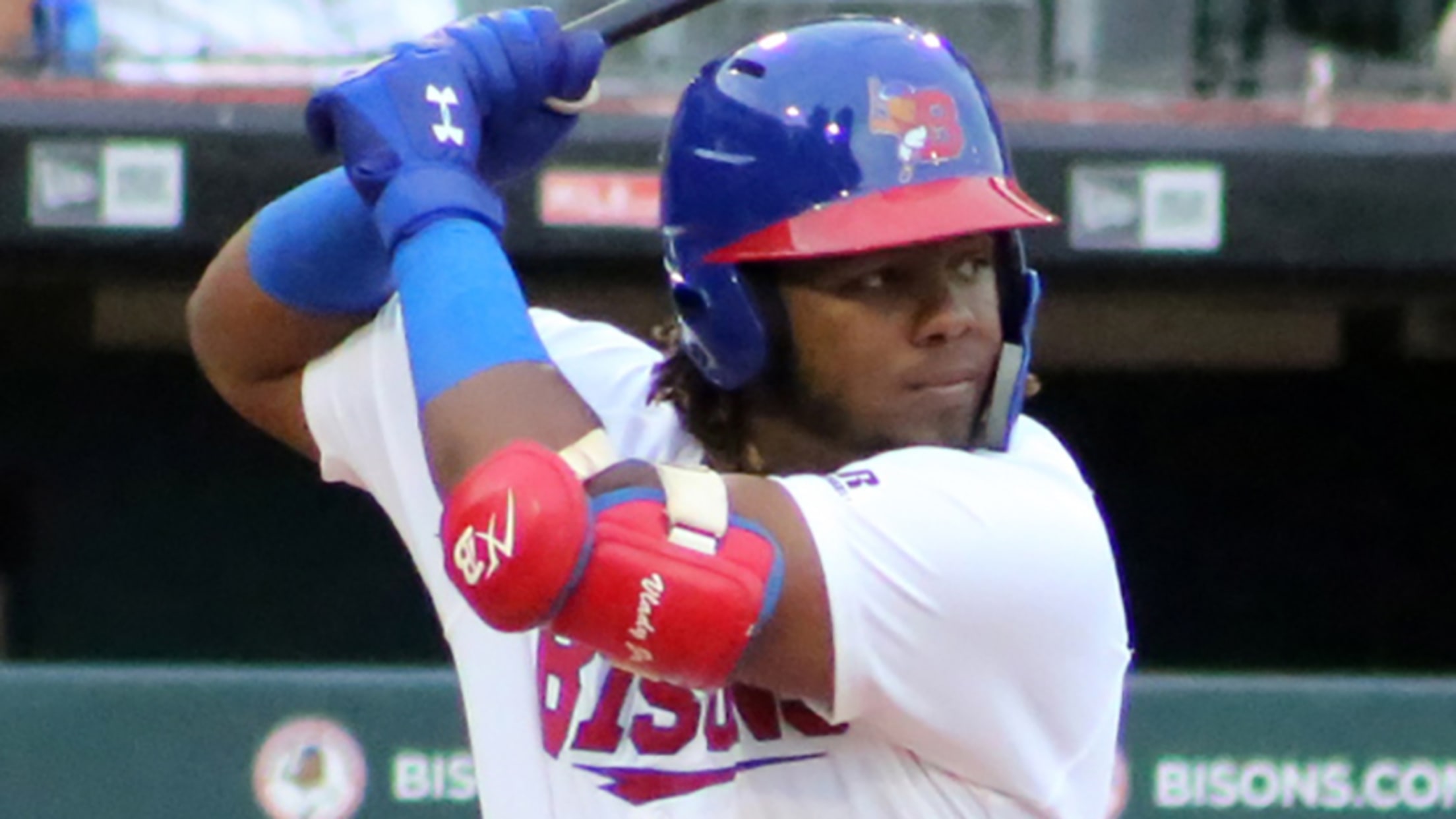 Much has been made of whether Vladimir Guerrero Jr. will begin the 2019 season in the Major Leagues. Turns out, he'll have the opportunity to compete against the game's best sooner rather than later. Baseball's top prospect will head to Major League Spring Training in a few weeks, the Blue Jays
2019 Prospect Projections: AL East rookies
Guerrero expected to swiftly become one of game's best sluggers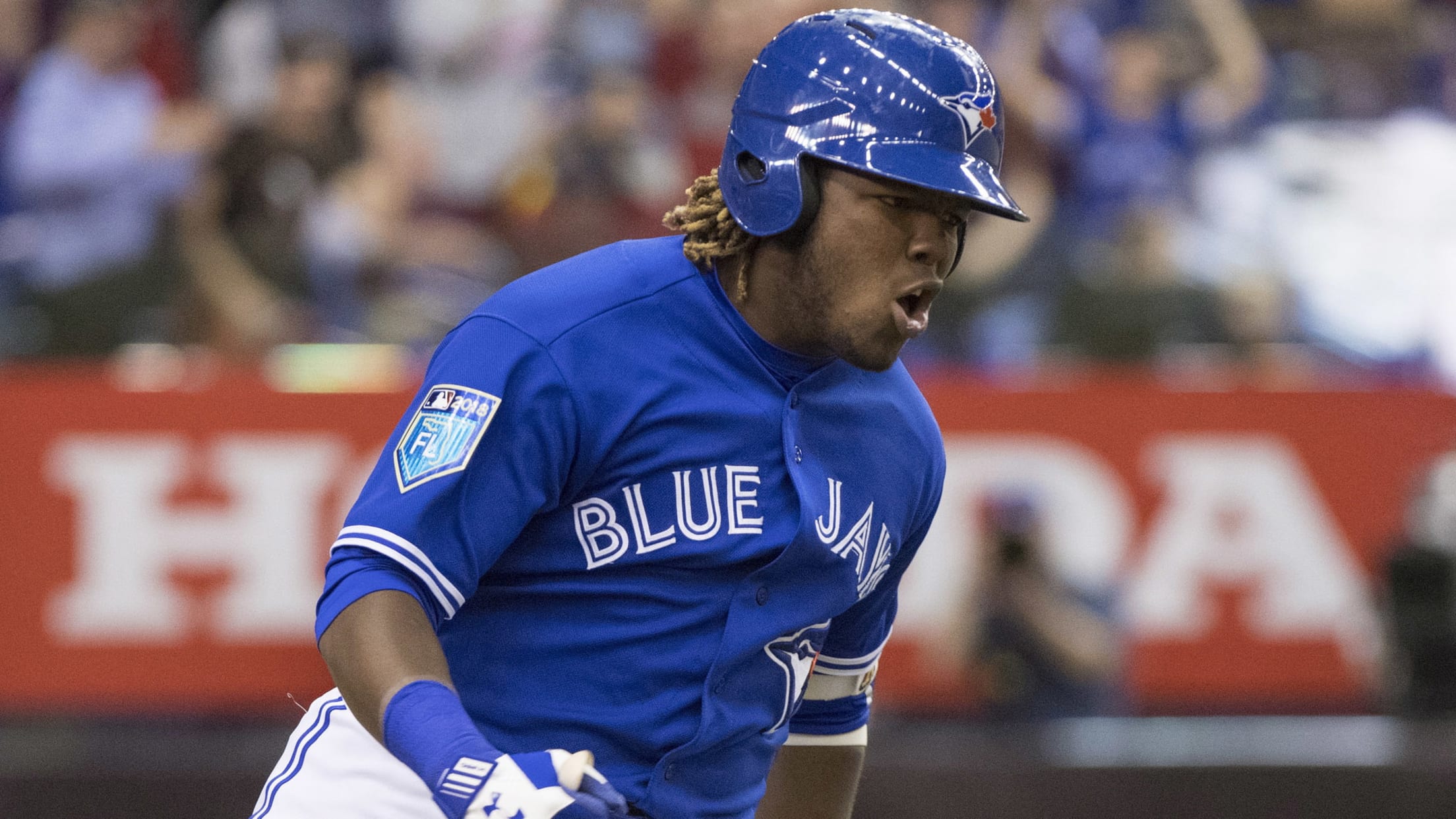 This is the first in a six-part Toolshed series that uses FanGraphs' Steamer600 projections to look at how prospects would fare over a full Major League season in 2019. The system bases its forecast on 600 plate appearances for position players, 450 plate appearances for catchers, 200 innings for starting
Toolshed selects the 2018 All-MiLB Team
Guerrero, Jimenez, Paddack were among the best of the best
Each offseason, MiLB.com goes position by position for every farm system and honors the players -- regardless of age or prospect status -- who had the best seasons in their organization. The result is our Organization All-Star series, which is now in the books for 2018.This edition of Toolshed caps the
Blue Jays system ready to make an impact
Top prospects Guerrero, Bichette build strong case for The Show
Each offseason, MiLB.com goes position by position across each system and honors the players -- regardless of age or prospect status -- who had the best seasons in their organization. Click here to locate your favorite club.The Blue Jays were a distant fourth in the American League East this year, finishing 17