State of the System: Atlanta Braves
Pache, Anderson lead ready-to-contribute wave of talent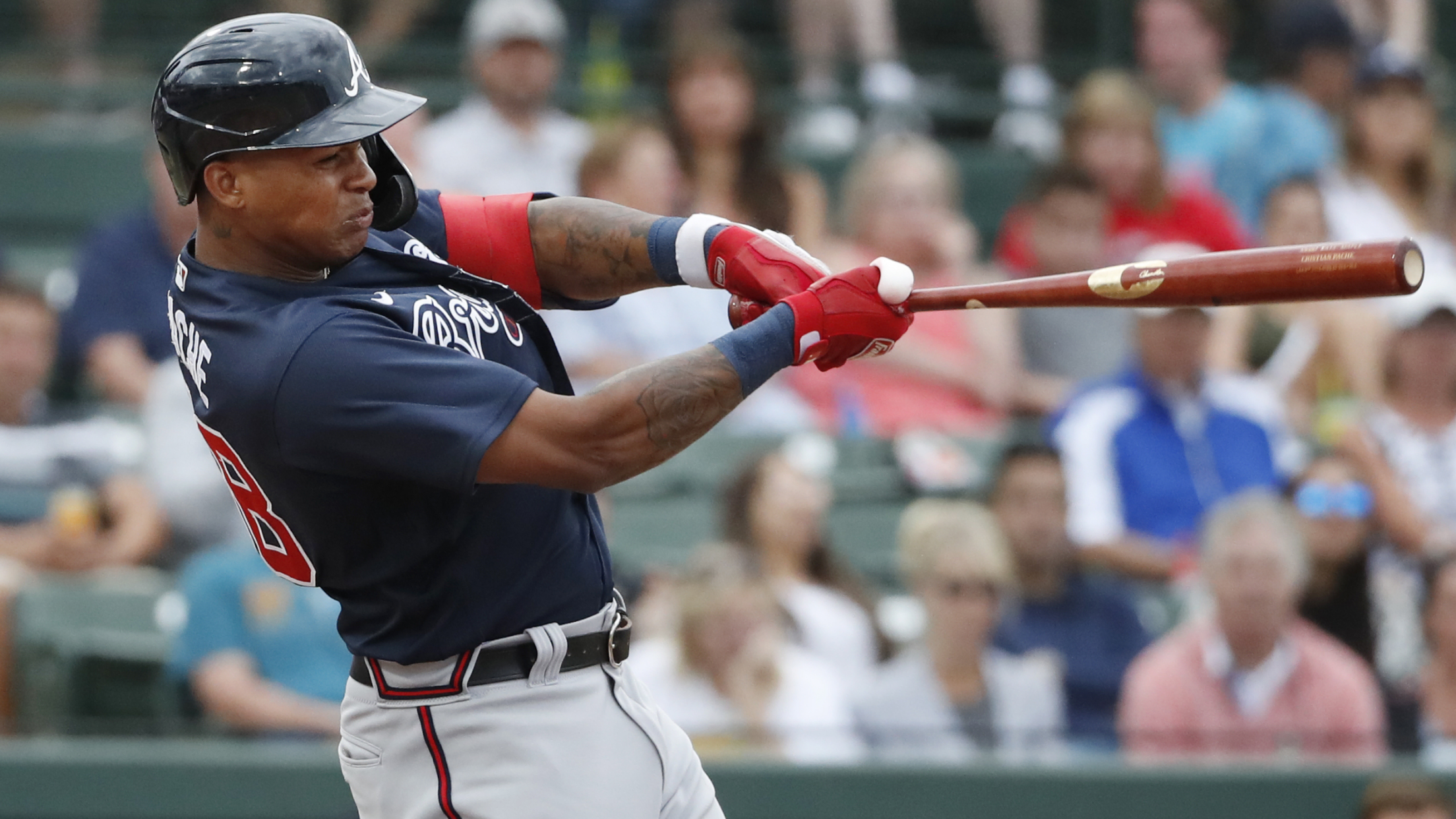 Starting in October and running through the end of the year, MiLB.com's State of the System series evaluates the strengths and weaknesses of each Major League organization, highlighting prospects who've made the biggest strides in 2020 and offering a peek at 2021. The Braves' playoff run this season seemed to
Pache has two-way day for Braves
Atlanta's top prospect collects RBI, robs homer in Game 5 loss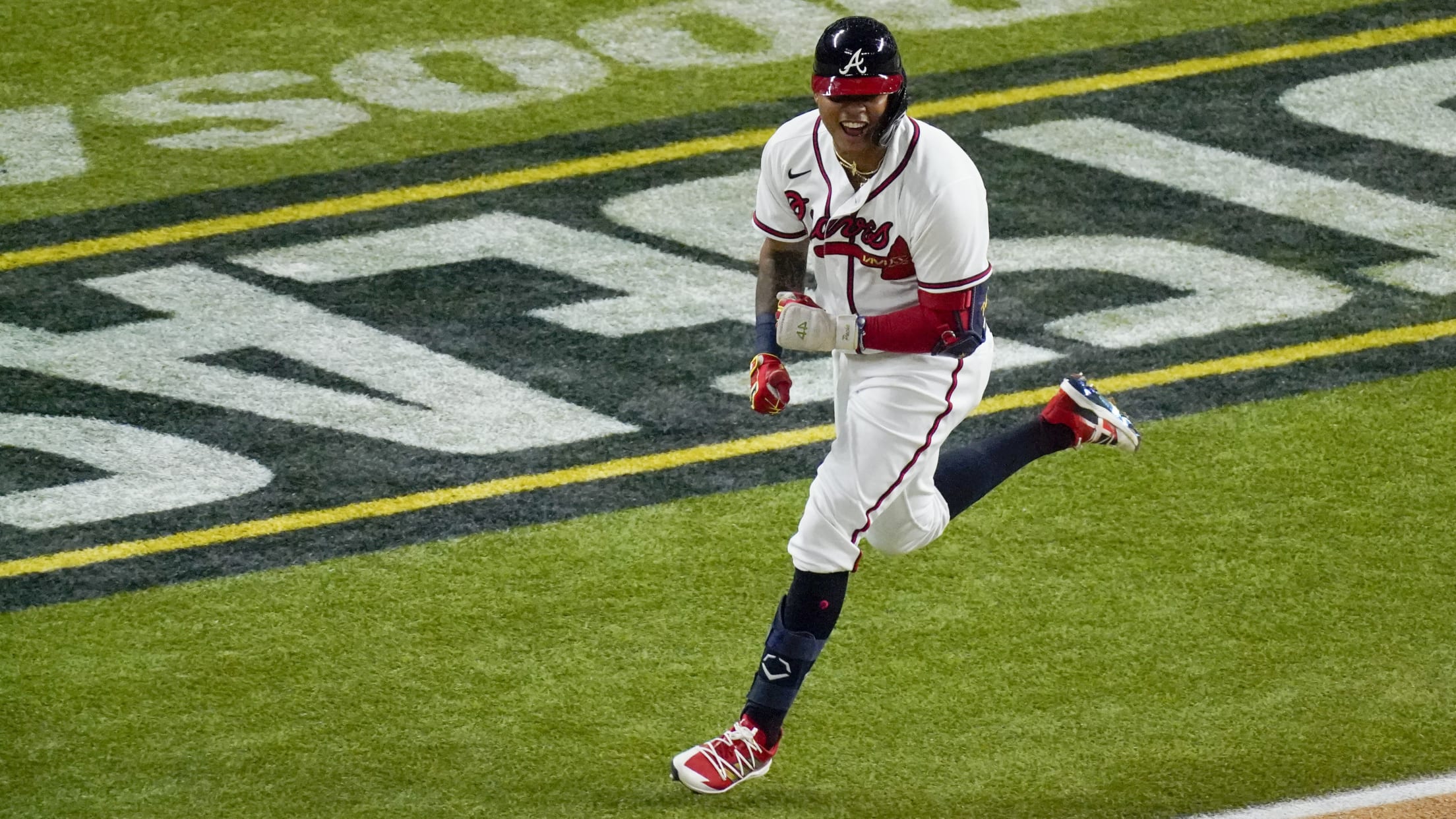 It wasn't yet enough to send the Braves to their first World Series since 1999, but Cristian Pache continued to show on Friday night why it was best to thrust him into the lineup when injury shook up the Atlanta outfield at the worst time. The top Braves prospect produced
Arozarena keeps slugging for Tampa Bay
No. 19 Rays prospect mashes fifth dinger of postseason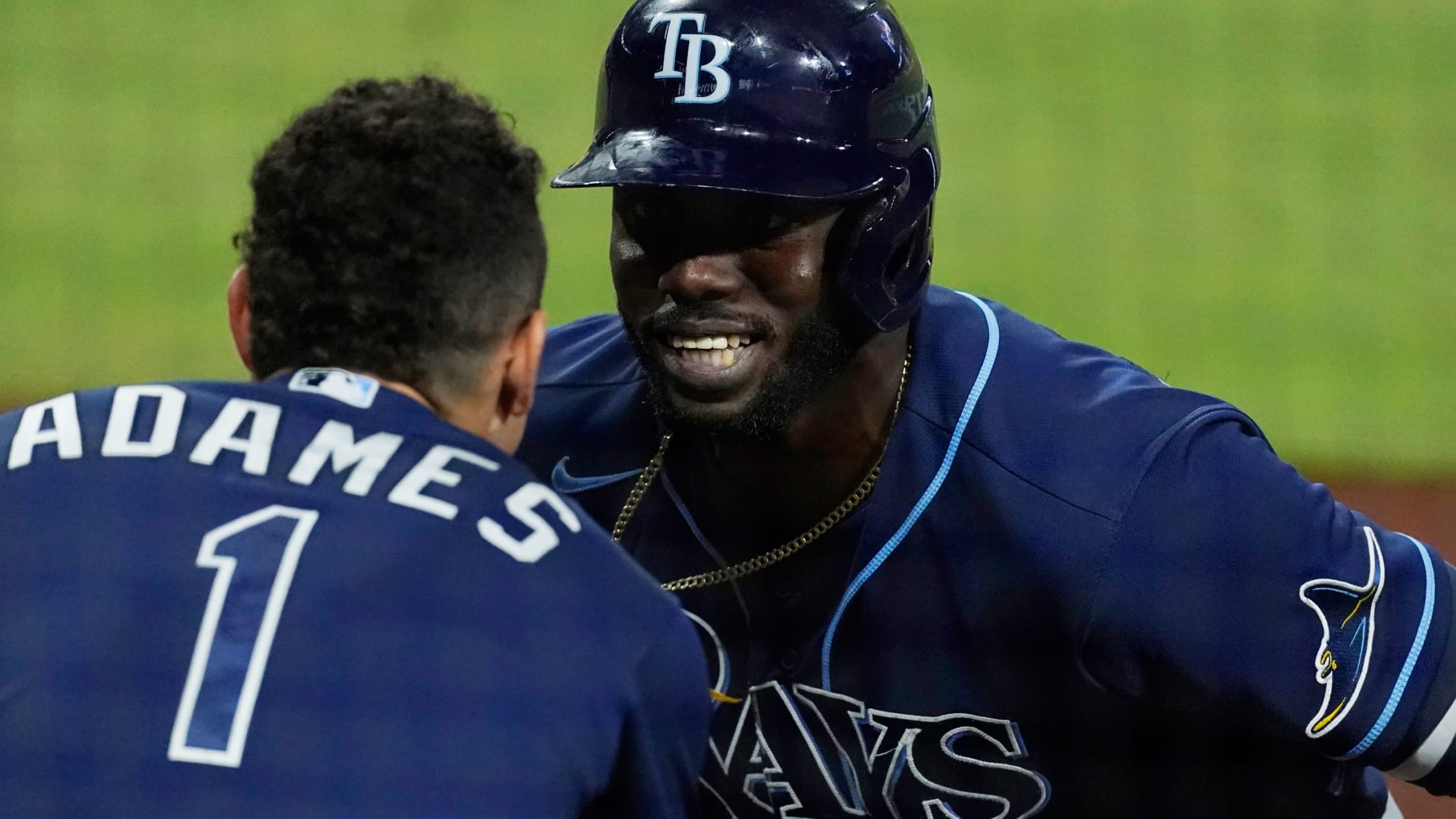 There's being in the middle of a hot streak, and then there's what Randy Arozarena has been doing this postseason. Tampa Bay's No. 19 prospect blasted a two-run homer in the fourth inning, but the Rays fell, 4-3, to the Astros in Game 4 of the American League Championship Series
Anderson posts zeros again for Braves
Club's No. 3 prospect turns in third straight scoreless playoff start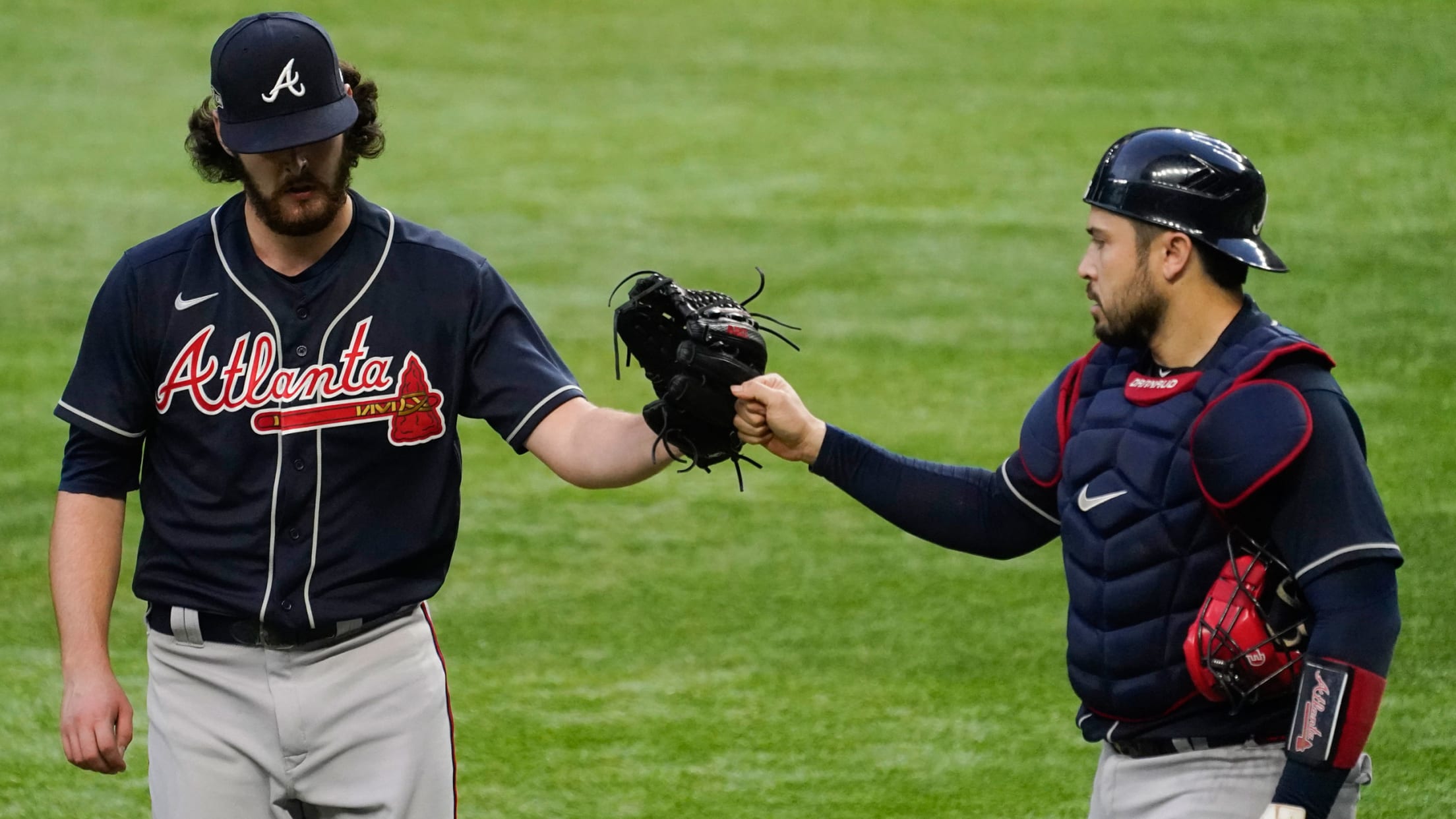 It might not have been pretty, but it was effective. In the postseason, the latter is all that counts. Baseball's No. 34 overall prospect Ian Anderson continued his team's dominant trend on the mound with four scoreless innings as Atlanta seized a 2-0 lead in the best-of-7 National League Championship
Eighteen Gwinnett Alums Highlight Braves' NLCS Roster
Bryse Wilson, Huascar Ynoa looking to make Postseason debuts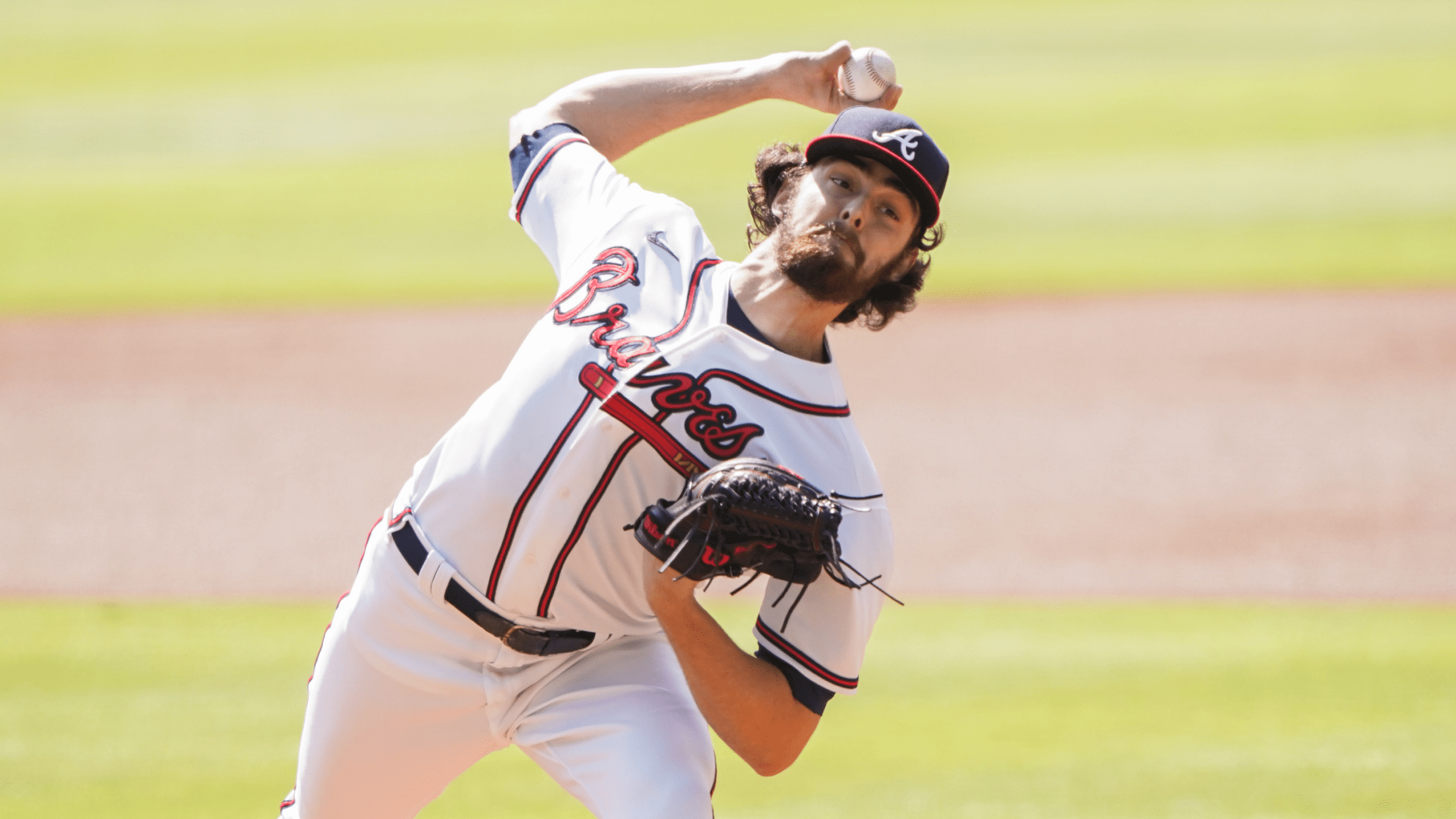 The Atlanta Braves, set to play in the National League Championship Series for the first time since 2001, announced a 28-man series roster today that includes 18 former Gwinnett players. The 18 G-Braves and Stripers alums, led by former Gwinnett manager Brian Snitker (2014-16), include: Pitchers (10) Ian Anderson (2019),
Braves' NL Wild Card Series Roster Features 17 Gwinnett Alums
Atlanta begins best-of-three first-round series against Cincinnati today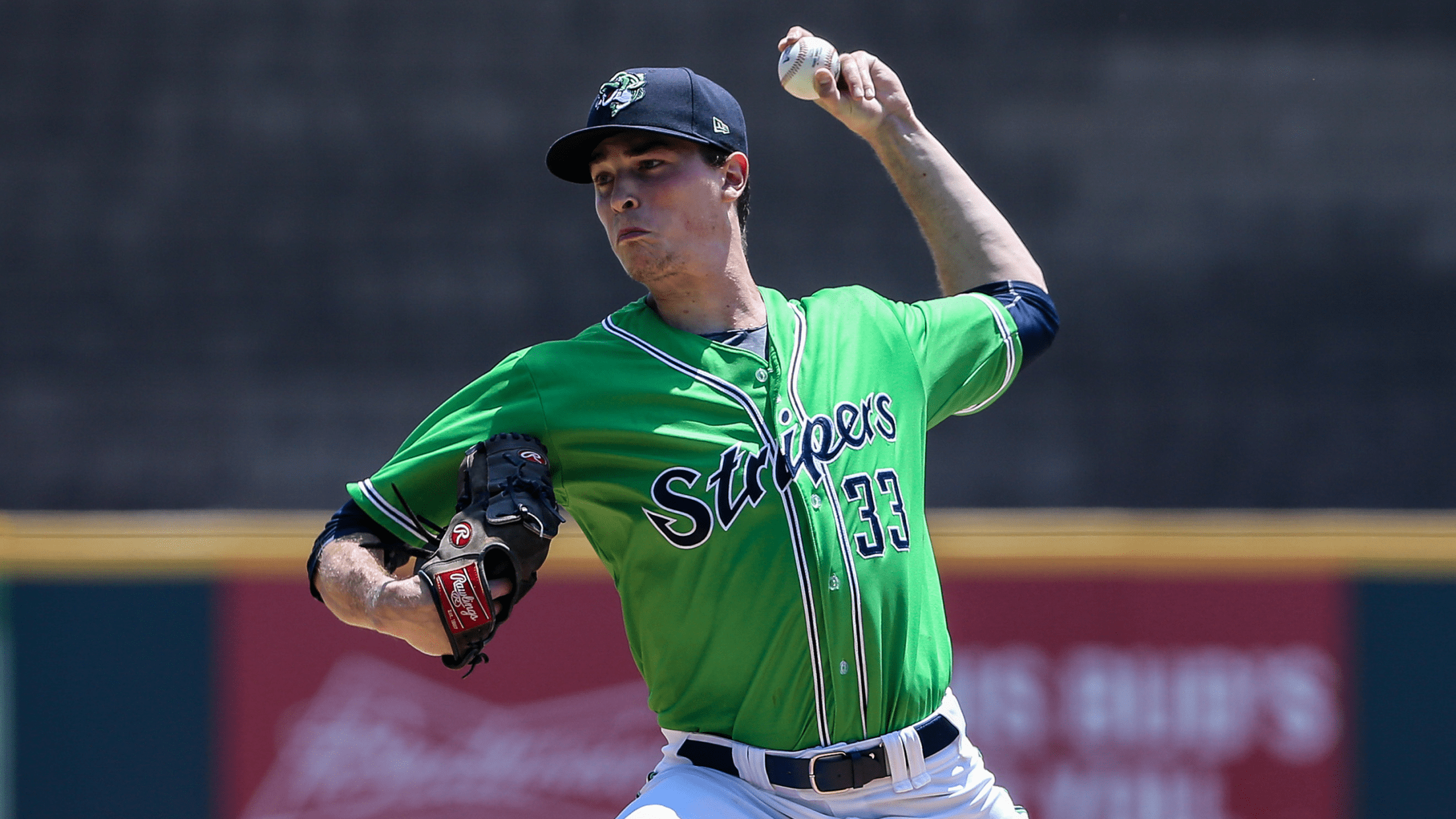 The 2020 National League East Division champion Atlanta Braves announced today their roster for the NL Wild Card Series. The 28-man roster includes 17 former Gwinnett players, each of whom will aid the Braves as they begin a quest for their first World Series title since 1995. The 17 G-Braves
Top Five: Governors' Cup Playoff Performances
Gwinnett's best efforts in postseason contests since 2009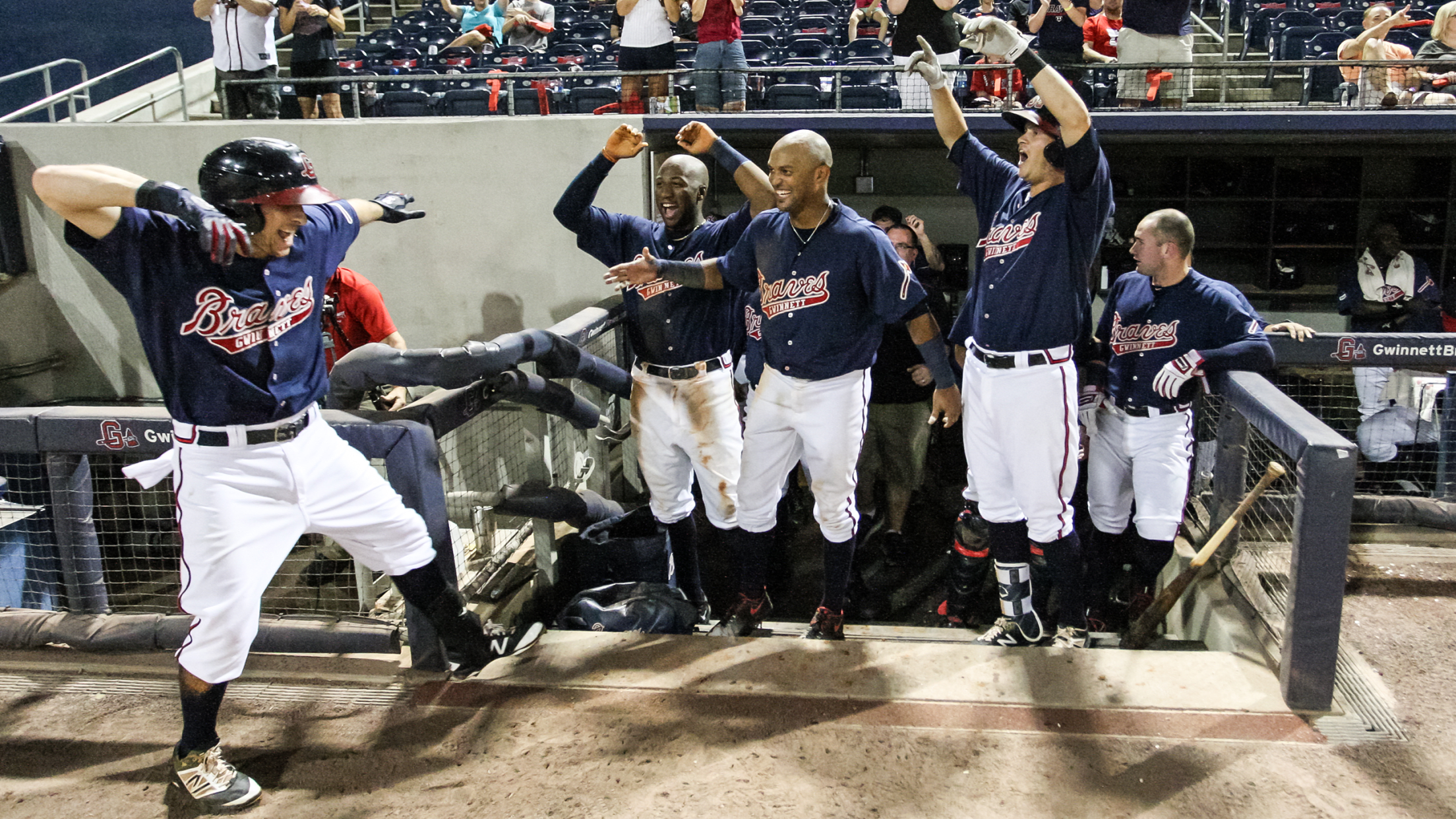 September is playoff time for Minor League Baseball, when Division champions and Wild Card qualifiers alike shift their focus from a grueling five-month regular season to a two-week sprint for their league's respective title. The International League's version of the postseason – the Governors' Cup Playoffs – would have started
Prospects in the Braves' 2020 player pool
Pache, Waters headline talented Atlanta prospects at camp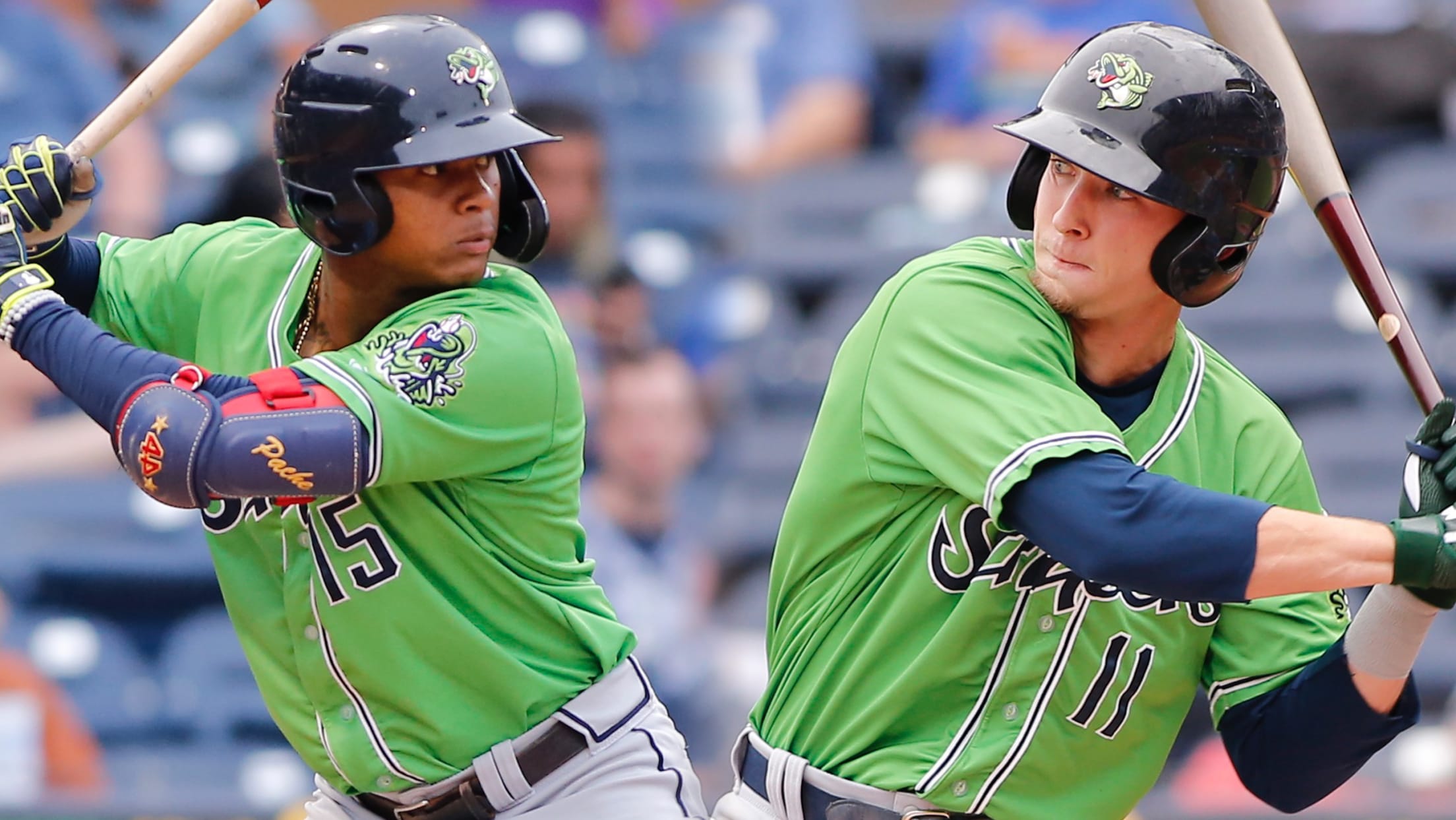 As part of the new rules for the 2020 Major League season, each of the 30 organizations will maintain a 60-man player pool for the duration of the campaign. Some members of the player pool will feature on the active Major League roster while others will work out at an
The Road to The Show™: Cristian Pache
Top Braves prospect rose fast with stellar defense, improved bat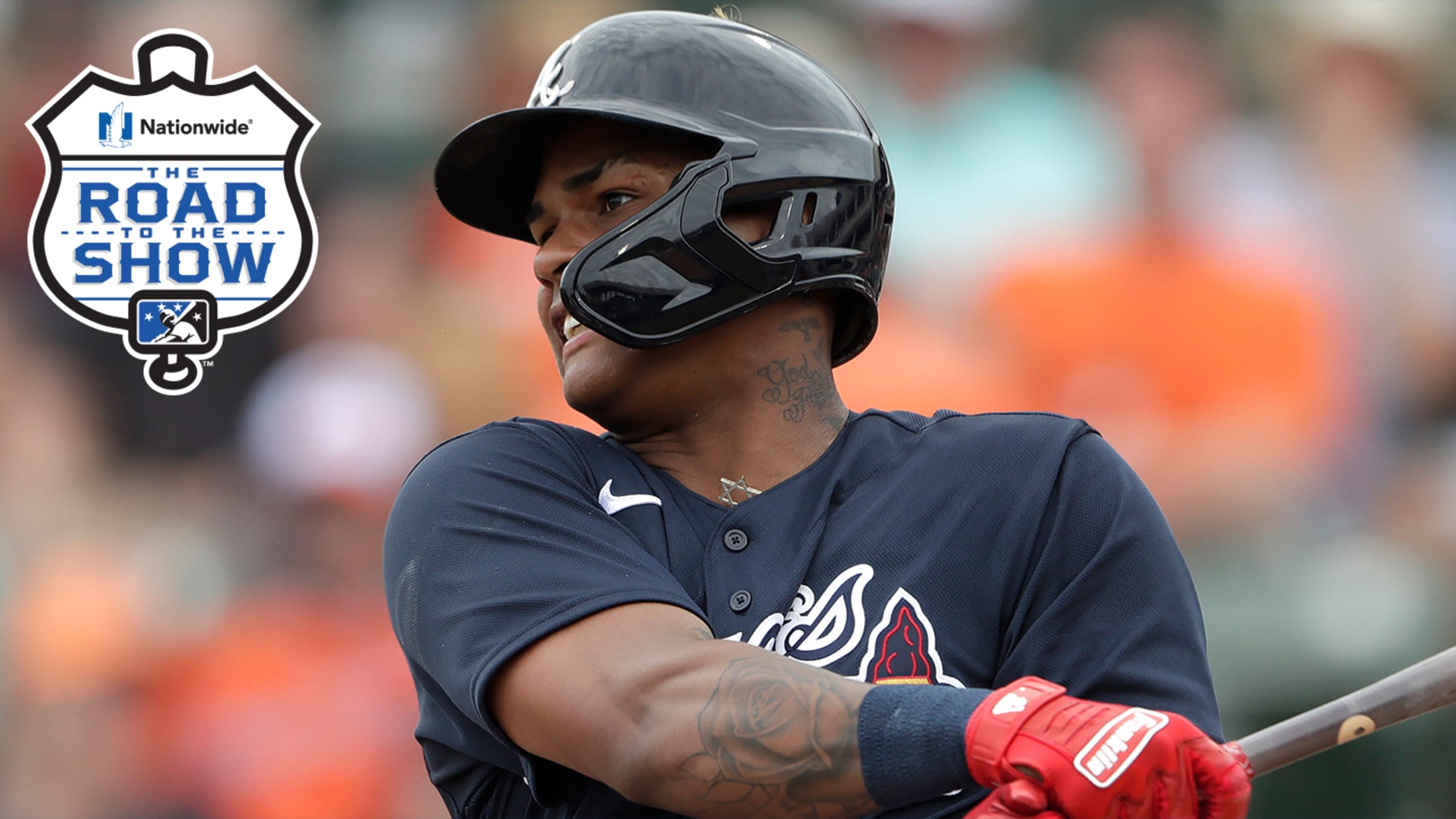 Each week, MiLB.com profiles an elite prospect by chronicling the steps he's taken to reach the brink of realizing his Major League dream. Here's a look at Atlanta Braves outfielder Cristian Pache. Over the past few seasons, outfielder Cristian Pache has provided depth at the upper tier of a Braves prospect
Toolshed dream lineup: The 21-year-olds
Padres' Gore, Angels' Adell highlight heading into season at 21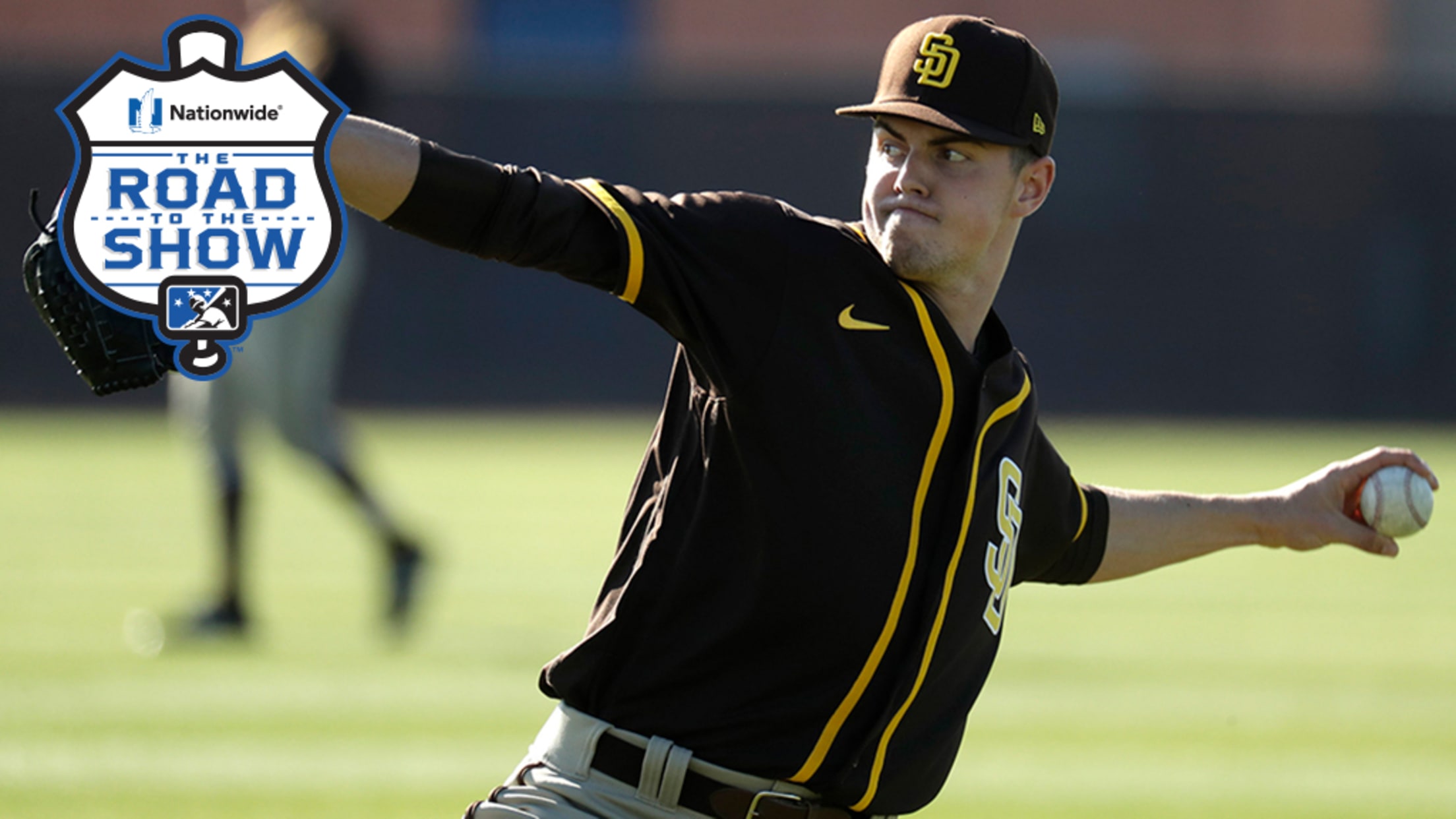 There may be no Minor League Baseball games yet, but that's not going to stop us from dreaming about lineups.In the coming weeks, Toolshed will craft the best possible prospect lineups, sorted by age. The opening edition focused on teenagers, and the second looked at 20-year-olds. This time, we turn
Stripers' Roster Takes Shape Amid Season Delay
Braves have optioned nine players to Gwinnett since March 9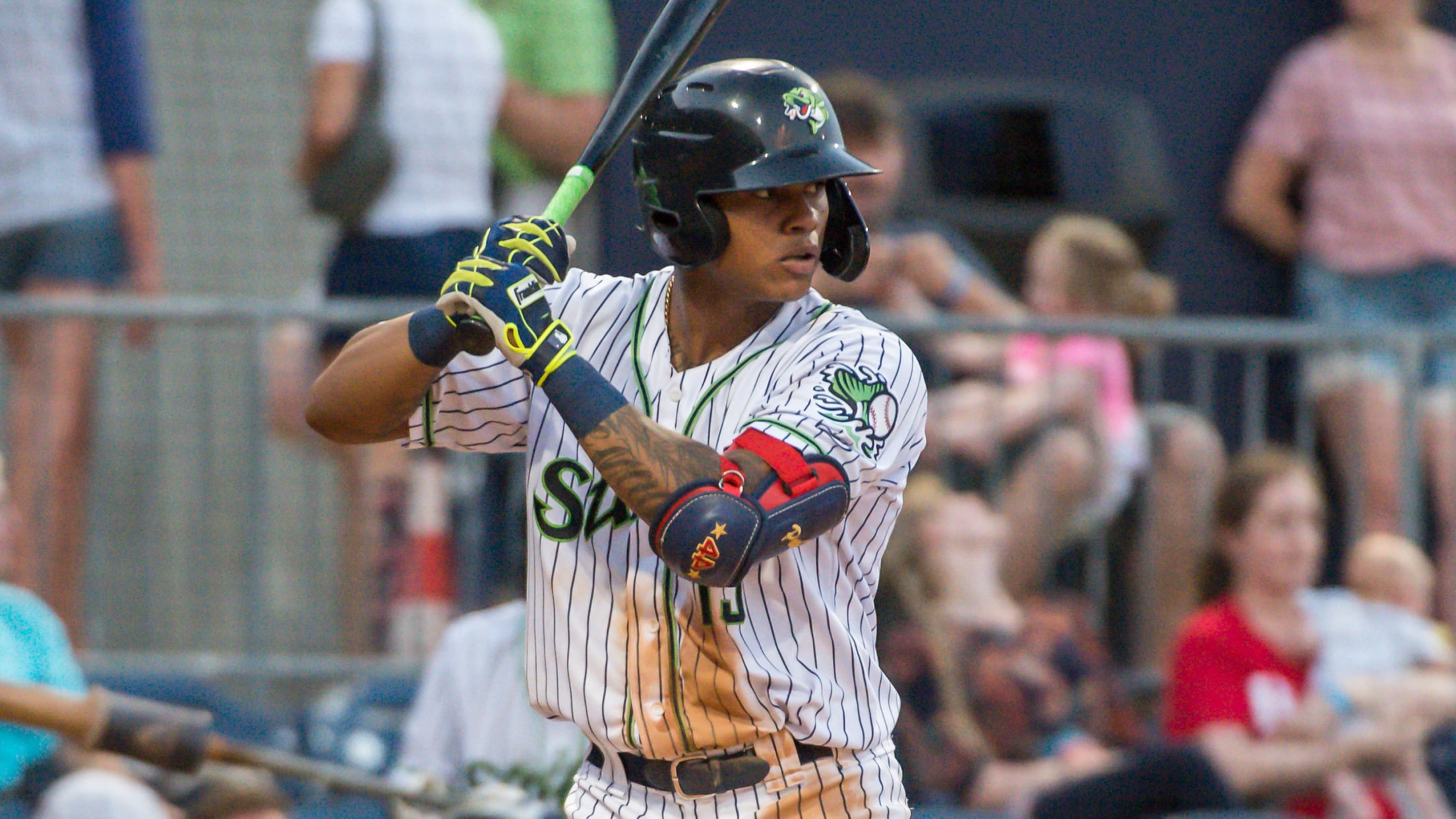 Opening Day for both Major League Baseball and Minor League Baseball has been delayed indefinitely, but that hasn't stopped the Gwinnett Stripers' 25-man roster from forming. Following initial spring roster cuts that optioned four to Gwinnett on March 6, the Atlanta Braves have since optioned nine more players to the
Braves send Pache to Triple-A camp
No. 13 overall prospect hit .385 in March; Indians reassign No. 42 Jones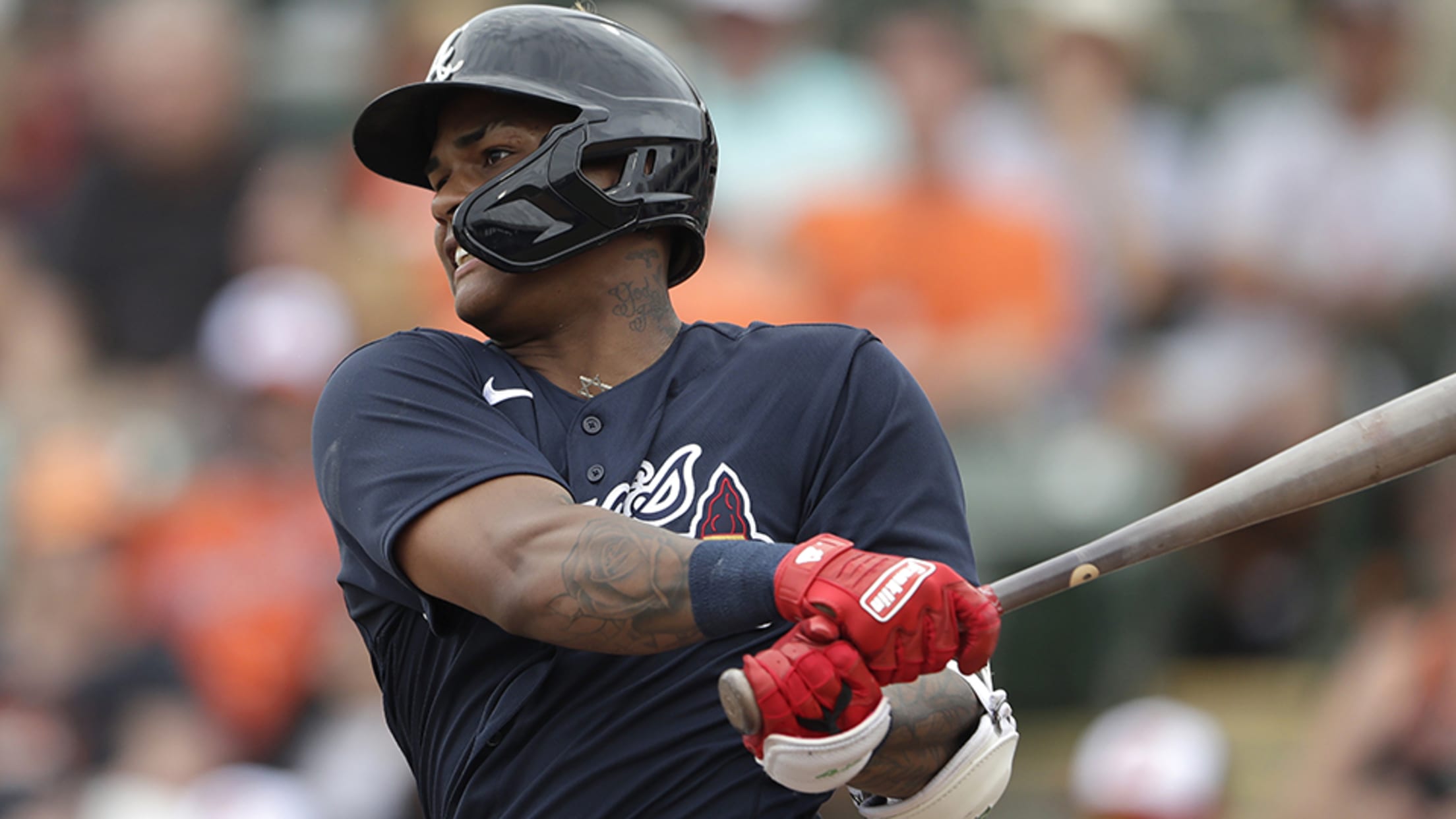 Cristian Pache may be leaving big league camp, but at least he went out with a bang.After homering in his last game, MLB.com's No. 13 overall prospect was reassigned to Triple-A Gwinnett on Wednesday. The Braves also optioned William Contreras, Tucker Davidson and Philip Pfeifer to the Stripers.
Farm system rankings: Position players, 10-1
White Sox stacked with Robert, Vaughn, Madrigal on the way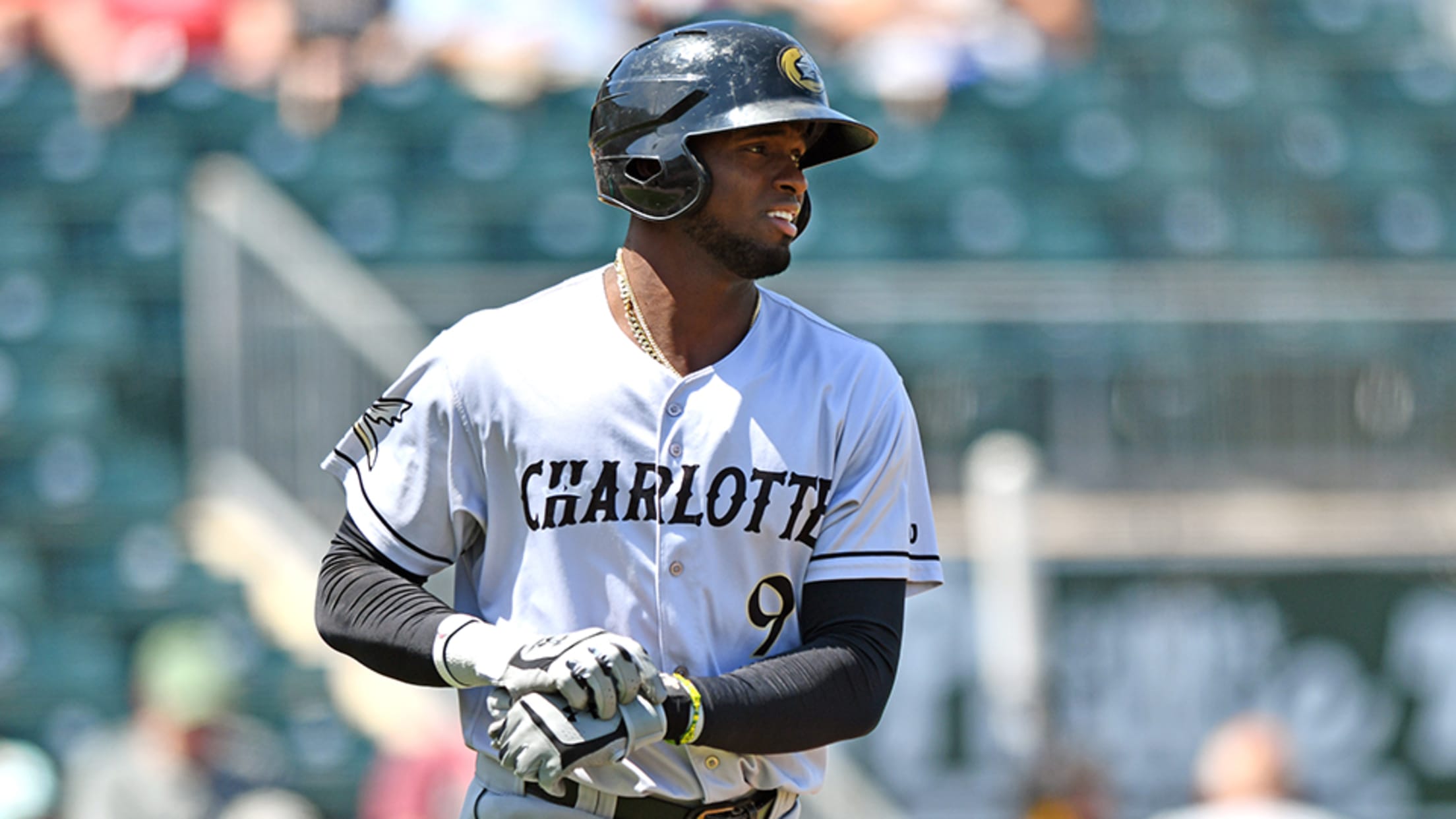 With the 2020 season rapidly approaching, MiLB.com looks at the state of all 30 farm systems and ranks them in several different ways. This first installment, broken into three parts, focuses on position players and considers the quality and quantity of talent in each system. Here are the top 10
Pache, Waters next in line for Atlanta
A bountiful crop of prospects has the Braves sitting pretty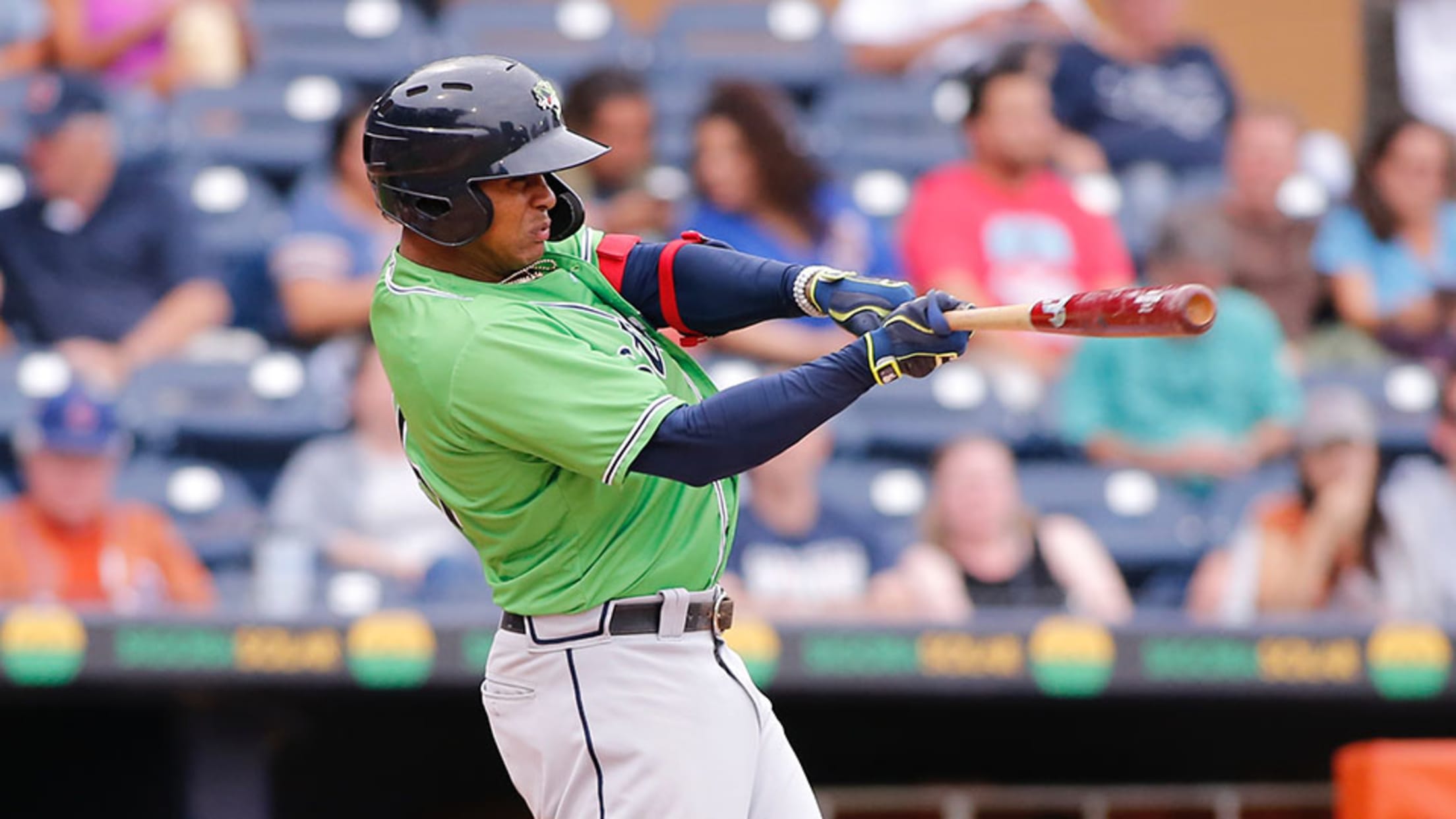 Each offseason, MiLB.com goes position by position across each system and honors the players -- regardless of age or prospect status -- who had the best seasons in their organization. Click here to locate your favorite club.If anyone wondered how long it would take the Braves to get into position
On Pache power, Stripers stay alive in IL
No. 10 overall prospect drills grand slam, knocks in five runs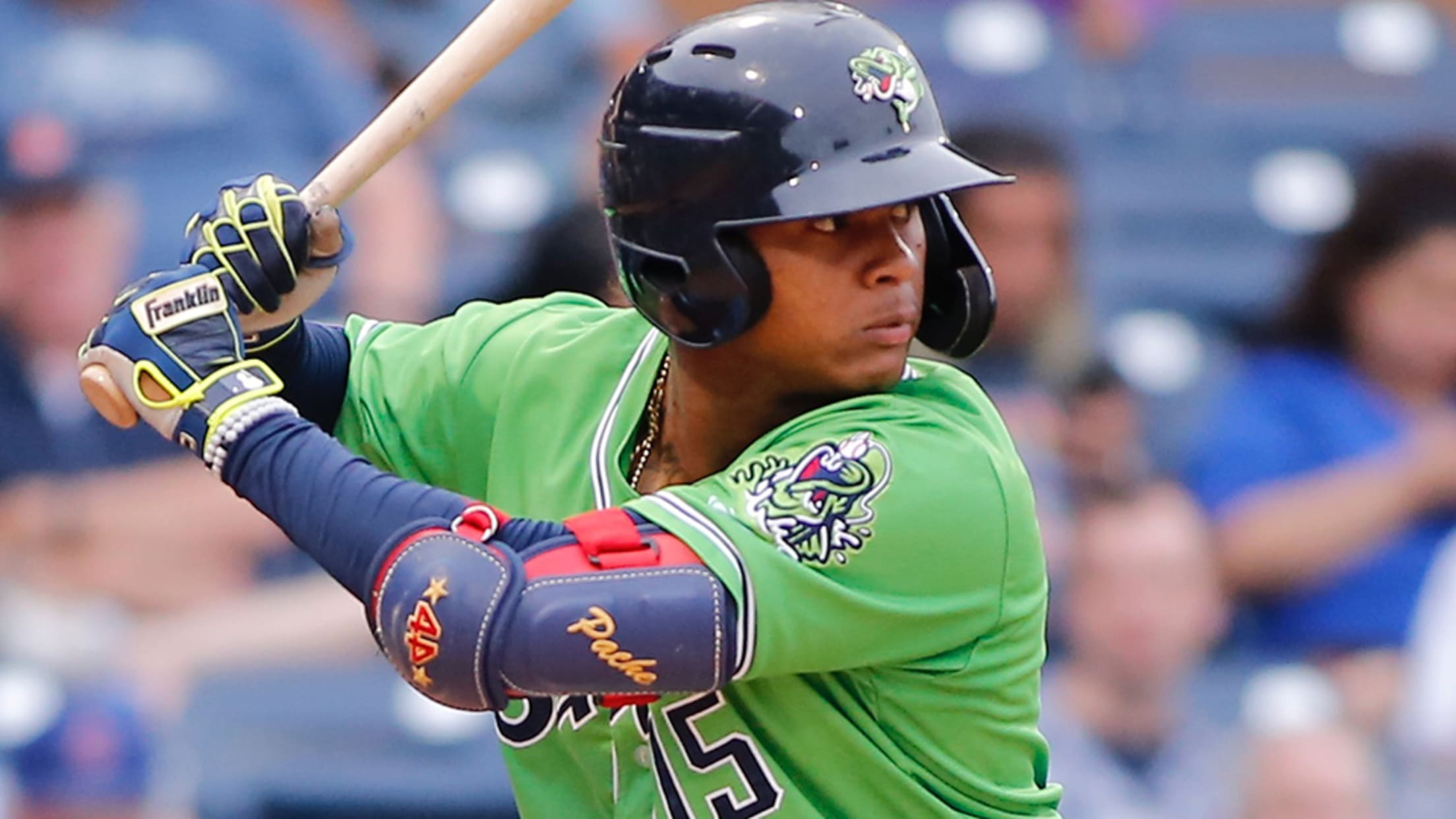 A winning formula -- especially in the playoffs -- is to lean on the team's best players.Triple-A Gwinnett did just that in its 10-6 victory over Columbus in Game 3 of the Governors' Cup semifinals Friday, keeping its season alive in the best-of-5 series. Top Braves prospectCristian Pache drilled a
Prospect Roundup: Games of September 2
Cards' Carlson smacks three hits, Rockies' Doyle has five hits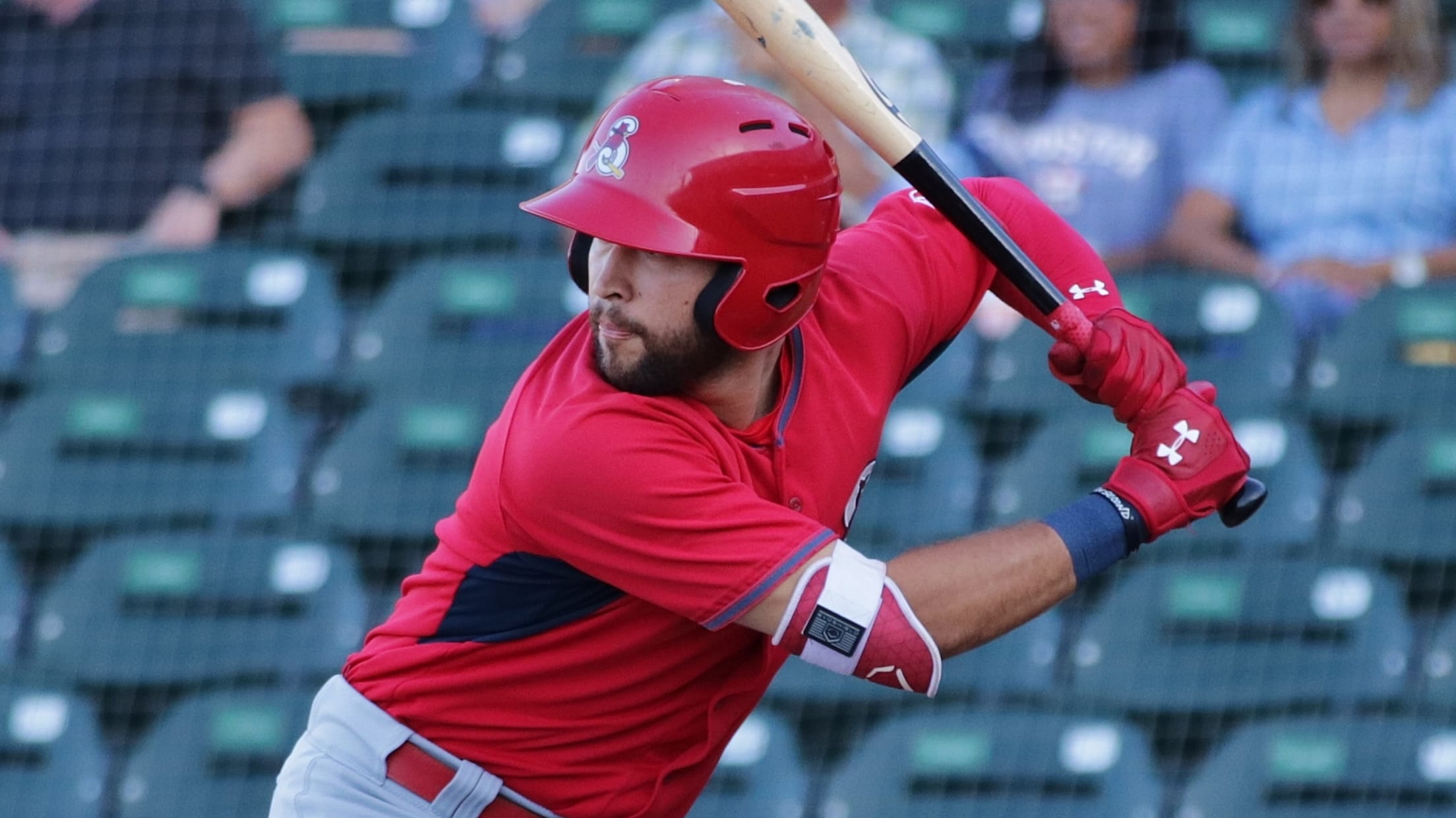 Cardinals OF Dylan Carlson, Triple-A Memphis: 3-for-5, 1 HR, 1 2B, 1 RBI, 1 R -- The second-ranked St. Louis prospect singled in the first inning, homered in the fourth and doubled in the sixth to end a triple short of the cycle. In 18 games at the Triple-A level,
2019 SL Postseason All-Star Team
MARIETTA, GA - The Southern League of Professional Baseball Clubs are proud to announce their postseason award winners, as well as the 2019 Southern League postseason All-Star team.Mississippi Braves outfielder Drew Waters has been named the Southern League's Most Valuable Player; becoming the first M-Braves hitter and the first Atlanta
Braves' Pache reportedly on way to Triple-A
No. 11 overall prospect led off for NL at All-Star Futures Game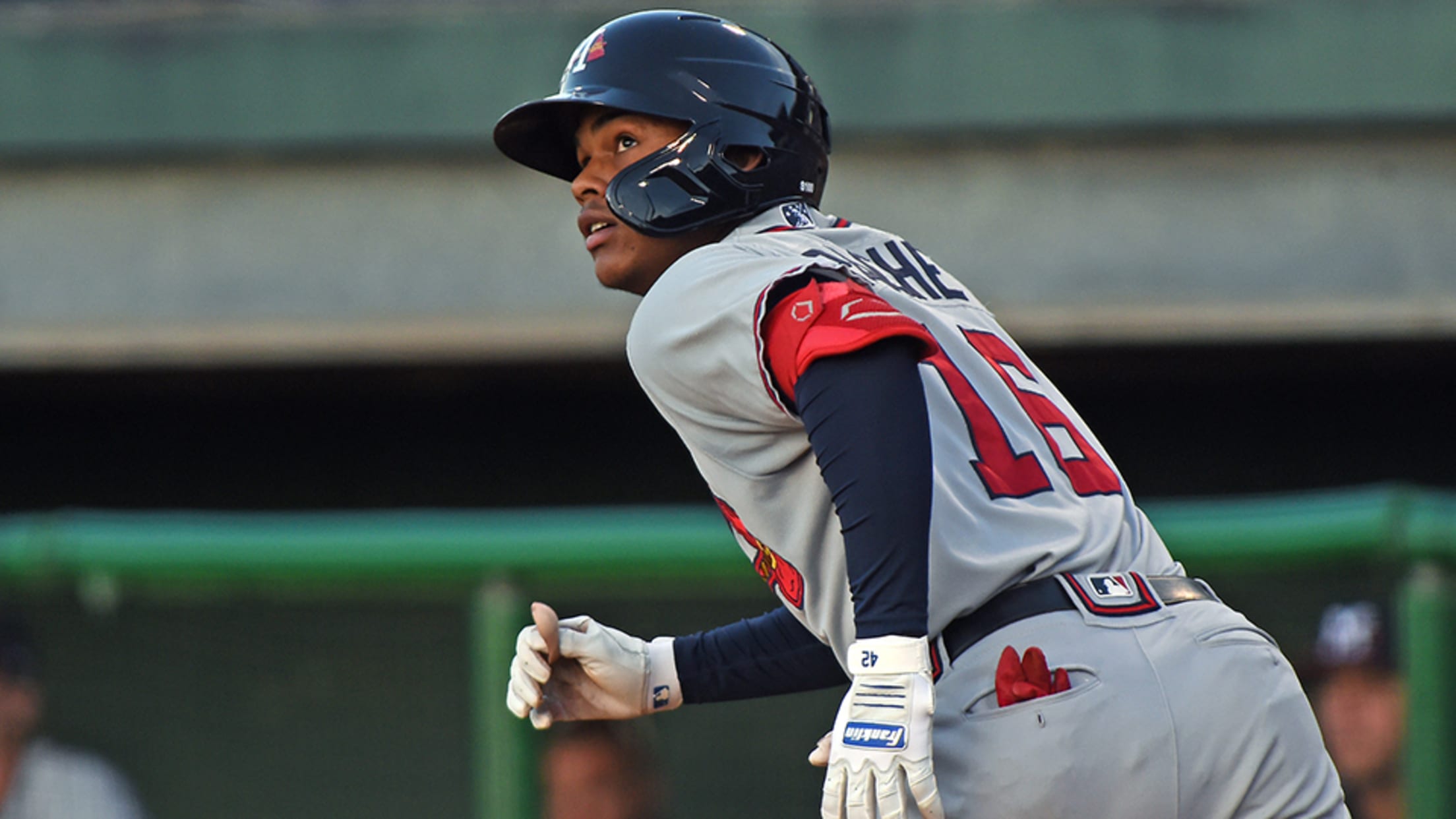 Sixteen months after Ronald Acuña Jr. made his highly anticipated Major League debut, another Braves outfielder looks to be one step closer to joining him after Cristian Pache was promoted to Triple-A Gwinnett, Georgia Sports Now reported late Sunday.Atlanta's top prospect was batting .278/.340/.474 with 47 extra-base hits, 53 RBIs and 50 runs
Casteel makes history for Mississippi
Braves farmhand records franchise's first three-homer game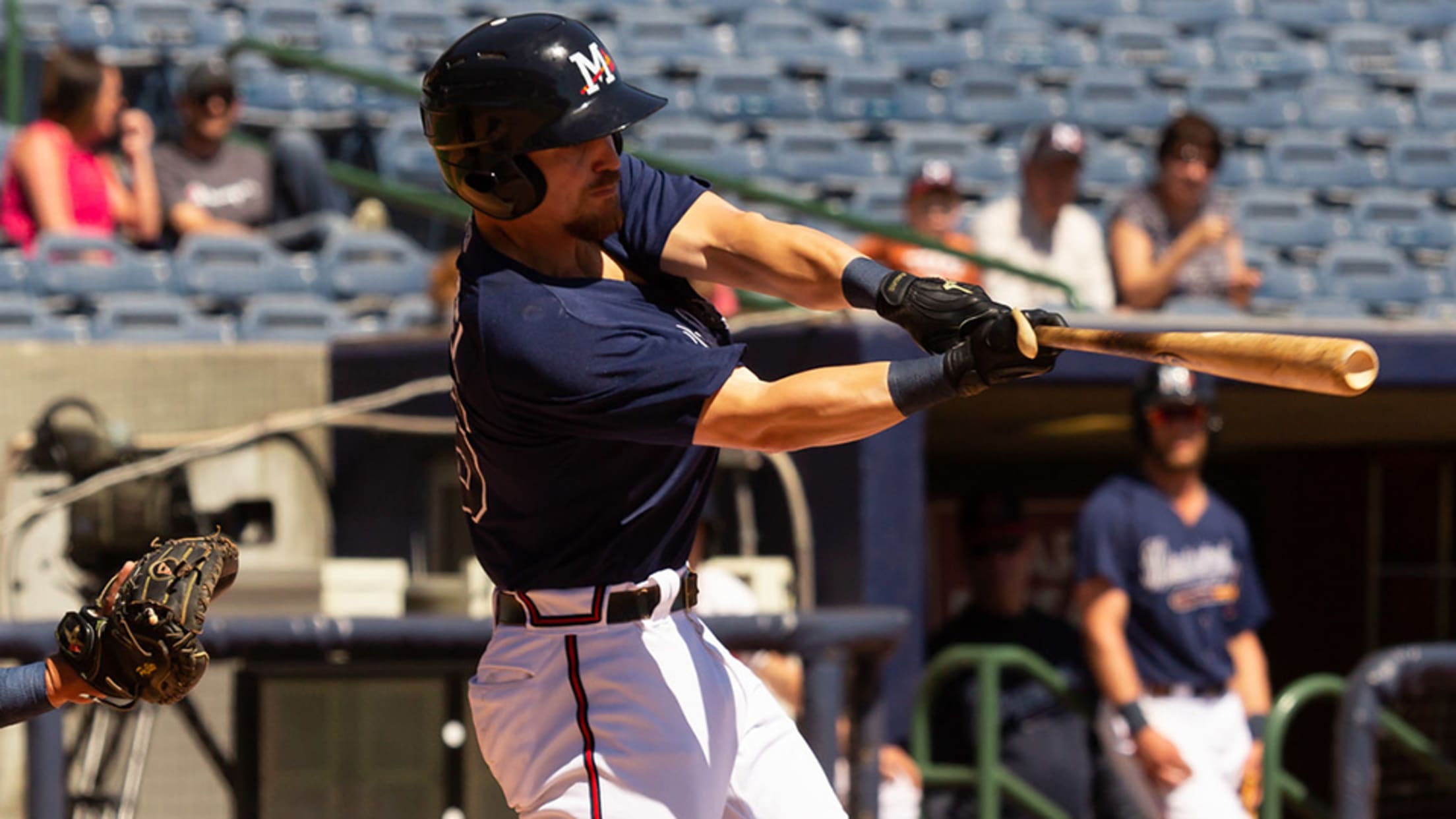 In his first year in the Braves organization, Ryan Casteel made some Southern League history.The veteran first baseman recorded the first three-homer game in team history, collecting four hits, five RBIs and four runs scored in Double-A Mississippi's 14-13 loss to Pensacola on Wednesday night at Blue Wahoos Stadium. All
Toolshed: Moving season continues
Top-100 prospects Gore, Robert, Lux could see new levels soon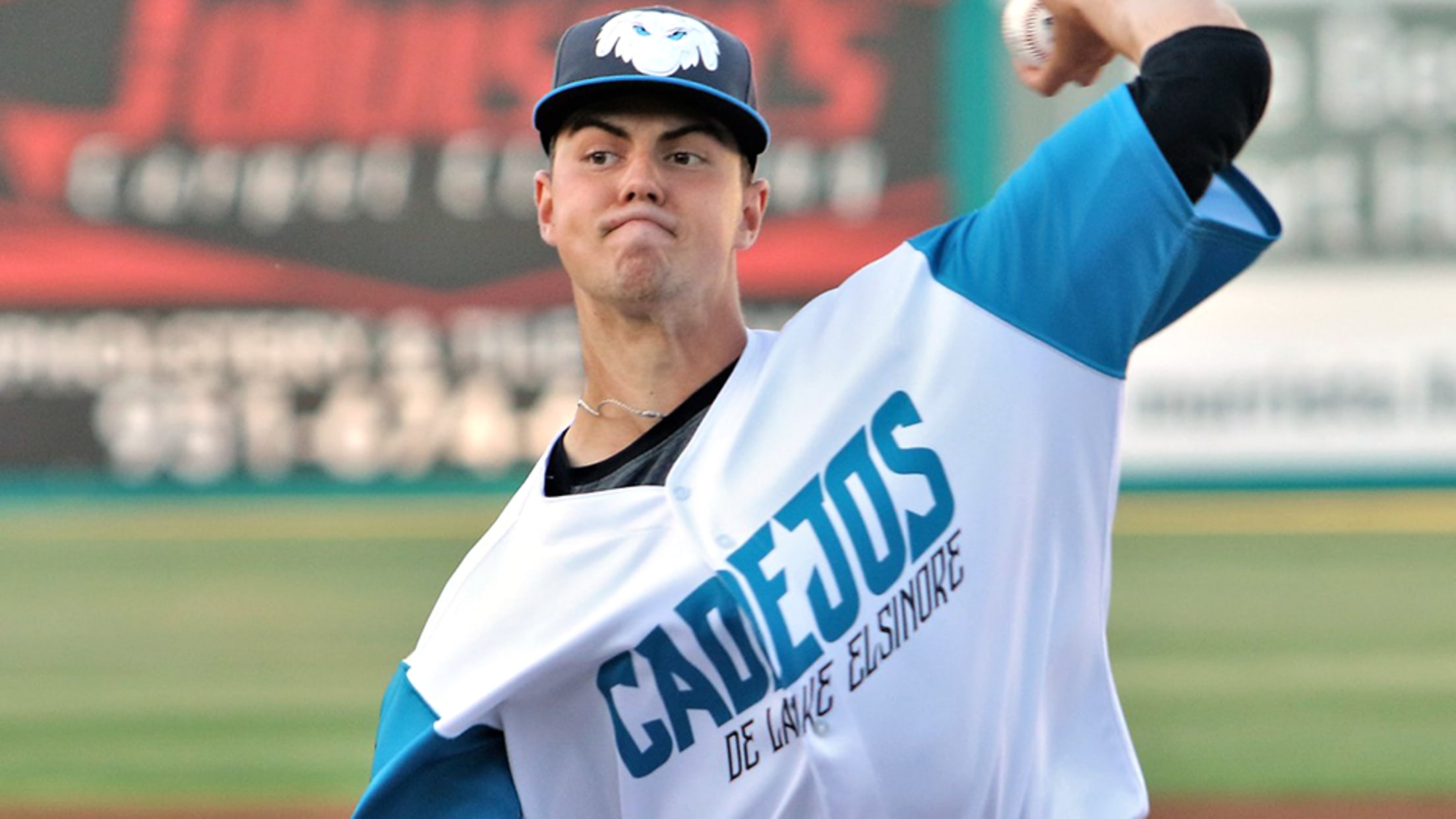 It's about that time.Every season around the All-Star breaks of the various Minor Leagues, prospects are promoted to take on new challenges. The thinking goes that half a season is a good sample size to determine how well players have handled their opening levels. It also allows those players to
Pache sizzling at plate for M-Braves
Top Braves prospect collects three more hits, five RBIs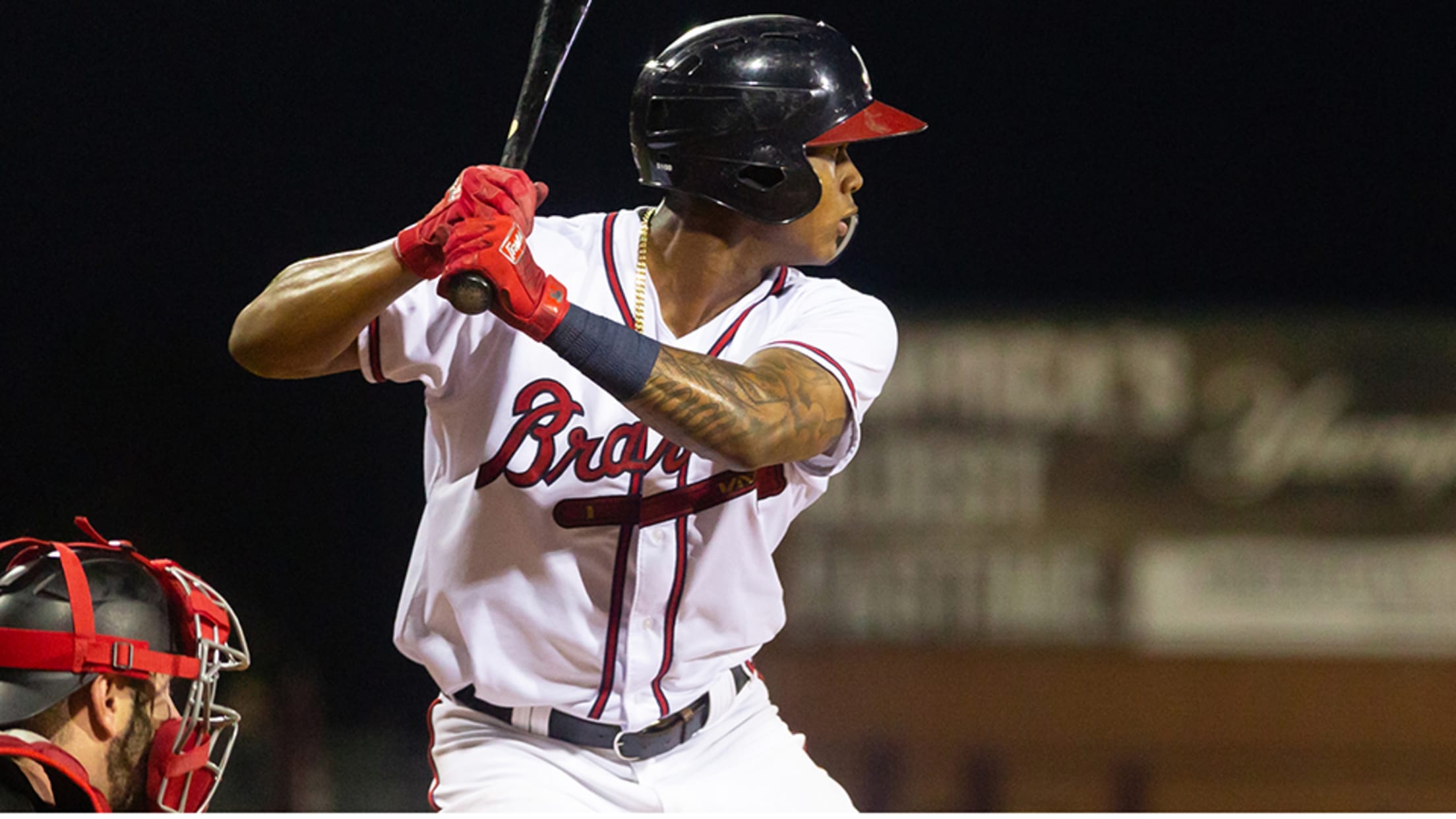 Cristian Pache has been a model of consistency in the batter's box this season. He's recorded 21 multi-hit performances through his first 65 games and hasn't endured a hitless drought beyond three games -- and even that happened just once. Still, the 20-year-old found a way to turn it up
Robert leads loaded Southern All-Star rosters
Seven Top-100 prospects selected for June 18 showcase in Biloxi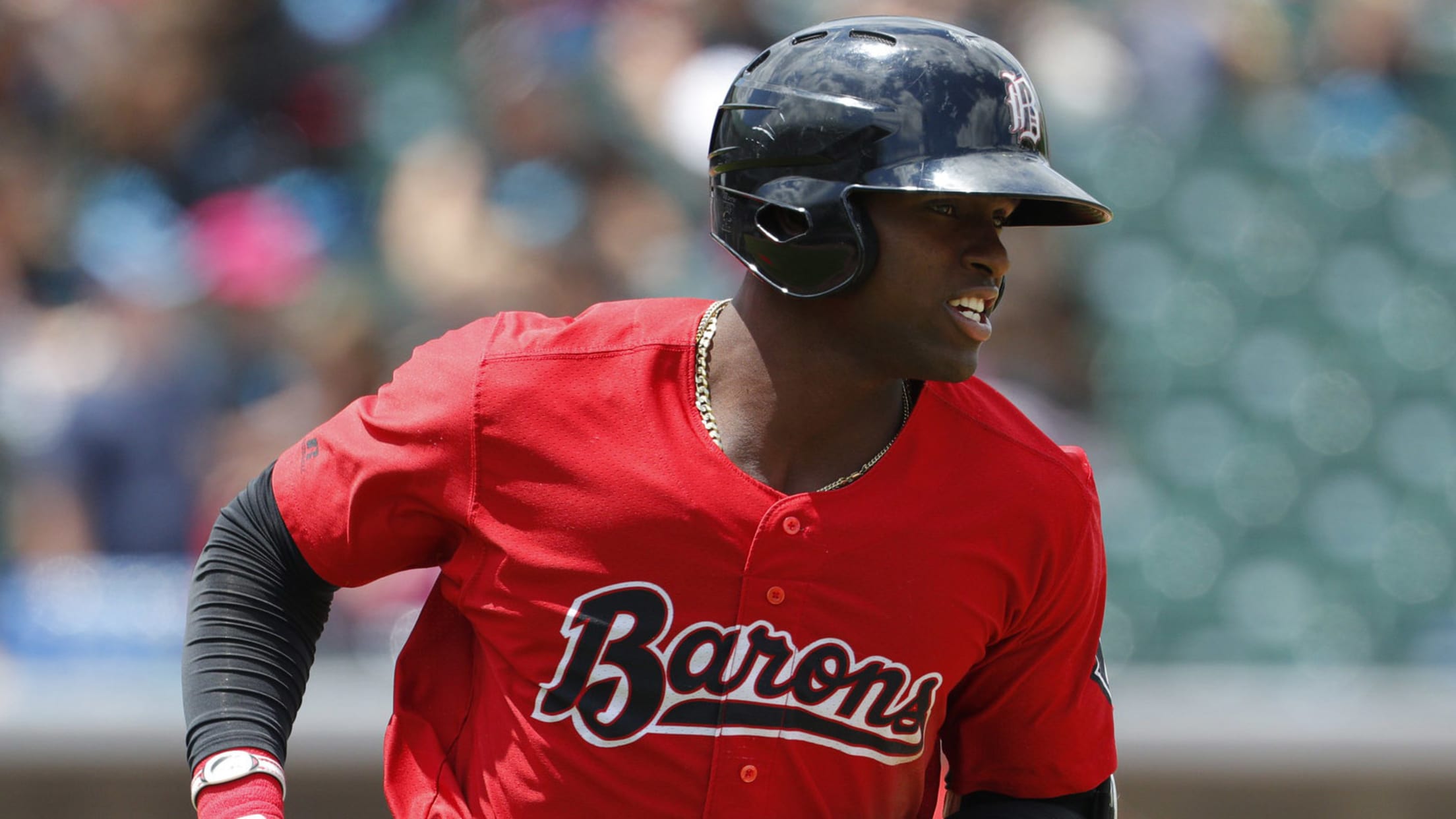 Luis Robert was the Carolina League's best hitter during his short time with Class A Advanced Winston-Salem. Since his late-April promotion to Double-A Birmingham, he's proven himself as the best hitter in the Southern League -- and now he has an All-Star nod to prove it.MLB.com's No. 17 prospect headlines a
2019 All-Star Game: South Division Roster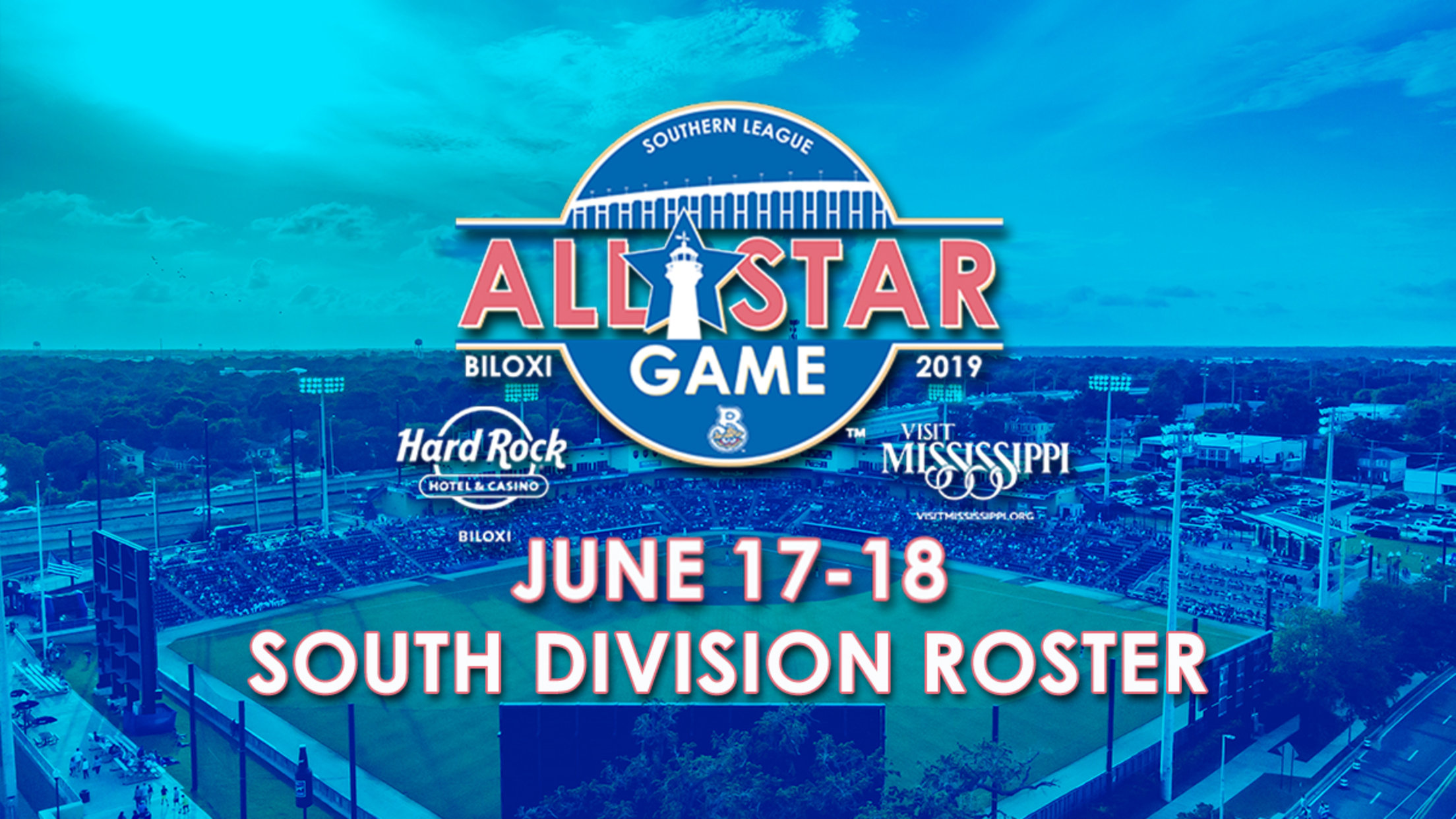 MARIETTA, GA - The Southern League of Professional Baseball Clubs are excited to announce the South Division's initial roster for the 2019 Southern League All-Star Game. This year's contest is scheduled for Tuesday, June 18 at MGM Park in Biloxi, Mississippi with first pitch slated for 6:35pm local time. Votes
Pache extends hot streak with four-hit night
Braves top prospect notches third multi-hit effort in eight games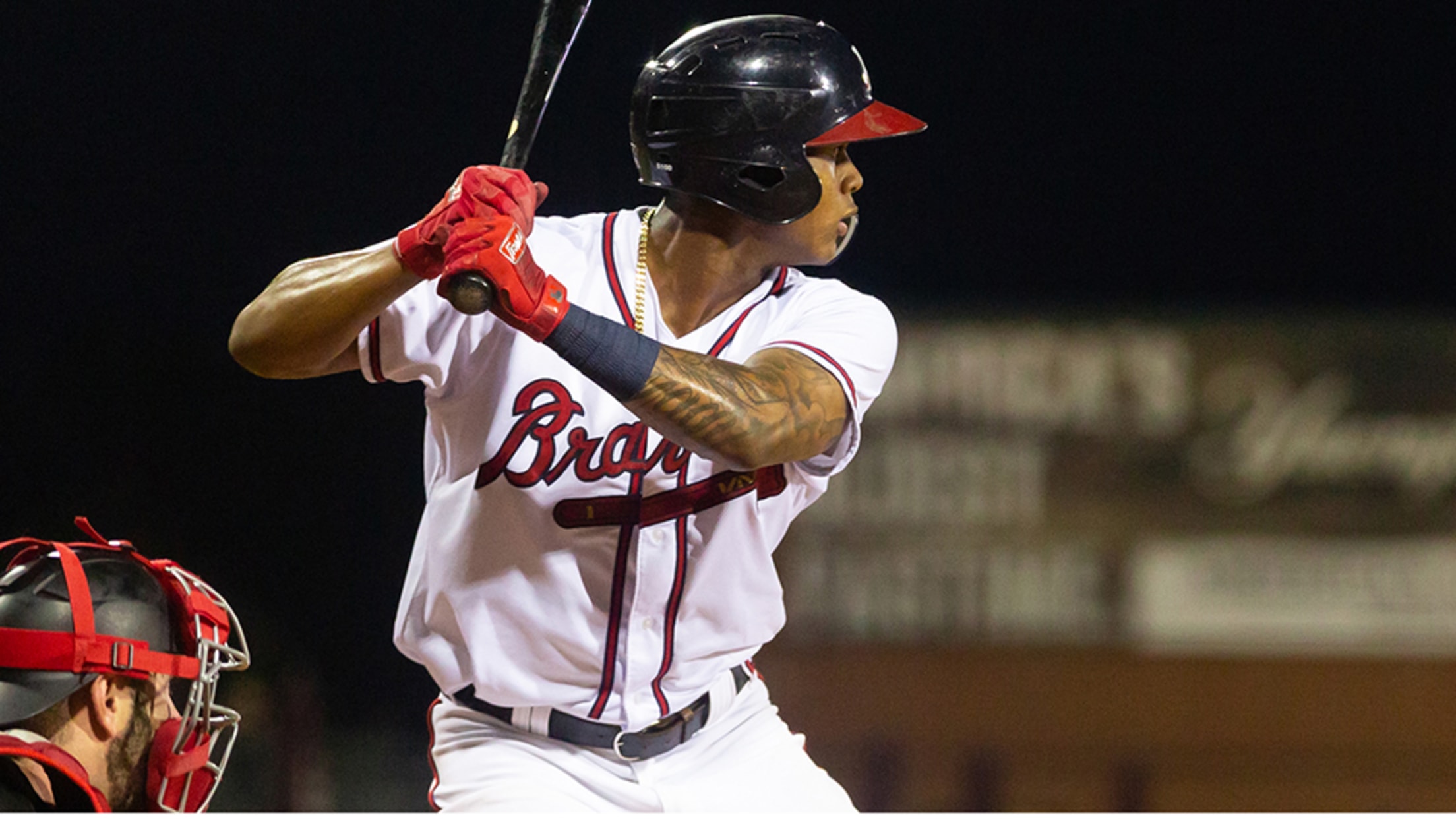 Two-strike counts are supposed to play into the pitcher's favor. Someone forgot to tell Cristian Pache.MLB.com's No. 17 overall prospect recorded his first four-hit game of the season on Friday night, going 4-for-4 with a double in Double-A Mississippi's 4-1 loss to Jacksonville at Trustmark Park.
Anderson posts six zeros for M-Braves
Baseball's No. 30 prospect puts up best performance of season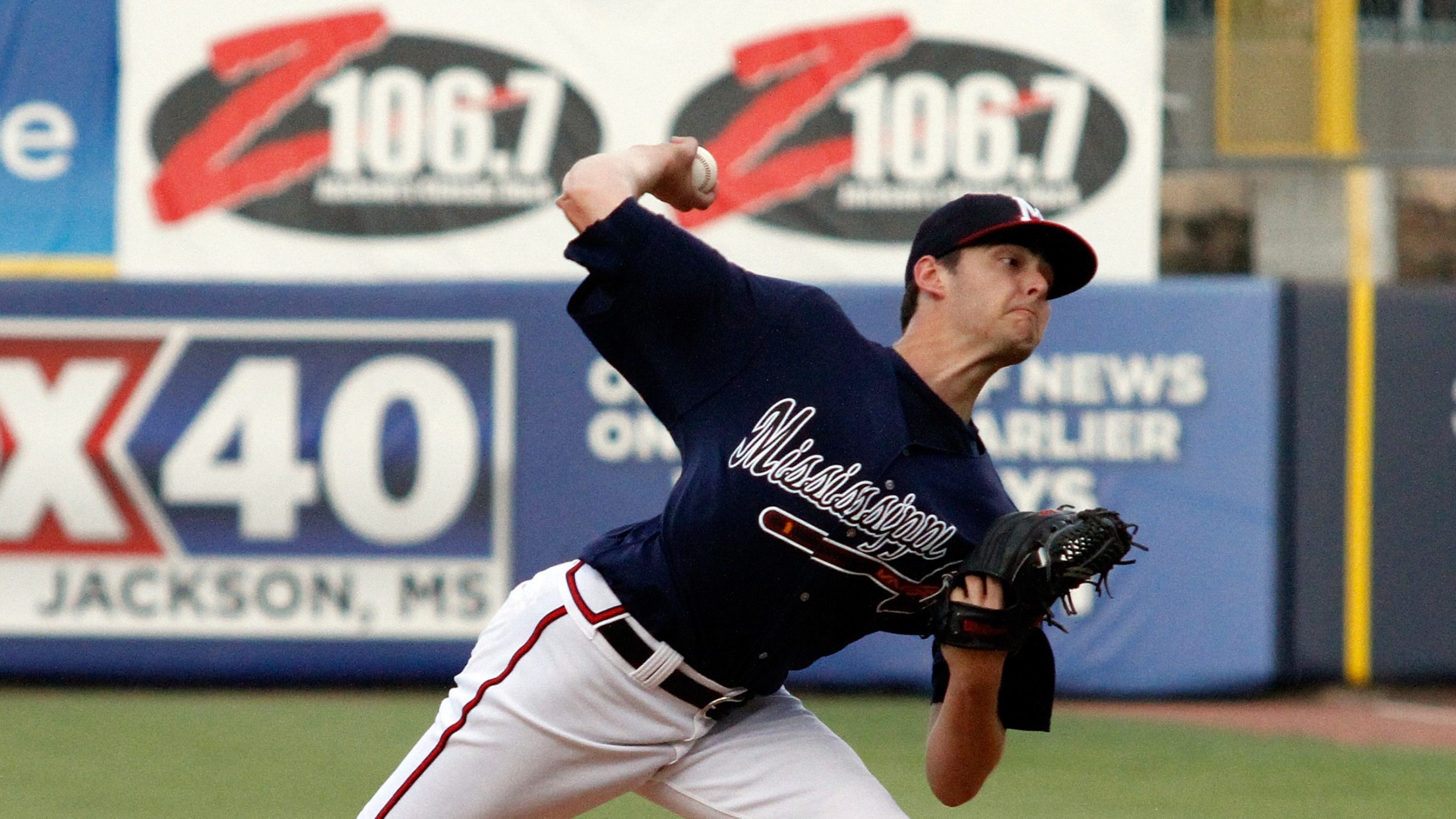 Ian Anderson's first time seeing an opposing team more than once in 2019 yielded his best effort of the season.Facing Mobile for the second time in April, MLB.com's 30th-ranked prospect allowed just two hits and two walks while striking out eight over six innings in Double-A Mississippi's 6-0 win over