Grizzlies finish 2019 on six-game win streak
Homers by Drew Ward and Matt Reistetter the difference in season's ultimate game
Fresno, CA (Monday, September 2) - The Fresno Grizzlies (65-75) finished their 22nd season with a 6-5 victory over the Albuquerque Isotopes (60-80) on Labor Day afternoon at Chukchansi Park. Fresno wrapped the 2019 campaign with a 7-1 homestand and a season-high six-game win streak, victorious in nine of their
Slugfest ends in a 14-13 Grizz walk-off
Fresno trailed 7-0 after an inning and a half; Jake Noll with the game-winner
Fresno, California (Wednesday, August 28) - The Fresno Grizzlies (60-75) outlasted the Tacoma Rainiers (59-75) 14-13 in 10 innings Wednesday night from Chukchansi Park. Both clubs combined for 37 hits with every batter notching at least one knock. Fresno trailed 7-0 after a frame and a half, their largest comeback
Tacos for the road, and a #TacoTuesday win
"Fresno Tacos" improve to 6-4 this season (2-0 at El Paso)
El Paso, TX (Tuesday, August 20) - On Taco Tuesday, the "Fresno Tacos" (56-71) played as the visiting team for the second time this season, a natural opponent for the "El Paso Margaritas" (74-53) as part of Copa de la Diversion festivities at Southwest Univeristy Park. Fresno prevailed 9-4, scoring
E-Train sweeps over Grizz 15-7
Fresno meets San Antonio for the first time in franchise history this weekend, in attempt to salvage Texas two-step trip
Round Rock, TX (Thursday, August 1) - The Fresno Grizzlies (53-57) lost their sixth straight and were defeated for the eighth time in nine games Thursday evening in a visit to the Round Rock Express (65-44). Round Rock, scoring 14 unanswered runs at one point, took it by a 15-7
Aces tire out Lowriders 10-6 in series finale
Jake Noll homers twice and drives in five
Fresno, California (Sunday, July 28) - The Fresno Grizzlies (53-54) transformed into "Lowriders de Fresno" for the fourth and final time this season on Sunday, falling 10-6 to the Reno Aces (48-59) from Chukchansi Park. The Lowriders finished 1-3 in their two weekends after splitting with Omaha on June 15
Grizzlies draw low card in 11-7 loss to Aces on Friday
Fresno smashes three home runs in defeat
Fresno, CA (Friday, July 26) - The Fresno Grizzlies (53-52) dropped the series-opener to the Reno Aces (46-59) on Friday evening by an 11-7 final, the first of three this weekend at Chukchansi Park.Reno's 14-hit attack included a two-run homer by the rehabbing Blake Swihart in the fourth inning, and
Grizzlies go quietly in 9-1 setback to River Cats
Fresno trails Sacramento by four games in Pacific Northern Division
Fresno, California (Wednesday, July 24) - The Sacramento River Cats (56-47) defeated the Fresno Grizzlies (52-51) 9-1 from Chukchansi Park. With the loss, Fresno dropped four games back of Sacramento for first place in the Pacific Northern Division. The Grizzlies will also try to avoid being swept for the first
PCL notes: Grizzlies' Noll stays motivated
Nationals No. 26 prospect heating up in Fresno after MLB stints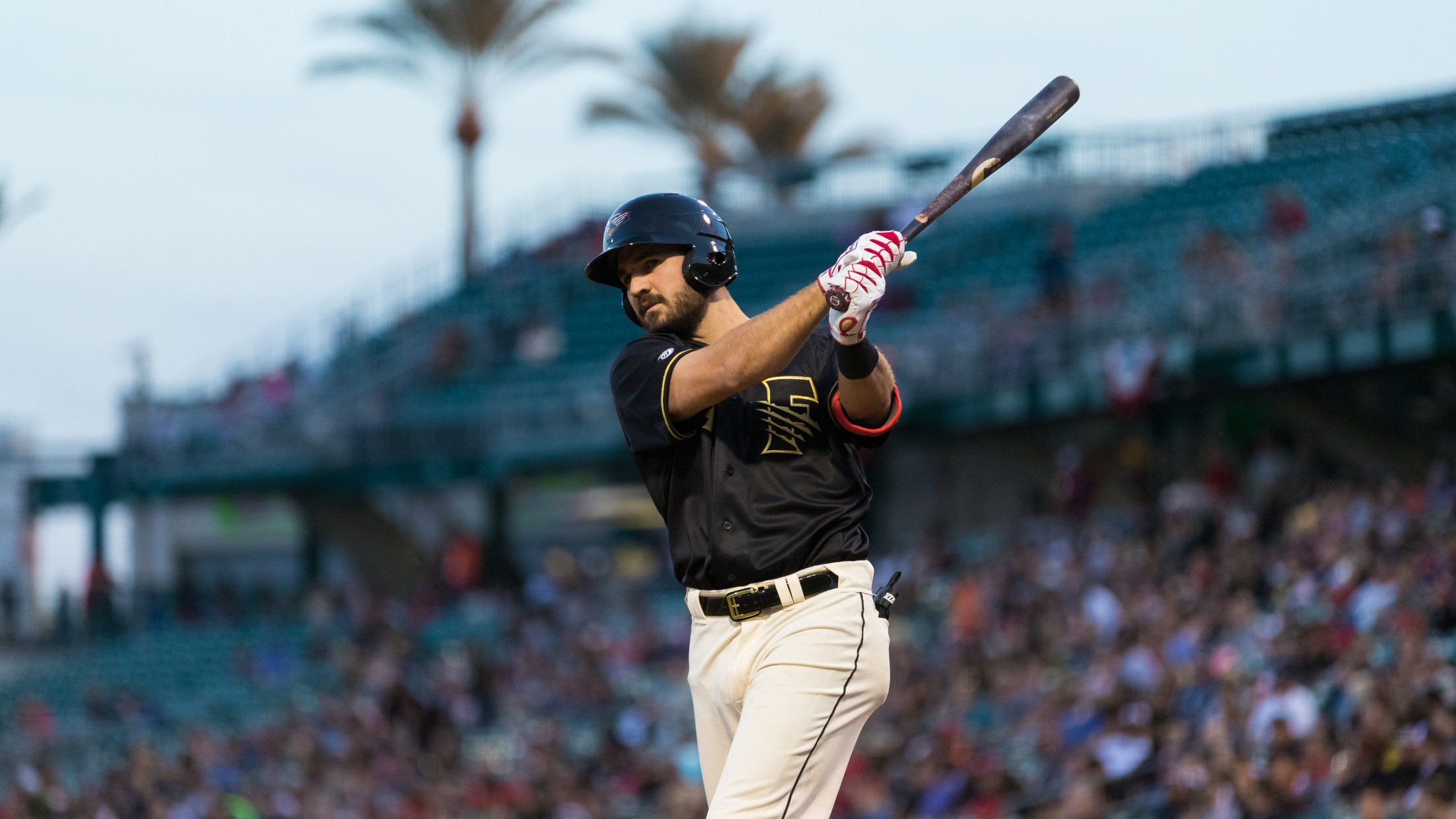 Jake Noll was only about seven months removed from suiting up for Double-A Harrisburg when he got a surprising call at the start of this season.The corner infielder, a seventh-round pick in 2016 out of Florida Gulf Coast University, was skipping Triple-A and heading straight to the Majors. The Nationals
Crowe dazzles as Fresno outlasts Reno 8-5 in 11 innings
Wil Crowe: 7.1 IP (ties career-high), 6 K; 1-3, 1B
Reno, Nevada (Friday, July 19) - In a back-and-forth contest, the Fresno Grizzlies (50-49) conquered the Reno Aces (42-57) 8-5 in 11 innings from Greater Nevada Field. The win improved Fresno to 7-4 in extras with a 4-1 mark on the road. Grizzlies starter Wil Crowe did not factor in
Chihuahuas bark up 8-4 win against Grizzlies
Jake Noll and Taylor Gushue deliver back-to-back homers
El Paso, Texas (Wednesday, July 3) - The El Paso Chihuahuas (52-33) bit the Fresno Grizzlies (44-42) 8-4 in the series finale from Southwest University Park. Both clubs combined for 24 hits with seven going for extra-bases. Fresno starter Joe Ross (2-1) suffered the loss against his former organization. The
Slugfest in Salt Lake goes Fresno's way, 13-12
Grizzlies notch 18 hits with every starter recording at least one
Salt Lake City, Utah (Saturday, June 22) - The Fresno Grizzlies (39-36) survived the Salt Lake Bees (34-40) 13-12 in front of a crowd of 12,386 from Smith's Ballpark. The four hour and five minute contest was the longest nine-inning game in Bees' history, beating the old record by one
Bees walk-off on Grizz 12-11 despite Raudy Read's grand slam
Fresno holds on to win suspended game but falls in scheduled contest
Salt Lake City, Utah (Thursday, June 20) - It took 70 days, but the Fresno Grizzlies (37-35) finally beat the Salt Lake Bees (33-38) 8-4 from Smith's Ballpark. After the game was suspended on April 10 due to rain, the two clubs resumed action in the top of the fourth
Espino and Lowriders cruise to 8-1 win on Father's Day
Paolo Espino: 6 IP, 1 ER, 5 K
Fresno, California (Sunday, June 16) - Behind a strong start from Paolo Espino and three homers, the Lowriders de Fresno (34-35) stopped their three-game skid with an 8-1 victory over the Omaha Storm Chasers (34-36) on Father's Day. Espino (7-2) secured the decision after six innings of one-run ball, allowing
Noll swats walk-off single as Grizz buzz past Bees 9-8
Raudy Read homers twice and drives in five runs
Fresno, California (Sunday, June 2) - The Fresno Grizzlies (28-29) walked off on the Salt Lake Bees (26-30) 9-8 Sunday afternoon from Chukchansi Park. Trailing 8-4 heading into the bottom of the eighth, Fresno mounted five runs in the next two frames to complete their second-largest comeback of the season
Bees swarm Grizzlies late in 10-9 victory
Fresno drops fourth straight game
Fresno, California (Wednesday, May 29) - The Salt Lake Bees (24-28) stung the Fresno Grizzlies (26-27) 10-9 from Chukchansi Park. Salt Lake rallied for five runs in the final two frames to secure the win. Roberto Peña blasted a double to deep center in the eighth to even the score.
Noll's big fly backs Espino's strong start as Grizzlies keep Chihuahuas on leash
Jake Noll: HR, 3 RBI; Paolo Espino: 7 IP, 2 R, 7 K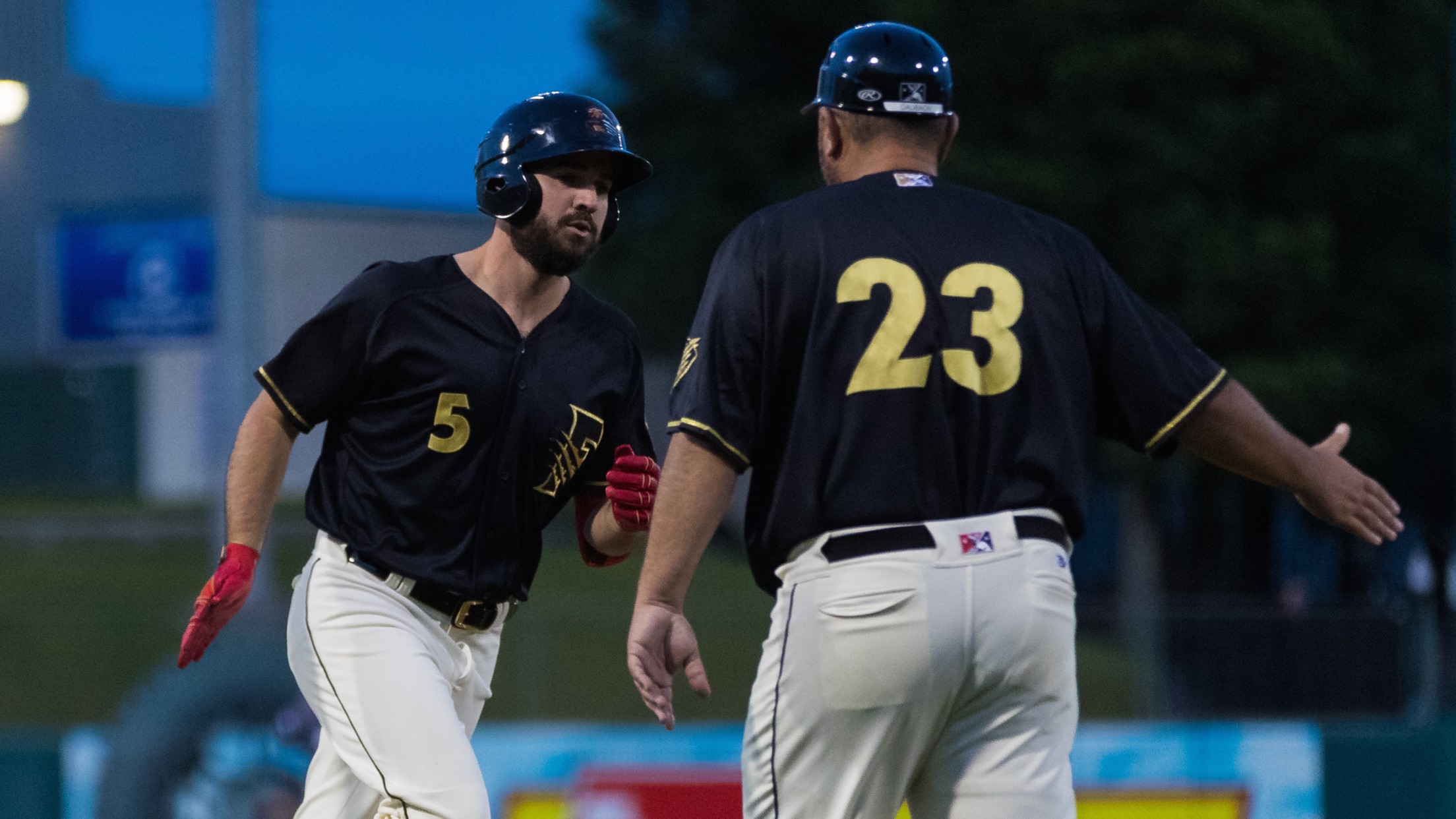 Fresno, California (Saturday, May 25) - The Fresno Grizzlies (26-23) topped the El Paso Chihuahuas (31-18) 5-2 from Chukchansi Park, earning them their third straight victory. In back-to-back starts, Paolo Espino (4-1, win) dazzled for seven innings. The right hander struck out seven while allowing four hits and two runs.
Fresno topples Tacoma 9-6 as Hernandez continues HR tear
Yadiel Hernandez goes deep for the third time in the last two games
Tacoma, Wash. (Friday, May 24) - The Fresno Grizzlies (25-23) held on to defeat the Tacoma Rainiers (23-26) 9-6 from Cheney Stadium. With the win, Fresno leaves Washington with a series split. Yadiel Hernandez played hero for the second straight evening, going deep for the third time in the last
McGowin and Grizzlies claw past Chihuahuas 2-0
El Paso's 12-game winning streak comes to an end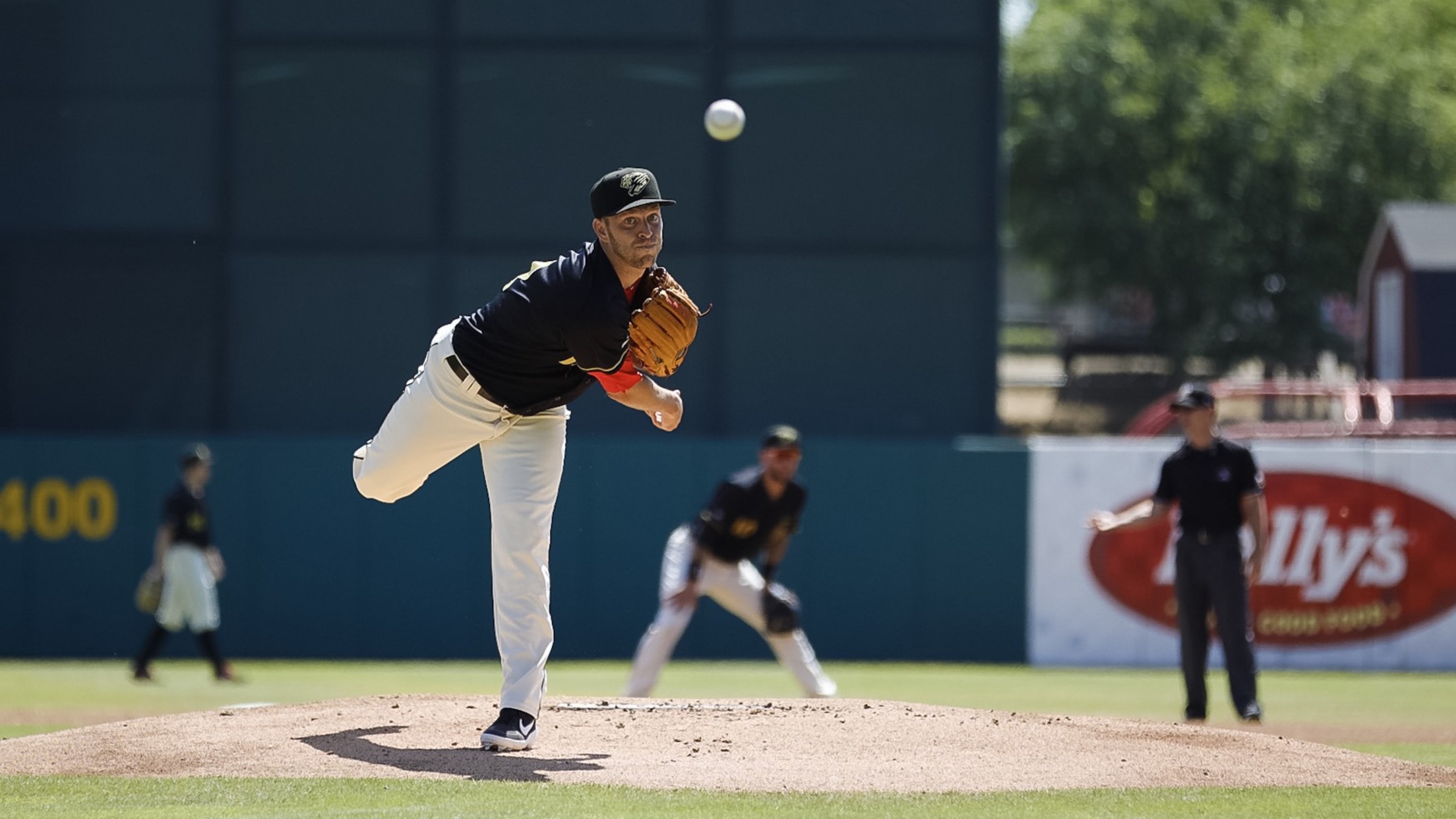 Fresno, California (Thursday, May 2) - Kyle McGowin and the Fresno Grizzlies (12-15) shutout the El Paso Chihuahuas (19-8) 2-0 Thursday morning from Chukchansi Park. The Chihuahuas 12-game winning streak and the Grizzlies seven-game losing streak both ended with the final result. McGowin (2-2, win) was exceptional on both sides
Andrew Aplin's walk-off grand slam stuns Grizzlies 14-13
Jake Noll and Jacob Wilson: 6-for-12, 2 HR, 2B, 8 RBI, 6 R
Reno, Nevada (Saturday, April 27) - The Fresno Grizzlies (11-11) couldn't close the door on the Reno Aces (8-14), falling 14-13 Saturday afternoon from Greater Nevada Field. A nine-run epic comeback in the ninth ended on a walk-off grand slam from former Grizzly Andrew Aplin. Despite the defeat, every Fresno
Fresno wins fourth straight, improves to 5-1 in rainy Salt Lake City
Clubs were able to salvage half a doubleheader; with Grizzlies leading 8-1 after three innings, game two will be made up upon return trip to SLC in June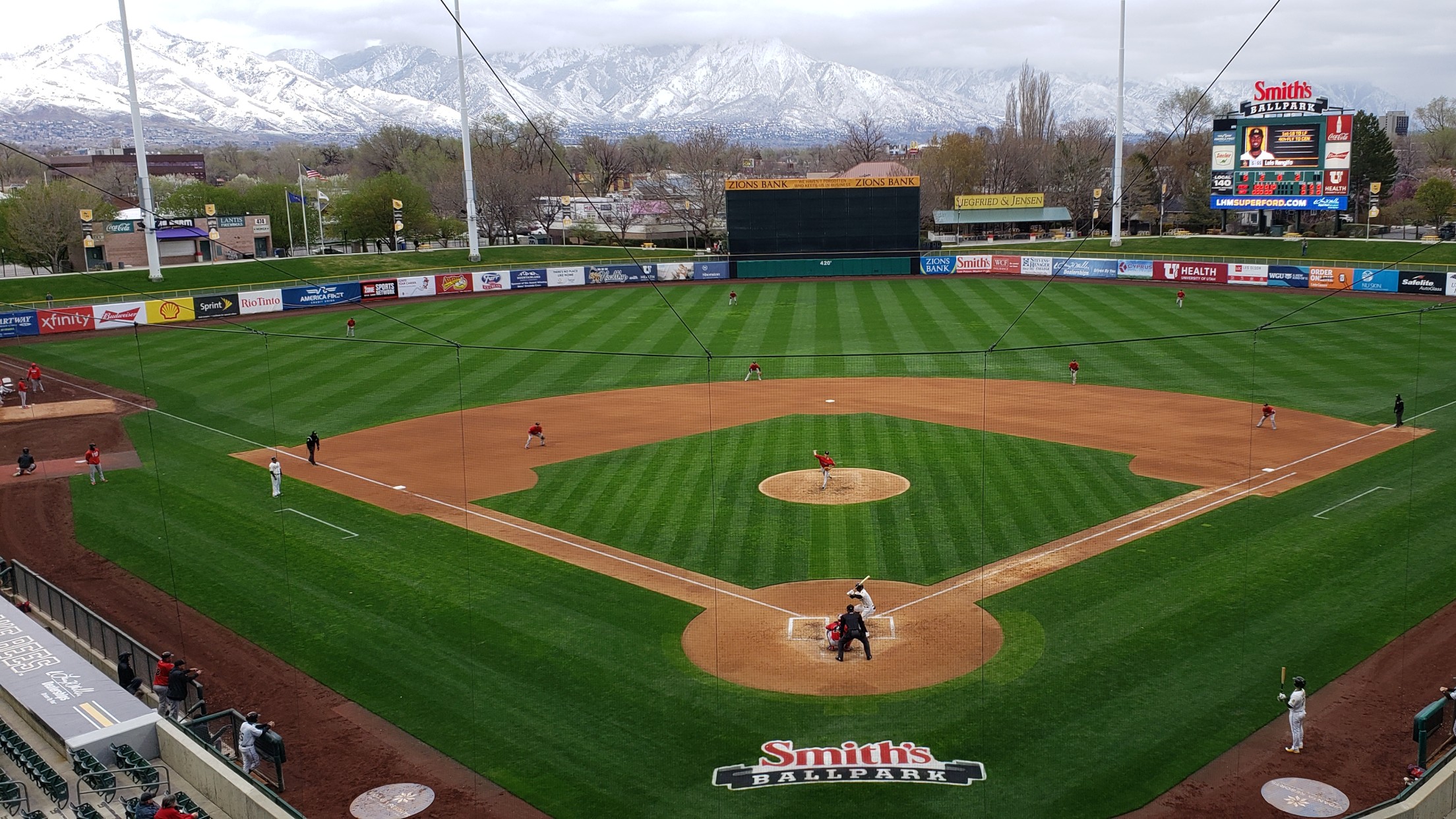 Salt Lake City, Utah (Wednesday, April 10) - After a rainout on Tuesday night, the Fresno Grizzlies (5-1) and Salt Lake Bees (1-5) attempted to play two on Wednesday at Smith's Ballpark, before the second game was suspended by rain after three innings with the Grizzlies leading 8-1. The early
Grizzlies roar past Aces 8-4 behind Reynolds slam
Matt Reynolds' first career grand slam backs 18 strikeouts by the Fresno staff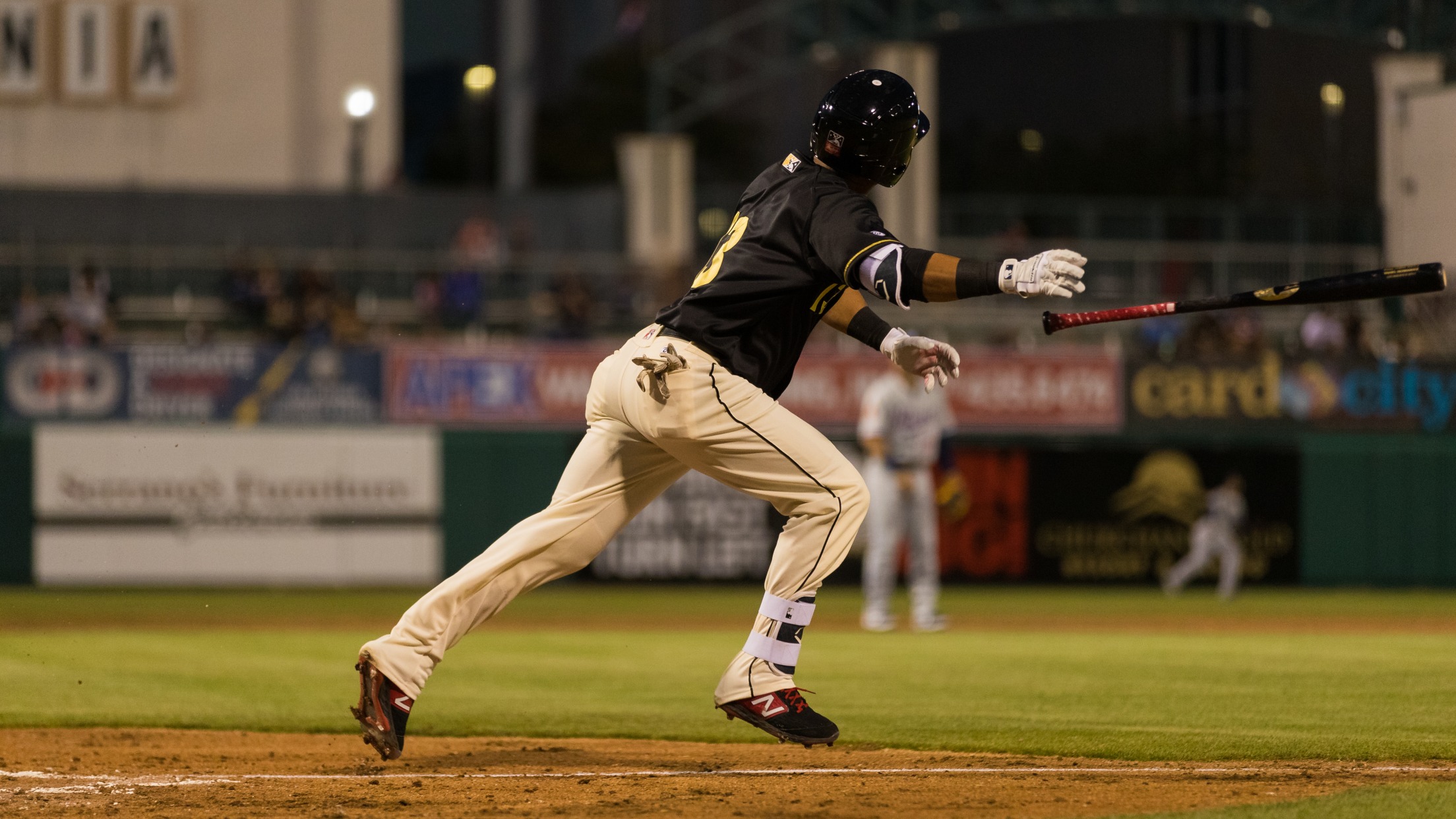 Fresno, Calif. (Saturday, April 6) - The Fresno Grizzlies (2-1) bounced back after Friday's loss with a grand showing Saturday night. After three walks loaded the bases in the bottom of the sixth, Matt Reynolds hammered a pitch to left field, giving Fresno a lead they wouldn't surrender. It was
Kieboom leads charge for Nats All-Stars
No. 37 overall prospect blasted career-best 16 homers in '18
Each offseason, MiLB.com goes position by position across each system and honors the players -- regardless of age or prospect status -- who had the best seasons in their organization. Click here to locate your favorite club.With expectations as high as ever in the nation's capital, the Nationals were plagued by injuries
2018 P-Nats Sweep Washington Nationals Minor League Awards
Carter Kieboom, Ben Braymer, Wil Crowe, & Jake Noll Each Honored by Washington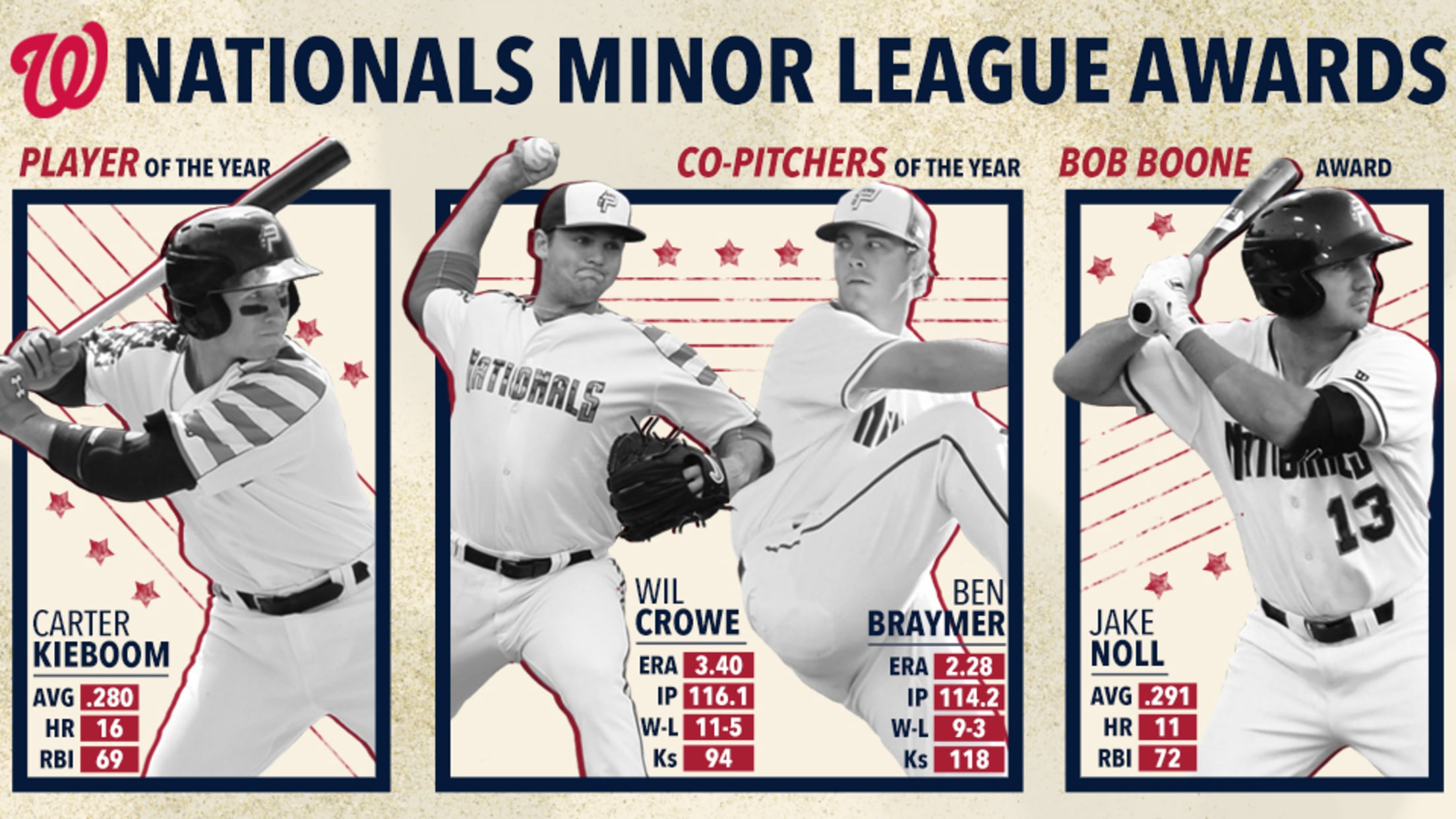 Woodbridge, VA---The Washington Nationals named four 2018 P-Nats as organizational award winners for the 2018 season. The Nationals named SS Carter Kieboom  their 2018 Minor League Player of the Year, LHP Ben Braymer  and RHP Wil Crowe  their 2018 co-Minor League Pitchers of the Year, and INF Jake Noll  as the winner of the
Nats honor Kieboom as Player of the Year
No. 34 prospect hit .280 with 16 homers for Potomac, Harrisburg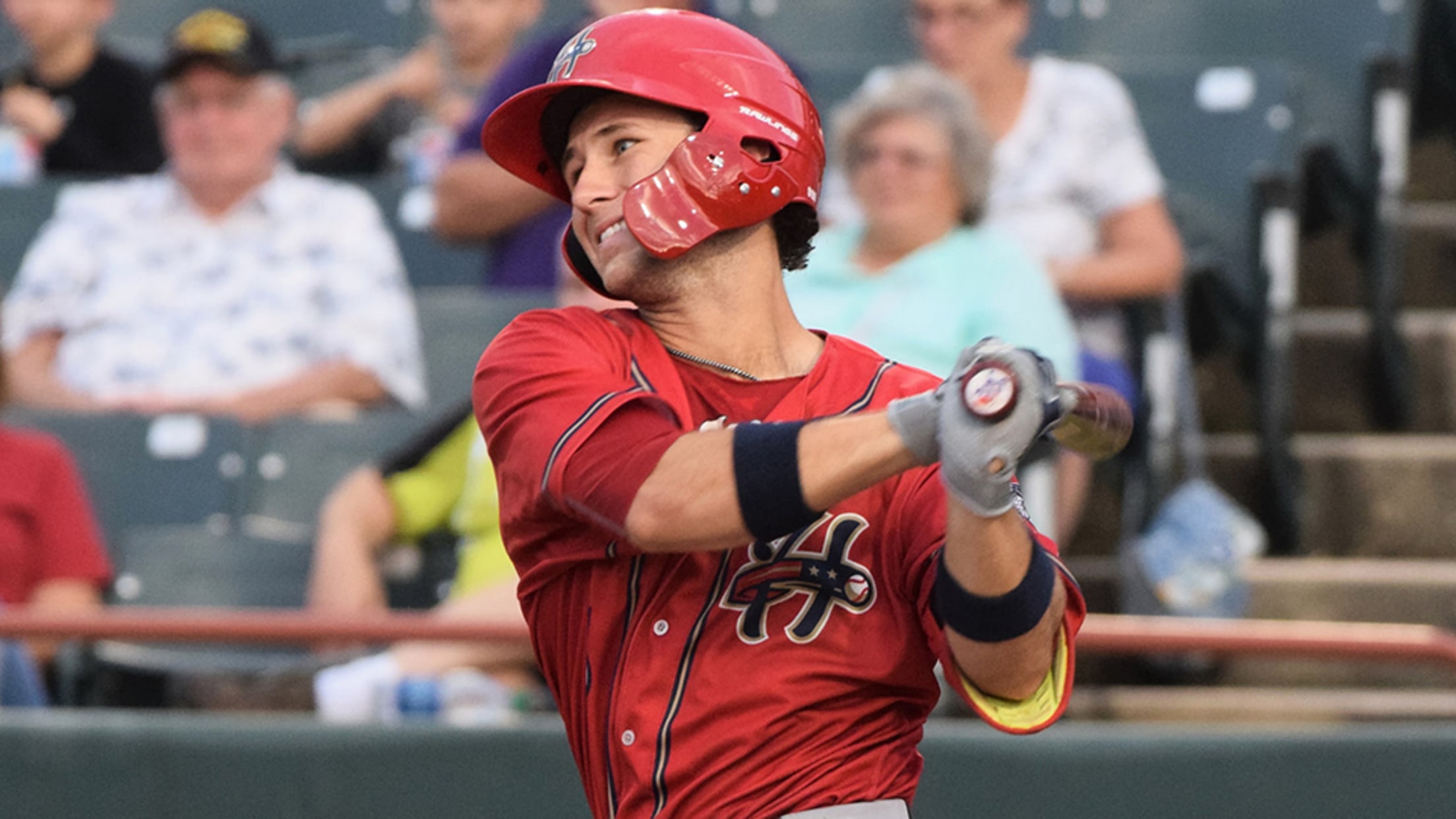 Back in March, the Nationals were just hoping prospects Juan Soto and Carter Kieboomwould be healthy for all of the upcoming 2018 season. Now, Soto is a National League Rookie of the Year contender, and on Wednesday, Kieboom was presented with his own award.The Nationals named Kieboom -- MLB.com's No.
Eight Current & Former P-Nats Scheduled to Play in the 2018 Arizona Fall League
Three Current P-Nats, Five Former P-Nats, and Current Hitting Coach Luis Ordaz Set to Play for Salt River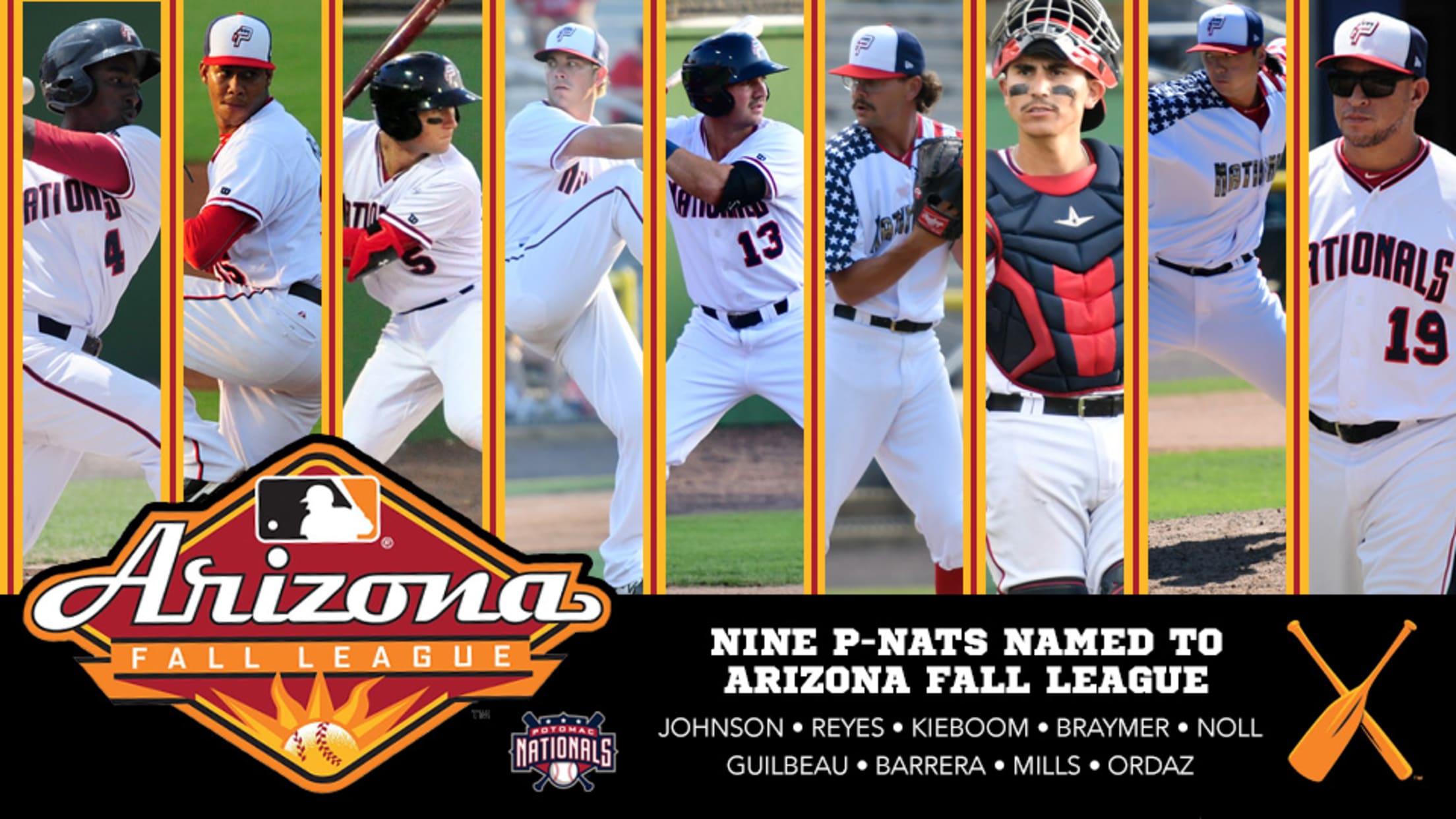 Woodbridge, VA---A large contingent of both past and present Potomac Nationals will represent the Washington Nationals in the Arizona Fall League come October. In total, eight players plus current hitting coach Luis Ordaz are set to play for the Salt River Rafters in the AFL. Current P-Nats on the Salt