Taking a walk through Lasorda's playing days
Legendary Dodgers skipper spent parts of three decades in Minors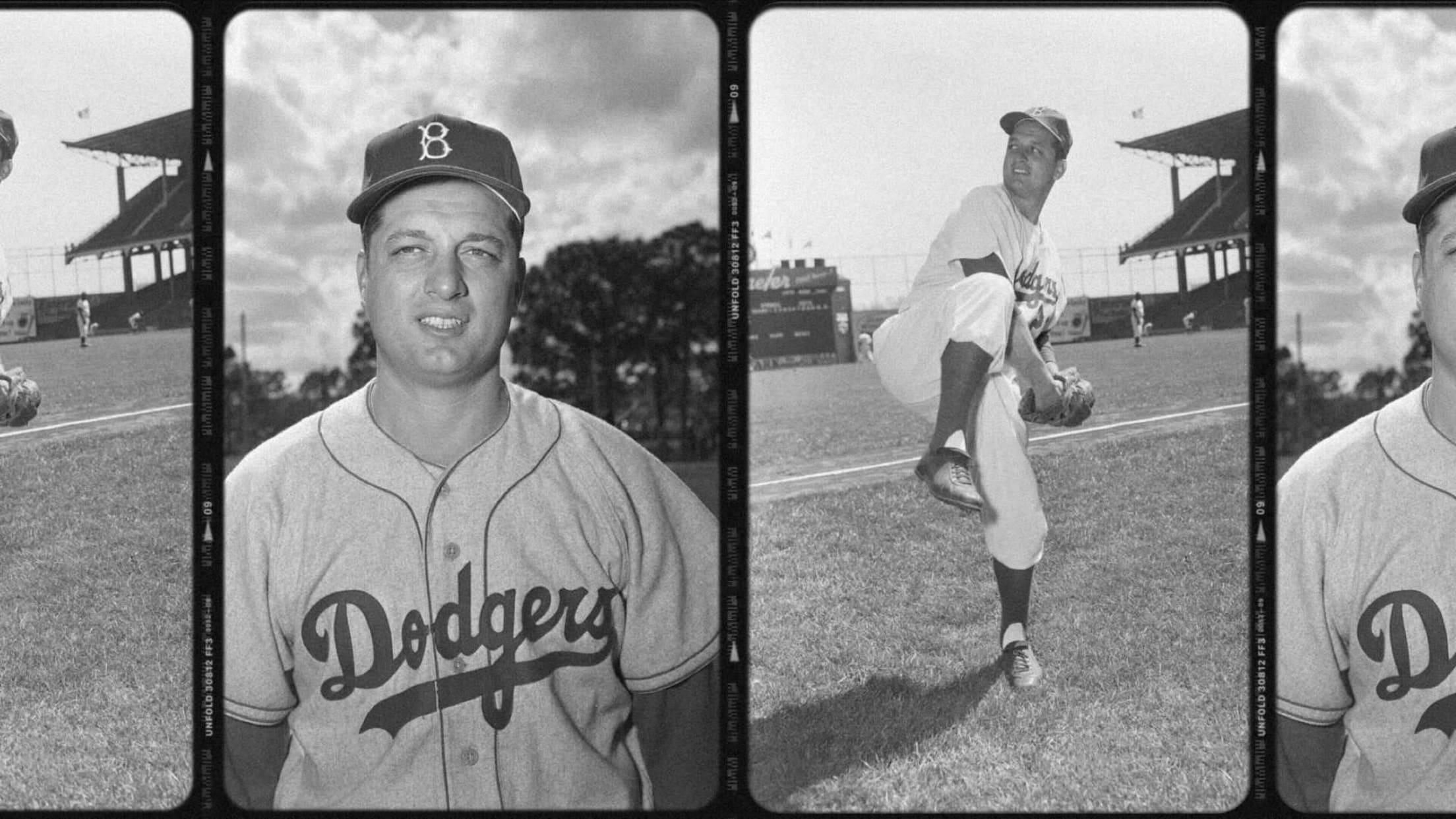 Tommy Lasorda's pitching career spanned from 1945 through 1960, with the vast majority of it taking place in the Minor Leagues.
Tommy Lasorda enjoyed one of the longest careers in professional baseball history, one that spanned from 1945 to his death at age 93 on Jan. 7. Of course, he will be best remembered as the manager of the Los Angeles Dodgers, a post he held from 1976 through 1996. Lasorda's
Tommy Lasorda enjoyed one of the longest careers in professional baseball history, one that spanned from 1945 to his death at age 93 on Jan. 7. Of course, he will be best remembered as the manager of the Los Angeles Dodgers, a post he held from 1976 through 1996.
Lasorda's long managerial career, combined with his subsequent ubiquity as a roving goodwill baseball ambassador of sorts, resulted in him becoming one of the most recognizable figures in the game. In the wake of his passing, it seemed everyone in baseball had a Tommy story to tell. He was generous and gregarious, combative and cantankerous, widely revered and not infrequently reviled. He will be remembered for a long, long time to come.
But perhaps overlooked amid this past week's rampant reminiscing was this: Lasorda pitched professionally for parts of three decades (1945-60), and the vast majority of this time was spent in the Minor Leagues. All told, he went 136-104 over 14 seasons in the Minors. In the Major Leagues, he appeared in just 26 games over three seasons and finished with an 0-3 lifetime record. Most of what Tommy Lasorda learned about baseball was imparted in the Minor Leagues.
Before he was a manager, and long before he was a celebrity pitchman, Lasorda was just a kid from Norristown, Pennsylvania, trying to work his way up to the bigs. What follows is an overview of his long and winding Minor League Baseball career as a player.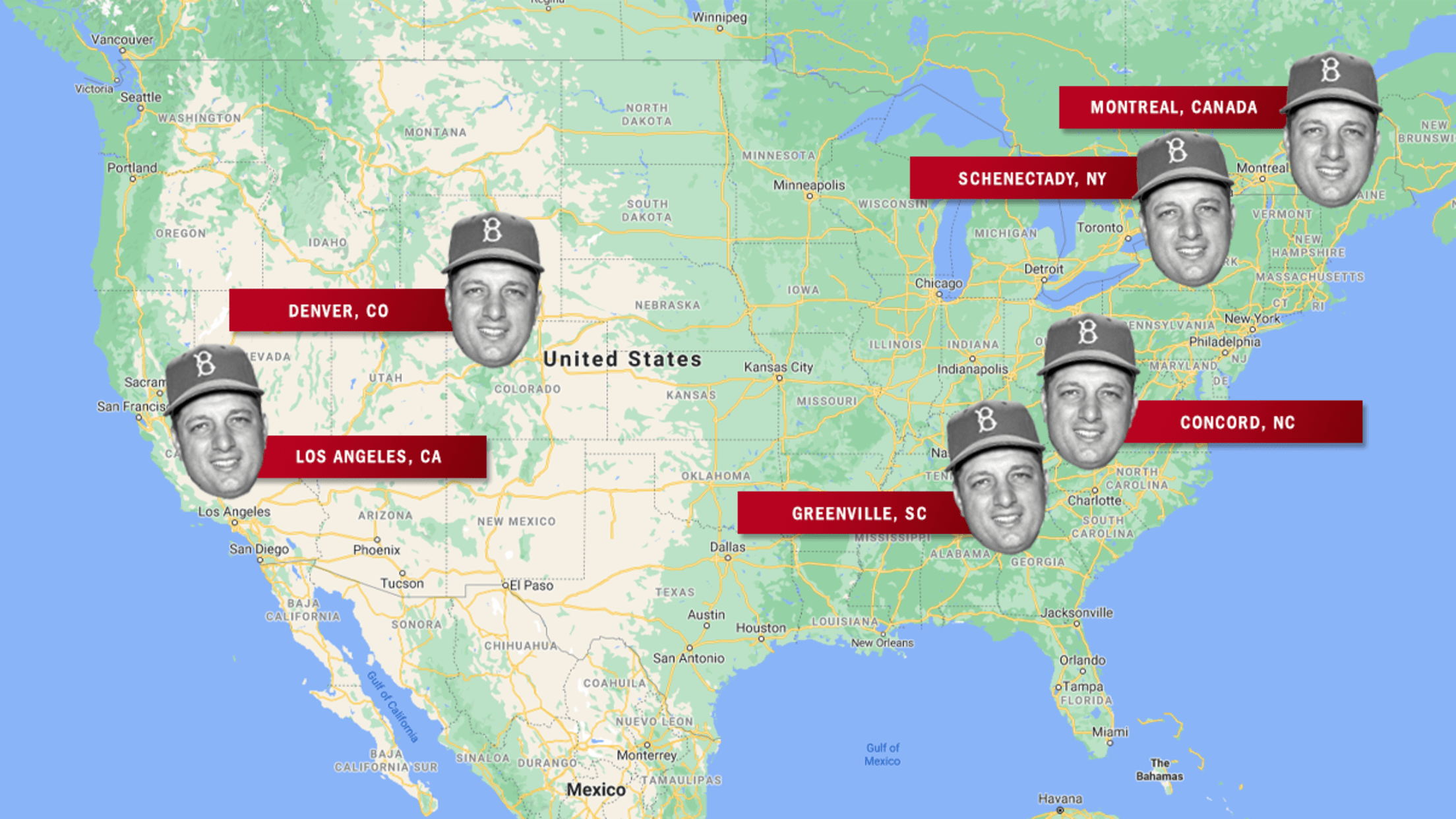 1945: Lasorda may have bled Dodger blue, but life-sustaining liquid of this anomalous hue wasn't coursing through his veins when he began his Minor League career. In 1945, at age 17, he was signed by the hometown Philadelphia Phillies as an undrafted free agent. That season, Lasorda made his professional debut as a member of the Concord Weavers of the North Carolina State League. He went 3-12 over 27 games -- 13 of them starts -- albeit with a respectable-enough 4.09 ERA. He walked more batters (100) than he struck out (91), which was to become a frustrating recurring theme of his entire career. (Over the course of 2,325 1/3 professional innings, Lasorda walked 1,158 batters while whiffing 1,106.)
Lasorda's unsightly win-loss record in his debut season was largely due to the putrid play of the Weavers, who finished dead last in the eight-team North Carolina State League with a record of 34-79. Lasorda did not lead the team in losses, however. That ignominious distinction went to 16-year-old Thomas Honas, who was 0-16 with a 10.65 ERA en route to a career record of 0-21.
1948: After a two-year stint in the Army, Lasorda returned for his second and final season in the Phillies organization. This time around, he was a member of the Schenectady Blue Jays of the Canadian-American League. Lasorda struggled more often than not, finishing with a 9-12 record and an eye-popping 153 walks over 192 frames. Nonetheless, during that season he turned in one of the all-time greatest Minor League performances on the mound.
On May 31, Lasorda took the hill against the visiting Amsterdam Rugmakers and proceeded to strike out a league-record 25 batters during a 15-inning complete-game victory. Lasorda's efforts at the dish were heroic as well, as he laced a walk-off game-winning single in the bottom of the 15th to give the Blue Jays a hard-fought 6-5 win. His winning knock came against Amsterdam starting pitcher Fred Prior, who also stayed in the game despite allowing two runs in the 12th. It was a different time.
A minor league post from my hometown paper on Tommy Lasorda. That time he struck out 25 batters in a 15-inning game in 1948 at Class C Schenectady. https://t.co/U8Yj3b4RDK @bensbiz @MiLB #RIPTOMMYLASORDA pic.twitter.com/Zv0YIMNmtY

— Greatest 21 Days (@Greatest21Days) January 9, 2021
1949: The final year of the 1940s was very significant for Lasorda professionally and personally. 1949 was his first season with the Dodgers organization, with whom he will forever be associated. The then-Brooklyn-based franchise plucked him from the Phillies in the 1948 Minor League Draft and assigned him to the South Atlantic League Greenville Spinners. While there, he met his future wife, Jo, a Greenville native. They married the following year and later had two children. Lasorda went 7-7 with a 2.93 ERA for the Spinners, and for the first time in his career, walked fewer batters than he struck out -- 151 whiffs against a still-concerning 138 free passes.
In an interview with the <a href="https://www.greenvilleonline.com/story/sports/2014/07/19/former-dodgers-manager-lasorda-join-greater-greenville-baseball-hall-fame-saturday/12901951/" target="blank" >Greenville News_ in 2014, Lasorda said, "I'll always be grateful to Greenville. They said it wouldn't work when an Italian Catholic from the north married a Southern Baptist."
1950-55: Aside from two underwhelming four-game stints with the Brooklyn Dodgers, Lasorda spent the next six years as a member of the Montreal Royals. This storied International League franchise, the Dodgers' top farm club, is perhaps best known as the team Jackie Robinson played for in 1946 (his first season with the organization). Lasorda generally thrived during this span, his first of two stints in Montreal. The Royals appeared in the Governors' Cup Finals every season from 1951 through '54, winning it in the odd-numbered years. Lasorda's best campaign came in 1953, when he went 17-8 with a 2.81 ERA, and miracle of miracles, struck out more batters (122) than he walked (94). 1953 marked the last of four seasons in which the Royals were managed by Walter Alston, who went on to manage the Brooklyn/Los Angeles Dodgers from 1954 through 1976. On Sept. 29, 1976, Lasorda took over for Alston and skippered the Dodgers for the first of 3,040 games.
Just learned that long time Montreal Royal Tommy Lasorda has passed away at the age of 93. He pitched, heckled opponents and acted as traveling secretary for the club for almost 10 years. pic.twitter.com/JN0CA1CPEg

— The Montreal Royals (@Royals_46season) January 8, 2021
1956-57: The Dodgers sold Lasorda to the Kansas City Athletics prior to the 1956 season. He opened the year with the club and appeared in 18 games (approximately 69 percent of his overall big league experience). After posting an 0-4 record with a 6.15 ERA, Lasorda was traded to the New York Yankees. He spent the remainder of 1956 and the start of 1957 with the Denver Bears, a Triple-A club in the American Association. The Bears' teams for whom Lasorda played featured eventual Yankees mainstays such as Tony Kubek, Bobby Richardson and Ralph Terry, as well as 1962 New York Mets cult hero "Marvelous" Marv Throneberry. The Bears were managed by Ralph Houk, who went on to pilot the Yankees, Tigers and Red Sox. Houk had a fiery demeanor and player-first mentality. Sound familiar? Lasorda later said he modeled his managerial style after Houk's.
During the 1957 season, Lasorda was sold back to Brooklyn. He ended up in Los Angeles, one year before the Dodgers. He appeared in 29 games for the Los Angeles Angels of the Pacific Coast League, who had been bought by Dodgers owner Walter O'Malley earlier that year as part of his machinations to move his Brooklyn club to Los Angeles. One of Lasorda's teammates on the 1957 Angels was Sparky Anderson, who played in all 168 of the team's games. Anderson and Lasorda went on to manage a combined 7,066 Major League games, perhaps the most of any professional teammate tandem outside of one including Connie Mack (who managed 7,679 games all by himself).
1958-60: Six seasons with the Montreal Royals weren't enough for Lasorda, who finished his pitching career with three more years in the province of Quebec. 1958 marked the best of the three, as he established career highs in victories (18) and innings (230) as the Royals scored their seventh and final Governors' Cup. Lasorda won an additional nine games in 1959 and two more in 1960 before being released. He finished his career as the winningest pitcher in Montreal franchise history, with 107 of his 136 career Minor League victories notched as a member of the Royals. His last season in Montreal was also the Royals' last, as the team relocated to Syracuse in 1961 and changed its name to the Chiefs.
Lasorda had plenty more opportunities to visit Montreal when his playing days were over, though. Whenever his Dodgers took a road trip to play the Expos, he was able to reconnect with old friends, and in at least one instance, make a new enemy.
January 8, 2021