Toolshed: Prospect projections gone right
Steamer pretty close to the mark on Benintendi, Renfroe, Weaver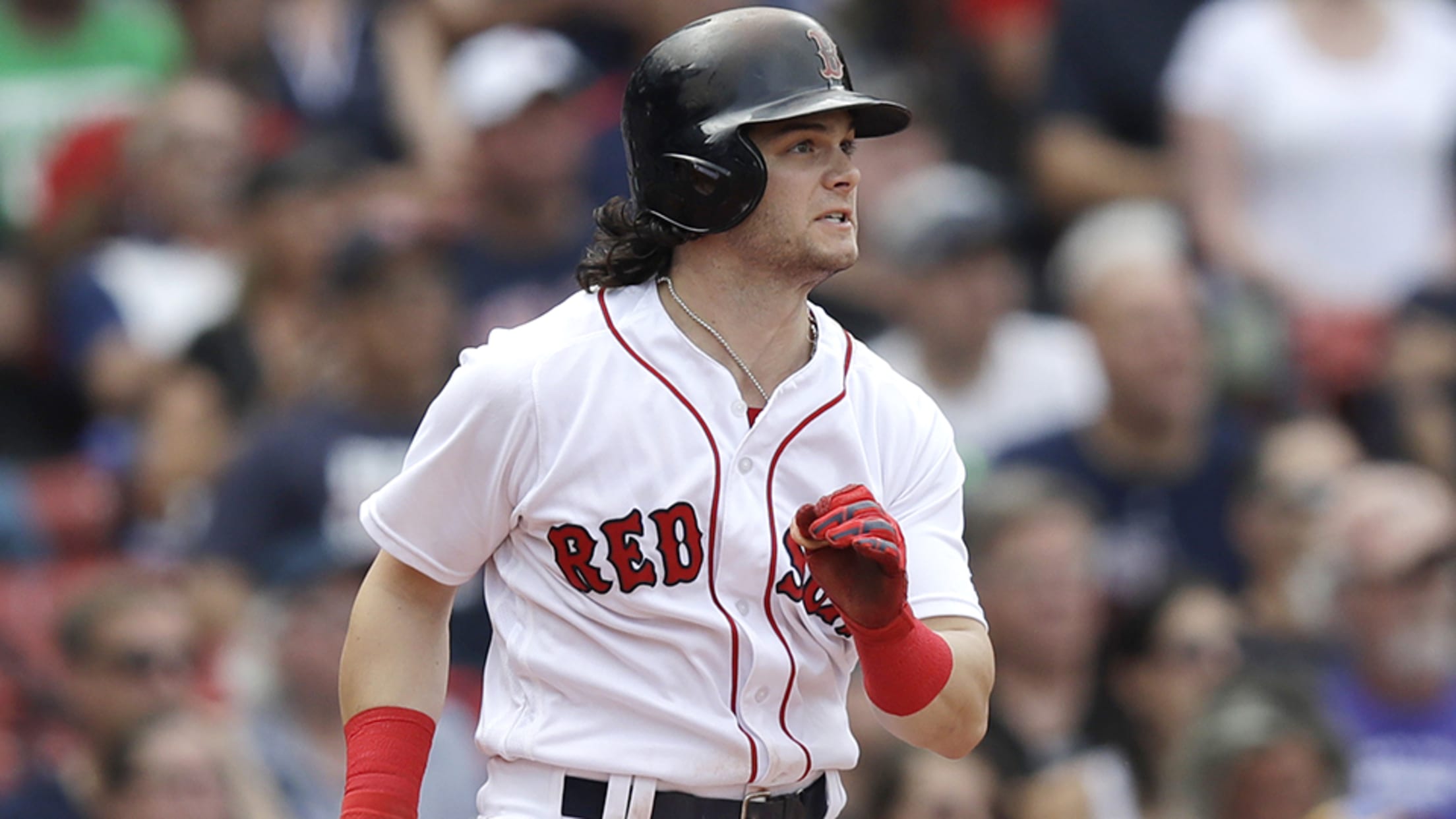 Andrew Benintendi ranked second among Major League rookies with 155 hits this season. (Charles Krupa/AP)
Don't worry, we came back to them.At the tail end of last winter, MiLB.com ran its annual Prospect Projections series using Steamer600 prognostications to see how the system expected prospective rookies to perform during the 2017 season if given 600 plate appearances for position players, 450 plate appearances for catchers,
Don't worry, we came back to them.
At the tail end of last winter, MiLB.com ran its annual Prospect Projections series using Steamer600 prognostications to see how the system expected prospective rookies to perform during the 2017 season if given 600 plate appearances for position players, 450 plate appearances for catchers, 200 innings for starting pitchers or 65 innings for relievers.
After the 2017 Major League season officially played itself out Sunday, the baseball world knows exactly how those rookies performed. This week's Toolsheds will revisit the projections to see which ones were on the mark (or close to it) and which ones severely under- or overestimated rookie production this past season.
This review starts today with those rookies who met their projections because it's always better to start with what worked than what didn't. For a refresher, find each of the six Prospect Projections pieces at the links below.
Prospect Projections: AL East | NL East | AL Central | NL Central | AL West | NL West
Andrew Benintendi: Considered the game's top overall prospect entering the season, the Red Sox left fielder was the clear favorite to capture the American League Rookie of the Year award. Steamer wasn't quite so high on Benintendi, though it thought he could be a solid contributor with a .283/.338/.440 line, 12 homers,17 stolen bases and a 104 wRC+ over 600 plate appearances. He was basically that, hitting .271/.352/.424 with 20 homers, 20 steals and a 103 wRC+ over 658 plate appearances, second-most among all Major League rookies. The counting stats obviously don't quite match up, but the overall profile does. Benintendi showed good power and speed and was an all-around slightly above-average hitter, as Steamer predicted. That's not exactly setting the world on fire, but it's a solid first season and one that helped Boston capture its third American League East Division title in five years.
Hunter Renfroe: Some got overly excited when Renfroe hit .371 with four homers, three doubles and 14 RBIs in 11 games with the Padres last September. Steamer cautioned us all to pump the brakes on the right-handed slugger, putting him down for a good amount of homers (23) but a rough .249/.288/.426 line and just a 90 wRC+ over 600 plate appearances. Well, Renfroe hit a good amount of homers (26) but a rough .231/.284/.467 made him a league-average hitter with a 96 wRC+. The 25-year-old outfielder was even optioned back to Triple-A El Paso on Aug. 19 to rebuild his confidence. He tore things up upon returning, hitting six homers in 11 games, but the Padres had hoped he'd solidify his spot as the club's long-term right fielder rather than entering 2018 with questions still remaining about his ability to hit Major League pitching over a large sample.
Luke Weaver: Steamer believed the 2014 first-rounder could be a big part of the St. Louis rotation by season's end, despite the fact he posted a 5.70 ERA over 36 1/3 innings in the Majors in 2016. The projection system had him down for a 3.93 ERA, a 1.23 WHIP and a 2.5 BB/9 over 200 innings. He ended up throwing only 60 1/3 frames at the top level after missing time with a lower back injury and not getting called up until July 3, but those numbers were almost right on the mark as he posted a 3.88 ERA, a 1.26 WHIP and 2.5 BB/9. Where he beat expectations was in the strikeout department, averaging 10.7 K/9 -- highest among Cardinals pitchers with at least 60 innings -- compared to his projected 8.0. The 24-year-old right-hander will slot next to Carlos Martínez and Michael Wacha in the St. Louis rotation next spring but needs to stay healthy; he's yet to crack 150 innings in his first four Minor League seasons.
Sean Newcomb: The prospect community and the projections fell pretty much in line on this one. If Newcomb was going to get a Major League shot in 2017, he was capable of striking out a lot of batters and also walking a lot of batters. Steamer pegged him for a 4.21 ERA, a 4.40 FIP, 8.8 K/9 and 5.2 BB/9. His actual numbers over 100 innings ended up being a 4.32 ERA, a 4.19 FIP, 9.7 K/9 and 5.1 BB/9. That'll work for a team that didn't contend in 2017 and was looking to see what it could get out of its young arms. But there are a lot more pitching prospects coming soon, and if Newcomb can't iron out his control issues, rebuilding Atlanta will have to decide whether it can stomach him in a starting role.
Robert Stephenson: If there's something that Steamer does well, it's sticking to its guns when a pitcher continually struggles with control. The system projected the Reds right-hander to average 4.8 BB/9; he was a bit worse, averaging 5.6 over 84 2/3 innings in the Majors. ERA (4.73 projected, 4.68 actual) and FIP (4.93 projected, 4.92 actual) both checked out nicely, however, and WHIP (1.46 projected, 1.58 actual) wasn't horribly off either. Though he performed to projections, Stephenson needs to find the strike zone with exceptionally better consistency in 2018 if he's going to earn a longer look in the Cincinnati rotation.
Raimel Tapia: Entering the season, Tapia -- a career .322 hitter in the Minors who had made a lot of contact but never showed much power -- sported one of the more intriguing offensive profiles for an interesting projection. Steamer found him again hitting for a good average (.293), but with only a .324 OBP and nine homers in 600 plate appearances, he would be a below-average hitter with a projected 77 wRC+, especially for a Rockies rookie calling Coors Field home. That was roughly the case in reality. Tapia batted .288 in 171 plate appearances, but produced a .329 OBP with two homers and an 81 wRC+. He finished below-replacement level with a -0.1 WAR. Part of that might have been inconsistent playing time -- he only started 31 of the 70 Major League games he appeared in -- but it would have been tough for the Rockies to justify keeping Tapia's bat a starting spot, especially as they tried to hold off the Brewers and Cardinals in the NL Wild Card race.
Rockies pitchers: Sticking in the same system, it's always been accepted that the Rockies have to develop pitching if they're going to compete, for few pitchers would willingly sign up to pitch in the altitude of Coors Field. Last Friday's Toolshed touched upon this, showing Colorado's draftees generated the second-highest WAR among playoff contenders. But what's more, it's worth noting that a group of Rockies hurlers did what they were expected to, which is to say contribute enough collectively to earn Colorado its first postseason trip since 2009. Kyle Freeland was the most noteworthy player in this group and actually topped his projections, putting up a 4.10 ERA, a 4.57 FIP and a 1.49 WHIP in 156 innings while Steamer had him down for a 4.99, 4.92 and 1.46 in those categories respectively. Jeff Hoffman balanced that out a little by being slightly worse than his projections (4.61 projected ERA, 4.43 projected FIP vs. 5.89 actual ERA, 4.80 actual FIP in 99 1/3 innings). It gets tricky in the cases of Antonio Senzatela and German Márquez, the starters who ranked second and fifth in WAR among Rockies pitchers. Both were close to their projections, but neither was expected to be a starter, clouding our ability to say they met expectations.
Sam Dykstra is a reporter for MiLB.com. Follow and interact with him on Twitter, @SamDykstraMiLB.