Toolshed: Yanks' King recalls MLB's last debut
Right-hander could be last to make bow in front of fans for a while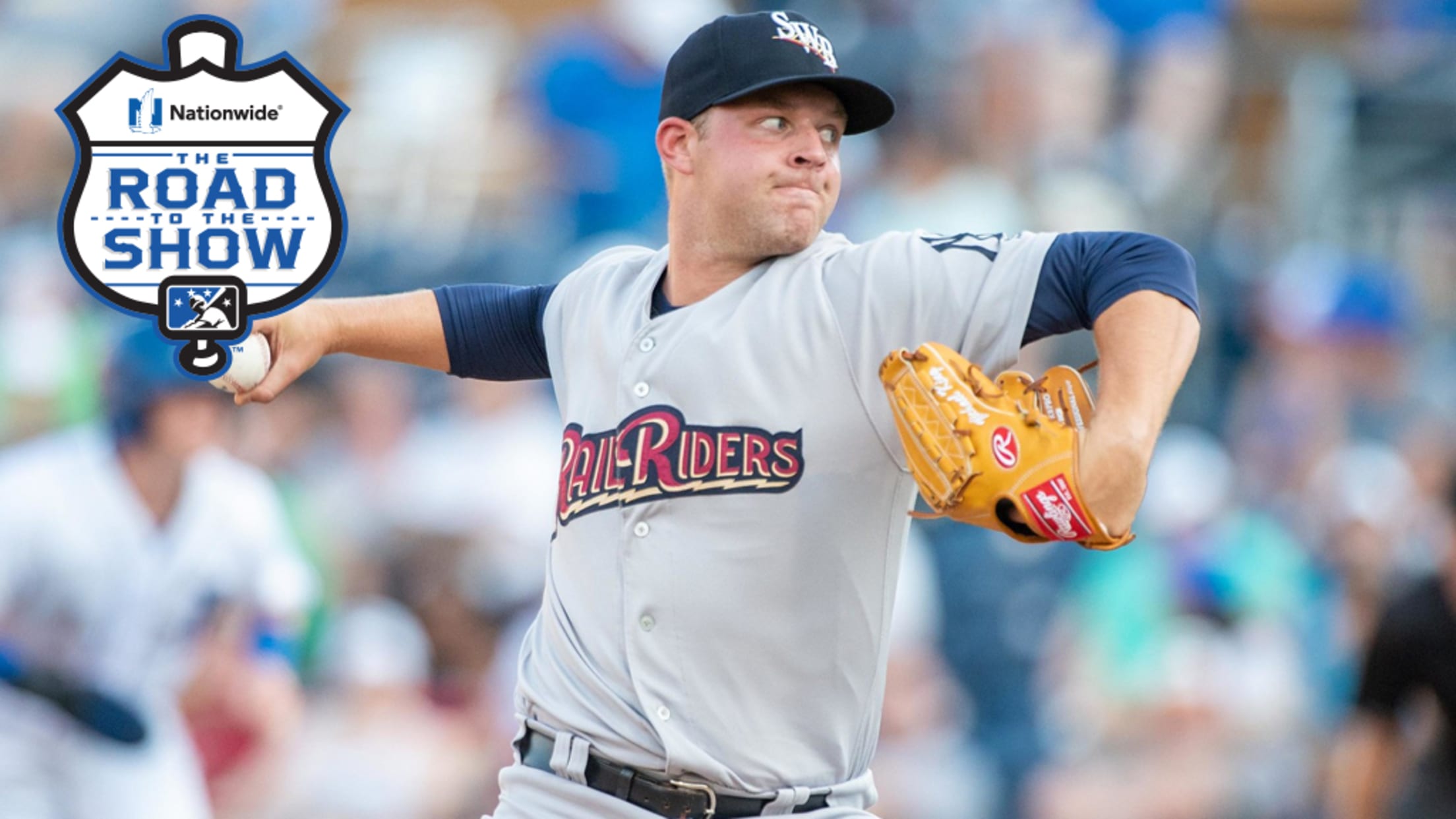 Michael King has posted a career 2.30 ERA over 62 2/3 innings with Triple-A Scranton/Wilkes-Barre. (Joe Dwyer/MiLB.com)
There have been 19,683 human beings who have played Major League Baseball in the sport's history. If every one of them went through the turnstiles at the new Globe Life Field in Arlington, Texas, the stadium still would only be half full. It's an elite club with members from three
There have been 19,683 human beings who have played Major League Baseball in the sport's history. If every one of them went through the turnstiles at the new Globe Life Field in Arlington, Texas, the stadium still would only be half full. It's an elite club with members from three separate centuries.
As things stand, Michael King would take the last seat. He is Major Leaguer No. 19,683.
Normally "the last person to make a Major League debut" is a designation that doesn't last long. During the 2019 season, the biggest gulf between big league bows was eight days from Luis Escobar on July 13 and Adrian Morejon, Conner Menez and Zach Green on July 21.
King first stepped on a Major League mound on Sept. 27, when he tossed two innings for the Yankees against the Rangers at the old Globe Life Park. That was 239 days ago. Yes, it includes a regular offseason, so the better comparison might be between the last debutants of 2018 (Jon Berti and John Means on Sept. 26) and the first of 2019 (Dylan Moore on March 20). Even that was only 176 days. With Major League Baseball on pause due to the coronavirus pandemic, that 239 number is only going to grow, and even if the national pastime does return as soon as early July, King could be the last Major Leaguer to debut in front of a ballpark full of fans for the foreseeable future.
"When I was running out to the field, all I could think of was what Justus Sheffield told me," said the right-hander. "His biggest worry was that he was going to trip on his way in from the bullpen. I'm doing high knees the whole time, making sure I don't trip and fall in front of all these people."
***
For every way that King's first Major League outing felt typical at the time, there is another way in which it wasn't.
Start back as far as 2018. The 2016 12th-rounder out of Boston College made enough of an impression in his first two seasons of pro ball that the Yankees acquired him and international bonus slot money from the Marlins for two players with Major League experience in Caleb Smith and Garrett Cooper in November 2017 -- a move done in part to clear 40-man roster space ahead of the Rule 5 Draft. In his first season in pinstripes, King was one of the Minors' most productive pitchers. His 1.79 ERA between Class A Advanced Tampa, Double-A Trenton and Triple-A Scranton/Wilkes-Barre ranked second among Minor Leaguers with at least 100 innings. His 0.91 WHIP placed third among that group of 477, and he also managed to strike out 152 and walk only 29 over his 161 1/3 total frames.
Armed with a commandable low-90s two-seam fastball featuring plenty of movement and a slider and a changeup, the Yankees' No. 25 prospect had all the makings of a pitcher who could have debuted much earlier in 2019, especially if he opened back in the International League. That pursuit came to an end, however, when he suffered a stress reaction in his elbow during Spring Training, an injury he also had suffered during his BC days. Given his proximity to the Majors, King was pushing to return as quickly as early May, but the Yankees staff was having none of it.
"I definitely had my 10-second pity party when I found it was going to be a couple months before I could compete again," King said. "I ended up having to apologize to our rehab staff because I knew I was being a little tyrant in there who just wanted to get out as fast as possible. … It's their job to hold us back a little bit because they don't want us coming out too fast and getting hurt again."
The 24-year-old righty eventually did retake a Minor League mound on July 3 and began his rehab process with three limited outings in the Rookie-level Gulf Coast League and one more with Class A Short Season Staten Island. On July 30, he moved to Double-A Trenton and realized it was going to take more than just being healthy to get him back to the brink of The Show.
"Once I got going, the toughest thing was getting out of a rehab mentality and into a competitive mentality," he said. "I remember thinking in the GCL and Staten Island that I was just there to get my pitch count up and once I did that, I'll be back in Scranton and ready to go. I didn't have great outings and was only getting my pitch count up, that's all. Once I got to Trenton and was facing elite hitters, I got shelled. I remember talking to everybody and saying that my mentality was to go four innings and 60 pitches, so get through that and you'll be back. It clicked my last outing in Trenton. I had a shaky first inning, but then I started to grind through. If a runner got on first base before that, I thought it didn't matter if he scored. Every time I had that mentality, the run scored. I finally started grinding and thinking if anyone got on base, get guys out as quick as possible."
In fact, King was lit up for 10 earned runs on 10 hits in only three innings in his second Trenton start on Aug. 4. Six days later, he calmed down and served up only two earned runs on six hits in 5 2/3 frames (and a season-best 90 pitches). On Aug. 16, he was back with Triple-A Scranton/Wilkes-Barre. King ran hot and cold with the RailRiders but managed to finish with a 4.15 ERA, 1.10 WHIP, 28 K's and only six walks in 23 2/3 innings during the regular season at the Minors' top level. He made one postseason start for Scranton/Wilkes-Barre in Game 2 of the IL semifinals against Durham on Sept. 6, but the club was eliminated in a sweep one day later.
With King posting only 51 frames between the regular season and IL playoffs, he knew he could use a few more innings elsewhere, and as it turned out, the Yankees were making moves shortly after Scranton/Wilkes-Barre's three-game loss. Just maybe not in the direction he had hoped.
"It was honestly awful," King said. "When Scranton ends, all the 40-man guys got called into Jay Bell's office, and he said you're all going up. 'Higgy [Kyle Higashioka], come here. [Breyvic Valera], come here. All the 40-man guys. Everyone's coming out of his office, and everyone's congratulating them. At the end, he says 'King, come here.' Oh my God, this is it. I start getting freaky nervous. He tells me he actually has bad news. I was getting sent to Trenton to pitch in their playoffs."
A similar scene played out after King, who pitched four scoreless innings of relief in Game 3 of the Eastern League Finals, helped the Thunder win a championship. Following the Game 4 win over Bowie, Trenton manager Patrick Osborn again called King over for a chat. Again, King got his hopes up. Again, they were initially dashed. The pitcher was to head to Tampa instead. The Yankees wanted him to stay warm in case they needed to bring him as part of September roster expansion, even though he wasn't on the 40-man roster yet.
"I remember calling my mom and saying, 'This sucks. I just got out of Tampa rehabbing, and now I've got to go back down there and wait,'" King said. "And she told me that if I went down there and got called up, it would be totally worth it."
It didn't take long. One week after King took the mound for the Thunder, he was told to be limited in his live batting practice sessions. He went to the weight room instead and was in the middle of a conversation with a member of the Yankees sports science team when he felt player-development executives Kevin Reese and Eric Schmitt hovering over him. The sports-science rep slunk away sensing trouble, and King got the same feeling, knowing that he was told to be limited even though he thought he'd followed instructions to a T.
"I look up at them, and they're both intimidating guys," King said. "Reese is looking at me with a stern face and says 'What have you done today?' I told him I did nothing and that I was going to do an activation circuit. He just looks at me and says, 'Nope, you're not. Because you're be activated tonight on the big league roster.'"
***
On Sept. 19, King flew from Tampa to Newark International Airport, arriving in New Jersey at 4:45 for a schedule 6:35 p.m. start time in the Bronx against the Angels. That was the day Domingo Germán was placed on administrative leave while Major League Baseball investigated him for a violation of the league's domestic violence policy. (He was later suspended 81 games following the investigation.) King had to fight New York traffic and finally arrived at Yankee Stadium in an Uber about 20 minutes before first pitch. Having missed a pregame throwing session, he even caused a minor panic when he started to get loose in the Yankees bullpen in the first inning, causing television broadcasts to wonder whether something was wrong with New York starter Masahiro Tanaka. Tanaka went seven strong innings. King didn't appear. The Yanks clinched the AL East with a win that night, allowing King to celebrate with the big club on his first day as a Major Leaguer.
His actual debut came eight days later, and even that was nearly the cause of another miscommunication. On Sept. 27 in Texas, King was told to start throwing a light bullpen in the seventh inning in anticipation of a start that following Sunday, which would have been the Yankees' final game of the season. Plans changed quickly in the sixth when DJ LeMahieu came up with the bases loaded in the seventh and the Yanks already ahead comfortably, 8-2. Adam Ottavino was scheduled to enter the game, but bullpen coach Mike Harkey turned to King with a potential Plan B.
"He says, 'If DJ hits a bomb here and we're up, 12-2, King, are you ready to go in to the game?'" King recalled. "I was like, 'Yeah, of course.' The next pitch, DJ hits a liner to left. The left fielder misses it. It goes by him. Three runs scored, but DJ is thrown out at third. So it's 11-2. I look at Harkey and say, 'Am I going in this game or what?' It wasn't a home run. I've only thrown eight pitches, all fastballs. They call down quickly. Larry Rothschild says, 'Yeah, King's got it.' I ripped a slider that probably would have ended up behind a right-handed batter, and then I had to run out to the field."
Cue the Sheffield advice. Cue the high-stepping through the Globe Life Park grass. And cue a saying King picked up from a Players' Tribune story by Matt Duffy about his own first Major League journey: Don't look up.
"I think my warmups were a little shaky because I was so amped up," he said. "I'd never thrown in front of that many fans in my life. Once a hitter got in the box, then it shrunk down to me, the catcher and the hitter."
But before King could get tunnel vision, he needed to make an introduction first, one that may not have been entirely necessary.
"Austin Romine's catching me, who had never caught me, never played catch with me, never caught a bullpen, nothing," King said. "I had this totally random catcher catching me basically. Right away, he was like, 'OK, you've got a two-seam, changeup, slider. You like throwing your changeup more than your slider, right? All right, let's go to work.' I was just thrown into it."
After taking some warmups to settle in a little, King faced Rougned Odor as his first Major League hitter. First pitch: a 93-mph fastball low and inside that made the left-handed hitter lose his balance temporarily. He eventually got Odor to sky out to left on a slider well beyond the outside corner. Scott Heinemanflied out to right on a 92-mph fastball, and Delino DeShields popped out to second after getting jammed on another low-90s two-seamer.
King's first inning was perfect by the books. Three up, three down on 14 pitches. But it wasn't exactly the way the right-hander, who normally thrives on ground balls, pictured it.
"I'm going to blame it on the wind, but the wind was howling from third base to first base," King said. "I felt like I was cutting every ball I threw. I don't know if it was me being too amped and getting on top of everything, but I remember telling Romine that I had decent armside run and sink. When I came into the dugout, he looked at me and said, 'You were kind of throwing cutters there.' All I could say was, 'Yeah, I know.'"
The Yankees asked for one more from the starter-turned-reliever, and while the results weren't as spiffy in the box score, King admitted he was happier with how his stuff played. His fastball command was more akin to his Minor League stuff, and the ground balls came at similar rates. One of those resulted in a weak comebacker from Jose Trevino that King couldn't field cleanly off the mound, but it was quickly followed by a five-pitch strikeout of Shin-Soo Choo, punctuated by an 85-mph changeup Choo swung and missed at low and outside the zone. Trevino came around to score an unearned run after back-to-back singles by Elvis Andrus and Willie Calhoun , but King rebounded by retiring Danny Santana (flyout to left) and Nick Solak (groundout to first).
The newest Yankee walked off the mound with a zero still in the earned-run column, and with that Major League debut officially behind him, he allowed himself one look up, at least as far as the lower bowl.
"Because it was the last series at that stadium, George Bush was actually in the stands and I thought that was one of the coolest things," he said. "He was sitting more on the Texas side, but front row, right near their dugout. I kept thinking that was so cool. A president is in the stands as I'm pitching."
***
Even though his Baseball-Reference page shows just the one appearance thus far, King has no designs on being a modern Moonlight Graham. Beyond the deeper resume, the modern game allows him to enjoy a few more benefits than Graham had in his day with the New York Giants more than a century ago. King spent the entire offseason on the 40-man roster, which gave him an automatic invitation to Major League Spring Training, and he holds his place in the players' union at a time when the Major League Baseball Players Association is negotiating with Major League Baseball about when play can resume.
Unlike 2019, King was a full participant in Spring Training, getting four appearances and 9 1/3 total innings. He was considered a real option for the Major League rotation with Luis Severino and James Paxton out with injuries, but the March 12 cancellation of spring put those discussions on hold. King was officially optioned to Triple-A on March 26 -- what was originally expected to be Major League Opening Day -- as somewhat of a paper move, but he would be an easy option for a potentially expanded 30-man roster when the Majors return.
In the meantime, he's been working out at home in Rhode Island, carrying lessons learned from his spring throwing partner J.A. Happ back to the Ocean State. The veteran hurler pointed out King had been too rotational with his throwing motion and advised him to be more directional toward his intended target. Other feedback from coaches and opposing hitters led King to stop an attempted adjustment to get a "sweepy" slider in favor of returning to his tighter 2018 version.
"I'm not happy all of this is going on, but it's giving me an opportunity to get back to where I was in 2018, getting back to who I am," said King. "This separates those who are committed and those who aren't. I know a lot of guys I talk to are grinding and making sure they're ready. But I'm sure there are some guys who are slacking during this time. If anything, I don't want to be part of that group. I want to be one of those that takes this time to improve. ... I'd much rather have been playing baseball back in April when I was still figuring things out, but right now with my improved mechanics, I really can't wait to get back out there."
When baseball and King do return, Major League Baseball's latest debutant already has big plans for that second big league appearance -- with fans or without.
"I had that first appearance under my belt, but I want that first start," King said. "I think that I project best as a starter. I want to show what I can do two, three times through a lineup. I've always had a lot of confidence in myself. We joked about it in college. 'If you had to make a Major League start right now, what would you do?' I always said I'd go perfect. That's what I'll still say. I'd throw a perfect game. That obviously won't happen, but that'll be my mentality and my expectations. If it falls short, I've got some work to do."
Sam Dykstra is a reporter for MiLB.com. Follow and interact with him on Twitter, @SamDykstraMiLB.